Online Time Clock for HR Professionals (Comparison Post)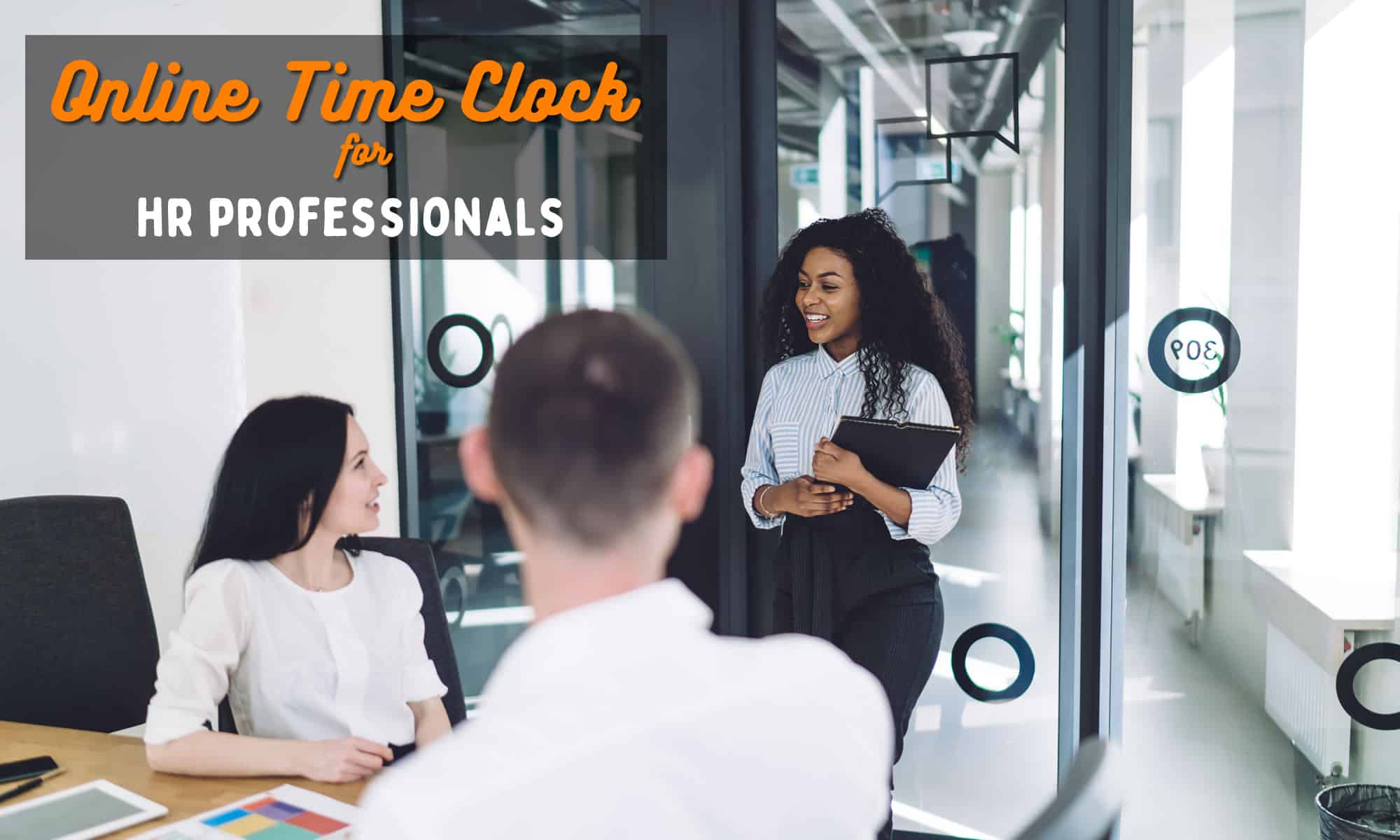 HR Professionals are the glue that hold many a business together. From providing ongoing support to team members (helping with training, education, and resources to maintain health) to recruiting new team members and guiding them through the onboarding process – a business's long-term success can be linked directly to the performance and support of their HR Department.
Likewise, a HR Department's performance can be linked to the support they receive to carry out these tasks. And since they're in the business of dealing directly with people – it's hard to determine what success is, and how quickly it'll come. Hours can be lost and tasks forgotten when an employee reaches out with an urgent issue. Things can get overwhelming.
Which is why HR Professionals tend to turn to time clock software to help keep themselves on track while juggling so many responsibilities.
In this point, we're going to outline our top 5 picks of time tracking software that HR departments would benefit from adopting. Our goal is to narrow down the wide range of attendance software on the market to just a few that you can pick from in order to improve the performance of your HR team, and, as a result – your entire business.
Online Time Clocks for HR Professionals
We first began to look into attendance tracking software after realizing we were essentially handling all the typical responsibilities of a HR Department on our own, and to make matters worse, we were using manual time tracking systems to do it. Running payroll, verifying work times & guarding against time theft, handling paid time off requests–and doing it all again the next week. With 20 employees to manage, we realized that if we really wanted to grow, we were going to have to revolutionize how we would track hours. That's when we started to look through time tracking solutions.
But the next problem was that none of the time clock systems we found fit the 3 criteria we were looking for:
We wanted an emphasis on Design Simplicity. A tool that any of our employees could get the hang of quickly, regardless of how tech-savvy they were.
At the same time, it shouldn't come at the cost of Employee Accountability. Features should be effective at encouraging employees to make the most of their time on the clock.
And we absolutely wanted an employee attendance software that would Streamline Payroll.
When we failed to find an option that delivered on these three core aspects, the solution was simple: develop our own.
With features like Job Codes, Geofencing, Notifications, PTO Management, Facial Recognition, Overtime Calculations, Customizable Reports, Built-In Payroll Processing, and more–Buddy Punch gives HR departments everything they need to stay on top of their workforce management.
Next, let's dive into each of these features to show how exactly they'd be useful to your HR team.
Note: If you'd rather try Buddy Punch outright, you can start a 14-day free trial of our software.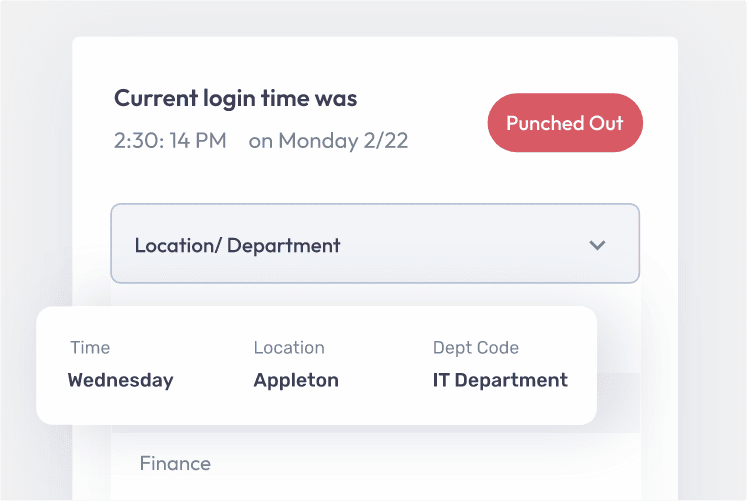 The Job Codes feature lets you get a greater degree of transparency when it comes to what your HR employees are doing while on the clock. You can create a custom job for certain jobs (inputting data, checking in on team members, etc.) and they can clock into them or swap between them. Then, when you check their timecards, you'll see an accurate breakdown of everything they've been doing – which is invaluable when it comes to evaluating labor costs and optimizing operations.
The Geofencing feature lets you create a radius (called a Geofence) on an interactive map. When employees try to clock in while outside of that Geofence, they'll be denied. This feature helps HR employees ensure that everyone is where they're supposed to be before they try to start logging time, even if they're not onsite.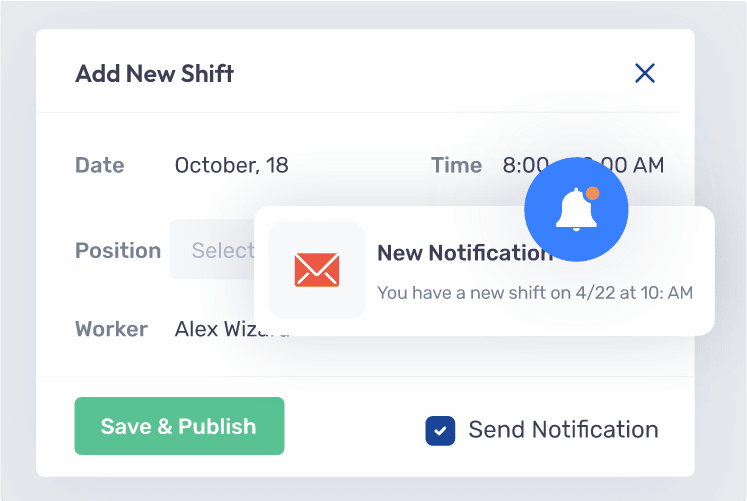 The Notifications feature has an indirect, positive impact on employee productivity. This feature alerts your team members of any important happenings in the workplace (for example, punch change emails, time card approval states changes, or PTO requests/changes) which means they'll know they can focus on work if they aren't receiving updates.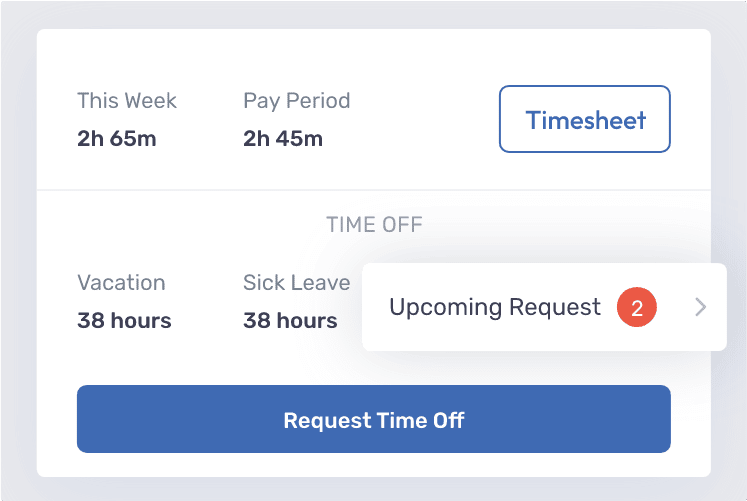 Buddy Punch's PTO Management completely changes the game. In addition to containing the most common types of paid absences (Vacation, Sick, Holiday, etc.) your HR employees can also create custom PTO types at will.
But the real magic of this time clock solution is the ability to enable a self-service approach to paid leave. With this, instead of you or your HR department having to manually approve or deny leave requests, they'll be automatically approved on a per-employee basis. This means less time keeping track of employee PTO, more free time to optimize your business.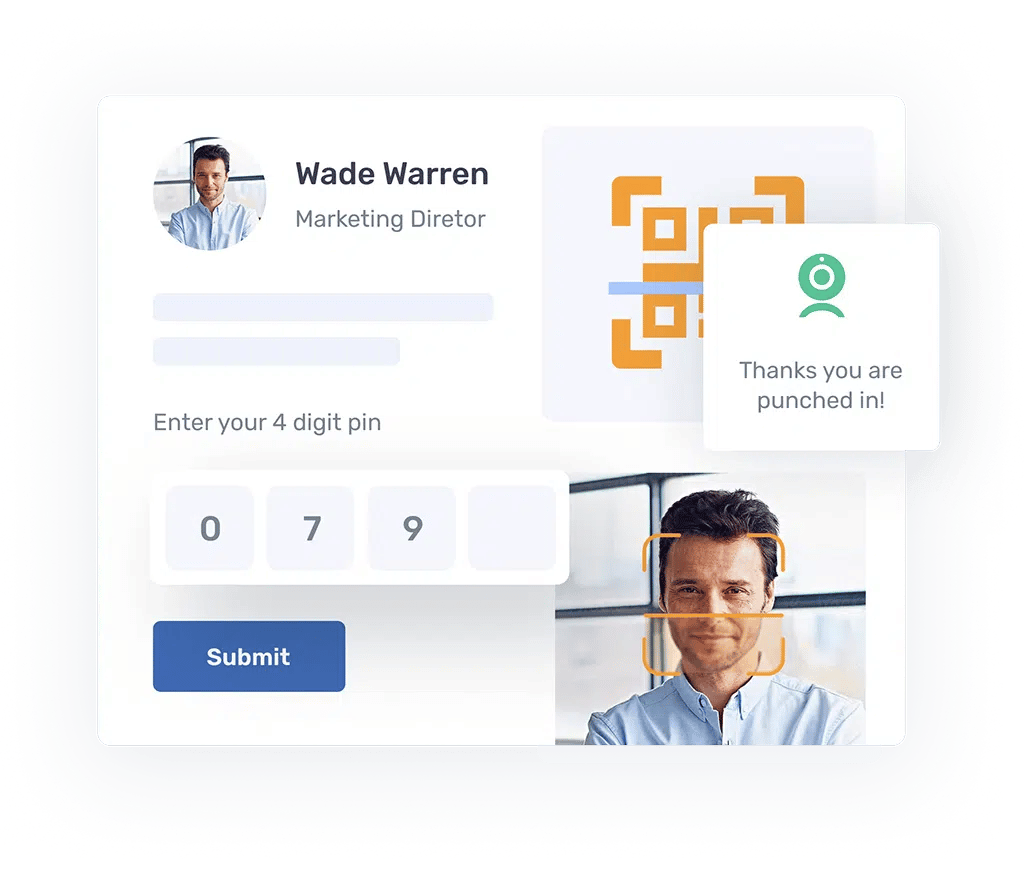 For businesses that have a special concern about time theft and want an employee time clock that stops it in its tracks, Buddy Punch's Biometric Facial Recognition should serve you well. This feature takes a snapshot of employees as they log in and compares it to the one on file to make sure no one's clocking in for them.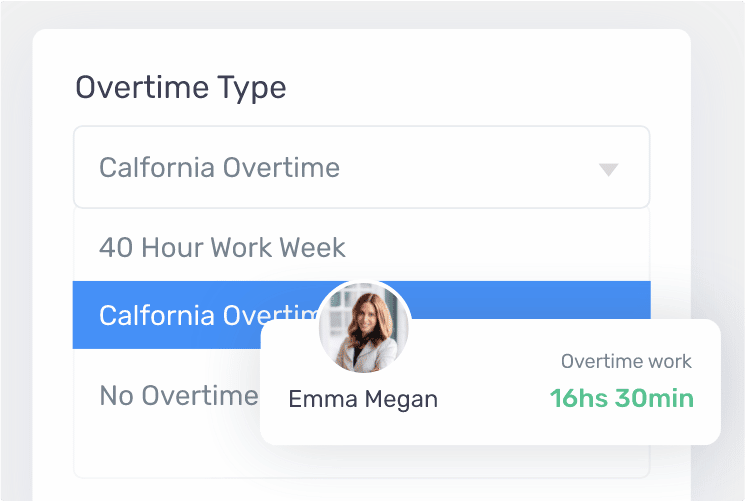 Buddy Punch lets you choose from over a dozen different overtime types to decide how regular, overtime, and double overtime pay should be calculated, all on a per-employee basis. After all, a proper time management system should be able to handle all types of time.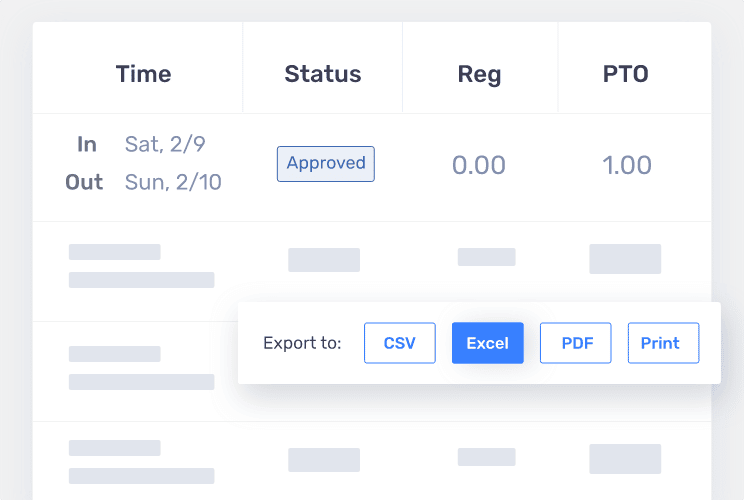 Buddy Punch offers several different customizable reports you can generate on demand to get a good look at your employee hours & time data. Some of those reports include a Payroll Export, PTO Summary, Employee Detail breakdown, and more.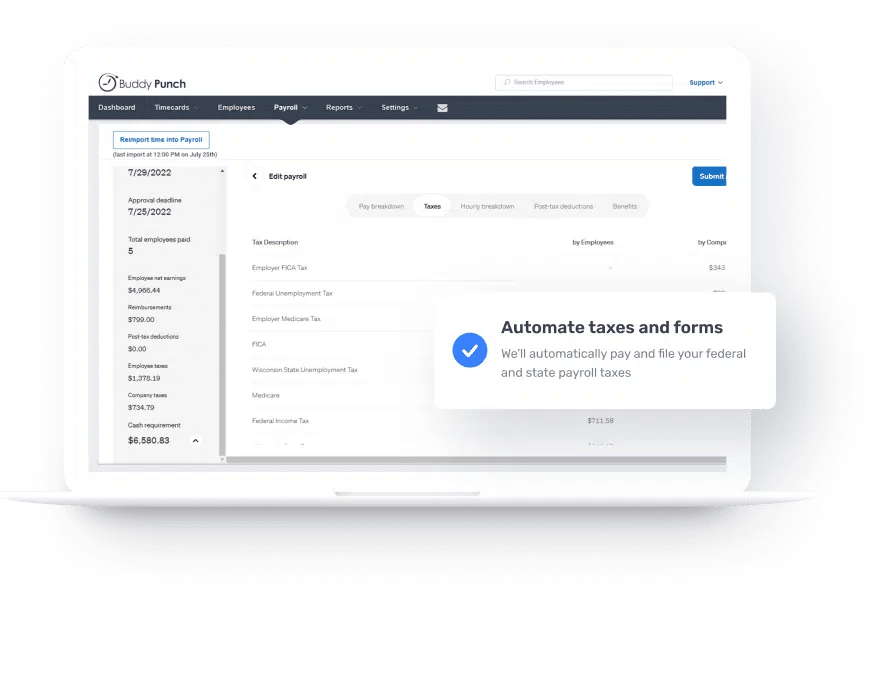 One of the more powerful features Buddy Punch comes with is a built-in Payroll System that you can add to any paid plan. This allows you to easily manage your payroll from anywhere (anytime), get accurate and in-depth data, and save time and reduce hassles as you handle payments, invoicing, and billing at the end of each pay period. Other benefits include integrated timesheets, payroll automation, employee self-onboarding, and more.

Buddy Punch Has More Ways to Serve HR Professionals
It's important to note that we've only highlighted some of our more popular features, but Buddy Punch has a lot more to offer. Really, this software is what you make of it. Consider other functions such as:
There's also out-of-app bonuses that come with Buddy Punch. Our Blog Section is consistently updated with new information and strategies for workforce management. Our help doc center contains useful articles on how to best utilize Buddy Punch, and you can get in touch with us via live chat at our Support Desk to answer any questions.
Buddy Punch was designed to work on any device with an internet connection, including Desktops and Mobile Devices (Smartphones – iOS or Android – and Tablets). You can book a one-on-one personalized demo here.
Buddy Punch's Online Reviews
As of this post's writing date, Buddy Punch has 4.8 out of 5 stars and 731 reviews on Capterra.

Below, we'll list just a few reviews that speak to Buddy Punch's ease of use and great customer support service. (Click here to explore the full list of reviews.)
"The Customer Support team is super responsive, thorough, and effective. Their support software allows for much quicker response times than you could get on the phone. Their team is knowledgeable about my organization and the way that we use the platform – I have received many helpful suggestions to how we can best leverage the BuddyPunch platform in our sometimes complicated organizational structure."

Click here to read the full review.
"It has a great deal of flexibility and gives administrators/managers the ability to see who is here at any given time of the day. Managers also have the ability to approve PTO prior to it being added to the time sheet. This provides accountability for both the employee and manager. "

Click here to read the full review.
"We needed a time keeping system that traveling employees could use, but also management could track their locations. Buddypunch has given us the ability to add all of our locations and all of our different types of work that can be performed (admin, accounting, HR, meeting etc.). "

Click here to read the full review.
"I handle HR for a small start-up tech company, and we were looking for a simple, easy-to-use time tracking software solution that was also cost-effective for our size. We found Buddy Punch, and it seemed to offer everything we needed, and it was reasonably priced. We signed up for the trial period, and our employees were impressed immediately"

Click here to read the full review.
As several reviewers have noted (some of which are HR Professionals), Buddy Punch is user-friendly and effective when it comes to employee management.

Try Buddy Punch for Free
If you feel that Buddy Punch could empower your HR department, sign up for a free trial. You can also book a one-on-one demo, or view a pre-recorded demo video.
Findmyshift is a great tool for getting a handle of what's going on at your job site, with features such as:
"It's simple. It achieves what I was trying to do in a very clunky spreadsheet or database. It gives us reports that help us make sure we are meeting minimum and maximum shift durations, and our total weekly hours. No other scheduling software addressed our needs in this way. Support are fantastic."

(Click here to read the full review).
OnTheClock is a cloud-based time tracking app that comes features including (but not limited to):
As of this post's writing date, OnTheClock has 4.7 out of 5 stars and 519 reviews on Capterra.
"Using Quickbooks with the time clock information makes payroll take a couple of minutes, allowing me to get done quickly and correctly. Employees like the ease of use, so they actually clock in and out! The cost of the program has risen, but still well worth the time savings."

Click here to read the full review.
Hubstaff is a well-liked time tracking software with a rating of 4.6 out of 5 stars and 1291 reviews on Capterra. Some of its features include:
"We are a completely remote company, and Hubstaff makes it possible to track our individual time spent on all projects, report on that time, send payments in some cases, and keep a detailed log of work that was completed on tasks."
Click here to read the full review.
Some of When I Work's features include:
At the time of writing, When I Work has a total of 965 reviews on Capterra, with an average of 4.5 out of 5 stars.
"The ease of the program. It was very user-friendly. Scheduling used to take 2 hours, but it was cut down to 30 minutes with WhenIWork. I love that I could customize the shifts. I especially loved that employees had to acknowledge their shifts. "

Click here to read the full review.
Choosing The Best Online Time Clock for HR Professionals
Now that we've narrowed the total options of HR time tracking to 5, it's time for you to pick your favorite 1. Our suggestion: take a close look at the features offered to help make an informed choice.
For example, if you're particularly invested in having in-app team messaging, maybe OnTheClock will be right for you. If you have forgetful team members, you might find yourself wanting to use Findmyshift's Reminders feature.
Otherwise, if all you're looking for is an easy-to-use time tracker with versatile features and a helpful customer support team – then Buddy Punch might be the HR time tracker you want.
Try Buddy Punch for Free
Sign up for a free trial to see how Buddy Punch would work for your HR department. You can also book a one-on-one demo or view a pre-recorded demo video here.

You May Also Like…