Project Management Software to Keep Your Employees On Track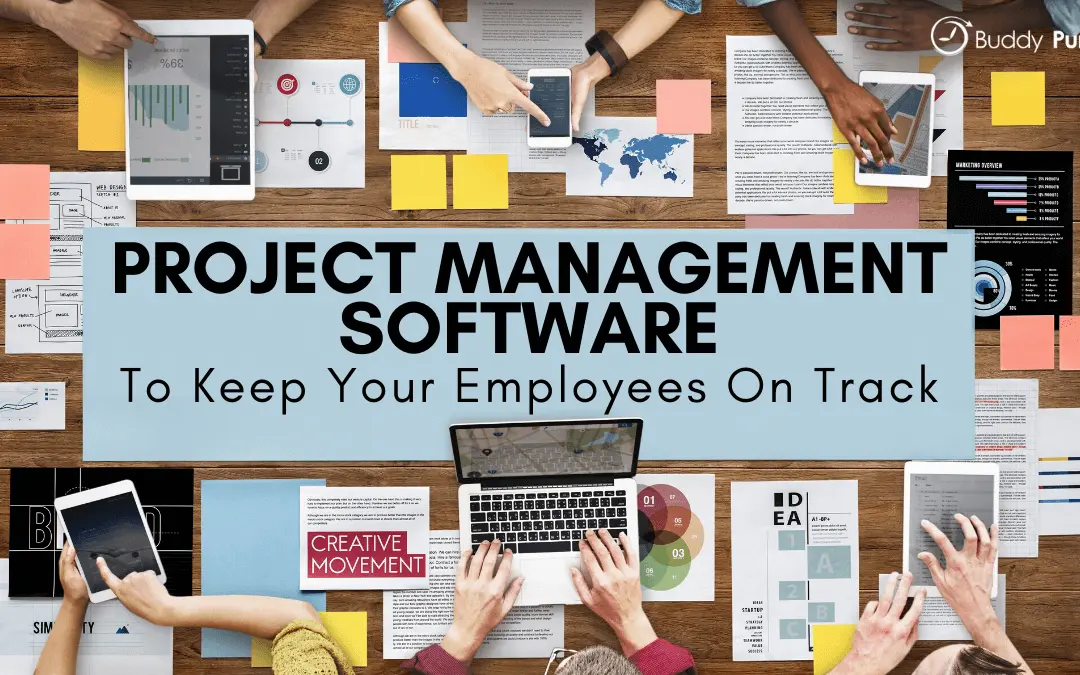 Nearly 60% of workers say communication is the most significant obstacle to success – followed shortly by accountability.
Delegating tasks, managing multiple complex projects at once, and resource management across a company is difficult even on the best of days, but can quickly become impossible when issues arise.
Miscommunication and inefficiency in your team management processes can lead to confusing and stressful situations for your employees. This can also lead to issues when it comes to meeting clients' needs or meeting your end-of-year goals. Ultimately, the lack of communication can lead to significant losses over time.
Luckily, there are plenty of project and time management solutions to help keep your employees on-track without having to break the bank. To streamline management and ensure your employees are on the same page, here's a look at some of the best project management software on the market.
Zoho Reports is an easy to use task management software that allows you to create dashboards and data visualizations to help you ensure steady project progress. You can easily import data from cloud drives, applications, external files, as well as in-house applications. This enables you to create more accurate reports.
Features of Zoho Reports include:
Friendly and easy to use drag-and-drop interface visualization tools
Grants the ability to collaborate and share reports as well as dashboards.
Cloud business intelligence reporting tools embedded in your website or your product.
Calendar views and Google Calendar Integration to help with future project planning.
Additional Third-party integrations with Google Apps, Dropbox, Slack as well as mobile apps, ensuring an easy collaboration process.
Cost: Free for multiple users and one project. Includes storage up to 10G. Pricing on paid plans varies.
Asana, a majorly popular project management solution used by millions of people, has a user-friendly and clear interface. The tool allows you to create boards to visualize which stage your project is in or has completed. You can use their reporting options to keep track of finished tasks as well as tasks that need attention. It's also an excellent collaboration tool that makes it easy to designate teams for individual tasks, sends notifications upon job assignment and completion, and has many more work management features in its digital workspace.
Features of Asana include:
Project management features that let you collaborate and easily share information across teams.
The option to set security controls and assign admins for overseeing tasks.
The ability to create task list templates and automate assignments.
Access to over 100 integrations for more efficient project management.
Includes a Certified Pro program which includes rewards for getting businesses to use Asana as their project tracking tool.
Cost: Free version includes access for up to 15 people on an unlimited amount of projects.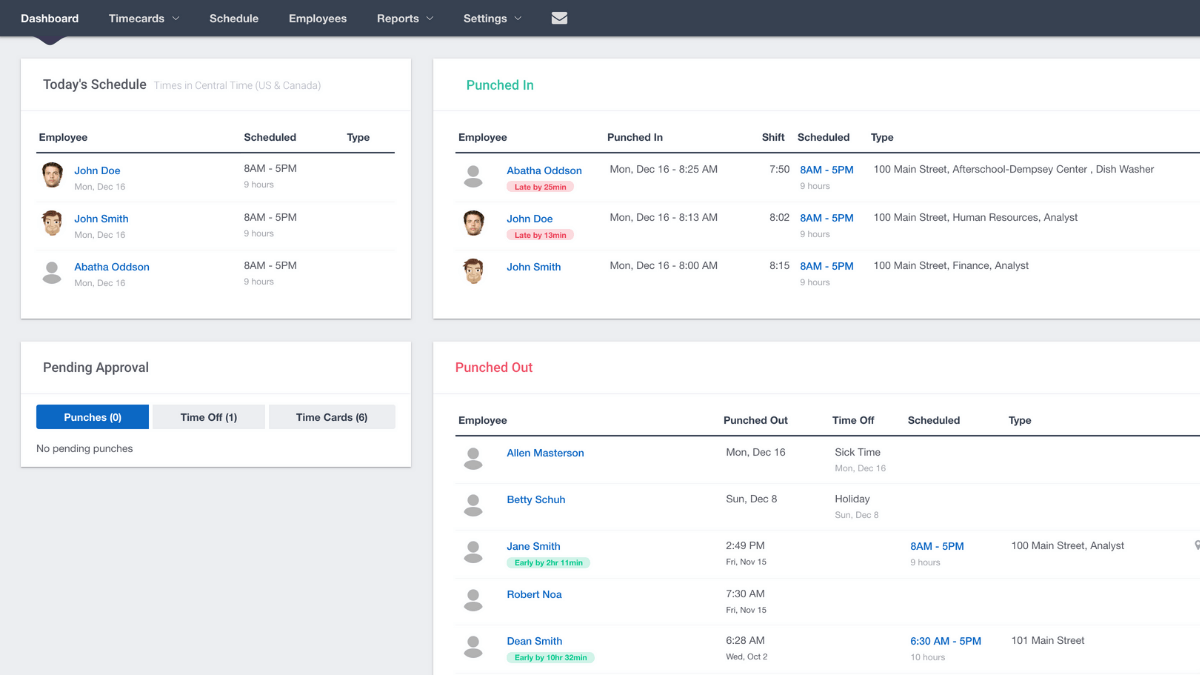 Buddy Punch is a project management app that allows you to determine where your employees are spending their time. You can create and assign job codes as well as location codes to figure out how much time an employee is spending on a specific task. You can then adjust your project management schedule according to that information. By allowing you to track projects and job costs, you can better manage your project budget and ensure you're staying on track.
Features of Buddy Punch include:
Ability to monitor employee timesheets in real-time, complete with time theft proofing.
Reporting options to view or export spreadsheets to determine job costs and work hours spent.
Extra time clock software capabilities such as overtime management, attendance monitoring, and punch maps. 
Integration with several mainstream payroll providers, including QuickBooks, Gusto, Surepayroll, and more. 
Buddy Punch is an intuitive web based time clock that can be accessed from any device with an internet connection – including Mac, iPad, and iPhone. Android and iOS app available.
Cost: Free 14 day time clock software trial for an unlimited amount of employees. Plans start at $25 after the trial period ends.
Teamweek is a tool that's used to help automate your task allocation process. It also allows you to visualize which tasks have been completed and which still need to be done. If you frequently collaborate with other departments, then this may be a useful tool for you.
Features of Teamweek include:
Gantt-chart visualizations to help keep track of important deadlines and projects – great for construction companies!
Team collaboration option available with the help fo shared calendars as well as task notes.
Integrations with Github, Evernote, Slack, and more.
Cost: Free plan allows for up to 5 team members and an unlimited amount of projects.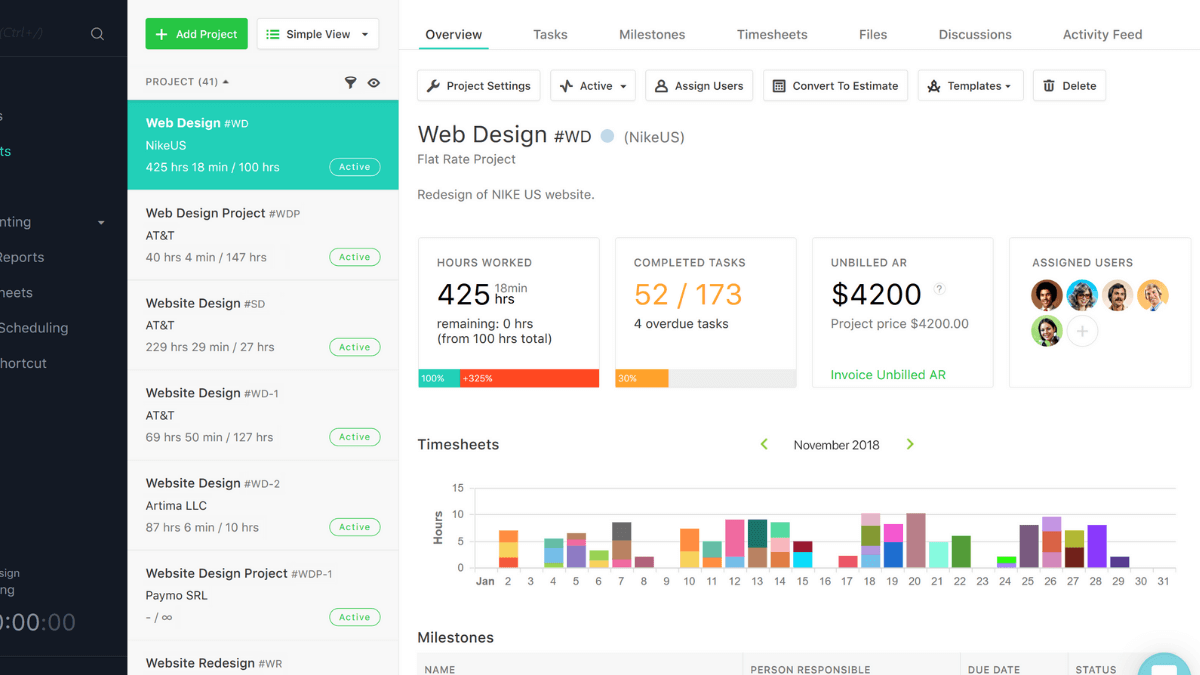 Paymo allows you to easily track billable hours and seamlessly invoice clients. With Paymo you can also create project timelines and
While Paymo's free option only allows access for one user, if you're a freelancer or have a small team, this tool could be helpful when it comes to tracking billable hours or invoicing clients. Along with tracking finances, Paymo allows you to create to-do lists, organize project timelines, and ensure you're on budget for multiple projects at once.
Features of Paymo include:
Time clock software tracking, as well as invoicing options.
File sharing and an Adobe CC extension.
Several reporting options.
Access to kanban boards that use cards and columns to help you commit the right amount of work and get each task done.
Cost: Free for one user and includes 1 GB of storage
Click Up provides several features that allow you to customize the project management tool to meet your team's preferences – this includes allowing users to choose different ways to view tasks and projects. If you have a marketing team that overlaps with design, sales, or development, then ClickUp is an excellent option as it provides features specific to each of those teams.
Features of ClickUp include:
Ability to organize projects based on priority.
It allows you to assign tasks to specific individuals and groups.
Ability to set goals and remind your employees which goals they're working on achieving.
An easy way to search, sort, and filter for specific tasks.
An activity stream with mentions available as well as image mockups.
Cost: Free forever and includes unlimited users as well as unlimited projects along with 100 MB of storage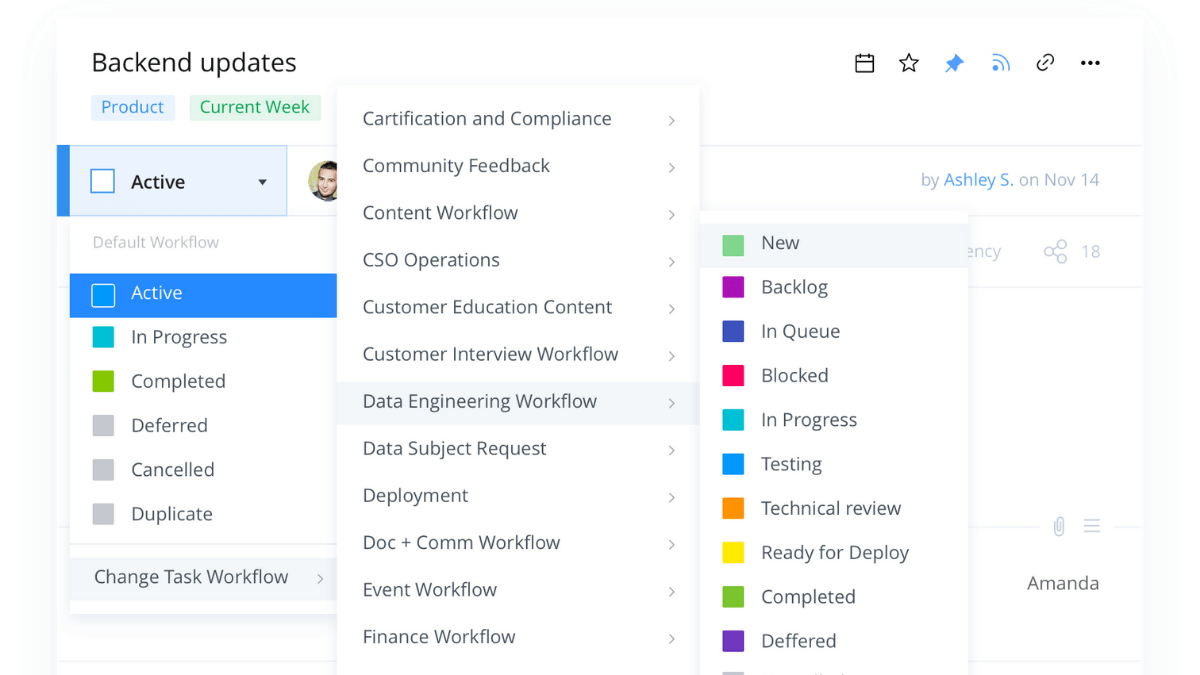 Write is a great project management tool for teams who'd like the option to customize their workflows and edit or revise projects from within the platform. Some of the features they offer include the ability to color code and layer calendars, as well as mobile access to update project information on the go. Employees can easily add comments to sections, documents, or videos. Wrike offers the ability to create custom fields allowing you to export data most relevant to your business.
Features of Wrike include:
Security protocols to ensure only authorized users can access secure information.
Activity Stream to allow users to manage small tasks, see activities in order, and tag other team members for easy communication.
The ability to unfollow activities to reduce clutter on your own personal Steam.
Email as well as calendar syncing options.
Built-in approval and editing features.
Cost: Free for up to five team members.
Teamwork is a project management tool that specializes in improving collaboration for remote workers. It allows you to create employee status updates so your remote team knows their coworker's schedules. It also has added functionality for CRM optimization.
Features of Teamwork include:
Customizable navigation to prioritize the needs of your team.
Set task dependencies to ensure milestones are completed in specific order
Gantt-chart is available to visualize due dates along with project timelines.
Private messaging feature and the ability to make project details private.
Employee status updates for remote and flexible teams.
Cost: Free for 2 to 5 users.