Online Time Clock for Moving Company Owners (In-Depth Post)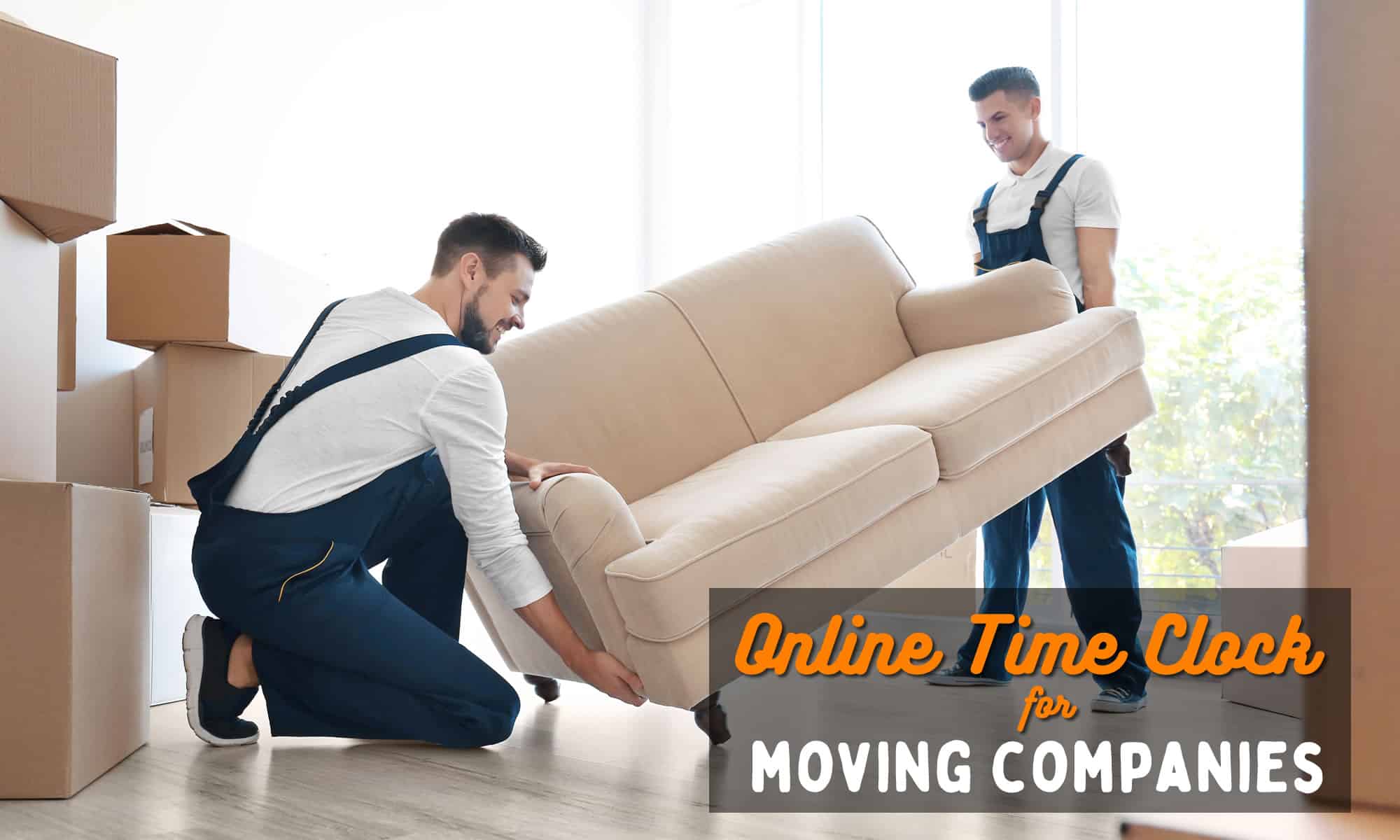 Moving company employees have a tough job to handle: between loading and unloading heavy furniture and homeowner supplies, traveling across cities, and managing client expectations, it's a stressful job. The last thing most business owners would want to do is add more responsibility on top of that, lest that be the straw that broke your movers' backs. At the same time, any growing business needs to be able to collect employee data to make informed decisions that improve profitability – and this process can be mutually beneficial for administration and team members alike. So how does a moving company navigate this?
Through time tracking software designed to be non-invasive yet accurate and function even when employees are at remote job sites (bonus points if it's cloud-based).
Time clock software has evolved over the years to be able to far outperform manual methods of timekeeping when it comes to accurate timesheets. Many of them streamline a lot of processes that moving companies would find valuable, such as keeping track of remote workers and their GPS locations. That said, employee time clocks also vary wildly in features offered, ease of use, and overall customer support.
In this article, we're going to list out what we deem to be the top 5 online time clocks available for moving companies. Hopefully, by the time you've looked at the software comparisons, you'll have found the timekeeping solution that works best for you and your employees.
Online Time Clock for Moving Company Options
Kicking off our list of time clock software we have our very own Buddy Punch. When we were initially transitioning from manual timekeeping to digital, we did our best to give the existing time clock software on the market a fair chance to impress us. All we really wanted was a mix of three things: (1) Employee Accountability, (2) Design Simplicity, and (3) Streamlined Payroll. We thought it was a simple ask – features that were powerful and useful, but a design that made it so that anyone on our team could easily adapt to the software, regardless of how tech-savvy they were.
Unfortunately, we didn't click with any of the options we tried. So we decided to develop our own.
Fast forward to today, with Buddy Punch offering moving companies features such as Geofencing, GPS Tracking, Notifications, Paid Time Off Management, Job Codes, Facial Recognition, Built-In Payroll, and more in order to revolutionize how you handle workforce management.
Now let's dive into each of these features to show how they can specifically help you optimize how your moving business runs.
Note: If you'd rather try out Buddy Punch for yourself, we offer all potential users a free 14-day trial.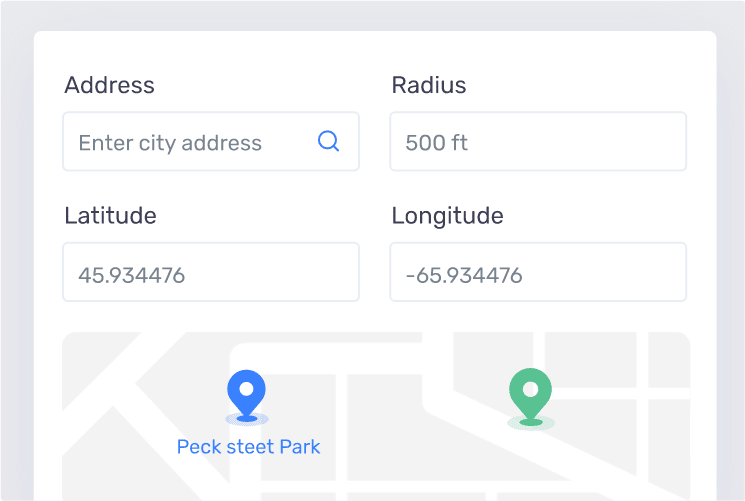 The Geofencing feature is a set-and-forget function that makes it easy to ensure that your movers are where they're meant to be while on the clock. This feature lets you create a radius (known as a Geofence) anywhere you want to on an interactive map. When your employees are within said radius, they'll be able to clock in. If they're not – they'll be denied.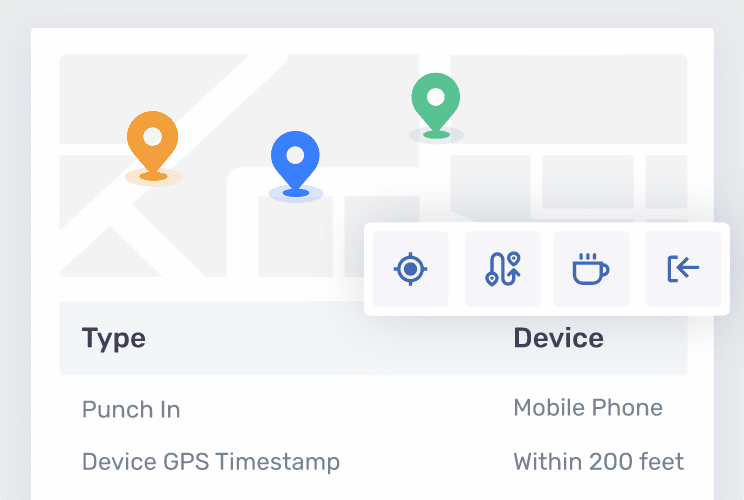 The GPS Tracking feature also makes use of an interactive map (like the Geofencing feature). This option will mark where your employees clock in on an interactive map, ensuring that you're always aware of where they are. You can even view all your remote workers at once to see where they're completing jobs (and how long it's taking them).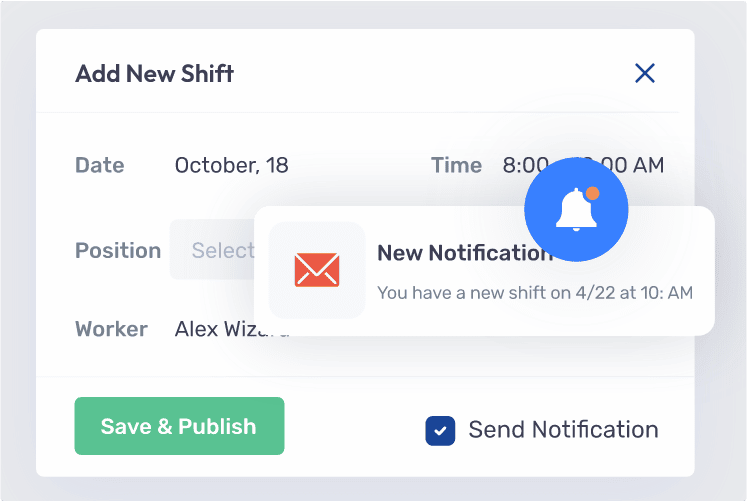 Buddy Punch's notifications feature helps your employees stay on task, albeit in a roundabout way. It's a lot easier to focus on moving furniture and dealing with clients if you know there's nothing important that requires your attention – which is the peace of mind that Buddy Punch provides users. If something on the administrative side needs employee or manager attention (such as punch changes, time card approval status changes, PTO changes, etc.) they'll be automatically notified.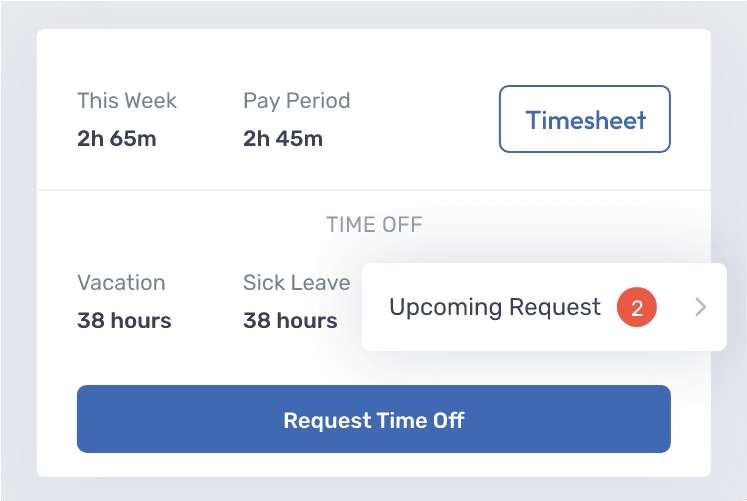 In addition to being able to handle the most common time off requests (Vacation, Holiday, Sick, etc.) you can also use Buddy Punch to create completely custom types at will.
Additionally, Buddy Punch allows you to enable a self-service approach to PTO in your business. Instead of having to manually approve or reject employee PTO requests, you can set the system to automatically approve any leave requests that come in. Spend less time managing employee time, more time optimizing your moving business.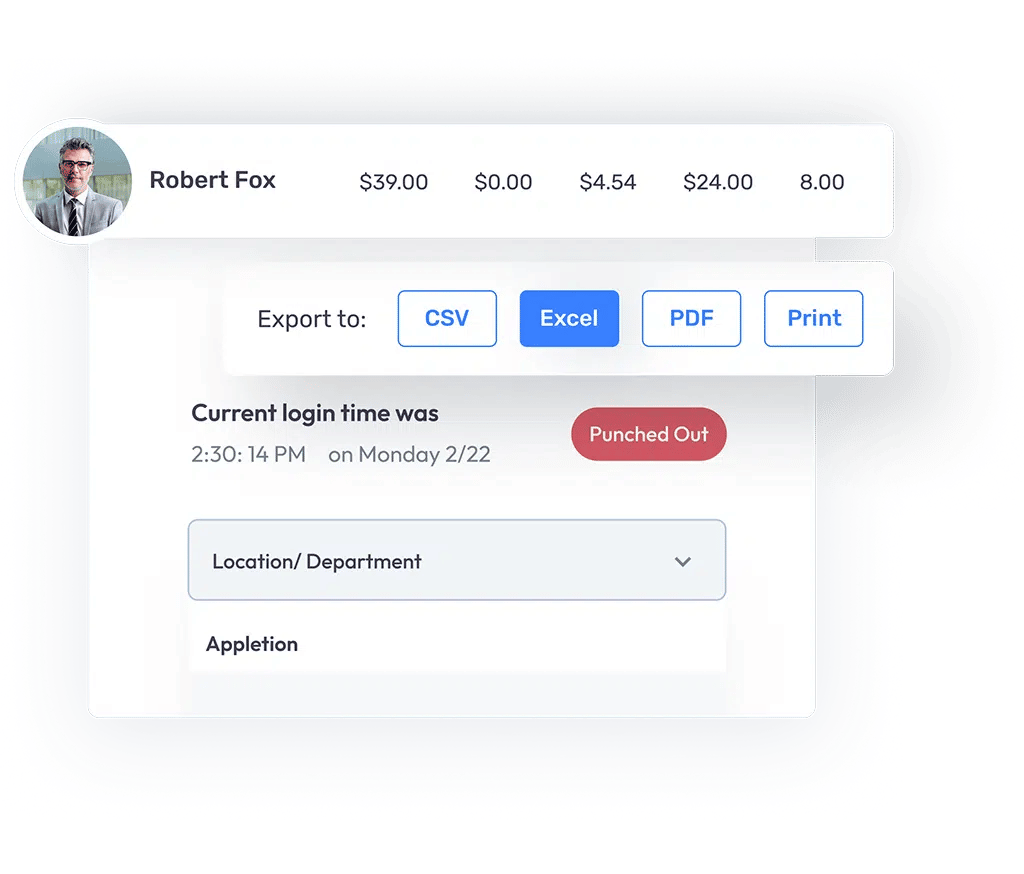 The Job Codes feature helps you get transparency on what your workers are doing while on the clock. This feature lets you create job codes for certain tasks (loading, unloading, transporting, etc.) that your team members will be able to sign into when they clock in. This feature is perfect for calculating labor costs.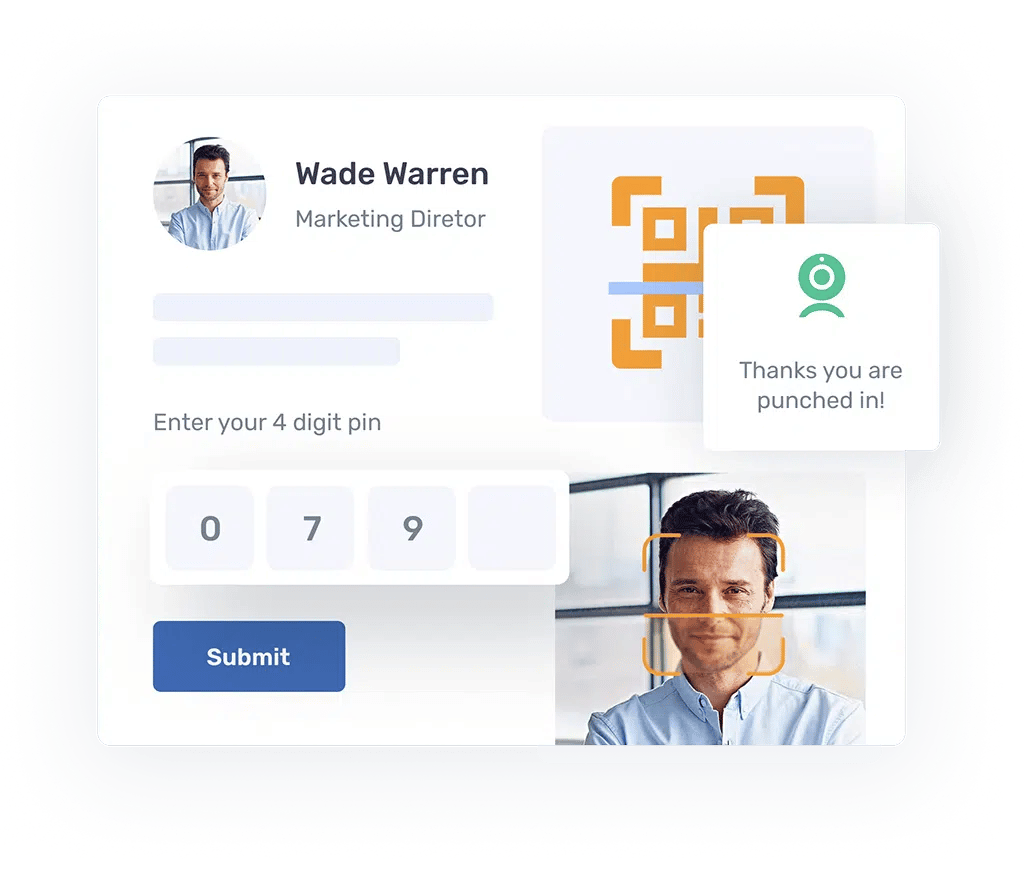 If you're worried about time theft, especially in the case of when your employees are rarely onsite, you can activate Buddy Punch's facial recognition to ensure that employee hours aren't being flubbed. This option will cause Buddy Punch to take a picture of an employee when they punch in and compare it to the one that's on file.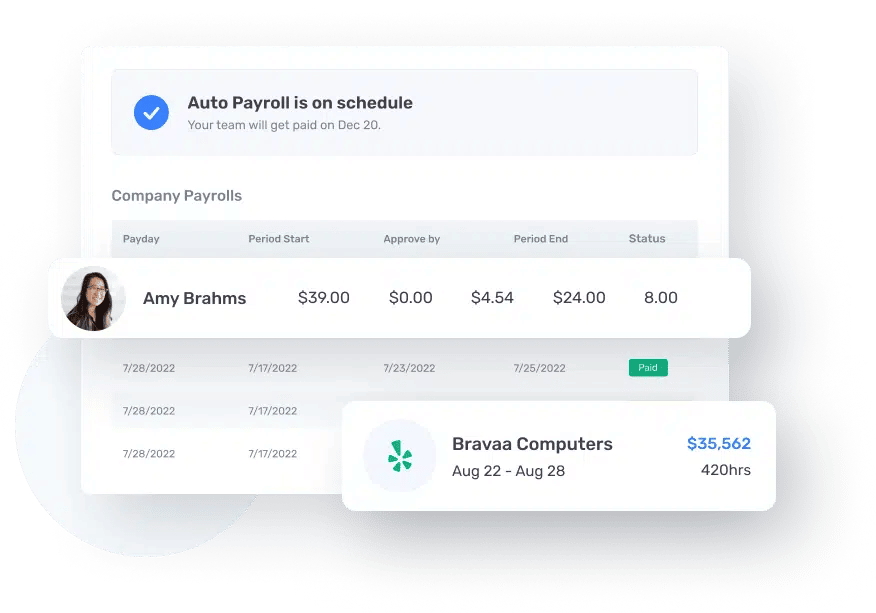 Buddy Punch takes a lot of the hassle out of dealing with the payroll process. Our Built-In Payroll option (which can be added to any paid plan) allows you to easily manage your payroll from any device, any time. With the accurate data and insights that Buddy Punch's other features are already providing business owners, this feature allows you complete control over ensuring your employees are paid accurately and swiftly. Some of the perks of using this include printable checks, automated payroll payments, integrated timesheets, and more (click here to learn more).
Buddy Punch Offers More to Moving Company Owners
We've only highlight just a few of the total options you have with Buddy Punch, but there's more features you could make use of if they fit your style, such as:
Additionally, there are plenty of out-of-app benefits to consider with Buddy Punch:
Buddy Punch works on any device with an internet connection, including smartphones, tablets, and desktop. Buddy Punch is web-based but also has mobile time clock apps for mobile devices (iOS or Android). You can book a one-on-one personalized demo here.
Buddy Punch's Online Reviews
Buddy Punch has a rating 4.8 out of 5 stars and 725 reviews on Capterra as of this article's writing.

Below, we'll list just a few testimonials that speak to Buddy Punch's impact on workforce management. (Click here to explore the full list of reviews.)
"Very easy for employees and administrators alike to track time and edit if necessary. Provides accountability for our employees with the location settings such as GPS/Geofence. Provides a variety of reports that are helpful. Provides our employees with mobility–we can send them to any job site, and they have the ability to punch in/out."

Click here to read the full review.
"I LOVE that I can clock in from a remote location via the app on my phone. Soooo convenient!!! Such a game changer for sure, especially with my sporadic work schedule and location."

Click here to read the full review.
"The ability to control what employees are able todo like adding time that was forgotten some employees require an approval so i am able to confirm they're where bouts prior to approval. Its very easy for me to go in and add or fix employees time. I also like that i can turn the gps tracker on and off. I like the ability to track where employees are Because prior to this app we had an employee who was being dishonest about where they were and it cost is money when it came to billing customer."

Click here to read the full review.
As these reviewers noted, Buddy Punch is easy to use and effective at remote tracking.

Try Buddy Punch for Free
If you feel that Buddy Punch might be the right fit for your business, sign up for a free 14-day trial. You can also book a one-on-one demo, or view a pre-recorded demo video.
Coast is a fairly useful time tracking app with features such as:
As of this post's writing, Coast has 47 reviews and a rating of 4.5 out of 5 possible stars.
"The notifications and reminders are the best part of this software. We have our preventive maintenance schedules all set up for our equipment here and we get notified when things are supposed to need pm work done and inspected."

(Click here to read the full review.)
OnTheClock offers a wide range of features, including (but not limited to):
As of the writing date, OnTheClock has 4.7 out of 5 stars and 519 reviews on Capterra.
"The incredible amount of flexibility it offers is amazing. You can set or restrict punches from specific devices, regions, IP addresses, and similar on a per-employee basis or account-wide, allowing you to make sure that every employee is punching in when and were it's appropriate to do so. It allows a per-employee automatic accrue system for PTO. Approving PTO requests is a breeze as well."

Click here to read the full review.
At the time of writing, Insightful has a total of 73 reviews on Capterra with an average of 4.7 out of 5 stars. Some of its key features include:
"This has been useful for our organization transitioning from office to work from home arrangements. We are able to do timekeeping and monitoring of productivity of our employees with this application. It is easy to setup and easy to use."

Click here to read the full review.
Some of its key features include:
At the time of writing, TimeCamp has a total of 562 reviews on Capterra with an average of 4.7 out of 5 stars.
"I love so many things about it: – ease of use – flexibility – attention to detail – ability to parse projects or tasks into even smaller items – probably the one feature I appreciate the most has saved me on numerous occasions. I have several times, even in this past year, mistakenly shut down my browser while TimeCamp was still running."

Click here to read the full review.
Choosing The Best Time Clock for Moving Companies
Even though we've managed to narrow down the vast options out there for time tracking your movers, you're still going to have to do some further elimination to pick the absolute best time clock software to track your workers. Luckily, taking a close look at the features offered can help.
For example, if you want to help moves keep track of recurring aspects of their jobs, you might like Coast and its Recurring Tasks option. If you want to make use of in-app messaging to make sure you and your team members are always on the same page, you might like OnTheClock, with its option for in-app messaging.
Otherwise, if what you really want is a robust software with a wide range of features that can be enabled or disabled at will, an easy to use design that your team can make use of even while occupied, and a helpful customer team, then you really can't go wrong with Buddy Punch
Try Buddy Punch for Free
If you feel that Buddy Punch could be the right fit for managing your moving company, sign up for a 14-day free trial. You can also book a one-on-one demo, or view a pre-recorded demo video.

You May Also Like…