The Best PTO Tracking for Employees – 12 High-Quality App Options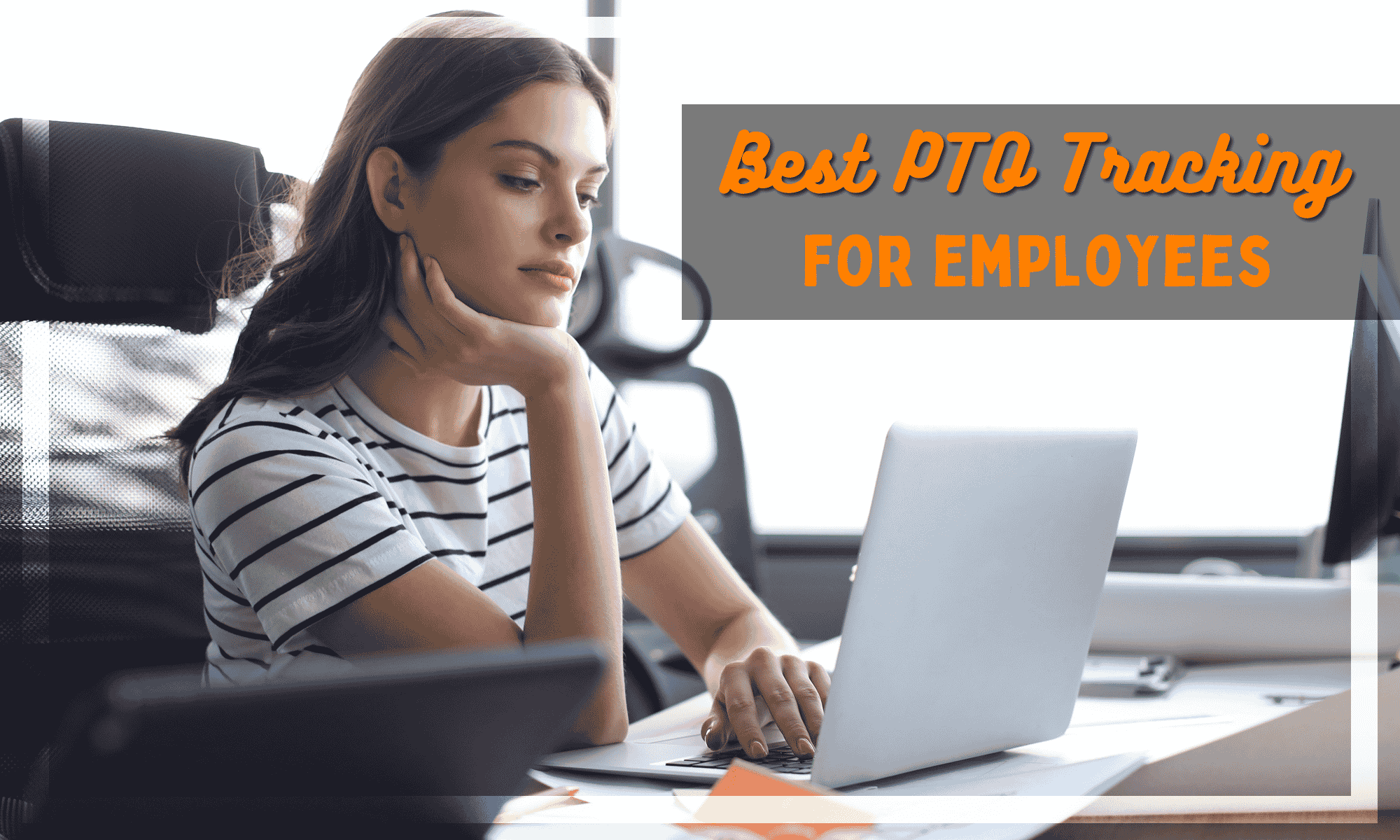 What would you do right now if half of your team put in a request for time off? Maybe a sickness has been working its way through your offices, or seasonal changes have people feeling under the weather (or more like going out in the weather). While this may sound like an extreme scenario, it's a reality that many businesses had to cope with thanks to the pandemic.
Have a PTO Management Strategy Before You Need It
Lacking proper paid leave management is something you'll feel the pain of only when it's too late.
You want a PTO Policy in place before recruiting employees, something that can be agreed upon and referred to in their employee manual. In addition to helping you attract high-quality talent, having your policy in place prior to onboarding will keep everyone on the same page.
You want to have a strategy for absence management before you're caught off guard by team members requesting time off. A large number of employee absences is enough to bring down any size business, and miscommunication or abrupt changes in your leave policy might result in increased employee dissatisfaction or resignations outright.
And what about your HR Managers? How much time do you want them to spend distracted from other HR processes because they're trying to make sure every team member's PTO balance is in order?
You want PTO Tracking Software before any of the factors above become too overwhelming. While smaller teams might be able to get away with lax procedures or manual time tracking, as your business grows you risk reaching a point where you'll need a more advanced tracking system.
Having a proper Paid Time Off Management system is something that all businesses have to reckon with eventually, especially if they want to attract high-quality talent, keep employee satisfaction high, and cut down on turnover rates. To help achieve this, we've listed 12 excellent PTO tracking software solutions, along with our reasons for valuing them.
Best PTO Tracking for Employees App Options:
Topping the list of our picks for best PTO trackers, we have our very own Buddy Punch. The reason for this is simple: in addition to offering diverse options for paid time off tracking, Buddy Punch also has intuitive design, simplicity that even the least tech-savvy worker can manage, and streamlining through integrations with popular payroll software.
Next, let's dive into Buddy Punch's employee PTO features to further detail how they work.
Note: If you'd rather experience this software for yourself, all of Buddy Punch's pricing plans come with a 14-day free trial.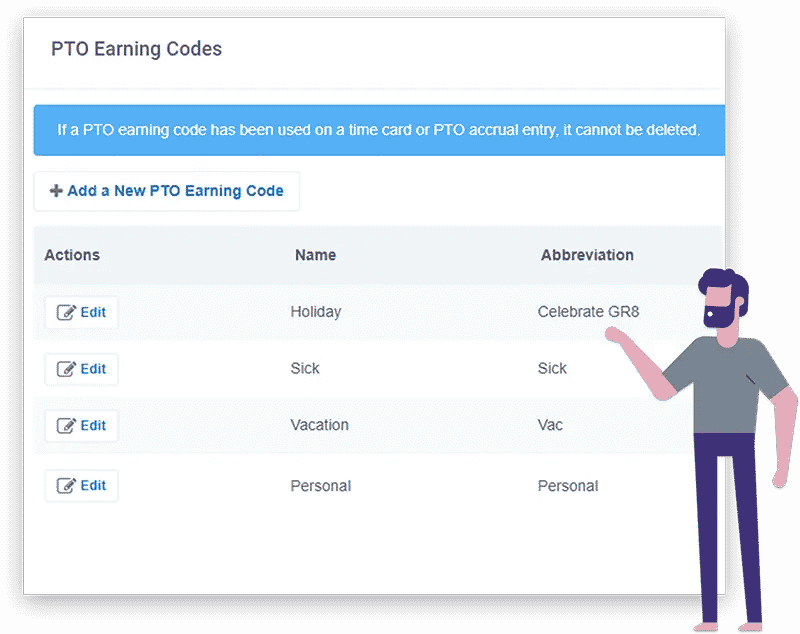 Buddy Punch's Paid Time Off Tracking allows you to use default or custom PTO types.
You can also allow employees to view the workforce-wide PTO Calendar, so that other employees can see how full or available time slots are.
It gets better. With this feature, you can enable employees to take a self-service approach to their PTO. They can enter time off (vacation time, sick time, or personal time) directly in their time card and you can let it be auto-approved. Otherwise, you'll receive a notification


Buddy Punch's PTO Accruals feature is as flexible as one business compared to another. You can set rules for how PTO accrues depending on your company policy (weekly, biweekly, quarterly, etc.)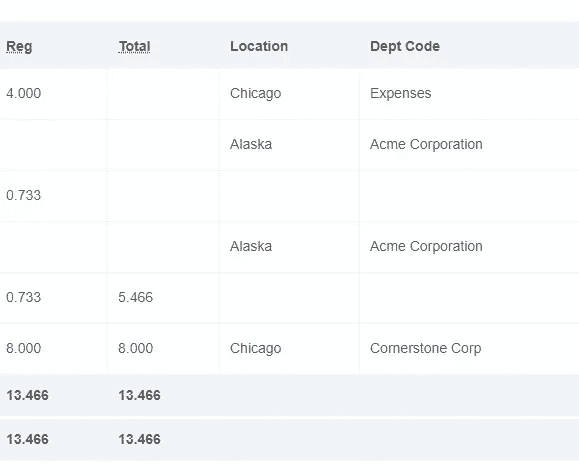 Buddy Punch lets you choose from more than a dozen different types of overtime to calculate total pay. This feature can even be adjusted on a per-employee basis. Spend less time micromanaging your employees' hours.

What about managing time off on a minor scale? The automatic breaks feature allows business owners to deduct time from an employee's time card automatically depending on the specifications established. Simply name an automatic break rule, specify how many hours should pass before it triggers and how long it lasts, and then assign the rule for employees.

Buddy Punch's Notifications feature pairs well with the paid time off tracking features we've mentioned above. With notification alerts, managers and administrators will be notified whenever team members send in a PTO request. You can then set it so that these leave requests are either automatically approved, or manually approved or rejected. Regardless of the decision, a notification will be sent back to your team member with the final decision.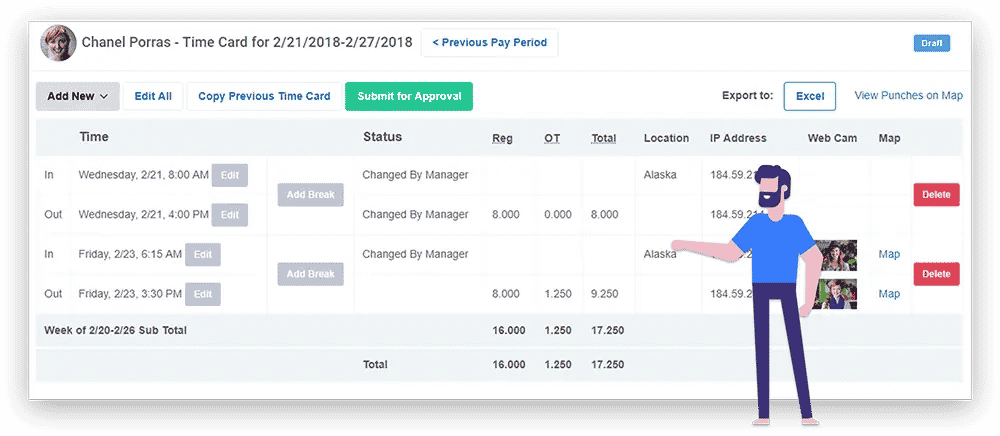 Buddy Punch offers several customizable report options that can be exported in Excel or PDF format, depending on your preferences. You can also export your Payroll information, providing a detailed view of your employees, their hours, overtime accrued, and more. This information can be sorted by pay periods to give you an understanding of changes over time.
Buddy Punch Offers Many Other Features
Though we've primarily focused on how Buddy Punch can give you control over employee time off, there's a lot more this employee attendance software brings to the table. Check out a few of its other features, such as:
The benefits don't stop there. We have a regularly updated blog that provides tips on maximizing employee engagement and improving workforce management, and our help doc center contains useful articles on how to make the most of Buddy Punch.

Beyond that, our responsive customer support is always around to answer questions via live chat, or to provide you with a one-on-one personalized demo of our software.
Buddy Punch's Online Reviews
As of this post's writing date, Buddy Punch has 4.8 out of 5 stars and 676 reviews on Capterra.


As several reviewers have noted, Buddy Punch is flexible, easy to use, and has responsive customer support. We'll list a few examples of those testimonies below. (Click here to explore the full list of reviews.)
I really like that it tracks and accrues PTO & holiday hours. I don't have to ask anyone what my PTO balance is! I think its smart to be able to add a schedule if you happen to work the same amount of hours each day – much easier to add. I also like that I can add a comment or note of some sort, if needed.

Click here to read the full review.
I had used other more expensive systems at previous employers and Buddy Punch has be more than sufficient for our size of business. It is easy to run the reports- PTO, location of services, and the geofence. My favorite time in option was the facial recognition- the main problem with it was if someone had a beard and then shaved it or got a major change in hair styles we had to take their picture again.

Click here to read the full review.
I like how easy the PTO requesting is for the staff and for admin to approve. It's a little bit of work trying to get all of the PTO hours in for all employees, especially if they work different hours and have different PTO hours, but the team at Buddy Punch are always available to help with questions. That is one of the things I think are most important- the great customer serivce.

Click here to read the full review.
It has a great deal of flexibility and gives administrators/managers the ability to see who is here at any given time of the day. Managers also have the ability to approve PTO prior to it being added to the time sheet. This provides accountability for both the employee and manager.

Click here to read the full review.
Try Buddy Punch for Free
If you're starting to see how Buddy Punch can revolutionize your paid time and vacation tracking, you're always welcome to try it out via the 14-day free trial we offer on all pricing plans. You can also book a one-on-one demo, or view a pre-recorded demo video.
BambooHR is a HR Software that positions itself as an all-in-one solution to employee management, from Hiring and Onboarding to Data & Analytics. Its functions include:
This is a powerful piece of software that brings more to your HR Department than just employee leave management. As of this post's writing date, BambooHR has 4.6 out of 5 possible stars on Capterra, with 1755 reviews.
" The PTO tracker is another Bamboohr feature our company absolutely loves. Prior to Bamboohr we used email and paper to track PTO. The double, sometimes triple, handling of requests was beyond frustrating. Employees now request off and receive their managers approval (or denial) within minutes. Employee records throughout the system are updated the moment their supervisor accepts his/her PTO request. Everyone enjoys managing their own PTO."

Click here to read the full review.
Zoho People is a diverse, cloud-based software for HR teams to streamline their team management. At the time of this post's writing, Zoho People has a total of 450 reviews on Capterra (see here), with an average of 4.6 out of 5 stars. Some of its key features include:
"ZOHO people allows management of different resume and people. It is a software that can be used in tracking employee cycle. Scheduling and minimal features for time tracking are possible with ZOHO People. This software allows so many jobs to be done with just one dashboard to face, which looks very clean and organized as well."

Click here to read the full review.
OnTheClock offers various features and functionality, some of which include:
OnTheClock offers four categories of PTO: Vacation days, Holiday Time, Sick leave, and Personal time. You can rename categories to better fit your policy, give employees a set number of hours off, or let them accrue paid time off (similarly to Buddy Punch). As of this post's writing date, OnTheClock has 4.7 out of 5 stars and 511 reviews on Capterra.
"You can set or restrict punches from specific devices, regions, IP addresses, and similar on a per-employee basis or account-wide, allowing you to make sure that every employee is punching in when and were it's appropriate to do so. It allows a per-employee automatic accrue system for PTO. Approving PTO requests is a breeze as well."

Click here to read the full review.
At the time of writing, EPAY System's Time and Attendance Software has a total of 51 reviews on Capterra (see here), with an average of 4.1 out of 5 stars. Some of its key features include:
Notably, it includes an employee self-service approach to request time off.
"Overall experience has been great, I havent had any issues with it, other than what I said in above(cons), I find it helpful to be able to make important changes myself versus having to go to my manager to have them do it. To me that is the best part. Anything they can do, I now can do for myself when it comes to payroll, taxes, old pay stubs, etc."

Click here to read the full review.
When I Work comes with a variety of functions, such as:
Employees can submit time off requests from their iPhones, iPads, or Android phones in addition to on desktop devices. Time off can be submitted as unpaid, paid (PTO), sick days, or holiday. As of this post's writing date, When I Work has 4.5 out of 5 stars and 926 reviews on Capterra.
"I am have been able to cut my paper usage and the potential mistakes of forgetting emails or losing the PTO paperwork. Any PTO requests or vacation requests are easily managed."

Click here to read the full review.
Hubstaff is an intuitive, flexible time tracker that lets you use automation to create accurate employee timesheets. Some of its features include:
As of this post's writing date, Hubstaff has 4.6 out of 5 stars and 1252 reviews on Capterra.
"It's a great productivity tool to have for a company who want's to manage their employee activity tracking with ease. * Easy to setup specifically in the employee's side. * Does not require much resource, you'll barely feel it running on the background even though it takes screenshot of your desktop by the minute, so you'll never get interrupted by it."

Click here to read the full review.
ZoomShift is a great employee scheduling software for your hourly employees, and comes with features such as:
As of this writing, ZoomShift has garnered a total of 93 reviews and 4.5 out of 5 stars on Capterra.

"Hours and productivity are tracked easily day to day and the platform provides useful feedback. I have recommended it to other business leaders also."

Click here to read the full review.
At the time of this post's writing, DeskTime has a total of 239 reviews on Capterra with an average of 4.5 out of 5 stars (see here). Some if its time management features include:
"Very positive experience – easy to set up, easy to use, and allows me to track employees' work progress without being intrusive, especially during COVID when staff is working remotely. Gives me a sense of what is going on with my staff (through screenshots), without nagging them."

Click here to read the full review.
Sling is an employee scheduling app with a specific focus on improving team communication. As of this post's writing date, it has 109 reviews and 4.6/5 stars on Capterra. Features include:
"Sling makes employee scheduling and overtime tracking a breeze. Our team members love the ability to receive instant notifications of their assigned shifts, and our organization benefits from being able to distribute our workforce more strategically to maximize production and reduce loss."

(See the full review here.)
7Shifts has garnered a total of 876 reviews and 4.7 out of 5 stars on Capterra as of this post's writing. Some of its features and functionalities include:
It's worth noting that 7Shifts was created specifically as a restaurant-oriented time and attendance app. If you're in the industry, you might find it advantageous to use this rather than a more general piece of software.

"Customer service is my biggest reason for using 7shifts!!!! Questions get addressed the same day! If there's a glitch or a feature request, they listen and will try to implement on their next update. This app has come a long way. The app is ever evolving and I see new features being added from time to time. Love the support and love the evolution. Price is also fair. 100% will recommend to any businesses!"

Click here to read the full review.
12. Findmyshift
Findmyshift is an employee scheduling app with an emphasis on simplicity. Some of its core features include:
What might catch business owners' eyes is that Findmyshift has a free plan that works quite well for small businesses with less than 6 employees.
As of this post's writing, it has 694 reviews and 4.6 out of 5 stars on Capterra.
"I think this is our 5th year renewing with findmyshift. One of the biggest reasons for sticking with them is that you can always get hold of their support, they always want to help and will often go above and beyond to advise, tweek or fix anything that we are struggling with in terms of functionality or potential bugs in the code."

(Click here to read the full review).
Choosing the Best PTO Tracking Tool for Your Employees
While almost every modern time and attendance tool comes with options for leave management, it's worth making your choice of PTO tracker based on the other functions included.
If you own a restaurant, you likely can't go wrong with 7Shifts, which comes with additional features that most other types of businesses don't even have to consider, such as Tip Pooling. If you're running a large business and rely heavily on your human resources department, maybe BambooHR is the software that would have the most positive impact on both your paid time tracking and workforce management.
But if what you really want is a PTO tool that's intuitive for your team members to use, equipped with a variety of functions you can enable or disable at need, and accompanied by a customer support team that's attentive and responsive – then you can't go wrong with Buddy Punch.

Try Buddy Punch for Free
If you feel that Buddy Punch could be the solution to your PTO and employee management needs, sign up for a 14-day free trial. You can also book a one-on-one demo, or view a pre-recorded demo video here.

You May Also Like…