5 Timesheet Tracker Options for Increased Employee Accountability (2023 Guide)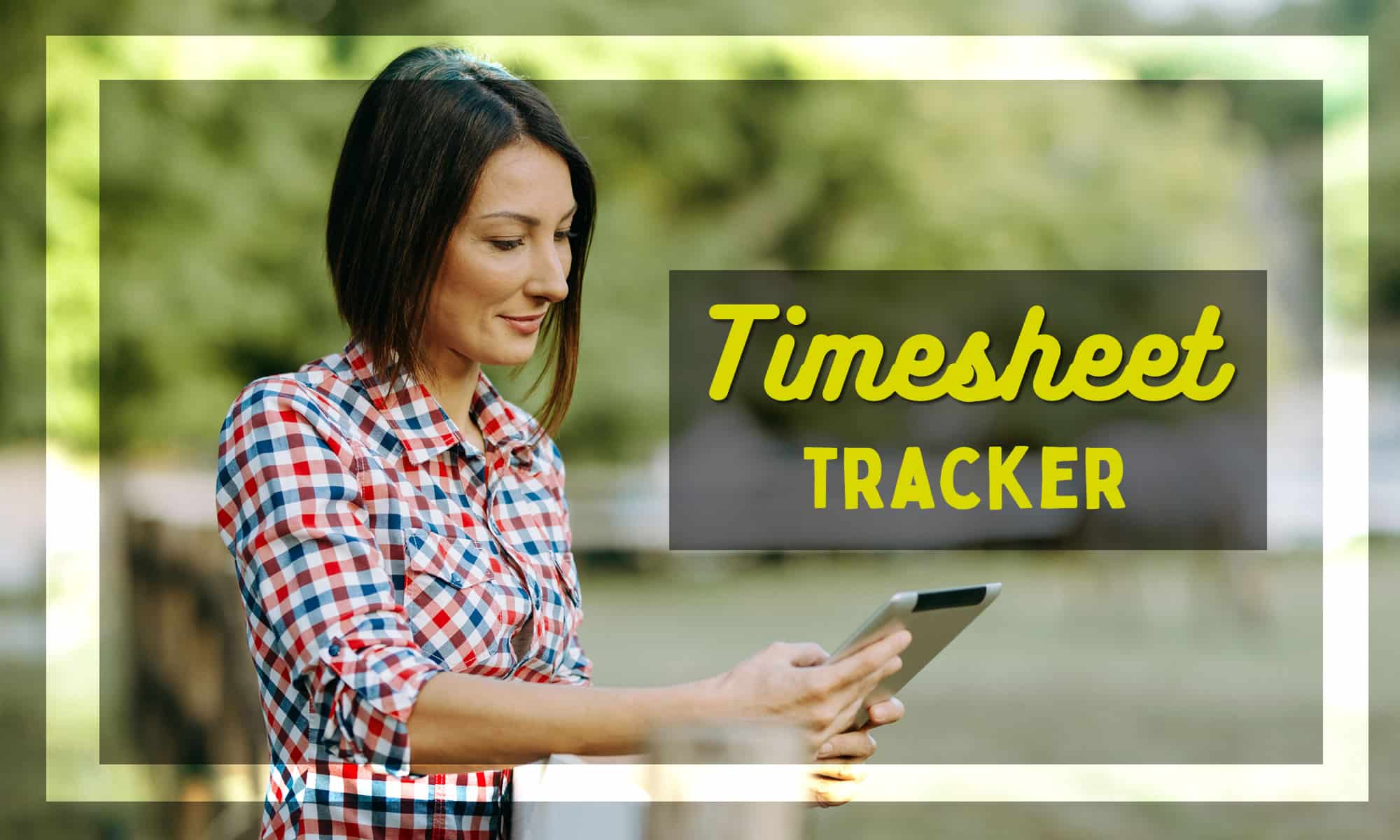 Let's face it: even the most diligent employee may begin to coast through their time on the clock after a while. That paints a grim picture even before you consider an employee that would actively engage in time theft to pad their time entries, and team members who never make an effort to reach their full potential while on the clock. Savvy business owners have come to understand that time trackers are often the missing key to unlocking improved employee accountability and business profitability.
The catch is that choosing the wrong timesheet tracker will have the exact opposite effect, impeding your employees' ability to focus on work and overall holding your business operations back.
Keeping this in mind, we're going to list our top 5 picks of timesheet software based on how well they deliver on the following three attributes:
Employee Accountability. Which timesheet tracker app has useful features that are actually going to encourage team members to be more accurate, mindful, and honest with employee hours?
Design Simplicity. Which tracking tools offer useful time management features without being overwhelming to employees? And which ones can function across multiple devices (iPhones, Androids, Desktops, etc.)
Payroll Streamlining. Lastly, we're measuring how well each time tracking software handles timesheet data at the end of pay periods. Is it going to be a pain for business owners to calculate payments based on weekly timesheets, or are there features included that keep total hours accurate and easy to transfer for payment?
Hopefully, with this ranking, you'll be able to figure out which time clock software fits your business best.
Timesheet Tracker Options
Topping our list of timesheet trackers is our very own Buddy Punch. It was nearly a decade ago when we were expanding our operations. With less than two dozen employees at three locations, we thought our manual methods of managing employee timesheets would be enough to keep up with our team members. We quickly realized that wasn't the case – handling timesheet data, accounting for paid time off, and calculating payments to employees forced us to turn towards digital timesheet apps.
Unfortunately, we found that our specifications weren't quite being met by the options we found. So we decided to develop our own online timesheet software, and to draw on our experiences to inform the features we would equip it with (features such as GPS Tracking, Geofencing, Job Codes, Notifications, Overtime Calculations, PTO Management, Customizable Reports, and Payroll Integrations.)
Next, we're going to dive into each of these features to show exactly why they're valuable to have in an online timesheet app.
Note: if you'd rather come to understand these functions by trying them yourself, you can sign up for a 14-day free trial of Buddy Punch by clicking here.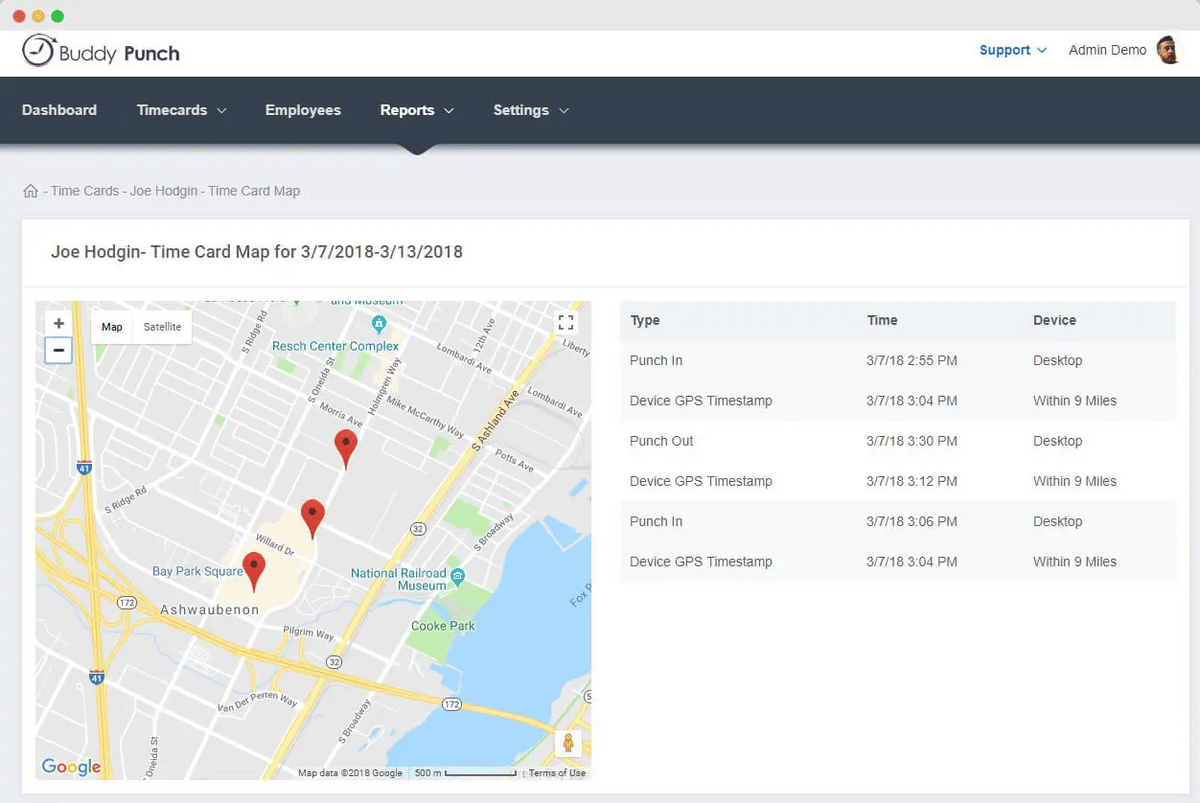 Buddy Punch's GPS Tracking feature is one of the reasons why this is such an effective mobile time management tool in the age of remote and hybrid work. With this, whenever an employee clocks in, their location is marked on an interactive map. This means you can keep track of remote employees working at home or at remote job sites.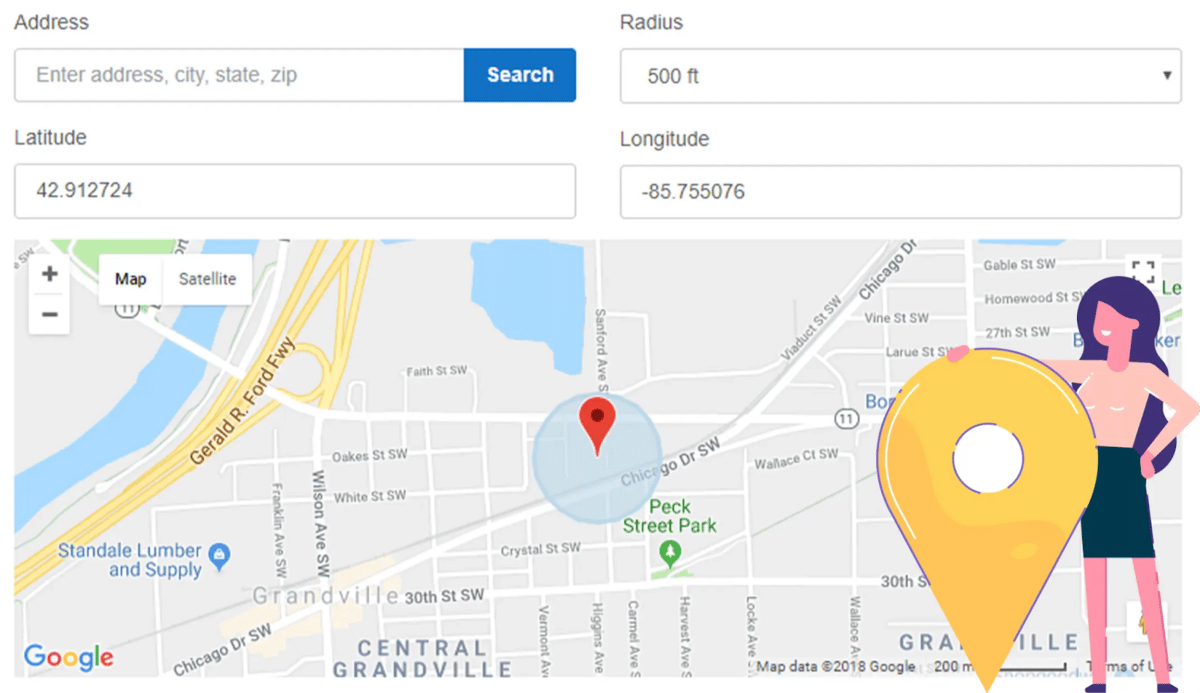 Geofencing is another feature that helps business owners hold employees accountable while off-site. With this, you can create a radius (called a Geofence) on an interactive map. If an employee ever attempts to begin logging time while outside one of these designated zones, they'll be denied. Only when your team members are at the locations you designate can they begin logging time.

Job Codes, also known as Department Codes, gives managers and administrators a better understanding of which tasks are most (and least) profitable. When this feature is enabled, employees will be prompted to designate what tasks they're working on while on the clock. Employees can easily swap between multiple codes while on the clock, and all time spent on tasks can be viewed in each employee's timecard.

The Notifications feature boosts overall productivity in a roundabout way, giving employees, managers, and administrators alike the peace of mind that comes with knowing that nothing important requires their attention.
Because if it did, they would have been notified.
Employees are notified of punch change emails, time card approval status changes, PTO changes, and when they're approaching overtime. Managers and Administrators are notified of punch change emails, punch ins and out, time card approval status changes, PTO requests, and alerts for employees approaching overtime.
Each of these can be enabled or disabled at will.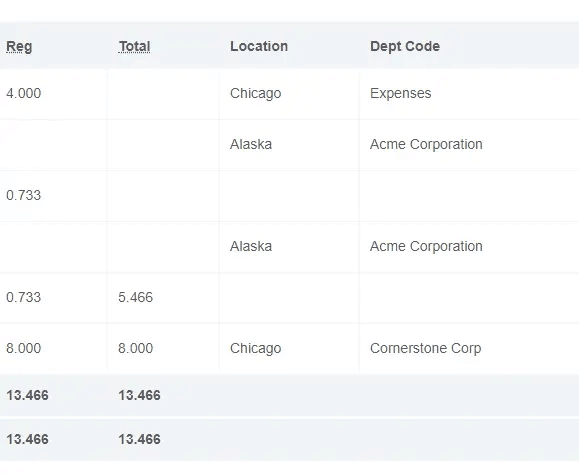 Buddy Punch's OT Calculations feature lets you choose from more than a dozen different overtime types to calculate overtime pay. Regular, overtime, and double overtime are automatically calculated based on which types you choose. If you ever need a specific type added, you can reach out to let us know.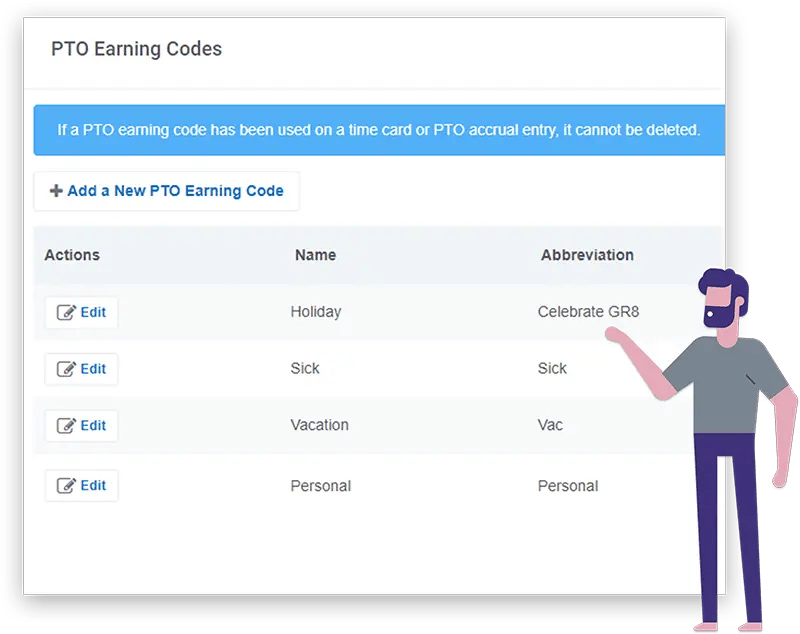 Buddy Punch makes it easy for managers to handle paid time off. Besides the many built in PTO codes to categorize your employee leave, you can create custom types of PTO at will.
But it gets better – you can effectively automate the entire process if you wish as well. Buddy Punch allows you to use a self-service approach to PTO. With this enabled, anytime your employees put in a time off request, they'll be automatically approved without your oversight. This allows you to spend less time managing sick leave and more time streamlining other aspects of your business.
Buddy Punch offers a wide variety of reports that you can use to get a better understanding of how your business operates.
The Payroll Export will give you an overview of your employees, their hours, overtime, locations, and departments. The Hours Summary will provide you with accurate invoicing of all billable hours. The Employee Detail Report catalogs information for all your employees and/or freelancers. And more (click here to view the complete list of custom reports Buddy Punch can generate). All of these reports can be exported as Microsoft Excel CSVs or Adobe PDFs, depending on your preferences.

At the end of each pay period, you can use Buddy Punch to easily transfer over employee data to your chosen Payroll Software, making invoicing, billing, and payment easy as can be. Popular names that Buddy Punch works with directly include QuickBooks Time, ADP, Zapier, and more (view the comprehensive list here).
Buddy Punch Empowers Business Owners
It's important to note that we've only highlighted a select few of Buddy Punch's features. There's plenty more that comes with this timesheet and tracking app, such as:
There are also additional, out-of-app benefits that many business owners can enjoy:
You can even book a one-on-one personalized demo with that same customer support by clicking here.
Buddy Punch's Online Reviews
So far, we've spent a lot of time talking about our software – now it's time to let our users speak instead. As of this post's writing date, Buddy Punch has 4.8 out of 5 stars and 703 reviews on Capterra.

Let's list out a few of those testimonials and see what specifically causes reviewers to rate Buddy Punch so highly as a solution for tracking timesheets. (Click here to explore the full list of reviews.)
"BuddyPunch is very easy to use and has several login options. Our employees can use their standard username and password, but they can also punch in faster/simpler using QR codes or a 4-digit pin. BP also organizes your timesheet well so that you can check your worked hours, PTO, etc at a glance."

Click here to read the full review.
"Buddypunch gives us a lot of abilities to manage our employee that we didn't have before. We literally made the leap from paper timesheets to a system that every employee has to utilize. As you can imagine, there were some lagging employees that did not embrace the idea of change. Once employees gained experience with the service, it has become a monumental change for our agency."

Click here to read the full review.
"I appreciate that new releases are well-tested before they are launched and free of bugs – the BuddyPunch team does a great job of maintaining the integrity of the application while continuing to add more value to the software frequently. We have had consistent experiences on the web version as well as iOS and Android apps for the life of our subscription."

Click here to read the full review.
"Very simple, very easy, does employee punch-ins, does it well. Also got an IP-Lock feature so employees can only punch in on-site. There are some other features like wage calculations based on punch-in time, overtime stuff, and other things that I don't use but they seemed pretty useful if I ever choose to use them."

Click here to read the full review.
As these reviewers noted, Buddy Punch is easy to use, effective at managing timesheets, and accompanied by a helpful customer support team.

Try Buddy Punch for Free
If you feel that Buddy Punch might be the right timesheet tracker app for your business, sign up for a free trial. You can also book a one-on-one demo, or view a pre-recorded demo video.
Clockify is a popular timesheet app with a pretty liberating free plan (allowing access for unlimited users, though many features are locked behind a paid plan). Some of its functions include:
As of the writing date, Clockify has 4.7 out of 5 stars and 4242 reviews on Capterra.
"Clockify makes it easier for folks at the company I work for and myself to generate a timesheet report for any specific period. Normally payroll would ask us for a monthly time report before they pay us so this comes in handy plus it's very simple to generate with just a few clicks."

Click here to read the full review.
It wouldn't make much sense for us to talk about Timesheet trackers without touching on the aptly named "Timesheet." This online timesheet tracker comes with features including (but not limited to):
As of this post's writing, Timesheet has a rating of 4.8 out of 5 possible stars, based on 70 reviews (see here).
"I an a field consultant…not sitting at my desk. I need full mobile capability and use of features. This cover it all for me. The Widget is THE REASON I implemented Timesheet. There is nothing like it on the market. It sits on my home screen and intime.in and time out as I go. Very few notes needed- I fill those in later. "

Click here to read the full review.
Hubstaff is an all-in-one timesheet tracker with various features and functionality such as:
As of this post's writing date, Hubstaff has 4.6 out of 5 stars and 1279 reviews on Capterra.
"Time tracking option performs very accurately. Hubstaff offers screenshot capture option which is very Effective in employee monitoring especially in remote work environment. Entire workforce management is made possible with this software. Hubstaff customer support is also very Good offering immediate support for all our queries."

Click here to read the full review.
At the time of writing, QuickBooks Time has a total of 5696 reviews on Capterra (see here), with an average of 4.6 out of 5 stars. Some of its key features include:
"It stands out for its ease of use and simplicity of configuration. I like the versatility of the flexible clocking option, which allows employees to clock in and out from anywhere. It features drag and drop options that make it easy to create custom schedules. His team supports the client responds quickly and efficiently resolves our concerns."

Click here to read the full review.
Choosing the Best Timesheet Tracker for Your Business
Even though we've managed to narrow down the options for employee timesheet tracking, you're still going to have to go through a process of trial and error to figure out which one works best for your company and managerial style. But looking closely at the features offered can help.
For example, if you're a business operating with a tight budget, Clockify (with its free plan) will be naturally alluring, as long as you don't mind lacking many of its paid features. If you particularly value feedback and analysis, you might find that Timesheet is right up your alley.
But, it's the business owner that wants a flexible timesheet tracker with a wide variety of features, an emphasis on simplicity so that any team member can quickly adapt, and a customer support that's always on standby to assist that will find themselves choosing Buddy Punch over the other web timesheet time tracking options.
Try Buddy Punch for Free
If you feel that Buddy Punch could be the right real-time tracking solution for your business, sign up for a 14-day trial (no credit card required). You can also book a one-on-one demo or view a pre-recorded demo video here.

You May Also Like…