Online Time Clock For Escape Rooms (3 Options)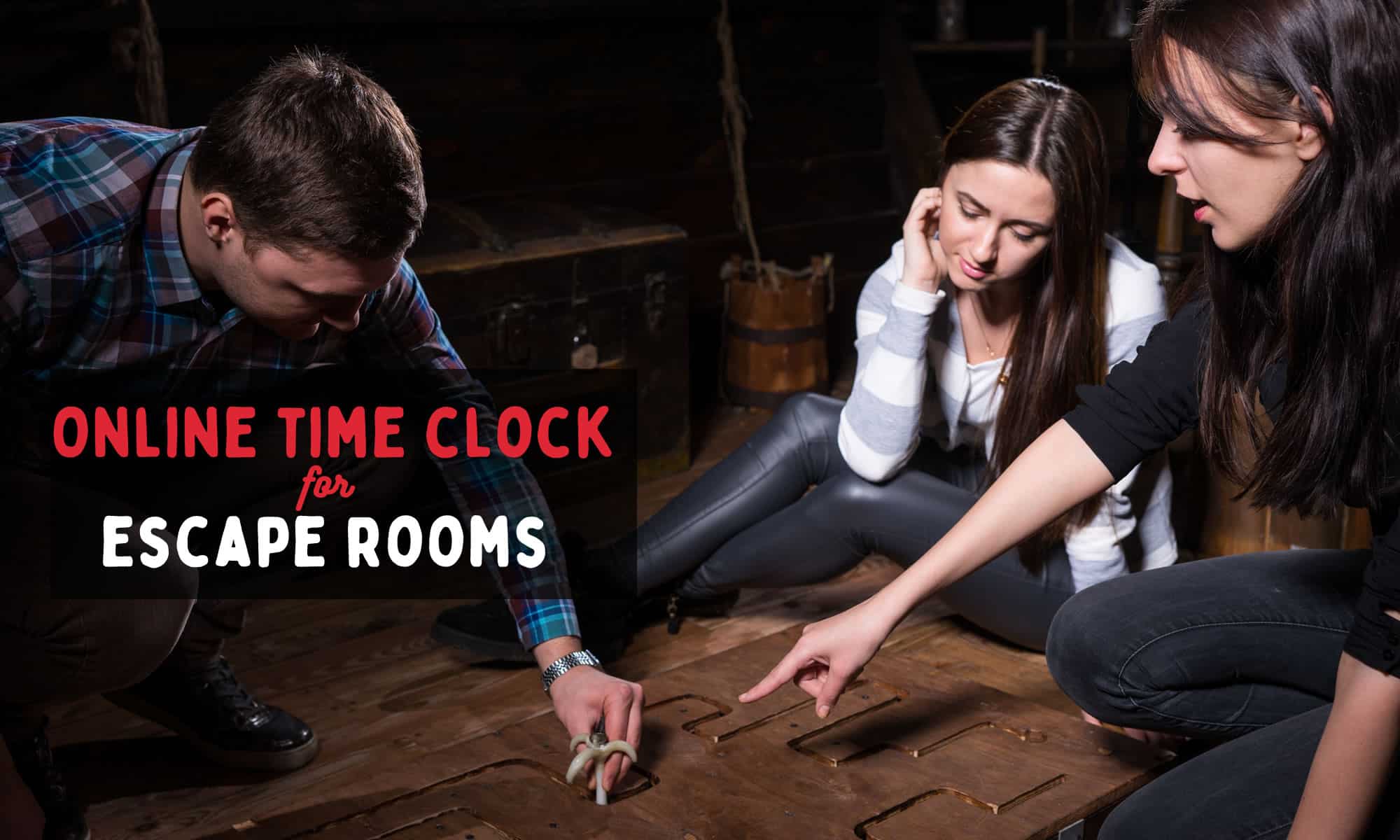 In the world of escape rooms, be it digital or in-person, the key to smooth operations lies in effective time management. This is where our top three online time clock solutions for escape rooms come in, providing:
Real-time employee tracking
Instant notifications
GPS location tracking
Third-party payroll integration
Whether you are managing interactive escape room games for a typical team of 5-10 or hosting larger virtual escape rooms on platforms like Zoom, these solutions will enhance your ability as a game master to track employee hours, foster teamwork, and optimize overall productivity.
This article will delve into the best web-based time tracking systems for those delivering escape room experiences. Each system is equipped with real-time data analytics, allowing for informed decisions and improved monitoring of your team's progress.
If you are trying to deliver an unforgettable team building activity for co-workers, your escape game team must be firing on all cylinders.
This begins with having access to a robust time tracking solution.
The best escape room and corporate team building organizers use time tracking platforms to ensure team members are ready to host large groups and deliver fun experiences.
Let's explore how you can take your escape room enterprise to new heights with these time tracking solutions.
Online Time Clock For Escape Rooms
1. Buddy Punch
Teams hosting digital escape rooms can use Buddy Punch to organize their team members and ensure employees are ready to set up virtual team building activities. Organizing an effective escape room adventure is no small feat. Whether you are hosting real-life escape rooms or a team building event for a remote team, you must have a team that's ready to deliver.
If you are looking for a time tracking platform that neatly integrates with your existing payroll system, Buddy Punch is equipped to meet your needs. Managers can use Buddy Punch to accelerate productivity across the workforce and ensure employees are focused on the tasks that matter most, such as preparing the perfect puzzle-solving events and room challenges.
How Buddy Punch's Time Clock Platform Works
Buddy Punch has been meticulously designed to streamline time tracking, enabling employees to clock in and out effortlessly with just a click of a button. Our well-refined process ensures time entries are easy to complete, thereby encouraging employees to accomplish these tasks without delay. Team managers can access timesheet data and view time entries in real-time.
So, how can your escape room business use Buddy Punch to your advantage?
Use GPS Tracking To Monitor Employees
Buddy Punch comes equipped with an integrated GPS tracking feature, enabling team leaders and project managers at your escape room business to monitor the locations from which employees are clocking in and out. This function proves especially vital for those managing remote or hybrid teams, as it fosters a culture of accountability and transparency.
Use Face Recognition To Prevent Timesheet Fraud
To enhance security and promote workforce transparency, Buddy Punch has a face recognition feature. This tool requests employees to capture a self-photo using their device's camera while clocking in and out, reducing the likelihood of timesheet fraud. Utilizing this face recognition feature not only ensures honest time tracking but also instills an added level of security.
Instant Notifications & Alerts
Buddy Punch offers a broad spectrum of customizable notifications that employees can choose to receive via either email or mobile. These notifications cover everything from updates on paid time off (PTO) changes to time card approval statuses. This feature is a testament to the platform's commitment to keeping everyone in an organization connected and informed.
Are you interested in the possibilities of Buddy Punch for your escape room business? Take a read through our "Knowledge Base" and explore all Buddy Punch has to offer your workforce.
Also, if you have any specific questions, please contact our team directly.
You can book a one-on-one personalized demo here.
Buddy Punch Makes Timesheet Entries Easy
Here are just some of the features available to Buddy Punch users:
Buddy Punch's Online Reviews
Buddy Punch's user reviews highlight the immense benefits of this platform. As of the writing date, Buddy Punch has 4.8 out of 5 stars and 851 reviews on Capterra.
Below, we'll list just a few reviews that speak to Buddy Punch's ease of use and great customer support service. (Click here to explore the full list of reviews.)
As reviewers have noted, Buddy Punch provides team leaders and project managers with the necessary tools to streamline timekeeping and monitor labor costs:
"The monthly scheduling feature and web/app time clock are both very easy to use, organized, and reliable."

Click here to read the full review.
"Cannot say enough about their support. Even if the product was not as amazing as it is, I would highly recommend Buddy Punch due to the unbelievable support!"

Click here to read the full review.
"I enjoy being able to see my vacation hours, wellness hours, holiday pay and how many hours I have so I can plan on future vacations."

Click here to read the full review.
"Buddy Punch is very user-friendly. My company has been using Buddy Punch for about 8 months and have not had any issues. Great Service. Great Price."

Click here to read the full review.
Try Buddy Punch for Free
If you feel that Buddy Punch might be the right fit for your business, sign up for a free trial. You can also book a one-on-one demo, or view a pre-recorded demo video.
2. QuickBooks Time
QuickBooks Time serves as a robust clock punching solution that smoothly integrates with your preferred payroll provider. It's not only compatible with QuickBooks' proprietary accounting software, QuickBooks Online, but also aligns seamlessly with a host of other third-party solutions. If you're already leveraging QuickBooks for your accounting needs, this integration would prove to be a highly efficient choice.
It's a great timesheet app for Android and iPhone, and at the time of writing, QuickBooks Time has 4.7 out of 5 stars and 6,500 reviews on Capterra.
QuickBooks Time (formerly TSheets) has features that include but are not limited to:
"I loved the way that it was not difficult to make proposition and solicitation, as well as charging over recommendations into solicitation. It likewise made it simple for me to add credit card payments."

Click here to read the full review.
3. TimeCamp
TimeCamp is specifically crafted to simplify the time-tracking process. With this platform, generating time tracking reports and monitoring employee progress becomes a quick and seamless task. TimeCamp provides business owners and team leaders in your organization with a toolkit to effortlessly track work hours, streamlining management and productivity.
At the time of writing, TimeCamp has a total of 590 reviews on Capterra, with an average of 4.7 out of 5 stars. TimeCamp offers a full range of practical features for teams:
"My experience has been very positive. The platform provides a considerable number of practical and efficient functions that have allowed me to optimize the management of my projects and the productivity of my team."

Click here to read the full review.
Try Buddy Punch for Free
If you feel that Buddy Punch could be the right fit for your business, sign up for a free trial. You can also book a one-on-one demo, or view a pre-recorded demo video.
You May Also Like…