Employee Time Clock Software and Fingerprint Scanner: 9 Options to Eliminate Time Theft (In-Depth Post)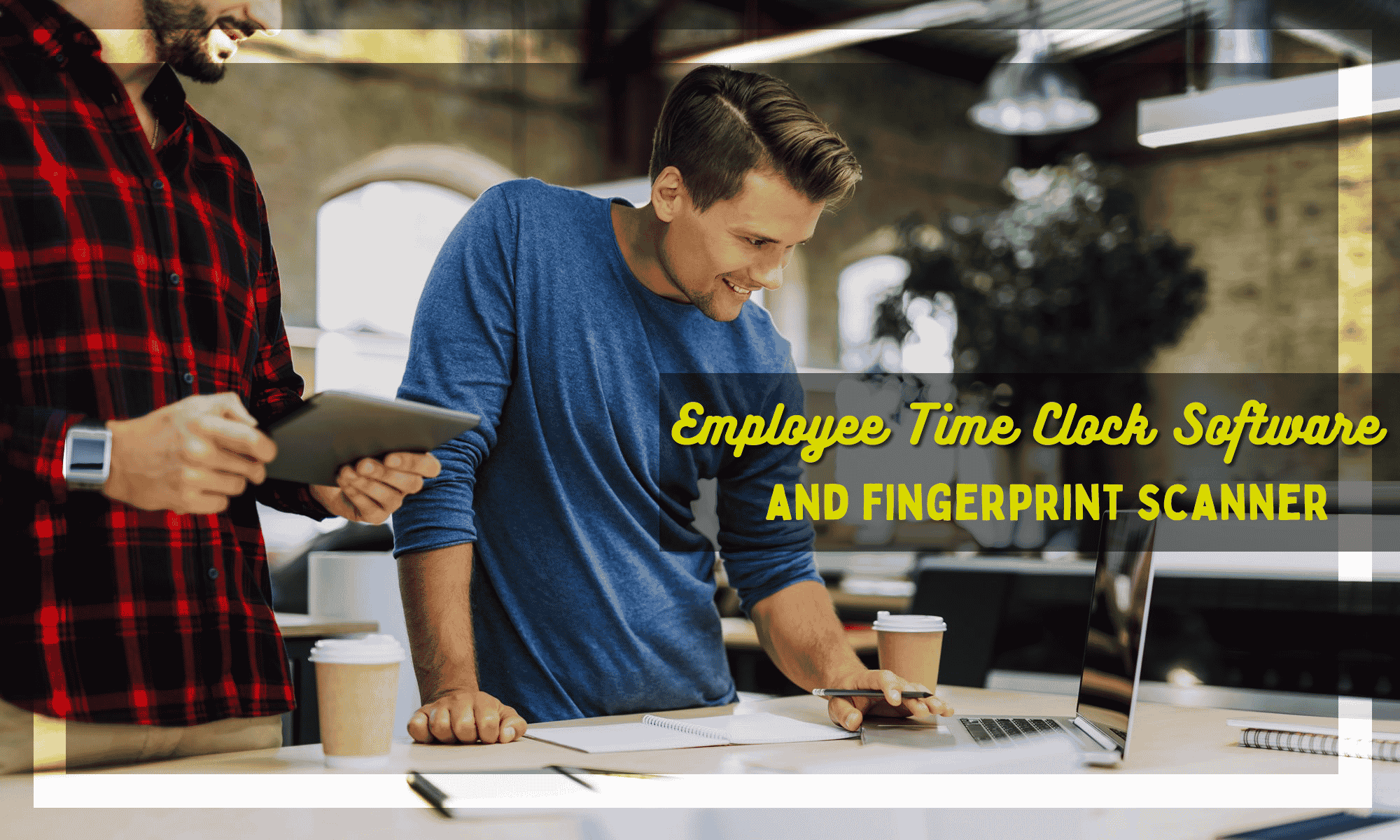 What is the best way to ensure that employees aren't taking advantage of their freedom during work hours? Most business owners assume that attendance software, particularly physical biometric time clocks that scan fingerprints or use facial recognition, are the only way to truly ensure that employees are kept accountable.
Unfortunately, this is far from the best way to go about monitoring time & attendance in the workplace.
There are a few drastic downsides that come with using physical fingerprint or RFID readers, such as:
Eroding employee morale. Many of your team members will be immediately suspicious about the use of such a drastic attendance system, and some may express concerns about privacy (fingerprint readers are said to store data in the cloud, but some have also been caught using third party storage).
Being unhygienic. Especially with fingerprint time clocks, you're asking for employees to share the usage of a device on site. Especially in recent times, such practices might be met with skepticism and concern for health.
Being costly. The average fingerprint scanning device costs a little over $100, which is a much steeper investment than simply using a time clock software with a monthly fee.
Putting you at the mercy of the seller. What happens if a physical time clock breaks? How responsive is their customer support, and will you need a team member to come on-location to fix it? Imagine if the pin entry keypad malfunctions, or you experience connectivity issues with the cords. While time clock software works on devices you and your employees already use (PCs, Macs, Smartphones, etc.) fingerprint scanners are their own beasts to manage.
The truth is, if your goal is to cut down on time theft and payroll fraud, you don't have to go so far as setting up physical biometric devices. Employee attendance can be managed simply enough with powerful software options.
To prove it, we're going to highlight 9 of our favorite time clock systems (some of which have biometric options) in order to show that you don't need to invest in a fingerprint scanner to get employee time and attendance under control in your workforce.
Employee Time Clock Software and Fingerprint Scanner
Starting off our list of time & attendance software that can help you cut down on time theft, we have Buddy Punch. Even though we offer a host of features to help ensure accuracy when your employees clock in (with features such as Job Codes, Locations, Notifications, PTO hours, Face Recognition, Customized Reports, GPS Location tracking, PTO Accruals, and even Integrations with popular payroll software) what sets our software apart is simplicity.
Let's dive into each one of these functions to get a better understanding of how they combat time theft in the workplace without being overwhelming for users.
Note: To get an even more comprehensive understanding of this software, you should consider giving our free trial a go. For 14 days you can experiment to see how Buddy Punch could improve your company's productivity while keeping employees honest.

The Job Codes feature lets you track how much time your employees are spending on a specific job. Besides enabling you to hold them more accountable for how they allot their time through the workday, this feature can quickly give you an overview for which operations in your business are most time consuming or most profitable.

Our GPS Locations feature lets you monitor employee clock ins and clock outs at remote locations. You can create as many locations as you like to ensure that team members are when and where they're supposed to be while they're on the clock.

Exercise a level of control over your employees by monitoring schedule changes as they happen. You can set up Buddy Punch rules to be alerted when a team member clocks in, clocks out, or requests paid time off. If you have a specific team member you want to monitor, you can use this feature to watch them specifically.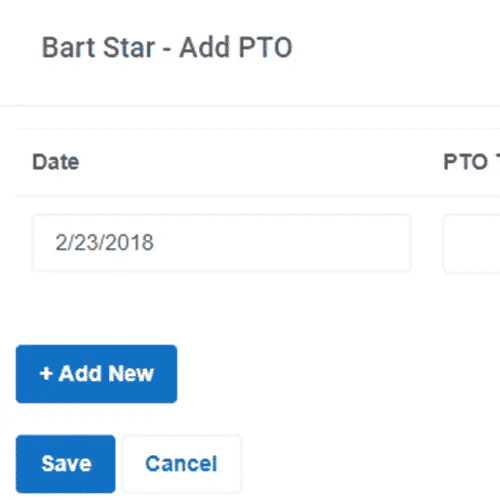 Our clients always mention how much of a pain manual timekeeping is when it comes to PTO hours. Well, consider this feature a major upgrade to the old methods. You can choose a PTO type from our selection, or create a custom one. Furthermore, you can enable employees to use a self-service approach to PTO if you trust them enough. Otherwise, you can monitor changes and respond to PTO requests as you're notified.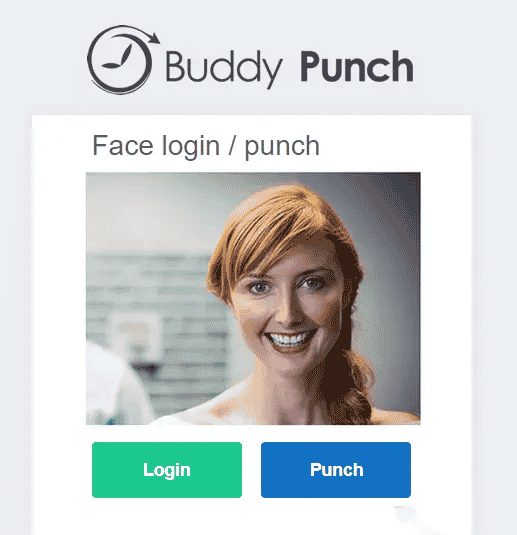 When business owners think of biometrics, they often imagine needing a time clock software with fingerprint scanning. You can achieve the same level of security and assurance with the facial recognition Buddy Punch offers. Whenever an employee goes to clock in or clock out, you can configure it so that their face has to be recognized.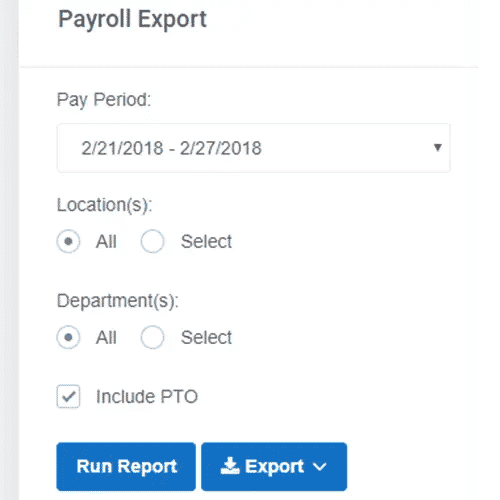 By the end of each week, you can use our Reports feature to get a bird's eye view of your business operations. Hours worked, employees on the clock, overtime hours and more: these customizable reports give you full control.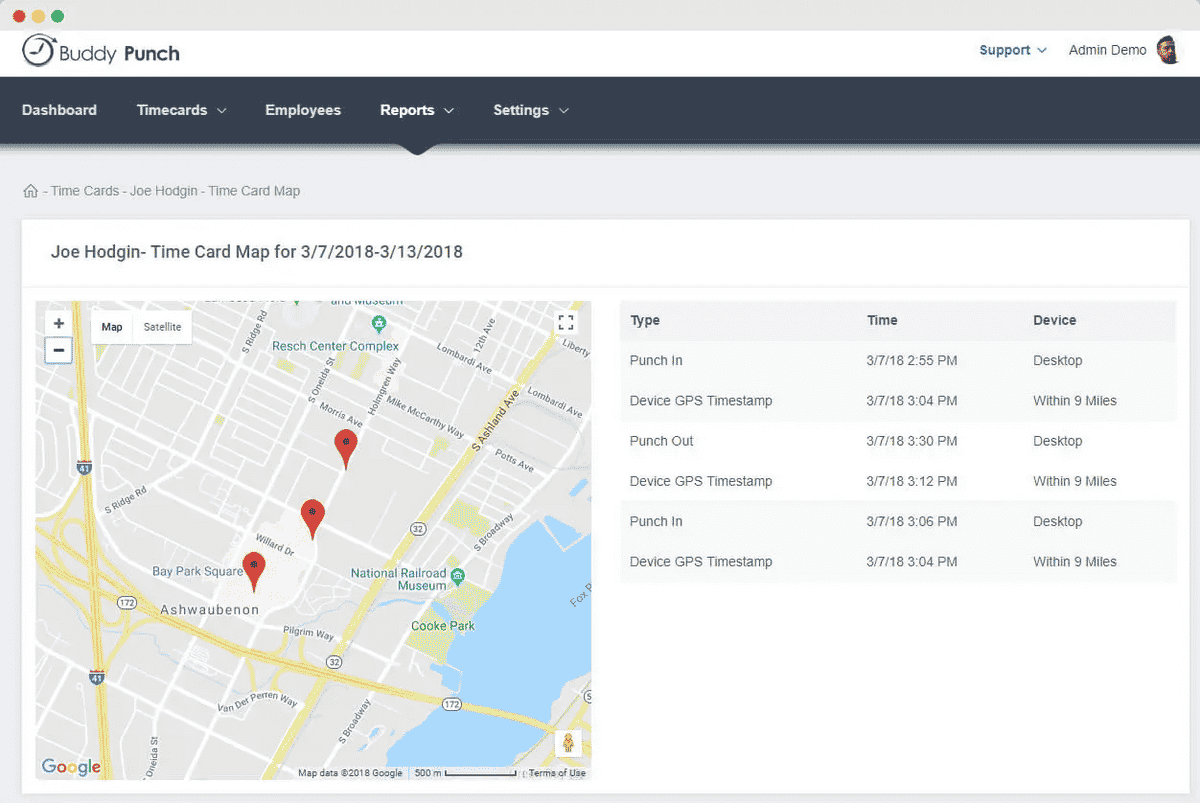 A powerful function to combine with our Locations feature, GPS tracking will let you track employee movement completely, so you can ensure they aren't taking detours or spending time where they shouldn't be while they're on the clock.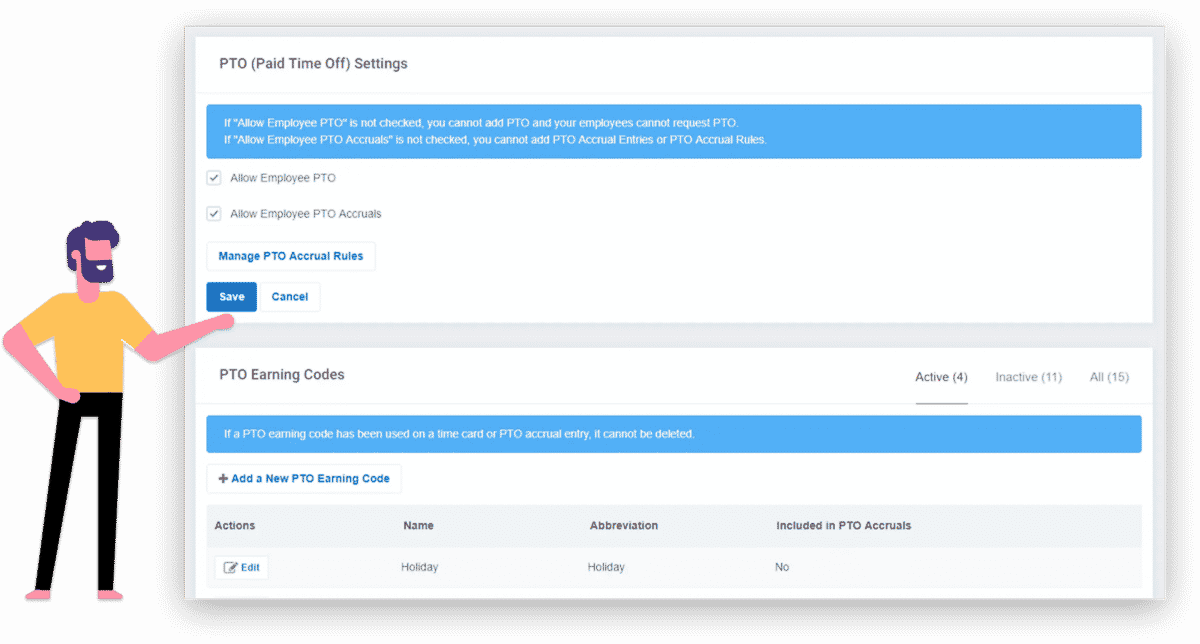 While this isn't for everyone, we wanted to make sure that businesses using an accrual method had the option to help manage their PTO banks. This is one example of how we adjust to accommodate our clients.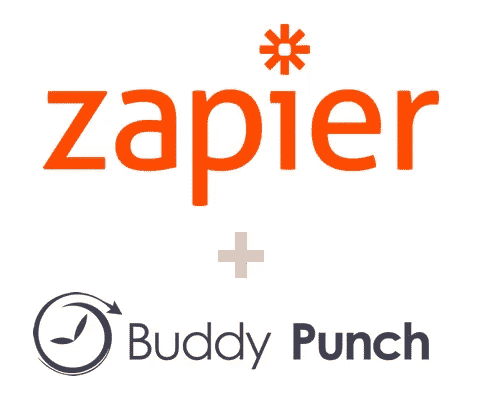 There's no point in a time clock software if you can't even use it. Buddy Punch comes with integrations with many popular payroll software, so you can streamline your process at the end of each pay period and stay confident that the hours you're paying for are accurate. We work with Quickbooks, ADP, PayChex, and more (Click here to view a comprehensive list of our payroll integrations).
That's Not All Buddy Punch Offers
Besides the aforementioned features, Buddy Punch is a time clock that lets you access:
It gets better. Buddy Punch offers a help doc center full of useful articles on how to best utilize our software. If you ever have a question, we're also available to answer queries directly via our live chat. Lastly, you can book a one-on-one personalized demo here.
Buddy Punch's Online Reviews
As of this post's writing date, Buddy Punch has 4.8 out of 5 stars and 671 reviews on Capterra.

Next, we're going to dig into a few of those reviews to see what they have to say about Buddy Punch's features, customer service, and impact on workforce time tracking. As several reviewers have noted, Buddy Punch is intuitive to use and effective at holding employees accountable:
Overall: BP has been extremely accessible for customer service and have been open to suggestions for improvements/additional services. They have steadily grown over the last several years, offering more and more helpful services and integration with other programs.
Pro: Very easy for employees and administrators alike to track time and edit if necessary.
Con: Would like a report that provides a daily snapshot, chronologically, of who punched in/out and at what time.

Click here to read the full review.
Overall: This program does exactly what i want it do. I needed a simple time keeping app where i could customize things to suit each employee and I found it.
Pro: I like the ability to track where employees are Because prior to this app we had an employee who was being dishonest about where they were and it cost is money when it came to billing customer.
Con: Wish i could print all the time sheets for the employees at once instead of having to individually print each employees time card from excel.

Click here to read the full review.
Overall: It has a great deal of flexibility and gives administrators/managers the ability to see who is here at any given time of the day. Managers also have the ability to approve PTO prior to it being added to the time sheet.
Pro: The software has all the features that I currently was using in my spreadsheet – but better as it took human error out of the equation!
Con: Although they are able to answer every one of my many questions; it would have been helpful to download a readable document for reference.

Click here to read the full review.
Overall: Our experience has been phenomenal.
Pro: I like the fact that the support staff is very willing to try to accommodate requests that we have.
Con: I would like it if we could put Exempt employees on the system, just to track PTO.

Click here to read the full review.
Try Buddy Punch for Free
If you're starting to understand how Buddy Punch can beat out finger scanner time clocks, it might be worth using the 14-day free trial to see how well you like the software. You can also book a one-on-one demo with our team or view a pre-recorded demo video.
If you're looking for a cloud-based time clock with no subscription, RedCort's Virtual Time Clock might be right for you. This is a one-time purchase that gives you access to powerful employee monitoring functions such as:
As of this post's writing date, Virtual Time Clock has 4.8 out of 5 stars and 232 reviews on Capterra.
Pro: It just works. That is not an easy thing to say about any software. Windows and Microsoft Office fail constantly and have zero support. The very few times that I have had trouble over the last several years, they were very responsive and helpful. Problems were resolved on the first try.
Con: There are a couple minor gripes that boil down to my personal preferences in UI. I would appreciate a menu of buttons for each user without needing to right-click to access something as basic as a time sheet.

Click here to read the full review.
Connecteam is an easy-to-use employee time clock software with a versatile list of functions including:
As of this post's writing date, Connecteam has 4.8 out of 5 stars and 144 reviews on Capterra.
Pro: – Only add the functions you want. Not encumbered by bloatware or features we will never us. – EXTREMELY intuitive.
Con: – At the time of writing this review, all admin features have to be done through website, and not through the app (though they say they are working on that).

Click here to read the full review.
DeskTime is a versatile, user friendly attendance tracking software that business owners and employees alike will have a simple time using. Some of its more popular features include:
At the time of writing, DeskTime has a rating of 4.4 stars out of 5, based on an average of 238 total reviews.
Pro: For me, It is crucial that the software that's being used by so many of our coworkers remain user-friendly and easily accessible for everyone. DeskTime absolutely delivers in that regard!
Con: I'd say reports and reporting features could have been handled a bit better. I've found myself somewhat limited a couple of times when I was trying to generate some advanced reports but, that being said, you'll find no issue if you're not looking for something very complicated.

Click here to read the full review.
QuickBooks Time (formerly known as TSheets) comes with a host of features such as:
Quickbooks Time is undeniably a powerful piece of software and works across multiple devices in a manner similar to Buddy Punch (iOS, Android, and Desktop devices). At the time of this post's writing, QuickBooks Time has 4.7 out of 5 stars and 5,546 reviews on Capterra.
Pro: Customer service is wonderful, precise help line, they meet our desires in the office. Me personally I would recommend it to my friends and own circle of relatives to try this great platform.
Con: Sometimes I would not be able to clock out and start a new timesheet.

Click here to read the full review.
Insightful (formerly known as Workpuls) gives you the power of workforce management through key features such as:
At the time of writing, Insightful has a total of 47 reviews on Capterra, with an average of 4.8 out of 5 stars.
Pro: It's easy to use, offers lots of information. You can have projects and put in the cost of the project so this tracks the hours and what the bill needs to be.
Con: It's lacking a few features. I'd like to be able to attach website urls to projects. It needs sortable reports which you can export.

Click here to read the full review.
OnTheClock is a web-based time clock that works on a variety of devices (smartphones, tablets, Desktops). It has a very strong set of features you can choose from including:
As of this post's writing date, OnTheClock has 4.7 out of 5 stars and 506 reviews on Capterra.
Pro: Integrates with Gusto (my payroll solution software) Employees can easily track their time and PTO requests
Con: The PTO requests are not so obvious on the management side. There's no pop-up or obvious warning that lets me know someone requested PTO. I would have to be conscientious to go into the PTO section and see if anyone did.

Click here to read the full review.
Working in construction? Looking for a way to cut down on time theft with a remote workforce? CrewTracks was designed with you in mind specifically. Here are a few of this software's features:
CrewTracks has 11 reviews and a full 5 stars on Capterra (as of this post's writing date).
Pro: Takes way less time to complete on the user side, can add pictures and notes for clients.
Con: Sometimes we have connection issues but that results from our location.

Click here to read the full review.
When I Work is a simple, easy to use time clock software that improves communication and accountability for your team. Its features include:
As of this post's writing date, When I Work has 4.5 out of 5 stars and 921 reviews on Capterra.
Pro: This is a very straight forward software that focuses on online scheduling. It's very easy to use. It's very responsive, and fast. IM feature is very good. Great for communication between staff.
Con: The cost is quite expensive, as it's calculated based on number of active employee per month vs a flat fee, so the bigger the company, the more it costs. We have almost 150 employees in total, so it was not the best option for us to use.

Click here to read the full review.
Why Employee Time Clock Software Beats Out Fingerprint Scanners
One thing you may have noticed while reading through this breakthrough is how many features you get access to with time & attendance software. While a physical, finger scanner time clock may initially sound like a good investment (especially if you want a time clock without internet), you're ultimately limiting the amount of options you have over monitoring employees.
Time clock software comes with bonus features that you can enable or disable at your leisure, which allows you to stay adaptable based on what will result in the most productivity and most accurate reporting (which is the goal at the end of the day).
Best of all, most of these time clocks come with free trials so you can see which of these 9 will best fit your managerial style. If you work in construction, CrewTracks is an option tailor-made for your industry. If you want a variety of features, maybe you'd take quicker to OnTheClock.
Or, if you want to ensure that you have all the monitoring options you need, in a simple to use program that will work across all your team members' devices to prevent excuses, you might determine that Buddy Punch is the solution you've been looking for.

Try Buddy Punch for Free
Buddy Punch is available for anyone to try via a 14-day free trial. You can also book a one-on-one demo, or view a pre-recorded demo video.

You May Also Like…