Employee Time Tracking
With our time tracking options it's never been easier to reduce the time you spend manually reviewing, verifying, inputting, and analyzing employee timesheets.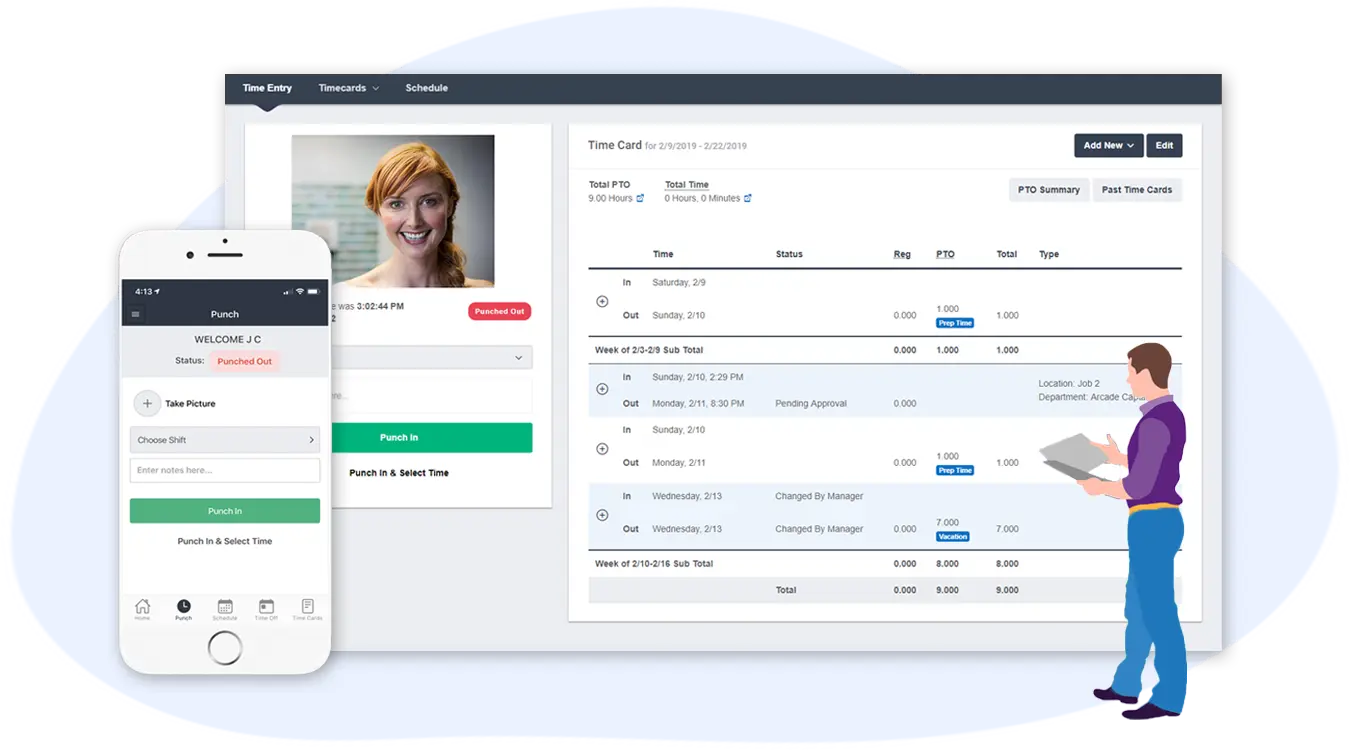 Buddy Punch's time card app makes it easy to stay on top of attendance tracking, time off, and overtime in real-time.
Monitor Overtime
We give you real-time insights into your employees' hours. You can setup emails or mobile notifications when an employee is nearing their maximum for the day or week so you can adjust your schedule accordingly.
Accountability
Stay on top of your employees' work locations with GPS and webcam images on each clock in or clock out, with oversight on any changes. Always know who's on the clock and when.
Time Off
Easily track time-off requests with our built-in calendar that allows employees to book or request time off. We support paid and unpaid time off.
Simplify Payroll and Budgeting
Use job codes, run custom reports, or export everything to Excel. Our Payroll Integration accepts most common software, making it simple to run payroll.
Flexible Punch Options
Make Buddy Punch work for your business, you can enable employees to use a 4 digit pin, QR Codes, Facial Recognition, or just stick with a username and password.
Workflows
Managers can be assigned multiple employees and get notifications on punches, time cards that need to be approved, and any number of custom email and mobile app alerts.
Time Clock Software Features To Help You Manage Your Employees' Time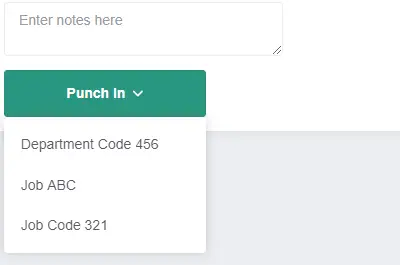 Job Codes
Easily create and assign job codes for your employees to punch in to. If more than one job code is assigned, employees will be presented with a job code list to select from. You'll see the amount of time spent on each job code reflected on your employees time card and in your reports.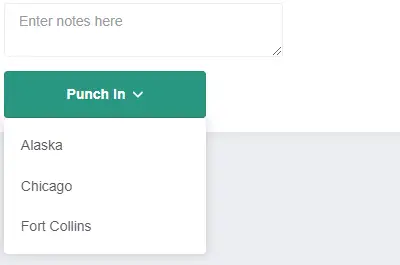 Locations
If you have multiple offices or job sites, locations are great for employee task management. Create your locations, assign them to employees, and when employees go to punch in they'll select their location. The amount of time spent at each location will be reflected on your employees time card and in your reports.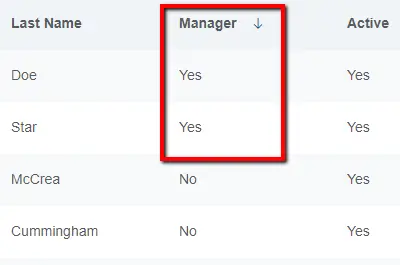 Managers
Looking to delegate? Quickly and easily upgrade an Employee to Manager status so they can manage time cards of employees assigned to them. Managers are given either View or Approval status depending on what you'd like them to do.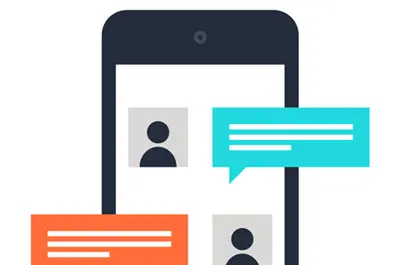 Notifications
Buddy Punch has built in notifications for Administrators, Managers, and Employees. If employees request a time change or if they get punched out automatically, we'll let you know via email. Employees can be alerted when time cards or PTO is approved and more.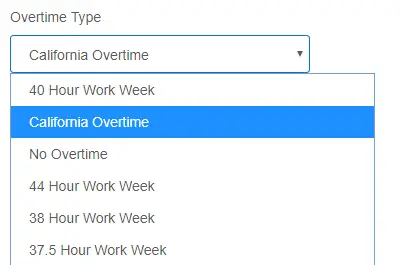 OT Calculations
Choose from more than a dozen Overtime Types available to ensure your OT Calculations are done correctly. These Overtime Types include 40 hour Work Weeks, California Overtime, No Overtime, 44 Hour Work Weeks, and 38 Hour Work Weeks. Custom rules can be created as needed.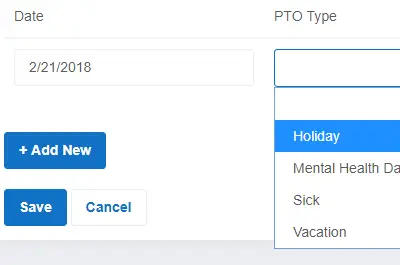 PTO/Sick/Vacation
Administrators and Manager's can add PTO for their employees or they can allow their employees to enter PTO on their time card. You have the flexibility to approve PTO as employees request it or you can allow them to add PTO/Sick/Vacation time without needing any approval.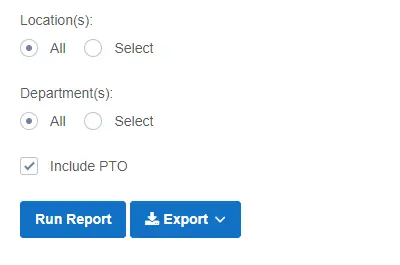 Reports
Streamline your data management – we provide several different customizable reports to meet the needs of your business. We have varied spreadsheet formats including the more commonly used Excel and PDF export. Just export the report of your choice and take it to your payroll provider!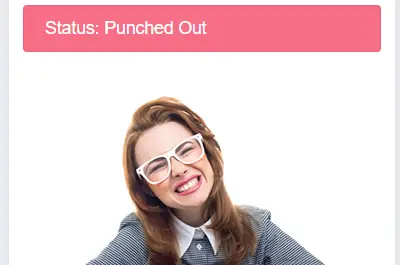 Webcam
Our webcam feature allows you to automatically capture a picture of an employee when they punch in or out. You can easily view the image directly from the employee time clock to ensure there is no buddy punching or time theft occurring.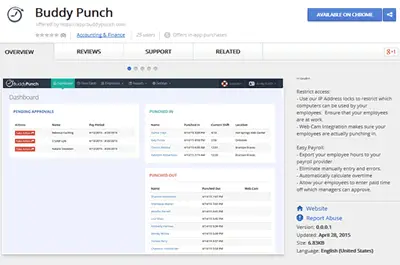 Apps
We have apps for both Android and iOS devices to help your employees on the road or out in the field track their time. We also have a desktop app to make the punching process even easier. You have the flexibility to decide whether or not you want to take advantage of our apps.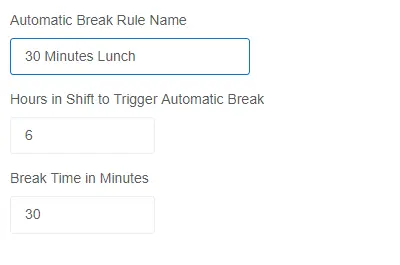 Automatic Breaks
If you want to accurately account for your employees breaks, our automatic breaks feature can achieve that. Just specify how many hours your employees need to work before the rule triggers and how long their break should be. Our system will automatically deduct that time from the employees punch clock.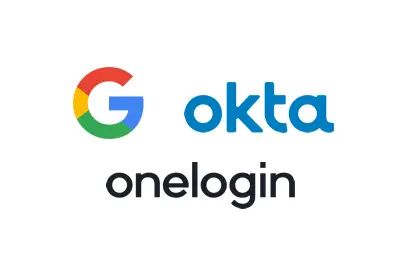 Single Sign On (SSO)
We have several different single sign on options to meet the needs of your business. Our single sign on options include Google, Okta and OneLogin. Each option available makes signing in and out of our time tracking software a breeze!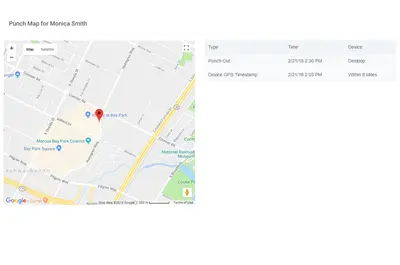 GPS
Want to track employee time at remote locations? Our GPS tracking feature allows you to collect GPS data on the employees you choose by making the feature either optional or required. If set to required, your employees cannot punch in unless they share their GPS location.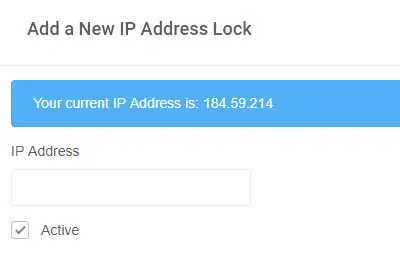 IP Address Locks
Stop employees from punching in and out unless they're on an authorized IP Address with our IP Address Locks feature. You can create as many IP Address Locks as you'd like and if an employee is not assigned to one, they can punch in and out from any IP Address.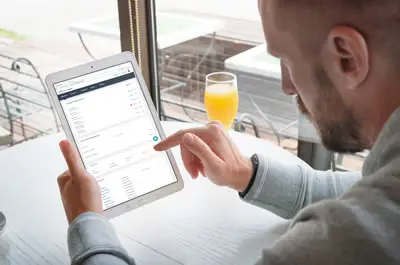 Mobile/Tablet Ready
Being that Buddy Punch is web based, it can be accessed from any device with a browser including a smartphone or tablet. The only thing required is an internet connection. Compatibility with most mobile devices leaves you and your employees with plenty of login options.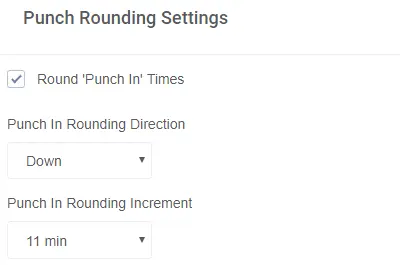 Punch Rounding
By using the punch rounding feature, you can set up rules where punches are automatically rounded up, down, or to the nearest based on the minute increment you select. Increments range from 2 minutes to 30 minutes – plenty of options to meet your businesses needs.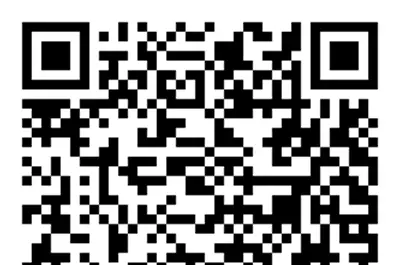 QR Codes
Our QR Codes feature allows your employees to scan a QR Code via the webcam on their computer, tablet, or smartphone. Once the QR Code is scanned, our system will automatically punch an employee in/out or log them in while taking their picture in the process.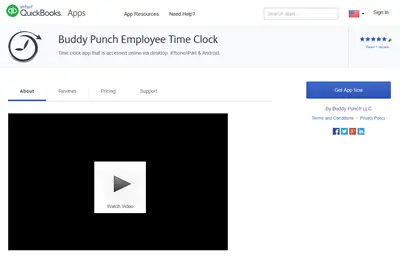 QuickBooks Online
The QuickBooks Online integration features allows you to seamlessly sync employee information and time on demand. All you need is a QuickBooks Online Plus account and to do a little initial setup and you're good to go!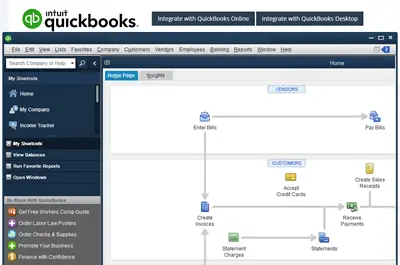 QuickBooks Desktop
Our QuickBooks Desktop integration allows you to quickly connect QuickBooks Desktop with your Buddy Punch account. You are able to sync employee work hours on demand. A very easy process that requires little setup!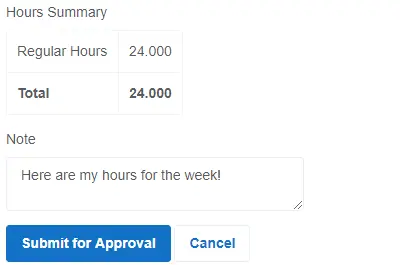 Time Card Approvals
Our Time Card Approvals feature allows your employees to submit their time cards to their Manager or Administrator for approval. A great way to ensure time cards are accurate before sending to payroll processing.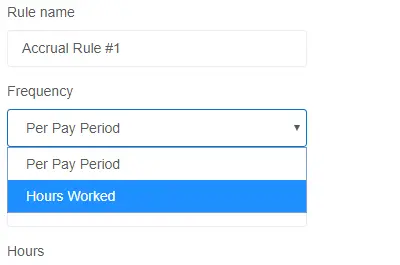 PTO Accruals
The PTO Accruals feature allows you to manually add in accrual amounts for employees or automatically have it accrue. Employees can view their totals and availability. PTO Accruals are highly customizable to meet the needs of your business.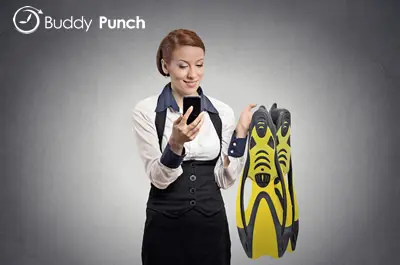 Text to Punch
Our text to punch feature allows employees that do not have a data connection to send a text message to punch in or out, by-passing the need for a clock in and out app. A great way to ensure your employees never miss a punch.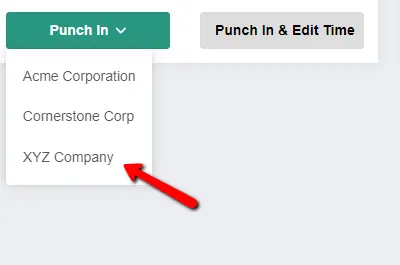 Job Costing
Our job costing features allows you to create jobs, companies, or any type of label for your employees to punch in and out of it. Time spent at each job will be reflected on the employees time card and on our exportable reports.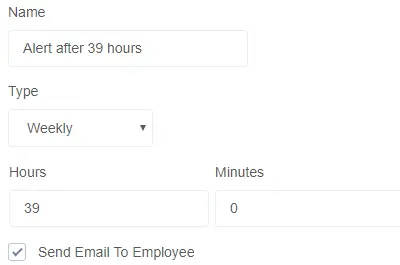 Overtime Alerts
The overtime alerts feature allows you setup daily and weekly alerts when your employees hit certain thresholds. Want to receive an alert when 8 hours in a day and 38.5 hours in a week have been worked? We can do that!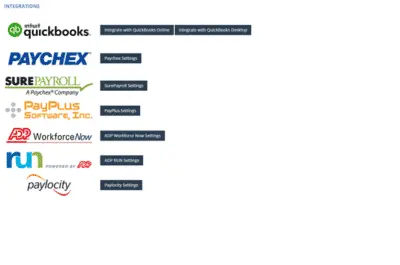 Integrations
Integrations make your life easier, so we have partnered up with several providers including QuickBooks, Paychex, and ADP to help make your experience with Buddy Punch even more seamless. Don't see yours on the list? Let us know!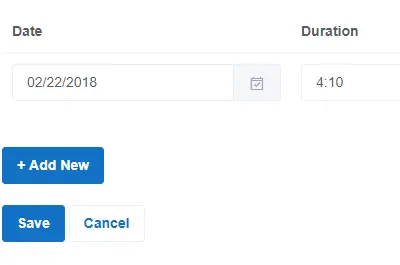 Duration Entry
Have salaried employees? Our duration entry feature allows your employees to enter a time duration per day rather than punching in and out. Or they can do both (punching and duration). Setup the feature on a per employee basis.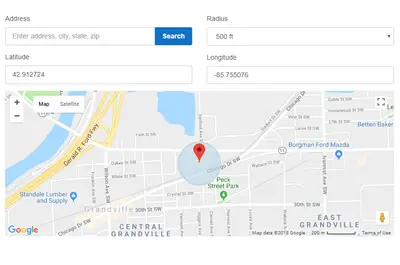 Geofences
Our geofence feature allows you to create areas that employees are required to punch in and out from. Employees can be assigned multiple areas, all with unique job codes. If outside a geofence, an employee will not be able to punch in or out.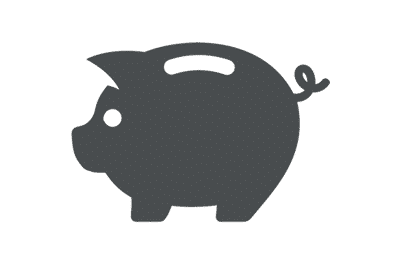 Flexible Pricing
We know not every business is built the same, which is why we've made our time clock app as flexible as possible. Get pricing based on which features are most important to you, whether you're a small business or an enterprise with numerous team members.
Learn More About Our Scheduling Software
Buddy Punch is a simple yet very powerful employee scheduling and time card app that you and your employees can access from any device with an internet connection. Whether that be by tablet, mobile device, or computer we have got you covered! Our time clock software offers a vast set of features and functionalities that many other clock in and out apps don't have including Overtime Alerts, PTO, IP Address Locks and more advanced features such as Biometric Facial Recognition and GPS/Geofences. Give us a free try, no credit card required.
Still on the fence? Not sure if this is the best time clock software for you? Make sure to reach out to our Customer Support to answer any concerns you may have. Our team is very responsive – and we would know, since we use our own attendance software to track hours!