Regular, overtime, and double overtime is calculated automatically for you.
Easy to read reporting
Take advantage of our reporting feature to easily view how much regular, overtime, or double overtime an employee worked. The image to the left shows our most commonly used report, the Payroll Export.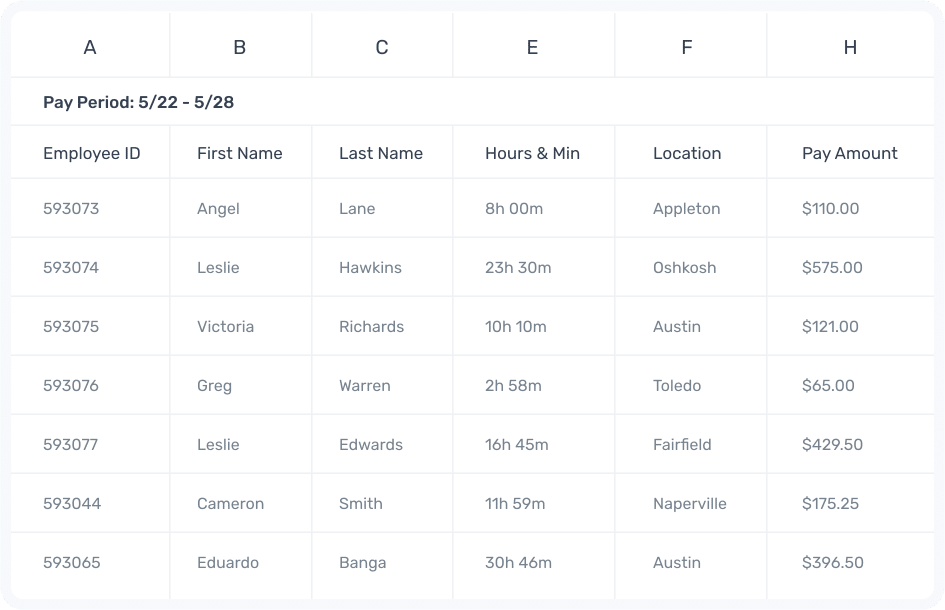 Reduce Payroll Errors and Save Time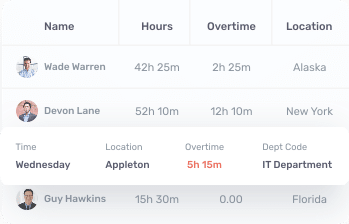 Save Precious Time
Don't waste any more time trying to figure out the number of overtime hours due for payroll. Buddy Punch does all the heavy lifting for you, so you can focus on more important business aspects.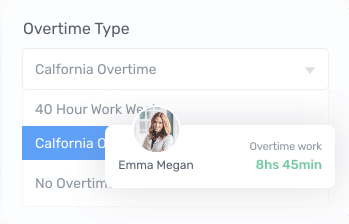 Set It and Forget It
Specify when your workweek starts and what overtime wages type you would like for each of your employees and let Buddy Punch handle the rest.
Make Payroll Easier
One and a half times regular rate of pay adds up fast – even on minimum wage. Reduce expensive payroll errors and eliminate tedious payroll adjustments by letting Buddy Punch do all your complex overtime calculations – making the payroll process as painless as possible.
What are the benefits of using an Overtime Hours Calculator?
Buddy Punch is a software that has grown since its conception to meet the needs of business owners, whether they're running a small business or an enterprise. When it came to overtime requirements and hourly wages, we knew from feedback that Buddy Punch was going to need features that made it easy to manage weekly total pay.
The Fair Labor Standards Act (FLSA) leaves it up to employers to track regular rates and overtime rates, as well as to keep track of exempt or non-exempt employees. Keeping track of overtime is labyrinth enough; making sure you aren't violating state laws or accidentally paying too much or too little and violating the regulations on overtime work (set by the U.S. Department of labor) is another beast still. Why not make the actual calculations that much easier on yourself?
Beyond Buddy Punch adding accessibility to calculations, employee's overtime becomes more accurate. One-half times regular hourly rates adds up very quickly, so you need to make sure the weekly salary is precise to the minute if you want to reduce job costs and optimize work time. Buddy Punch is near automatic in its time tracking, but more importantly, it includes these hourly pay features in at attendance software bundle.
Just the act of introducing (or upgrading) time tracking software will influence employees to be more honest when reporting the number of hours they've worked in a pay period. The last thing they'll want to do is be accused of time theft. With their increased honesty will come more productivity during each hour of work, which might have an added benefit of reducing the amount of extra hours of overtime needed during a fluctuating workweek.
Overtime is a huge hassle: with federal laws and state-based overtime rules, employees having a tendency to fudge total hours or take their time during the workday, and employee compensation itself being ripe for issues if you don't have the systems in place to manage hourly employees. From full-time to part-time employees, exemptions or not, Buddy Punch is truly a reliable and accessible home base for all things related to employee management.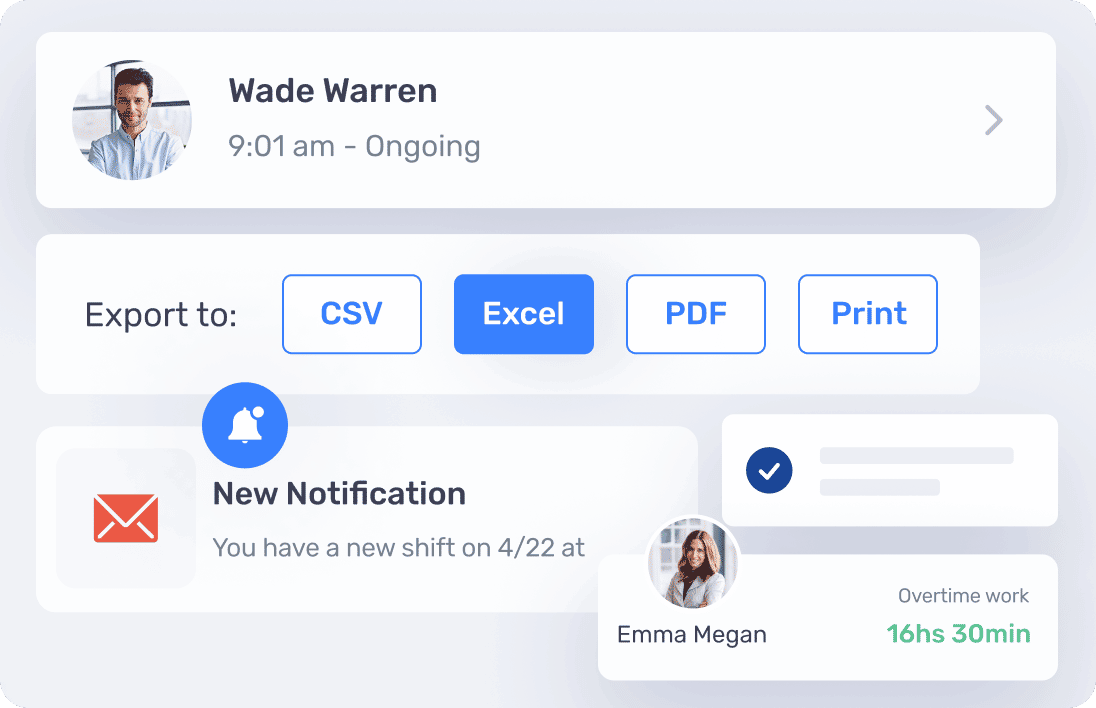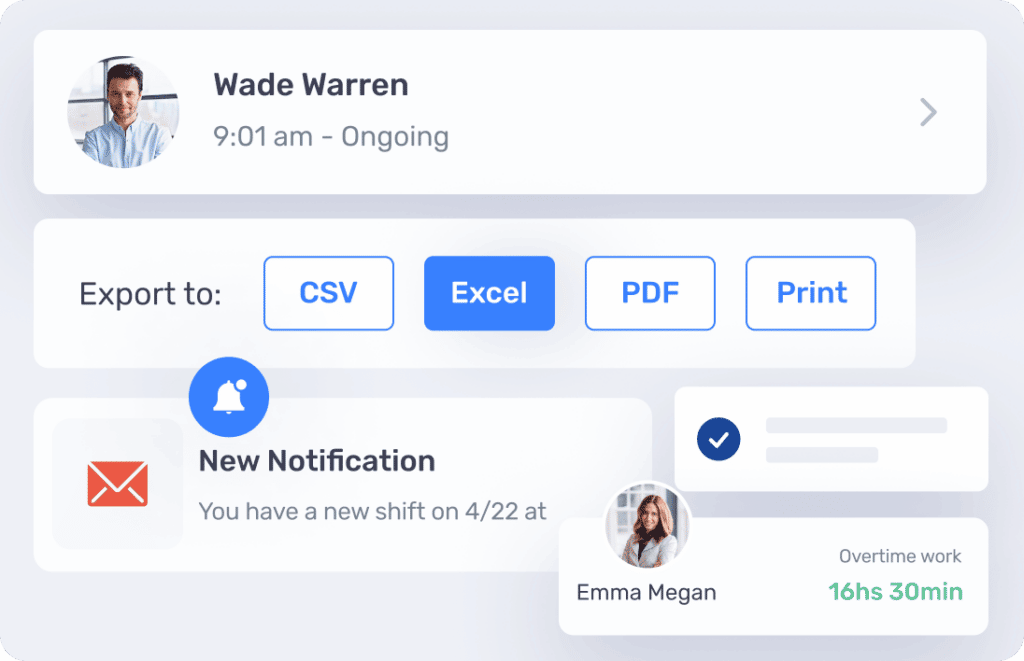 Other Features
We know how important it is to have a robust set of features and functionalities to help you better manage your employees and their time. We pride ourselves on offering many features that are not provided by several other time tracking systems. Whether you are looking for simple yet powerful features such as PTO Accruals and Overtime Calculations or more advanced features such as Geofences and QR Codes – we have got you covered! Make sure to check out all of the Other features we offer.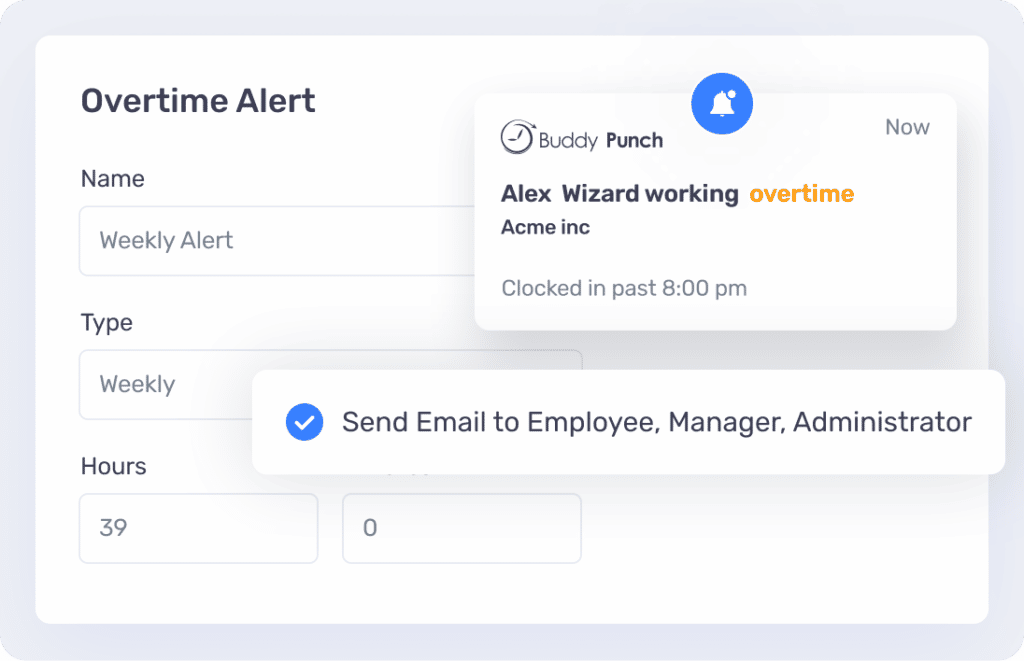 Overtime Alerts
If you would like to be notified when an employee is nearing overtime, our Overtime Alerts feature can help. Set either daily or weekly hour thresholds and once your employee reaches that threshold you will receive an email alert. Additionally, if you'd like the employee and their manager to receive a notification too then that option is available to you. The email not only tells you how many hours the employee has worked, but will also inform you if the employee is currently punched in or out helping you keep track of their hours worked. Additionally, the name of the overtime alert is included in the email sent out, so you can use the feature to remind employees to punch out after their shift, to take a lunch, or to remind them of a daily or weekly event – your options are limitless!