Online Time Clock for Print Shop Options (Comparison Post)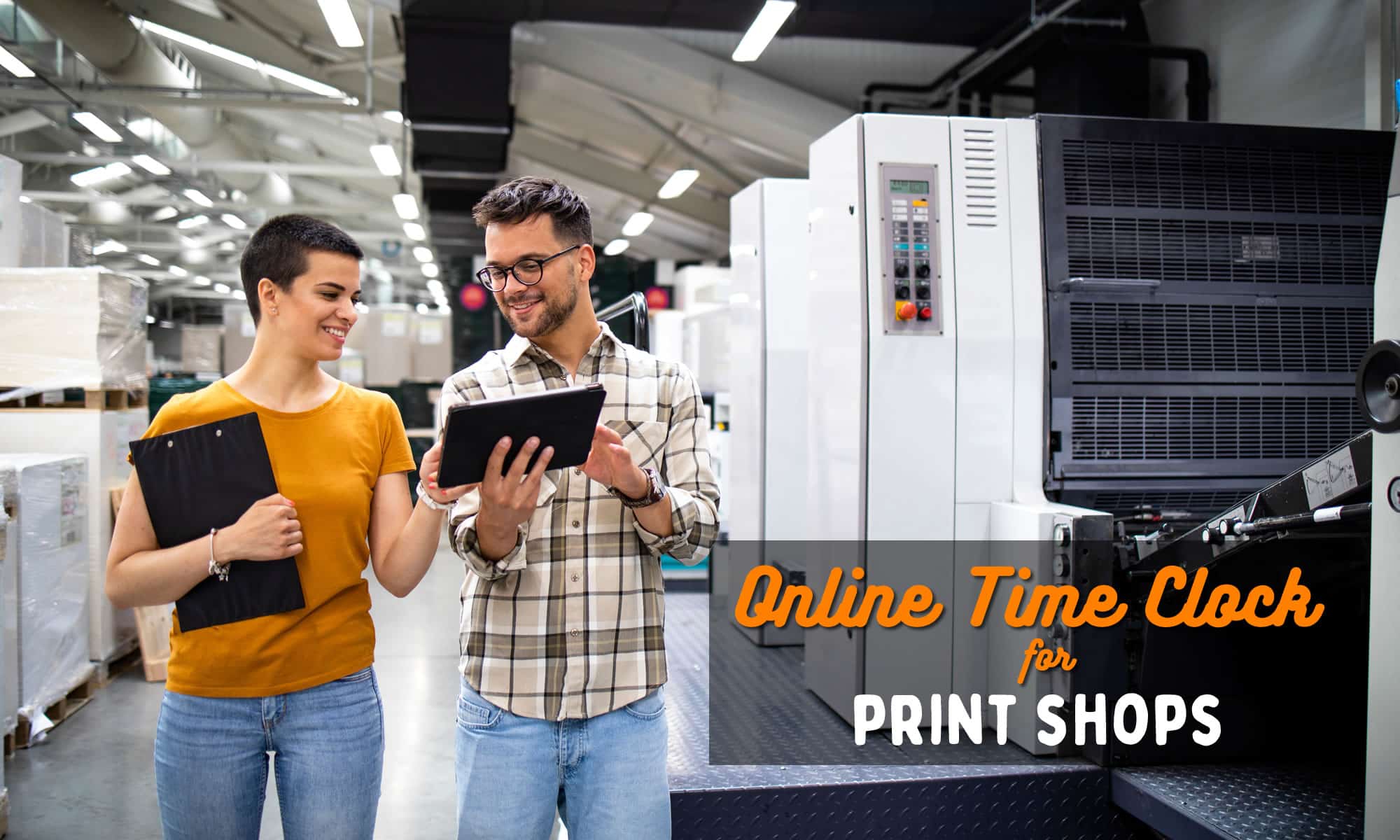 For most business owners, running a print shop means requiring team members to be able to juggle the responsibility of making sure that clients are taken care of while also monitoring the performance and maintenance of printers, emails, and fax machines. Even if you've got a competent, tech-savvy team, things can start to fall apart if they aren't effectively managing their time between these different tasks.
Time Clock Software can help remedy this by introducing three attributes to your paint shop's time management:
Employee Accountability. Many attendance software options come equipped with features that encourage employees to make the most of their time on the clock, such as reminding them of tasks they have to complete or showing them how much time they've spent on certain tasks.
Design Simplicity. Electronic time clocks are easier to use than most manual methods of timekeeping (such as physical timesheets), and the higher quality ones keep their design simple enough for most employees to get the gist of without being overwhelmed by features or a complicated design.
Payroll Streamlining. Lastly, most time clock systems either integrate directly with some of the more common and powerful Payroll System options or come with their own built-in solution to help print shop owners handle billing, invoicing, and payments at the end of each pay period.
Now, taking in these three attributes, we've created a list of what we consider to be the top 6 options of time tracking software for print shop owners on the market. Hopefully, by the end of this post you'll have found a time and attendance software that will be a great fit for you.
Online Time Clock for Print Shop Options
Kicking off our list of employee time clocks for print shops we have our very own Buddy Punch. If the criteria we listed above for high-quality time tracking software seemed specific, (employee accountability, design simplicity, payroll streamlining) that's because it was. That was the criteria we realized mattered most when we were working to expand our own operations.
We'll save you most of the details, but we essentially wanted to improve our profitability and realized that 1. we needed to ditch the slow, manual ways of timekeeping 2. we needed to find an effective time tracking solution that wouldn't be too difficult for our team members to pick up. Unfortunately, we didn't feel catered to by the time clocks on the market at the time. So we set out to develop our own, and Buddy Punch was born.
Today, Buddy Punch offers features such as Job Codes, Notifications, Overtime Calculations, PTO Management, Customizable Reports, Webcam Photos on Punch, Automatic Breaks, and Built-In Payroll Integrations and more for business owners.
Now let's dive into each of these features to help elaborate on how and why they're useful for business owners.
Note: if you'd rather try out Buddy Punch yourself instead of reading about it, you can start a 14-day trial free by clicking here.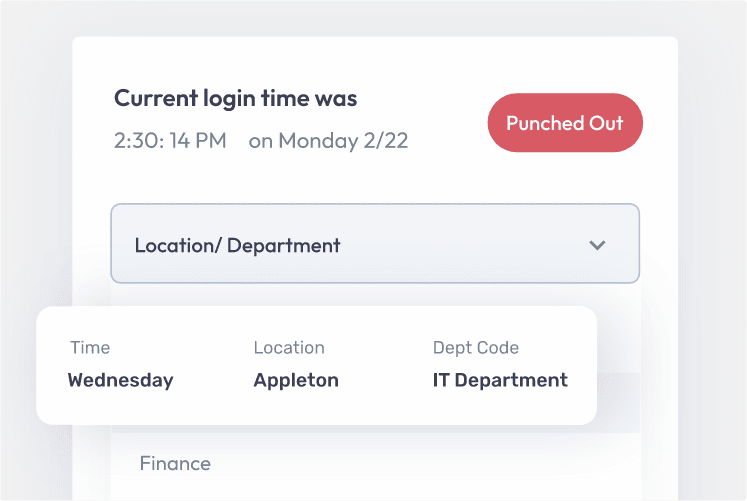 Buddy Punch allows your team members to clock into specific job codes as they punch in, as well as easily swap between different codes as they complete tasks on their shift. This means that when you go back into their timecards, you'll see a transparent breakdown of how employee hours are spent on tasks, and if the labor cost is worth the profit being generated by certain tasks.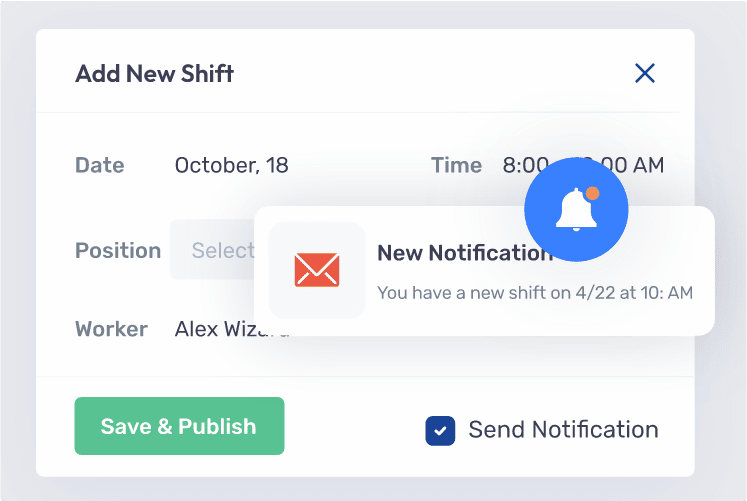 Buddy Punch has a built-in notifications feature that can help your print shop employees stay on task–because they know that if anything important needs their attention, they'll be alerted. Buddy Punch can send both email and SMS notifications, and keeps both administrators and employees abreast of things such as punch changes, time card approval status changes, PTO changes, email alerts when approaching overtime, and more.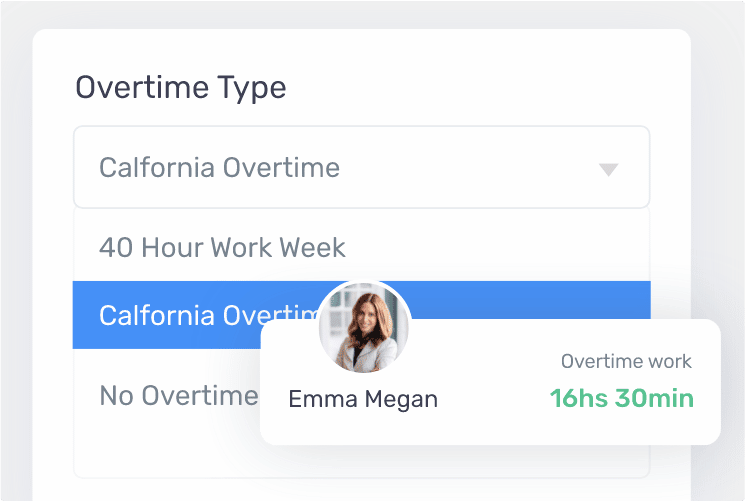 Buddy Punch's OT Calculations feature lets you choose from 12+ different types of overtime to determine how your regular, overtime, and double overtime is to be calculated, all on a per-employee basis. If you need a specific type of overtime and don't see it, don't hesitate to reach out to us and we'll make sure it gets added.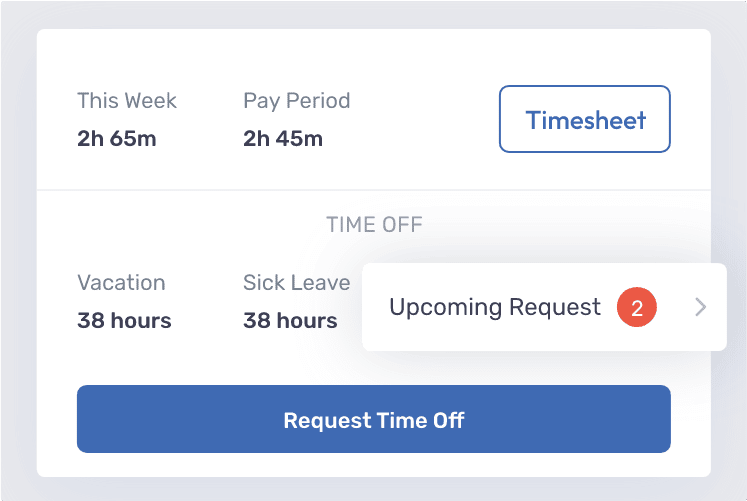 Paid Time Off Management is never easier than when you do it through Buddy Punch. In addition to the more common types of PTO (Holiday leave, sick days, vacation time etc.) you can create your own custom PTO types at will.
That said, the real power of Buddy Punch's PTO management is the ability to enable a self-service approach to paid time off. With this enabled, your employees will be automatically approved for any leave request they submit, rather than requiring your oversight and approval or denial. This means you get to spend more time on administrative tasks, rather than having to watch over an influx or unpredictable leave requests.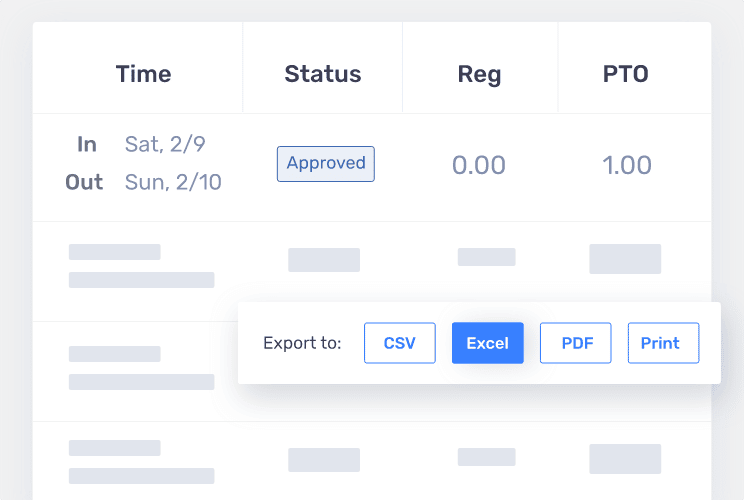 Buddy Punch offers numerous customizable reports that you can export on demand to get a greater understanding of the numbers behind your business. Some of the reports you can generate include Payroll Exports, Hours Summaries, Employee Detail summaries, and more. You can put these in Excel CSV and Adobe PDF formats at will.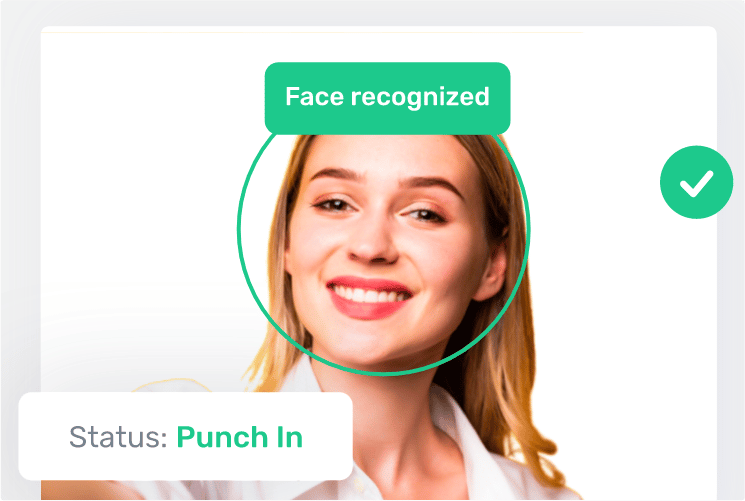 The Webcam Photos on Punch feature is great to enable if you're worried about time theft or buddy punching being committed on your print shop premises. With this, whenever employees clock in, a photo will be taken of them. No one is going to be able to clock in time for their friend with this active, which makes it easier to ensure that all recorded times are accurate. This feature also works with facial recognition for those business owners that are into the idea of having a biometric time clock (fingerprint time clocks might be a harder sell in a post-pandemic environment).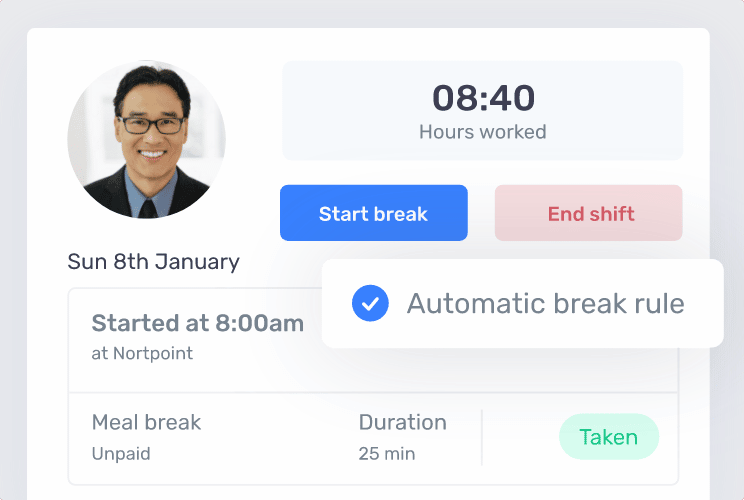 Speaking of accurately tracking employee time, the Automatic Breaks feature is a set-and-forget option you can enable to help enforce some stability on your team members' schedules. This feature lets you deduct time automatically based on a specification that you set (for example, to make sure that the 30-minute lunch breaks are subtracted, you can trigger a break to automatically take place after 4 hours).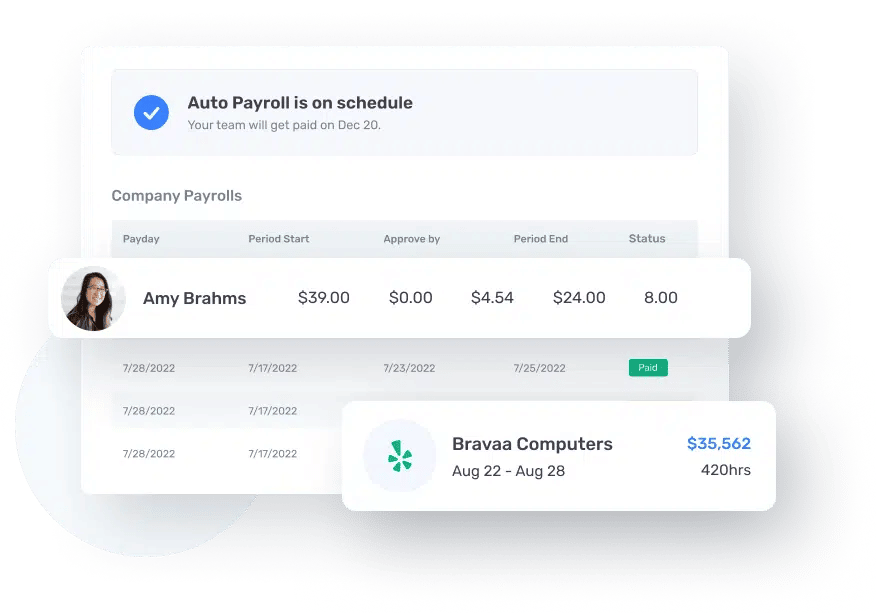 One last feature we want to highlight is how Buddy Punch overhauls and simplifies the payroll process for business owners. Buddy Punch's Built-In Payroll system lets you manage your payroll from anywhere, anytime, with accurate data and business insights. Reduce costs and increase efficiency with this all-in-one platform that lets you review employee work, sync employee time, then submit & send payments out to your team members. Click here to learn more about this system which you can add to any paid plan of Buddy Punch.

Buddy Punch Brings More to Print Shop Owners
We've only just begun to touch on all the benefits of using Buddy Punch as a time clock software. Consider what you'd get out of other features such as:
There are also out-of-app benefits to consider with Buddy Punch:
Our Blog Section contains software comparisons and strategies to make the most of workforce management – even occasionally covering new, far-reaching laws in the U.S.
Our Knowledge Base contains useful articles and videos on how to make the most of Buddy Punch in your print store.
Our Customer Support Desk puts you in direct contact with our team, where we can answer any questions you may have via live chat.
Buddy Punch is both a web-based tool and an app, meaning you can use it on any device (Android, iOS, Tablet, etc.) with an internet or wifi connection. You can book a one-on-one personalized demo here.
Buddy Punch's Reviews & Testimonials
Buddy Punch has a rating of 4.8 out of 5 stars and 724 reviews on Capterra as of this post's writing date.

Below, we'll list just a few reviews that speak to Buddy Punch's impact as a timekeeping software. (Click here to explore the full list of reviews.)
"So far, the Buddy Punch App has saved me time with the weekly payroll timecards. I don't have to depend on the employee turning in their timecard in person on Monday morning. It is especially helpful because they work on multiple jobsites and not in the office."

Click here to read the full review.
"Buddy Punch has streamlined the clock-in/clock-out system for the firm I work for. Previous employers used different systems for timekeeping and they always seemed to cause more of an issue at the end of the month when billing and payroll would hit."

Click here to read the full review.
"We used the Buddy Punch trial and within a week, we knew this was the solution we were looking for. Setting up locations, employees and punch restrictions was extremely easy. The timecard punches can easily be updated by managers from any location. The email notifications keep managers on top of missed punches, and with the variety of exportable reports we have been able to complete labor analysis quickly and accurately."

Click here to read the full review.
"Very inclusive of everything admin needs to address different scenarios "in the field". Mutiple customer reps were available via "Chat" to help with set up and answer questions. Rep was very knowledgeable and helped me with every single question and scenario I had trouble with. Now I am familiar with the site and can easily use all its functions. Using Buddy Punch has been fabulous thus far."

Click here to read the full review.
As these reviewers noted, Buddy Punch is easy to use and comes paired with an effective customer support team.

Try Buddy Punch for Free
If you feel that Buddy Punch might be the right fit for your print shop, sign up for a 14-day free trial. You can also book a one-on-one demo, or view a pre-recorded demo video.
Sling is a cloud-based time tracking software that comes with features such as:
As of this post's writing date, Sling has a rating of 4.6/5 stars, with 115 total reviews.
"Very easy to use, lots of view options and adjustments, fairly clean interface, amazing features for free. Amazing that you can drag and drop, use keyboard shortcuts to copy shifts. UI is fairly full featured! Mobile apps are great, notifications are amazing."

(See the full review here.)
Coast is a user-friendly time tracking software with 47 reviews and 4.5 stars on Capterra. Some of Coast's features include:
"The best thing about it was how simple it was to use, and how efficiently it got all the information out to all the employees. All of our business updates and scheduling information was in this app, and it was nice to have it all in one spot."

(Click here to read the full review.)
Clockify is a great tool for managing workers onsite, and is notable for offering a nice free plan (though the free plan limits the features you can use). For the paid plan, you have access to functions such as:
As of this post's writing, Clockify has 4285 reviews and a rating of 4.7/5 stars (see here on Capterra).
"We are a full remote team working on projects for clients, so having a way to track time spent and pay out / invoice using tracked time is very crucial part of our day-to-day workflow. I really enjoy having a working software that I can track time on all of my devices and even have it integrated into other tools like Trello and our accounting software using API."

Click here to read the full review.
Some of its key features include:
At the time of writing, When I Work has a total of 965 reviews on Capterra with an average of 4.5 out of 5 stars.
"Pros: Makes creating and managing the schedule a breeze. Saves us hours of work vs doing this the old way, on paper. We love that our employees can find a sub easily. This makes their job more flexible which a must so they can fit work into their busy recreation schedules."

Click here to read the full review.
Timely is a popular time tracking software with features including:
At the time of writing, Timely has a total of 209 reviews on Capterra with an average of 4.7 out of 5 stars.
"We mostly use Timely for scheduling onboarding calls with clients. It's easy to pass them a link and from there they can choose which employee they would like to speak with, and they can then schedule the call based on the employee's availability. The integration with Google Calendar is really helpful too."

Click here to read the full review.
Choosing The Best Online Time Clock for Your Print Shop
Even though we've managed to pick the top 6 options of time tracking software for print shops, you'll still have some curation to do if you want to find the best 1 for your business. Luckily, taking a close look at the features offered should be enough to help you make an informed decision.
For example, if you're a fan of cloud-based software or manage multiple print shops, you might like Sling. If you're on a tight budget and don't mind limited features, Clockify's free plan could serve you well.
Otherwise, if all you're seeking is a time tracking solution that's easy for your employees to start using, comes with helpful customer support to back you up, and has a ton of powerful features that are effective but never overwhelming, then you really can't go wrong with Buddy Punch.
Try Buddy Punch for Free
If you feel that Buddy Punch could work well for your print shop, sign up for a 14-day free trial. You can also book a one-on-one demo, or view a pre-recorded demo video.
You May Also Like…