Online Time Clock For Painters (5 Options)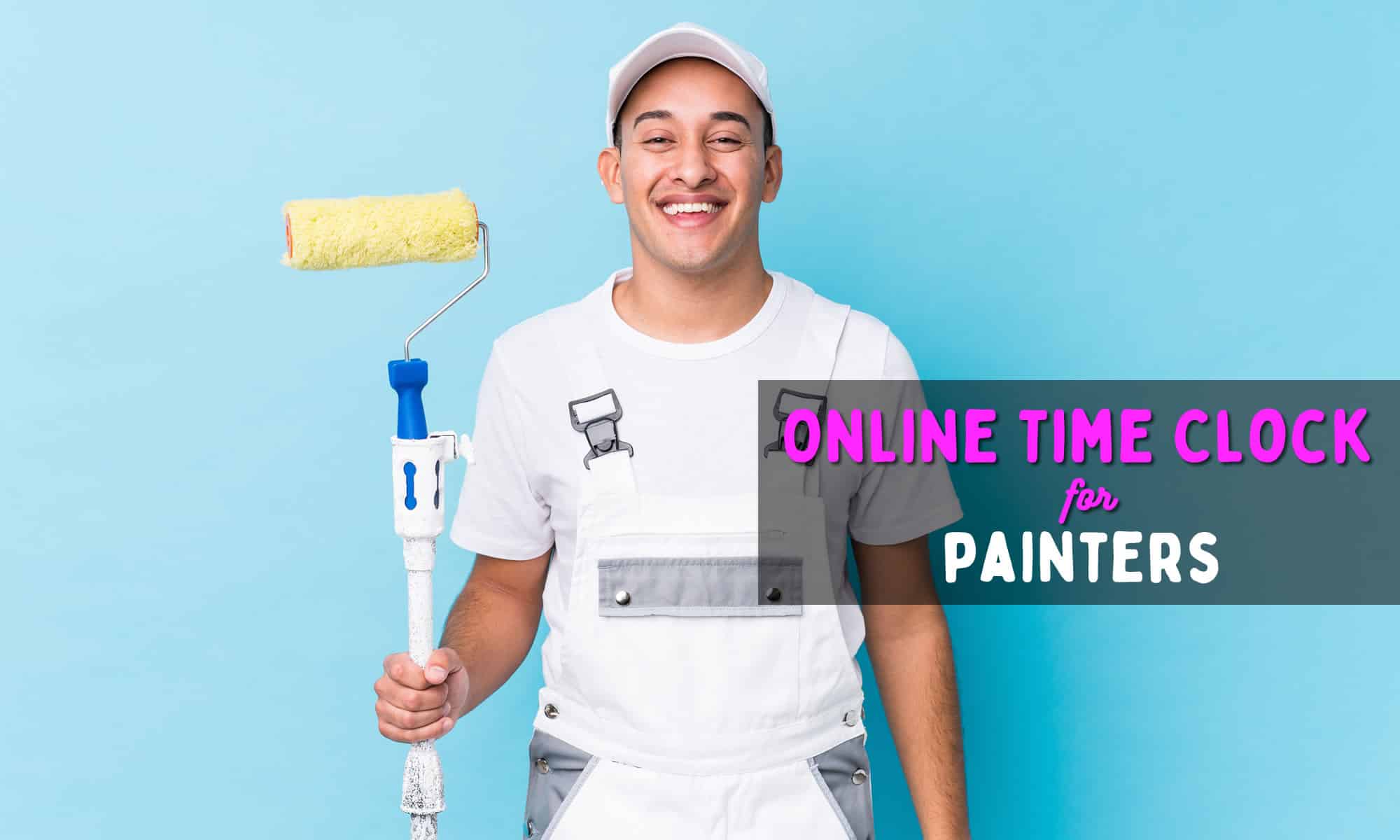 If you are looking for an effective time clock app for painters, we've got you covered. In this guide, we will explore the best cloud-based time tracking tools for you to choose from. Painters can say "goodbye" to paper timesheets and begin to embrace a time tracker that will streamline their ability to monitor employee productivity and hold contractors and employees accountable.
Straight off the bat, here are just a few reasons why painters need a time tracking tool:
Log hours worked on specific jobs correctly.
Ensure time entries are completed with ease.
Use GPS location tracking to monitor progress.
Online Time Clock For Painters
1. Buddy Punch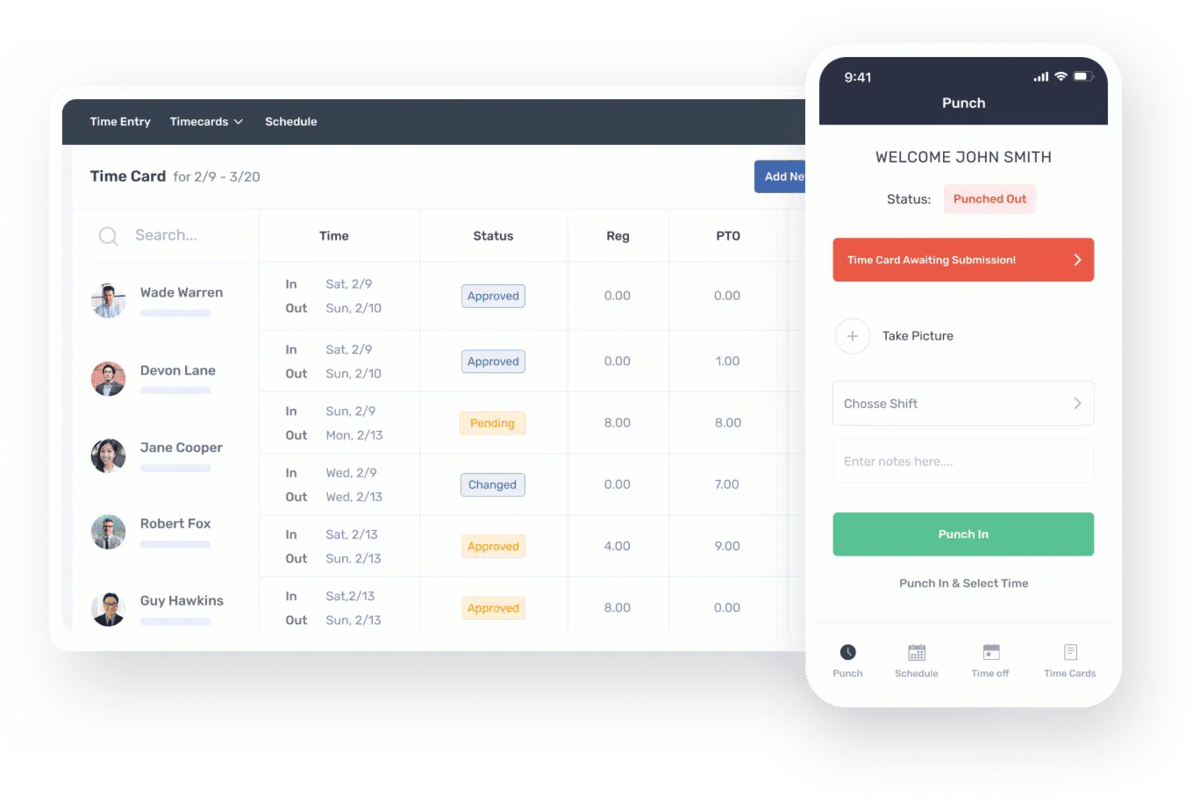 Buddy Punch is well-equipped to meet your time tracking needs. When you have painters working at multiple locations, you need a time tracking solution that's capable of unifying real-time team data and providing you with a complete view of all operations. You can use payroll integrations to feed all your timesheet data into your go-to payroll processor.
How Buddy Punch's Time Tracking Platform Works
With the support of Buddy Punch, painters can seamlessly clock in and out at the tap of a button. This timekeeping solution is available on both mobile and tablet devices, enabling painters to complete time punches while on the move. For instance, if one of the painters has just arrived for a job, they can quickly get their phone out and complete a time entry.
Let's take a closer look at all Buddy Punch has to offer.
Enable Painters To Easily Submit PTO Requests
With this time tracking app, painters can easily submit PTO requests for managers to either approve or reject. This can all be done inside the platform. Once these are either approved or denied, employees will know exactly where they stand and can continue being productive. Streamlining this process can lift a weight off of everyone's shoulders.
Monitor Progress Like A Fly On The Wall
You can use Buddy Punch to gain a real-time view of how your painters are progressing with their work. From seeing when they punch in and out to monitoring their real-time location through GPS tracking, you can stay up to speed with all their progress and make informed managerial decisions to keep everyone on the right track moving forward.
Hold Your Painters Accountable For Their Work Hours
If you want to keep a close eye on labor costs, you can use Buddy Punch to monitor your expenses and ensure you're always getting plenty of bang for your buck with contractors. This time tracking solution comes with all the features you need to hold painters accountable for their work and to always ensure they are working to the best of their ability.
Buddy Punch offers plenty of intuitive features for painters to explore for their benefit.
To learn more about how to use Buddy Punch to meet your logistical needs, browse through the "Knowledge Base" on our website.
You can also reach out to us directly with your questions.
You can book a one-on-one personalized demo here.
Buddy Punch Confidently Meets The Needs Of Painters
Here are just some of the features available across the desktop and mobile app:
Buddy Punch's Online Reviews
The user reviews are overwhelmingly positive! As of the writing date, Buddy Punch has 4.8 out of 5 stars and 760 reviews on Capterra.

Below, we'll list just a few reviews that speak to Buddy Punch's ease of use and great customer support service. (Click here to explore the full list of reviews.)
As reviewers have noted, Buddy Punch provides team leaders and project managers with the necessary tools to promote team accountability:
"I like the ease of use and flexibility of Buddy Punch. You can add features you want and don't have to be bogged down with what you don't want to use. Some sites have way too much. I wanted simple!"

Click here to read the full review.
"This is a vast improvement over our antiquated system of having employees punch a time clock and then have someone send me a scan of each time card. I would then have to download all of them, look at them individually, tally the hours and then enter them into the payroll system! I do payroll each week in less than half the time now!"

Click here to read the full review.
"I love that the employees can clock in and out online and that we can summit payroll this way."

Click here to read the full review.
"Cannot say enough about their support. Even if the product was not as amazing as it is, I would highly recommend Buddy Punch due to the unbelievable support!"

Click here to read the full review.
"I have loved my overall experience with Buddy Punch. As I mentioned before their help is invaluable. Some companies have no chat, or phone number and you wait days to hear back from an email. Their immediate response is something they should never get rid of, no matter how big they become."

Click here to read the full review.
Try Buddy Punch for Free
If you feel that Buddy Punch might be the right fit for your business, sign up for a free trial. You can also book a one-on-one demo, or view a pre-recorded demo video.
2. Timely
Timely is a time tracking system that provides a variety of features to assist painting business owners in managing employee hours and payroll. You can quickly collect timesheet data from employees or contractors, no matter where they are. Also, Timely offers a mix of app integrations – allowing you to seamlessly incorporate the platform into existing workflows.
At the time of writing, Timely has a total of 209 reviews on Capterra, with an average of 4.7 out of 5 stars. Timely is loaded with a broad range of high-impact features:
"Timely allows for effortless management regarding your appointments with clients and staff. The software is very simple and easy to understand. You can also access it on both mobile and desktop."

Click here to read the full review.
3. Insightful
Insightful is another timekeeping platform that's well-suited to the needs of painting businesses. The solution comes with automatic time mapping and employee monitoring features, making it suitable for teams of every size. Whether you are running a small business or a larger enterprise, Insightful offers scalable solutions to meet your growth needs.
At the time of writing, Insightful has a total of 79 reviews on Capterra, with an average of 4.7 out of 5 stars. Insightful lives up to its name by offering several useful features:
"Remote team engagement and their activities tracking helps our business with team members working at different locations. Product is easy to use."

Click here to read the full review.
4. OnTheClock
With similar features, OnTheClock is another useful time tracking solution that enables you to stop using spreadsheets and start embracing an all-encompassing solution that centralizes workflows. Painters can access this time tracking solution across all devices, including their mobile phones and tablets – which makes time entries as easy as they should be.
OnTheClock offers various features, some of which include:
It is effective employee time tracking software for PC (Windows) and Mac, and it also works with mobile and tablet devices. As of the writing date, OnTheClock has 4.7 out of 5 stars and 520 reviews on Capterra.
"I like that you can send an explanation as to why you did not clock in at the correct time. I also like that you can request time off through the program."

Click here to read the full review.
5. Paymo
Paymo is a time tracking tool that is designed to assist leaders in managing their operations. Business owners can track employee hours and collect timesheets from painters with ease. This platform is suitable for both small businesses and those looking to scale. Paymo comes with a leave planner that allows you to plan and schedule vacation time for your employees.
Here are some of the best features Paymo has to offer:
At the time of writing, Paymo has a total of 439 reviews on Capterra, with an average of 4.7 out of 5 stars.
"I work with many clients and need a way of managing and tracking their support requests and project tasks amongst the team. Paymo allows this management through ease of use of adding a new client, setting up a project, assigning and scheduling tasks and creating reports for clients to view progress."

Click here to read the full review.
Try Buddy Punch for Free
If you feel that Buddy Punch could be the right fit for your business, sign up for a free trial. You can also book a one-on-one demo, or view a pre-recorded demo video.
You May Also Like…