Partner with us
Has Buddy Punch revolutionized how you track employee time? Are you interested in further spreading the word so small businesses and enterprises alike run more efficiently? Introducing our Buddy Punch affiliate program – where you can become a partner and refer business owners to our powerful time clock software for rewards.
Visit the link below to get started.
Refer to Get 20% Of Every Sale (for 12 months)
Getting started with our partner program is easy. Visit the link to sign up. You'll then get a unique URL to share on social media. If anyone signs up using that URL, you get rewarded!
Is Referring Buddy Punch Worth It?
What can you gain by referring a third-party app like Buddy Punch to your clients? Is it worth your time to set up mobile time tracking with your clients? What benefits can your business gain by doing so?
We're glad you asked! While referring clients can feel uncertain, understanding the benefits and value for you and your clients can make a significant difference in how you feel about encouraging your clients to give a real-time time tracking solution a try.
When weighing the benefits of referring, keep these main points in mind!
Your Clients Need Buddy Punch!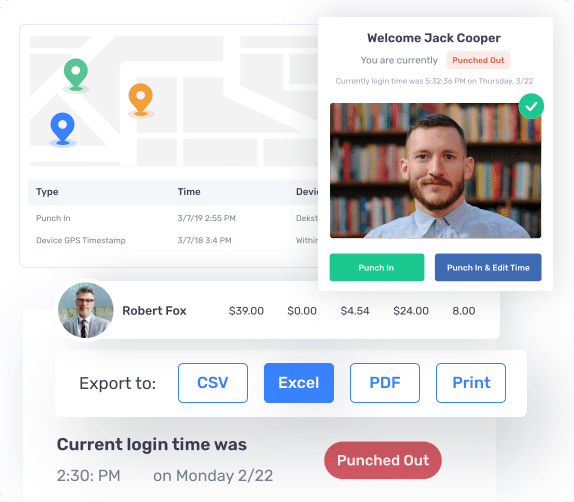 To keep labor costs as low as possible and remain compliant with Labor Law and FLSA regulations, an efficient time tracking solution is necessary. Physical time cards and guesstimating just don't cut it in the modern age. That's why businesses of all sizes benefit from upgrading to a modern employee time tracking solution – specifically one as flexible as Buddy Punch.
Consider these benefits everyone you refer to Buddy Punch gets:
Increased Accountability for Their Team
The Ability to Streamline Payroll & Reports
An intuitive time tracking software – with simplicity at its core.
Buddy is far more powerful than being a generic time tracking mobile app – this is a full-service solution to all things employee scheduling. To give just a brief overview of how Buddy Punch provides accountability, streamlining, and simplicity to business owners who use it, consider these features:
GPS Tracking
Buddy Punch comes equipped with a GPS tracking functionality that lets you know when and where employees are every time they clock in or clock out of work. Whether they're on-site or working remote, you'll always be able to review employee locations and monitor what's going on when they punch time.
Geofencing
Buddy Punch builds on the GPS tracking feature further with Geofencing, which enables you to create designated zones where employees can clock in or out. If they attempt to clock in while not in your designated zone, they receive an error notification. This helps keep employees accountable without you needing to hassle them on your own.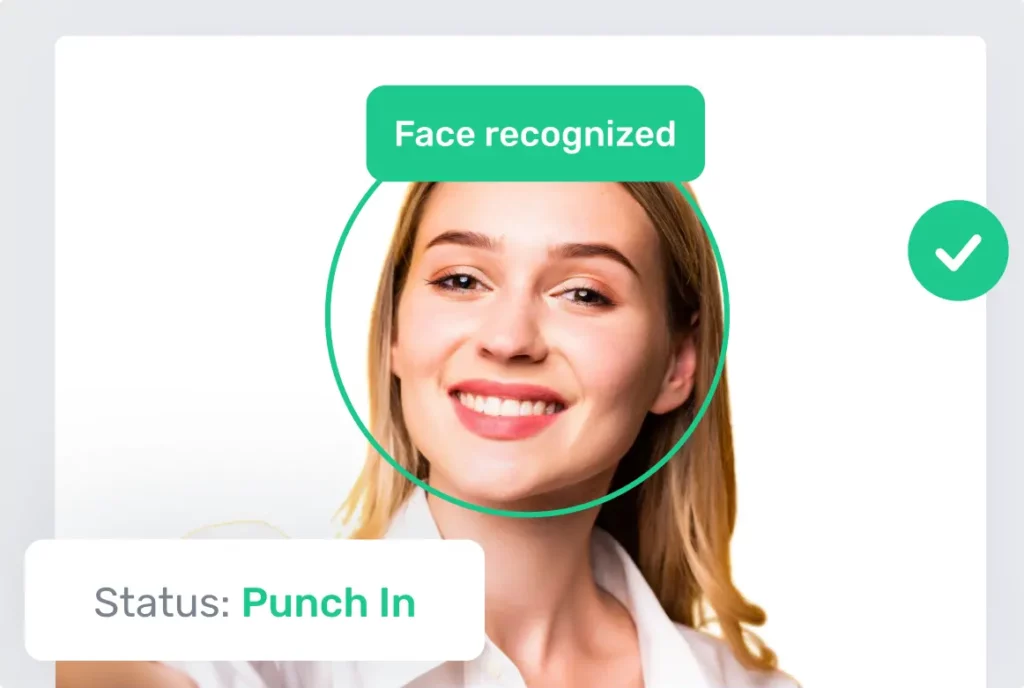 Facial Recognition
Our time clock solution also brings biometrics into the mix, with features such as Facial recognition enabling you to ensure that employees aren't skirting around your timekeeping measures. With this, employees will have to scan their faces before the system will accept their punch ins or punch outs.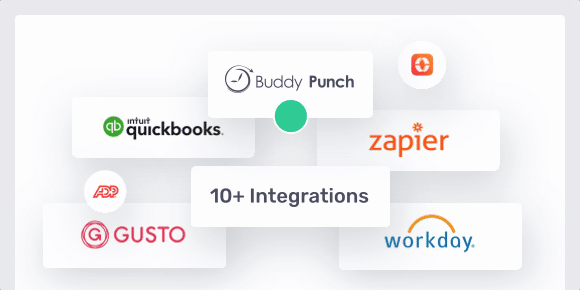 Integrations with Payroll Providers
Buddy Punch gives you real-time insights into your employee's hours. You'll get an alert when an employee is nearing their maximum for the day or week so you can adjust your schedule accordingly.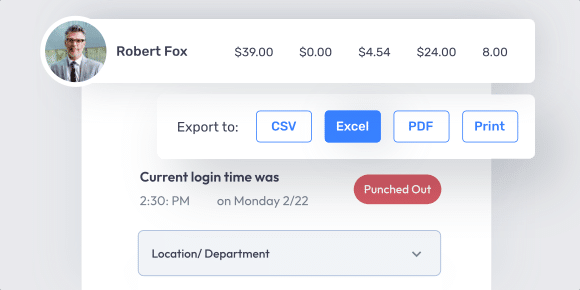 Payroll Reports on Demand
Speaking of Payroll, Buddy Punch lets you calculate all the data you need for payroll automatically, which can then be exported as an Excel spreadsheet or PDF report. No longer will you have to manually review, input, and verify your employees' timesheets one-by-one.
Simplicity & Ease of Use
Buddy Punch is available anywhere you have an internet connection – including as a smartphone app for iOS and Android devices. Regardless of how they connect, once your staff logs into the Buddy Punch platform, they're presented with a simple interface where they can Punch In, Punch Out, or view their current time card. No unnecessary distractions, no additional hassle.
We're proud to say that our users have noticed this effort, and showed their appreciation for Buddy Punch's simplicity and ease-of-use through 642 reviews and 4.8/5 stars in Capterra (at the time of writing).
This is only the tip of the iceberg when it comes to value Buddy Punch provides its regular users. For our affiliates, there's even more benefits to making use of all we have to offer.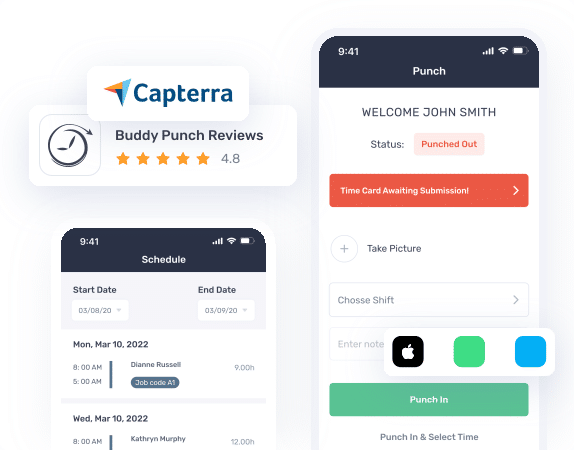 Buddy Punch Can Be A Consistent Passive Revenue Stream
If you're a CPA, bookkeeper or accountant and refer multiple clients to Buddy Punch, you will receive 20% of every sale for 12 months. This can quickly lead to a significant source of passive income for years to come!
Buddy Punch Makes You Look Like a Rockstar!
Great accountants or bookkeepers are more than just that – you're a trusted advisor to your clients. You can take things to the next level by providing solutions for your clients' businesses to improve the numbers in their books.