Time Clock Software Biometric Options: 11 Powerful Time & Attendance Tracking Software (In-Depth Post)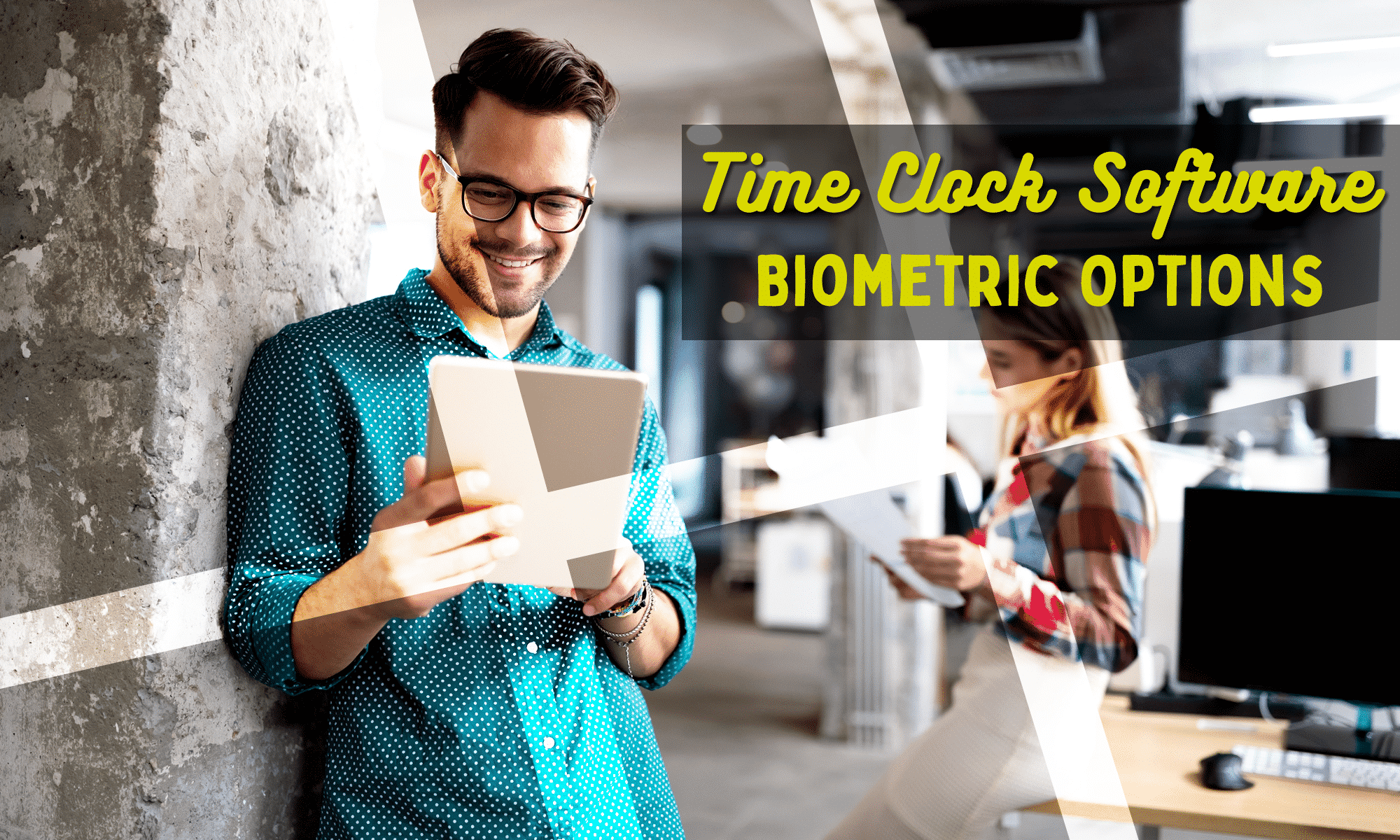 Looking out for biometric capabilities in a time and attendance system is one of the smartest moves a business owner could make. While simply introducing an attendance system into your workforce is an excellent move to track work hours and boost employee productivity, it doesn't fully deter time theft, buddy punching, or other methods of manipulating employee punches.
Biometric time clocks add another layer of security to employee authentication, through features such as face recognition or employee fingerprint scanning.
But, believe it or not, there is a "right" way and a "wrong" way to go about implementing a biometric time clock system into your company. Where most business owners go wrong is chasing after the benefits without considering the downsides.
Physical Biometrics vs Digital Biometrics
One of the biggest mistakes we see business owners make is jumping straight into using physical devices, such as biometric fingerprint readers or keypads. While we understand this impulse to streamline as quickly as possible, it's important to take note that you're paying hundreds of dollars for these clunky, invasive punch clocks that come with a host of issues:
The question of where they are storing that biometric data becomes a huge point of contention for employees. Some of those devices claim to encrypt the data to the cloud, or to third-party services, which can quickly erode employee trust in the systems.
Each of your team members will have to be trained on the usage of these fingerprint reading or pin entry systems. Depending on the biometric fingerprint time clock you choose, this could become a compounding hassle.
In the case of fingerprint scanners especially, there's always a chance they flat out won't work. In some cases, an employee might even intentionally break this functionality, messing with their own fingertips to get around following protocol.
You also have to worry about spare parts for physical biometric devices, such as batteries or replacement cords, or physical damage that requires a specialist to come on site to remedy.
Introducing biometric time clocks could lead to lawsuits from employees who feel their privacy is being invaded.
And of course, there's concerns about hygienics, even more prevalent in today's day and age. Who wants to touch the same device everyone else has been handling? You could set up sanitation stations nearby, but that's more of a cost investment, or you could ensure the device is cleaned regularly, which is both a time and cost investment, direct from your day…
The downsides to physical biometric tracking are numerous, once you actually stop to consider them. Meanwhile, with digital biometrics, you get full control over the devices being used to take data, facial recognition is much quicker and easier than fingerprint time clock systems, and they're usually paired with many other useful time data features you can make use of.
All that said, we strongly recommend you consider your digital options for time tracking to keep employee morale high, and below we're going to list our top 11 favorite options of time & attendance software, some with biometric options, and some with other features that make up for the difference.
Time Clock Software Biometric Options
Business owners seek out biometric time clock options when they're particularly concerned with security, accountability, and accuracy. Buddy Punch was designed with these three tenets in mind, and we're going to outline not only its biometric functions, but a few others that work to improve workplace productivity and cooperation overall.
Note: For an even better demonstration of Buddy Punch's employee management, you can't go wrong with trying out the software through our 14-day free trial. Otherwise, read on to learn more about why Buddy Punch could be the biometric time clock app you've been looking for.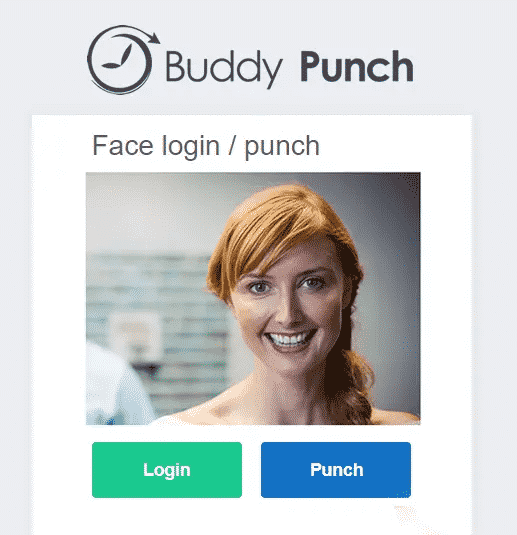 Part of the reasons employers seek out fingerprint readers is to target time theft, and more specifically, buddy punching. Well, our facial recognition tackles it just as well – because there's no getting around requiring a picture of an employee's face. This feature works as long as there's Wi-Fi or Ethernet to provide internet connectivity. No need to worry about a device breaking down (as is the case with physical fingerprint recognition).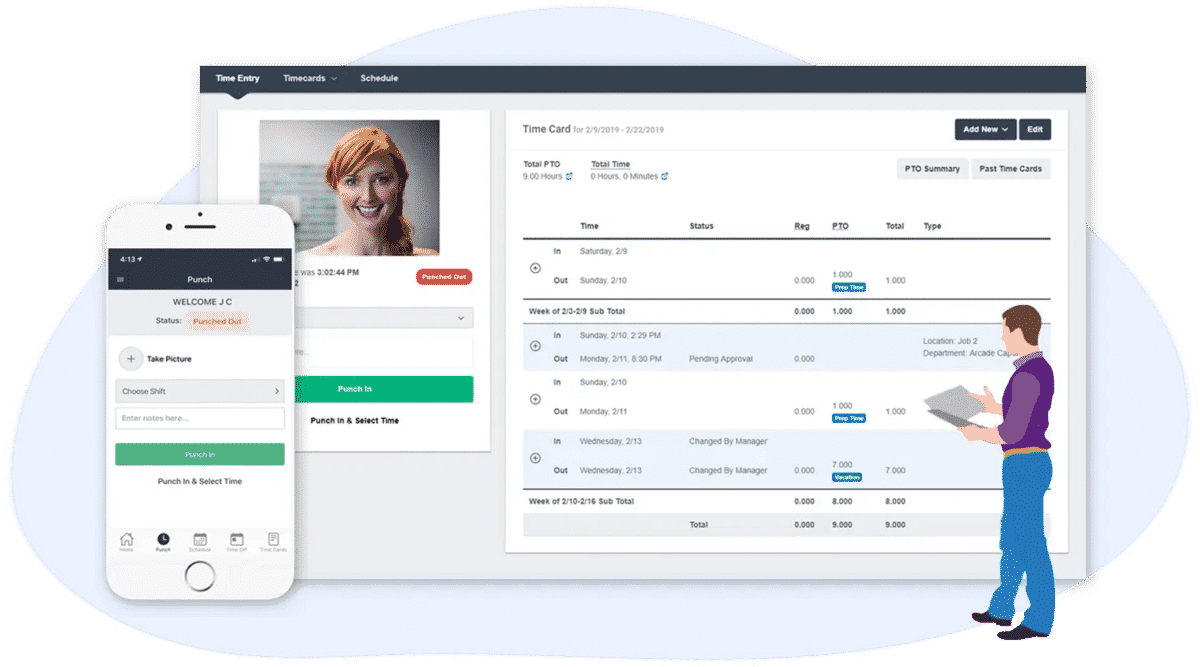 If you want to ensure that come the end of the payroll period, all employee hours are accurate, you can't go wrong with our employee time tracking. Our goal in designing this feature was to make it as simple to use as possible, so clocking in and out is achieved all in one click. Beyond this, it's worth noting that all of our features are usable on most devices: Windows PC, Apple Macs, iPhone, iPad, and Android.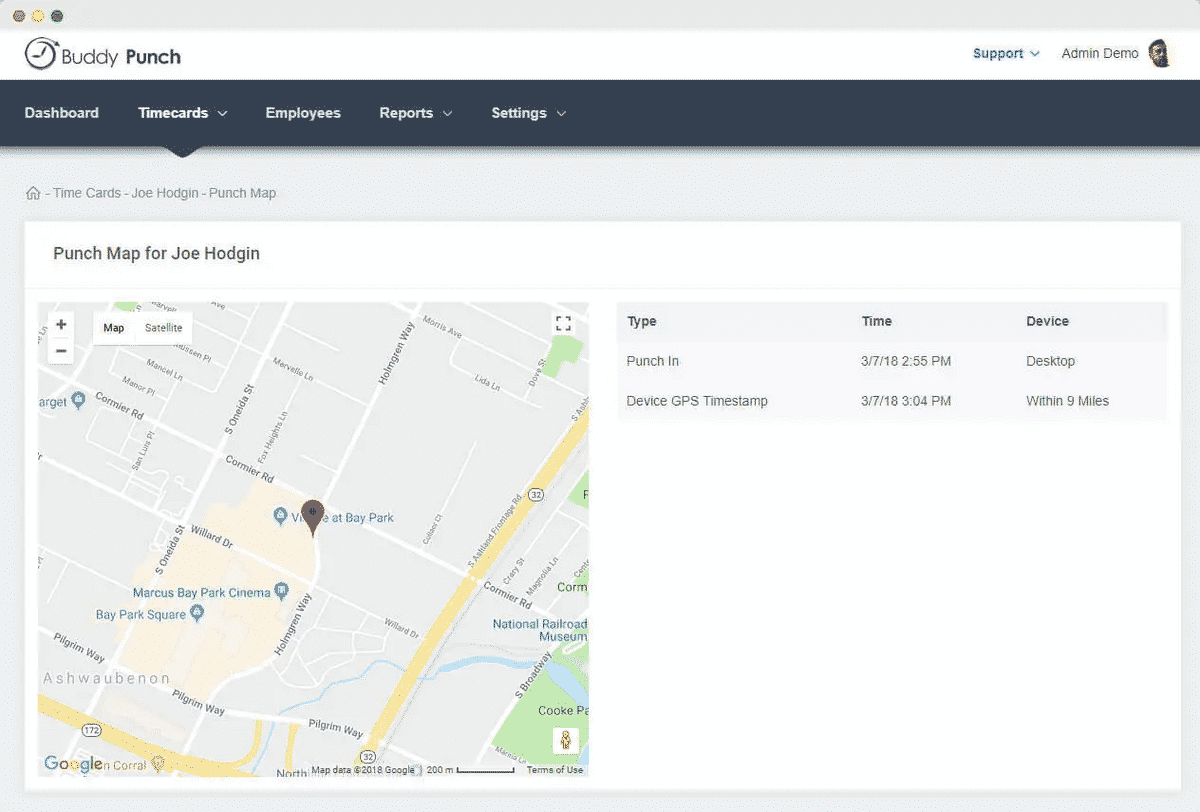 GPS Location tracking is a perfect feature for the changing employment landscape (with the advent of Work From Home and Remote Jobs). What better way to make sure employees are where and when they claim, then by using a simple feature that enables you to track where they clock in?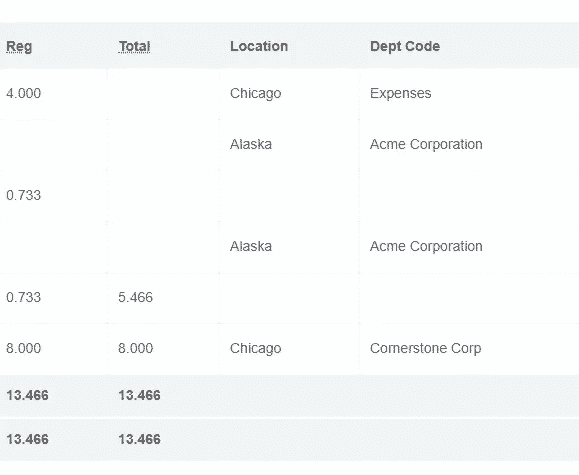 If you think time theft at a regular rate of pay is bad, imagine payroll costs when you lose track of overtime fees. Thanks to Buddy Punch's OT Calculations feature, our clients are rarely stuck in that sort of situation. Pick a type of overtime from our selection to calculate, and don't hesitate to reach out if we're missing a type you need.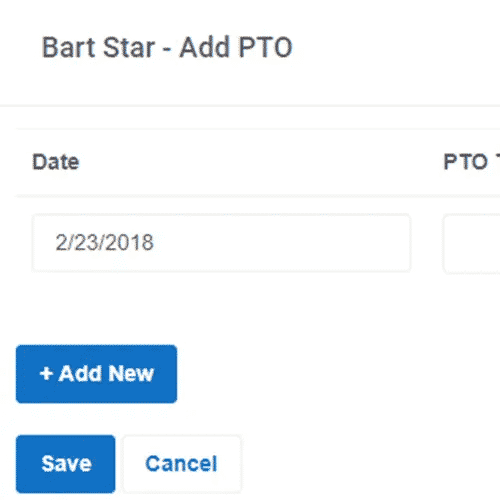 Revolutionize your time management with tracking different PTO types, so you're always on top of your employees' off time. You can take a completely self-service approach or manage it more directly depending on what your workforce calls for.

One more aspect of Buddy Punch that helps you manage your time is our integration with many popular payroll systems. Zapier, Quickbooks, Paychex, and more. Seamless integration from clock in to payroll processing makes it possible to use Buddy Punch from end-to-end.
Buddy Punch's Other Features
We've only just begun to touch on why Buddy Punch is such a powerful option for cutting down on time theft and increasing employee accountability. There are also features such as:

It's worth noting that we're always available via live chat to answer any questions you may have. Beyond that, our help doc center and blog posts will show you how to best utilize Buddy Punch & great business practices to follow to improve your overall workflow.
You can also book a one-on-one personalized demo here.
Buddy Punch's Online Reviews

As the above shows, as of this post's writing Buddy Punch has a rating of 4.8 out of 5 stars, based on an average taken from 810 reviews on Capterra. (Click here to view the full list of reviews.)
Below, we're going to list just a few of the reviews that demonstrate how intuitive Buddy Punch is to use for both employers and employees, and how effective it is at increasing employee accountability and cutting down on time theft:
"I like that you can require a photo and location for your employees when clocking in, and can monitor them pretty easily. It is really easy to set up, and you can put extra data in your employee files to have it all in one place. I also like that I can assign managers over certain employees, so they can monitor their own departments and approve accordingly. The facial recognition feature is super helpful when a bunch are clocking in on one device!"

Click here to read the full review.
"Easy to use, cost effective. We run it off of one computer in the shop and all of the techs punch in and out. My office opens up the software and all the hours are already listed. Works like a charm."

Click here to read the full review.
"Very easy for employees and administrators alike to track time and edit if necessary. Provides accountability for our employees with the location settings such as GPS/Geofence. Provides a variety of reports that are helpful. Provides our employees with mobility–we can send them to any job site, and they have the ability to punch in/out."

Click here to read the full review.
"It has a great deal of flexibility and gives administrators/managers the ability to see who is here at any given time of the day. Managers also have the ability to approve PTO prior to it being added to the time sheet. This provides accountability for both the employee and manager. They can also schedule shift work if necessary."

Click here to read the full review.
Try Buddy Punch for Free
If you feel that Buddy Punch might be the right fit for your business, don't hesitate to sign up for a free trial. You can also book a one-on-one demo, or view a pre-recorded video to get a closer look at the software.
If you're set on the idea of using some kind of fingerprint reader for time tracking, OnTheClock might be up your alley. This web based app has a built-in fingerprint time clock for employees, in addition to other features such as:
This versatile tool works on PC, Mac, and even smartphones. As of this post's writing, OnTheClock has 4.7 out of 5 stars and 504 reviews on Capterra.
"I have tried other time card apps, and they seem a little clunky. This app is easy for administrators and employees to manage time cards. Especially the function that allows employees to adjust hours if needed."

Click here to read the full review.
When I Work comes equipped with an option to take a photo upon employee clock in and clock out. It also includes other features such as:
It's a powerful piece of software, and as of this post's writing date, When I Work has a rating of 4.5 out of 5 stars and 919 reviews on Capterra.
"I've been using this software for 5 years, first as an employee then as an employer. Ease of use for both parties is fantastic and it's well worth paying for to save the time. When I change places of business, if I have a choice, I will choose When I Work again and again."

Click here to read the full review.
Though Hubstaff lacks fingerprint scanning, it does come with GPS Location tracking and Geofence time tracking. In addition to those features, it also enables employers to use:
As of this post's writing, Hubstaff has 4.6 out of 5 stars and 1238 reviews on Capterra.
"This software makes my work a lot easier. It tracks worked time, counts what should be paid to employees, shows the productivity of each user, and a lot more extras. The interface is easy to use. The support is quick and qualified."

Click here to read the full review.
While at the time of this post's writing, DeskTime does not have biometric tracking options, it still has plenty of other powerful features such as:
DeskTime has a total of 238 reviews on Capterra, with an average of 4.4 out of 5 stars.
"Time tracking and attendance monitoring have never been easier! DeskTime has been really useful regardless of working from the office or remotely. It really improved our time management skills as with DeskTime's help it's very simple to check and evaluate where and how your time is being spent throughout the working day."

Click here to read the full review.
Insightful, formerly known as Workpuls, is another powerful time tracking tool that doesn't come with biometric options, but more than makes up for it with an intuitive design and useful features such as:
At the time of this post's writing, Insightful has a total of 46 reviews on Capterra, with an average of 4.8 out of 5 stars.
"[Insightful] has revolutionised how we are able to allow staff work remotely and still efficiently and how we are able to manage staff effectively while supervisors are also out of the office. The easy set up and web based application gives instant start up and it allows a gradual use of the sophisticated functionality which is built into the software. Software insight give a real view of how users are using the software assets and has enabled us to re-evaluate software product usage and license management of expensive softwares."

Click here to read the full review.
Another powerful app for tracking employee time and attendance, some of TimeCamp's core functions include:
At the time of this post's writing, TimeCamp has a total of 551 reviews on Capterra, with an average of 4.7 out of 5 stars.
"Timecamp is the cheapest time tracking software that i have worked with so far. It covered most of my needs with the free version itself. With the desktop application, we can track the computer activities, websites and applications usage. This enables to bring trust among the customers."

Click here to read the full review.
QuickBooks Time (formerly known as TSheets) has a rating of 4.7 out of 5 stars and 5,545 reviews on Capterra as of this post's writing. It has a variety of features for attendance monitoring, including but not limited to:
"Customer service is wonderful, precise help line, they meet our desires in the office. Me personally I would recommend it to my friends and own circle of relatives to try this great platform. Employees can clock in themselves and simply watch for approvals is only a win for us. Quite simple to access, no redirecting to different pages I suppose anybody may be successful to apply it."

Click here to read the full review.
Even though Timely doesn't include facial recognition or any more in-depth tracking features, it does come with powerful options such as:
At the time of this post's writing, Timely has a total of 638 reviews on Capterra with an average of 4.7 out of 5 stars.
"Excellent product and features that are at a very reasonable price. The software offers more features that we don't utilize just yet, but may in the near future."

Click here to read the full review.
7Shifts is another employee time clock option, created specifically with restaurant owners in mind. Here are some of its key features:
As of this post's writing, 7Shifts has a rating of 4.7 stars out of 5 on Capterra (based on 876 reviews). Here's one review that demonstrates why it's a well-liked app:
"The longer we use 7shifts the better it gets. I use it for scheduling, employee newsletters, our employees use it to chat back and forth with each other and the owners, shift swapping, time-clocking (with PUNCH) and payroll. It basically replaces the need for an HR position."

Click here to read the full review.
Finally, ZoomShift is a time clock software with adjustable monthly fees depending on the size of your team. Here are a few of its key features:
ZoomShift has a rating of 4.5 out of 5 total stars, based on an aggregate from 93 reviews (see here). Let's take a closer look at what one of those users has to say about how this software replaced a possible need for fingerprint time clocks for their small business:
"I run a small business, 3 employees, so a traditional time clock is insane overkill, but I needed something for employees to clock in and out, view their schedules, and make requests. Zoomshift has work really well for us – we have had them for 3 years and I have never questioned about getting rid of the program."

Click here to read the full review.
Finding The Best Biometric Time Clock App For Your Business
As you can see, even when considering some of the most well liked time clock software on the market, biometric options are rather rare. Your inclination might be to commit to something like the physical lathem or uattend biometric time clock or even a RFID card reader to scan employees (and ignoring the earlier mentioned fingerprint time clock problems) but we want you to consider an alternative:
Your goal with biometrics is to maximize employee accountability and eliminate uncertainty in calculating payroll hours. It's not worth the hit to employee morale and trust to bring in those devices, especially when they're so clunky and come with their own issues.
The main benefit that you get with a biometric time clock is no subscription and a warranty, but you pay hundreds for one device versus just a few bucks with a monthly subscription. If a time clock software doesn't meet all your needs, you can just cancel your sub. How long do you get to make use of a timetrax or acroprint time clock before you're stuck with the purchase if it breaks down? With those physical systems, something as simple as smudges or cracks on a LCD screen could derail the template you've established for clocking your employee time.
To be frank, we think that most business owners are misguided in thinking biometric time clocks will solve their problems. You can go much lighter with time and attendance software and achieve the same results, and your workforce will likely be more receptive to them. This counts even if Buddy Punch isn't right for you.
If you run a restaurant, perhaps 7Shifts is more up your alley as a time clock solution. Or, perhaps you'd prefer the simplicity in functionalities provided by a tool like Insightful.
Either way, there are much more lightweight options than biometric time clocks that can achieve the same end results.

Try Buddy Punch for Free
If you feel that Buddy Punch could be the right biometric time clock app for your business, don't hesitate to sign up for a free 14-day trial. You can also book a one-on-one demo, or view a pre-recorded demo video here.
You May Also Like…