10 Best Clock In Clock Out Apps for Small Businesses (In-Depth Comparison)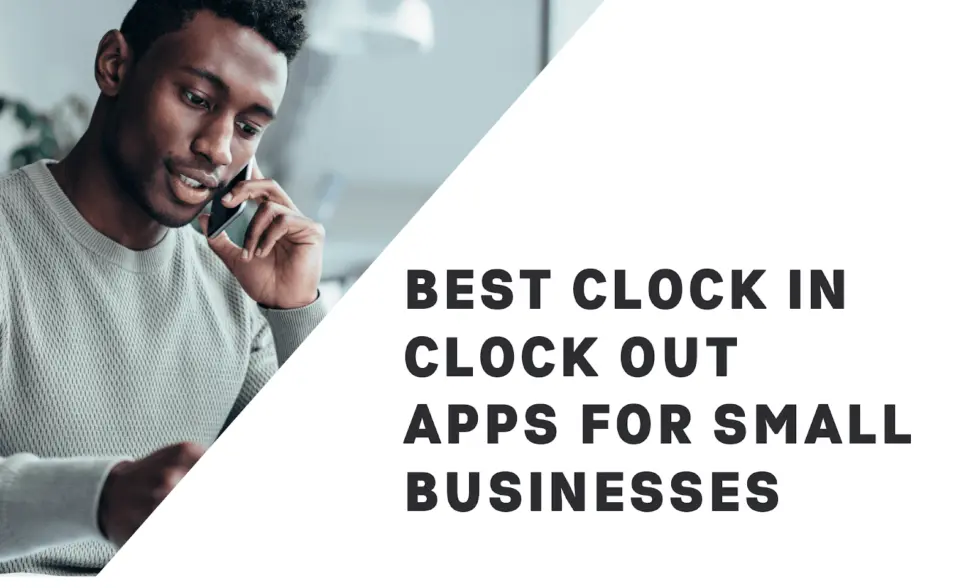 Small businesses who turn to an app to track when their employees clock in and clock out of work struggle with:
Lack of Accountability: their employees are not transparent about when and where they clock in and out of work (i. e. punching outside of work hours, having a co-worker do it for them, or punching from the parking lot and then leaving.)
Inefficient Payroll Process: running payroll for multiple employees using pen and paper or Excel invariably leads to wasted time and money. In addition, reviewing and verifying employee timesheets manually every pay period, or managing paid and unpaid time off can quickly turn into a headache.
To help you choose which employee time tracking software best fits your specific business needs, we've compiled a comprehensive list that compares each product's features and online reviews.
Note: Since Buddy Punch is our own product, we decided to detail its features and what makes it unique first. We're proud of what we've built, and happy to say we've helped more than 10,000 businesses stay on top of attendance, keep everyone accountable and run payroll efficiently. Click here to learn more here and try Buddy Punch for free.
Table of Contents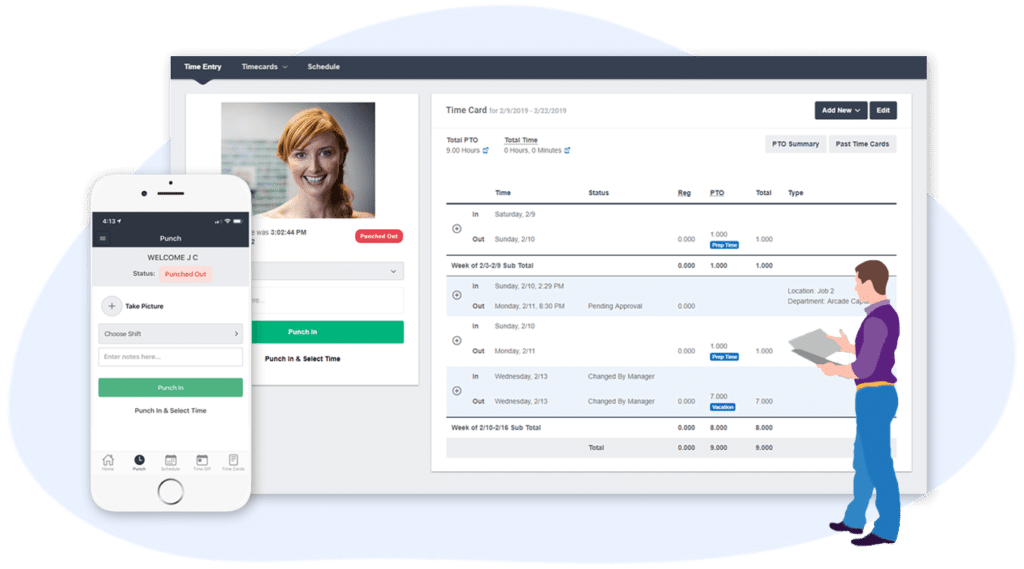 Increase Accountability for Your Team
Streamline Payroll with:
What Makes Buddy Punch Unique?
We set out to build Buddy Punch after years of struggle trying to manage time and run payroll for over 20 employees across three business locations.
From day one, we concentrated our efforts on creating an app with features to help you not only track time with ease but also (1) make your staff accountable and (2) streamline payroll through features such as Webcam Photo on Punch, GPS Tracking, payroll integrations and more.
We'll discuss each of Buddy Punch's key features below.
Keep Your Team Accountable (Geofencing, GPS Tracking, Facial Recognition & more)
Tracking when employees clock in and clock out of work reliably and accurately isn't possible if you can't hold them accountable for it. What's worse, a lack of accountability from your team leads to inaccurate timekeeping, which in turn translates to wasted money.
At Buddy Punch we designed a whole range of features to help you keep your employees accountable. We'll detail each below: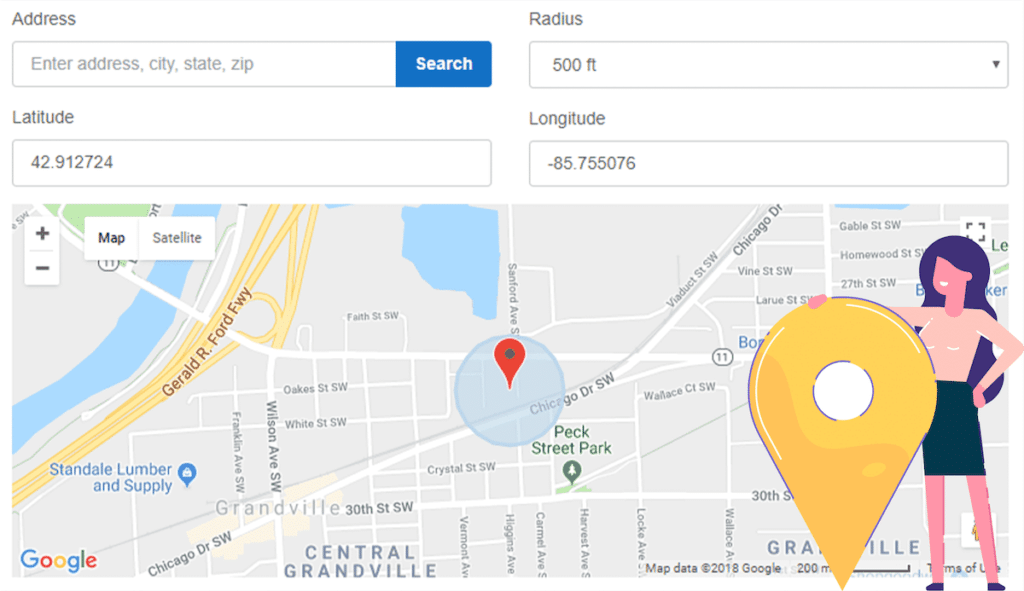 With Buddy Punch, you can decide on the radius inside which your employees are able to clock in and clock out of work thanks to our Geofencing Feature. All you have to do is log in to our platform. Choose a specific radius. And if your employees try to punch outside that radius our app will present them with an error message.
This functionality also allows you to create multiple geofences to work in tandem at any given time. To differentiate multiple geofences, you can assign each a unique job code or job site.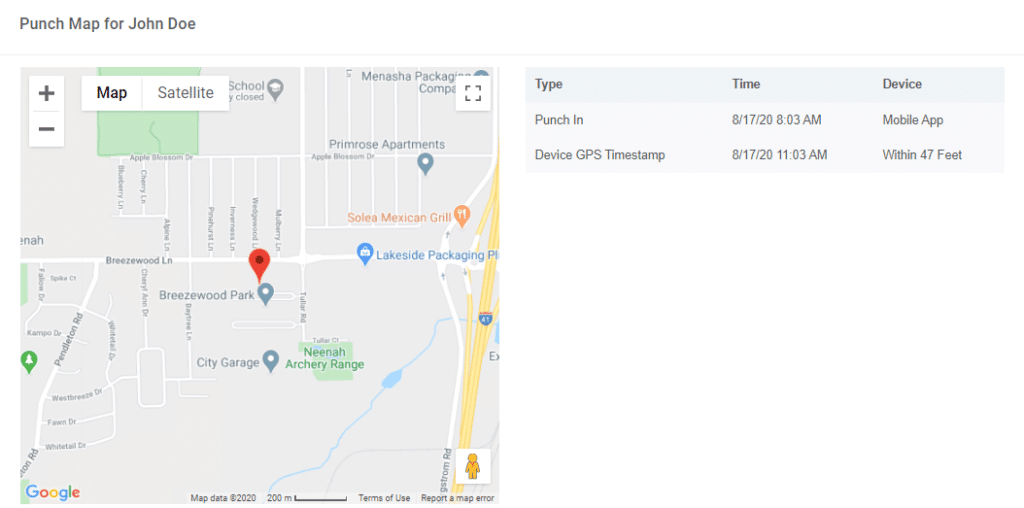 Buddy Punch's GPS Tracking functionality tracks your staff's location whenever they clock in and out of work, and records that location in their time card. Any administrator can then login into the Buddy Punch platform to review all employee locations at the same time, and make sure everyone clocked in and out where they were supposed to.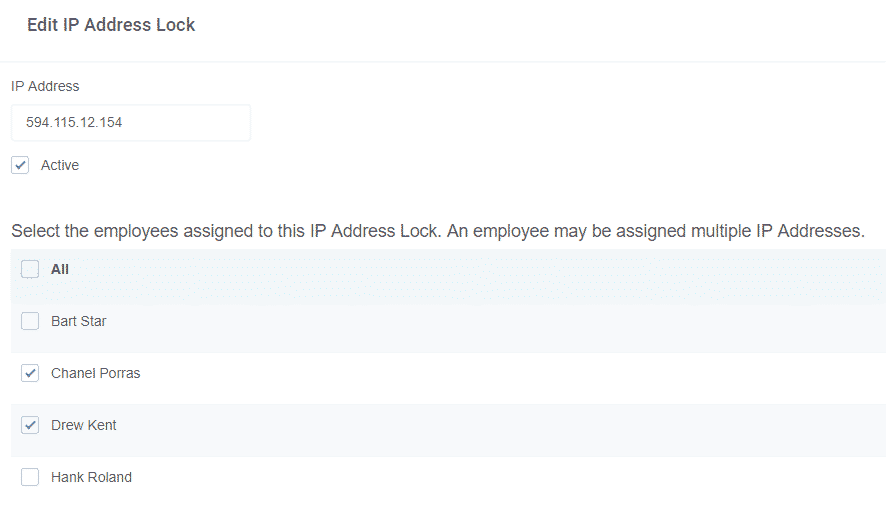 Our IP Address Locking functionality allows you to limit the IP Address your employees can punch in and out of work from. This means that, if they try to punch from outside your desired network (such as your office's Wi-Fi network), Buddy Punch will prevent them from doing so. To activate this feature, all you have to do is designate your desired IP Address on the Buddy Punch platform, as pictured above.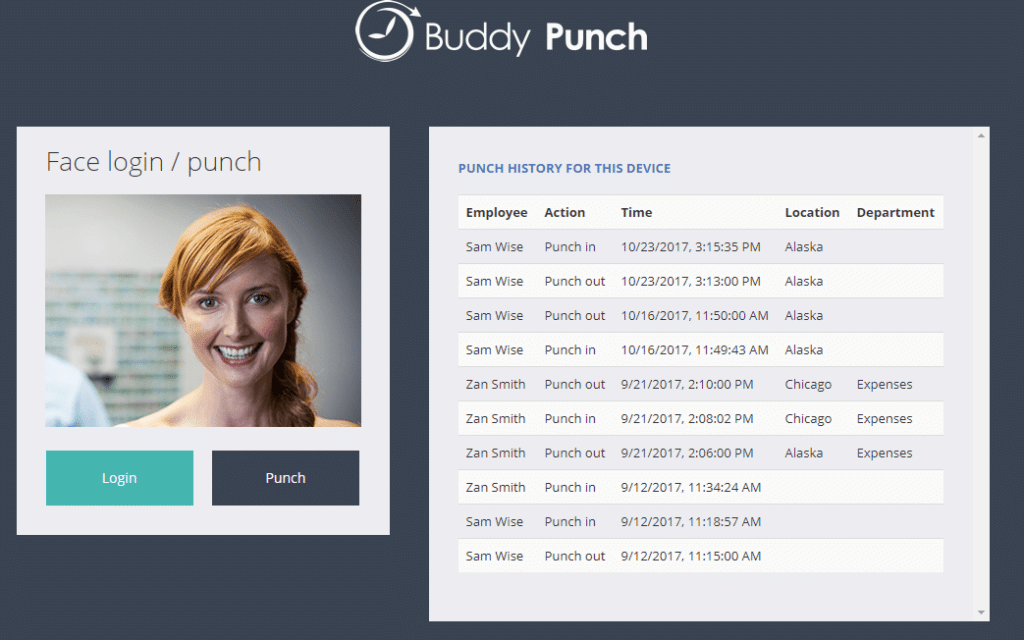 Buddy Punch's Facial Recognition works as an added layer of accountability to your employees' punches. When you activate this feature (be it for all your employees, or on a per-employee basis), Buddy punch will prompt your workers to scan their faces and verify it's them before they can successfully punch in and out of work.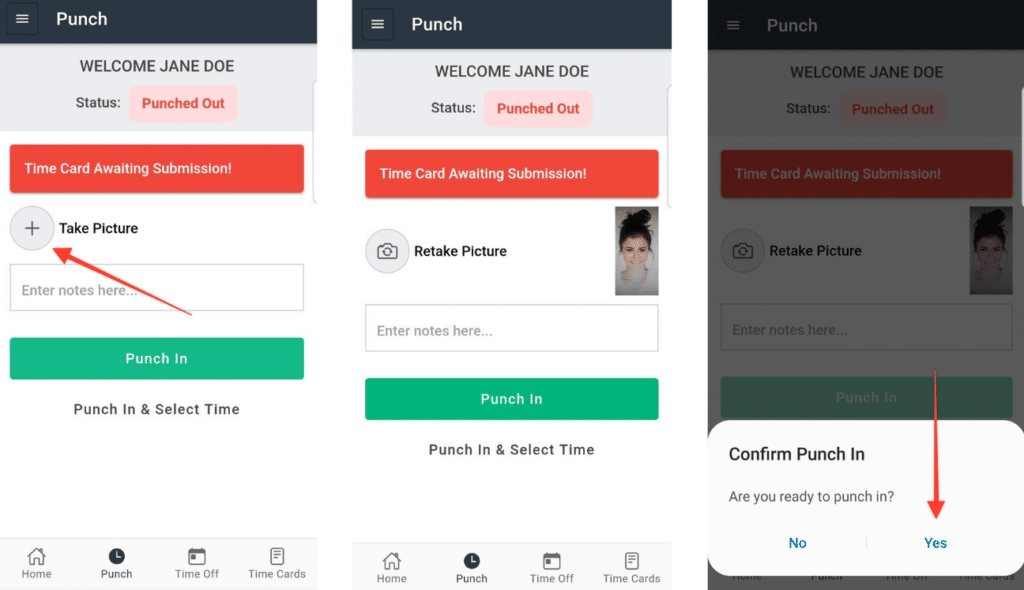 Buddy Punch's Photos on Punch feature works similarly to our Facial Recognition functionality, but instead of asking for a biometric face scan, our app will prompt your employees to take a picture of themselves to confirm their punch. If their face isn't recognized, they'll receive an error notification.
Although Photos on Punch won't verify your employees' identities automatically like with Facial Recognition, you can review all photos taken on our platform at any given time, and verify yourself.
Streamline Payroll (Integrations, Payroll Reports on Demand, Accruals & More)
Don't waste time and money dealing with the inaccuracies of manually running payroll. With Buddy Punch, you can streamline the entire payroll process from start to finish thanks to the following easy-to-use features:

Buddy Punch integrates with all of the payroll providers pictured above, which allows you to streamline your payroll processing workflow, making it more accurate, and less time consuming.  We also offer a Zapier integration, which can connect you to thousands of apps to automate your payroll processing further.

Buddy Punch allows you to calculate all you need to process payroll automatically, and then export that information for you to review in the form of an Excel Spreadsheet or CSV payroll report (pictured above). No need to manually review, input and verify your employees' timesheets every pay period.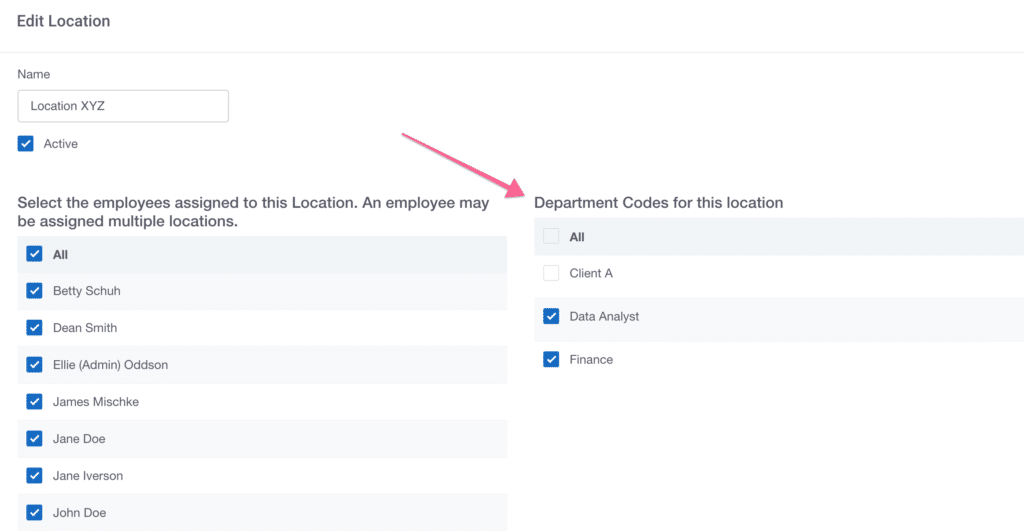 Our Project Tracking feature allows you to set up different pay rates, each tailored to a unique pay scale or job type. Once you've done so, Buddy Punch will calculate potential labor costs and help you create accurate budgets, and then export reports with this information for you to review, all in just a few clicks.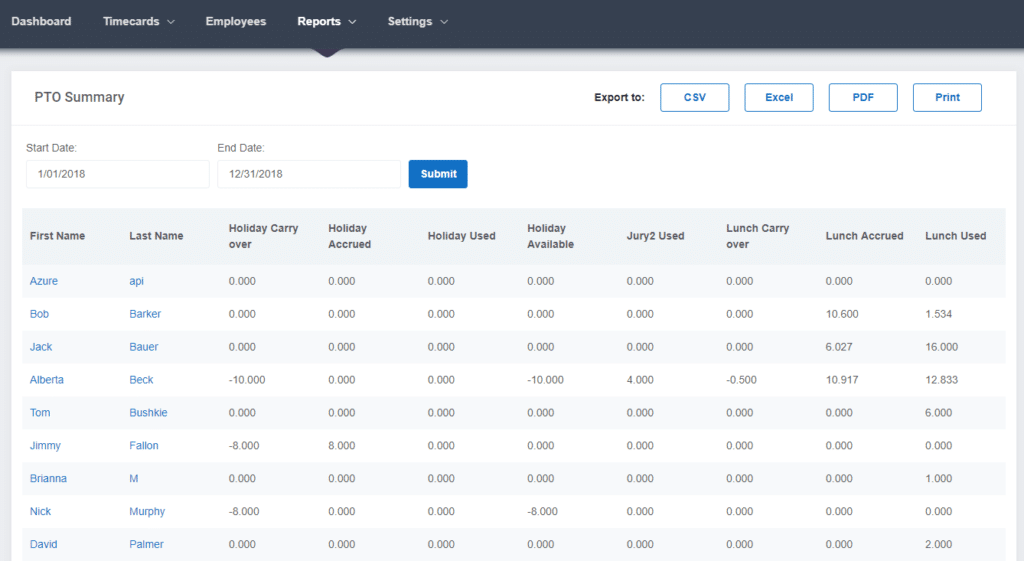 With Buddy Punch's Time Off Tracking, you can easily track all your employees' time off, both PTO and unpaid. You can make it so Buddy Punch tracks time off for all your employees at once, or on a per-employee basis. Buddy Punch also allows you to then export this information as a report for you to review and approve.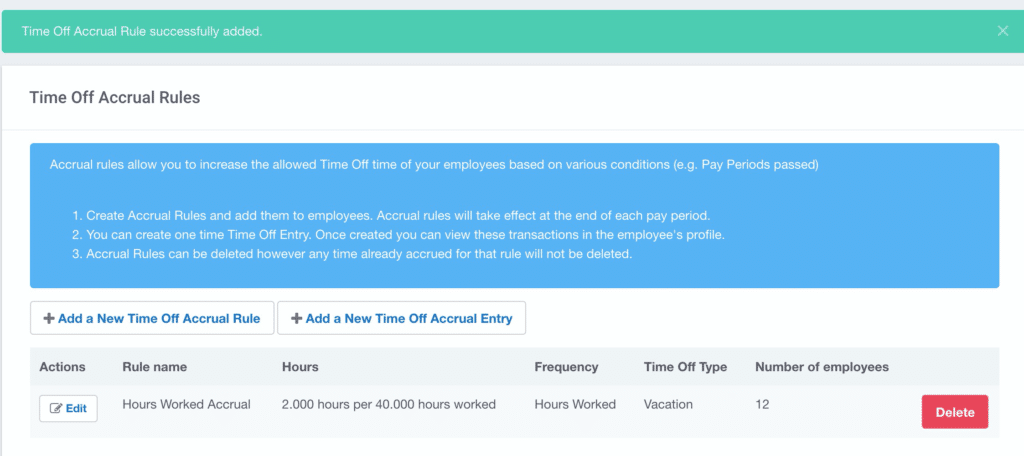 Buddy Punch also offers an Accruals feature, with which you can set up time off accrual rules for your employees. These rules can be based on the number of hours worked, a specified pay period, or you can set up an annual accrual.
Additional Features
Besides the aforementioned features, Buddy Punch also offers:
And there's much more. To see a complete list with all of Buddy Punch's features, click here.
But Buddy Punch isn't limited to just its features. In fact, when we started Buddy Punch, we also set out to build:
An app that was simple and easy to use.
Seamless onboarding for our users.
Customer support that went above and beyond.
Next, we'll look at each in detail.
What Makes Buddy Punch Unique?
Simplicity & Ease of Use
From day one, our goal was to make Buddy Punch's interface as intuitive and easy-to-use as possible. We designed Buddy Punch so that even the least technically-inclined employee wouldn't struggle using our apps (iOS, Android, tablet, or web.)
When your staff logs into the Buddy Punch platform, they are presented with the option to 'Punch-in', Punch Out', or view their current time card (as illustrated by the image below). This is intended to hide unnecessary distractions and prioritize a smoother, simpler every-day use.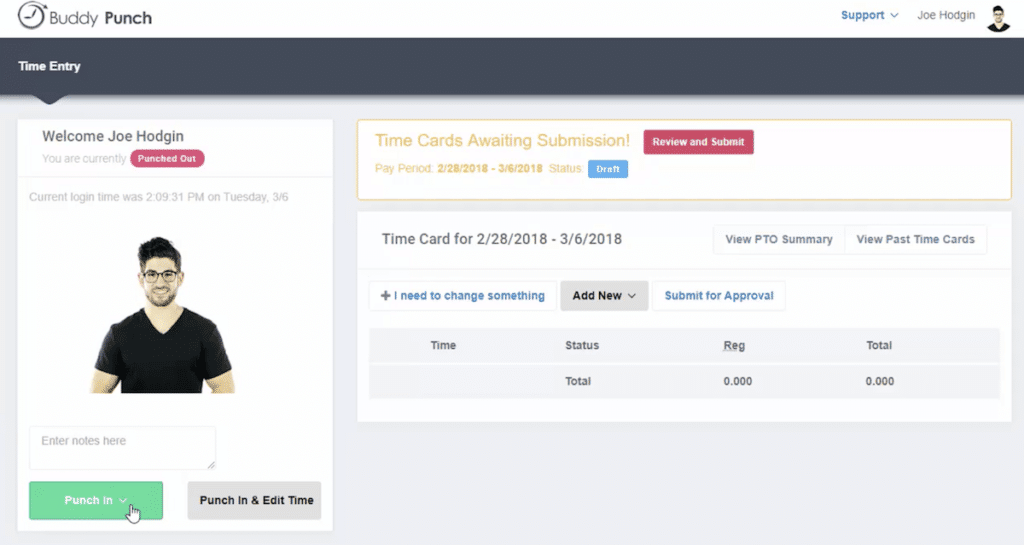 We're proud to say that our users have noticed this effort, and showed their appreciation for Buddy Punch's simplicity and ease-of-use through 612 reviews and 4.8/5 stars in Capterra (at the time of writing). For example: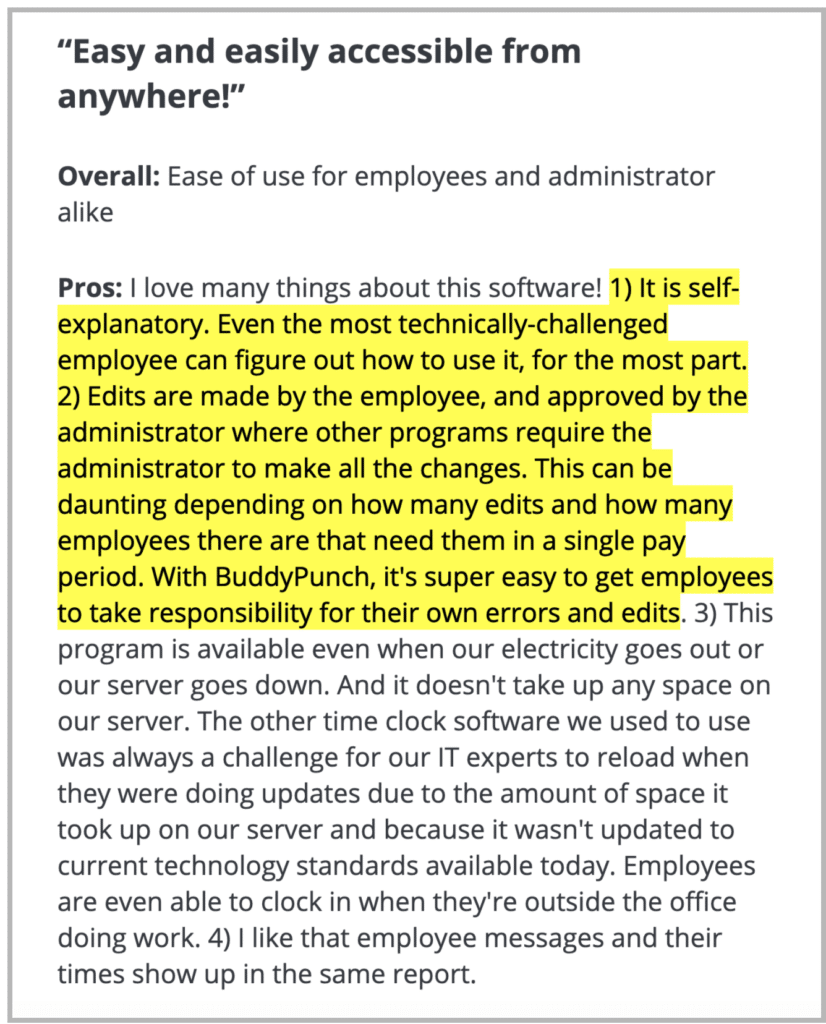 Click here to read full review.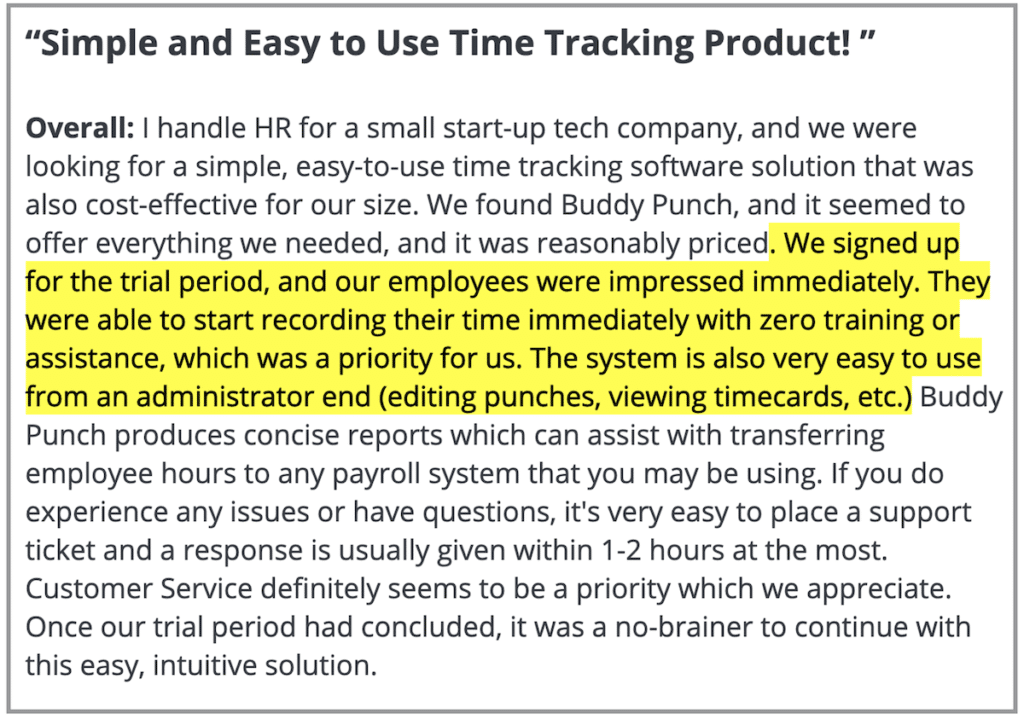 Click here to read full review.
Again, when your employees log into the Buddy Punch platform, we present them with a minimal amount of options — but that doesn't mean that is all Buddy Punch has to offer. Your employees can still submit claims to correct punch-in mistakes, submit their time cards for approval, request time off (paid or unpaid), and much more — all within the Buddy Punch app.
Seamless Onboarding
Incorporating a new software into your business can always be a challenge. That's why we set out to make Buddy Punch's onboarding process as easy as possible.
At Buddy Punch, we give administrators the option to add employees either manually or through a CSV import.
If you decide to go with the CSV import — Buddy Punch provides you with an Excel file ready for you to fill. Just send that file to us when you're ready, and we'll onboard all your team members for you. If you, on the other hand, want to add your employees manually, the Buddy Punch team can walk you through the different steps required to do so, or help you with any challenges you might encounter along the way.
We handle most interactions with our customers via our live chat, which you can find in both our apps for mobile devices (iPhone, Android, or tablet) and our web client. Our live chat is one of the features we're most proud of at Buddy Punch because in addition to helping us stay in close touch with our customers, it also has helped us unlock…
Excellence in Customer Support
We centralized all our communications with our users within our live chat feature (found both on the web and the mobile app for smartphones). We're proud to say this resulted in a median response time of 54 seconds during business hours.
All of our live chat representatives know the Buddy Punch platform inside and out, which means they can help you deal with any challenge, no matter how complex. This isn't the case at some companies, where depending on the complexity of the problem, you might need to talk with multiple customer support representatives to be able to solve it. At Buddy Punch, on the other hand, any one of our representatives can walk you through a solution to your challenge.
Our focus on customer support is one of our users favorite aspects of Buddy Punch. As some of them wrote in Capterra: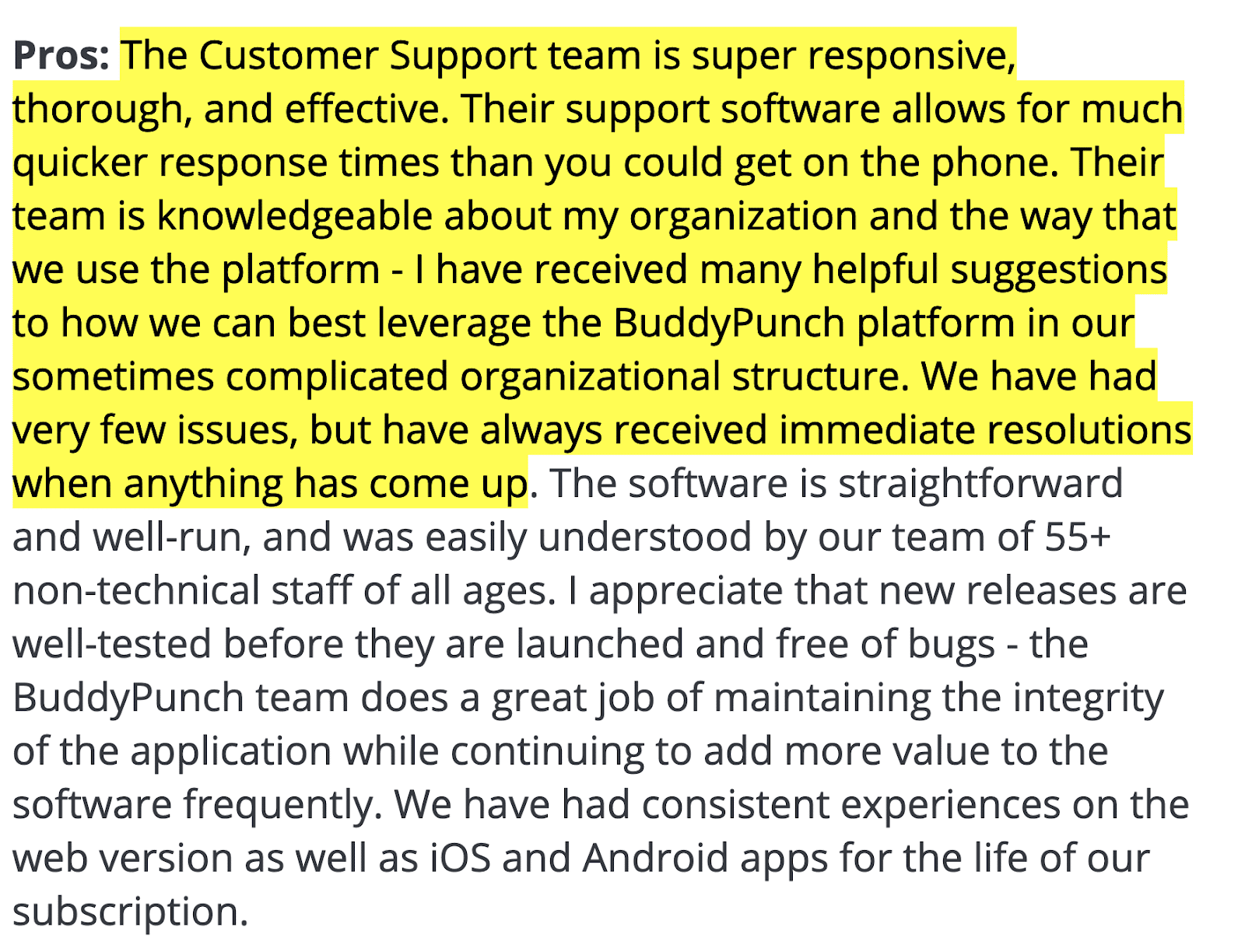 Click here to read full review.

Click here to read full review.
Click here to read all of Buddy Punch's Capterra Reviews.
Interested in Learning More?
We've recorded a full Buddy Punch Demo for you to learn more about all our key features. Watch it below, and sign up for a free trial to see Buddy Punch in action!
Alternatively, you can always request a demo here — we'll show you the ins and outs of our platform, and how you can best leverage Buddy Punch and start tracking your employees total hours in real-time, today!
Connecteam is a great time tracking app for small businesses, with a total of 113 reviews on Capterra at the time of writing (average of 4.8 out of 5 stars). Connecteam's key features include:
To see a complete list of Connecteam's features, click here.
Here's one review that highlights why Connecteam is a great clock inclock out app:

Click here to read full review.

Click here to read all of Connecteam's Capterra reviews.


At the time of writing, Hubstaff has a total of 1126 reviews on Capterra, with an average of 4.6 out of 5 stars. Among Hubstaff's most helpful features you can find:
To see a complete list of Hubstaff's features, go here.
Here's one review that highlights why Hubstaff is a great employee time clock app for your business: