Best Efficiency Tools for Your Business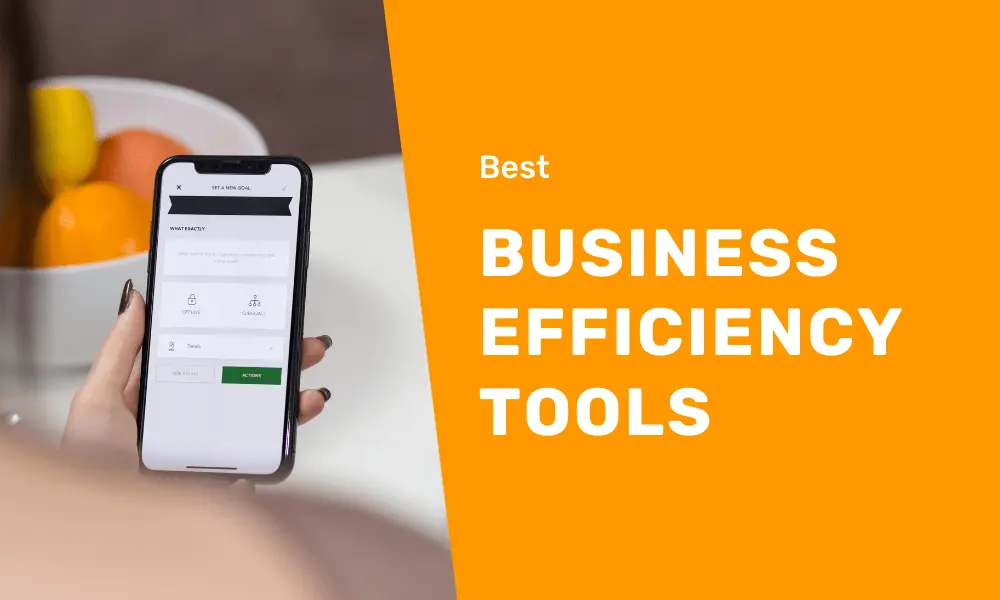 As Peter Drucker said, "Efficiency is doing things right; effectiveness is doing the right things."
Luckily, there is a plethora of tools to help you do things right and further improve your team's efficiency and performance.
These tools aid in task prioritization, bring communication to new heights, measure your progress, and so much more.
Without further ado, let's look into some of the best cloud-based tools that can help to transform your business for the better.
Tools for More Efficient Project Management and Collaboration
At the beginning of 2020, 7 million employees in the US were working remotely, and 43% of employees worked at least some of the time remotely.
Since the COVID-19 pandemic hit, these numbers rose significantly as more people had to work from home.
An increase in the number of people working away from office brought the need for collaborative project management tools that every team member can use regardless of location.
The following efficiency tools will help you plan projects, manage tasks, and improve your team collaboration.
1. Asana
Asana is a popular project management tool that combines file storage, project management, and collaboration. While many project management tools work best when you have a clearly defined start and end date, Asana is also adequate for teams with ongoing projects.
Asana's features and benefits
The tool orients on tasks and workflows, so it provides transparency to project managers or team leaders who want to overview the workload of any team member across different projects.
Tracking team progress and assigning new tasks is easy and straightforward, and the user interface is clean and intuitive. Additionally, tasks look like checklists and give a sense of accomplishment when marked done.
Activity feed gives you an overview of what your team is currently busy with.
Asana is flexible and can integrate it with Zapier, Harvest, Slack, and over 1,000 other platforms. You can also choose between different views, including a To-Do list view, Gantt/Timeline View, and a percent-completed view.
Price
Asana has a free plan for small teams (up to 15 people). The subscription starts at $10.99/month per person when billed annually.
2. ProofHub
ProofHub is an all-in-one software with many features under one roof: project management, file sharing, discussion, to-do lists, and reporting.
It has an easy to use interface, so your team members will understand how it works quickly.
The user's homepage shows a summary of everything—tasks, ongoing projects, announcements, and messages. It's impossible to miss out on something important.
Proofhub's core features and benefits
Proofhub is a robust tool with many functionalities, yet very simple to use and understand. Tracking progress is an integral part of Proofhub. Gantt charts, schedules, calendars, and stage-based activities render it an excellent choice for data-driven management as it includes. The tool also allows secure document sharing and file storage amongst team members.
Integrated instant messaging keeps all business activities under one centralized system, saving time you'd usually spend on sharing files via Skype or email. The discussion board further helps your team stay on the same page about projects.
Price
ProofHub is ideal for all-sized teams as it offers flat fees, and you don't pay per user. Plans start at $45 per month, billed annually.
3. Monday
Monday.com is a very visual project management software, great for project visualization. You can think of it as a productivity hub, because it has everything you need to assign tasks to your team, track their progress and level of completion.
Features and benefits of Monday.com
Monday is very intuitive with its big buttons, color coding, and drag-drop ability. Users can quickly access their weekly tasks, inbox, and shared project boards from their homepage and collaborate with others.
This tool also enables file sharing and comes with fully customizable project templates to get you started. If you want to get an eagle-eye view of your team, the timeline will tell you who does what and when are the due dates for a specific project or task.
Additional features are:
Rich integration with other tools

Board sharing is easy to manage, and you can switch between private boards, boards you share with your team, or boards you want to share with clients
Price
There are multiple pricing tiers for Monday.com. The most affordable option is the Basic plan, which is $8 a month per user when billed annually. If you have a team of 40, Pro plan would cost you $639/month if billed annually.
4. Teamwork
Teamwork is best for those working on multiple projects and would like an easy way to coordinate different teams. The dashboard gives you a view of tasks, and this can help you easily stay on top of all your projects and prioritize accordingly.
Teamwork features and benefits
See the nitty-gritty of every project because you can set up tasks and subtasks for each project, seeing what needs to be done and what process should be followed.
You can save and reuse task list templates, so this software might work for you if you often have recurring, routine tasks, or repeating projects.
While its user interface is not as intuitive as other tools, its other features can compensate for that, such as:
Teamwork chat which allows teams to communicate effectively within the app and even group messages into categories

Interactive Gantt charts or Kanban boards

Files and notebooks for projects where you can see each update made by others

Divide workload better between teams, so no one works too much or goes idle
Price
Teamwork has a free plan, and the paying plans start at $9/user per month.
5. Airtable
Airtable is a tool designed for those who need spreadsheets on steroids. It's a simple and effective tool to create a rich database or organize projects into spreadsheets.
Airtable is pretty straightforward to learn and use. You can easily organize your work—sort it, filter, or group items together by status, project, or user.
Airtable's features and benefits
This tool also has some filtering options that Excel or Google Sheets lack, so you can quickly find data you need. The only drawback is the absence of a filtered view that Google sheets have. Filter view lets you privately filter data without changing the dashboard for other users and disrupt their work.
Other than that, Airtable is a fantastic tool for all spreadsheet power-users who usually leverage advanced things like scripts or formulas. It allows you to connect tables and access data from another table with a click of a button.
Other features
Great selection of fully customizable templates and "Universe" where you can use templates from other users

Users can comment on fields

Blocks feature allow for more advanced customization and integration with other tools

Quickly switch between grid, Kanban, or calendar view
Price
Airtable has a free plan, and the paying plans start at $10/month per user, billed annually.
6. Basecamp
Basecamp is a simple project management tool that lets you do the majority of things in one place. It works great for teams of all sizes. It allows users transparency so that everyone stays on the same page about a project's progress.
Basecamp features and benefits
Basecamp has several communication options. It can replace meetings with specialized message boards, group chats, one-on-one pings, and automatic check-ins. Basecamp also works for sharing files with clients as it's easy to change access and see what your clients can see.
To-do lists and schedules keep users accountable for their work, and managers can view progress reports through "hill charts."
The user interface is super simple, similar to social media, and it doesn't require a lengthy learning curve.
Price
Basecamp costs $99 per month for unlimited users and projects.
7. Box
Box is an excellent tool for small to large organizations looking for cloud-based content sharing and collaboration. If you are working with plenty of digital content, Box might be a solution for you.
Features and benefits
You can create projects, share, store, and organize files in one workspace keeping things more organized. If you have daily tasks, the Box Relay feature will automate these processes and ensure that no critical task slips through cracks.
Team members can share any file (e.g., videos, images, and zipped folders) with internal or outside members, which is why Box is a good choice for creative agencies collaborating with other companies and sharing the workload.
Box Notes, the note-taking tool, lets team members share notes and exchange ideas on files and projects.
Price
Box has multiple tier plans. Their business plans start at $5/month per user when billed annually.
8. Wrike
Wrike is a project management tool for collaboration, planning, reporting, and overall workflow automation. This makes Wrike ideal for working on large scale projects which demand a lot of planning or if you are a service business working on long term projects with many phases.
Wrike features and benefits
Wrike permits centralized communication with team members and tracks tasks in detail—you will even know how much time someone spent on a task. This tool integrates various other software, including Microsoft, Box, Jira, and GitHub.
You can use its Kanban view feature to see a list of new projects, current tasks, and tasks you've completed.
Having all this data from one workspace lets you quickly manage individual tasks while also giving you a big picture of project progress.
Price
Wrike has a free plan, and their paying plans start at $9.80/month per user.
There has never been a larger pool of project management and collaboration tools. With such a variety of tools where each platform has a unique angle and use, you will quickly find your ideal solution.
Tools for Daily Plans and Notes
While it's essential to always have the big picture in mind when working on projects, your daily plans and notes are the building blocks that help you get there. Planning the day is critical to helping you prepare for obstacles, reduce stress, and evaluate your progress.
Let's take a look at some of the tools that you can use for daily planning.
1. Todoist
Todoist is an easy and flexible tool for creating tasks, setting priority lists, and work schedules in any way you want. You can organize tasks by projects, label them and color code them, and use multiple priority levels.
Todoist comes with a mobile version that is super easy to use, and your plans and notes automatically sync to other devices, even if you are offline.
Both individuals and teams can use Todoist because it has sharing and tagging capabilities. Still, it's not as robust as some other project management tools. Think of Todoist as a clean to-do list maker, where you can swiftly add tasks to your schedule.
Todoist's features and benefits
Gmail integration lets you add emails as tasks and save time

Smart Schedule, its AI-powered feature, suggests optimum scheduling dates based on your previous history. If you have too many tasks on Tuesday, Todoist will suggest spreading new assignments across the week.

The Premium account creates a productivity report at the end of each workday and allows you to comment on tasks

Very fast to use. Just type

Mon

to your task, and you are automatically scheduling it to Monday. Similarly, type in

p1,

and you will mark your task as Priority 1, moving it to the top of the list.
Price
Todoist has a free plan, and the paying plans start at $3 per month, billed annually.
2. Evernote
Evernote offers a place to create and save notes, images, files, voice memos, and thoughts.
Evernote is not just a note-taking app anymore. Now it has collaboration capabilities, so you can use it across the company, and share content with the team.
Its main feature remains the Web Clipper to save and annotate content screenshots in the way you want. However, you also have the option to link other files in your notes or scan documents.
Evernote is available on any device so you can sync your work whenever you find inspiration.
Price
Evernote has a free plan, and the paying plans start at $7.99 per month.
3. Notion
Notion is an all-in-one platform for managing your daily tasks and documents. It has similar features like Evernote regarding note-taking and file organization, but it's more of a general workspace management tool than a note-taking one.
Whether you're working on personal projects or have a small team, Notion can help you manage data and keep track of all essential tasks and information.
Core Features and benefits
Rich template gallery will help you create your ideal dashboard in minutes, and the drag and drop functionality makes rearranging content on your account effortless.
Notion comes with to-do lists that you can see in Kanban view, note-taking, and writing features, as well as project reports to monitor progress accurately.
Price
Free for personal use, but for teams and businesses, Notion's plans start at $8/month per member.
4. I Done This
I Done This is a great tool to help you manage your ongoing tasks.
The application focuses on two main areas: work you have already completed and work you haven't.
Features and benefits
The clean user interface helps users quickly grasp how to use the app

Made for teams with a collaborative dashboard and automatic reports

The checklist feature lets you manage what you have and have not done, and you can set goals to measure progress
Price
IDoneThis plans start at $9 per user, per month, billed annually.
5. Trello
Some of the efficiency tools on our list require a learning curve and some time to figure out. Trello isn't one of those tools. In just a matter of minutes, you can create boards, cards, lists, and add other relevant information to your projects. It's an intuitive and flexible app that works for both small and large teams.
Trello's features and benefits
Trello is easy to use, and it's accessible on all devices. It comes with many templates to help you get started. This tool is made for visual task management and project management. Still, many users leverage Trello's visual boards to organize their whole lives, not just work.
With the ability to add a ton of detail to each board, you can attach notes, files, images, and links to your boards.
And if you're working with outside collaborators, you can share your boards by using the public links.
Price
For business use, Trello's plans start at $9.99/month per user when billed annually.
Creating daily plans and notes will help you become more organized and have a clear picture of the road ahead. Try some of these tools to master your day and schedule.
Tools for HR and Employee Management Efficiency
Proper HR and employee management are vital components of a well-organized company. With the power of automation, you can create efficient processes to stay compliant with the law and save the company both time and money.
Let's have a look at some of the unique tools to help you efficiently manage human resources.
1. Buddy Punch
Payroll administration is one of the tasks you can't get wrong. Every detail and information needs to be accurate for everyone to be paid on time. Buddy Punch makes time and attendance, payroll, and scheduling a lot easier.
If you need your employees to punch in and out without a hassle, Buddy Punch is your tool. Employees can quickly check in on their phones with several punching options—they can use QR codes, PIN, or name and password, or even their face.
Features and benefits
While it has multiple powerful functions, including time-off requests and time tracking, it's straightforward to implement.
It's supported on Windows, iPhone, Mac, iPad, Android, and the web, so your team can easily set the software up on any device.

Overtime alerts allow you to reorganize the schedule and balance the workload when an employee is nearing their overtime.

Employees can clock in and out anywhere, but you have the control of their location thanks to the GPS feature. There is no risk of someone else punching in for them because the webcam feature automatically captures their picture when checking in and out.

Employees can request time off directly on the calendar for managers to review and approve, whether paid or unpaid.

Scheduling options let you organize your work schedules for any department and location, making the tool very useful for companies with geographically dispersed teams.

Integrates with multiple payroll providers
Price
The pricing plans consider the number of employees a company has, so it's easy for managers to choose the right plan for their company.
Plans start at $29/month for 1 – 9 employees.
2. Zenefits
Zenefits offers users both HR and benefits administration (BA) tools at their fingertips. The software is ideal for startups and small businesses who need help managing various HR tasks in a centralized, user-friendly, and functional tool.
Zenefits supports vast integrations, such as recruiting, payroll and accounting, and even some productivity apps, making it more of a generalist software. Clean interfaces allow HR managers, no matter how tech-savvy they are, to grasp the functions quickly.
Core features include
Streamlined recruiting via compensation package creation and auto sending

Payroll and employee data management

Business intelligence reporting
Price
Zenefits' plans start at $8/month per employee.
3. 15Five
The concept behind 15Five is straightforward—employees write reviews within 15minutes, and managers can read them within five minutes.
This online survey tool helps leaders get the full picture of the performances of all team members. Since employee performance is crucial to a company's growth, 15Five is ideal for directors, executives, and managers.
Performance reviews can be time-consuming for both employees and managers. 15Five speeds up the process and lets everyone get back to working and being productive.
Core features
Objective tracking

Rich reporting analytics to help you make sense of the reports

Self, peer, upward, and manager review capabilities, so everyone gets reviewed
Price
15Five plans start at $7/month per employee when billed annually.
4. Zoho People
Zoho People assists managers in HR and benefits program organization within one centralized workspace. As with most cloud-based software, Zoho is scalable and can accommodate companies of all sizes.
Zoho helps you with various HR tasks, including managing timesheets, performance appraisals, and tracking employee leaves, birthdays, and travel expenses.
Having all this data in a centralized workspace helps to improve organization and efficiency.
Core Features
Payroll integration

Employee database management and self-service for employees

Management of exiting employees

Document signing and management. All your company policies are stored and managed here
Price
Zoho People's plans start at $0.83 per user a month.
5. Gusto
Gusto (formerly ZenPayroll) is a payroll services solution that helps small to medium-sized businesses manage their employees and payroll processes.
Gusto is an incredibly simple and straightforward tool that's easy to understand. It allows you to manage payroll with automatic deductions and tax filing, as well as manage employee benefits such as 401(k), dental, medical benefits, and more.
Additional features
Employee onboarding—allows your new team members to input their information straight into the system

Anonymous surveys to know what your employees think and need

Visual organizational charts

Build employee handbooks and documents

Cashout employees between paychecks so they can cover any unexpected expenses
Price
Gusto plans start at $12 per person/month, with a $149 per month base.
6. ADP
ADP is a robust and well-known payroll solution on the market. This cloud-based tool offers businesses additional services, such as HR, time, talent, and benefits administration. ADP is relevant for companies of all sizes.
ADP lets you manage the whole lifecycle of your employees, from hiring to retirement. You can use it to coach your employees, develop their careers and skills, and compensate them accordingly.
Other ADP features
Generates year-end forms (W-2 and 1099)

Insurance and retirement services

Robust analytics where you can even benchmark your company against others within your industry that are the same size as yours
Price
Available on request
Your team helps you achieve your business goals. Manage your employees effectively with any of the above mentioned H.R. tools.
Team Communication Tools
As businesses grow and more employees work remotely, reliable communication tools have never been more critical. Here are our picks for some of the best tools for efficient team communication.
1. Zoom
With an average of 300 million meeting participants, Zoom has become one of the most popular video conferencing tools for both personal and business use.
Its rich features for participants and hosts, as well as how easy the tool is to use and understand, is part of the reason why so many have turned to Zoom for their virtual conversations.
Zoom features and benefits
The free account is generous, as it allows you to host up to 100 participants, with a decent number of features

Available on iOS and Android devices and the web

Integrates easily with multiple tools, such as Slack, LeadMaster, HubSpot CRM, Dropbox, and Salesforce

Virtual backgrounds

Co-hosted meetings

Break out room feature allows hosts to divide participants into groups, let them chat privately, and then bring all participants back
Price
Zoom has a free plan, and the paying plans start at $14.99/month per host.
2. Slack
If you've read up to this point in the article, you would have noticed we've mentioned Slack already. Slack is a well-known team collaboration and communication app with a large number of integrations, that cover over 2,000 services and devices, including Office 365 and Google Drive. This makes it a great choice for diverse teams of all sizes.
Slack lets you organize your communication through channels and projects, have audio and video calls, and share files with others.
The workspace is customizable to fit your needs. All unread messages are categorized in an "unread" folder, so you don't miss them, and mentions of your name are also separated for better productivity.
Other notable features of Slack
Bots help you set reminders for tasks

Powerful search options

Built-in document editor

Custom commands and shortcuts

Quoting

Screen sharing

Polls creation

Do not disturb option

Mute notifications by typing "/dnd" + desired amount of time in the message box. For example, "/dnd for 30 minutes"
Price
Slack has a free plan, and the paying plans start at $6.67 per month.
3. Skype for business
Developed by Microsoft, Skype for Business is a powerful and widely used team collaboration and communication tool.
Users can collaborate with up to 250 people, making Skype great for hosting large meetings or conferences with your team.
Skype is a multi-device software that integrates with a myriad of other tools.
Core features
Instant messaging with other users

Share screens and notes on PowerPoint in real-time

Many presenter controls for video meetings, including meeting lobby and whiteboard

Custom participant views — you can choose between gallery, speaker, presentation or compact views, all allowing you to see different content during a presentation

Phone system to make calls from Skype

Polls
Price
Paying plans for Skype for business start at $5 per user per month.
4. Google Meet
If you were a fan of Hangouts, you'd appreciate Google Meet, its upgraded version. Google Meet may not come with some of the fancy features its competitors offer, but it does provide users the most valuable video conferencing and webinar features.
The software automatically saves recordings onto the host's Google Drive. Users can join video conferences using their phones. You have the option to broadcast events to 100,000 viewers, or to host meetings for 250 people.
Google Meet also allows you to share your screen and cancel the noise surrounding you, giving you more control over the meeting.
Other features include
Auto captions powered with Google's speech recognition

Recording options

Chat with meeting participants
Price
Google Meet has a free plan, and paying plans start at $10 per user, per month.
5. Microsoft Teams
Microsoft Teams is a solid service that provides users with four valuable team communication tools; calling, group chats, web conferencing, and online meetings. Focusing mostly on chat, this tool is ideal for companies already using other Microsoft Office 365 tools.
Microsoft teams lets you chat with your team members instantly, but it also has options for audio and video calls. You can also share your screen and files. One of the exciting features of Microsoft teams is an inline transcription and translation.
1 TB cloud storage

Group and private chats

GiF icon

Useful tab to help users quickly access frequently used documents

Meetings are encrypted
Price
Microsoft Teams has a free plan, and the paying plans start at $5/month per user.
Great Businesses Weren't Made Overnight
It takes time to build a business that functions efficiently all year round.
Multiple components play a part in your company's success, from project management and collaboration to employee and payroll management.
Which tools are right for you and your team?
Take your time to analyze your current business challenges and priorities and imagine the perfect solution.
Understanding this will put you on the right track to choosing the most appropriate efficiency tools for you and your team.
Hopefully, this list helped you recognize distinctions between some most popular tools on the market and will aid you in making better decisions when choosing the best solution.