The 6 Most Effective Team Scheduling Apps (2023 Guide)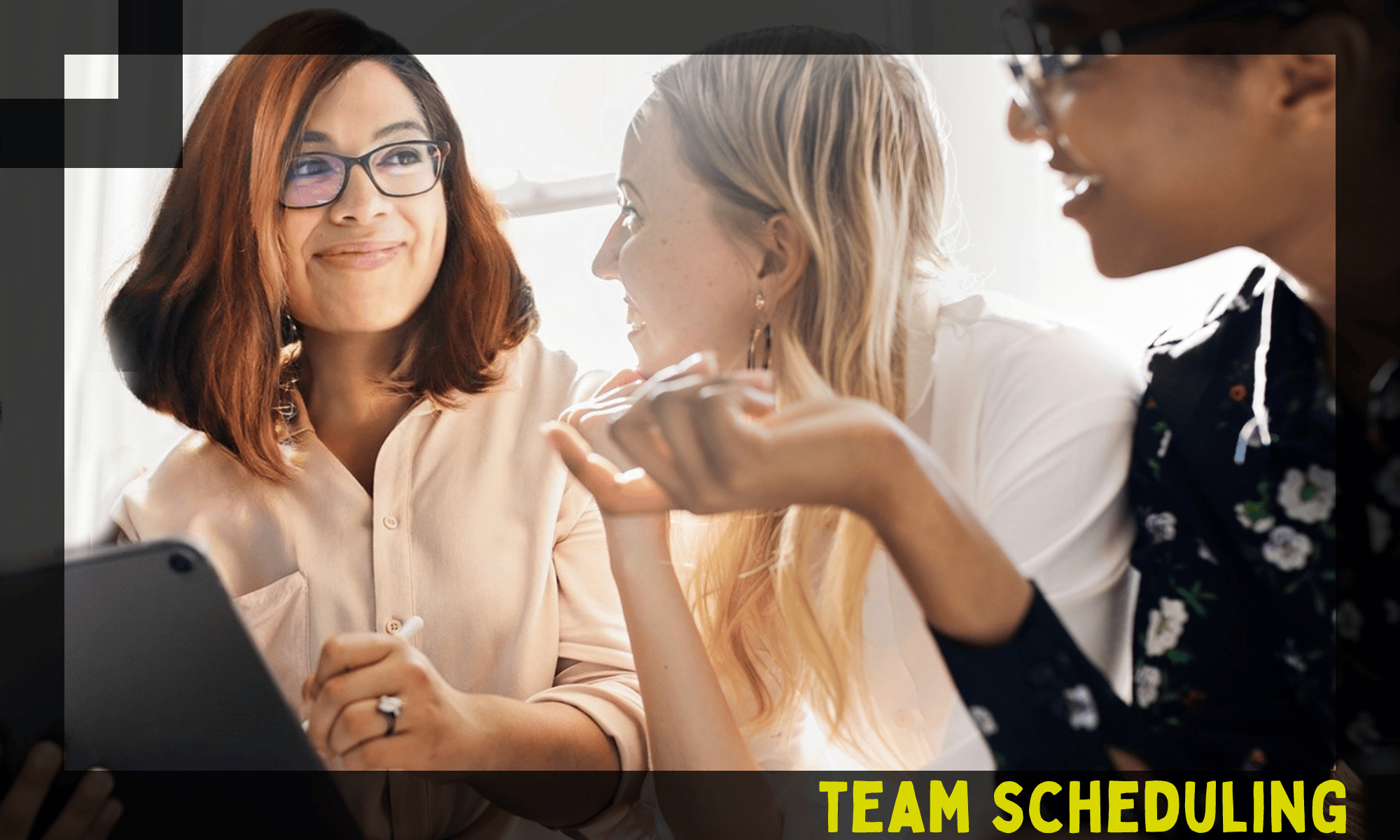 Properly managing employee availability is more challenging than playing "fill in the blank" when it comes to open shifts. As most managers come to understand, the scheduling process has a drastic impact on the work-life balance, job satisfaction, and overall productivity of your team members. Effective staffing means understanding each employees' relationship to each other and their tasks.
While that may sound daunting, high-quality scheduling software can make it much easier. Some of these tools streamline the process (or fully automate it), while others save time across operations or enable team communication so your staff can take personal responsibility for aspects of shift management.
Below, we're going to list our top 6 picks of employee scheduling software that can empower business owners to fill shifts in a way that allows employees to recharge, helps control labor costs, and reduces the odds of running into scheduling conflicts.
Team Scheduling Options
When we were designing Buddy Punch, we wanted to create a staff scheduling software that could address any business owner's needs, from small businesses to enterprise, and from hourly employee scheduling to handling freelancers.
What we learned from our own efforts, and those of our clients, is that scheduling team members is an ongoing, collaborative process – and needs functions that accommodate that. Functions such as Drag & Drop Shift Scheduling, Notifications, Shift Trades & Covers, Punch Limiting, Locations, Customizable Reports, and Automatic Breaks.
All of these features and more were integrated into Buddy Punch to help manage team scheduling online.
Next, we're going to dive into specifics to explore how each of these features can have a tangible impact on your employee shift management.
Note: If you'd rather experiment with these features instead of reading about them, Buddy Punch offers a 14-day free trial for you to get hands-on experience.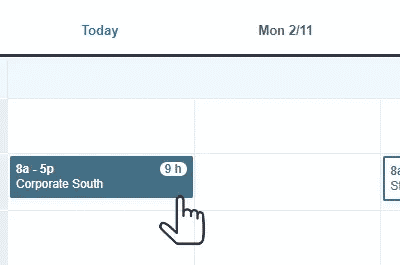 With Buddy Punch's Drag & Drop shift management, you can get a visual overview of how effective your team scheduling is going. You can create a new shift simply by clicking an empty cell, then drag and drop that shift where it's needed. Once you're done, you can publish your team scheduling online to send an instant notification to all important team members.

Buddy Punch has several built-in notifications for both administrators and team members. When a team member clocks in, administrators receive email alerts with the employee's name and clock in time (this feature can be enabled or disabled per employee). Managers also receive notifications whenever a team member requests paid time off and can send a notification in return with their decision to approve or deny the PTO request.
How about letting your own employees take over scheduling features, in a manner that feels almost like auto-scheduling? The Shift Trades & Covers feature allows employees, managers, or administrators to initiate shift trades with other employees. The Covers side of this function is particularly powerful, allowing employees to exercise some autonomy and fill in open shifts that they see available.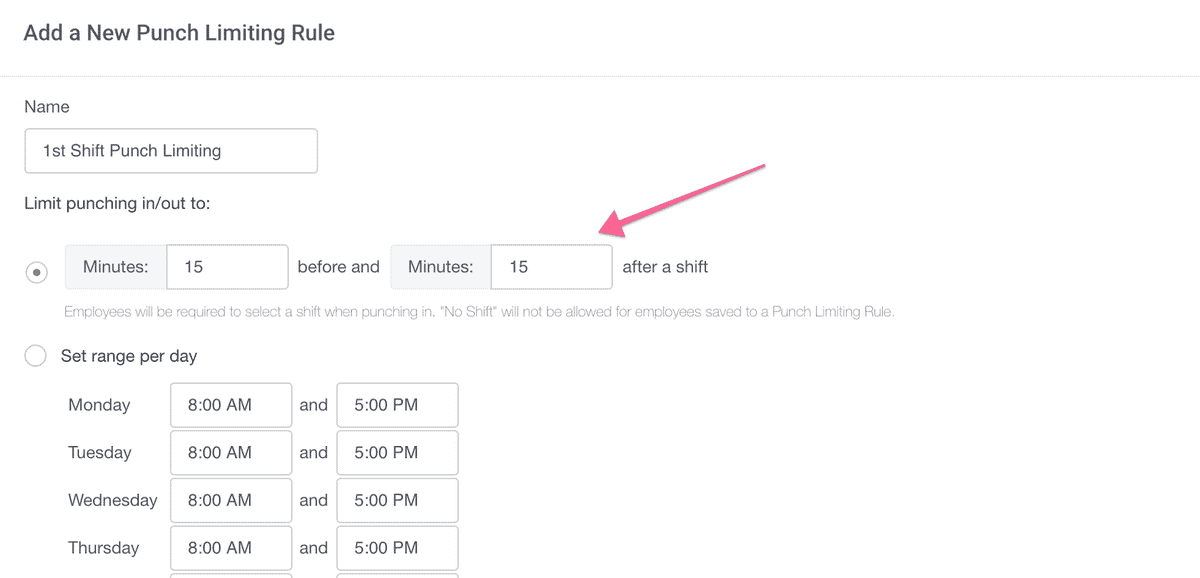 Punch Limiting allows you to control what timeframe your employees are allowed to clock in. This allows you to limit early punch ins and late punch outs, cutting down drastically on overtime as well as enforcing punctuality and precise time tracking for your team members.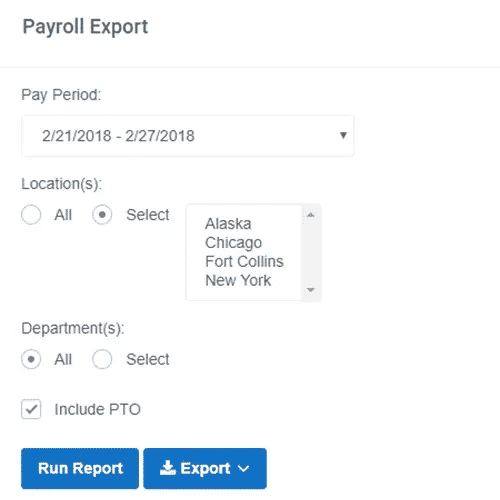 The GPS Locations feature is another method for business owners to control where there employees clock in. You can create an unlimited number of locations and assign them to employees. Team members will receive a prompt upon clock in to indicate where they are working from.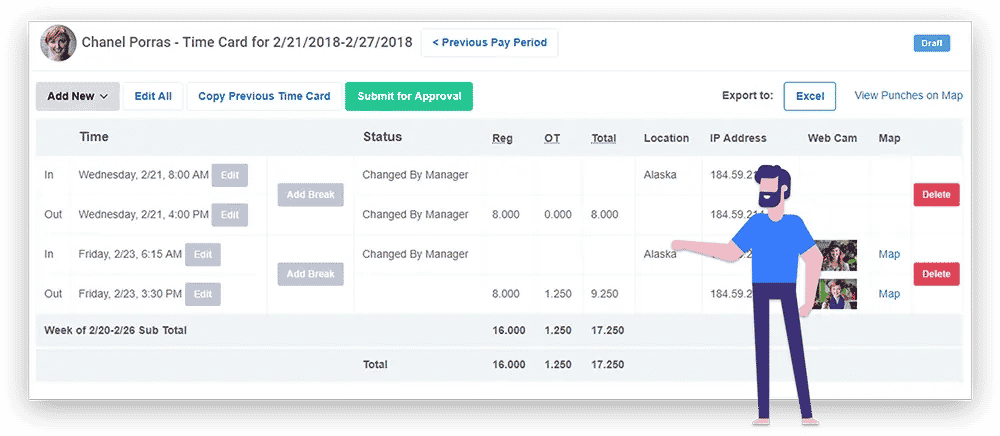 The Customizable Reports feature can help you with your team scheduling indirectly. Being able to get a birds eye view of each employee can help you make decisions on who to schedule when, and why. This is an important step to optimize your operations overall.

Buddy Punch's Automatic Breaks feature is a set-and-forget option that will greatly benefit your team scheduling and management teams. This allows you to automatically subtract hours from your employees based on when their designated break times are, giving you greater clarity for how much and how long each team member is actually working while they're on the clock.
Buddy Punch Offers Other Workforce Management Features
Buddy Punch can help you do a lot more than just schedule shifts for your team. Consider the usefulness of other features such as:
Beyond providing features, Buddy Punch also hosts useful articles on business management (on our blog) and on best utilizing Buddy Punch (in our help doc center). If you ever have a question or want to book a one-on-one personalized demo, you can reach out to our responsive customer support via live chat.
Buddy Punch's Online Reviews
As of this post's writing date, Buddy Punch has 4.8 out of 5 stars and 686 reviews on Capterra.

Below, we'll list just a few reviews that speak to Buddy Punch's impact on shift management across a variety of industries. (Click here to explore the full list of reviews.)
"It has a great deal of flexibility and gives administrators/managers the ability to see who is here at any given time of the day. Managers also have the ability to approve PTO prior to it being added to the time sheet. This provides accountability for both the employee and manager. They can also schedule shift work if necessary. "

Click here to read the full review.
"What I love most about Buddy Punch is how simple it is for employees to clock in and out, add their lunch breaks, and write notes about their shifts. I also love how easy it is for me to import it into QuickBooks and pay payroll with it! Before I used Buddy Punch I was keeping time manually with 3 employees and it drove me crazy. Now I have over a dozen employees and I do not know what I would do without this software."

Click here to read the full review.
"We had been in the market for a new Clock In software. This one was recommended to us, and we couldn't be more grateful! It's quick, and takes only seconds for people to clock in! The ability to take breaks and end shifts swiftly cuts down on added wasted time."

Click here to read the full review.
"We have 10 field workers who are working different shifts at any given time. Buddy Punch has made it easy to track and make sure they are staying within their 40 hours a week. The PTO calendar and requests are also easy to use."

Click here to read the full review.
As these reviewers noted, Buddy Punch vastly increased the ability and ease of business owners scheduling their team members.
Try Buddy Punch for Free
If you feel that Buddy Punch might be the right scheduling solution for your business, sign up for a 14-day free trial. You can also book a one-on-one demo, or view a pre-recorded demo video.
Deputy is a shift scheduling and time tracking app built to revolutionize your business employee scheduling. Some of its features include:
Other aspects of Deputy include skillset scheduling and a smart leave management system that allows employees to independently request time off. As of this post's writing date, Deputy has a rating of 4.6 out of 5 stars, based on 581 reviews.
"We had employees staying clocked on after shifts milking the clock. We didn't notice it until it was time to run payroll. Now this tells me whenever someone stays on more than 5 minutes past their shift. Or clocks in more than 5 minutes early. 6 stores, 3 shifts a day, it really adds up quickly!"

Click here to read the full review.
ZoomShift is a scheduling software designed specifically for hourly employees. Some of its features include:
This software come with mobile device apps that work on iOS or Android phones. As of this post's writing date, ZoomShift has a rating of 4.5 out of 5 stars, based on 94 reviews (see here).
"It's the most effective scheduling software that we have used since opening our business 5 years ago. The ability to see staffing and make updates on the fly is incredibly powerful."

Click here to read the full review.
QuickBooks Time (formerly known as TSheets) is a popular shift scheduling program with a host of features including:
At the time of this article's writing, QuickBooks Time has a rating of 4.7 out of 5 stars and 5,617 reviews on Capterra.
"Pros: The multiple interfaces, the ability to visualize jobs by employee or job title, the ease of color-coding/changing shifts/coordination. It's like Google calendar on steroids with full integrated payroll systems, hourly tracking, GPS tracking, etc. We are new users but it is already totally changing the company for the better. "

Click here to read the full review.
7Shifts is a shift scheduling app that, while usable for any business owner, places a specific emphasis on serving those working in the restaurant industry. Some of its features include:
7Shifts has earned 876 reviews and a rating of 4.7 out of 5 stars on Capterra (as of this post's writing).
"A super all-in-one app that does pretty much everything. Scheduling, to time clocking, to event calendar, to messaging, to task assigning. Price is fair and function is easy to use."

Click here to read the full review.
One thing that makes Findmyshift a popular online scheduling employee software is the fact that small business owners (with less than 5 team members) can use it completely free. Some of its features include:
As of this article's writing, Findmyshift has a rating of 4.6 out of 5, based on 706 reviews.
"The scheduling and payroll report have been game changers! Prior to findmyshift I used to have to collect availabilities via email or text, enter it into a spreadsheet and build a schedule from there. Findmyshift has streamlined that process. The payroll report makes it easy for HR to do payroll biweekly."

(Click here to read the full review).
Choosing The Best Employee Scheduling App for Your Business
In our effort to detail just a few of our favorite options of team scheduling apps, you may have noticed how diverse the picks were. We always say that no two businesses are alike. That extends to software created to serve business owners, and means you have some decisions and trial-and-error ahead of you.
That said, looking at the philosophy of the developers behind a team scheduling app can help. If you're a restaurant owner, the fact that 7Shifts was specifically designed for your industry (and includes features exclusive to it) should make it high on your priorities to try. If your company places an emphasis on labor compliance, Deputy is going to be more your speed.
But, if what you're looking for from a team scheduling app is something flexible and powerful, with a wide range of features for you to enable and disable at will depending on what your employees best respond to, in addition to having a customer support team that serves as an employee scheduling partner – you can't go wrong with Buddy Punch.
Try Buddy Punch for Free
If you feel that Buddy Punch could be the right online scheduling tool for your business, sign up for a 14-day free trial. You can also book a one-on-one demo, or view a pre-recorded demo video.

You May Also Like…