The 5 Best Online Time Clock for Auto Shop Options (Time Management Overview)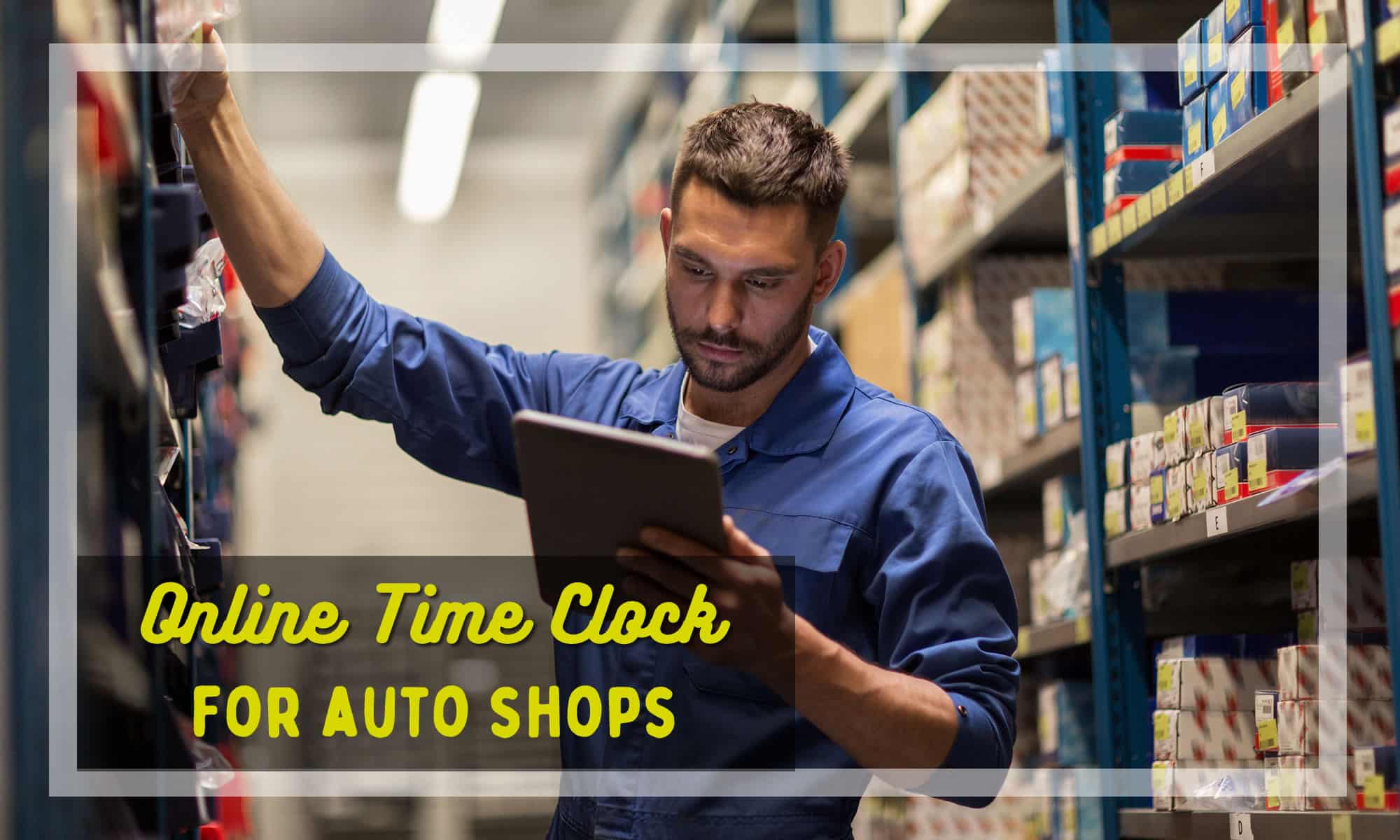 The automotive industry is one sector where the power of using time tracking software often goes underutilized. While most auto repair shops tend to use a less structured style to their estimates, preferring to rely on personal experience to determine how long a job should take and cost, turning to an employee time clock system is a simple way to get more exact data. Once that data is collected, a savvy automotive repair shop can use it to determine their prices on work orders to maximize profits, boost productivity, and outdo their local competition.
When examined this way, there's only one downside to an auto shop adopting time clock software: making the "wrong" choice–that is, a choice that is difficult for your employees to use or has ineffective features that don't make a positive impact–will set your business back in the long run.
To help make it easier for auto repair shop managers, we've curated a list of the top 5 timekeeping software options on the market, based on their ease of use, functions offered, and customer reviews. Hopefully one of these will prove to be a great fit for your business.
Online Time Clock for Auto Shop
Starting off our list of time clocks for auto shops, we have our very own Buddy Punch. There were three criteria we focused on while developing this software, and those same attributes make it a valuable feature for any business focused on manual labor that doesn't want to spend too much time fiddling around with administrative features:
Employee Accountability. Many of the features we built into Buddy Punch are designed to make your technicians more responsible for their time spent on the clock without you having to constantly watch over them. Features like Job Costing, Drag & Drop Scheduling, and Shift Trades & Covers help achieve this.
Design Simplicity. While developing Buddy Punch, we wanted to make sure we keep it as simple to use as possible. A good time clock helps you better manage your time without subtracting from it. With features like One Button Clock Ins, Notifications, and Punch Rounding, it's never difficult for employees to get the most out of Buddy Punch without being unnecessarily distracted from car repairs or oil changes.
Payroll Streamlining. Lastly, it's our opinion that a digital time clock should include features to make Payroll as easy to handle as possible. Instead of auto shop owners having to go through timesheets at the end of each pay period to check for discrepancies and transfer data, Buddy Punch offers features such as Payroll Reports on Demand, OT Calculations, and Payroll Integrations to help ensure that billing, invoicing, and payments are smooth and accurate.
Now, let's go under the hood to see how exactly each of the above-mentioned features have a positive impact on employee monitoring.
Note: If you'd rather get a hands-on feel for this time clock software, you can start a 14-day free trial by clicking here.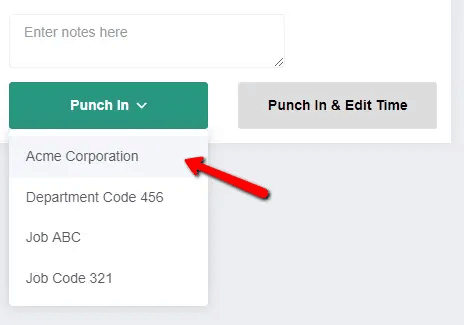 Buddy Punch's job costing feature was designed specifically for businesses, like auto repair shops, that need to track employee hours by job. You can use our software to create jobs, companies, or task labels, and have an employee punch in and out of them. When you view their timecards, you'll see how much time was spent on each task, which enables you to calculate which tasks are most profitable.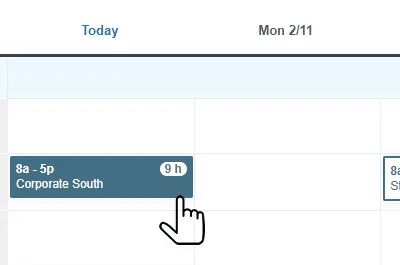 You can streamline shift management with Buddy Punch. Simply click an empty cell to create a shift, then drag and drop shifts as needed. You can edit a shift by clicking on it, and once you're ready to publish the shift all scheduled technicians will get a notification.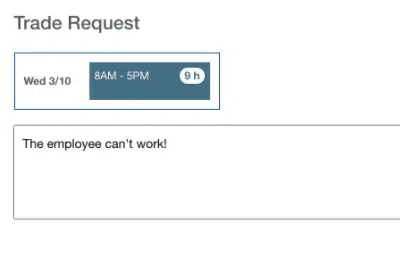 The Shift Trades feature allows employees (or managers or administrators) to initiate shift trade with other employees. Additionally, the Covers feature allows your employees to take over for shifts that employees won't be able to work. This means your team members can exert some responsibility and help make shift management a little easier on your behalf.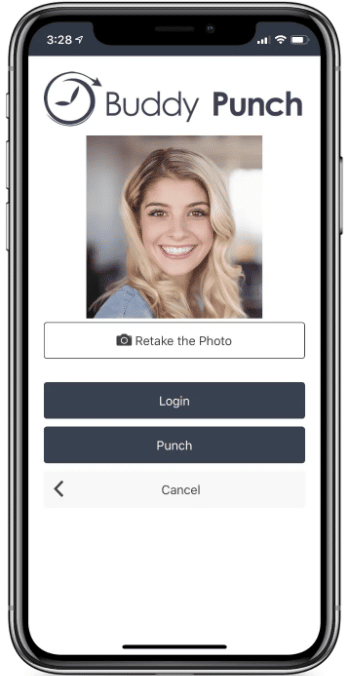 We wanted to make sure we didn't make Buddy Punch too difficult to use, which is why its most important feature (Clocking In) can be done in one simple click. This feature works on Desktop as well as Smartphones (iOS and Android).

Buddy Punch offers several built-in notification options for employees as well as administrators and managers. These features make it easy for everyone to focus on their jobs throughout the workday, seeing as if anything important needs their attention, they'll be notified. Buddy Punch alerts team members of things such as punch change emails, time card approval status changes, overtime alerts, and more.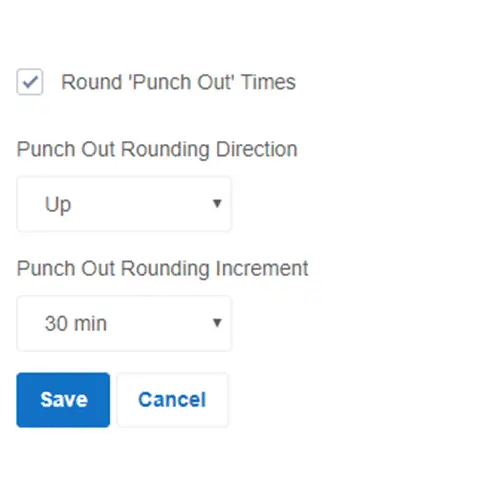 The Punch Rounding feature is a set-and-forget feature that makes it easier to keep time tracking accurate, without requiring your constant micromanagement. This feature sets punches to be rounded up, down, or to the nearest predetermined interval you select (anywhere from 2 minutes to 30 minutes). This option is particularly useful if you've set up Buddy Punch as a kiosk in your shop.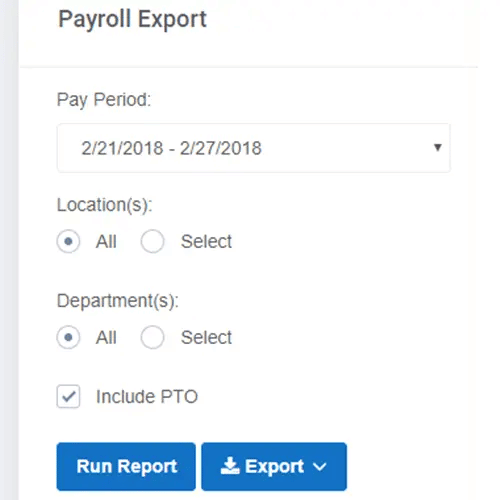 Buddy Punch offers a wide variety of customizable reports that allow you to get a closer look at the data behind your business, including the Payroll Report on Demand. With this, you can get a detailed look at your employees, their hours, overtime, locations, and departments. You can also cycle through prior pay periods as needed.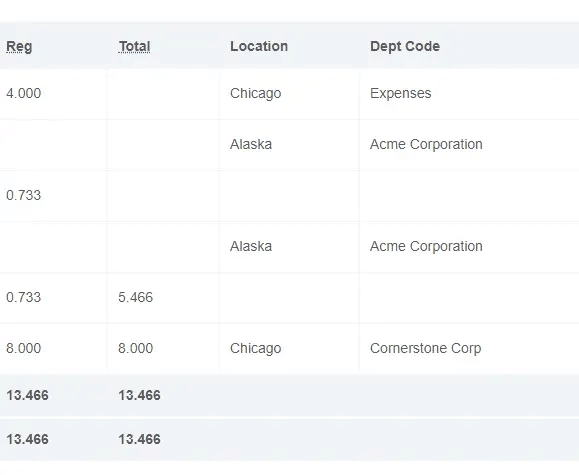 Buddy Punch's OT Calculations feature allows you to select from more than a dozen overtime types to determine how your overtime pay is calculated. You can choose different OT types on a per-employee basis, and we can add any missing OT types if you need us to (just contact us to let us know). Regular, overtime, and double overtime is calculated automatically and can be viewed via the reports feature (mentioned above).

Lastly, to help auto shop owners handle their payments, Buddy Punch integrates directly with many of the most popular Payroll Software Options. Some of the names include programs like QuickBooks Time, Paychex, ADP, and more (click here to view the full list of integrations). This feature makes it easy for you to handle billing, invoicing, and payroll.
Auto Shop Owners Get Even More Out of Buddy Punch
So far, we've only touched on a few of the functions you get access to with Buddy Punch. There's still more to consider, such as:
There's also out-of-app benefits to working with Buddy Punch: You get access to our help doc center which contains many useful articles on how to best utilize the software, our Blog Section will help you figure out strategies and tips for workforce management, and our team is always available via live chat to answer your questions over at the Customer Support Desk.
Interested? You can book a one-on-one personalized demo here.
Buddy Punch's Online Reviews
We've spent a lot of time talking about Buddy Punch–now it's time to let our customer have a turn. As of this article's writing date, Buddy Punch has 4.8 out of 5 stars and 708 reviews on Capterra.

Below, we'll list just a few reviews that speak to Buddy Punch's impact as a time clock software. (Click here to explore the full list of reviews.)
"This software has accomplished what we were hoping for – punching in and out when on site. We are a custom fab shop, so we use a lot of job codes and the software is easy to use for purpose. We eliminated paper tallies which over the course of a years time has saved us payroll in regards to employee rounding time on time sheets. I am able to access all the information even when I am on the road, so I am always in the loop on attendance and who is working on what projects."

Click here to read the full review.
"Their team is knowledgeable about my organization and the way that we use the platform — I have received many helpful suggestions to how we can best leverage the Buddy Punch platform in our sometimes complicated organizational structure. We have had very few issues, but have always received immediate resolutions when anything has come up."

Click here to read the full review.
"Great, saves me time in calculating punch hours, and gives the employees extra confidence that their hours are being calculated fairly and accurately."

Click here to read the full review.
"I love being able to punch in and out from my phone. It's super easy to use and user-friendly as well. Compared to other programs like Peoplesoft and corporate software, this is the best I've seen. It's simple and can still get the job done."

Click here to read the full review.
As these reviewers noted, Buddy Punch is a vast improvement over manual time tracking, intuitive to use, and comes with a helpful support team.

Try Buddy Punch for Free
If you feel that Buddy Punch might be the right tool to manage time in your auto shop, sign up for a 14-day free trial here. You can also book a one-on-one demo, or view a pre-recorded demo video.
uAttend is a time management company that specializes in both physical products (such as biometric time clocks) as well as time clock software. Their cloud-based time clock program comes with features such as:
At the time of this post's writing, uAttend has a total of 380 reviews on Capterra (see here), with an average of 4.6 out of 5 stars.
"We have multiple locations and they all link in together to make employee tracking easier and the since its cloud based its very handy rather than using a software that's only available on one computer. I would recommend uattend to anyone!"

Click here to read the full review.
TimeCamp is a simple time tracking software with an extremely generous free plan (working for unlimited users, projects, and tasks), though many of its more powerful functions are locked behind a paid plan. Some of those features include:
At the time of writing, TimeCamp has a total of 562 reviews on Capterra with an average rating of 4.7 out of 5 stars.
"The main pro for me: besides starting tracking time in the moment/realtime, you can also track time backwards. The desktop tracker makes it easier to see what you were working on, on how much time you spent on it. Time you spent on websites, and even emails and time you spent on a Word/Page/Photoshop/etcetera document."

Click here to read the full review.
Insightful (formerly known as Workpuls) is a data-focused time tracking software with features including (but not limited to):
At the time of writing, Workpuls has a total of 69 reviews on Capterra (see here), with an average of 4.7 out of 5 stars. Some of its key features include:
"It is very convenient and the reports are very comprehensive and really easy to read. Also, I love how you can see what the employees are opening and what softwares and sites they open and how much time they spend on it. Plus, you can adjust which sites, softwares, and etc. you can label as productive or not."

Click here to read the full review.
Hubstaff is an all-in-one work time tracker with features such as:
As of the writing date, Hubstaff has 4.6 out of 5 stars and 1282 reviews on Capterra.
"As a company with lots of employees working remotely for us, we need strong software to monitor employees' performance and act according to the efficiency analysis. Its best feature is idle time management which helps you know if some employee is sitting idle."

Click here to read the full review.
Choosing The Best Online Time Clock for Your Auto Shop
Even though we've managed to narrow down the wide range of time tracking software options to just a few with effective features and strong reviews, you'll still have to do a little trial and error to figure out which one fits your style and your employees best. Luckily, looking at the features each one comes with can help.
For example, if you like the idea of using a physical time tracking software and don't mind paying a higher price at once (and swinging for a warranty) you might like uAttend. If you're big on data insights, you might like what Insightful brings to the table.
Otherwise, if all you're concerned with is using a simple and intuitive time tracking with plenty of strong features and a helpful customer support to attend to your every need, then you really can't go wrong with choosing Buddy Punch.

Try Buddy Punch for Free
If you feel that Buddy Punch could be the right fit for your auto shop, sign up for a 14-day free trial. You can also book a one-on-one demo, or view a pre-recorded demo video.

You May Also Like…