Time Clock Companies (3 Options)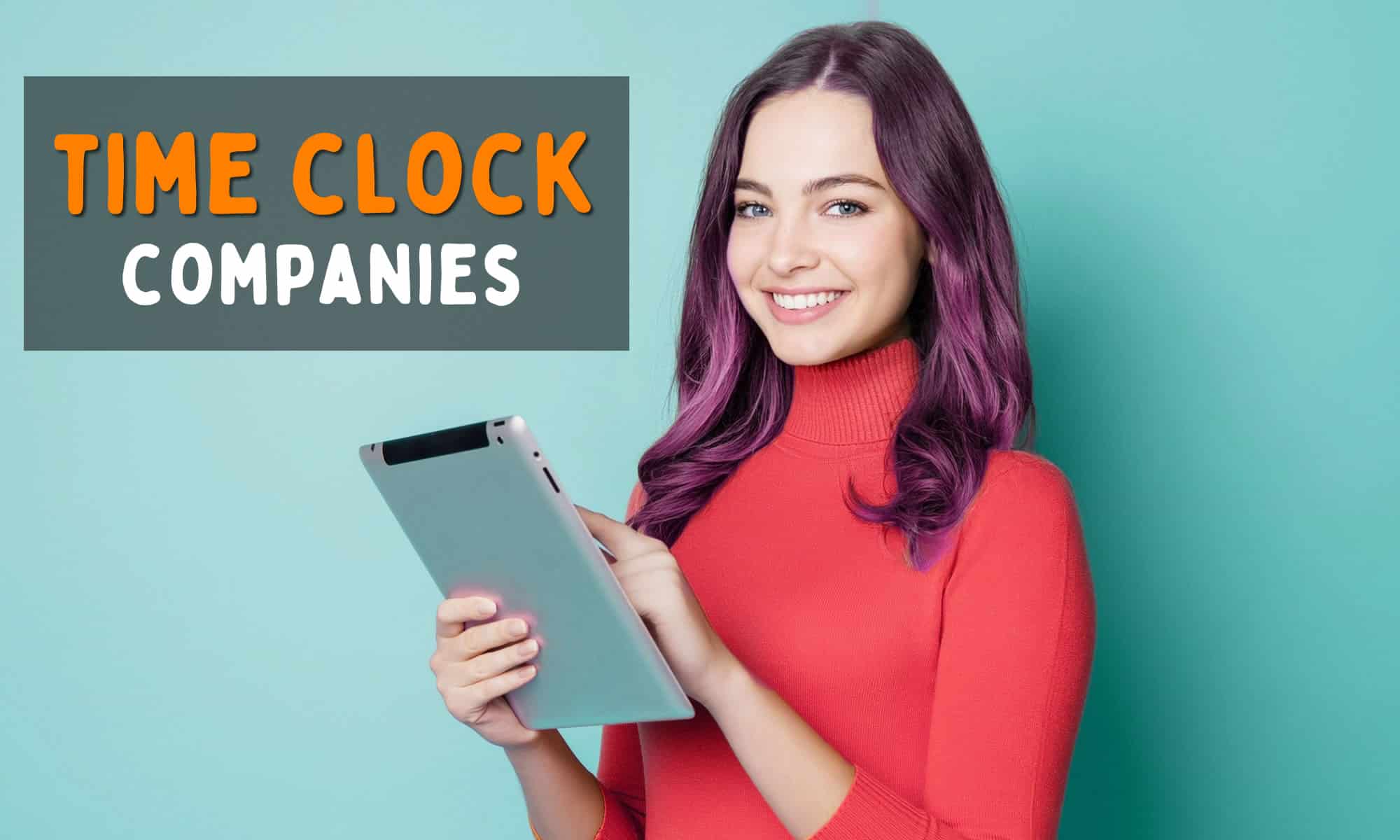 Searching for the most efficient time clock companies?
The best time clock platforms offer the following:
The ability to streamline time tracking processes.
Integrations to sync with payroll systems.
A full range of biometric features.
Effective attendance software is vital in maintaining accurate employee records, saving time, and streamlining your payroll processing.
If top-notch time management is a priority in your organization, an intuitive and web-based employee time clock is a necessity.
Most of these electronic time clock platforms offer a lot more than just time tracking.
In fact, they're typically equipped with a multitude of features designed to speed up workforce management and enhance team productivity.
From approving or rejecting time off requests to monitoring project progress, these cloud-based time clock solutions are versatile and practical.
Time Clock Companies
1. Buddy Punch
Buddy Punch stands out as a comprehensive time tracking platform that offers the convenience of a mobile app and web-based functionality.
The platform enables business owners to track employee progress and manage attendance data effectively, thanks to its biometric features, such as GPS location tracking and face recognition, ensuring the precision of team attendance data.
How Buddy Punch's Time Tracking Platform Works
This intuitive, WiFi-enabled employee time clock allows team members to clock in and out seamlessly.
If you're looking to track employee hours effortlessly, Buddy Punch fits the bill.
It also provides a range of additional features aimed at supporting workforce management and team productivity.
This platform is essential for proactive teams, whether onsite or remote.
Let's take a closer look at the benefits of Buddy Punch.
Never Miss A Beat With Instant Notifications
Buddy Punch ensures team leaders are continually updated, regardless of their location.
You can receive real-time notifications for a variety of activities within the platform, such as punch-in/out and alerts when employees are nearing their overtime.
Clock-In Using Biometric Features
To prevent timesheet fraud and ensure accurate attendance data, Buddy Punch employs biometric time clock features.
Team members can use QR codes and facial recognition to clock in and out, enhancing the reliability of the data collected.
Access Employee Attendance Data Anywhere, Anytime
Buddy Punch's dashboard provides an intuitive overview of all team attendance data at a glance, whether you're managing multiple tasks onsite or on the move.
This web-based solution saves you time by avoiding the need to sift through extensive data.
Enhanced Security & Transparency With Geofencing
As more teams transition back to offices, Buddy Punch offers a solution for ensuring employees clock in and out from the appropriate locations: geofencing.
You can specify a geographical area for employees to clock in and out and use GPS location tracking for real-time monitoring.
To get started with Buddy Punch and maximize its potential, our "Knowledge Base" provides a wealth of information to help you fully utilize this electronic time clock and tailor our systems to meet your business's specific needs.
Also, if you have any specific questions, you can reach out directly to our support team.
You can book a one-on-one personalized demo here.
Buddy Punch Is An All-In-One Time Clock System
Here are just some of the features available with this time tracking software for monitoring employee work hours:
Buddy Punch's Online Reviews
Have you seen Buddy Punch's user reviews? As of the writing date, Buddy Punch has 4.8 out of 5 stars and 859 reviews on Capterra.
Below, we'll list just a few reviews that speak to Buddy Punch's ease of use and great customer support service. (Click here to explore the full list of reviews.)
As reviewers have noted, Buddy Punch provides team leaders and project managers with the necessary tools to streamline timekeeping and monitor labor costs:
"Cannot say enough about their support. Even if the product was not as amazing as it is, I would highly recommend Buddy Punch due to the unbelievable support!"
Click here to read the full review.
"The ease of this software helps me post schedules quickly. I have three businesses and staff that float between all. The color coding system helps me see what employee or department needs attention."
Click here to read the full review.
"It's easy to clock in or clock out. The timesheet to keep track of your hours."
Click here to read the full review.
"Buddy Punch is easy to use and even easier to understand as a user. Time track makes sense, and edits are made easy to submit."
Click here to read the full review.
Try Buddy Punch for Free
If you feel that Buddy Punch might be the right fit for your business, sign up for a free trial. You can also book a one-on-one demo, or view a pre-recorded demo video.
2. QuickBooks Time
If you're already acquainted with QuickBooks' accounting platform, you'll probably appreciate the interface provided by QuickBooks Time.
This efficient time tracking system can swiftly produce time card reports for team leaders and project managers to assess.
The data generated can be readily integrated into your payroll system.
The platform accommodates staff scheduling and messaging.
It's a great timesheet app for Android and iPhone, and at the time of writing, QuickBooks Time has 4.7 out of 5 stars and 6,481 reviews on Capterra.
QuickBooks Time (formerly TSheets) has features that include but are not limited to:
"QuickBooks is an efficient and user-friendly tool for automating accounting tasks. It is especially useful for small businesses, as it helps them track hours, bill clients, and generate reports."
Click here to read the full review.
3. TimeCamp
Similar to other time clock software, TimeCamp extends its functionality beyond mere time management.
With capabilities ranging from productivity tracking to effortless invoicing, TimeCamp offers a wealth of features.
If your aim is to enhance employee monitoring while positively influencing team productivity, a solution like TimeCamp proves to be highly beneficial.
At the time of writing, TimeCamp has a total of 586 reviews on Capterra, with an average of 4.7 out of 5 stars. TimeCamp offers a full range of practical features for teams:
"It's the automatic time tracking that I like the best. Finding the crucial phrases that will correctly monitor time took some time, but now that I've got it functioning it's fantastic. Compared to rivals, Timecamp's high bandwidth is the second most popular aspect of the service."
Click here to read the full review.
Try Buddy Punch for Free
If you feel that Buddy Punch's digital time clock and attendance system could be the right fit for your business, sign up for a free trial. You can also book a one-on-one demo, or view a pre-recorded demo video.
You May Also Like…