7 Most Popular Time Clock Software for Work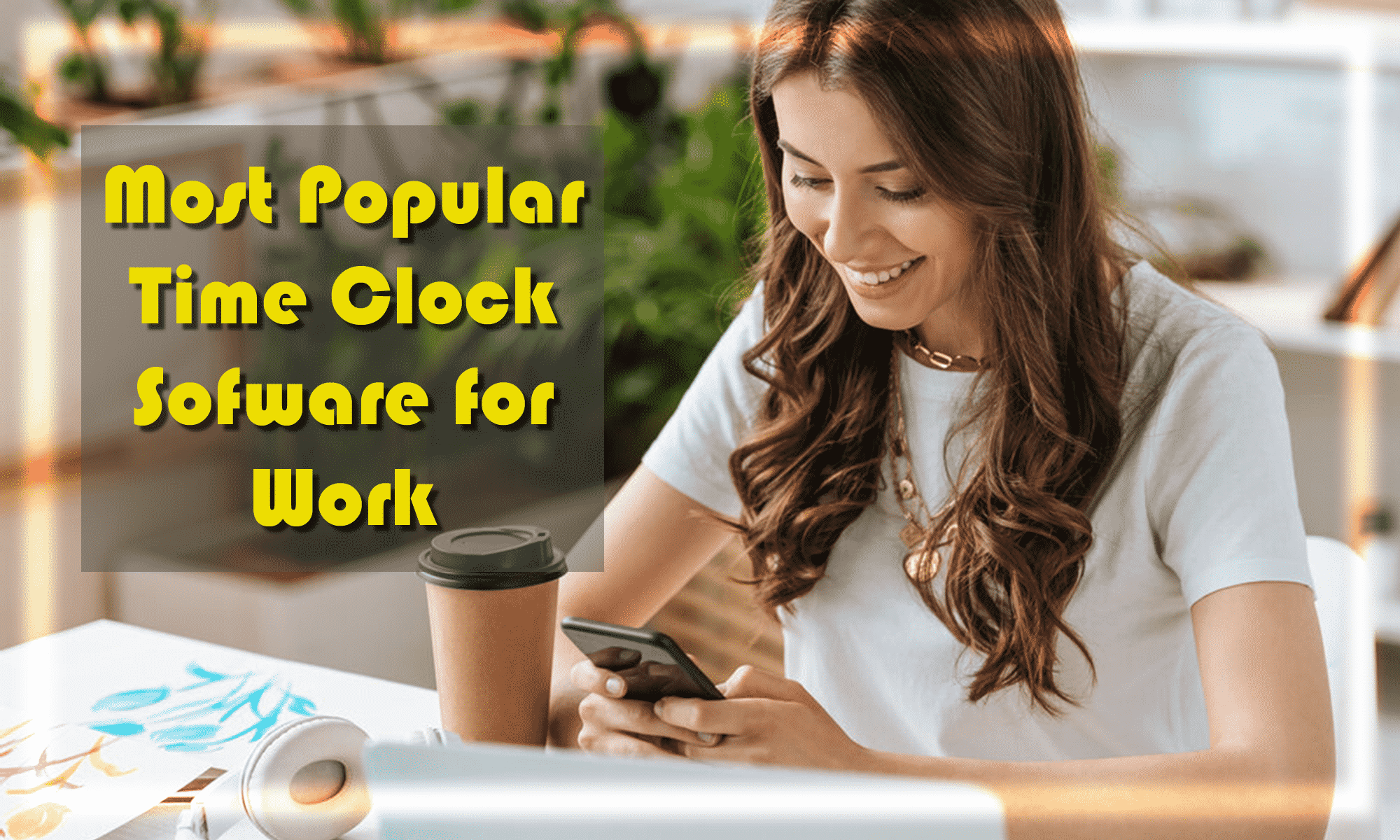 Clocking in and out of work can be a time-consuming process. However, with time clock software for work, you can make it considerably easier.
In this post, we explore the most popular time clock software for work, including options that help you run your business as efficiently as possible and, if you are an employee, keep track of how you are using your time.
The best time clock software programs for work have two main benefits:
They save on administrative costs and free up your HR department to focus on higher value-added tasks
In the next section, we explore why Buddy Punch's time clock software is the most popular for work. We then take a look at select alternatives and explore some of the functionality that they offer.
The Most Popular Time Clock Software For Work
Buddy Punch Makes It Easy For Employees To Clock In, No Matter Where They Are And Helps You Better Manage Your Time
Buddy Punch is the most popular time clock software for work for the following reasons:
It reduces the cost of administration and paperwork significantly
Features That Make Buddy Punch Popular Include Drag & Drop Schedule Creation, Shift Trades, And Time Off Tracking
Buddy Punch provides all the tools you need to seamlessly organize team members and get better control over your shifts. Here are some of the program's features that make it incredibly popular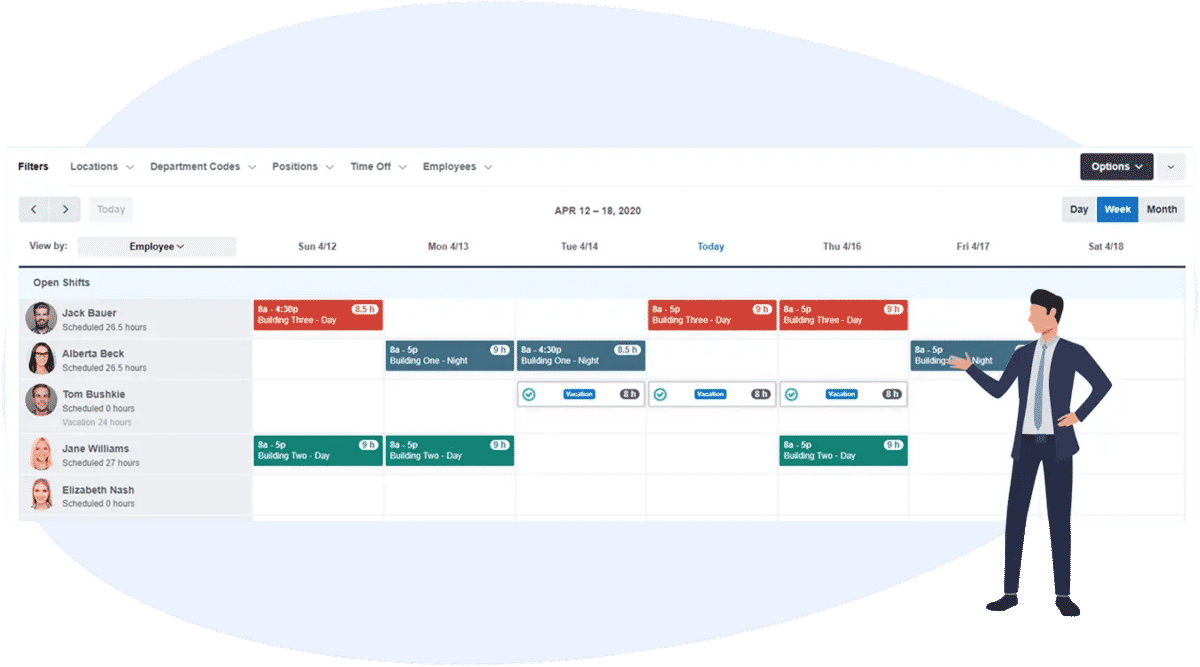 With drag & drop schedule creation, you can easily create shift patterns and get full control over your employees' work schedules. Just click the shift you want to edit and then publish, immediately notifying employees of new start times.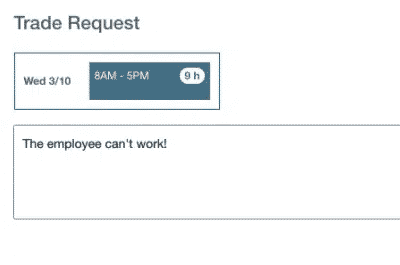 Shift trades let employees, managers, and administrators conduct shift trades with other employees, with your permission. You can either let them trade between themselves or manage the process, depending on who you need to be available at any given time.

Manually calculating how much time off each employee earns is challenging. However, with time-off tracking, it's all done for you automatically. Just set the parameters for your organization, and then Buddy Punch's PTO accruals feature will do the rest.
Buddy Punch's Additional Features
Buddy Punch's full list of features is extensive. They include:
Buddy Punch users can leverage our knowledge base to learn more about all of these features. Customers who get stuck or need clarification can contact a member of our team for support.
Buddy Punch's Online Reviews
Buddy Punch has an average Capterra review score of 4.8 out of 5 stars across more than 669 reviews.

Here are some review excerpts explaining why we are popular among our customers:
Overall: My staff loves that the software works seamlessly and I love the easy payroll reporting process. BEST of all, when I have a question, Buddy Punch really LISTENS and always walks me through the answer or offers to help themselves.
Pros: The Buddy Punch Customer Service is EXCELLENT! Poor service is one of the main reasons we left our last scheduling and payroll reporting software.
Cons: Would love to see more features such as hiring and onboarding of new employees.
Reasons for Choosing Buddy Punch: We chose Buddy Punch because their features seemed like the best match for our industry–we offer doggy daycare and boarding. Best decision we ever made!
Switched From: Homebase AI
Reasons for Switching to Buddy Punch: Our previous scheduling software caused us major issues with staff clocking in–out of the blue. When we contacted them about the problem they either agreed it was happening and did nothing about it or argued that everything was fine. Their responses were promised in 24 hours but often took days. When we left them, they didn't even ask how they could keep us.

Read the full review here
Overall: Best solution to time tracking for our hourly employees, and it keeps me updated when someone forgets to clock out. Also, it allows my employees to make changes if needed, which I can review and approve.
Pros: Ease of use, for both employees and managers. The phone app with the clock in/out feature makes this the easiest for our company.
Cons: No cons so far, and I've been using it for almost a year now.
Alternatives Considered: Paylocity
Reasons for Choosing Buddy Punch: User-friendly and ease of use. Barely any training required for this as it's self-explanatory.
Switched From: Paylocity
Reasons for Switching to Buddy Punch: Not satisfied and knew there was an easier way to do this.

View the entire review here
Overall: After using paper time cards for over a year, spending many frustrating hours a week reviewing, verifying, inputting and analyzing employee punches and then finding a place to keep the paper cards for our records, we were fed up. We looked for an affordable and easy to implement solution. We used the Buddy Punch trial and within a week, we knew this was the solution we were looking for. Setting up locations, employees and punch restrictions was extremely easy. The timecard punches can easily be updated by managers from any location. The email notifications keep managers on top of missed punches, and with the variety of exportable reports we have been able to complete labor analysis quickly and accurately. Before we began Buddy Punch, completing a weekly labor analysis would take over an hour and a half. Between contacting the locations to send the timecards, manually entering daily hours, deciphering notes scribbled on the cards and updating labor information for new employees we had enough! Now the process is as simple as logging on, setting the date range, exporting a CSV and migrating the data into an analysis template. What used to take over an hour, takes roughly 20 minutes. Another major perk for our catering department is having the ability to require GPS location for login when employees begin and end off-site. This feature has made labor tracking more accurate and dependable, as we no longer have to rely on the site manager to send email updates about employee punches. The customer support at Buddy Punch is also quick to respond and very informative. I would highly recommend Buddy Punch to businesses looking for an affordable and effective timekeeping solution.
Pros: Update timecards anywhere, easy to add, remove, update employees, several reports that export easily.
Cons: None

See the entire review here
Try Buddy Punch For Free
Sign up for a free trial of Buddy Punch today and see for yourself how it can help you better organize your time and make clocking in more seamless. Alternatively, book a one-on-one demo or view a pre-recorded demo video to get an in-depth explanation of what Buddy Punch can do for your organization.
Hubstaff is a popular team and time management tool with universal appeal. The features that make it popular include:
Hubstaff has 1,238 Capterra reviews at the time of writing with a star rating of 4.6 out of 5.0. Here is what one reviewer had to say about the software:
Overall: It was a good experience however we just moved to a different time tracker as we need to integrate our own system with the time tracker at a lower cost. We did a get a refund once but it never happened again, and this was due to some tech issues on their end.
Pros: Hub staff is very convenient to use and very detailed as screenshots from what the workers were doing are available but it isn't readily available real time. The interface is user-friendly. The percentage of work and movement is there, so you kind of have the idea if the worker is idle or not, hub staff capture 3 random screenshots every 10 minutes so it does really help a lot in catching workers who are doing unrelated things while they should be doing work. Apart from this, the admin can restrict the workers from deleting the screenshots but it could also be enabled in the setting, when screenshots are deleted, it also deducts the 10 mins. Both admins and users can add time manually depending on what you set up. With the support people, I think they are okay, but can only be reached through emails and chatbox on the website.
Cons: One of the issue 90% of us encountered with hubstaff is with setting up, the timezone is really hard to set up, but hubstaff provided a troubleshooting guide link also posted on their website, but still it is quiet techy for someone who is not tech savvy. Another thing that I least like about the software is that, they can't track real time, which I think is very essential for most businesses. They don't have a live monitoring set up. The Customer service is good, however it is very unconvenient to reach them, I would really prefer them to have a phone line so I don't have to type a very long email explaining about my technical issues. Apparently, they can only be contacted through chatbox in their website (which is not 24/7) and through emails. Lastly, I really don't like how google gives ideas and accesses on tutorials on how to bypass the hubstaff system. There are a couple of ways a worker can bypass the hubstaff system and it may seem to you that the worker is working but actually not. Applications and tricks are available online.

See the entire review here
Click here to see all Hubstaff's Capterra reviews.
Hubstaff helps firms increase their productivity and enables employees to track how they spend their time. However, integrations are sometimes lacking.
When I Work is popular because it offers time tracking, team messaging, and integrated scheduling.
It now has over 919 reviews on Capterra with an average score of 4.5 out of 5 stars. Primary product features include:
But why is it so popular? Here's what one reviewer had to say:
Overall: Easy to have all employees seeing schedule at the same time and not having to contact th each individually with a shift.
Pros: When I work was excellent to use when only one person was working on the administration and input, employees received notification of shifts and could easily swap shifts if needed ti fit their life.
Cons: When more then one person was working on input it was more difficult to keep things organized, some things seemed to update for one administrator but not the other. On one occasion staff didn't receive notification of scheduled shifts.

Read the full review here
Click here to see the full list of When I Work's Capterra reviews.
Ultimately, When I Work is powerful time management payroll software that makes it easy to track work hours. It is also good for measuring employee productivity and tracking progress.
Sling is attendance software that tracks employees hours and helps you better manage employee time. You can also calculate overtime pay, assign tasks, and enable employee time clock features, even when operating outside of a traditional office setting.
Sling currently has an average score of 4.6 out of 5 stars across 108 Capterra reviews. Its employee attendance and scheduling features include:
What's more, it has massive appeal to small businesses, as the following review makes clear:
Overall: I have used Sling for a few years now — it meets my needs and goes above an beyond for the products it offers to the user. Sling support staff have been responsive to my needs and questions. A Great Product!
Pros: Above all, I love that Sling has saved me so much time when making the schedule for my employees! Used to take 3-4 hours, now it only takes me approximately 1 hour to create a weekly schedule. Sling is accessible by computer and by mobile application. I love that it has many different colors for the different shifts that I need to create. Love that I can copy and paste shifts.
Cons: I wish that the mobile application gave me a total count of hours for each employee. When approving an employee to pick up an extra shift, I currently need to go to a computer to see to total count of hours for that individual before I can approve. Wish I could see total count of hours on my phone, so that I can approve when I am initially notified (which is usually an app notification to my phone).

Check out the full review here
Click here to see the complete list of Sling reviews.
Ultimately, Sling is popular because it improves workforce management and lets you quickly determine employee schedules. What's more, you can see time spent on particular activities, improving project management with just a few clicks. GPS tracking is also available, plus easy management of time off requests.
Paymo is a popular time tracking tool that lets you keep tabs on labor costs, employee scheduling, and task management. Using its time tracking features, you can accurately track employee hours, all in one solution, and see how many hours they have worked with real-time data.
Presently, Paymo has an average rating of 4.7 out of 5 stars across 416 Capterra reviews. The software's key features include:
Paymo's popularity comes down to its workforce management features, the ability to use it on mobile devices, and the ease with which managers can track employee time.
Here is what one reviewer had to say:
Overall: overall my experience is awesome with this app I started to use it every hour of my day with it and track my projects and hours,
Pros: I like the design of your dashboard, good design makes me take a good journey with this app every thing is easy to reach and customize it , adding tasks and projects are very easy to do
Cons: I have a problem with the free trial when I try to add someone to the project I have an error cause this person uses that same app if you people can fix it it will be awesome and if you make a free version from it with only tasks, projects and time tracking it will be enough for most of the people like me cause I don't need the rest of all features right now
Switched From: Trello
Reasons for Switching to Paymo: from Hubstaff is the dashboard are so boring to use from Trello has no time tracking

Read the entire review
Click here to see the complete list of Paymo's Capterra reviews.
Paymo is designed for unlimited users, meaning that companies can scale their employee attendance checks easily. They can also track time for particular staff and stamp out time theft. It's not free time clock software, but the cost is not out of reach of small businesses.
Desktime is a powerful scheduling and clock-in tool that lets you track project progress, see employee availability and reduce human error. It doesn't matter how many employees you have, you can still use it to track employee attendance.
DeskTime's 238 reviews on Capterra give it an average of 4.4 out of 5 stars. As an employee scheduling solution, its key features include:
Here is a review from a DeskTime user that explains why this scheduling software is so popular:
Overall: Overall, I have learned to use DeskTime as a tool to know where I should be prioritizing my work and where I should be cutting time. More than just a tracker, DeskTime is an ally.
Pros: I personally enjoy having my activities organized by time of use and the ability that the program has of also displaying in which window or document you have worked on; it helps me on my end of day summary because I remember the tasks even when I finished them early in the morning.
Cons: The automatic feature to start DeskTime when Windows boots is not 100% reliable and, in my type of environment where productivity is our main goal, it hurts my numbers. The only other downside I have experienced is during power outages, the app would either stop tracking my time or would mark my activity as neutral. Nothing critical and does not detract the reliability of the program in my opinion.

Read the full review here
Click here to see the complete list of Deaktime's Capterra reviews.
So what can we say about Desktime? The tool is primarily geared towards measuring work hours and boosting employee productivity. However, clock-in features, such as early clock-in prevention make it helpful for small businesses and large organizations alike.
Findmyshift is an employee time tracking solution that is suitable for both the office and job site. It reduces labor costs by helping managers identify time theft. It is also suitable for multiple locations.
Findmyshift has 682 Capterra reviews, at the time of writing, with an average score of 4.6 out of 5 stars.
Here are some of the helpful time clock features that Findmyshift offers:
The following reviewer explains why they believe that Findmyshift is the best time clock software:
Overall: A much clearer and more accurate view of staff work times, leave. Easier to track absenteeism and manage via the reports available. Simple to use and a time saver when planning rosters and staff leave.
Pros: Initial set-up was easy and the instructions to do so clear. The rosters can be set to cover a wide range of duty shifts, daily and weekly. The roster template set-up was simple and it is extremely easy to transfer to the Overview for use. Changes to the roster for holidays, rostered time off, sick leave etc. is very simple and can be added directly into the Overview. The reports available are clear and full and very good for Management purposes. The time clock log-in and log out is quick and simple.
Cons: The inability to select several staff members when adding time off, especially Statutory Holidays when not all staff have the time off on that day. Even though this may be done directly in the Overview it would be quicker and easier to do as a once only action in the Add Time Off function.

Check out the full review here
Click here to see the full list of Findmyshift's Capterra reviews
In summary, Findmyshift makes employee time tracking a breeze. Easily handle time-off requests, remote employees, and time spent on specific tasks, keeping everyone on the same page.
Try Buddy Punch For Free
There are so many reasons to use Buddy Punch clock software. You can get unlimited users, see how much employees spend and improve employee scheduling significantly. Time and attendance tracking were never easier.
Sign up for a free trial. Alternatively, check out either our pre-recorded demo video or book a one-on-one demo showing you how our top time clock software can supercharge your business and cut costs. Get your all-in-one solution with us.
You May Also Like…