Top 9 Employee Scheduling Software for Small Business (In-Depth Post)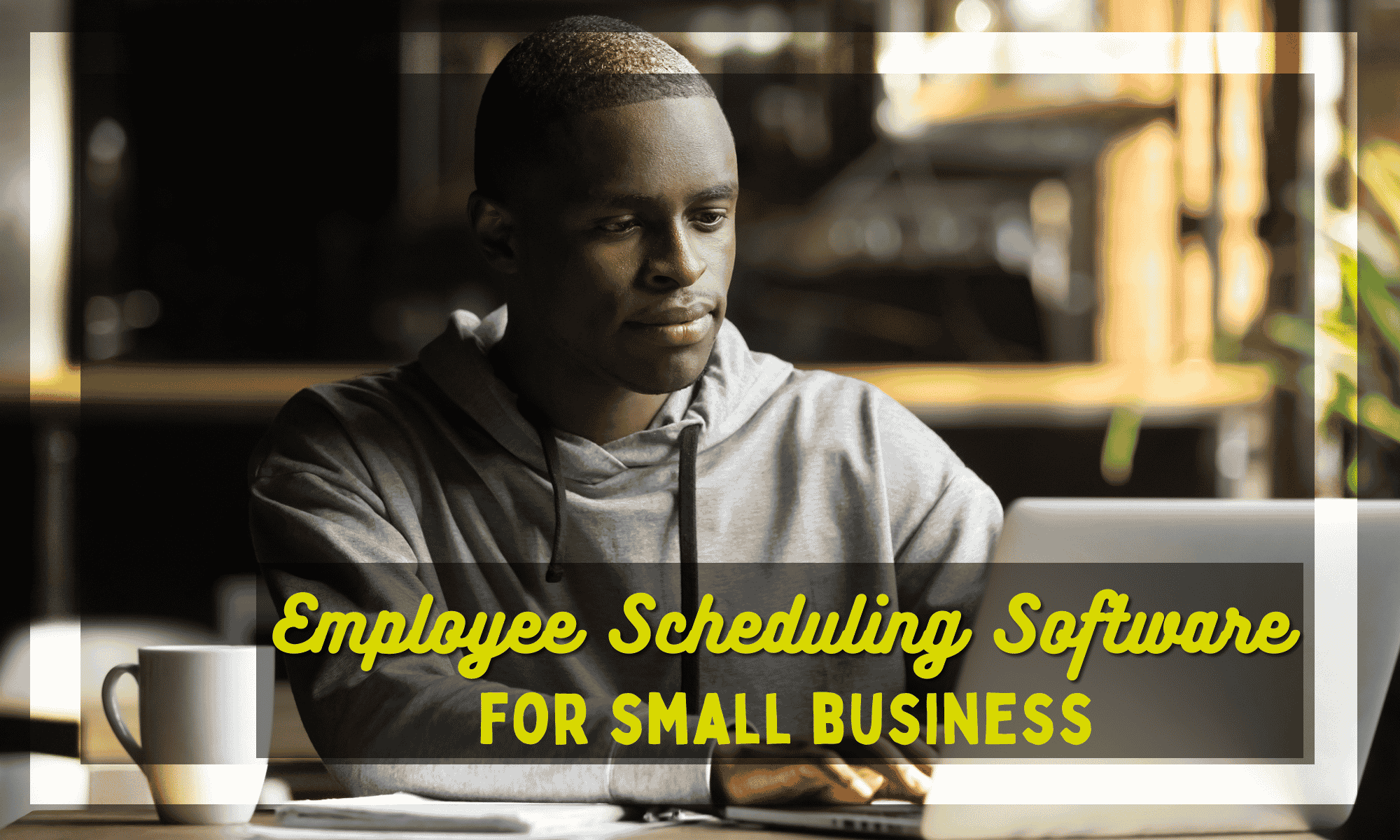 Adopting employee scheduling software is like a cheat code towards higher productivity and profitability for any business. Especially in the case of small businesses, even tiny improvements in your workforce can snowball to great effect. But not all employee scheduling software is made equal.
In fact, if your team isn't able to properly make use of the scheduling software you choose, you'll see the exact opposite effect. Your employees will be distracted, hindered, and irritated with your efforts, which will ultimately result in a loss of income for your business. Business owners have to be discerning when it comes to choosing between different scheduling software to implement into their operations.
Here are some features that the best employee scheduling software should include:
Simple Clock Ins and Clock Outs
There should be as little friction as possible for team members attempting to use a scheduling solution. Not everyone is great at using technology; the less your team has to think about it overall, the better.
Advanced Tracking Features
An ideal scheduling tool will come with a variety of options for managers and administrators to keep track of employees. Features like GPS tracking or Job Locations, for example, are great for businesses with team members that work from home or work remotely.
Intuitive Design
The design of the ideal employee scheduling solution should be streamlined as well, to the point where its various functions are never too overwhelming to get a handle of. The vast majority of business owners will only want to dive into deeper functions when trying to analyze the data that's been collected.
Detailed Insights
Speaking of data, a quality time & attendance software solution should be able to provide you with data and insights that help you identify areas where your business is lacking. Whether it's through identifying missteps in the scheduling process that could be optimized to improve workforce relations, or through proper integration with payroll software that makes tracking billable time easier, you're going to want quantifications that can help you streamline operations.
Keeping in line with this, we're going to outline our top 9 picks of employee scheduling software designed for small businesses. These will be tools equipped with scheduling features that improve communication and accountability for smaller teams, while still keeping in mind simplicity. Hopefully one of these tools will be the right fit for your scheduling needs.
Employee Scheduling Software for Small Business
Topping our list of employee availability and scheduling software for small business owners, we have Buddy Punch.
Buddy Punch helps small businesses by streamlining their operations and has a variety of features that grant more administrative control without being too invasive for team members. The result is software that's easy for all to use, even with a variety of features such as GPS Tracking, Job Departments, Drag and Drop Shift Management, Shift Trades & Covers, OT Calculations, PTO Management, IP Address Locks, and more.
Next, we're going to dive into each of these features to better illustrate how they can improve small business operations.
Note: If you'd rather see these features in real-time, you can try out Buddy Punch for free with a 14-day free trial.
GPS Tracking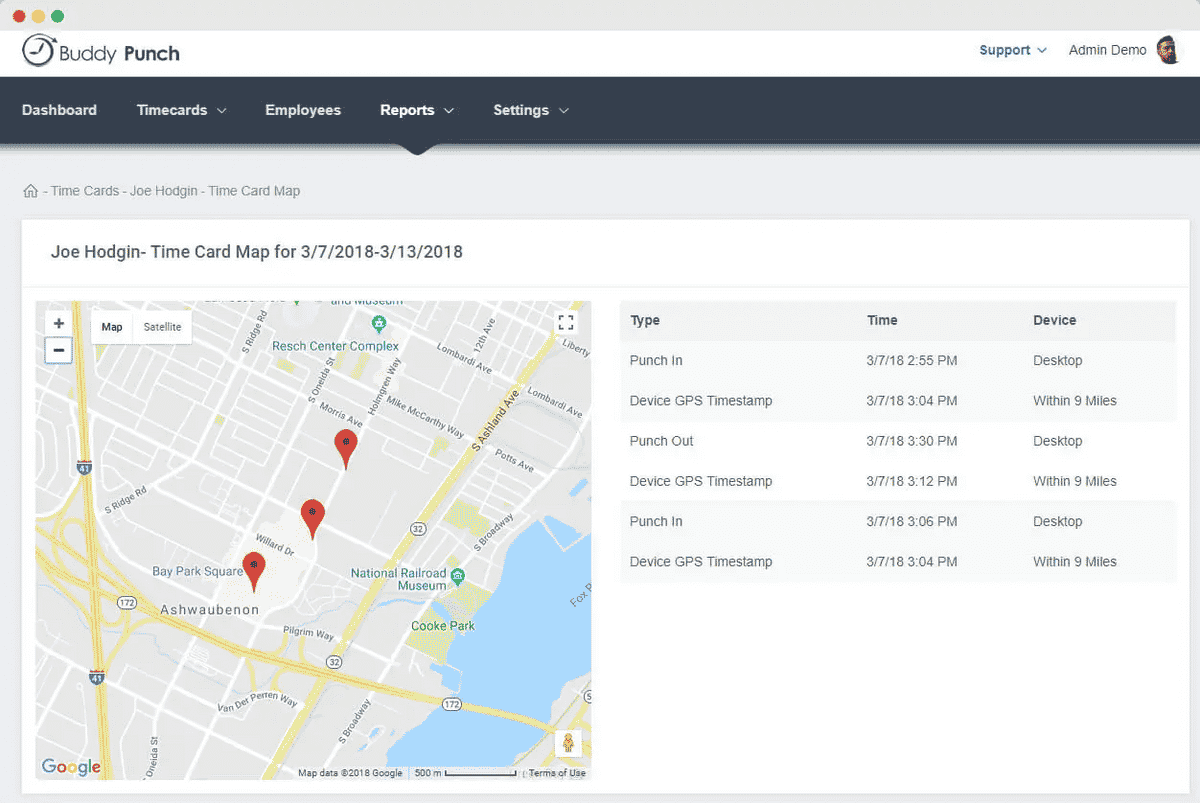 GPS Tracking allows you to track where employees and managers are in real-time. Once an employee clocks in or clocks out, you get sent their location and IP Address. Perfect for teams with work from home members. You can also enable or disable this feature for specific employees.
Job Departments

The Job Departments feature lets you get a better understanding for how your team members spend their time (and how their efforts relate to profitability). You can create custom jobs and track how your team members allocate their time throughout the workday.
Drag and Drop Shift Management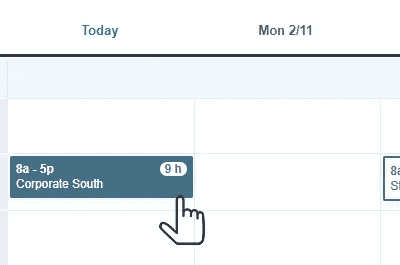 While not quite auto-scheduling, this feature sets you up to get a quick overview for scheduling conflicts as you plan the workweek. Create shifts by clicking on an empty cell, then drag and drop shifts wherever needed. You can then edit a shift or publish, which will send your employees a notification.
Shift Trades & Covers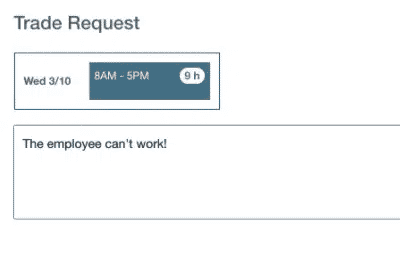 Speaking of Shifts, the Shift Trades feature lets employees, managers, or administrators initiate shift trades between other employees. Meanwhile, the Covers option lets you initiate covers with employees. If you choose, this can be a completely hands free scheduling system where you let your team handle staff availability on their own.
OT Calculations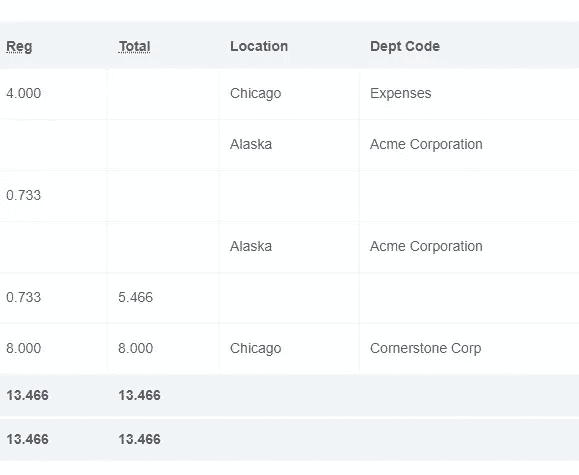 Paying time and a half is a quick way for small business owners to lose control over their budgets. Buddy Punch has an Overtime Calculations Feature that lets you calculate payments based on a variety of overtime types. Once you've got a better handle over how much is going towards overtime, you can start cutting down.
PTO Management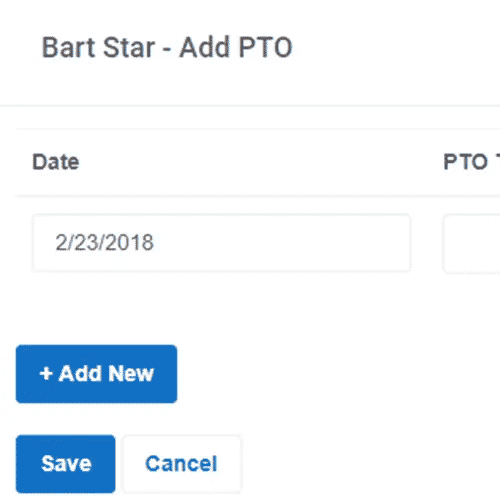 You can give your employees a chance to take a self-service approach to PTO. Employees can request time off and managers will receive a notification to approve or deny the request. Alternatively, you can set it so that even approvals are automated. Spend a lot less time managing sick leave and more time on your business.
IP Address Locks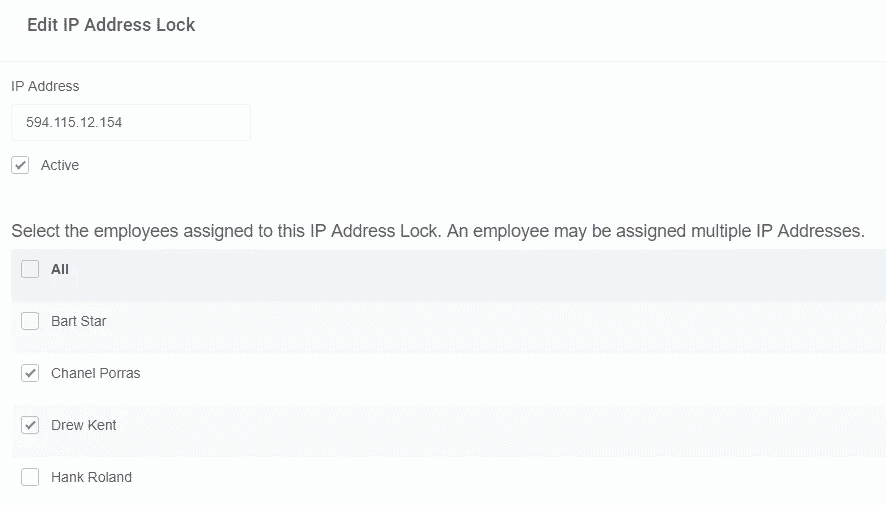 If you have an issue with your teams logging in from unauthorized devices, you can use the IP Address Lock feature to make sure they can only use specific devices. This feature can be great for increasing the security of your business, even when employees are working off site.
It's worth noting that Buddy Punch doesn't just throw all these features at you and leave you to figure it out. We know how important time is for small business owners especially, so we have a help doc center that helps you get your head around using Buddy Punch to save time and optimize operations.
Additionally, our customer support is always available via live chat to answer questions. You can also book a one-on-one personalized demo here.

Buddy Punch Has More to Offer Small Business Owners
We've only just begun to touch on everything Buddy Punch has. This is a comprehensive management tool and includes features such as:
Buddy Punch's Online Reviews
As of this post's writing date, Buddy Punch has 4.8 out of 5 stars and 673 reviews on Capterra.

Below, we'll list just a few reviews that show why some business owners have decided Buddy Punch is the best employee scheduling software for their small business. (Click here to see the full list of reviews.)
Existing users (both employers and employees) have noted that Buddy Punch is intuitive and simple to use. Let's look at the thoughts of business owners with less than 10 members on their staff:

"My experience has been very positive! I initially started using this because I was questioning some times regarding a few jobs and once I implemented it, the time issues seemed to disappear."

Click here to read the full review.
"Turns out its preetttyyy gooood. Was looking for an app that helped manage employee punching in/out for small businesses and did a bunch of trials before finding BuddyPunch. The other apps that I found were often not what I was looking for or did not have a focus on employee punch-in/outs. Found buddypunch and it does exactly what I need it to."

Click here to read the full review.
"It is so easy to use, particularly for the employees. We simply give the employee the ID and password, and a 30 second demonstration. Although on other software, we tend to get numbers questions, so the simplicity and ease is very important for our HR department."

Click here to read the full review.
"Being that i have 2 job duties, switching from one to another is as easy as 123. Now i can spend more time assisting my clients without worry about time and payroll. Thanks. For its the simple things in life that count-accuratly."

Click here to read the full review.

Try Buddy Punch for Free
If you're starting to feel that Buddy Punch might be the right fit for your small business, you can sign up for a 14-day free trial. You can also book a one-on-one demo with our team, or view a pre-recorded demo video.
Sage HR is both an HR Software and an employee scheduling software for small businesses. It offers various features and functionality, some of which include:
Pricing for Sage HR varies with your team size, which is one advantage for small business owners. It also includes capabilities for things like applicant tracking and shift swapping. As of this post's writing, Sage HR has 4.4 out of 5 stars and 294 reviews on Capterra.
"Although we are only a small company, we were trying to manually record our employees' holiday and sick leave as well as days in lieu, but found that we were losing track of vital information. Sage HR lets us keep all this information in an organised way, and lets our employees also keep track of their accrued allowances, as well as requesting leave in a more formal and organised manner."

Click here to read the full review.
Connecteam is an employee scheduling software that you can use for free if you don't mind limited features and have less than 50 users. Its full functionalities include:
Adding employees to Connecteam is as simple as adding them from your contacts. They'll be sent a SMS to download this scheduling software for business free and activate their account.
Connecteam has a rating of 4.8 out of 5 stars and 146 reviews on Capterra as of this post's writing date.
"Connecteam is an all-in-one application that gives staff the power to access and do so much at once on their mobile be it clocking in, checking directories or sending messages and so much more. The setup process is so easy and flexible supporting not just a mobile smartphone but also quick to use on laptops and other devices."

Click here to read the full review.
When I Work offers various features and functionality, some of which include:
It's worth noting that When I Work works across all mobile devices (Apple, Android, smartphones) and has a Shift template upload feature for quicker onboarding, allowing you to import bulk data. You also have diverse team communication options, with 1-on-1 messaging, group messaging, or broadcast messaging for important announcements. Best of all, the calendar can sync with other apps such as Google Calendar.
As of this post's writing, When I Work has 4.5 out of 5 stars and 924 reviews on Capterra.
"I like how easy it is to schedule and adjust the schedule of staff, and how they can swap and take time off easily with MINIMAL to no involvement from management."

Click here to read the full review.
OnTheClock uses a team-size based pricing model to pay for various workforce management features including:
One specific aspect that business owners seem to like is using OnTheClock to send quick push notifications to team members to announce schedule changes or staffing issues. As of this post's writing date, OnTheClock has 4.7 out of 5 stars and 509 reviews on Capterra.
"As an employer I wanted an easy to use time clock. This is and has been such an easy set up and managed program I could not recommend it more highly. The ability to assign managers for other employees has made my payroll day so much easier, which is a big time saver, making payroll a breeze."

Click here to read the full review.
As of this post's writing, Hubstaff has 4.6 out of 5 stars and 1243 reviews on Capterra. Some people consider this to be one of the best scheduling software simply because of its wide range of features, including:
This is a great clock in and clock out software for small businesses using any type of devices (Microsoft Windows and Mac OS), and it works with mobile and tablet devices (like iPads).
"Very happy I moved from Time Doctor to Hubstaff. Huge improvements on all areas and a satisfying product to use. The experience is so good that I find myself wanting to stay with Hubstaff regardless of whether my need for time tracking reduces."

Click here to read the full review.
7. QuickBooks Time
Some of our clients come to us wondering "Does QuickBooks have scheduling?" Well, yes – it has an entire scheduling app. QuickBooks Time (formerly known as TSheets) has features including:
This user-friendly software works on both Android and iOS, and at the time of this post's writing, QuickBooks Time has 4.7 out of 5 stars and 5,551 reviews on Capterra.
"Support is AWESOME and the Account Managers are the best. I never have to wait very long to get an answer or get a problem fixed. Just like today, the customer service rep, helped me fix an issue with the mobile app."

Click here to read the full review.
8. 7shifts
If you're running a small restaurant, you might find that you like 7Shifts. A lot of small food businesses use it for scheduling since it was made for them. Here are some of its key features:
The free version of this software is fairly generous, allowing businesses with up to 30 employees to benefit from most of its features. It also has integration with POS systems and payroll software, and is effective at helping you manage open shifts in your business. As of this post's writing, 7Shifts has a total of 876 reviews and 4.7 out of 5 stars on Capterra.
"I absolutely adore 7Shifts. To start off with a HUGE bonus, they have a free app for employees, so that already helps get this software in the pockets of those you're reaching. I only have 10 employees, but they are all being pulled in different directions/departments, so we're able to keep up with time off requests, coordinate with other managers and see what shifts covered where all in one place."

Click here to read the full review.
9. Shiftboard
Shiftboard is an employee scheduling app known for its ease of use and diverse modules designed for critical industries (manufacturing, warehousing, energy, healthcare, etc.). Its features include:
These functions come with the ScheduleFlex version of Shiftboard, however there's another add-on for the software called SchedulePro, which might fit your small business more if you're in a production-centric industry.
At the time of this post's writing, ScheduleFlex has a rating of 4.4 out of 5 stars, based on 236 reviews (see here).
"You can pretty much do anything with Shiftboard. Ideal for managers with a large number of working employees and/or managing complex shift schedules. Also great for mass communication with all employees or specific groups. Flexible scheduling – manager can assign shifts and/or employees can sign up to work shifts. Employees can use Shiftboard to request time off, call in sick or give up a shift and it will automatically notify all other active employees assigned to that same team that a shift is up for grabs. You can also upload shift schedules from Excel into Shiftboard."

Click here to read the full review.
What is the Best Employee Scheduling App for Small Businesses?
One thing that should be clear now: it's hard to determine what the "best" scheduling software is. While there are plenty of fantastic features out there, determining which program to adopt will depend on your goals, budget, and workforce.
If you're aiming to adopt an employee scheduling software with a free plan, you might find that Connecteam offers a decent number of features. If you manage a restaurant, we don't think you could go wrong with trying out 7Shifts.
However, if you want a flexible software that you can adjust on a whim to meet the growing (or changing) needs of your workforce, one that can give you an overview of productivity, profitability, and scheduling, then Buddy Punch is likely going to be the software for you.

Try Buddy Punch for Free
Buddy Punch offers a 14-day free trial that anyone can sign up to test it out. You can also book a one-on-one demo, or view a pre-recorded demo video.

You May Also Like…