6 Best Online Time Clock for Landscaping Options (In-Depth Post)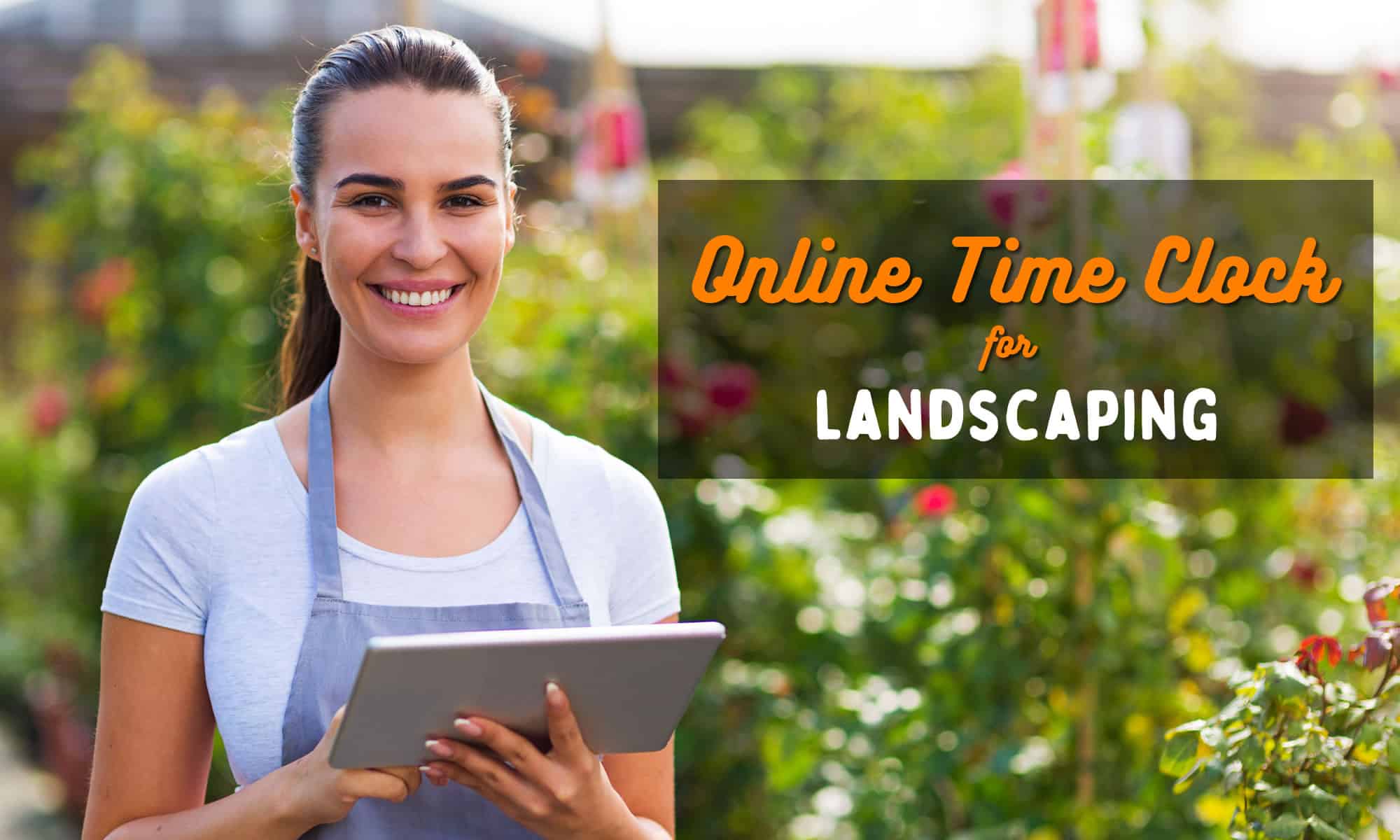 Landscaping companies can have a difficult time managing their team members while they're out in the fields. It's nearly impossible to tell how much time is spent on the clock driving to locations, actually completing field service, or dealing with customers, which can make it very difficult to figure out how to optimize your routes and landscaping crew tasks in order to increase your profitability.
That is, unless you make use of mobile time tracking software to monitor your team at their remote job sites.
But even this can have pitfalls. There are a lot of options of time entry software out there, and not all of them were built equal. The "wrong" choice of employee timesheet software might be hard for your crew members to use, lack effective features for tracking team members that aren't on site, or be paired with a subpar customer support team.
In this post, we're going to list out our top 6 options of software for landscaping time tracking, judging them based on a mix of their features, their reviews, and their customer support. Hopefully, by the time this post is done, you'll have found the right option for your business.
Online Time Clock for Landscaping Businesses
Kicking off our list of software options, we have our very own Buddy Punch. Back in 2013, we managed 3 locations and a total of 20 employees and were quickly beginning to realize that the manual methods of workforce management (such as paper timesheets) were no longer working. Our profitability was stagnating, but we figured that digital tracking features would help us elevate our business to the next level.
We wanted a tool that would encourage employee accountability, have a user-friendly design so that any of our team members could use (on multiple devices), and streamline payroll processing since we were tired of taking hours out of our schedule to comb through timesheets to ensure accuracy. However, once we took a look at the time clock software on the market, we realized that none of them fit our needs. So, we decided to build our own.
Fast forward to today, with Buddy Punch offering features such as GPS Location Tracking, Geofencing, Job Codes, Notifications, PTO Management, Customizable Reports, Payroll Integrations, and more, it's easy for any business, but especially one that works in the field service industry, such as landscaping, to keep up with their employees with accurate data.
But don't just take our word for it. Let's dive into each of these features to make it more apparent how they can have a positive impact on your business.
Note: If you don't want to get lost in the weeds of the details, you can instead try out Buddy Punch yourself through our 14-day free trial.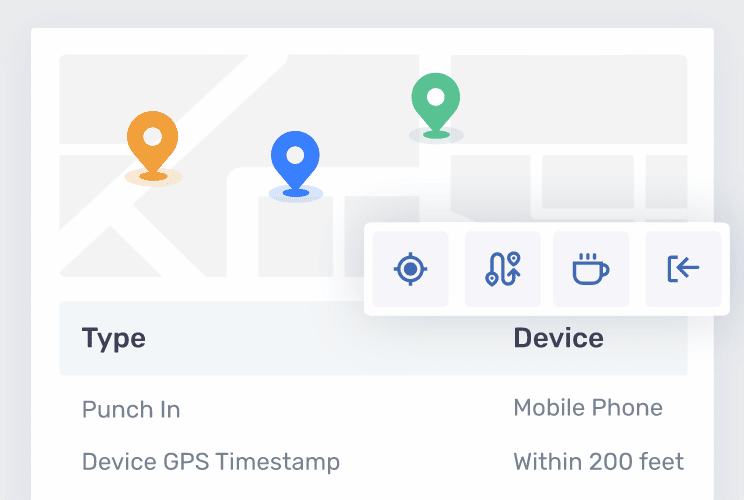 Buddy Punch's GPS Tracking feature has very naturally grown popular since the pandemic. With this, when your employees clock in, their location is added to an interactive map. Viewing that map will display all of your employees' locations at once, which makes it easy to get a visual for where your landscapers are (and can help you understand which areas of your location are not being serviced).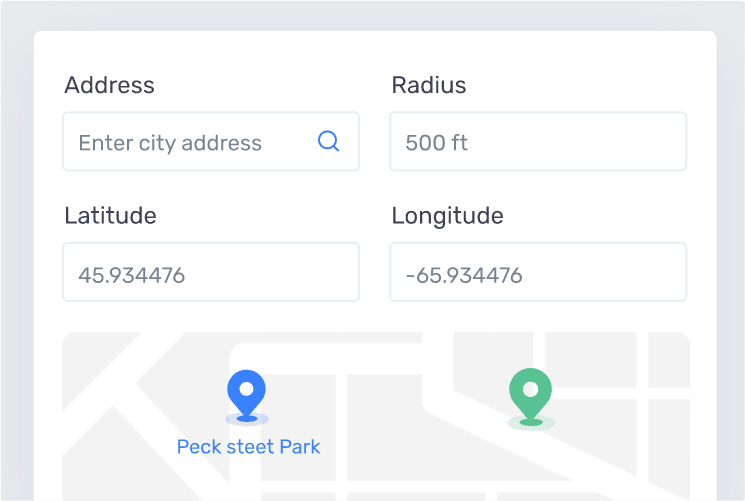 Buddy Punch's Geofencing feature allows you to create a radius (called a Geofence) around a designated point on an interactive map. With this feature active, your landscapers will only be able to clock in when they're within one of your designated radii. Otherwise, they'll receive an error notification and be blocked from clocking time. This allows admins to automate where employees are able to log time from without having to micromanage.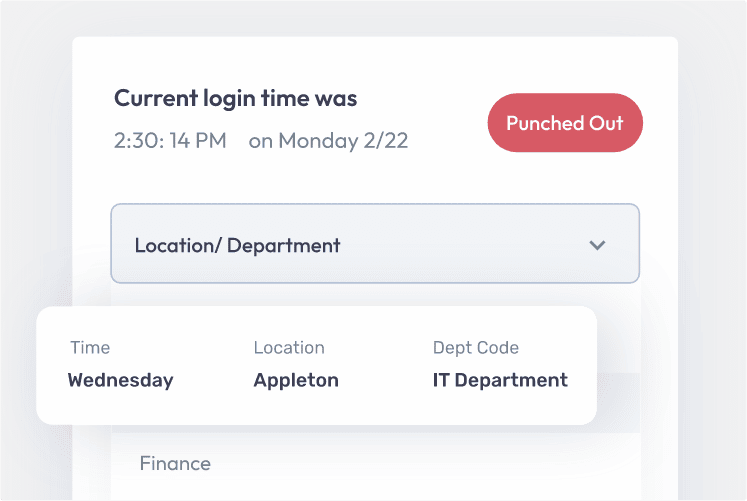 Buddy Punch's Job Costing feature helps business owners gain a greater level of transparency on labor cost for their business. With this, employees can clock into specific jobs when they're working (and swap between them as they're on the clock). Then, when you go back to check the timecards, you'll see how much time was spent on each task.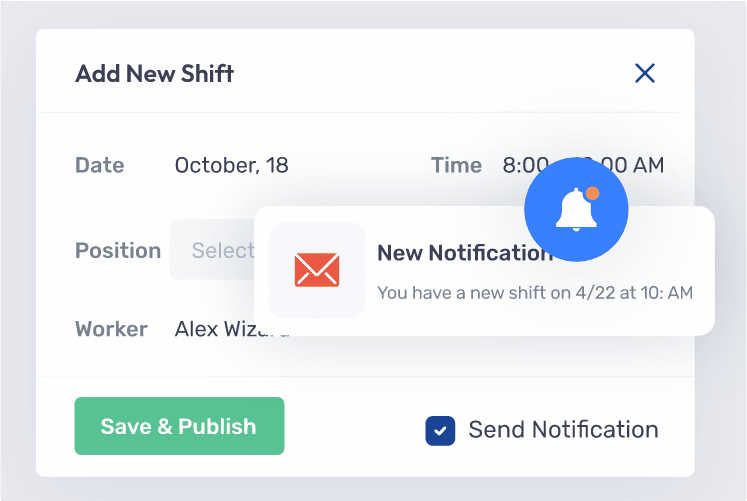 Buddy Punch's built-in notifications help both employees and managers stay on task. With automatic notifications for things like punch change emails, time car approval status changes, PTO changes, and alerts when approaching overtime, and more. You can enable or disable each of these notifications at will, or on a per-employee basis.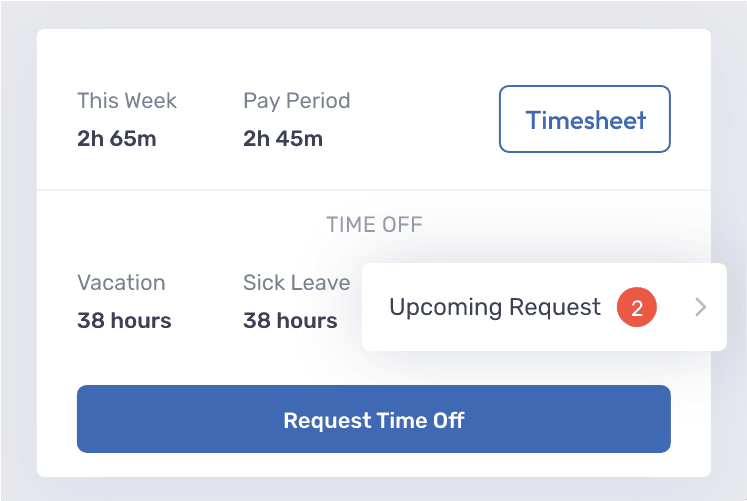 Buddy Punch's Paid Time Off Management completely revolutionizes how you handle paid leave. Beyond being able to easily cycle through the most common types of employee leave, Buddy Punch allows you to enable a self-service approach for your team members. With this active, employees will be automatically approved for paid leave as soon as they request it. This means you can focus on other aspects of job management without having to juggle leave.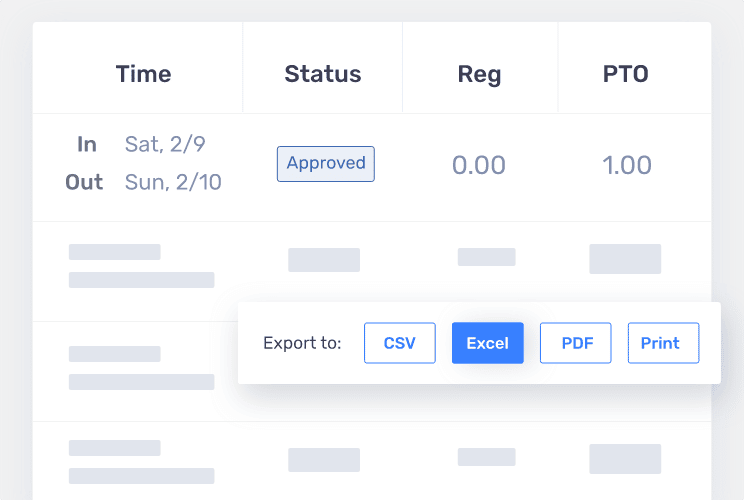 Buddy Punch offers a wide range of customizable reports that makes it easy to parse through the accurate employee hour data it's gathering, all so you can make informed decisions for your businesses. Some of the reports you can generate include Payroll Exports, Hours Summaries, PTO Summaries, and more.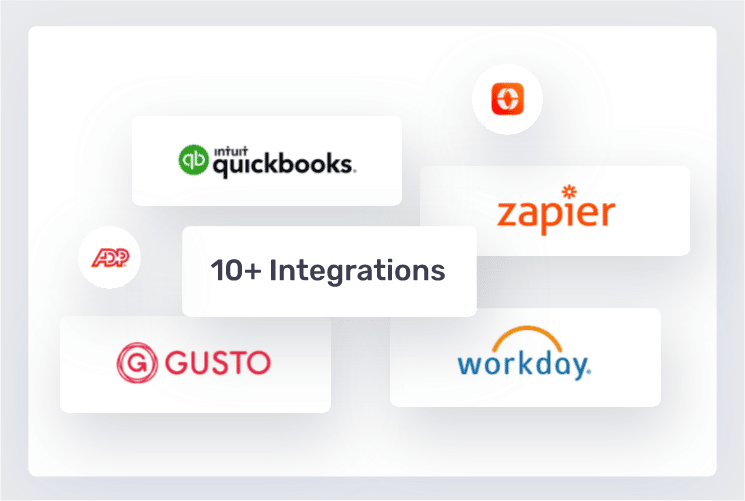 Buddy Punch integrates directly with some of the most popular payroll software out there, such as names like QuickBooks, Zapier, ADP, and more (click here to view the full list). This makes it easy for landscaping companies to handle invoicing, billing, and payroll through third party software, without having to learn some new technology to make use of Buddy Punch.
Buddy Punch Offers More to Landscaping Companies
Besides what we've already touched on, there's more features you get with Buddy Punch such as:
There's also our blog section to consider, which contains information on workforce management methods, our blog section, which has useful articles on using Buddy Punch, and our Customer Support desk, which puts you in direct contact with our team via live chat to answer any questions you may have.
Buddy Punch works on any device with an internet connection, including smartphones (iOS iPhone or Android) as well as tablets. You can book a one-on-one personalized demo here.

Buddy Punch's Online Reviews
As of this article's writing date, Buddy Punch has 4.8 out of 5 stars and 723 reviews on Capterra.

Below, we'll list just a few reviews that speak to Buddy Punch's impact on field management. (Click here to explore the full list of reviews.)
"Very inclusive of everything admin needs to address different scenarios "in the field". Mutiple customer reps were available via "Chat" to help with set up and answer questions. Rep was very knowledgeable and helped me with every single question and scenario I had trouble with. Now I am familiar with the site and can easily use all its functions. Using Buddy Punch has been fabulous thus far."

Click here to read the full review.
"A very easy and convenient app for employers or employees to use especially when doing field work or during flexible hours."

Click here to read the full review.
"I LOVE that I can clock in from a remote location via the app on my phone. Soooo convenient!!! Such a game changer for sure, especially with my sporadic work schedule and location."

Click here to read the full review.
"Buddy Punch is easy to use for managing our remote team members. It's easy to set them up in they system, establish their locations, and manage how they can punch in and punch out."

Click here to read the full review.
As these reviewers noted, Buddy Punch is intuitive and easy to use for remote/field employees.

Try Buddy Punch for Free
If you feel that Buddy Punch might be the right fit for your landscaping business, sign up for a 14-day free trial. You can also book a one-on-one demo, or view a pre-recorded demo video.
The Coast App is a time tracking app that prides itself in being an all-in-one organizational tool for your team. As of this post's writing date, it has a rating of 4.5/5 with 46 reviews on Capterra. Some of Coast's features include:
"We are able to connect our whole team in multiple warehouses and keep all our project/tasks in a space that everyone has access to. This has changed how we work as a company."

(Click here to read the full review.)
Due to the fact that you can use it as a free time tracking option, Clockify is particularly popular, with 4268 reviews on Capterra and a rating of 4.7 out of 5. Some of its key time management features include:
"I have used Clockify for various tasks over the years. I have previously used it to track billable hours on projects to submit to clients. Now, I use it as a basic time clock just to keep track of my 8-hour days to ensure I don't go over since I'm on salary."

Click here to read the full review.
TimeCamp is another fairly popular online time clock with features including:
At the time of this post's writing, TimeCamp has a total of 562 reviews on Capterra with an average of 4.7 out of 5 stars.
"It's UI is not filled with the typical "eye candy" some sites have as a means to hook you into their product. TimeCamp took time tracking and everything around it quite seriously and spent a great deal of its development into providing powerful features into its application. "

Click here to read the full review.
Hubstaff is a great time clock software for computers as well as mobile devices. Some of its features include:
As of the writing date, Hubstaff has 4.6 out of 5 stars and 1285 reviews on Capterra.
"Hub staff is very convenient to use and very detailed as screenshots from what the workers were doing are available but it isn't readily available real time. The interface is user-friendly. The percentage of work and movement is there, so you kind of have the idea if the worker is idle or not, hub staff capture 3 random screenshots every 10 minutes so it does really help a lot in catching workers who are doing unrelated things while they should be doing work. "

Click here to read the full review.
OnTheClock offers various features and functionality, some of which include:
As of the writing date, OnTheClock has 4.7 out of 5 stars and 516 reviews on Capterra.
"I just got off the phone with customer service and was super disappointed it an issue I have been having and she helped me fix it easily I love the app I love the price I love how easy it is I love how easy it is for everybody else to use it. I do not have to go through a training process with my employees it's very self-explanatory I love that you can send your employees an invite to download the app and it pops up on their phone."

Click here to read the full review.
Choosing The Best Time Clock for Your Landscaping Business
Even though we've managed to narrow down a near infinite list to 6 of the best options for time tracking if you're working in landscaping, you'll still have to narrow down the options to figure out which one is best for you and your team. That said, taking a close look at the features offered can be a big help.
For example, if you're a fan of team-based tracking, you might like Clockify. If Automated Payroll is a feature you've been looking for, perhaps Hubstaff will be up your alley.
Otherwise, if all you're looking for is a powerful time tracking software with easily enabled or disabled features, a helpful customer support team that can guide you through its usage, and a simple design that makes it easy for your entire team to start using it, then you really can't go wrong with Buddy Punch.

Try Buddy Punch for Free
Sign up for a free trial to see if Buddy Punch will work for your landscaping company. You can also book a one-on-one demo, or view a pre-recorded demo video.
You May Also Like…