Simple Clock In Clock Out App (5 Options)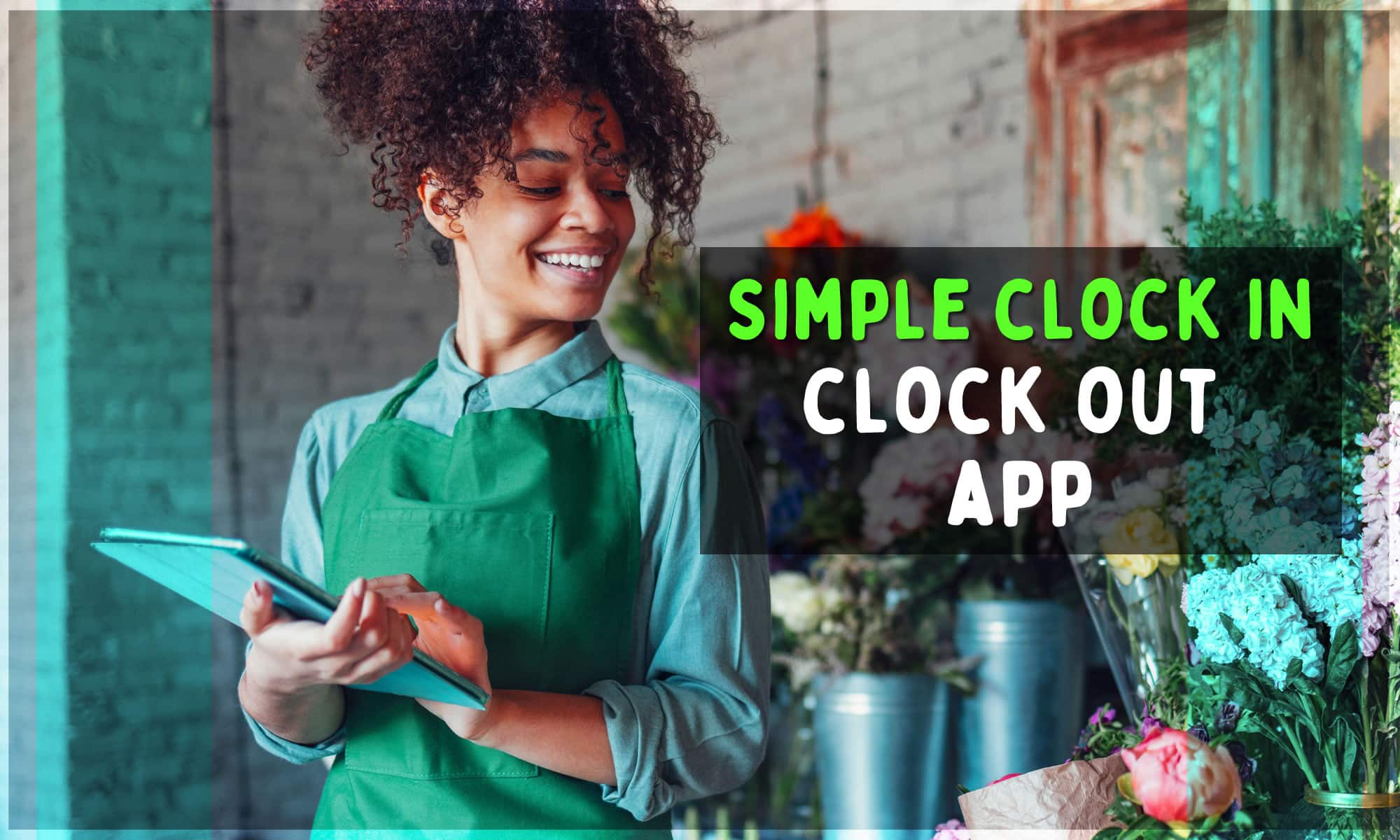 Are you looking for a simple clock in clock out app for your team? It's easy to get overwhelmed by the sheer amount of choices on the market. It feels like there are more time tracking tools available to both small business owners and those running large organizations than ever before. No matter the size of your business, there are many mobile time clock tools to choose from.
When it comes to keeping track of online timesheets and preparing these for payroll processing, the right platform can make all the difference. Whether your organization consists of remote teams or an in-person workforce, time management solutions can cater to the unique demands of your business. Without wasting any time, let's dive straight in and explore these solutions.
Simple Clock In Clock Out App
1. Buddy Punch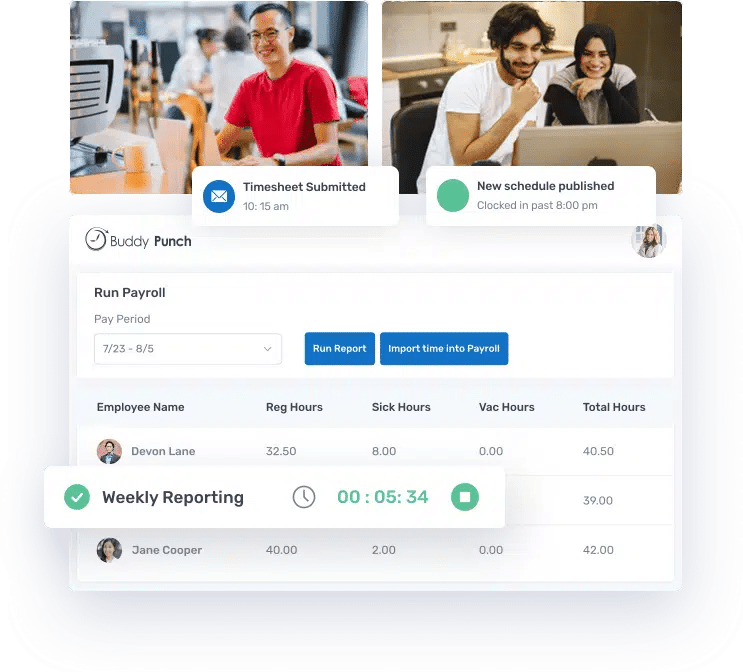 Of course, we have to start with Buddy Punch. This all-encompassing time tracking platform fires on all cylinders with a broad range of features that are designed to accelerate team productivity and support the seamless completion of administrative tasks. Buddy Punch is available as both a desktop and mobile app – which makes it immensely practical.
How Buddy Punch's Time Tracking Platform Works
Buddy Punch allows you to say a firm "goodbye" to tedious spreadsheets and Excel files. This intuitive solution works perfectly on a mobile device. Whether you are using the iOS or Android app, you can enable team members to easily track their work schedule and keep on top of their workday tasks. You can also use geofencing to ensure employees clock in and out on-site.
Let's break down some of these key features offered by Buddy Punch further.
Leverage Facial Recognition For Added Security
An effective employee time tracking solution will take time theft seriously. Buddy Punch has biometric tools that enable facial recognition. The platform will use a live image from the employee's webcam to confirm their identity. This useful feature works on both smartphones and desktops – as long as you have an internet connection at the time of clocking in or out.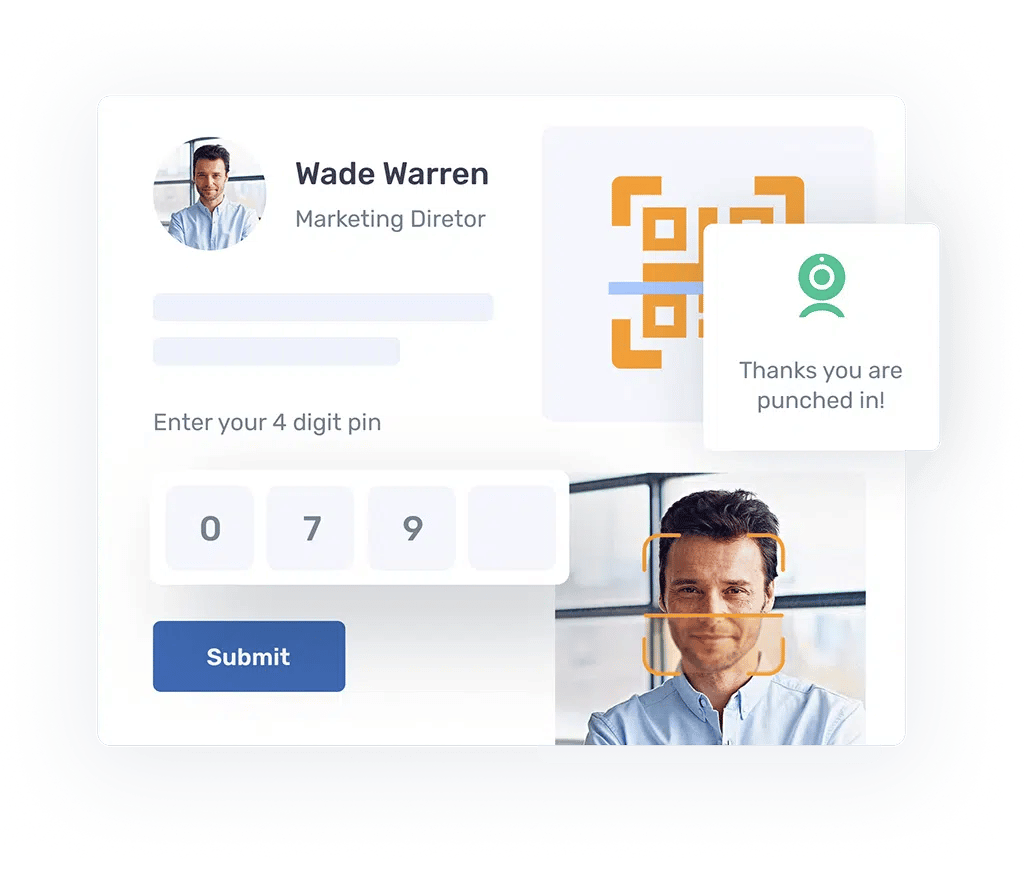 Get Instant Notifications On Employee Hours
If you want to stay in the loop and always have a clear idea of how your team is working, you can leverage Buddy Punch's instant notifications. You can receive instant notifications on Buddy Punch for a full range of different activities inside the platform. For instance, you could choose to get a notification every time an employee clocks in and out or when they approach overtime.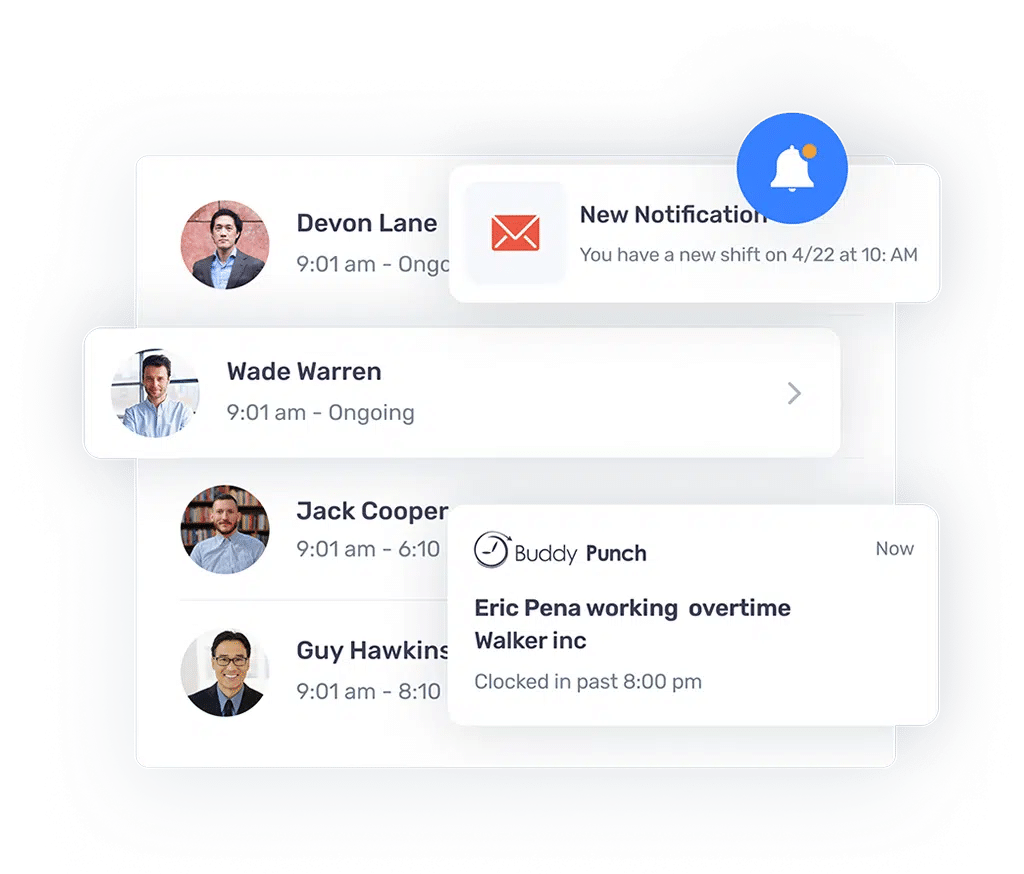 Monitor All Team Progress With Complete Ease
Using this time clock software, you can access employee attendance data at the click of a button. You can gain a high-level view of team attendance from your dashboard and then dive deeper to explore things like absences and PTO requests. With all this data at your fingertips, you can begin to make smarter decisions about how you manage your workforce.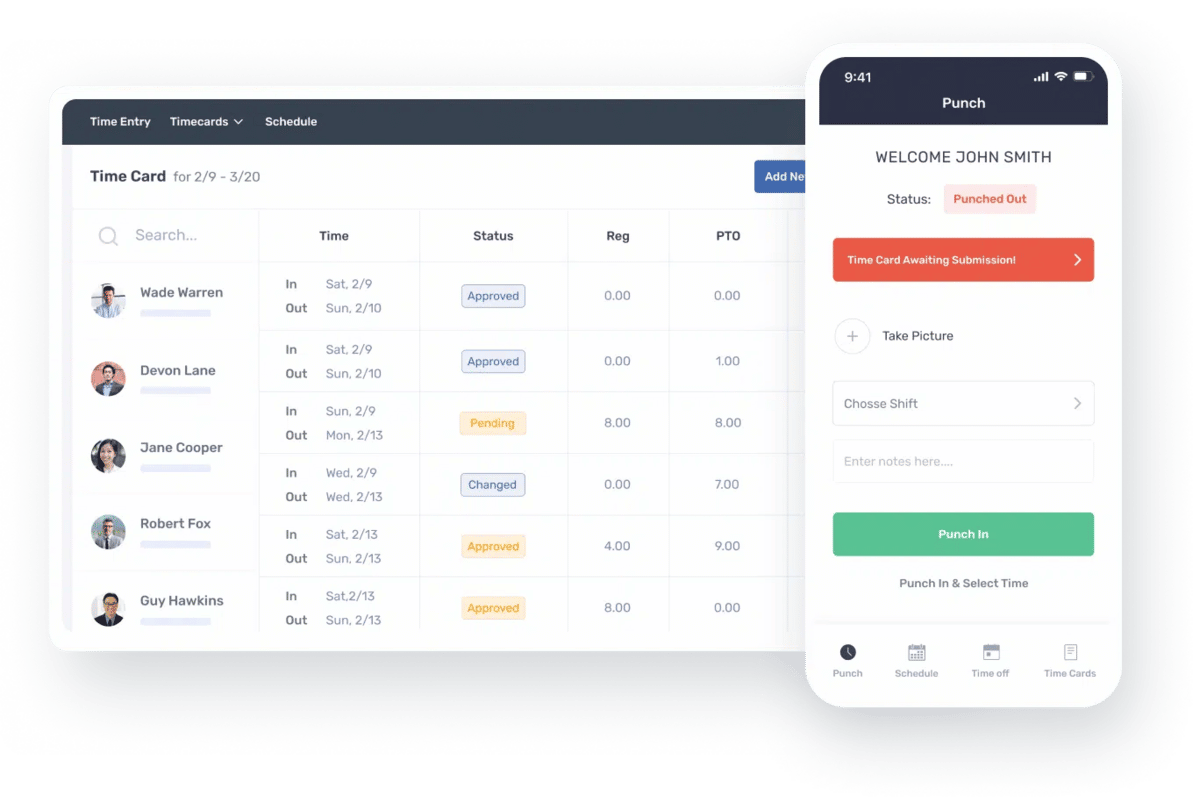 Use GPS Tracking For Greater Team Transparency
If you want to improve team transparency, you should use Buddy Punch's in-built GPS tracking feature. This enables team leaders and managers to see where employees are clocking in and out from. When you can see where team members are completing time entries, this adds an extra layer of assurance for those managing remote-working teams.

Would you like to find out more about how you can get started with Buddy Punch? Our "Knowledge Base" contains everything you need to hit the ground running. You can explore the full possibilities of our time tracking solution and monitor team progress in real-time.
If you have any specific questions, you can always reach out directly to our support team.
You can book a one-on-one personalized demo here.
Buddy Punch Is An Effective Time Tracking Tool
Here are just some of the features available with this time tracking software for monitoring employee work hours:
Buddy Punch's Online Reviews
Have you seen Buddy Punch's user reviews? As of the writing date, Buddy Punch has 4.8 out of 5 stars and 769 reviews on Capterra.

Below, we'll list just a few reviews that speak to Buddy Punch's ease of use and great customer support service. (Click here to explore the full list of reviews.)
As reviewers have noted, Buddy Punch provides team leaders and project managers with the necessary tools to streamline timekeeping and monitor labor costs:
"Buddy Punch is easy to use and even easier to understand as a user. Time track makes sense, and edits are made easy to submit."

Click here to read the full review.
"I can punch on my phone (which I do mostly). Easy to make corrections wherever I am. Also simple to use on computer as well."

Click here to read the full review.
"Cannot say enough about their support. Even if the product was not as amazing as it is, I would highly recommend Buddy Punch due to the unbelievable support!"

Click here to read the full review.
"It's easy to clock in or clock out. The timesheet to keep track of your hours."

Click here to read the full review.
Try Buddy Punch for Free
If you feel that Buddy Punch might be the right fit for your business, sign up for a free trial. You can also book a one-on-one demo, or view a pre-recorded demo video.
2. Hubstaff
Hubstaff can confidently meet your time tracking needs. With a full range of tools and features at your disposal, this platform equips you with all you need for team productivity monitoring and attendance tracking. If you want to make everyone's lives easier in your organization, utilizing a platform like Hubstaff has the potential to move things in the right direction.
As of the writing date, Hubstaff has 4.6 out of 5 stars and 1,323 reviews on Capterra. Hubstaff offers a range of functionalities, some of which include:
"I use Hubstaff daily to track my clients, tasks, and invoices. They're always there to help and very easy to work with. 100% recommended for any virtual workers!"

Click here to read the full review.
3. QuickBooks Time
If you are already using QuickBooks' accounting solution to run payroll, you may want to consider exploring the possibilities of QuickBooks Time. This time management software solution enables managers and leaders to quickly generate time card reports for each employee. QuickBooks Time also comes with in-built team messaging.
It's a great timesheet app for Android and iPhone, and at the time of writing, QuickBooks Time has 4.7 out of 5 stars and 6,018 reviews on Capterra.
QuickBooks Time (formerly TSheets) has features that include but are not limited to:
"QuickBooks is an efficient and user-friendly tool for automating accounting tasks. It is especially useful for small businesses, as it helps them track hours, bill clients, and generate reports."

Click here to read the full review.
4. TimeCamp
If you want to produce time tracking reports quickly and complete timesheet approvals with ease, TimeCamp is a potential solution. This automatic time tracking tool brings plenty to the table and includes many of the features found in the platforms mentioned above. Attendance tracking is remarkably easy with the support of TimeCamp's tracking platform.
At the time of writing, TimeCamp has a total of 573 reviews on Capterra, with an average of 4.7 out of 5 stars. TimeCamp offers a full range of practical features for teams:
"Integrating TimeCamp with my business took a few minutes in the beginning. I had to update keywords over a few days to make it a perfect custom fit. Every time I have a new client, I add new keywords – the whole process takes less than a minute."

Click here to read the full review.
5. Timely
As an automatic time tracking solution, Timely makes it easy to streamline workflows and get more done in less time. If you want to have a complete view of employee attendance and performance, Timely makes this possible with impressive team time management features. Alongside this, the platform comes with a range of useful app integrations.
At the time of writing, Timely has a total of 209 reviews on Capterra, with an average of 4.7 out of 5 stars. Timely is loaded with a broad range of high-impact features:
"I have been using Timely for a while, It is good software with many essential functions. You can schedule your job easily and track the workflow and time-consuming."

Click here to read the full review.
Try Buddy Punch for Free
If you feel that Buddy Punch could be the right fit for your business, sign up for a free trial. You can also book a one-on-one demo, or view a pre-recorded demo video.
You May Also Like…