Online Employee Scheduling Software: Why You Need It + 8 Powerful Options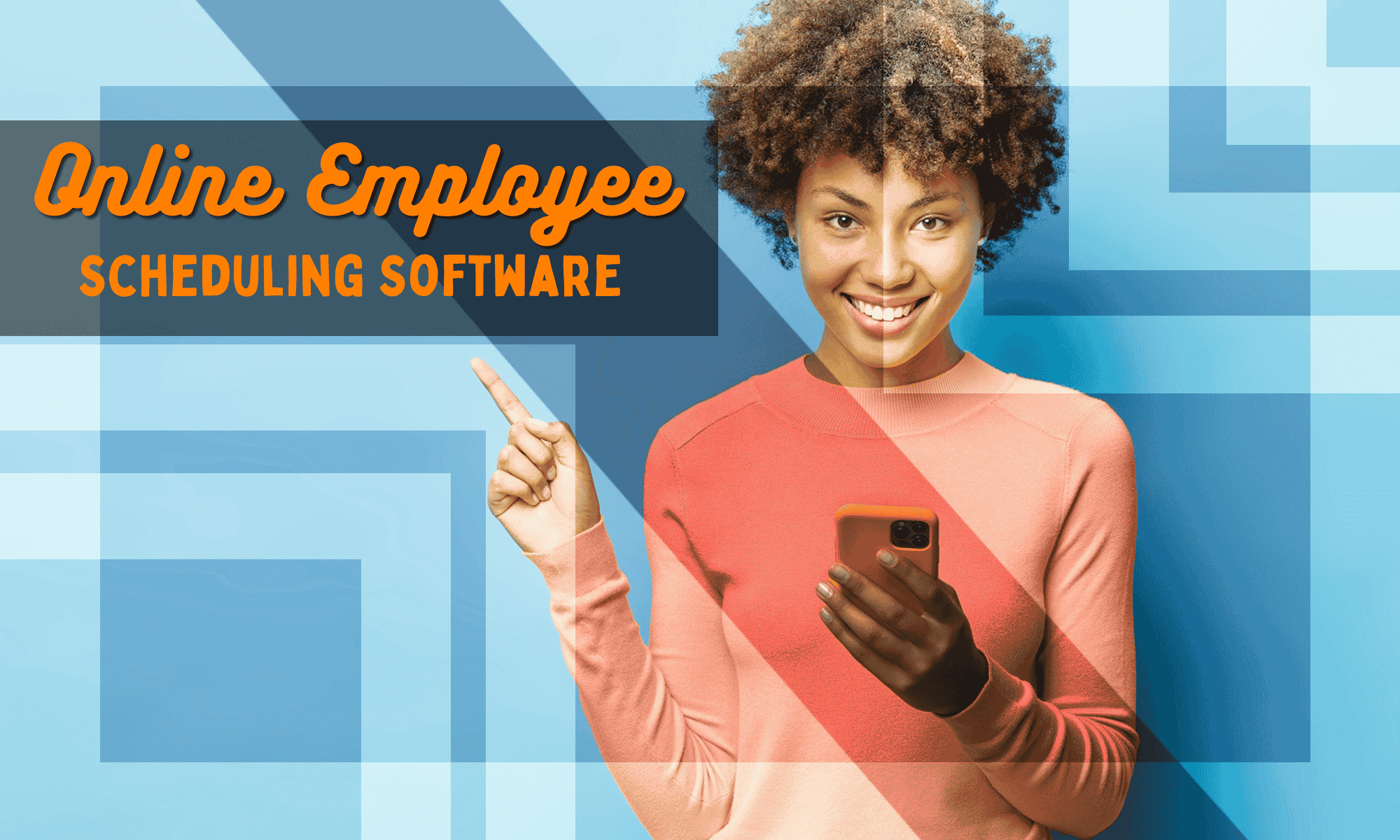 Workers are becoming more demanding, wages are rising out of necessity to attract valuable talent, and prices of supplies are on the rise. Never has it been more important for a business owner to manage their expenses than now.
One underrated aspect of this, that can come at very little cost while saving money across the board, is adopting a scheduling tool.
What is Employee Scheduling Software?
Employee scheduling software is software developed to help business owners build and manage employee shifts. While exact features can vary, these tools allow business owners to exercise a greater degree of control over when and how their team members work.
Why is Employee Scheduling Important?
Effective employee scheduling is a critical component of workforce management. For one, it enables your team members to manage a better work-life balance on and off site, which leads to less no shows, more productivity, and improved job satisfaction. Additionally, tracking tools give business owners better insight into operations, showing them how they can save time and money.
For example, managing your employee scheduling might illuminate which of your team members are overall the most productive, allowing you to reverse engineer their methods and implement them with any number of employees across your team.
What Software is Best for Scheduling?
While figuring out the best employee scheduling software is ultimately a matter of subjectivity, we've compiled a list of our top 8 picks based on three core attributes:
Simplicity of use. In our opinion, the ideal software should have very little impact on your team's scheduling process. That means making things as easy as possible for even the least computer-literate person on a team to use.
Features for employee accountability. Your business needs should heavily inform the scheduling features you seek out, but you can't go wrong with a wide selection. Look for features that give you control over remote workers as well, if you have portions of your team working out of office.
Ability to streamline Payroll. By the end of each pay period, an employee scheduling tool should make it easy to get your employees paid promptly and accurately. This is usually achieved through features and direct integration with popular Payroll providers.
Below, we'll list our picks and let you determine which one you think will fit your business best.
Online Employee Scheduling Software
First, let's see how Buddy Punch (our software) meets the three attributes above.
Features for Employee Simplicity:
Simple Clock In/Clock Out
Single Sign On
Notifications
QR Codes
Features for Employee Accountability
GPS Tracking
Drag and Drop Staffing
Customizable Reports
IP Address Locks
Time Card Approvals
Features to Streamline Payroll:
PTO Tracking
Payroll Reports on Demand
PTO Accrual Management
Payroll Provider Integration
In our experience managing our own teams, we ran into constant issues with employee availability, communication, and shift changes. When we built Buddy Punch, we wanted to make sure that any business owner that adopted our software as a scheduling solution would feel empowered in all aspects of workforce management.
No more manual timekeeping or paper time cards.
Entire teams held accountable for their work hours (regardless of staff size).
Complexity eliminated from payroll and employee scheduling.
Next, we're going to dive into some of Buddy Punch's features to illustrate how they help business owners handle their scheduling needs as an end-to-end software solution.
Note: If you'd rather get a hands-on experience, you can try Buddy Punch for free for 14 days by clicking here.
Features for Employee Simplicity
The biggest mistake a business owner could make is impeding in their own optimization process by using an auto-scheduling app that team members just can't figure out how to operate. Buddy Punch avoids this pitfall by focusing on simplicity as a core design principle, and with features such as: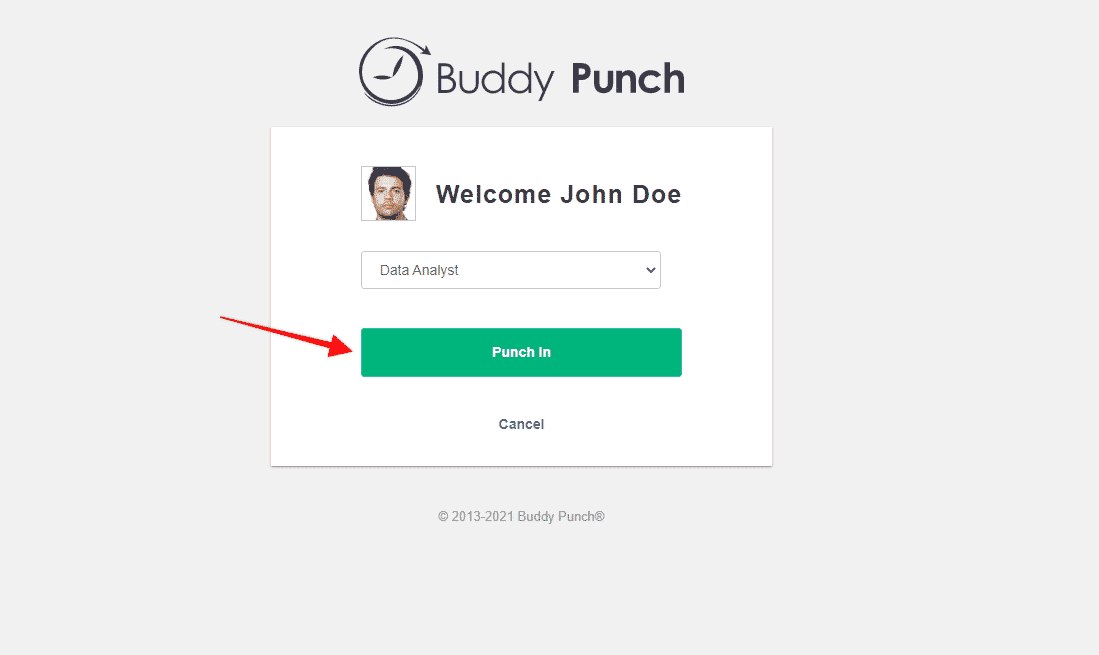 We're going to keep it as simple as our software does: Buddy Punch lets all team members clock in with just a single button click. This makes it remarkably easy for any team member to do, regardless of what device they're on or how tech-savvy they are.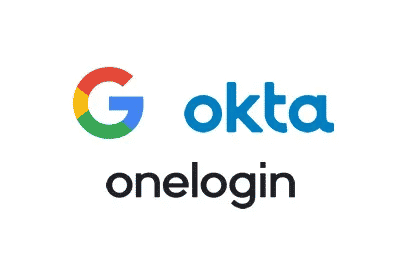 Single Sign On is another feature for easy clock-ins, allowing employees to use connected accounts (such as Gmail or OneLogin) to connect to Buddy Punch.

The Notifications feature grants both you and your employees complete peace of mind while you're on the clock. With you being able to send notifications during shift management and them being able to send notifications when they'd like to request time off, this feature lets both sides understand when they can otherwise focus on work.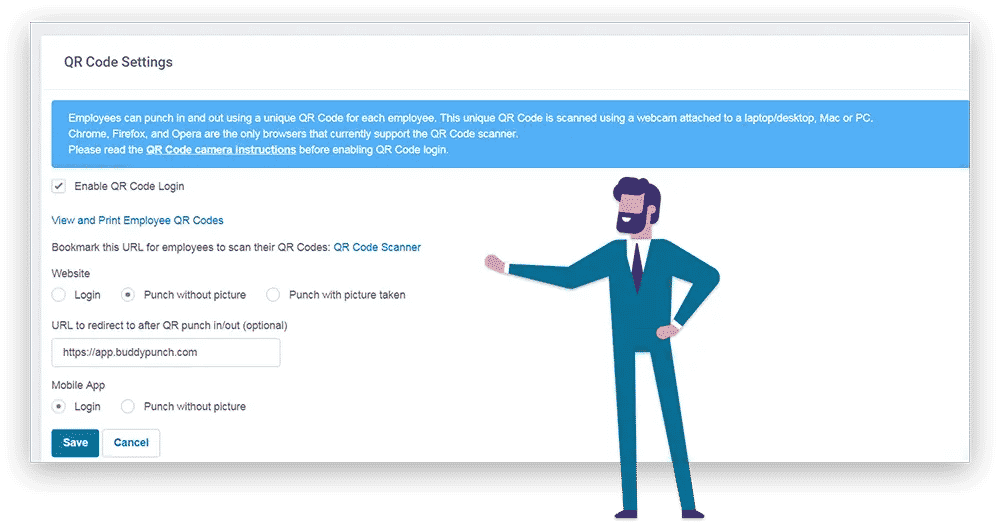 Another option for quick sign ins, you can enable employees to flash QR codes on their devices as a method of clocking in. This is much faster than any username and password combination, and helps save precious seconds on a daily basis, which can quickly add up.
Features for Employee Accountability
Now we get into the bread-and-butter of scheduling software: the amount of control you can exercise over employee monitoring. Buddy Punch wanted to make sure that any business owner, regardless of the size or form of their business, would be able to use any features they required to monitor employees. To that end, Buddy Punch has features such as: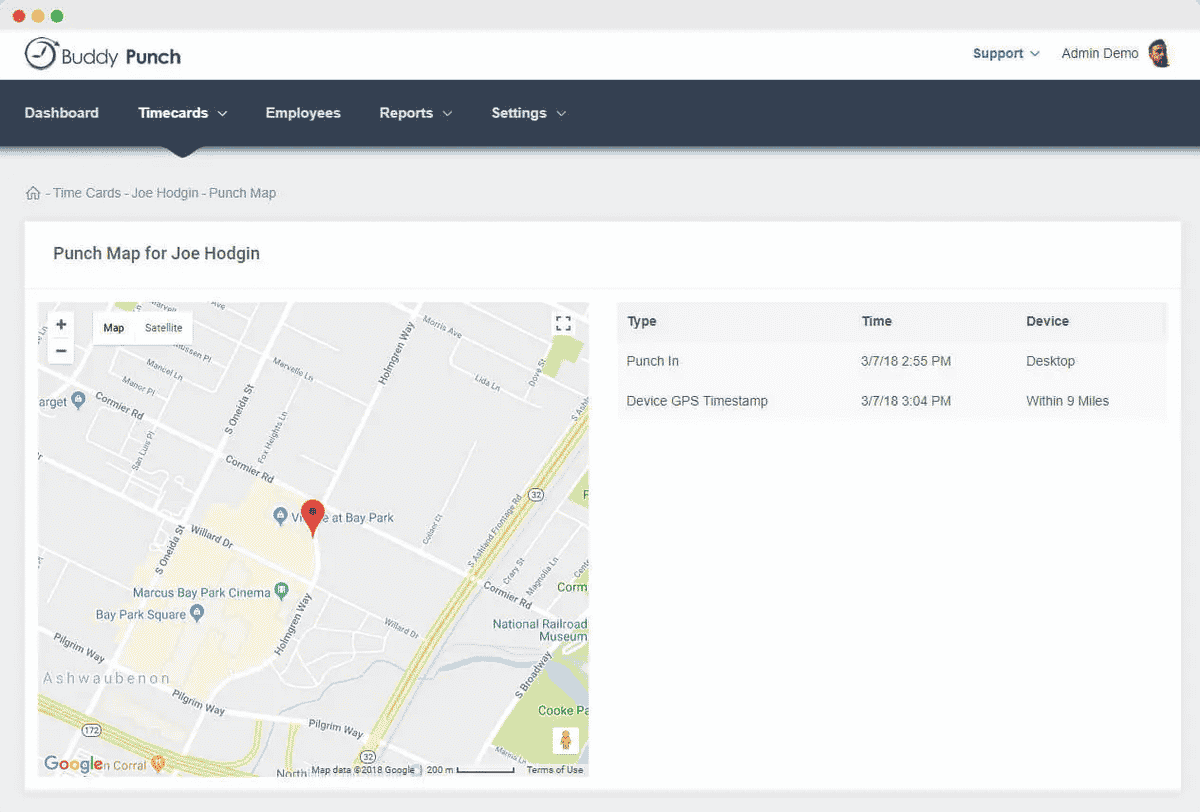 Keep up with the location of your employees even when they're working remotely (such as from home or from a secondary job site). The GPS tracking feature lets you monitor where employees are when they clock in. You can also group employees by location to get an overview of team movement.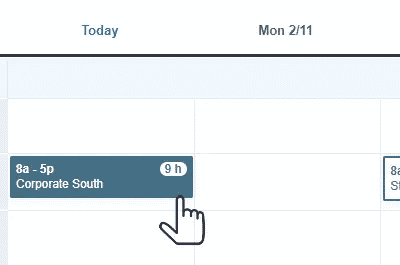 Drag and Drop Shift Management allows you to create shifts by clicking on an empty cell in Buddy Punch's user interface. Then you can move them around as needed. This responsive feature makes it easy for business owners to get an overview of upcoming shifts to avoid any scheduling conflicts. When you're done you can publish the schedule to send employees a push notification of the new updates.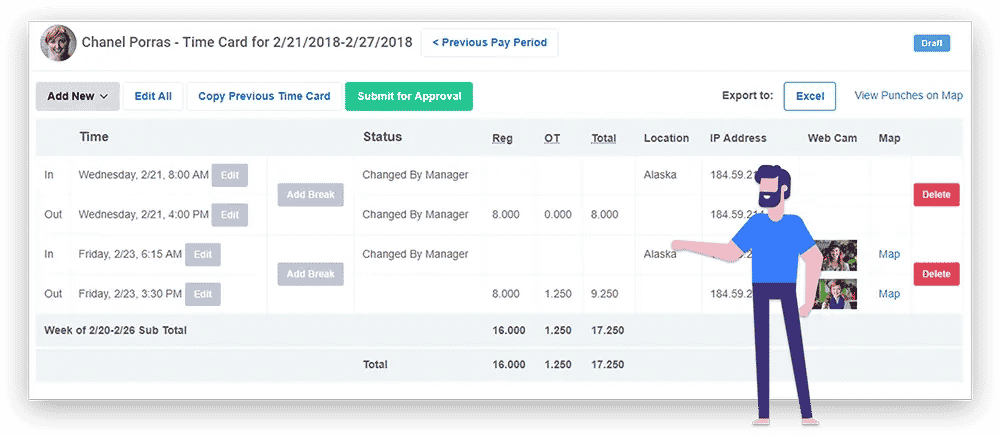 Buddy Punch allows business owners to get a bird's eye view of their operations through a customizable reports feature. Included in this feature is an hours summary, in/out activity, employee details, and more. This can be exported in a variety of formats, including the fairly common Excel and PDF.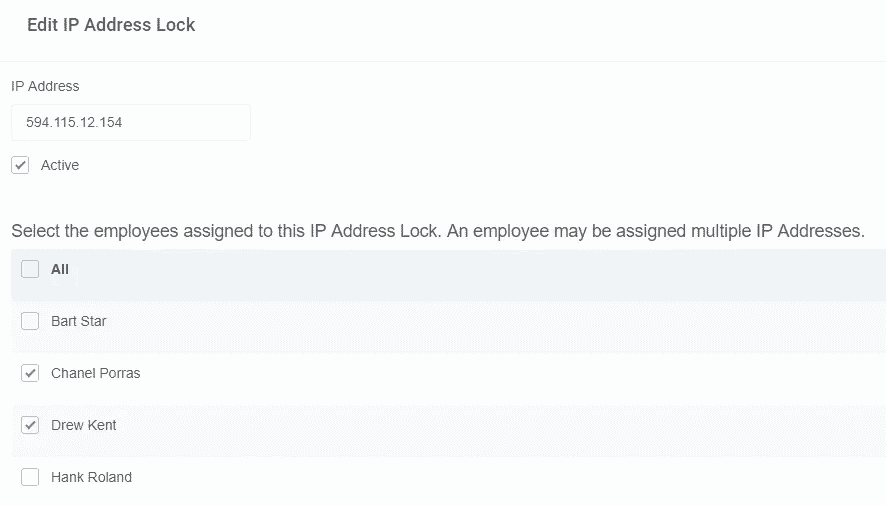 The IP Address Locks feature is a great way to make sure employees are only clocking in from a specific device or location, which vastly improves the security of your business. You can create as many IP address locks as you like. Employees that remain unassigned can punch in from anywhere.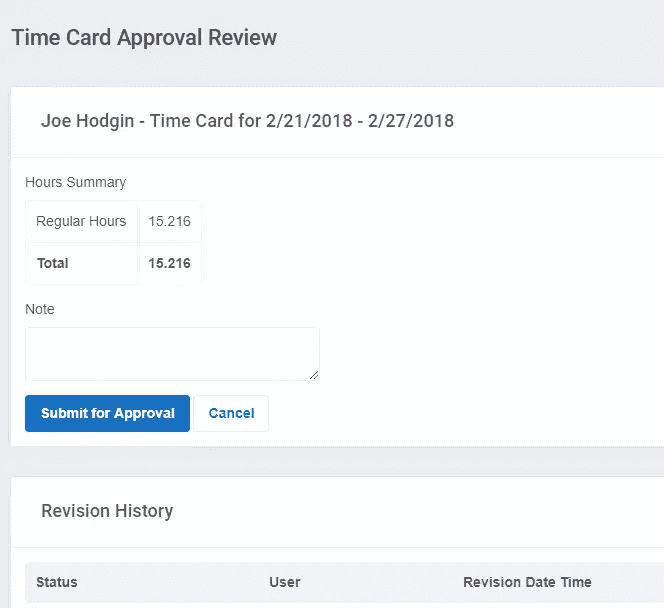 The Time Cards Approvals feature requires that your employees submit their time cards for project managers and administrators to accept or reject with comments. Completely eliminate manual timesheets from your business with this digital innovation. You can also lock time cards so there's no last-minute edits.
Features to Streamline Payroll
One of the last goals of Buddy Punch is to make payroll processing as simple as possible for business owners. We've achieved this through features such as: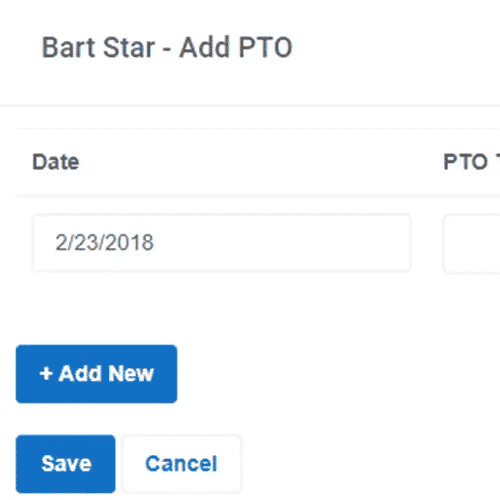 Never lose count of time and a half again. You can create custom PTO types to monitor with this feature and can even grant employees the autonomy of a self-service approach. They can enter their own time directly into a time card to request, and you'll receive a notification. Alternatively, you can let requests go through without requiring your permission.
As an offshoot of Buddy Punch's customizable reports, you can get a detailed excel view of your employees, their hours, overtime, locations, and departments. Sort it based on prior pay periods if you're looking to track patterns in payments.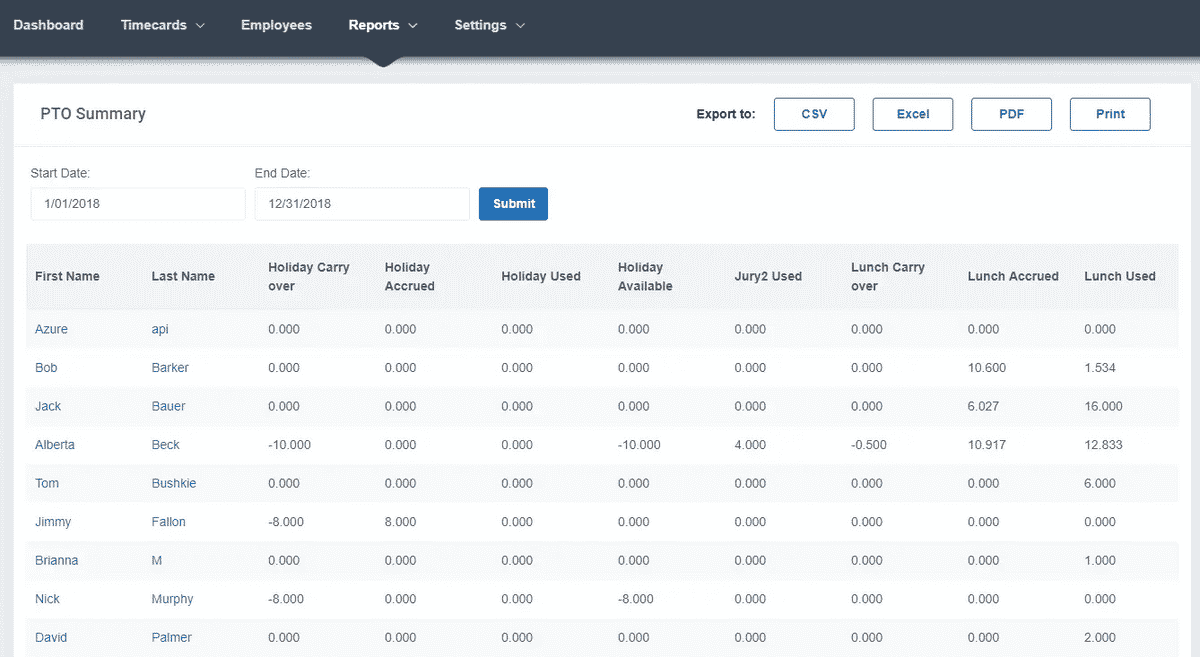 For businesses using an accrual method to PTO, you can enable the PTO accruals feature to set the amount of hours an employee has in their bank to be used. This amount can be easily added or deducted from.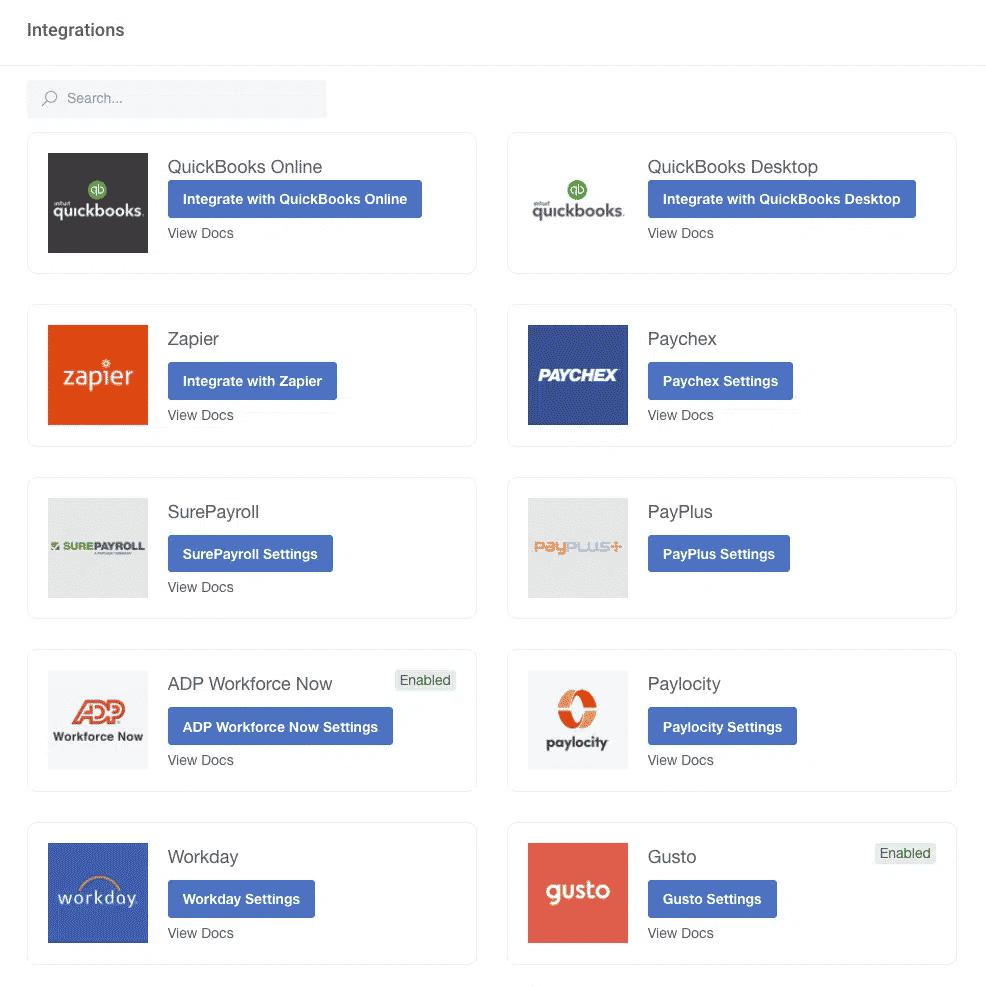 To make sure your payroll processing is fast, simple, and accurate, Buddy Punch integrates directly with some of the most popular software. These are big names such as Zapier, Quickbooks, ADP, and more (click here to view the full list).

Buddy Punch's Additional Features
There's still more for business owners to get out of using Buddy Punch, such as:
And even that isn't the end of everything Buddy Punch has to offer. We also have a help doc center which contains useful articles on utilizing Buddy Punch, we have a blog that can give you critical advice on workforce management, and our customer support team is always available to answer questions via live chat or guide you through a personalized demo.
Buddy Punch's Online Reviews
As of this post's writing, Buddy Punch has 4.8 out of 5 stars and 673 reviews on Capterra.

Let's see what business owners had to say about their experiences with Buddy Punch. It's worth noting that some of these clients are small business owners, while others incorporated Buddy Punch into their large enterprises.
You can click the review links to get more information about each reviewer, such as the size of their business, their role in the company, and what they think about Buddy Punch's ease of use, features, and value for money overall. (Click here to explore the full list of reviews.)
"It has a great deal of flexibility and gives administrators/managers the ability to see who is here at any given time of the day. Managers also have the ability to approve PTO prior to it being added to the time sheet. This provides accountability for both the employee and manager. They can also schedule shift work if necessary. "

Click here to read the full review.
"The Buddy Punch Customer Service is EXCELLENT! Poor service is one of the main reasons we left our last scheduling and payroll reporting software."

Click here to read the full review.
"Buddy Punch is a great product that has allowed us to better track our technicians hours. They are on the road 3-4 days a week and Buddy Punch helps us know where they are when they punch in/out and whether they are staying on schedule. It's a great product at a great value!"

Click here to read the full review.
"I will say I truly do like working with Buddy Punch. Any time I have an issue, its immediately fixed and it seems like Buddy Punch is constantly taking customers issues and using those to fix the system overall. Every business is going to have issues, it's a matter of fixing them and improving . I have never dealt with a company before, not just an online time clock/scheduler, that has responded so efficiently to customers issues and wants to fix it to where it doesn't happen again in the future or fix it to where its easier to use in the future. "

Click here to read the full review.
As several reviewers have noted, Buddy Punch is an effective scheduling tool with responsive customer support.

Try Buddy Punch for Free
Even with all these positive testimonies, we fully understand hesitation when it comes to committing to an employee scheduling app. That's why we encourage you to take advantage of Buddy Punch's 14-day free trial, available with every pricing plan.
Alternatively, you can view a pre-recorded demo video to get an inside look at the software, or start building your relationship with our customer support by booking a guided, one-on-one demo here.
Humanity is a cloud-based shift scheduling platform, offering a variety of features including:
Humanity is particularly powerful for business owners already making use of HCM platforms. This tool works across desktop, mobile devices (Android and iOS), or tablet devices. As of this post's writing, Humanity has a rating of 4.3 out of 5 stars on Capterra, based on 281 reviews.
"After the initial set-up and testing, it has become second nature for our team. It's easy to track time off and locations. It's intuitive as far as how to move shifts, fill shifts, and create repeating schedules."

Click here to read the full review.
Like Buddy Punch, When I Work is a good balance between simplicity and functionalities. This software empowers business owners with features such as:
When I Work follows a team-size based pricing model. As of this post's writing date, When I Work has 4.5 out of 5 stars and 924 reviews on Capterra.
"It was nice to be able to keep everyone organized and recorded for weeks past to be able to look back on for reference. It was nice to keep everyone on the same page, add in vacations, etc."

Click here to read the full review.
If you're working in critical industries like manufacturing, energy, or healthcare, Shiftboard might be the online employee scheduling app you've been looking for. They have two products: SchedulePro, and ScheduleFlex. We'll focus on ScheduleFlex, the more popular of the two, with features such as:
This program gives you the visibility to manage open shifts or even to swap shifts to better manage your team members. At the time of this post's writing, Shiftboard's ScheduleFlex has a total of 236 ratings and a score of 4.4 out of 5 (see on Capterra).
"I love that I can go in and schedule my own hours and put up commits on the tradeboard if they cannot be honored. I also like that I can go into the tradeboard section and take commits if I want to work them at any time of day."

Click here to read the full review.
Sling is a simple employee software with a very clean and intuitive UI. Its features include:
Sling has 109 reviews and 4.6/5 stars on Capterra (as of this post's writing).
"This is has been an eye-opening experience. I didn't know such an awesome scheduling solution existed and is perfect for small or large businesses. Everybody with a team should be using Sling."

(See the full review here.)
Connecteam is an attendance tracking software with various features such as:

As of this post's writing, Connecteam has 4.7 out of 5 stars and 149 reviews on Capterra.
"We are very satisfied with the app, as well as the service! Thank you for helping us work through the initial transition and we appreciate your team's attention to detail. Our staff have adapted to using the app with incredible ease and we are looking forward to using this as a tool moving forward."

Click here to read the full review.
As of this writing, ZoomShift has a total of 93 reviews and 4.5 out of 5 stars on Capterra. Features include:
"I run a small business, 3 employees, so a traditional time clock is insane overkill, but I needed something for employees to clock in and out, view their schedules, and make requests. Zoomshift has work really well for us – we have had them for 3 years and I have never questioned about getting rid of the program. Its nice for scheduling on my end, but also notifies the employees of new shifts and shift reminders."

Click here to read the full review.
Coast is a staff scheduling software that's very user-friendly. In addition to a flexible pricing plan, Coast's free plan offers unlimited users and team messaging. Some of Coast's features include:
As of this writing, Coast has 5 out of 5 stars on Capterra, though it's only based on 4 reviews.
"We are able to connect our whole team in multiple warehouses and keep all our project/tasks in a space that everyone has access to. This has changed how we work as a company."

(Click here to read the full review.)
What is the Best Online Employee Scheduling Software?
Now that we've gone over our top 8 picks, you might be wondering which software we think is best for scheduling overall. But it depends on your business.
For example, if you need an employee scheduling tool that integrates with Google apps (such as syncing with Google Calendar), then you'd be quite satisfied with Humanity. If you're tight on budget and want to make use of a free employee scheduling app, Coast would still leave you with a wide range of functionalities to make use of.
But if what you want is a workforce scheduling software that's flexible and scalable as an all-in-one solution, one that can grow and change with the needs of your business as you expand, you really can't go wrong with Buddy Punch.

Try Buddy Punch for Free
Don't just take our word for it. If you like what you've heard about Buddy Punch, use our free trial with any pricing plan to get a hands-on experience. You can also book a one-on-one demo, or view a pre-recorded demo video.

You May Also Like…