Top 8 Free Staff Scheduling Software (and 1 Paid Option)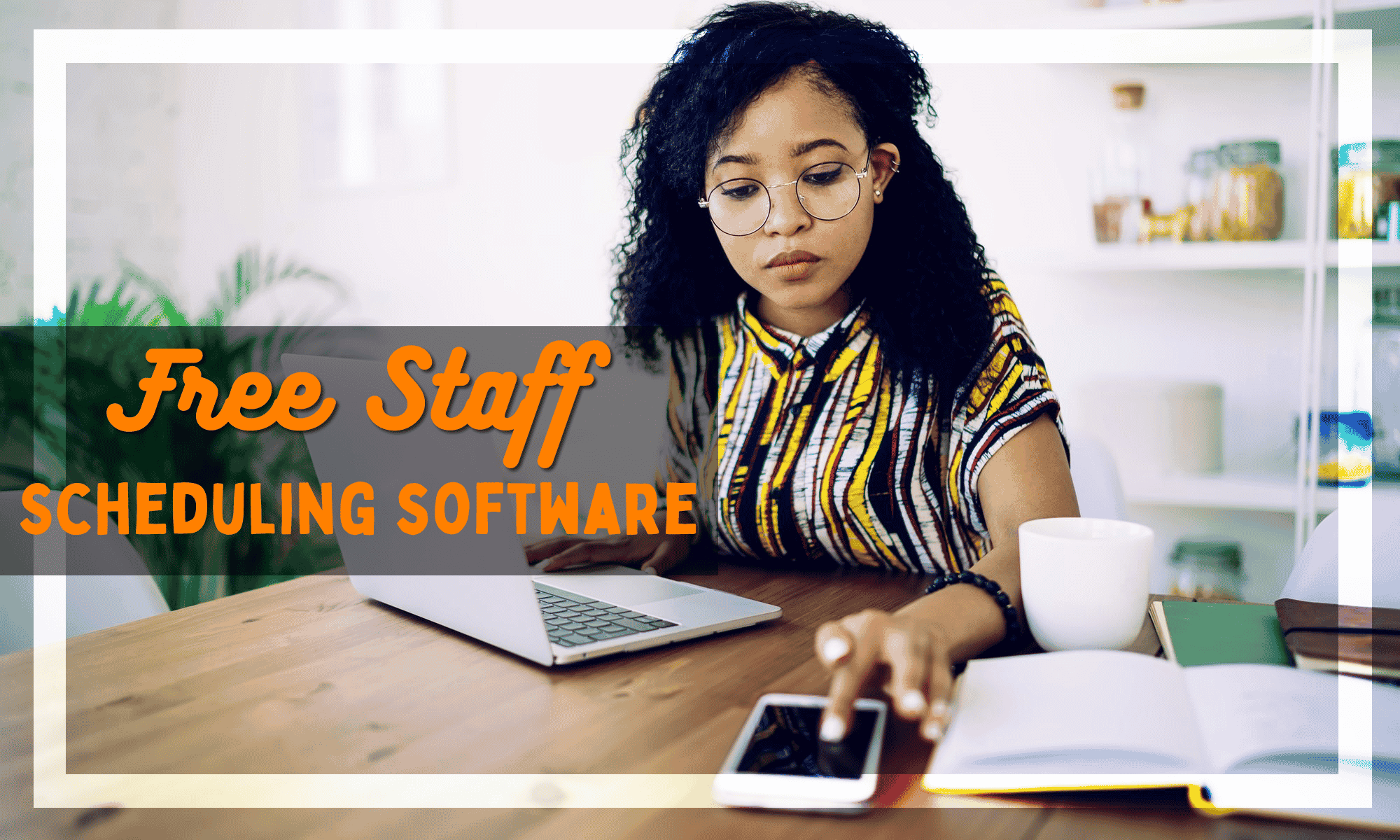 There's a common misconception that most business owners rush to once they realize that staff scheduling software can help them save time and money, improve employee productivity, and hold the entire workforce accountable.
Admins and managers seem to think that the most profitable way to go about this is to adopt a free staff scheduling software into their workforce. The logic is that if you can get all those benefits while using free software, you're going to maximize your profits.
But this is a mistake.
In concept, the idea makes sense. In practice, it's more complicated. Free employee scheduling software is often intentionally handicapped, keeping the more effective functions behind paid plans. This helps developers recoup the cost of creating and maintaining powerful software over years (which is what any savvy business owner is going to want – a piece of software that can grow with their business).
Furthermore, business owners looking for free scheduling software are mostly analyzing the tangibles (Paying X amount monthly). This ignores the hidden benefits of using a powerful tracking tool for workforce management:
Employees naturally optimize their time usage once you adopt a scheduling tool. They don't know how attentive you'll be while monitoring them, which makes them more conscious about what they do during their shifts.
Paid scheduling solutions often come with a variety of customizable features that you can tailor to your workforce. Features like GPS tracking, shift changes, payroll integrations, and more can help you streamline your operations and save money.
Being able to better manage employee availability will help both you and your team members. Clarity on upcoming shifts will allow employees to better manage their work-life balance, which means they'll come to work refreshed and recharged. Meanwhile, you'll save time and stress with an easier scheduling process, which will allow you to focus on the work of improving other aspects of your business.
With these benefits in mind, it becomes clear: the price of the best employee scheduling software should be a secondary consideration to how effective it is for your business.
First, we're going to show you how a paid time clock (Buddy Punch) is worth every cent you pay. Then, we're going to dive into our top 8 choices of employee scheduling apps with free plans, just to make it even more clear that though there are some quality auto-scheduling choices out there, you'll be missing out on some powerful features when you go with free options only.
Let's dive in.
Staff Scheduling Software
Buddy Punch (Paid Option)

Free Staff Scheduling Software Options
OpenSimSim
Connecteam
Sling
Findmyshift
Wrike
7Shifts
TimeCamp
Staffjoy
Let's start with a paid option before we dive into the best free employee scheduling apps, so you can better visualize the gap in value a software you pay for can provide.
The reason for Buddy Punch's monthly fee is simple: it costs money for our developers to offer and maintain so many scheduling features. Functions like GPS Tracking, Job Locations, Shift Positions, Drag and Drop Shift Management, 2-Way Notifications, Punch Limiting, and Shift Trades & Covers and more are at your fingertips when you pay for our software.
Next, let's dive into each of those features, so you understand why they're worth the price you're paying. We'll touch on how they improve employee accountability, communication, and task streamlining to ultimately save you money across your operations.
Note: If you want to skip past our breakdown and experience these features, you can sign up for a 14-day free trial here.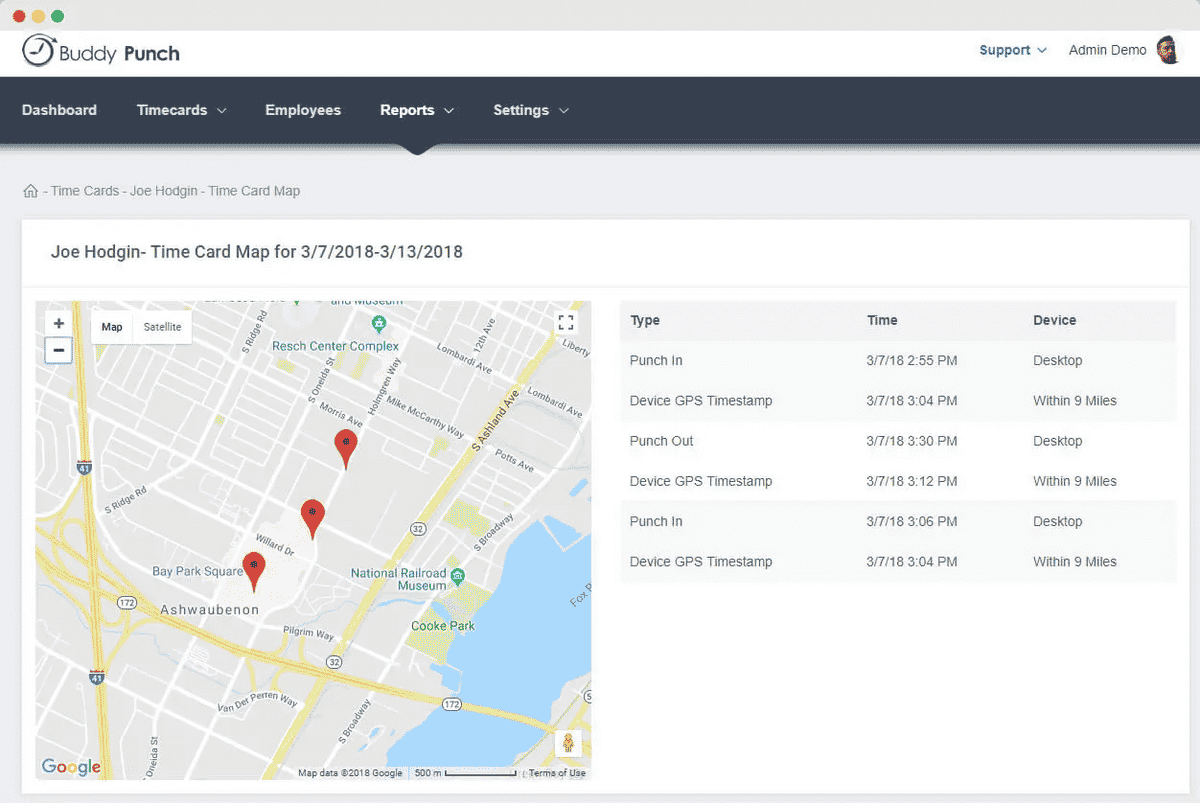 Our GPS Tracking has grown increasingly popular with the rise of Work from Home. Most business owners message us wondering if there's an employee scheduling app that can help them track remote employees. Well, Buddy Punch can.
This feature helps you keep employees accountable for their time and work while they're out of the office through an interactive map that you can use to view GPS punch-ins individually or all together. You can even disable or enable it per employee, depending on trust and responsibilities.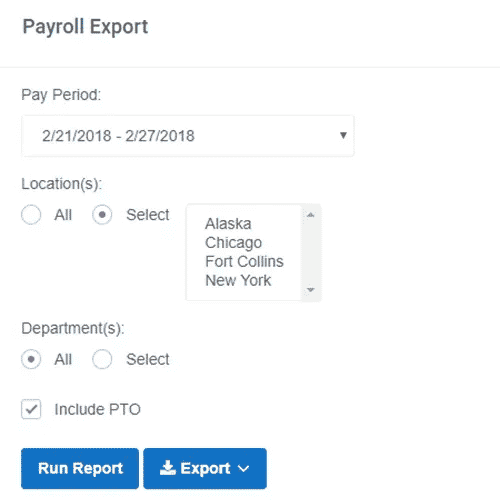 Another powerful tool (especially when paired with GPS Tracking), our Locations feature lets you select areas where your employees can clock in and clock out. You can create as many spots as you'd like, and get a great overview for where and how your team members spend their time when they're on the clock.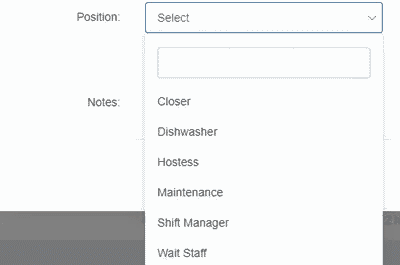 The bread and butter of any scheduling tool. Create and assign positions for your shifts. If your team members work more than one position, they can select which one they're working on a certain day, which gives you greater control and visibility.
As a bonus, you can even view how they divided their time between different positions through our customizable reports.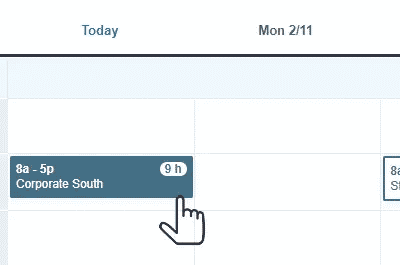 Streamline shift management with our Drag and Drop feature, which lets you create a new schedule by simply clicking on an empty cell. Then, you can drag and move a shift where needed. This visualization lets you see clearly how well your team members cover your scheduling needs, and once you're done you can publish the shifts to send an automatic notification to all scheduled team members.

Speaking of notifications, Our notifications feature enables you to keep team members up to date with changes in their schedule while giving them some power as well. They can request for paid time off or sick days, sending a request alert that you can approve or deny.
This means that both administrators and employees can focus on their tasks and remain secure in knowing that if something important happens, they'll receive an alert or shift reminder so as to not miss it.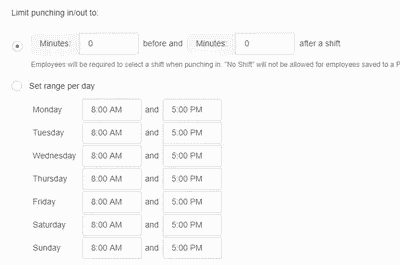 Our Punch Limiting Feature is a good example of a tool that not every business owner needs, but the ones that do will be grateful for it. This lets you set limits on employees that tend to clock in too early or too late, helping you cut down on unnecessary overtime hours or enforce a better work-life balance for your team members.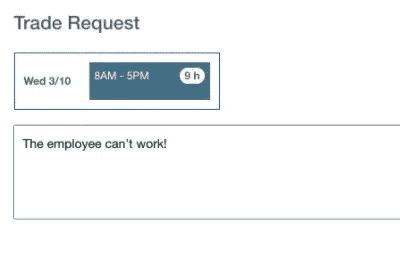 This last feature is perfect for employers who want better employee management across the board (and to eliminate no-shows or complaints about online scheduling from team members).
This feature allows employees, managers, and administrators to initiate shift trades with employees. You can give your team members permission to swap on their own, or oversee the shift swaps yourself. Similarly, this feature allows team members to initiate covers with other employees to take over open shifts. Some businesses look for competent schedule makers; this feature turns your team into their own schedule makers.
Buddy Punch for Staff Scheduling
With all these features laid out, it should be apparent how strong of an employee scheduling tool Buddy Punch can be.
Best of all, the value doesn't stop at the software alone. We have a consistently updated blog with articles that teach business owners how to make the most of their workforce, a help doc center containing useful articles on how to best utilize Buddy Punch, and an attentive and supportive team that's always available via live chat to answer your questions.
This is the benefit of paying for software – you give a developer the resources to better serve you and your business needs. If you want to see more of what Buddy Punch has to offer, you can book a one-on-one personalized demo here.
Buddy Punch Has More Features For Business Owners
Believe it or not, we've only just scratched the surface of what Buddy Punch brings to the table. Consider other features such as:
Buddy Punch's Online Reviews
What do our existing users have to say about what Buddy Punch brings to the table? As of this post's writing date, Buddy Punch has 4.8 out of 5 stars and 671 reviews on Capterra.

Next, we're going to dive through some of those reviews to see what people have to say. Most business owners tend to note that Buddy Punch is intuitive to use for both employers and employees, but let's see what some of their highlighted specifics are: (Click here to explore the full list of reviews.)
"Buddy -punch gives us the value we seek."

Pros: Intuitive ,and a much cheaper option than Toggle which we have tried in the past ,and they completely avoided the per user billing system,which I find very ridiculous.
Cons: Anytime our employees have failed to sign in , they get multiple email notifications which some have found to be very pestering.

Click here to read the full review.
"Simple and Easy to Use Time Tracking Product!"

Pros: Easy to use for admins and employees Concise reports Archiving of data is permanent while a paying customer (never lose past timecards) Reasonably priced
Cons: Wish there were better customization options for hour categories (i.e. floating holidays, Jury Duty, etc.)

Click here to read the full review.
"Employees can punch in where ever they are assigned."

Pros: So easy to use. Easy for me as Administrator and employees have no problems, can leave notes and check their own time each week.
Cons: MINOR – as more information was added to Employee Detail report, sometimes a second sheet prints with a few words. The second sheet is wasted.

Click here to read the full review.
"Great time keeping system"

Pros: The system is easy to use and our employees can operate it on their cell phones so we have more accurate time keeping as they travel to several properties and do many different types of projects in a day.
Cons: I was very pleased with how easy it was to set up and how responsive their tech support was when I had any questions.

Click here to read the full review.
Try Buddy Punch Free of Cost
If you're starting to see how valuable Buddy Punch could be for your business, you can try it out for 14 days free of charge before spending a dime. Additionally, you can view our pre-recorded demo video here to get a better feel for the software, or book a one-on-one demo with our team to be walked through Buddy Punch and have all your questions answered.
Now, let's look at some of the most liked free options for employee scheduling.
If you're looking for the best free employee scheduling app for small business, you might want to check out OpenSimSim. As long as you're working with 1 location, 1 department, and 10 scheduled workers, this program is completely free. Features include:
The staff scheduling feature integrated into OpenSimSim is called SocialSchedules, which has a rating of 4.5 out of 5 stars and 552 reviews on Capterra (see here).
"Free Scheduling Solution for Small Team"

Pros: OpenSimSim has an easy-to-use, simple, and aesthetically pleasing interface that works well on both desktop and mobile apps. Our employees picked it up easily to drop shifts, swap shifts, and message one another and supervisors whether at work or on the go.
Cons: There is still room for improvement in regards to tutorials for employees. A few of the functions in the tutorials are only covered from the employer's perspective and not the employee's perspective, which makes it more difficult to explain how to use the software to new employees in some regards.

Click here to read the full review.
If you're looking for an employee scheduling software that you can use for free and works with excel or Google Calendar, maybe Connecteam is more up your alley. The free version of this software solution is available for up to 50 users.
Connecteam has a variety of employee monitoring and team communication functions, such as:

Connecteam has 4.8 out of 5 stars and 145 reviews on Capterra as of this post's writing date.
"Most Valuable APP for SMB Ever"

Pros: – Only add the functions you want. Not encumbered by bloatware or features we will never us. – EXTREMELY intuitive. Once create an account, do the 5 minute walkthrough and you feel confident enough to manage yoir company.
Cons: – At the time of writing this review, all admin features have to be done through website, and not through the app (though they say they are working on that).

Click here to read the full review.
Sling is completely free for unlimited employees, unlike most free employee scheduling apps which are usually geared towards small business teams. Instead, Sling makes up the difference by locking functions behind paid plans. The complete offerings of this software include:
This versatile tool is user-friendly and works across multiple devices (Desktop, iOS and Android, etc.) At the time of this post's writing, Sling has 108 reviews and 4.6/5 stars on Capterra.
"The best scheduling software I've ever used."

Pros: It allows for coordination across unlimited business locations and unlimited employees. The ability to offer shifts to employees and allow them to claim or apply for them is incredible.
Cons: I don't really have anything negative to say about this software. If I had to find something, it would be that at times, the interface is laid out unusual to our expectations but once you see what it's doing, it makes perfect sense.

Click here to read the full review.
Findmyshift is an employee shift scheduling software that comes with both a paid plan and a free one. Findmyshift's features include:
As of this post's writing, Findmyshift has 684 reviews and 4.6 out of 5 stars on Capterra.
"Invaluable"

Pros: Quick and easy. Support is great. So many different things you can do.
Cons: It would be good to be able to put all of the hours you need covered into a system and you work out a rolling rota for a team.

Click here to read all of Findmyshift's Capterra reviews.
Wrike is a software that's free if only used for 1-5 employees, and has a variety of functions including:
As of this post's writing date, Wrike has 4.2 out of 5 stars and 1739 reviews on Capterra.
"Great Project Management Product for Small and Midsize firms"

Pros: Our company tried other project management tools in the past without much success (lack of adoption). However, wrike was the first tool all of our various departments embraced because it is easy to use, powerful, and can be configured to work the way we do.
Cons: We have very few complaints about Wrike. We have figured out how to make it do everything we need it to.

Click here to read the full review.
7Shifts is a staff scheduling software that was made specifically for restaurants. It's available for free for up to 30 employees and comes with features such as:
As of this post's writing, 7Shifts has garnered a total of 876 reviews and 4.7 out of 5 stars on Capterra.
"7 Shifts for restaurant schedule Management"

Pros: It is easy to use and anybody with a phone can have easy access to their schedule, send messages using it, and letting anybody know about changes. It is a very practical and professional tool for the schedules that we use in our Restaurant.
Cons: To be honest, I do not have any complaints, but we only use the scheduling module as we have other systems.

Click here to read the full review.
7. TimeCamp
TimeCamp has one of the more forgiving free plans for a time clock. You can use unlimited users, unlimited projects, and unlimited tasks. It also works on both Desktop and Mobile apps. Some of its key features include:
At the time of this post's writing, TimeCamp has a total of 552 reviews on Capterra (see here), with an average of 4.7 out of 5 stars.
"Simple, Easy To Use and Solves Time Monitoring Problems within projects"

Pros: Being able to simply track time worked on different projects by different business analysts was always tricky, often analysts would be guessinmating at the end of the week.
Cons: I cant think of any cons, it does exactly what our org needs to track and manage time. Thank you TimeCamp!

Click here to read the full review.
8. Staffjoy

For those looking for a free open-source employee scheduling software, Staffjoy might be the tool for you. Its features include:
At the time of writing, Staffjoy has a rating of 4.5 out of 5 stars on Capterra (based on 26 reviews).
"A quick and easy solution for your HR/Employee time management needs"

Pros: Staffjoy is an incredibly versatile tool. It allows your workforce to clock in/out without the need of doing a physical queue and waste time waiting for others.
Cons: Without proper use of the tools/reports, people can potentially cheat the system by clocking in remotely. But staffjoy has the tools to monitor this behavior and thus accountability for improper use is on you

Click here to read the full review.
What is the Best Staff Scheduling Software?
One thing that should be clearer now is how many quality features for employee monitoring are held behind paid plans. When you're committed to only using free software, not only are your functions limited, your options of software are limited too.
Still, there are some options to choose from. If you manage a restaurant, 7Shifts was made to help you with your staff scheduling. If you're a small business with 5 employees or less, you won't have to pay to use Wrike.
But if you want full access to powerful scheduling and time tracking features, with functionalities that you can use or discard based on what cuts down on time theft and produces the most productivity in your team, you can't go wrong with Buddy Punch.
Try Buddy Punch Free
Buddy Punch offers a 14-day free trial to get a feel for the software, which we highly recommend you take advantage of. If you're still not sure, you can also book a one-on-one demo with our team, or view our pre-recorded demo video.

You May Also Like…