The Top 12 Time Tracking Software Remote Workers (In-Depth Guide)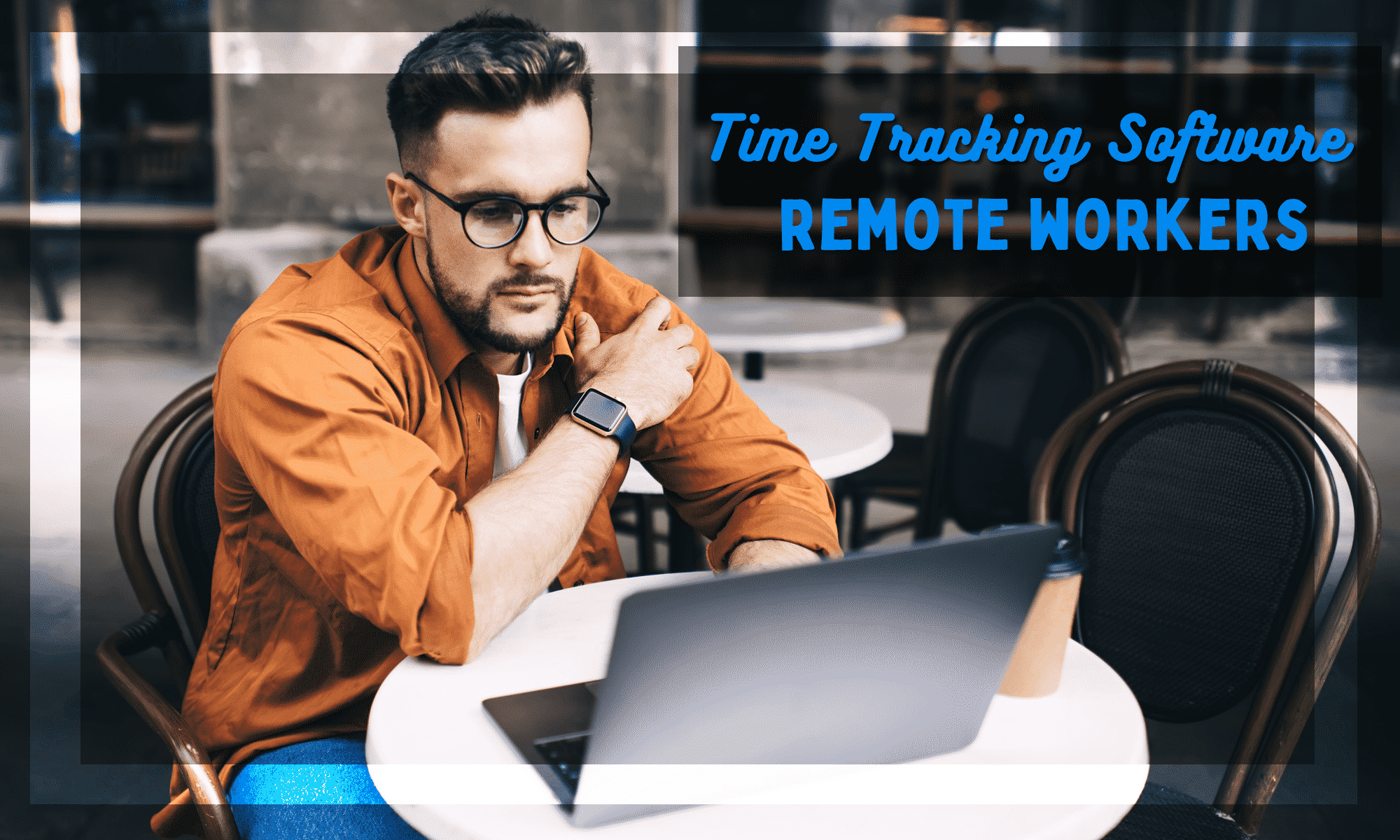 Business owners are rightfully concerned about remote work and work from home increasing the odds of team members committing time theft or being irresponsible about reporting employee hours. Especially for small businesses, letting employees get away with fabricating work hours can lead to a domino effect that impedes overall productivity and profitability.
However, there can be a downside to using time tracking software. Some employees are going to feel like you don't trust them, while others may have issues even making use of the software, citing that it's hard to navigate or disrupts workflow. For the process of implementing an employee time clock app to go smoothly, you're going to want to use time & attendance software that feels noninvasive and intuitive to use, so employees rarely even have to think about it.
Specifically, we'd recommend using all-in-one time clock software that juggles three core factors:
Below, we're going to detail our top 12 picks of the best software to use for remote employee time tracking. Many of these time management apps will use some of the features we've mentioned above, but not all of them. The goal is to help you figure out which software sounds like the time tracking solution that your team would best make use of.
Time Tracking Software Remote Workers
Topping our list of remote employee monitoring tools is Buddy Punch. The reason is simple: we mentioned how the ideal team management software would take into account simplicity, accountability, and streamlining. Those are the three core tenets on which Buddy Punch was designed.
We're going to dive into some of the features that Buddy Punch has to demonstrate how they live up to the three tenets while empowering business owners and team members alike.
Note: If you'd rather experience these functions first-hand, you can try Buddy Punch via our 14-day free trial for all pricing plans, no credit card required.
Simplicity Feature: Notifications

Our Notifications feature enables Administrators and Managers to keep track of employees automatically. For example, when you monitor employees you'll receive an automatic notification when they clock in, clock out, or request a change to their timecard.
On team member's sides, you can set it so they receive notifications when you make a change to their schedule or approve a PTO request. In either situation, everyone can focus on their work until they're notified of something to give their attention to.
Simplicity Feature: Punch Rounding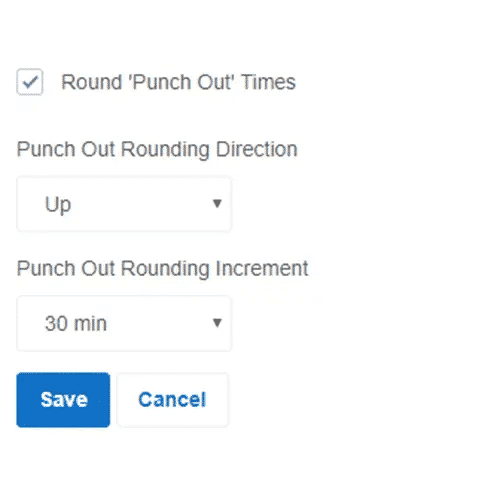 Punch Rounding is the type of feature that makes things easier on you, while being nearly invisible to employees for simplicity. This enables time entry punches to be automatically rounded up, down, or to the nearest interval (based on your specifications). You can have permission to set this from anywhere from 2 minutes to 30 minutes.
Simplicity Feature: Single Sign On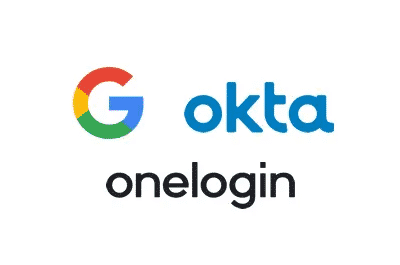 Single Sign On is another feature that keeps things easy-to-use for your remote workforce. This allows your team to log into Buddy Punch using only Google, Okta, OneLogin, or Saml 2.0.
Accountability Feature: GPS Tracking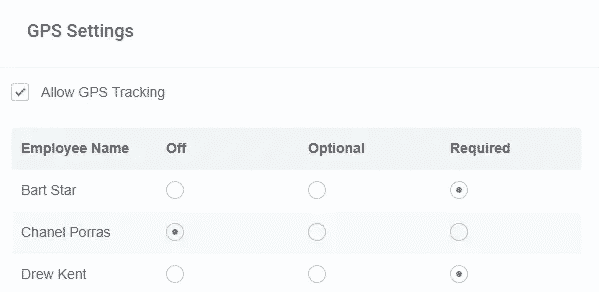 Moving into features that improve accountability for your employees throughout the workday, GPS Tracking helps you monitor where and when your team is. You can monitor punch-ins individually or grouped based on locations.
Accountability Feature: Geofencing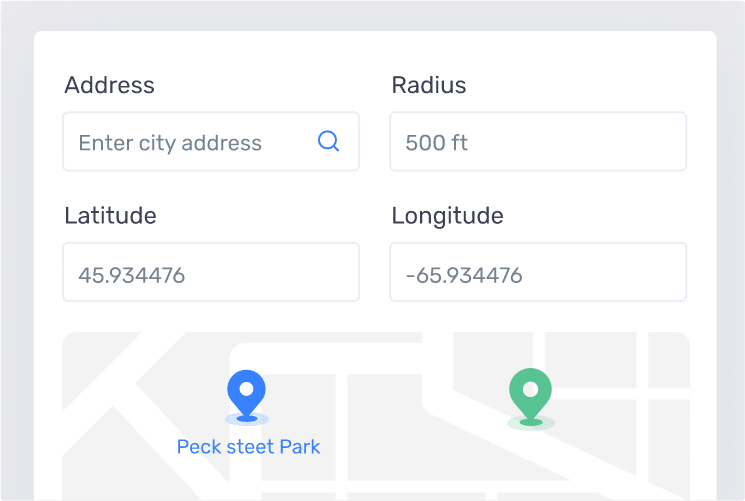 Another great feature for keeping track of mobile time, Buddy Punch's Geofencing option let's you create a radius on job sites. If your employees attempt to clock in or clock out (via mobile device) while not onsite/within a Geofence, they'll receive an error notification and be denied.
Accountability Feature: Detailed Reports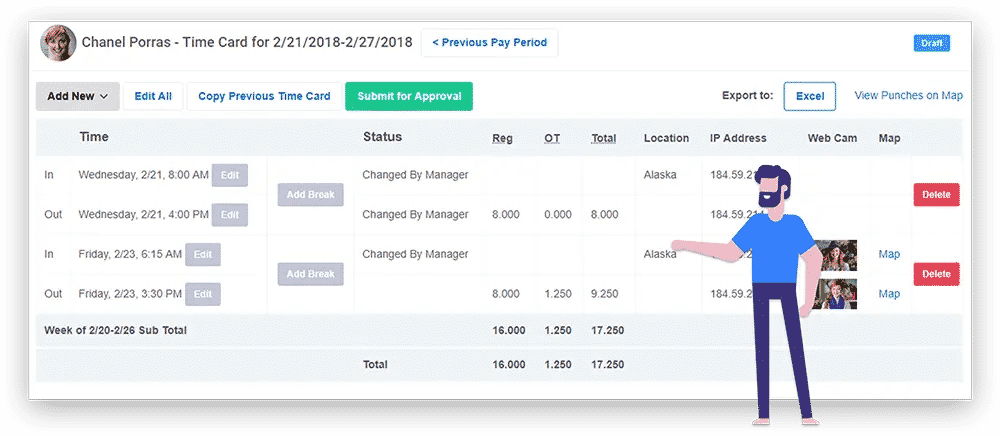 How can you make sure that team productivity isn't waning on a week-to-week basis? Using Buddy Punch's customizable time reports can give you a high-level overview of employee activity over your chosen period of time, which can help you exercise better control over your team.
Accountability Feature: IP Address Locks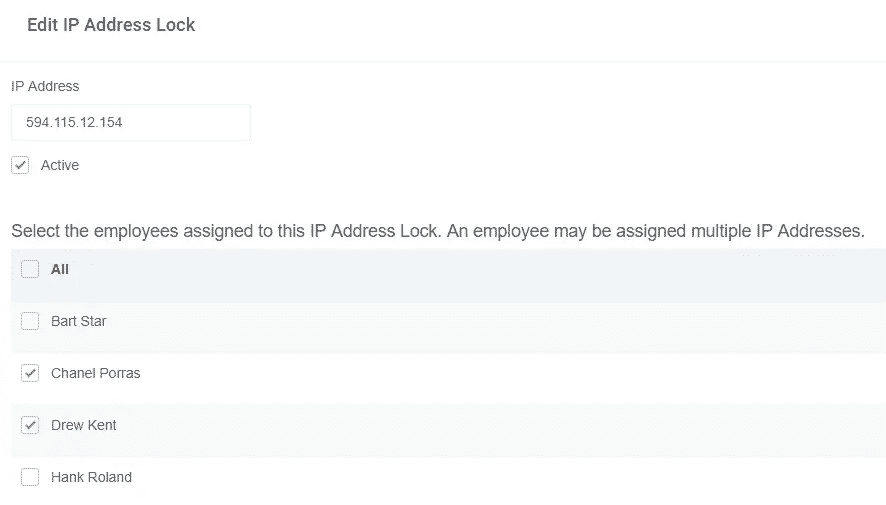 With the IP Address Lock feature, you can ensure that employees are only punching into a specific device or location. Choose an IP, assign it to your team, and then sit back and relax. If they ever try to sign in from a different IP address, this configuration will automatically stop them.
Streamlining Feature: Integrations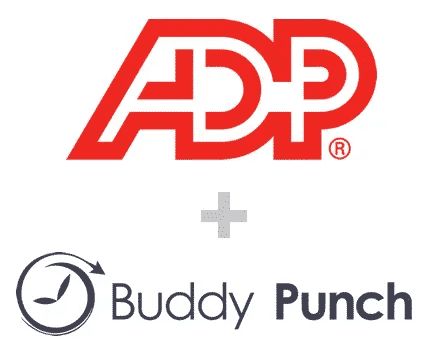 It's never easier to stay on top of all billable hours than it is with Buddy Punch. Buddy Punch was designed to be implemented seamlessly with your existing processes and daily tools, such as payroll processing apps. Payroll Integration with accounting software like Zapier, Quickbooks, or ADP is part of that, making calculating labor costs and billing for each pay period a breeze. (Click here to view the full list of software Buddy Punch integrates with).
Streamlining Feature: Automatic Breaks

This feature will help you keep timesheets accurate by automatically deducting time, depending on the specifications you set up. You can add as many break rules as you feel you need to ensure times are properly accounted for. Deductions will happen automatically.
If you have trouble figuring out how to use any of these features, it's worth noting that Buddy Punch has a help doc center that contains articles on how to best make use of our software. Additionally, our responsive customer support is always available via live chat to help you directly.
In fact, you can even reach out to our team for a personalized demo here.

Buddy Punch Offers Many Other Features
Part of Buddy Punch's allure is being a flexible software that business owners can adjust based on the needs of their workforce. That can only be achieved through offering a variety of features, such as:
Buddy Punch's Online Reviews
As of this post's writing date, Buddy Punch has a rating of 4.8 out of 5 stars and 808 reviews on Capterra.

In the next section, we'll dive into a few of the reviews to see what existing users have to say about Buddy Punch as a time tracking software. (Click here to explore the full list of reviews.)
As several users have noted, Buddy Punch is easy to use and effective for monitoring remote workers:
Overall: I LOVE that I can clock in from a remote location via the app on my phone. Soooo convenient!!! Such a game changer for sure, especially with my sporadic work schedule and location.
Pros: The ability to Edit in "real time" is very useful. I can adjust my hours/PTO entry on the go.
Cons: It's tough that I have to wait for my Supervisor to "Approve" the punch corrections.

Click here to read the full review.
Overall: Working with the Buddy Punch support team has been such a wonderful experience. The team is responsive, and eager to assist. Any questions we've had, whether using the free trial, or after we signed up as a customer, have been answered quickly.
Pros: Buddy Punch is easy to use for managing our remote team members. It's easy to set them up in they system, establish their locations, and manage how they can punch in and punch out.
Cons: Now that the scheduling feature has rolled out, that takes away the only major Con I would have listed.

Click here to read the full review.
Pros: Easy to use. Easy to set up users. No more worries about keeping track of remote crew hours across the country.
Cons: Sometimes login doesn't load fast enough. I am unable to sort some of the lists/reports by different criteria.

Click here to read the full review.
Use Buddy Punch's Free Trial
If you're starting to feel that Buddy Punch's features could help you with tracking remote workers, sign up for a 14-day free trial to test it out. Also keep in mind that you can book a one-on-one demo or view a pre-recorded demo video here.
OnTheClock is a time clock software created by developers who understand the importance of figuring out how to track productivity of remote workers, having themselves switched to working from home during the pandemic.
This web-based software works as both a mobile and desktop app. This app has a job & projecting costing function for tracking specific projects, making it a great project management tool. It also includes features such as:
As of this post's writing date, OnTheClock has 4.7 out of 5 stars and 509 reviews on Capterra.
"We have a small organization so we pay nothing for this software. It allows us to still track codes, time off etc. In fact, the time off feature works better than with some other companies as we can customize to each employee. It is easy to use. We also work remotely and don't require check in/out and are able to merely enter the number of hours for each job code."

Click here to read the full review.
3. TimeDoctor
Time Doctor is a remote time tracking software that claims to provide increased visibility and actionable insights for your workforce. The software is paid for with yearly payments and considers itself a strong tool for freelancers to use when billing their clients accurately.
As of this post's writing date, TimeDoctor has a rating of 4.5 out of 5 stars and 406 reviews on Capterra. Its features include:
Here's what one reviewer has to say about this employee monitoring software:
"Overall, Time Doctor is great for productivity, time tracking, and project management. It has the best Leave-Tracking features that send notifications if the person is still working on a task. In all reality, it has great usability with many different cool options such as time-tracking, browsing history, breaks, and idle time reminders, etc."

Click here to read the full review.
4. Toggl Track
Toggl Track (formerly known as simply Toggl) is a great tool to use for remote employee monitoring. It includes features such as:
If you have a small team and minimal app usage needs, you can take advantage of the free plan. Toggl Track also integrates with some popular software such as Asana, Trello, and Slack. As of this post's writing date, Toggl Track has 4.7 out of 5 stars and 1808 reviews on Capterra.
"Being a small company we needed something we could track easily without any complicated setup. And Toggl provided. We have used it for 7+ years and it is still going very well. The best things are time is displayed in decimals so it can be easily multiplied with rates. Clients love the summaries, colleagues love the simplicity."

Click here to read the full review.
Connecteam is a versatile tool that works across multiple devices (such as Android and iOS smartphones). As of this post's writing date, Connecteam has 4.8 out of 5 stars and 146 reviews on Capterra. Here are some of its features:
"We are very satisfied with the app, as well as the service! Thank you for helping us work through the initial transition and we appreciate your team's attention to detail. Our staff have adapted to using the app with incredible ease and we are looking forward to using this as a tool moving forward."

Click here to read the full review.
6. TimeCamp
TimeCamp is a remote employee time tracking software that works on all major platforms (Windows, Mac, Linux). Some of its key features include:
At the time of writing, TimeCamp has a total of 552 reviews on Capterra and an average rating of 4.7 out of 5 stars.
"Integrating TimeCamp with my business took a few minutes in the beginning. I had to update keywords over a few days to make it a perfect custom fit. Every time I have a new client, I add new keywords – the whole process takes less than a minute."

Click here to read the full review.
If you're looking for a particularly powerful work from home time tracker app, you can't go wrong with the versatility of When I Work. Some of its functionalities include:
As of this post's writing date, When I Work has 4.5 out of 5 stars and 924 reviews on Capterra.
"Staff empowerment to take control of their schedule and the money saved from the time saved and less errors occurring make this experience worth all the searching for a new system. Also, the customer service is quick and straight to the point!"

Click here to read the full review.
Hubstaff offers various features and functionality, some of which include:
With powerful integrations and considerations for remote employee monitoring, Hubstaff prides itself in helping business owners focus more on growing than tracking.
As of this post's writing date, Hubstaff has 4.6 out of 5 stars and 1243 reviews on Capterra.
"Very happy I moved from Time Doctor to Hubstaff. Huge improvements on all areas and a satisfying product to use. The experience is so good that I find myself wanting to stay with Hubstaff regardless of whether my need for time tracking reduces."

Click here to read the full review.
9. Paymo
Paymo's focus is helping business owners boost connectivity and productivity in their team members, especially for those working remotely. Some of its key features include:
Paymo has a total of 417 reviews on Capterra with an average of 4.7 out of 5 stars at the time of this post's writing.
"It is important to note that Paymo isn't idle in enhancing its software. Not only that, but new features are thoughtful and integrated seamlessly with the tool. I appreciate this because I have used other software that seem to have their priorities mixed up when releasing enhancements; adding things that don't move the needle ahead of things that do."

Click here to read the full review.
10. DeskTime
DeskTime is a fairly simple software with features including:
At the time of this post's writing, DeskTime has a rating of 4.4 out of 5 stars, based on 238 Capterra reviews.
"Great! Overall useful, and provides our employees a better understanding of what their overall productivity looks like throughout the day. Provides further support to our teams in terms of productivity in certain projects, and a better understanding of what they are actually doing/working on during business hours."

Click here to read the full review.
11. Insightful
Insightful (formerly known as Workpuls) has a rating of 4.8 out of 5 stars on Capterra, based on 47 reviews. Some of its key features include:
"Time tracking, Manual Time, Break, Screenshot through this we can manage the privacy. It is must have tool for work from home."

Click here to read the full review.
12. QuickBooks Time
Last but certainly not least, QuickBooks Time (formerly TSheets) has great features that you can use to keep track of your remote workers:
At the time of this post's writing, QuickBooks Time has 4.7 out of 5 stars and 5,548 reviews on Capterra.
"Excellent software program! Very easy to use, complies data for HR and payroll with ease. Keeps a great record of my time as well as other people in the company. Useable from anywhere! I recommend QuickBooks Timesheets programs to any company large or small!! It will revolutionize your payroll and HR!!!"

Click here to read the full review.
The Best Time Tracking Software for Remote Workers
One thing you may have noticed is that there is a wide variety of functions that each software offers to help you track employees. While it's hard to choose a flat out "best" time tracking software, you can make a good guess based on the current and future needs of your business.
For example, if your employees primarily work with Linux devices, TimeCamp is probably going to be the best fit for you. If you currently work with other software such as Asana or Trello, you might want a remote time tracker that integrates with these for free, such as Toggl Track.
But if you ultimately want a piece of software that can adapt to your changing needs, with a wide range of functionalities that you can enable or disable at will, all without disturbing or overwhelming your employees – it doesn't get much better than Buddy Punch.
Try Buddy Punch for Free
If you're starting to feel that Buddy Punch could be the right fit to track time for your remote employees, you can sign up for a free trial for 14 days. You can also book a one-on-one demo with our team, or view a pre-recorded demo video.

You May Also Like…