7 Best PTO Tracking Software for Tracking Paid Time Off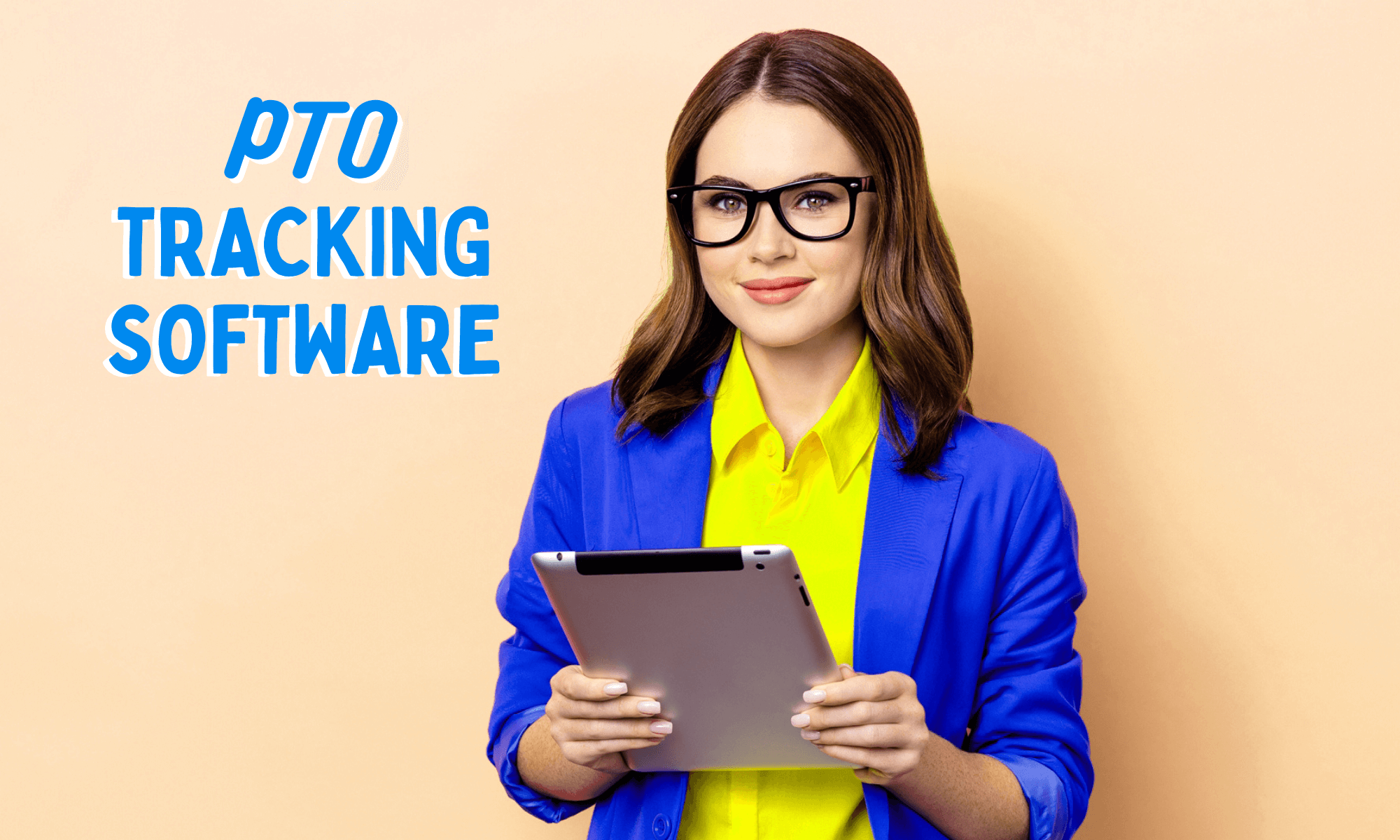 When you're tracking PTO with software, there are some must-haves that will make your life easier, such as:
Accurate PTO balances for your team.
A management system that lets you edit PTO balances
Custom leave rules (i.e., when and how PTO is earned).
A way to receive and respond to time off requests.
A way to restrict dates on your company calendar (i.e., black out dates where you can't have certain employees off).
Plus, you want a simple way to reconcile your team's PTO with your payroll, so team members are accurately getting paid for their time off.
In this post, we're going to look at 7 different PTO tracking tools to help you find the right one for your business.
We'll start with our own PTO Management tool, Buddy Punch. Buddy Punch is a complete vacation tracker software that can handle all the must-haves above. Plus, if you have shift workers — or employees who need to track their time worked — they can use Buddy Punch to clock in and out. You can also use Buddy Punch as your payroll provider, or integrate Buddy Punch with your current payroll processing system.
If you want to see how Buddy Punch will work with your business, sign up for a free trial or schedule a one-on-one demo.
PTO Tracking Software Tools
Option #1. Buddy Punch — PTO Tracking Software (with Additional Time Management Features)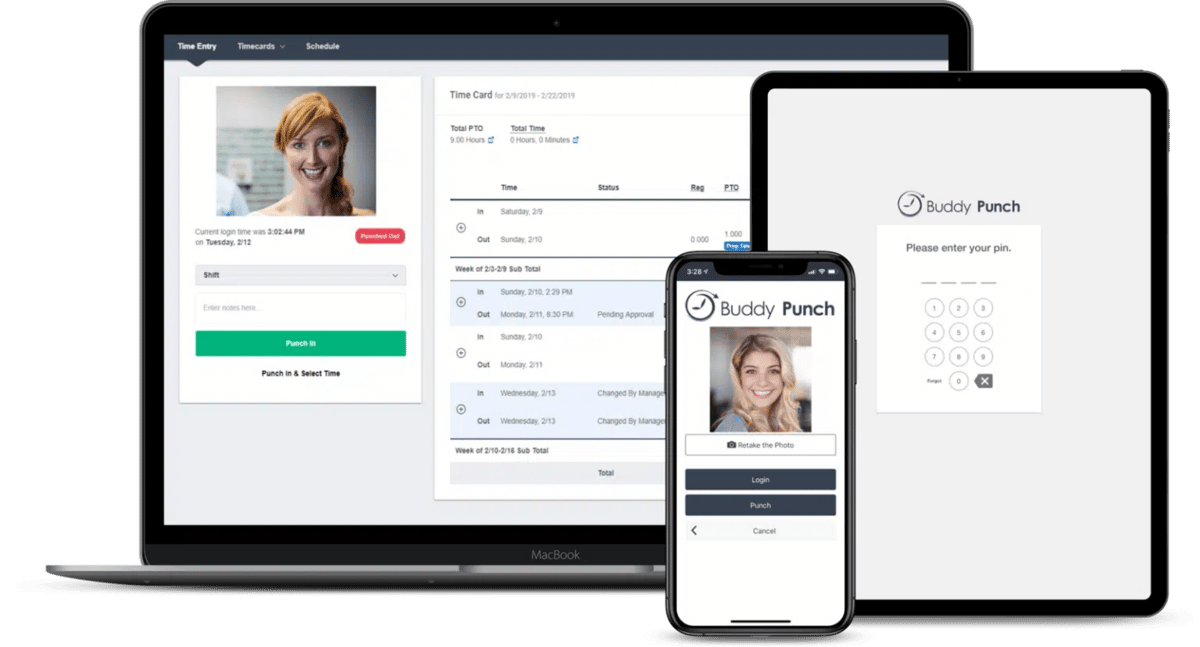 Buddy Punch is a cloud-based, real-time PTO & vacation time tracking software that also lets you create schedules, have a fully customizable clock-in and clock-out system, and submit payroll or integrate your team's PTO with your current payroll provider.
Here's a very high-level overview of Buddy Punch's PTO tracking features.
You can set up how much PTO your employees have/earn. You can give employees their PTO all at once, or set up accrual rules, where they earn PTO throughout the year. You can also edit someone's PTO balance whenever you need.
Your employees can submit a paid vacation request through our app or their web browser. You don't need to worry about verbal requests or your team texting you or leaving notes on your desk or a physical calendar. That's messy and inefficient, and can lead to calendar clashes and payroll mistakes.

Instead, all time off requests are put in through Buddy Punch, which also means your team can submit their employee absence requests from home. Plus, our streamlined system lets your employees see a shared time off calendar when putting in their requests. This helps them plan what dates they want to take off based on what length and types of leave other team members are submitting.
You can get an email notification letting you know a PTO request has been made. You can also set up automatic approvals for specific employees or calendar dates, that way Buddy Punch handles approvals for you. This saves you and your management team a lot of time, and it also makes it easier for your staff to take time off.
If all this sounds like what you're looking for in PTO tracking software, start your free trial today. Or, keep reading for a more detailed breakdown of key PTO tracking features.
Key Features of Buddy Punch's PTO Tracking Software
Customizable PTO Balances and Accrual Rules
The first part of PTO tracking is making sure your employees get the appropriate amount of PTO days throughout the year.
Some companies will give their employees all of their PTO at the beginning of the year, or as soon as a new employee is hired. Others will have their staff accrue PTO over the course of a year, based on how many hours or pay periods they work.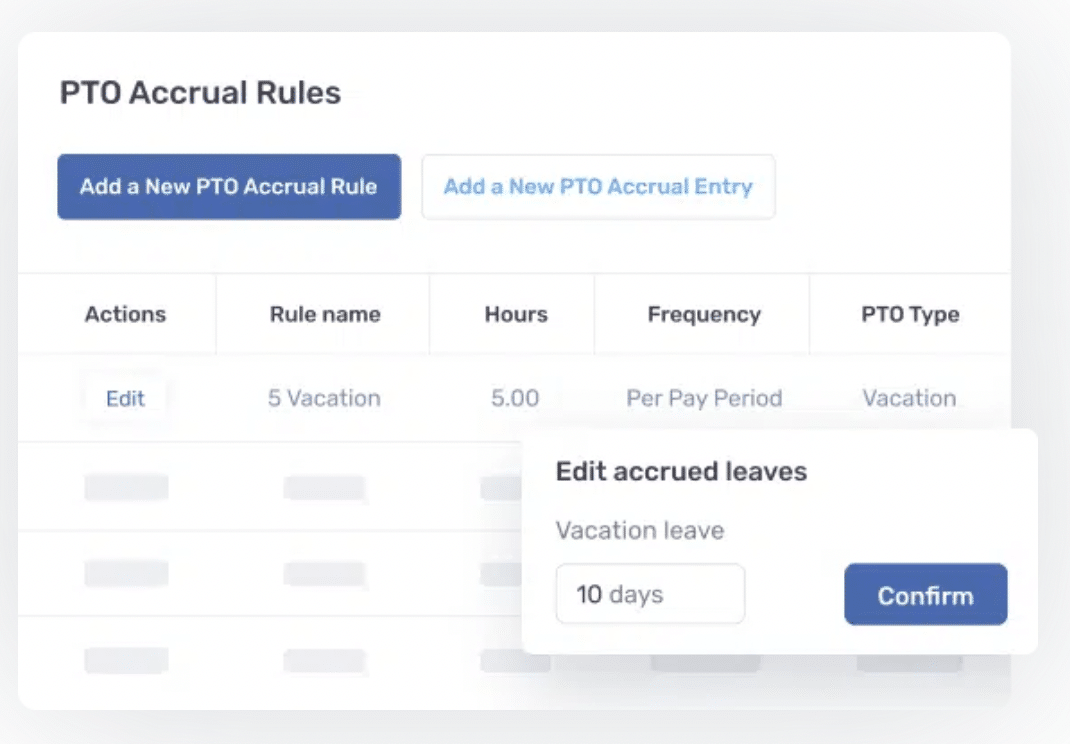 You can customize how accruals work within your Buddy Punch account, specifying which employees get which accrual rules. For example, you may have more seasoned employees who are "grandfathered in" under older PTO policies or you may have different accrual rules for part-timers and full-timers.
You can set accruals to based on:
Pay periods: For example, every two pay periods, your employees will get a certain amount of PTO added to their balance
Hours worked: Here, it goes off of hours, so if someone works overtime within a pay period, they'll get more PTO based on the rules you set than someone who didn't work overtime.
Yearly anniversary: You can also have PTO accrual at each employee's yearly anniversary. For example, if an employee is hired in June and gets 40 hrs a week of PTO, then every June at their anniversary date, they get another 40 hrs.
You can also customize how carry-over/rollover PTO works, i.e., whether or not someone's annual PTO is lost if not used or if it's carried over to the next year.
Plus, with Buddy Punch your team can log into their employee self-service portal and see their PTO balance whenever they want. This saves everyone time, as your team isn't forced to reach out to their managers or human resources department to see how much PTO they have left.
Putting In a PTO Request
Your employees can put in a PTO request on the desktop, or through the Buddy Punch app. Everything is tracked, which means when they put in a PTO request (and it gets approved) your company's time off calendar is updated, along with their individual PTO balance.
Here's how your employees will submit a PTO request via desktop.
They log into their account, and click "Time Off Calendar".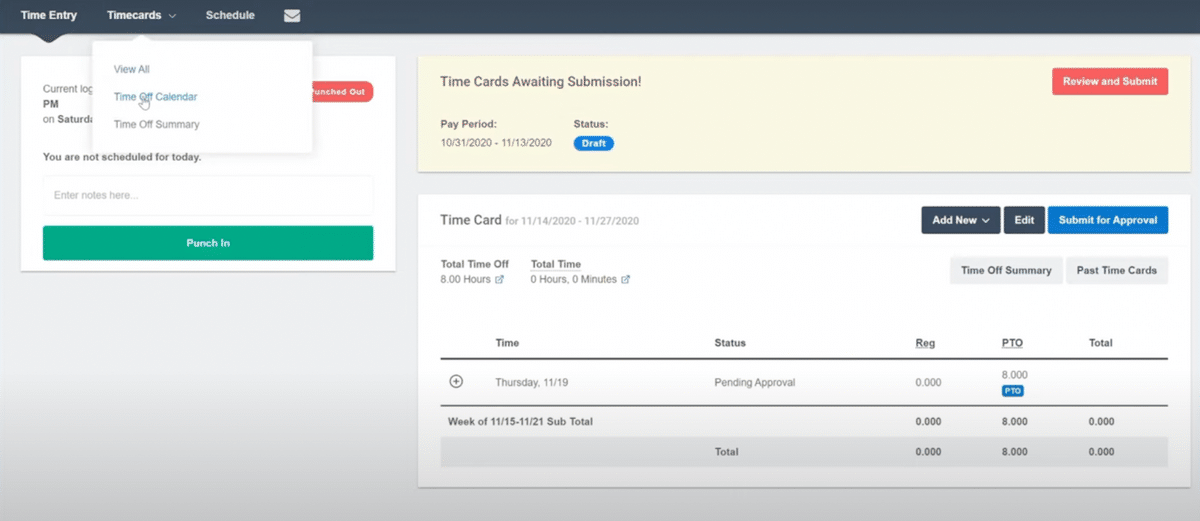 Here, based on your specific settings, they may or may not be able to see who else on the team has already booked time off.
FYI: When appropriate, we recommend that you share this information with your team, as it helps people choose when they request time off and reduces the chance of a PTO request getting denied.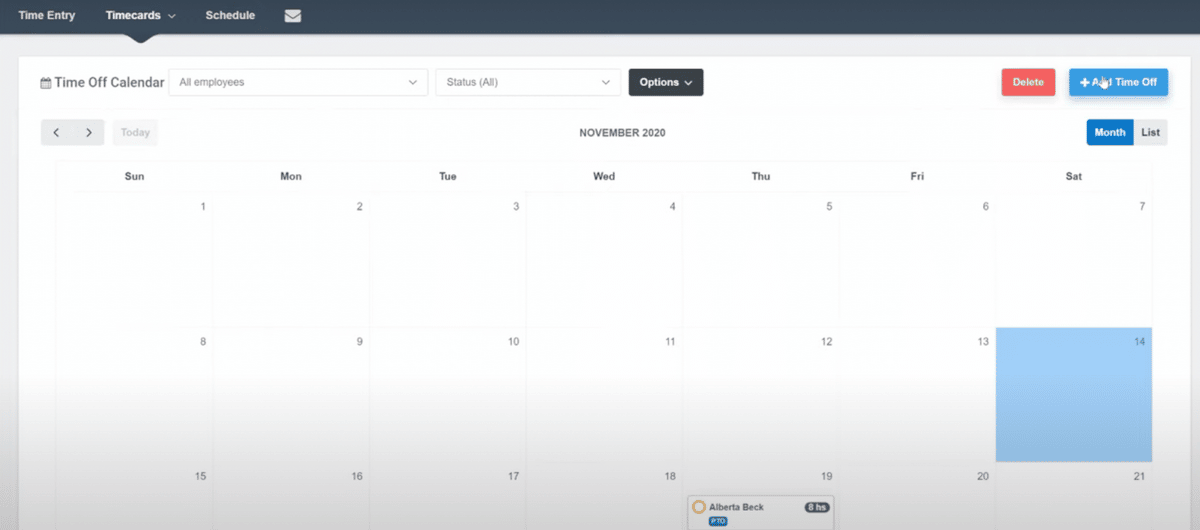 When they're ready to put in a new request, they click "Add Time Off".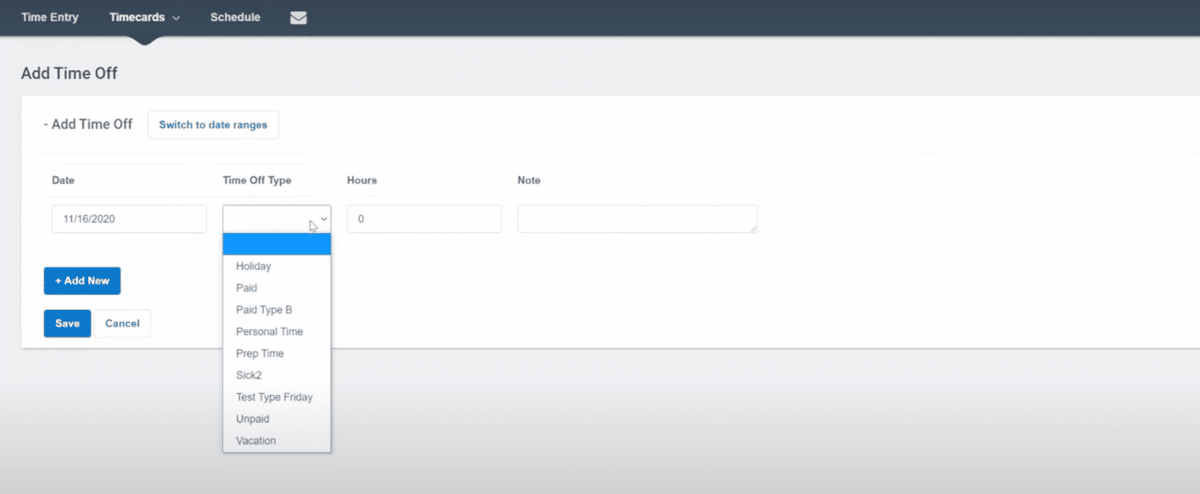 Here they can request just one day off, or select a range. They can also:
Specify the time off type they're taking — such as holiday leave, paid leave, personal time, or whatever other leave types your company offers.
Put in how many hours they're taking — for example, if your employees' PTO is accrued in terms of hours, they can specify how many hours they want to be paid for.
Add any additional notes — including where they're going on holiday, if they'll be reachable, etc.
After that, they click "Save". If their time off request requires approval, then it gets sent to the right person based on your approval workflow.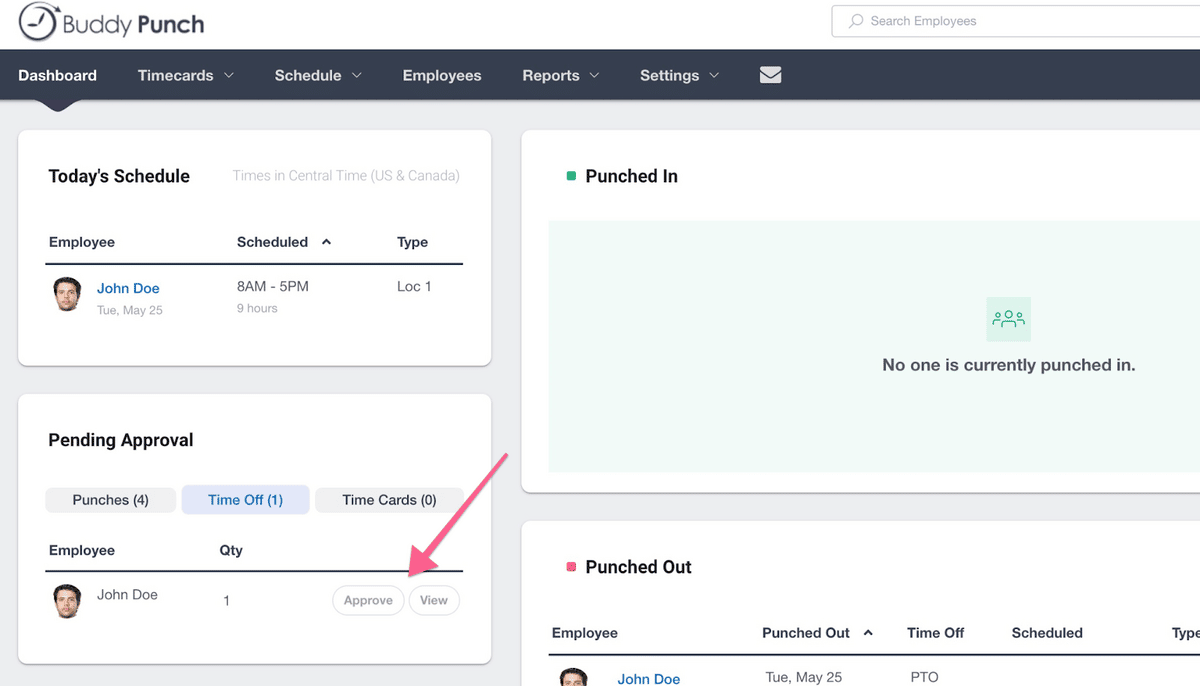 You can also set it up so PTO requests that need approval get sent directly to your email.
If it doesn't require approval, then it's automatically approved, as long as it doesn't conflict with any black out/restricted dates (more on this below).
Mobile app users: Here's a screenshot of the mobile app time off request process.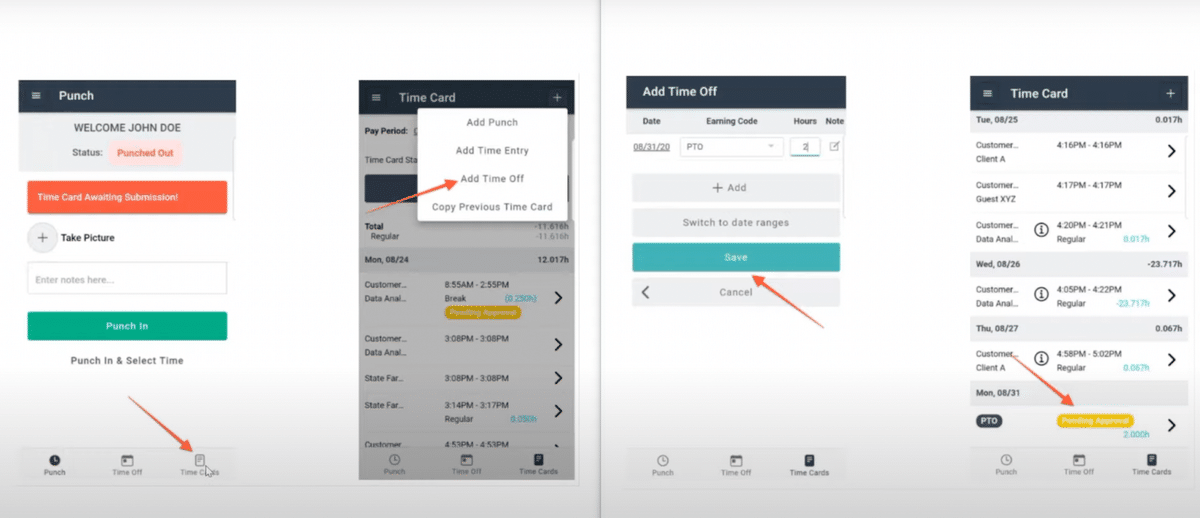 Choosing Which Employees Need Their PTO Approved by a Manager
From your dashboard you can pick which employees (if any) need their PTO approved by a manager.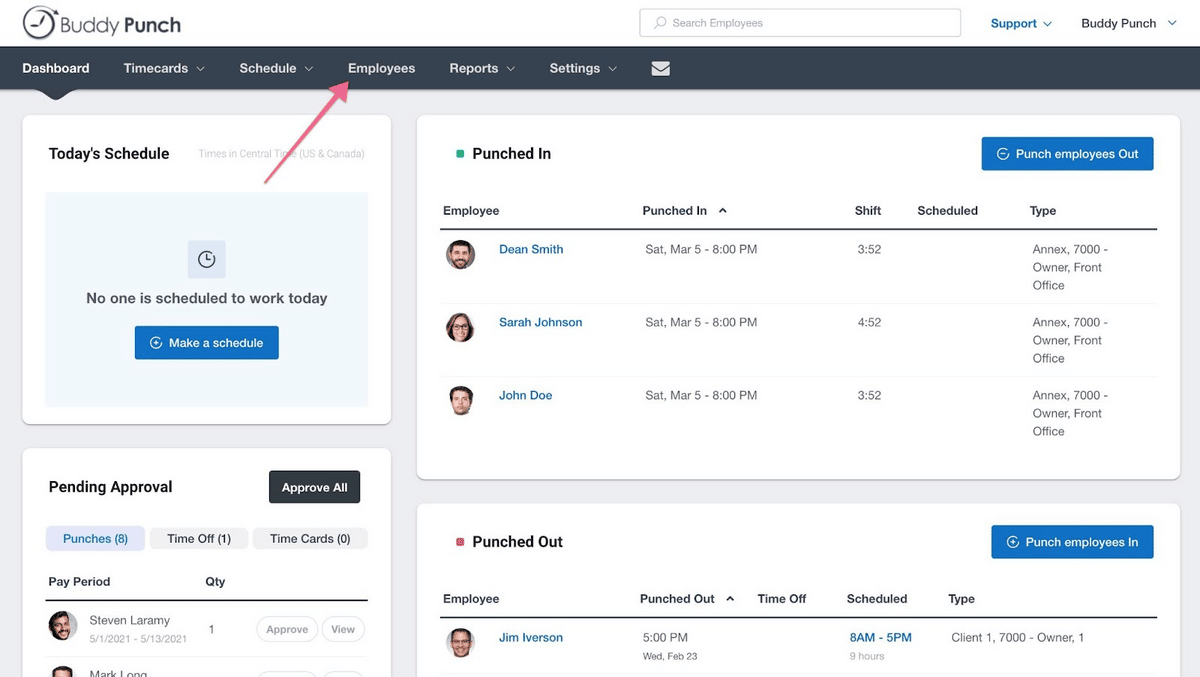 Just go to an employee's profile, and click "Edit".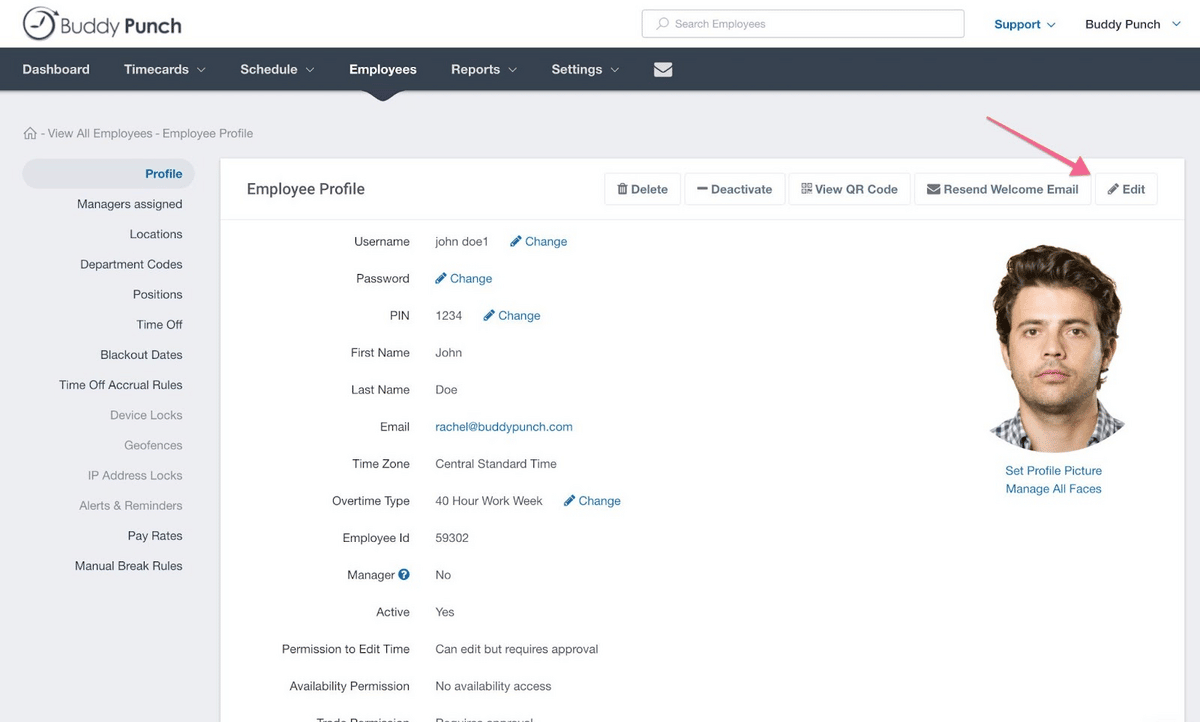 Now you can check that you want their PTO requests to require approval.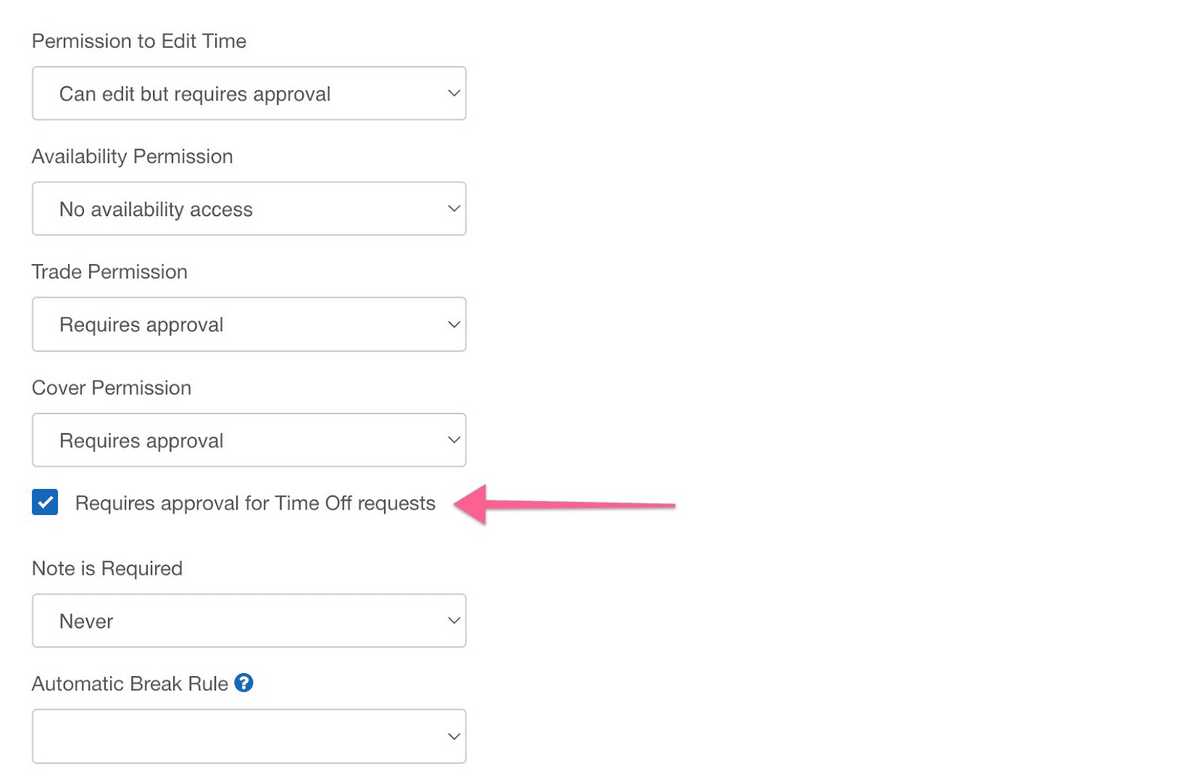 Plus, You Can Turn On Email Notifications
If you do set up an approval process for your team's PTO requests, then you want to make sure your management is responding to these requests in a timely manner.
That way your team isn't stuck waiting in limbo to find out if their PTO is approved.
With Buddy Punch, you can set it up so managers will get an email notification whenever one of their employees — or whoever they're responsible for approving — requests new time off.
This keeps managers involved, and helps them respond to the request sooner rather than later.
Because your PTO is handled by Buddy Punch, you get accurate PTO tracking.
And all of this information is easily accessible. You can quickly pull up PTO summaries from your Reports tab.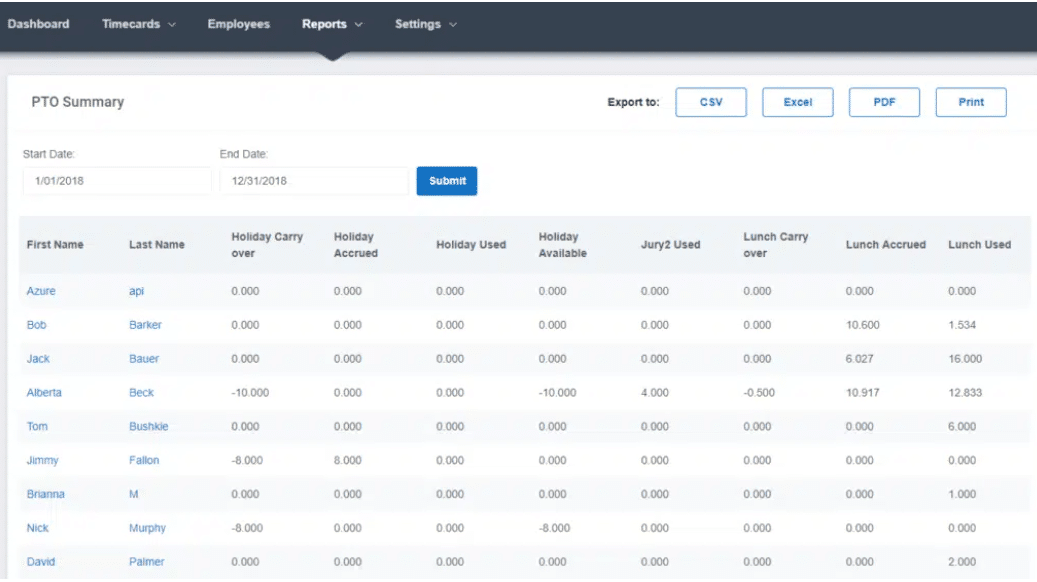 These summaries tell you how much holiday time employees have to carry over, their total holiday time accrued, how much holiday they used in the given time frame, and how much they have left to use.
You can filter this info by date (e.g., a specific payroll period) and export the report as an Excel or PDF file.
Adding Different Types of PTO
Buddy Punch comes with pre-set PTO types (holiday leave, personal time, sick leave, etc.).
But you can customize these leave types, including deleting them, modifying them, or adding more.

When you add a new time off type, you can make it either paid or non-paid. You can also add new time off for specific employees. For example, maybe there are work-from-home days or additional personal days that are only for specific members of your team.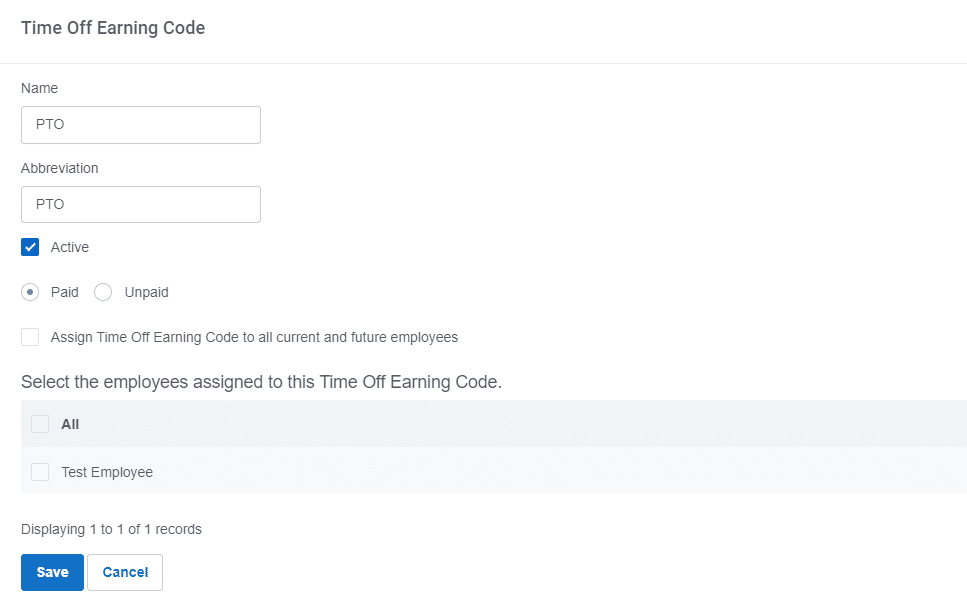 Adding Black Out Dates (i.e., Restricting When Employees Can Take PTO)
Every job has must-work dates. If you work in department store sales, this might be Black Friday or the weekend before Christmas. If you work in the HVAC industry, it might be right before the summer season when customers are realizing their air conditioning units aren't working. If you're managing construction sites, then it might be the final weeks of a specific project.
You can add blackout dates to your time off calendar. When you do this, it's telling Buddy Punch that your team (or just specific employees on your team) can't take certain dates off.
To do this, go to your Buddy Punch dashboard, and under "Settings" click "Time Off".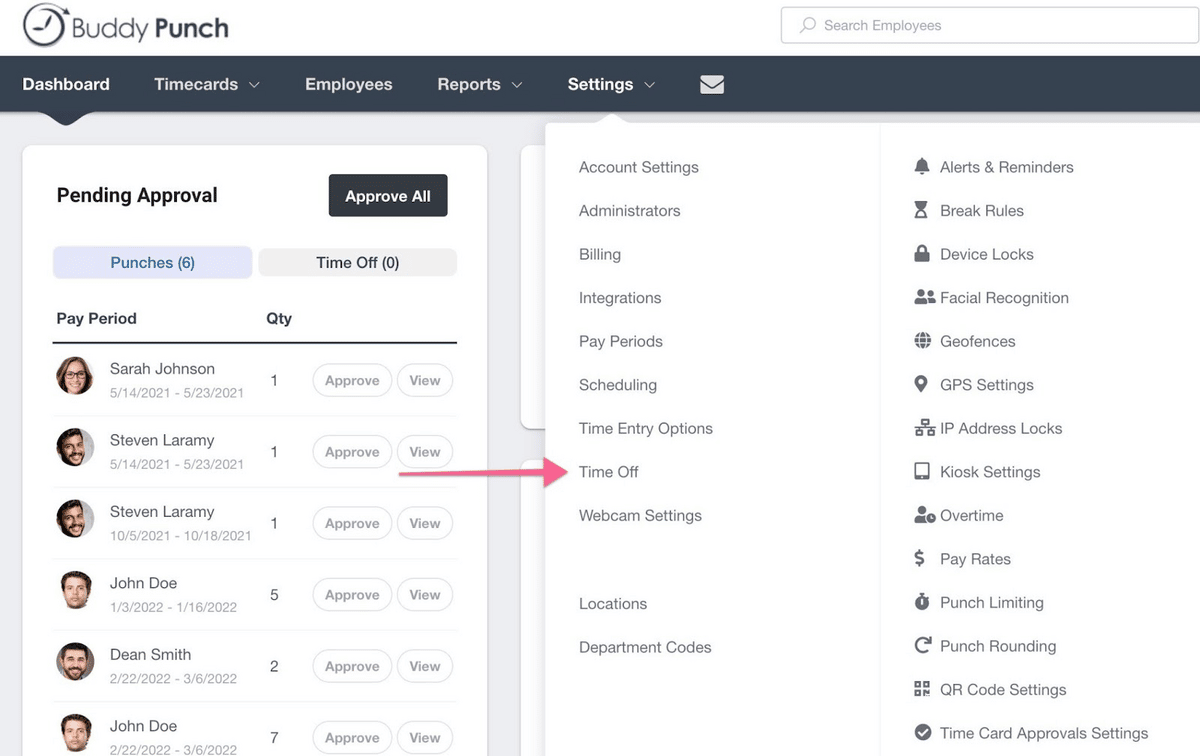 Scroll down to "Black Out Dates", and then click "Add a New Blackout Date". (If you had existing blackout dates, they'd show up and you can edit or remove them.)

Then you pick the date(s) you want to restrict.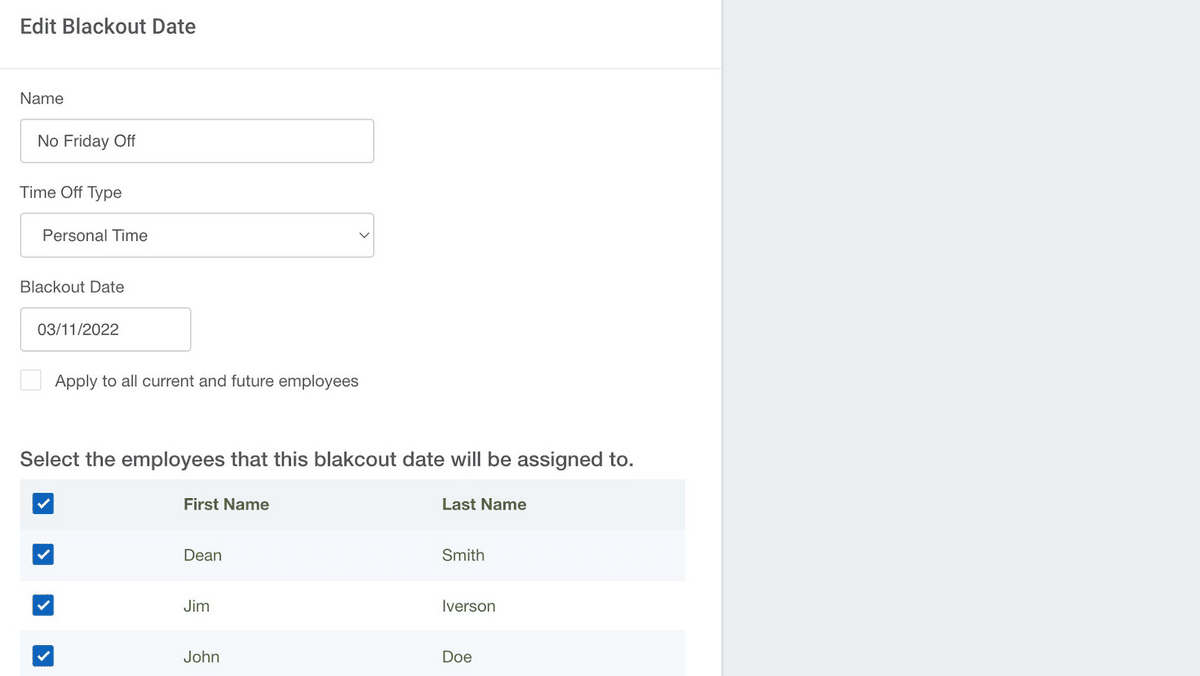 A Quick Recap of Buddy Punch's PTO Tracking Software
Buddy Punch is a time tracking software that lets you record and track everything from your team's daily schedule to their PTO.
With Buddy Punch, you can:
Edit individual PTO balances.


Customize accrual rules.


Give your team tools to: (a) check a time off calendar, (b) see how much PTO they have left to use, and (c) submit new PTO requests.


Approve/decline all leave requests (or let Buddy Punch approve them automatically).


Set restricted/blackout dates on your company calendar.
Plus, you can easily reconcile your team's PTO with payroll in one of three ways:
Use Buddy Punch as your payroll provider.


Set up integrations with common payroll processing systems (like QuickBooks, Paychex, and Gusto).


Export your PTO records out of buddy Punch and into whatever file format you need.
What Customers Are Saying about Buddy Punch's PTO Tracking Software (Real Reviews from Capterra)
As of the writing date, Buddy Punch has 769 reviews and 4.8 out of 5 stars on Capterra, an unbiased, neutral review platform.

Here are some of our real customer reviews that focus on the benefits of using our PTO tracking software:
"The software has all the features that I currently was using in my spreadsheet – but better as it took human error out of the equation! I gained the reports that tallied PTO (employee vacations, sick time, personal time) which I had to pull manually from a spreadsheet. Employees are able to enter their own PTO requests (again a time saver).

Click here to read the full review.
"I like how easy the PTO requesting is for the staff and for admin to approve. ".

Click here to read the full review.
"We use the PTO accrual system and PTO tracker. Buddy Punch is easy to use and easy to figure out. Customer service is responsive. The few times I've needed help (very rare) they were super responsive and made sure my problem was completely solved. Staff loves the mobile app."

Click here to read the full review.
" I really like that it tracks and accrues PTO & holiday hours. I don't have to ask anyone what my PTO balance is!"

Click here to read the full review.
"Buddy Punch is easy to use and to train employees' use. There are features we don't even use that larger companies or ones that do their own payroll processing will find invaluable. We love the accuracy of employee time and PTO tracking."

Click here to read the full review.
Additional Buddy Punch Features (e.g., Employee Scheduling, Overtime Calculations, and More)
Above we looked at the PTO features of Buddy Punch, from setting accrual rules to handling PTO requests.
But there are other Buddy Punch features that your company might find valuable, including:
If Buddy Punch sounds like the right PTO tracking software for your needs, sign up for a free trial. If you want to learn more, you can schedule a one-on-one demo.
If you want to learn about different PTO tools, keep reading below.
Option #2: Clockify

Clockify is a task management tool and a PTO tracking system. It's a popular tool for independent contractors and freelancers as they can track billable hours. Plus, it has some pretty nice features under its free plan, such as:
Unlimited time tracking (i.e., time spent working on tasks).
Timesheets.
Kiosks.
Calendar.
And more (see below or head to the Clockify pricing page)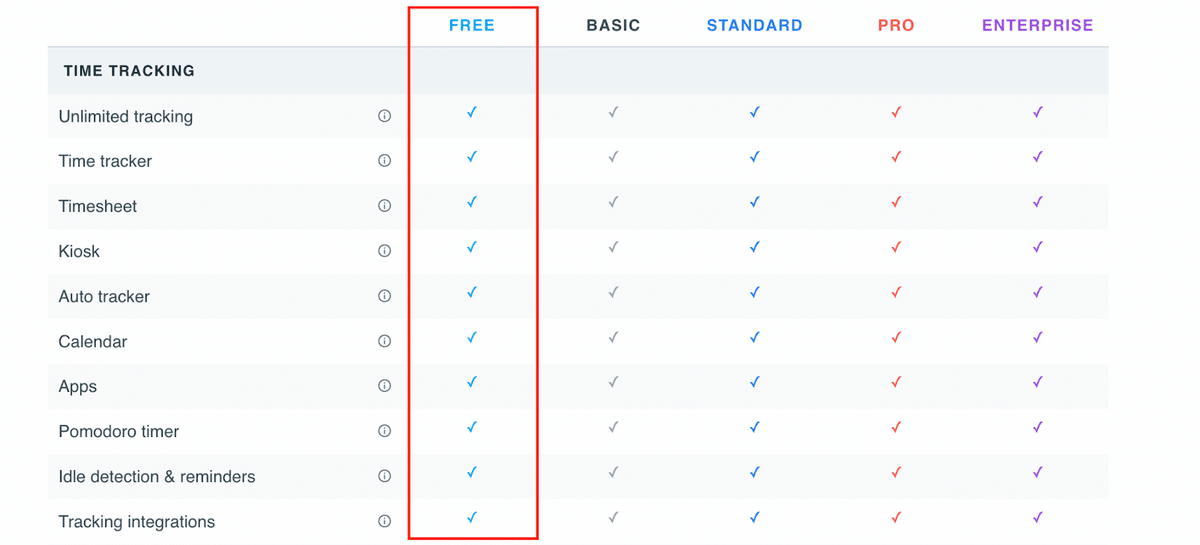 But if you want to use Clockify for paid time off tracking, then you're going to need at least the standard plan.
On its paid plans, Clockify offers a variety of features and functionalities, including:
Here's a short video on Clockify:
As of this writing date, Clockify has over 4,000 reviews and 4.7 out of 5 stars on Capterra.
Option #3: BambooHR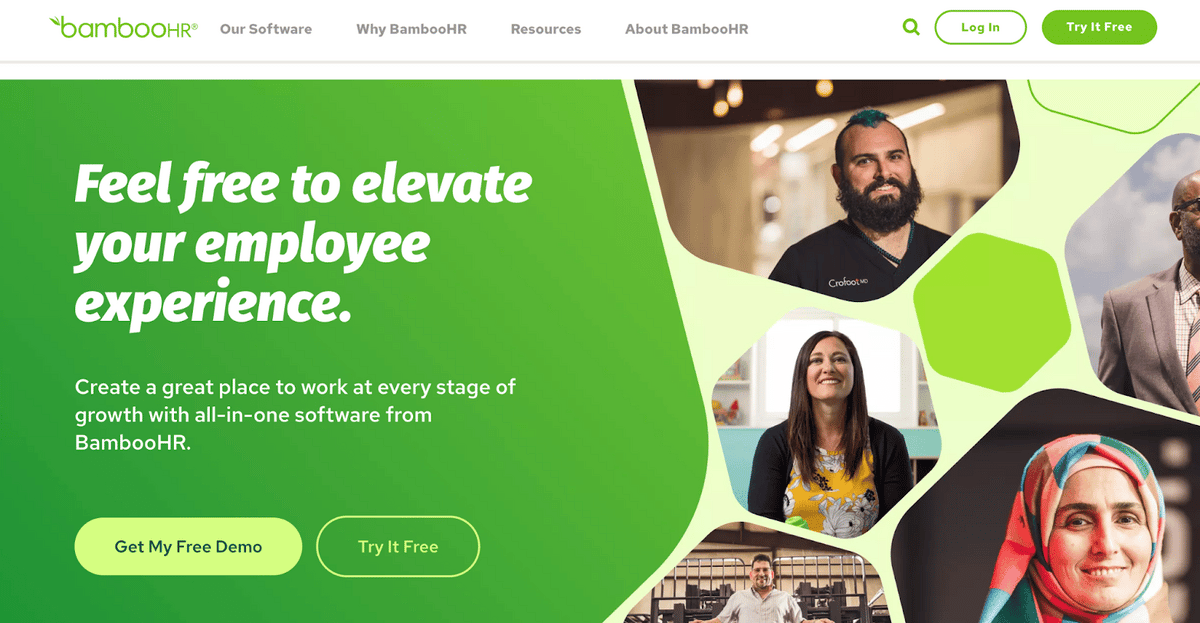 BamboorHr is one of many HR tools where you and your HR managers can handle different aspects of your business, such as recruiting and onboarding, performance reviews, and PTO Tracking, from one tool.
Here are just some of BambooHR's features:
Here's a brief video overview of how BambooHR works
As of this writing date, Clockify has over 4,000 reviews and 4.6 out of 5 stars on Capterra.
Option #4: Factorial HR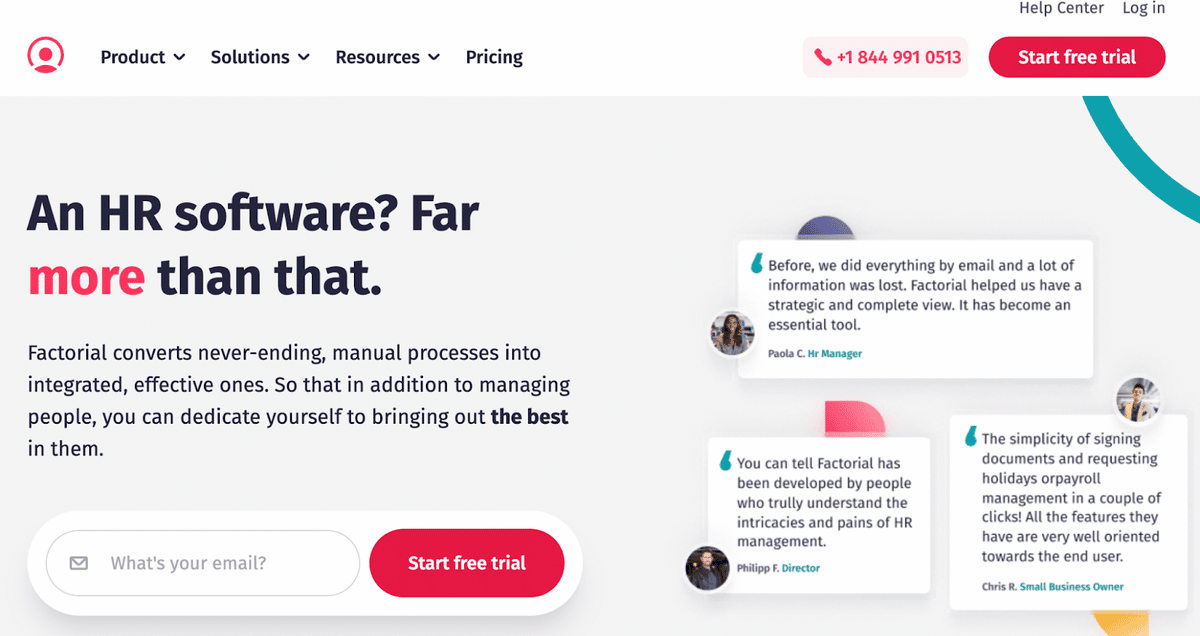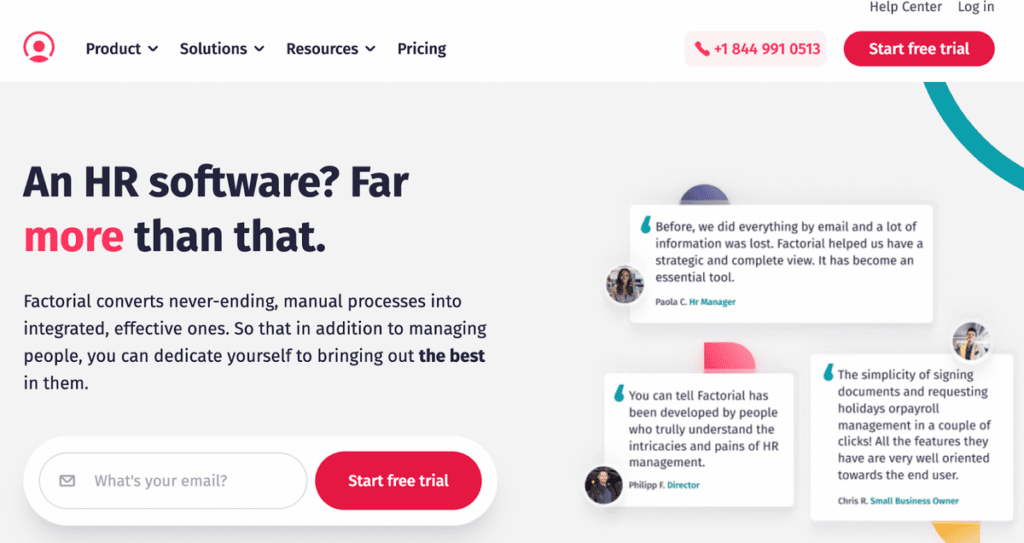 Similar to BambooHR, Factorial HR is HR software that has a variety of different features, including:
Here's a brief video going over a high-level overview of how FactorialHR works:
As of this writing date, FactorialHR has 208 reviews with a 4.5 star rating.
Option #5: Sling
Sling is more famous for its free scheduling tool, but it does offer PTO features in its paid plan.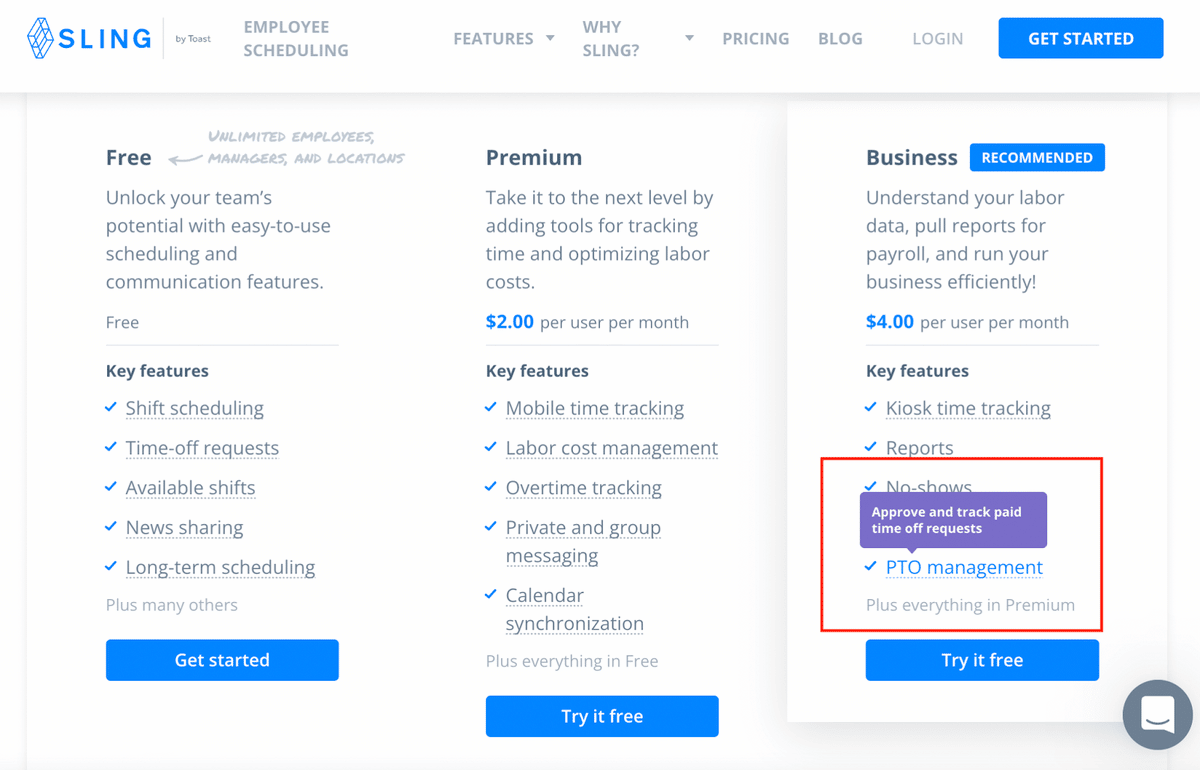 As of this writing date, it has 117 reviews and 4.6 out of 5 stars on Capterra.
Out of those 117 reviews, no one is commenting on the paid PTO features, but instead they're reviewing Sling's free scheduling app.
"My company uses the free version of Sling, and for something that is cost free it's really wonderful. It's easy to navigate, and the messaging system has come in handy for us when our main method of communication (Slack) is down."

Click here to read the full review.
For more information on how Sling works as a scheduling system and PTO tracking software, you can watch this ten minute demo.
Option #6: Kissflow HR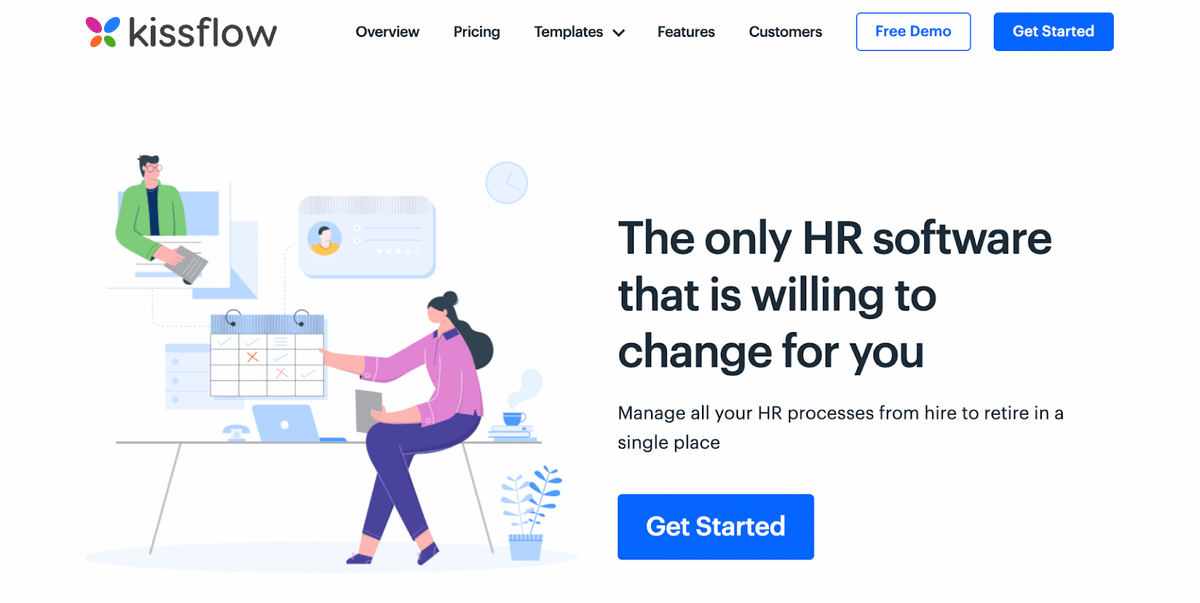 Kissflow is a low-code platform. That means you can customize the software to your specific HR processes. They also have templates to help you get started.
Here are some of the features that you get with Kissflow HR:
Here's a detailed, 10-minute demo of how you can use Kissflow's low-code platform to automate key processes, including PTO tracking. You can watch the demo to see if Kissflow's low-code platform is good for you and if you'll need some help from a development team to get it working the way you want.
As of this writing, Kissflow has 36 reviews with a rating of 3.9 out of 5 stars on Capterra.
Option #7: LeaveBoard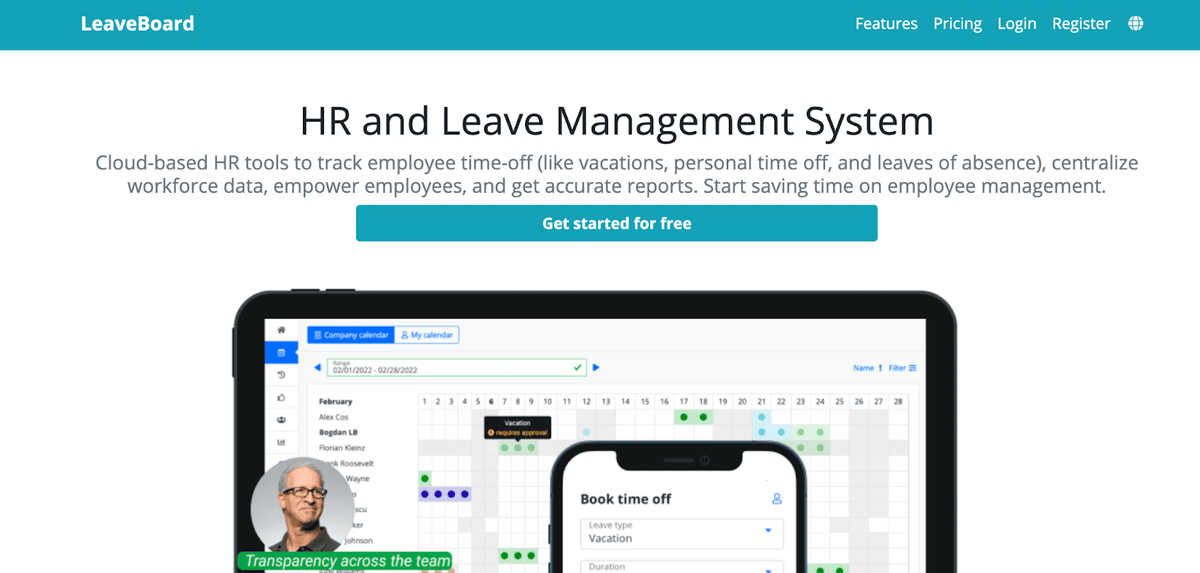 LeaveBoard is a more stripped-down leave tracker, so there aren't features like a clock-in and clock-out system or a way to submit payroll. It's all about leave management.
Instead, you get the features you need for an employee vacation tracking system, including:
LeaveBoard has a free plan for teams of 9 or fewer employees, where you can track time off and view an absence calendar. So if you're a relatively small company without shift workers or a need to track time worked, then LeaveBoard might be worth considering.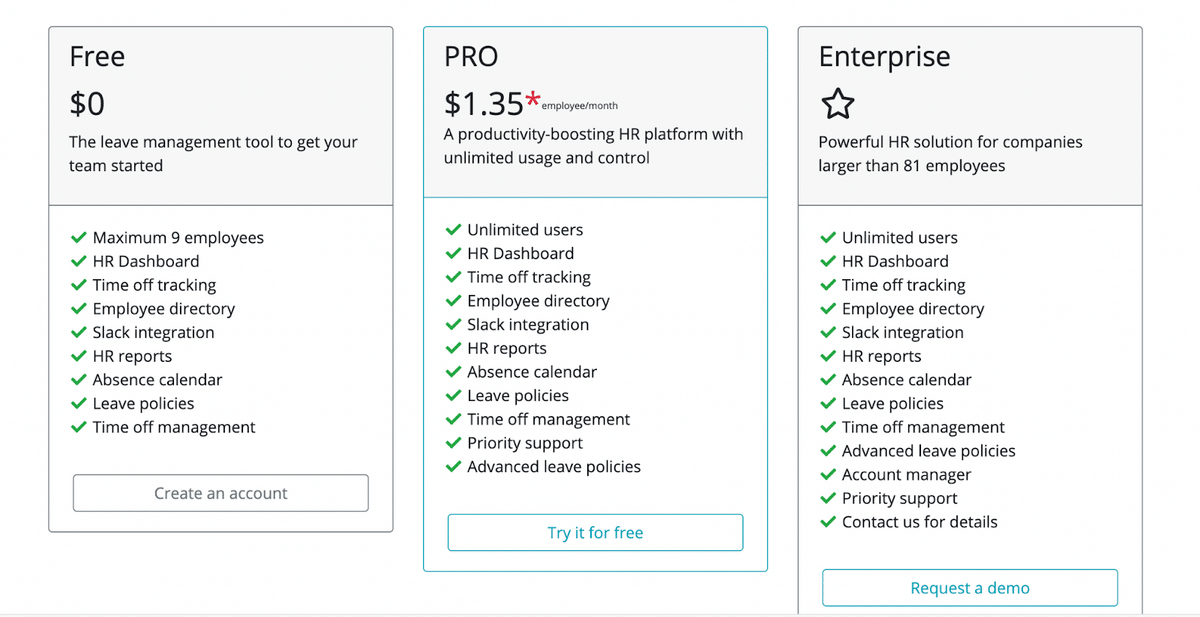 Here's a detailed video showing you how Leaveboard works as vacation tracking software:
As of this writing, LeaveBoard has a 4.4 star rating on Capterra, but only 5 reviews.
Learn More About Buddy Punch and Start a Free Trial
You've reached the end of our article on finding the best PTO tracking software. If you'd like to explore Buddy Punch in greater depth, we invite you to:
Read more about PTO tracking and time tracking in these articles: