QuickBooks Time Tracker: 5 Powerful Time Clock Apps That Integrate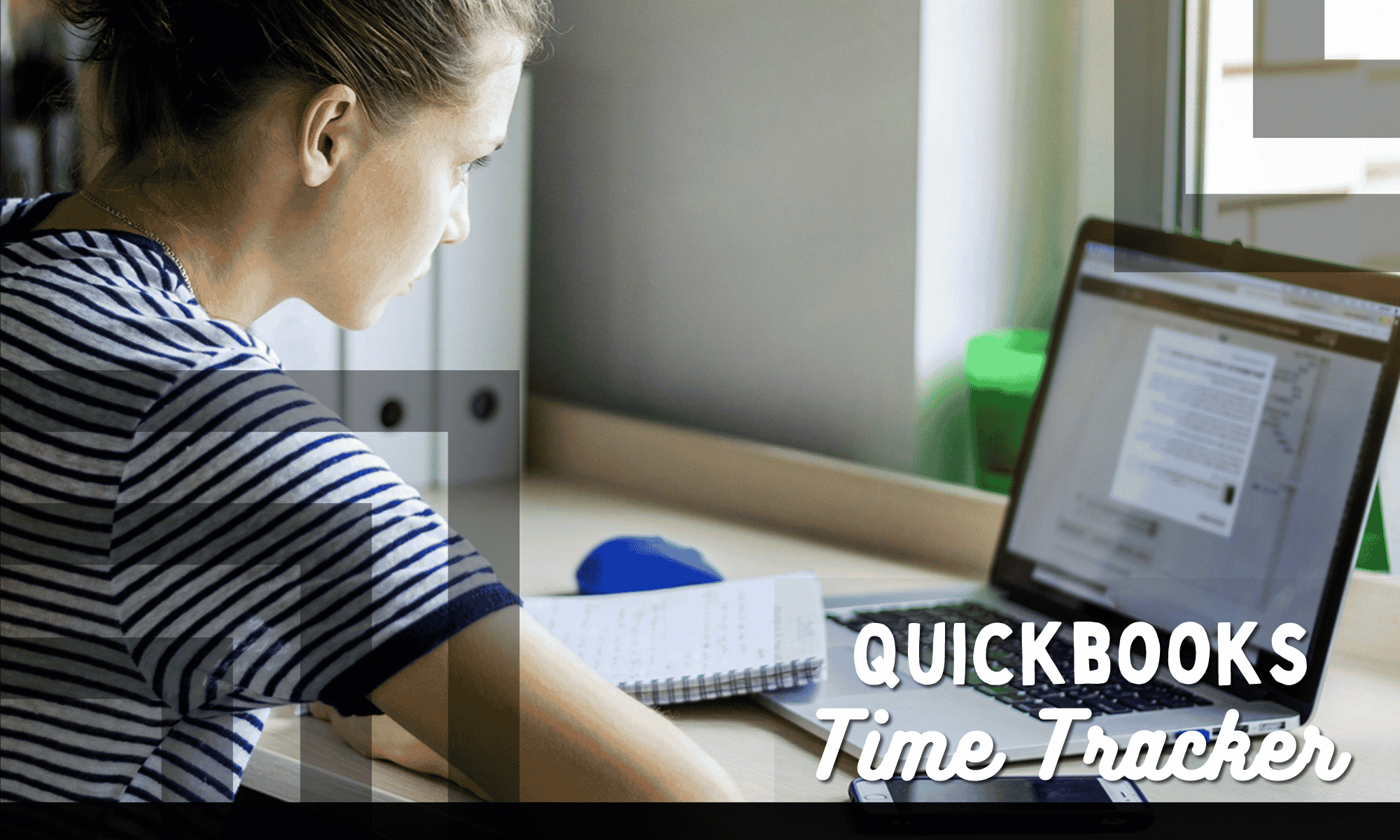 QuickBooks is one of the most popular business accounting apps for two reasons:
They've been serving business owners and accountants since 1998
They feature a wide range of functions in an easy-to-use interface.
Thankfully, QuickBooks Time (formerly known as TSheets) also allows for other time tracking apps to integrate with its software, meaning that if you find another time tracker that has functions you need in your workforce, you can make use of it in tandem with QuickBooks.
Below, we're going to list out some of our favorite apps that can be used specifically for this purpose. While we very much appreciate Intuit QuickBooks Time Tracking, sometimes we've found it's best when used in combination with other time clocks.
Quickbooks Time Tracker Options:
Topping our list of time tracking apps that work with QuickBooks, we have Buddy Punch. What makes Buddy Punch so valuable as a tool to pair with QuickBooks' time tracking app is its focus on three core tenants: Accountability, Simplicity, and Streamlining.
Accountability – When we were designing Buddy Punch, we wanted to make sure that employees would be held accountable for hours worked and tasks completed while on the clock. Never should a manager have to wonder "Who's Working?" This was achieved through features such as GPS tracking, Geofencing, OT Calculations, and Drag & Drop Shift Scheduling.
Simplicity – Once we started to add more features to Buddy Punch, it became clear there was a possibility that our software would become too complicated on either the administrative side or for employees. To remedy that, we made sure we included features in simple and intuitive ways, and added tools such as Punch Rounding, Notifications, and Automatic Breaks to make it easy for managers to deal with employee timesheets.
Streamlining – Lastly, we wanted to make sure that Buddy Punch fit in smoothly with your current operations, if not outright improving them. That's why we added features like Payroll Integrations with multiple popular software, including QuickBooks Online, QuickBooks Desktop, and QuickBooks Payroll.
Next, we're going to dive deeper into each of these features we've mentioned to show how they can improve your workforce management.
Note: You can get a much better feel for Buddy Punch by diving into the program yourself. Each of our pricing plans comes with a 14-day free trial.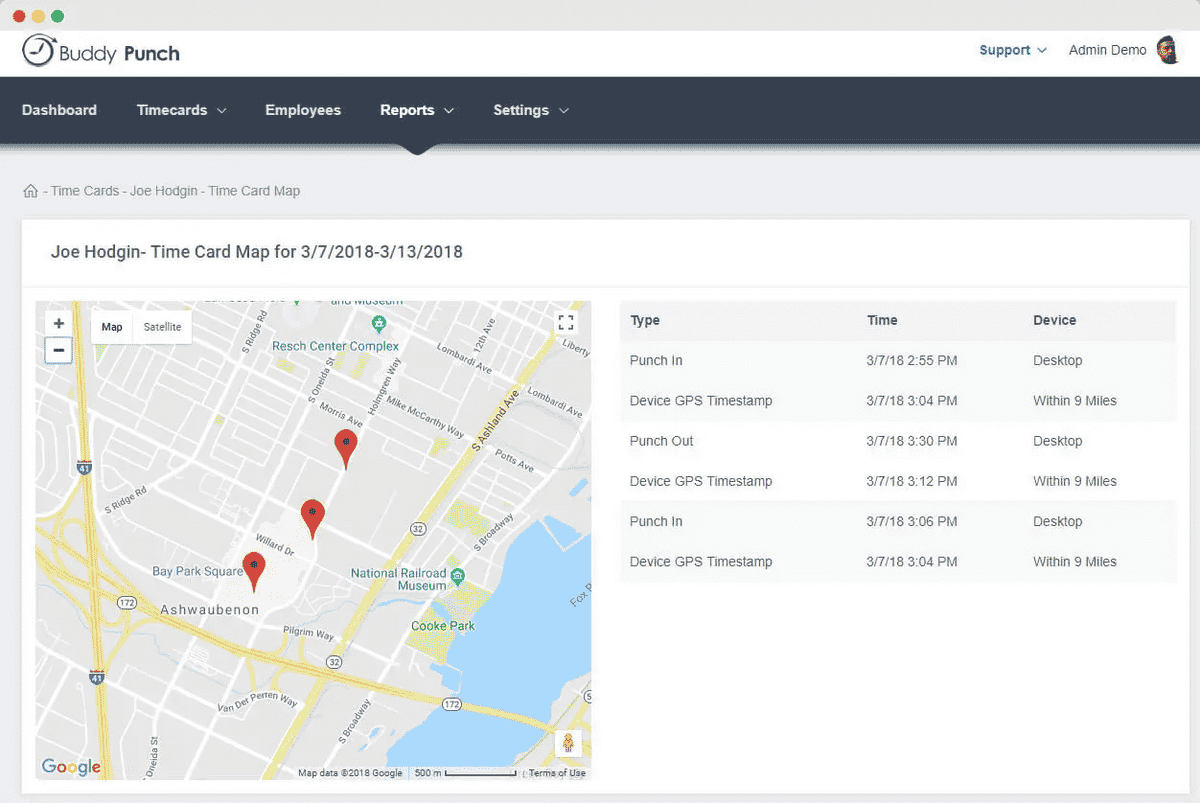 Buddy Punch's GPS Tracking feature is perfect for business owners who want to retain control over where and when their employees clock in, even while working remotely. With this, you can view GPS punch ins individually or group them together for an overview of your whole team (all on an interactive map).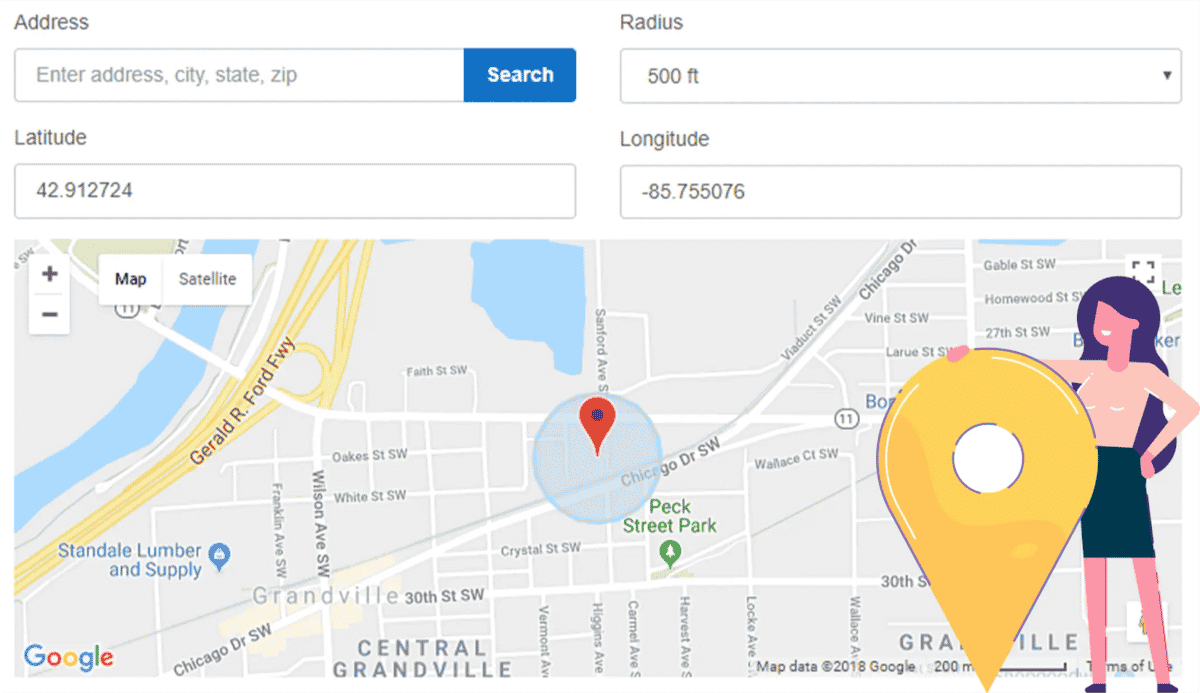 With the Geofences feature, you can create authorized clock in zones wherever you want your employees to be able to clock in. If they ever try to log time outside of your designated employee locations, they'll receive an error notification and be denied the ability to start tracking time.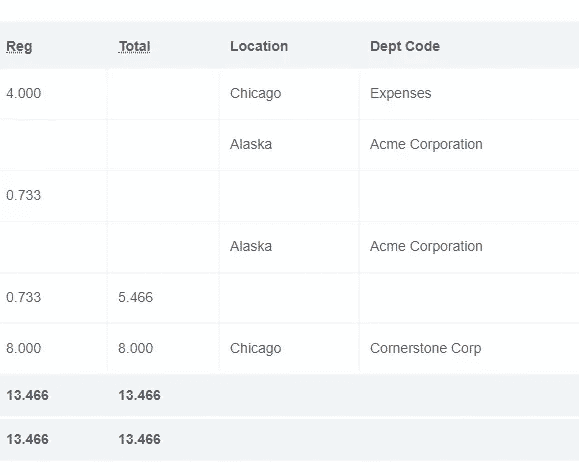 With the Overtimes Calculations feature, you never have to lose track of time and a half times pay again. You can choose from a dozen different overtime types to catalog each employee by, and can even get a new type added simply by reaching out to us.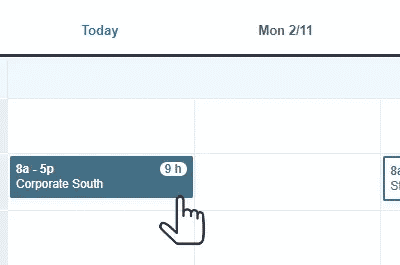 In Buddy Punch's shift manager, you can create a shift simply by clicking on an empty cell. Then you can drag and drop it wherever needed, giving you a visual overview of your workforce's employee hours for the week. Once you're done, publish the shift and employees will receive a notification.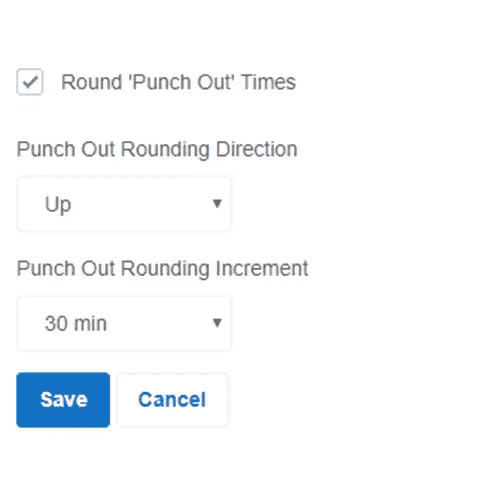 If you were to set up Buddy Punch as a time clock kiosk, you would find that employees' hours slowly got out of sync as the line to clock in progresses. With Punch Rounding, you're able to pick an interval from 2 minutes to 30 minutes for employee clock ins to be rounded up, down, or to the nearest interval.

The notifications feature in Buddy Punch allows administrators to notify employees of major schedule changes, and employees to notify managers when they'd like to request time off, or when they clock in. This feature improves communication and allows both sides to focus on tasks rather than worrying about missing out on important updates.

Feel like employee hours are being reported a little inaccurately? You can deploy the Automatic Breaks feature to deduct time from employee time cards depending on the specifications you set up. Add as many break rules as you require to ensure your time cards are accurate by the end of each pay period. Set and forget.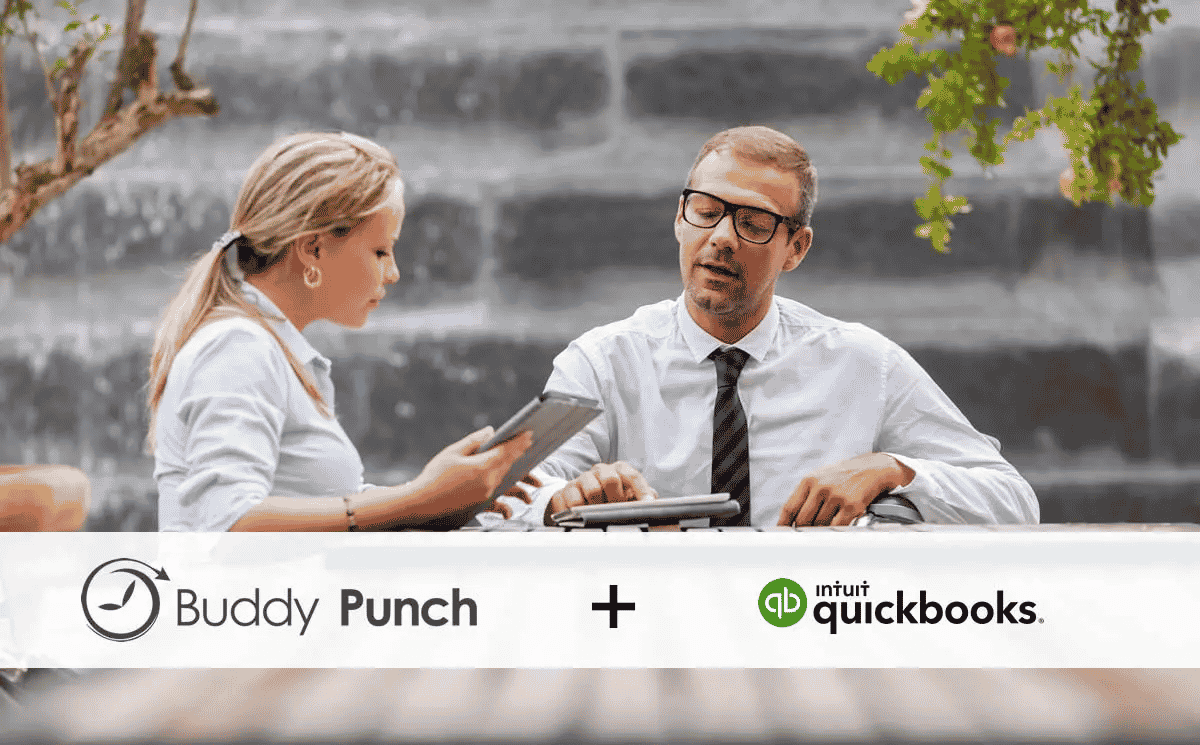 BuddyPunch only requires a few steps to sync your data between it and QuickBooks Online. You'll never have to manually enter your employee hours again. That data is then transferred automatically to QuickBooks, where it can be used for accounting and payroll management.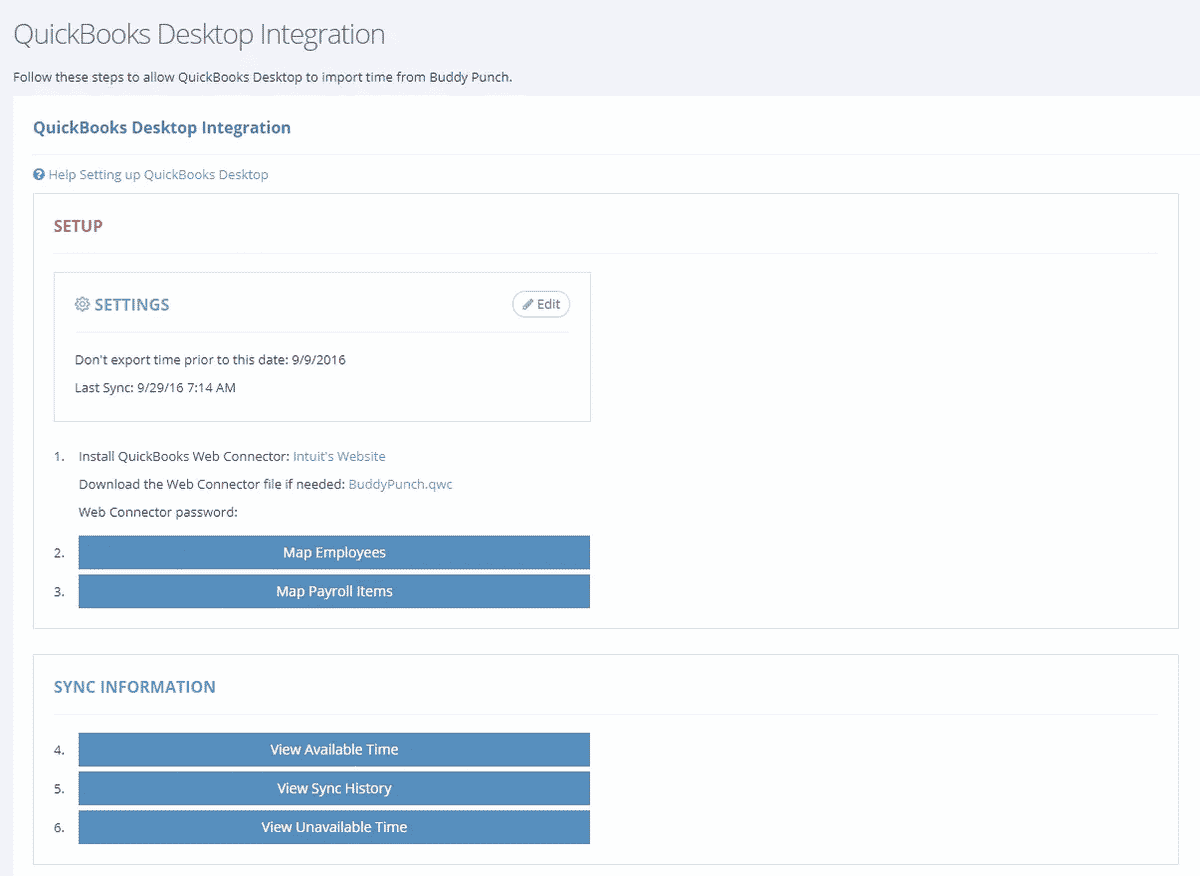 If you want time tracking for QuickBooks Desktop, Buddy Punch has you covered. Once you've setup Buddy Punch, you can transfer time via the QuickBooks Desktop Integration. This will allow you to map employees, payroll items, and sync available time, history, and more.
Setup is very quick, starting with connecting to the Intuit inc. QuickBooks time tracker login.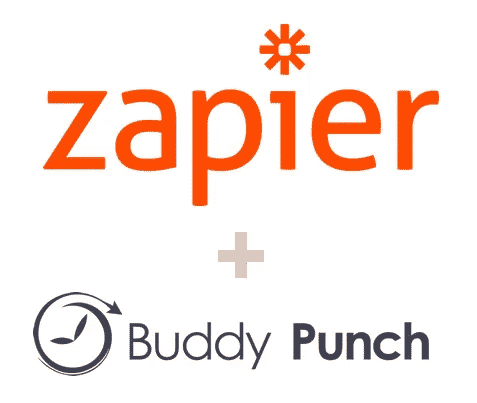 We've already touched on Buddy Punch being great for time tracking with QuickBooks, but we work with plenty of other popular payroll software, such as Paychex, ADP, and more. Click here to view the full list – it's much more expansive than just QuickBooks Integration. Combining Buddy Punch with your favorite payroll system or accounting software will help you save hours of manual time data entry.
Buddy Punch Offers Many Other Features
Buddy Punch is a lot more than a QuickBooks compatible time tracker, and it's even more than what we've mentioned so far. This is an elite software with functionalities such as:
Forget about paper timesheets, forget about micromanaging, and forget about struggling to stay organized. QB + Time Tracking via Buddy Punch will solve just about any workforce management issue you could ever encounter.
Our relationship with the QuickBooks Time Track App is far from one sided. We're listed under the intuit time tracker app directory, which can give you some brief information about how other QuickBooks customers make use of our software. Other information listed includes Reviews, Similar apps that function like Buddy Punch, and FAQs.
Furthermore, Buddy Punch provides a constantly updated blog center with useful articles for business owners, has a help doc center that shows how to best utilize Buddy Punch, and provides a responsive customer support team that you can always reach to answer questions or even provide a personalized, one-on-one demo of Buddy Punch.
Buddy Punch's Online Reviews
As of this post's writing date, Buddy Punch has 4.8 out of 5 stars and 686 reviews on Capterra.

Below, we'll list just a few reviews that speak to Buddy Punch's efficient and integration with QuickBooks. (Click here to explore the full list of reviews.)
"Buddy Punch has been a super efficient business solution for our office. It is very user friendly. The integration with Quickbooks has streamlined our payroll which has been a huge plus. Most importantly to me as the administrator who's been responsible for the complete set up and training of all staff- the Buddy Punch customer service team has been absolutely outstanding!"

Click here to read the full review.
"What I love most about Buddy Punch is how simple it is for employees to clock in and out, add their lunch breaks, and write notes about their shifts. I also love how easy it is for me to import it into QuickBooks and pay payroll with it! Before I used Buddy Punch I was keeping time manually with 3 employees and it drove me crazy. Now I have over a dozen employees and I do not know what I would do without this software."

Click here to read the full review.
"Simple to use and easy to contact a customer service rep with questions. You can easily transfer the hours into Quickbooks! (and other programs I believe)"

Click here to read the full review.
"Pros: GPS Tracking on log-in Picture capture on log-in Eliminates the head aches of chasing hours for employees and applying it to certain jobs Simple reports sent directly to our management team on day of running payroll Quickbooks migration"

Click here to read the full review.
As these reviewers noted, Buddy Punch was user-friendly and its integration with QuickBooks payroll time tracking helped managers streamline their employee payments.
Try Buddy Punch for Free
If you're starting to believe that Buddy Punch might be your desired time tracking app for QuickBooks, sign up for a 14-day free trial. You can also book a one-on-one demo, or view a pre-recorded demo video.
When I Work integrates with QuickBooks Online Time Tracker for managing employees and exporting pay period hours. This is only compatible with QuickBooks Online Plus with Payroll in the United States, India and Canada.
Beyond that, When I Work offers various features and functionalities such as:
As of this post's writing, When I Work has 4.5 out of 5 stars and 931 reviews on Capterra.
"This App is EXCELLENT for restaurant scheduling. It makes it very easy to swap shifts and see everyones work schedule without having to call every single person you work with."

Click here to read the full review.
TimeCamp is a time tracking software that connects with QuickBooks through a simple integration. TimeCamp itself is a diverse tool that works on iPhone, Android, and Desktop devices.
Some of its key features include:
At the time of writing, TimeCamp has a total of 555 reviews on Capterra (see here), with an average of 4.7 out of 5 stars.
"If I write about pros, I would say it is a feature rich product which is super easy to use. This is the product that has introduced so many ways in order to manage time perfectly. It is playing a vital role in running our business. Another biggest advantage is that it keeps us organized and make us aware about tracking activity for projects. Its user friendly interface compels me to prefer this product."

Click here to read the full review.
As of January 2022, Connecteam is another time clock that integrates with QuickBooks. We'd especially recommend it if you're looking for something to combine with the QuickBooks Time Mobile App. Some of Connecteam's features include:
As Connecteam themselves describe, using their program with QuickBooks time tracker software lets you calculate overtime, PTO, total hours, and absences, all in a format you can easily export. Furthermore, Connecteam works on iOS, Android, and tablet devices.
As of this post's writing date, Connecteam has 4.7 out of 5 stars and 151 reviews on Capterra.
"Reasons for Choosing Connecteam: I reviewed several similar apps (Tick, and several which I don't recall), and Connecteam seemed like the easiest to implement. It was. QuickBooks timekeeping app only works with the Online version, which we don't use, and is expensive."

Click here to read the full review.
5. Clockify
Clockify is another potential option to connect to your existing QuickBooks online account. NOTE: This integration only works with QuickBooks Online (Essentials or Plus plan). It does not support QuickBooks Desktop, or the QuickBooks Online Simple Start Plan.
Some of Clockify's key time management features include:
At the time of this article's writing, Clockify has a total of 4167 reviews on Capterra (see here), with an average of 4.7 out of 5 stars.
"I first tried TSheets because it has a direct integration to QuickBooks for billing, but I found Clockify to be a better user experience."

Click here to read the full review.
Choosing The Best Employee Time Tracking App for QuickBooks
While we only highlighted a select few time clocks in this post, QuickBooks is so popular that you can likely find many different potential time clocks to use depending on what you feel your team members would best take to.
If you want a time tracking mobile app software that connects with QuickBooks, you might find that TimeCamp fits your style. If you think that checklists and forms are mandatory for your time clock, Connecteam is the call to make.
But, if what you ultimately want is a versatile time clock app for tracking employee hours – one that's intuitive enough for any employee to use, with plenty of functions you can enable or disable depending on what your workforce needs are, you really can't go wrong with Buddy Punch.

Try Buddy Punch for Free
If you feel that Buddy Punch could be the solution to your QuickBooks Time Tracking needs, sign up for a free trial. You can also book a one-on-one demo, or view a pre-recorded demo video.

You May Also Like…