5 Best Time Clock Software for Small Business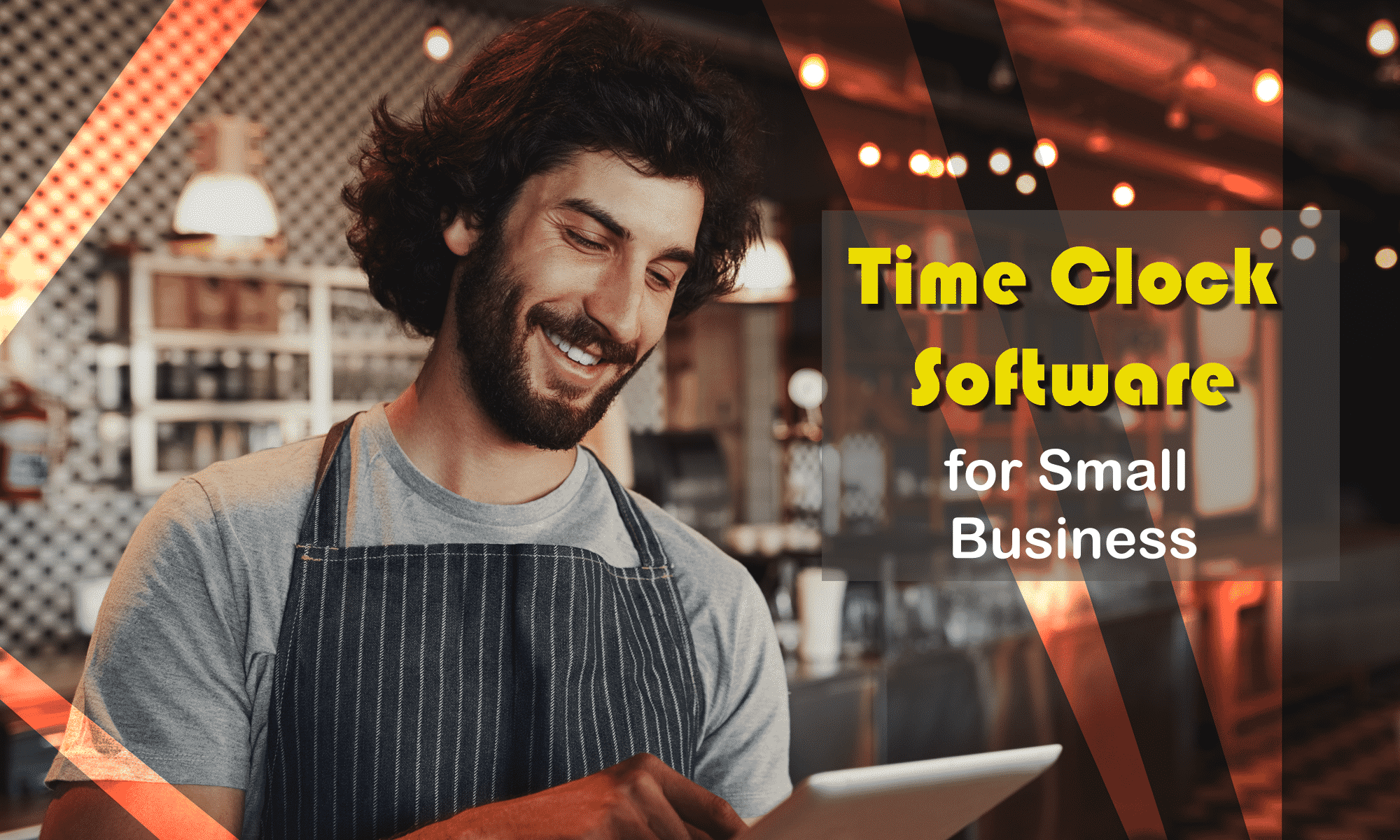 In the US, there are nearly 32 million small businesses. Local enterprises are, undoubtedly, the main pillar of the nation's economy, but they are also the business category hardest hit by the pandemic and economic crisis.
But now that the economy is bouncing back, there has never been a better time to expand your small business or establish the foundations of a long-lasting local enterprise. Of course, for all this, you need to acquire what will be your business's most important asset: a team of talents. But, for over 63% of small businesses, hiring and retaining qualified professionals is a significant challenge.
Luckily, the right time clock software for small business can help you maximize your team's efficiency, automate employee scheduling, and streamline your entire payroll. All of this is vital to building a reputation as a responsible and honest employer, which, amidst the Great Resignation, can give you the competitive edge you need to attract top talents.
So, what is the best time clock software to consider? Learn about the best options on the market below.
Best Time Clock Software for Small Business
Buddy Punch
A Quick-Start Guide To Our Time Clock Software Dedicated To Small Businesses
If you are a small business owner, the chances are that you will be looking for two main features in the best time clock software to manage your team: versatility and simplicity. As we are about to see below, Buddy Punch offers a wealth of unique features that cater to the needs of small businesses – but it is also the simplest software to use.
Let's start with an overview:
No need to invest in specialized hardware: your employees can clock in and out on an Android or iOS device of your choice through the Buddy Punch app.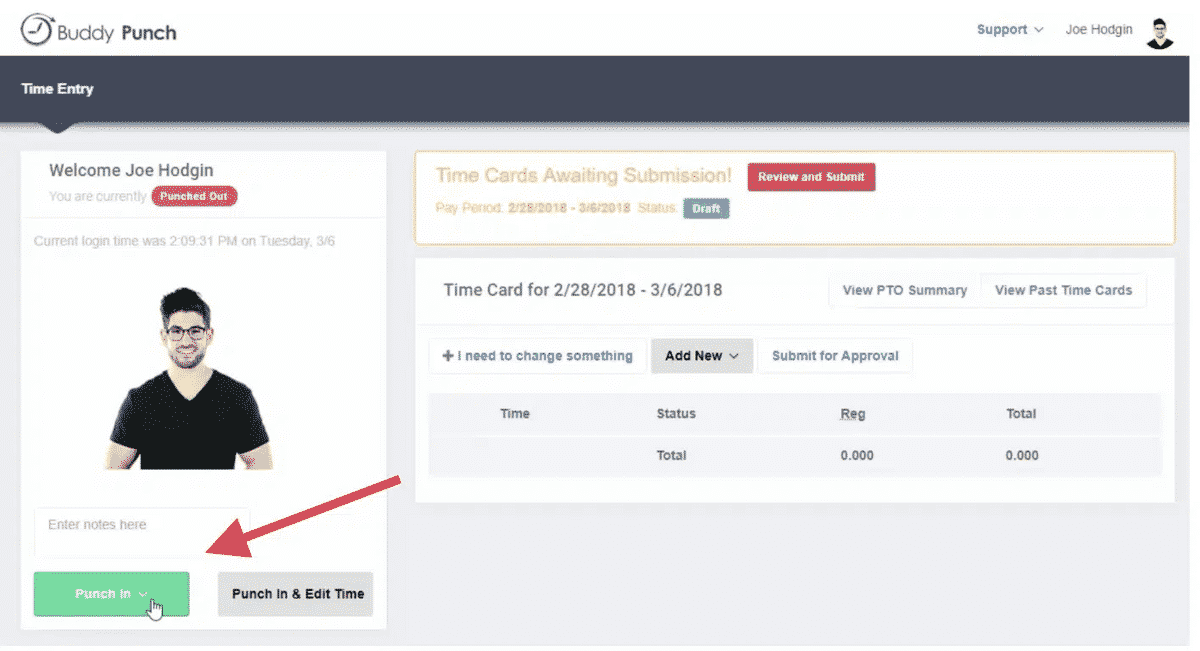 Maximize your time with accurate and easy-to-read payroll data reports. The Buddy Punch system automatically calculates your employees' regular hours, overtime, time off, and so on – so you don't have to!

Now that you have an overview of what to expect from Buddy Punch, let's look at the features you can count on. Here is a breakdown of the best functionalities by use case.
Buddy Punch Features for Efficiency: Save Time and Energy on Payroll Through Automation
Nearly a quarter of all small business owners in the US spend 120 hours a year or more on federal compliance, including payroll and payroll taxes. That is over 3 weeks of full-time work!
Buddy Punch offers a range of features that can help you optimize your payroll process while saving your time and effort for what counts most: running your business!

The most important feature for most business owners is the ability to obtain accurate, automated, and real-time payroll reports. When using Buddy Punch for your payroll needs, you can automatically track and report employees' hours, overtime, time off, and sick leaves.
The reports are easy to read, exportable into Excel or PDF, and usable for all of your payroll tax filing and processing needs. Even more importantly, these reports are inherently free of errors, which can save you more than one headache!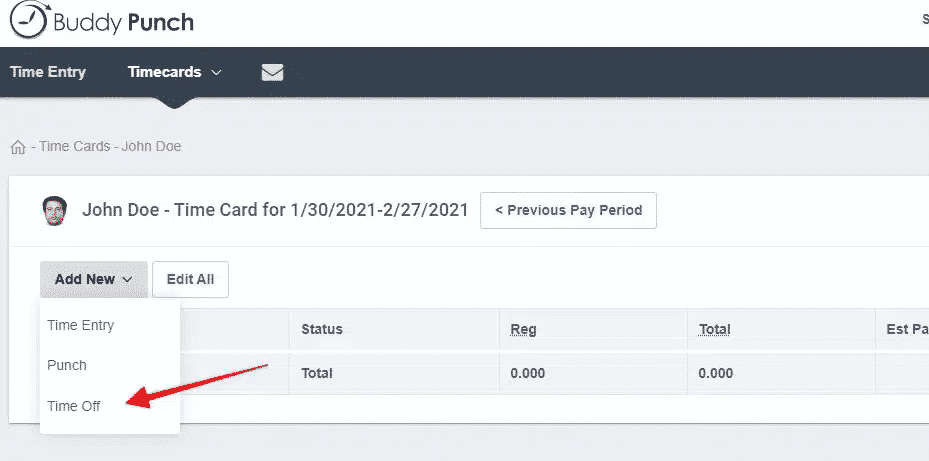 Managing your team might seem easy when everyone is on schedule. But what happens when your workers start to ask for time off work or have booked their annual vacation? Luckily, you no longer need to use notes to keep track of each of your employee's time off.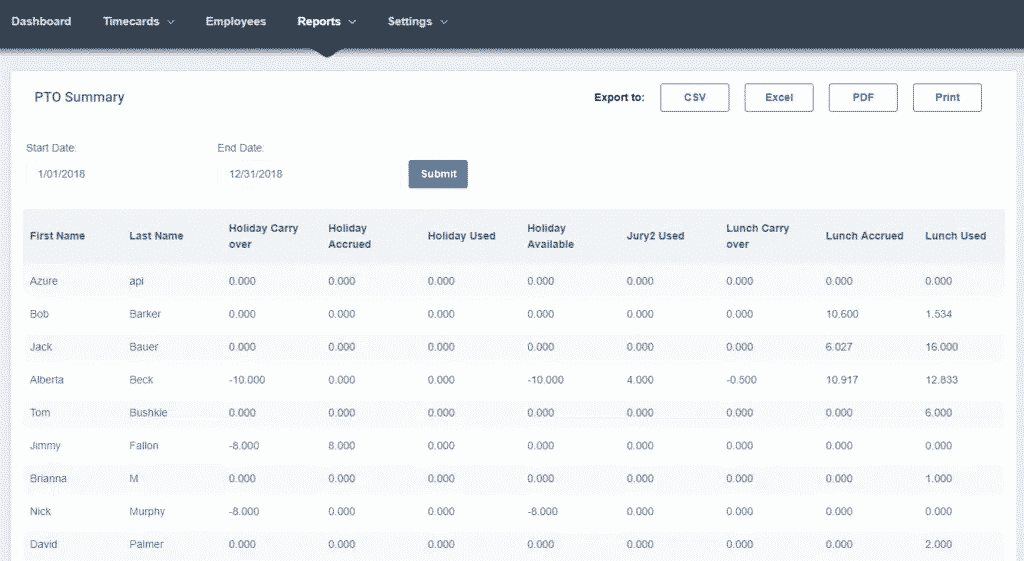 Buddy Punch offers a fully integrated and customizable time off tracker that allows your employees to request paid or unpaid time off via an easy-to-use interface. The system will keep track of data like paid leave, remaining time-off, time-off accruals, overtime calculations, and unexpected absences.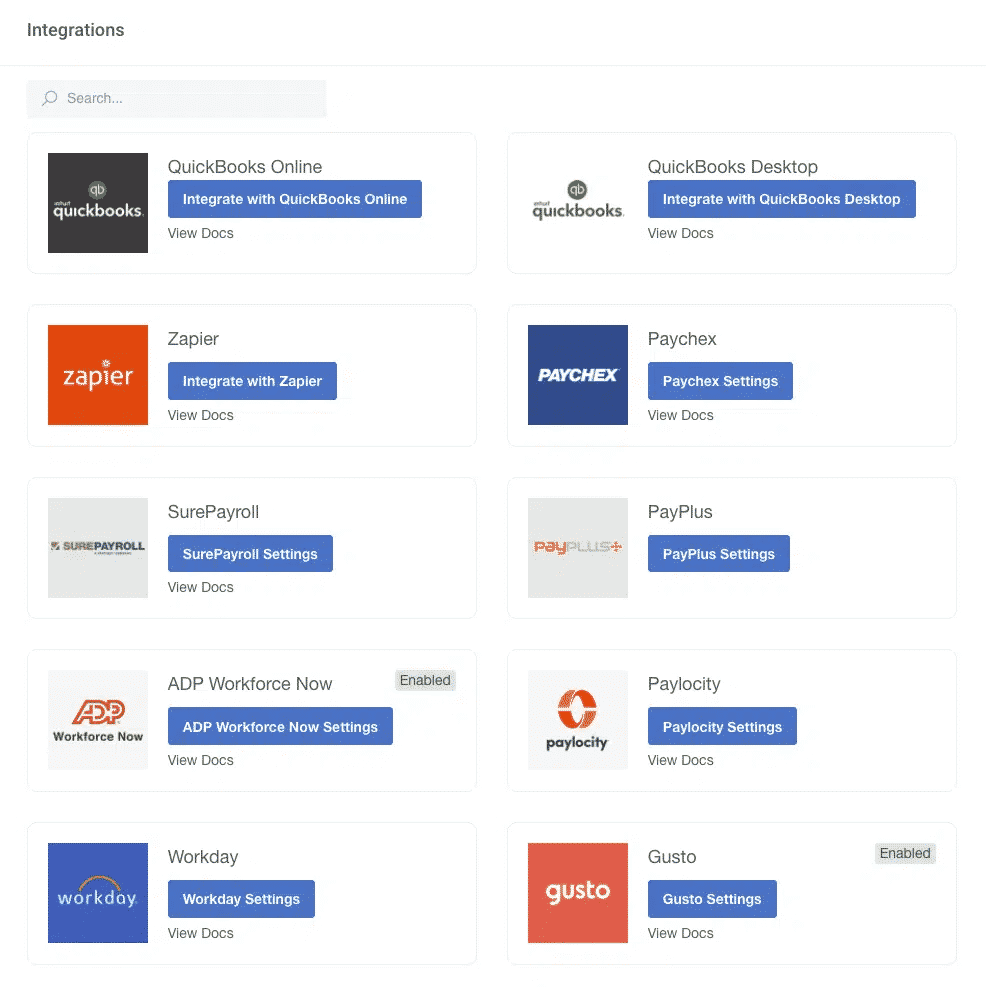 Today, small business owners can rely on a vast range of technologies and connected devices to help with daily tasks and operations. But, without the right integrations, managing multiple technologies can become counterproductive!
The Buddy Punch naturally integrates with a wealth of payroll, CRM, and HR management providers, including popular solutions like QuickBooks, SurePayroll, and Paychex. So, you can bypass the extremely time-consuming process of transferring data from one software to another and easily import employee hours and other information.
If you are single-handedly managing your business, the chances are that you won't have hours on end to dedicate to creating a schedule that works for you, your business, and your employee's requests.
Sometimes, trying to combine everyone's wants and needs can seem like a puzzle! That is why, at Buddy Punch, we have integrated an easy-to-use schedule creation feature that managers and business owners can use. Some of the best functionalities you can leverage include:
Buddy Punch Features For a Better Workplace: Boosting Employee Morale and Accountability
A time clock software for small businesses like Buddy Punch can undoubtedly help you in the management of your teams and daily operations. But the right clock in and out system can offer unparalleled benefits for your team too!
Here are just a few of the features Buddy Punch offers to reduce time theft and buddy punching episodes, thus improving your whole team's wellbeing.
Discover the Wealth of Features Buddy Punch Offers Small Business Owners
Buddy Punch features are nearly endless to allow for unprecedented customization. Above, we have seen some of the best features for small and local enterprises. But what if you wish to expand your team, enter a new market, or scale up your operations? Buddy Punch has at least one feature that can simplify the process. These include:
Looking for more? Click here to explore our comprehensive feature list!
What Other Small Businesses Like You Say: Buddy Punch's Reviews
As of the writing date, Buddy Punch has 4.8 out of 5 stars and 669 reviews on Capterra.

As hundreds of our customers have highlighted, Buddy Punch is ideal for small businesses looking to streamline their payroll process and create a better work environment.
Below, you can find just some of the reviews of Buddy Punch's services that tell you all about this software. Interested in learning more? Check out the full list of reviews here.
"Small Business Life Saver! This product was easy to use from day one and entering the employees took no time at all. Everything is easily accessible and you can check on employees to be sure they have arrived on time at their jobs.

Click here to read the full review.
"Buddy Punch is a PERFECT time/attendance system for small/mid-sized businesses. Very easy to implement and switch to… and their support has been awesome when we had questions."

Click here to read the full review.
"BP has been extremely accessible for customer service and has been open to suggestions for improvements/additional services. They have steadily grown over the last several years, offering more and more helpful services and integration with other programs. BP was also extremely accommodating during Covid shutdowns, allowing us to freeze our account in good faith that we would pick up where we left off as soon as we were able."

Click here to read the full review.
"Buddy punch is easy to use and exactly what we need for our small business. Keeps track of our employee's hours and no need to use time cards or time clocks. The software is easy to use and our techs have no complaints. If the techs make any mistakes, they are very easy to correct. I have had no complaints, and we have been using this software for over a year."

Click here to read the full review.
Try Buddy Punch for Free
If you feel that Buddy Punch might be the right fit for your business, sign up for a free trial. You can also book a one-on-one demo, or view a pre-recorded demo video.
Connecteam is a versatile app to manage and train your non-desk employees. The Connecteam app offers a range of features, including:
Your can learn more about the functionalities of Connecteam in the video below:
Overall, Connecteam can be an excellent solution for some small businesses that are not office-based. Currently, the Windows- and Mac-friendly software has an average Capterra rating of 4.8 out of 142 reviews.
Our company utilizes employees here in the US, and numerous remote employees in the Philippines (less than 20 employees). We had one solution for scheduling, another program for task and project management, another app for messaging, and a cloud-based program for time-tracking. Until we found ConnectTeam. Everything we needed (plus more), all in a single solution. Not only did we cut our previous costs by 80%, everything is now in a single solution.

Click here to read the full review
OnTheClock is a time tracking, accuracy, and compliance solution for small businesses and more. The main selling point of OnTheClock is that the software is fully web-based, making it highly accessible and easy to use. Some of the features of this option include:
Overall, OnTheClock is an excellent time tracking software that does not require downloading. It can be used on mobile, tablets, and other connected devices. You can find out more about OnTheClock in the video below.
The company currently has 4.7 out of 5 stars and 504 reviews on Capterra.
"Great for small businesses! I appreciate the ease of use. Requires little training for staff and is very cost-effective for the small business!"

Click here to read the full review.
Homebase is a valid time clock software for those small businesses that have just started trading and are doing so on a shoestring. The software is free and offers basic functionalities to business owners, administrators, and teams.
Some of the features you can expect from Homebase include:
Homebase currently has an average rating of 4.6 out of 824 reviews.
"It is so easy to schedule, add time off and availability and it is so nice to have that show up when building a schedule. Just the entire scheduling altogether makes life so much easier. I don't know what I would do without this! We have an outdoor workplace, so it is extremely convenient for me and employees just to use the app on our phones. The communication features are amazing."

Click here to read the full review.
Paymo is a growing work management software that looks after multiple aspects of your business operations. While it does feature time tracking functionalities, it is not a specific time clock software. Some of the features that make Paymo a great option for some small businesses include:
At the time of writing, the company has an average Capterra rating of 4.7 out of 416 reviews.
"Our main tool to run the business! We have been working with Paymo for more than 5 years now and over the years we've seen constant improvement with new features. It's a rich feature tool for a low price and it suits our company as no other does, not only in what they offer but in an intuitive and easy-to-use tool. "

Click here to read the full review.
Try Buddy Punch For Your Small Business – For Free!
If you feel that Buddy Punch could be the right fit for your business, sign up for a free trial. You can also book a one-on-one demo, or view a pre-recorded demo video.
You May Also Like…