The Top 12 Time and Attendance Software for Small Businesses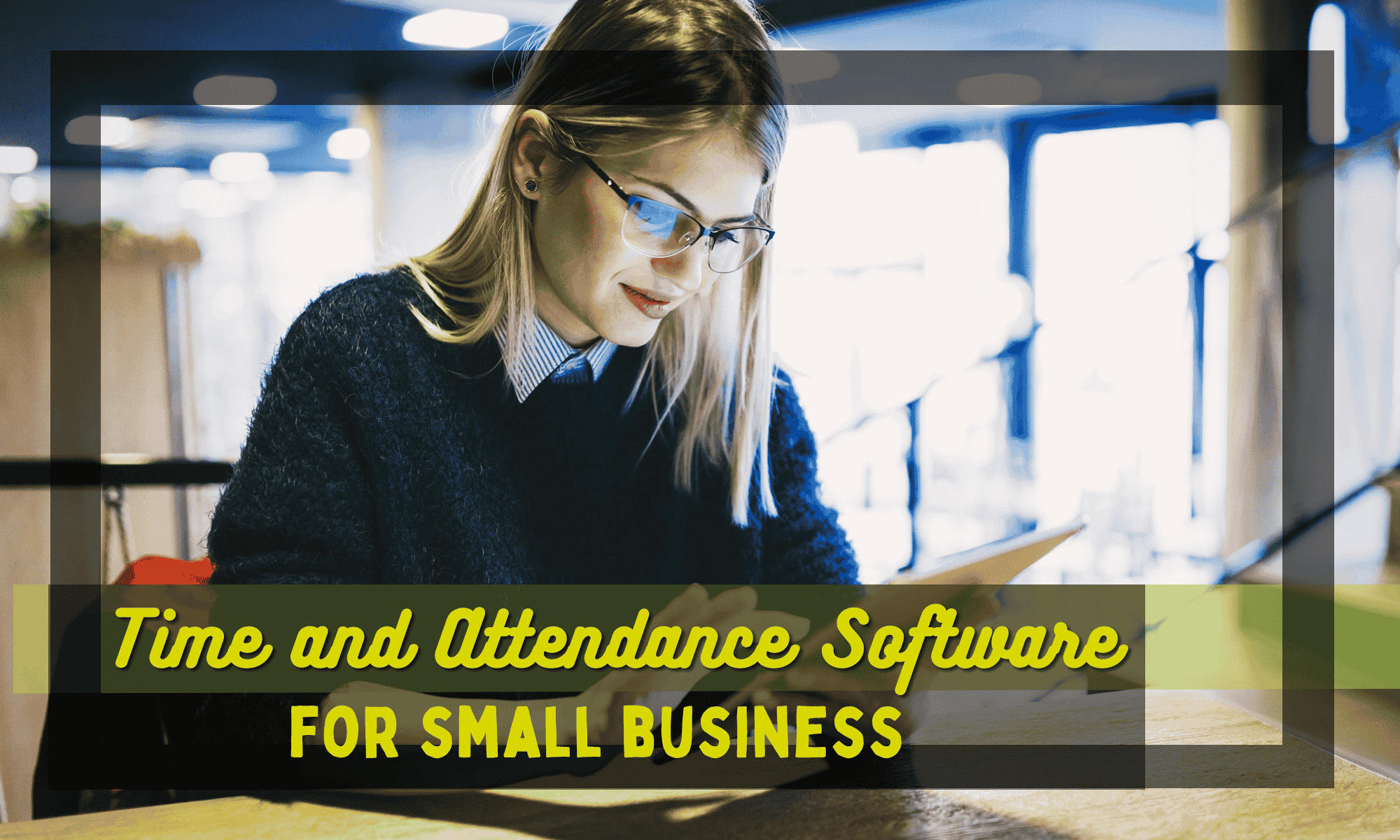 Time and Attendance systems aren't the magic solution to time theft and optimizing workforce management that many small business owners think they are. While these time tracking systems do help in a variety of ways (most notably by increasing employee accountability and helping streamline payroll), there are some common drawbacks depending on which software you choose to use.
The Downsides of Choosing the Wrong Attendance Solution
Employee productivity can suffer. If you choose a tracking tool with a complicated user experience, it'll be disruptive to an employee's workflow (at least twice a day for clock ins and clock outs, potentially more if they have to interact with it for breaks as well). A complicated tracking solution can also negatively impact you down the line when it comes to onboarding, costing you work hours and money when you have to train new staff. This is part of the reason that employees can find monitoring software invasive or annoying, and even wonder if it doesn't violate labor laws. There's no point in attendance management that hurts overall productivity.
Monthly fees can add up. Most cloud-based time entry software comes with a monthly plan, but they vary in their pricing wildly. Some charge based on the size of your workforce, while others charge based on the functions your business needs. There's no problem here if the software is helping you save time and money, but sometimes it can be difficult to tell exactly how much impact it's having on your employee management.
Features can be inadequate. As some business owners learned during the pandemic, quality scheduling tools need to be able to innovate and keep up with changing industry trends. Work From Home created a new desire for features such as Geofencing and GPS tracking to keep up with remote workers. Meanwhile, some business owners want employee attendance software that can function as a kiosk or terminal on site.
Keeping these downsides in mind, it becomes clear that the wrong choice of attendance tracking software could end up setting your small business back. But not to worry. We're going to list out some of the top 12 choices of desktop & mobile apps to track time, based on the features they offer, the customer support they provide, and their ability to avoid the pitfalls we've outlined above.
Time and Attendance Software for Small Businesses
Kicking off our list of the best time and attendance software we have Buddy Punch. In addition to avoiding most of the pitfalls we listed above, Buddy Punch offers responsive customer support, simplicity for the sake of your employees, and a wide range of features that empower business owners to manage employee hours.
Being able to monitor clocking in and out is one thing, but Buddy Punch goes above and beyond with features like GPS Tracking, Biometric Facial Recognition, OT Calculations, Notifications, Self-service Employee Shift swaps, Automatic Punch Outs, Payroll Service Integrations, and more.
To illustrate the power these features have, we're going to detail how you can make use of them to improve your workforce management.
Note: If you'd rather get hands-on experience with Buddy Punch, it's worth making use of Buddy Punch's free 14-day trial. You can see first-hand how user-friendly and simple this timekeeping solution really is.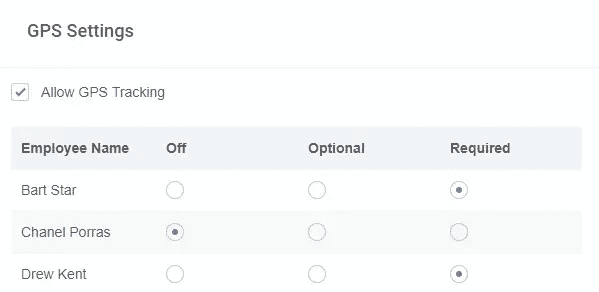 Struggling with making adjustments due to the growing popularity of Work from Home and remote working? Buddy Punch's GPS tracking feature gives you the same level of control you'd have if you were working with your team on site. Log the location of every employee when they clock in, group them by location, or disable this feature outright for employees that have earned more trust.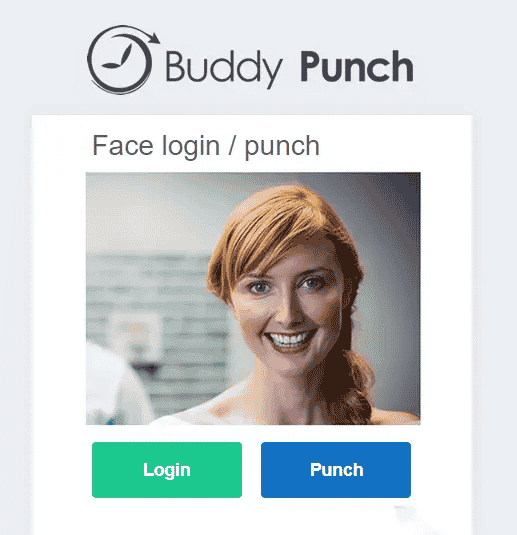 Completely eliminate your fears of time theft or buddy punching by completely eliminating the capacity for it to even occur. Facial Recognition turns any device your employees are using into powerful security measures, taking a photo to ensure that the person clocking in is who they say they are (and when).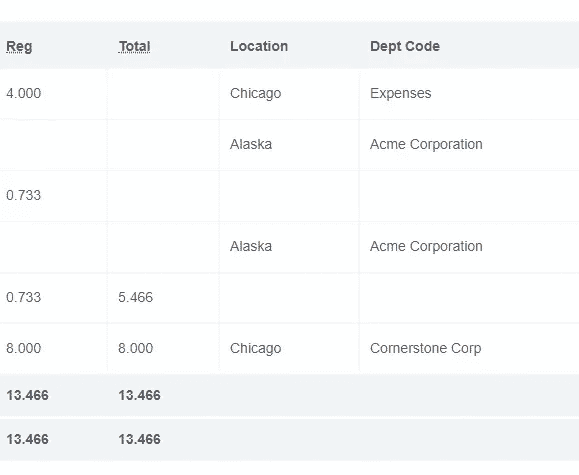 Never lose track of overtime payments or overtime hours again. What small business owner wants to keep paying out time and a half? You can select from over a dozen overtime types to calculate compensation on a per-employee basis. If Buddy Punch is missing the type of overtime your business needs, you can reach out and we'll get it added.

How often are you or your employees caught off guard by issues with staffing? Maybe a worker needs to request time off and is afraid to approach you, or you reschedule a team member and they're somehow unaware until it's too late. The notification feature resolves all of these types of issues.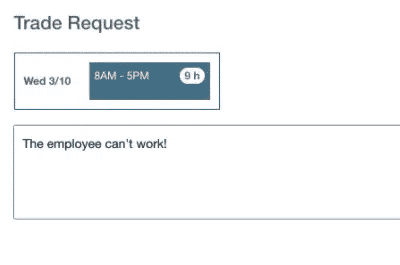 Speaking of staffing, the Shift Trades and Covers features allows employees, managers or administrators to initiate shift trades between employees. The covers feature also allows someone to take over for a team member's shift, when that team member is unable to work for whatever reason.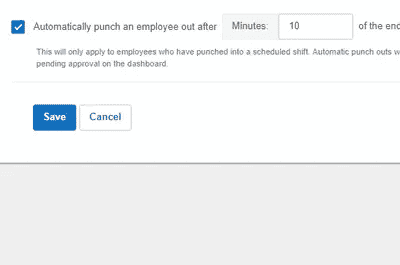 Dealing with forgetful employees who tend to let the clock run a little too long at the end of the day? Reduce human error with the Automatic Punch Out feature, which lets you designate a time when they have to be signed out automatically. This management system feature will reduce overtime and encourage your team members to better manage their work-life balance.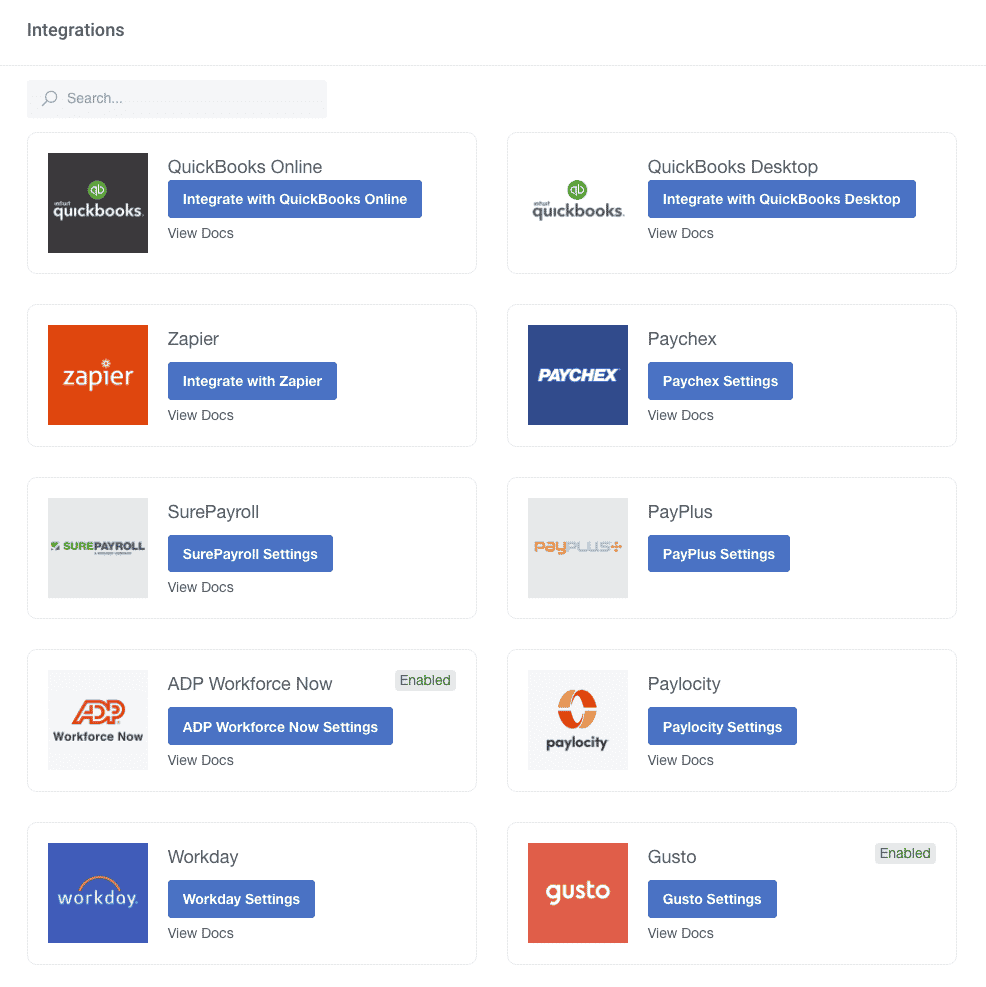 Buddy Punch integrates seamlessly with a lot of the most popular Payroll software on the market. We're talking big names like Zapier, ADP, Paychex, and more (click here to view the full list). This was accomplished to make it easier to use Buddy Punch as a time tracking solution without having to change your payroll process.

Buddy Punch Offers Many Other Features
Even with all we've mentioned so far, there's still more that Buddy Punch has to offer small business owners. We know that every manager has their own style, their own requirements for their business, and their own workforce to manage – so we give you all the tools to mix and match as you need. Additional features Buddy Punch has include:
And even that isn't the end of everything Buddy Punch delivers. There's also a help doc center which answers FAQs and contains useful articles on how to best utilize Buddy Punch. Additionally, our support team is always available via live chat to answer questions or to provide a one-on-one personalized demo of our software (book by clicking here).
Buddy Punch's Online Reviews
What do business owners have to say after using our software? As of this post's writing, Buddy Punch has 4.8 out of 5 stars and 673 reviews on Capterra.

Let's pull a few reviews and hear directly from users with less than 10 employees in their workforce… (Alternatively, click here to explore the full list of reviews.)
"This product was easy to use from day one and entering the employees took no time at all. Everything is easily accessible and you can check on employees to be sure they have arrived on time to their jobs."

Click here to read the full review.
"This software is a great alternative to paper records, especially for a small company that has hourly employees. I have no idea how easy/hard setting up accounts is, but for me–a regular employee–it works wonderfully. If I knew someone starting their own business, or someone who has their own business, I would recommend this product."

Click here to read the full review.
"Turns out its preetttyyy gooood. Was looking for an app that helped manage employee punching in/out for small businesses and did a bunch of trials before finding BuddyPunch. The other apps that I found were often not what I was looking for or did not have a focus on employee punch-in/outs. Found buddypunch and it does exactly what I need it to. The UI is very well designed, the administrator makes employee accounts and employees just go to the website, log in, and push the big green button."

Click here to read the full review.
"I can customize its features in a way that work for my situation! My employees can clock in and out from the free app on their phones, and I can limit that ability by ip address and location of timecard punch. I also like that it is so easy to review original punched, and to accept or decline requested modifications if employees have erred or forgotten to clock in or out."

Click here to read the full review.
As these reviewers noted, Buddy Punch is easily accessible for employees and customizable for managers. But if you don't believe them, you can always find out for yourself.

Try Buddy Punch for Free
Buddy Punch offers a 14-day free trial with each of its pricing plans. You can also book a one-on-one demo, or view a pre-recorded demo video here.
Findmyshift is a time attendance software with both a free and a paid plan. Like Buddy Punch, simplicity is at the core of this software tracking billable hours. Some of its features include:
As of this post's writing, Findmyshift has 687 reviews and 4.6 out of 5 stars on Capterra. Here's one review indicating why it's a solid free timekeeping system for small businesses:
" Easy to use and set up. All of the staff find it a lot easier to log in and check shifts than rely on printouts. It makes it a lot easier to make up rotas when you can see a couple of weeks at a time and can see the overall picture to juggle shifts about, can also copy and paste which makes it easier. Also makes it a lot easier when trying to find cover, you can see easily who is available and find their contact details."

Click here to read all of Findmyshift's Capterra reviews.
Quickbooks is one of the biggest time and attendance companies out there, and their scheduling software QuickBooks Time (formerly known as TSheets) has features that include but are not limited to:
Small business owners might take comfort in working with such a large company, and QuickBooks as a whole also offers a Payroll System and HR Software. QuickBooks Time has 4.7 out of 5 stars and 5,552 reviews on Capterra.

"I have to be honest, I am not one to usually take the time to write reviews, but when I receive really good support from a product/service/software it really means a lot to me because as a small business I don't have the time or resources to be down and waiting indefinitely for solutions. To me, there are a lot of software companies out there they provide similar products. The difference is in the support. ."

Click here to read the full review.
This versatile tool works on iOS and Android devices, and offers various features and functionality such as:
As of this post's writing, Connecteam has 4.7 out of 5 stars and 148 reviews on Capterra.
"We are very satisfied with the app, as well as the service! Thank you for helping us work through the initial transition and we appreciate your team's attention to detail. Our staff have adapted to using the app with incredible ease and we are looking forward to using this as a tool moving forward."

Click here to read the full review.
When I Work is the type of attendance system that prides itself on helping you save time in all aspects of business. It offers various features, including:
It's also versatile, operating on mobile devices (iOS or Android) just as well as it works on PC. As of this post's writing, When I Work has 4.5 out of 5 stars and 911 reviews on Capterra (see here).
"I loved the when i work app very much. I was able to look at my shifts as well as change and drop shifts, There is also the ability to chat with other employees about changing or swapping shifts."

Click here to read the full review.
Clockify is another time tracking software that small businesses can get started using for free, though you'll have to go through their pricing plans if you want to add more features. Some of your options include:
At the time of this post's writing, Clockify has a total of 4101 reviews on Capterra, with an average of 4.7 out of 5 stars.
"I tried a lot of time trackers so far, but Clockify was the only one that stuck with me. It was easy to set up and it is easy to use, and you get quickly in the habit of tracking time with it. The dashboard is great to see what is your focus so far and helps you optimize your workload and enables you to work smarter not harder. "

Click here to read the full review.
Hubstaff offers easy and accurate time tracking across devices (desktop, web, mobile, and Chrome). Calling themselves a "complete platform" when it comes to time tracking, workforce, and project management, its features include:
As of this post's writing date, Hubstaff has 4.6 out of 5 stars and 1243 reviews on Capterra.
"It allows us to easily calculate the hours worked by our remote team whilst ensuring the team are focused and easily shows us how much is owed at the end of the month. Vital tool for outsourcing."

Click here to read the full review.
OnTheClock is a web-based time clock software with a base fee that varies depending on the size of your team, which can be an advantage for small business owners. Some of its features include:
As of this post's writing, OnTheClock has 4.7 out of 5 stars and 509 reviews on Capterra.
"Ontheclock allows us to easily track punches across all employees and locations, even remote employees who work from home. It also ensures quick, easy, and accurate punches from employees as they don't have to spend any more than a couple of seconds to punch into the Group Punch site once it's up."

Click here to read the full review.
Paymo is a time clock software that prioritizes improving team cohesion. It achieves this through functionalities such as:

At the time of writing, Paymo has a total of 418 reviews on Capterra (see here), with an average of 4.7 out of 5 stars.
"It is important to note that Paymo isn't idle in enhancing its software. Not only that, but new features are thoughtful and integrated seamlessly with the tool. I appreciate this because I have used other software that seem to have their priorities mixed up when releasing enhancements; adding things that don't move the needle ahead of things that do."

Click here to read the full review.
DeskTime calls itself the "ultimate all-in-one automatic time tracker." Its goal is to be an end-to-end solution for business owners looking to tighten up operations, and it achieves this through offering a wide range of features:
DeskTime has a total of 238 reviews on Capterra and an average of 4.4 out of 5 stars at the time of this post's writing.
"I love how Desktime measures in productivity. This shows us that even though employees may be on the clock, they may/may not be working exactly. Desktime allows us to define which programs and applications on the computer that when are use are deemed "productive," so as long as those apps are being used, the employees work will reflect productive."

Click here to read the full review.
Insightful, formerly known as Workpuls, is an attendance tracking system designed for data-driven business owners. Some of its key features include:
Pricing varies depending on the number of employees you have. Like Buddy Punch, this tool works on any device – include Windows and Mac. At the time of this post's writing, Insightful has a total of 48 reviews on Capterra, with an average of 4.8 out of 5 stars.
"Pros: – Easy to use (no need of special training) – Easy to follow each employee and department and compare them – No more time wasted running through office checking which activity each employee is doing – Enhanced productivity of the team – Support team promptly helped me to made custom configuration to bypass my proxy rules"

Click here to read the full review.
Timely is a timekeeping software built around automatic and AI functions. At the time of this post's writing, Timely has 207 reviews on Capterra (see here), with an average of 4.7 out of 5 stars. Some of its key features include:
"As a business owner, it is fantastic to get accurate and 'timely' submitted time sheets from staff each and every week. For the user, once you find your preferred method of capture, it is a breeze from there in."

Click here to read the full review.
Runner up apps include Time Doctor, Timeclock Plus, and Sling.
Choosing the Best Time and Attendance Software for Small Businesses
Now that we've outlined 12 strong choices of software, it's up to you to figure out which would best fit your business needs. While many of these programs come with free trials, you can get a good idea about each one by looking at the features they include and the business owner's general goals.
For example, if you want the security of working with a large company that has entire packages of software, and you don't mind more expensive prices, you might enjoy working with the Quickbooks Suite. On the other hand, if you have no particular needs beyond a pure clock in and clock out system, you can go for Clockify and stick with the free plan.
But – if you find that you want a software powerful enough to accommodate your growing business over the coming years, and you want responsive customer support that feels more like a partnership, you can't go wrong with Buddy Punch.
Try Buddy Punch for Free
We know small business owners have to be careful with how they spend their time and money. That's why we offer a free trial for anyone interested in trying out Buddy Punch. You can also book a one-on-one demo, or view a pre-recorded demo video.

You May Also Like…