DCAA Timekeeping Requirements (+ Best Compliance Tools)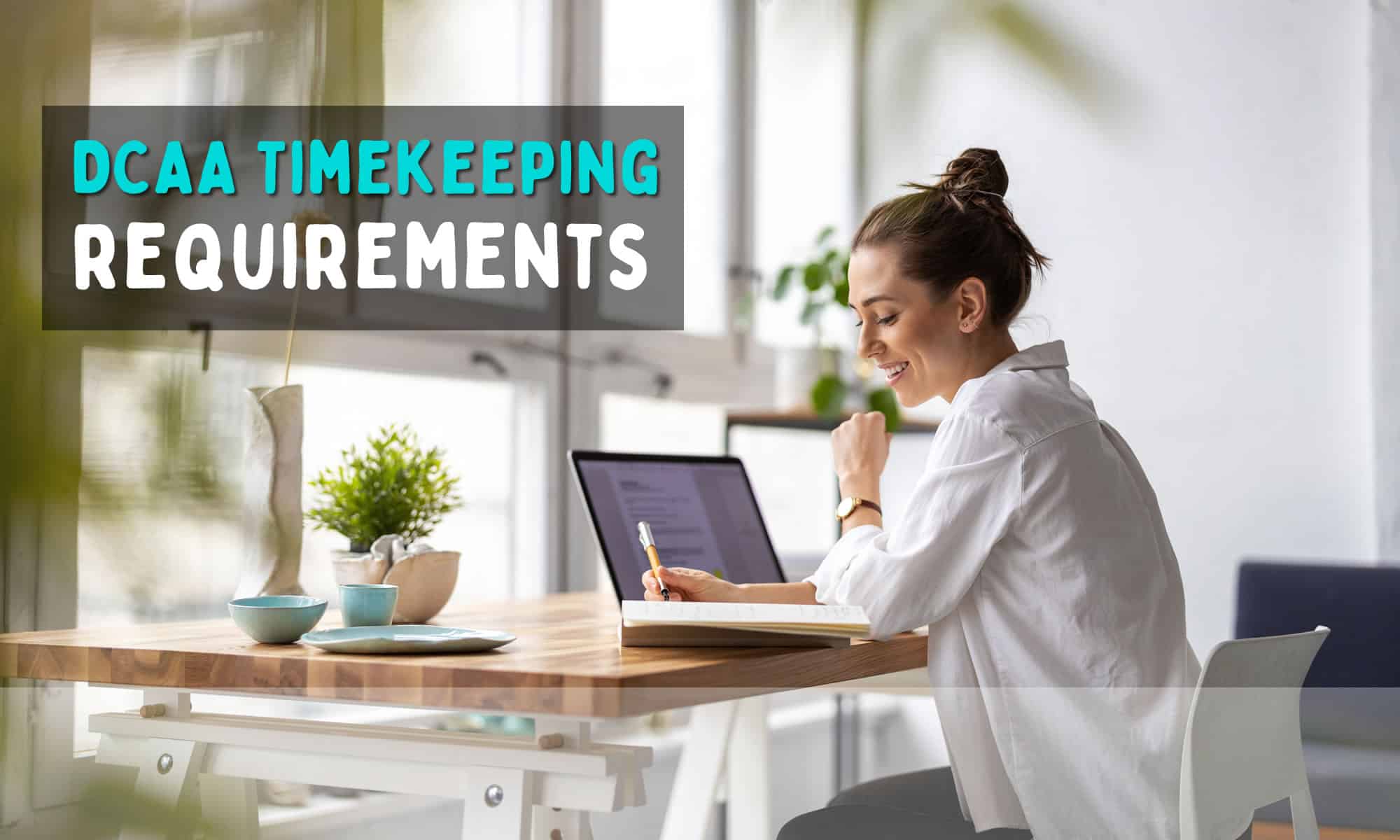 Straight off the bat, here's a simplified list of the DCAA timekeeping requirements:
Everyone in your organization needs to track time.
Employees must record all hours they work.
Employees must log time entries themselves.
Employees need to log time daily in a system.
Employees must specify the tasks they worked on.
Clear submission and approval procedures are critical.
Employee time records must get approved by supervisors.
Team members must get reminded of time tracking guidelines.
Employees must be ready for unannounced floor checks.
What is the DCAA?
The DCAA (Defense Contract Audit Agency) is an agency providing all the audit and financial advisory services to the U.S. Department of Defense (DoD) and other entities responsible for acquisition and contract administration. This agency operates under the authority of the Under Secretary of Defense. The DCAA timekeeping requirements are essential to follow.
What is DCAA-compliant timekeeping?
If you obtain a government contract, DCAA compliance is paramount. The DCAA (Defense Contract Audit Agency) is required to ensure your company follows the necessary timekeeping and accounting rules. By following all the DCAA requirements, it makes it easier for the agency to accurately access your organization. Closely sticking to the rules is critical.
Why is time tracking necessary for DCAA compliance?
As part of the DCAA timekeeping requirements, time tracking documents are necessary to offer proof that no time was wasted and no fraud was committed during the work week. Timesheet collection is an important part of achieving DCAA compliance. With the right timekeeping system and time tracking software in place, recording time is remarkably easy.
From timesheet approvals to sick leave, recording time across your organization is made easy by using an effective electronic timekeeping system on a daily basis. You can configure these systems to align with your timekeeping procedures. Team leaders can track every time entry and monitor labor hours with ease using these tools.
Best Time Tracking System For Compliance (3 Options)
1. Buddy Punch
If you are looking for the best timekeeping software for government contractors, look no further than Buddy Punch. This platform will enable you to establish a clear timekeeping policy and make the process of tracking employee hours (through an electronic system) remarkably easy. You can also connect Buddy Punch to your go-to accounting system.
When it comes to establishing a clear audit trail for your DCAA audit, Buddy Punch will ensure you can collect all the employee timesheet data you need. The platform also enables team leaders to track time off and uncompensated overtime. You can create job codes inside the platform which enables everyone to clearly see what each team member is working on.
Buddy Punch's Online Reviews
Buddy Punch's user reviews highlight the potential benefits of this platform. As of the writing date, Buddy Punch has 4.8 out of 5 stars and 788 reviews on Capterra.

Below, we'll list just a few reviews that speak to Buddy Punch's ease of use and great customer support service. (Click here to explore the full list of reviews.)
As reviewers have noted, Buddy Punch provides team leaders and project managers with the necessary tools for accurate time tracking and employee location tracking:
"Easy and convenient to use. I enjoy being able to clock in or out from my desk."

Click here to read the full review.
"We mainly use Buddy Punch for the time clock feature and use the GPS feature to track where our employees clock in and out since they do so at a remote site. The feature is accurate and is easy to use on our employees' phones. If there are any issues it is easy for the administrator to log in and correct them."

Click here to read the full review.
"I love how quickly you can log in to the Buddy Punch site and just simply hit the "Clock In" button. The program is incredibly easy to use and required no training at all, which I really appreciated especially since I'm just a very part-time employee who only uses it once a week."

Click here to read the full review.
Try Buddy Punch for Free
If you feel that Buddy Punch might be the right fit for your business, sign up for a free trial. You can also book a one-on-one demo, or view a pre-recorded demo video.
2. Timely
Timely's automatic time tracking features enable employees to record their attendance and track the number of hours they are working. With all employee attendance data under one roof, team leaders and project managers can gain a broad understanding of labor costs. The platform also comes with project time management tools for tracking progress between different projects.
At the time of writing, Timely has a total of 210 reviews on Capterra, with an average of 4.7 out of 5 stars. Timely is loaded with a broad range of high-impact features:
"I liked the way that Timely visually assembled information to be seen en mass. It made the ability to see quickly and easily where time opportunities were for our business."

Click here to read the full review.
3. QuickBooks Time
If you want to track time across your organization with confidence and ensure compliance with DCAA timekeeping requirements, QuickBooks Time is well-equipped to meet your needs. Alongside producing time card reports, QuickBooks Time comes with a full range of useful payroll and human resources integrations – so the platform can neatly fit into your workflows.
It's a great timesheet app for Android and iPhone, and at the time of writing, QuickBooks Time has 4.7 out of 5 stars and 6,190 reviews on Capterra.
QuickBooks Time (formerly TSheets) has features that include but are not limited to:
"QuickBooks is an efficient and user-friendly tool for automating accounting tasks. It is especially useful for small businesses, as it helps them track hours, bill clients, and generate reports."

Click here to read the full review.
Try Buddy Punch for Free
If you feel that Buddy Punch could be the right fit for your business, sign up for a free trial. You can also book a one-on-one demo, or view a pre-recorded demo video.
You May Also Like…