A Concise List of Time Tracking Software for Business Owners (7 Options)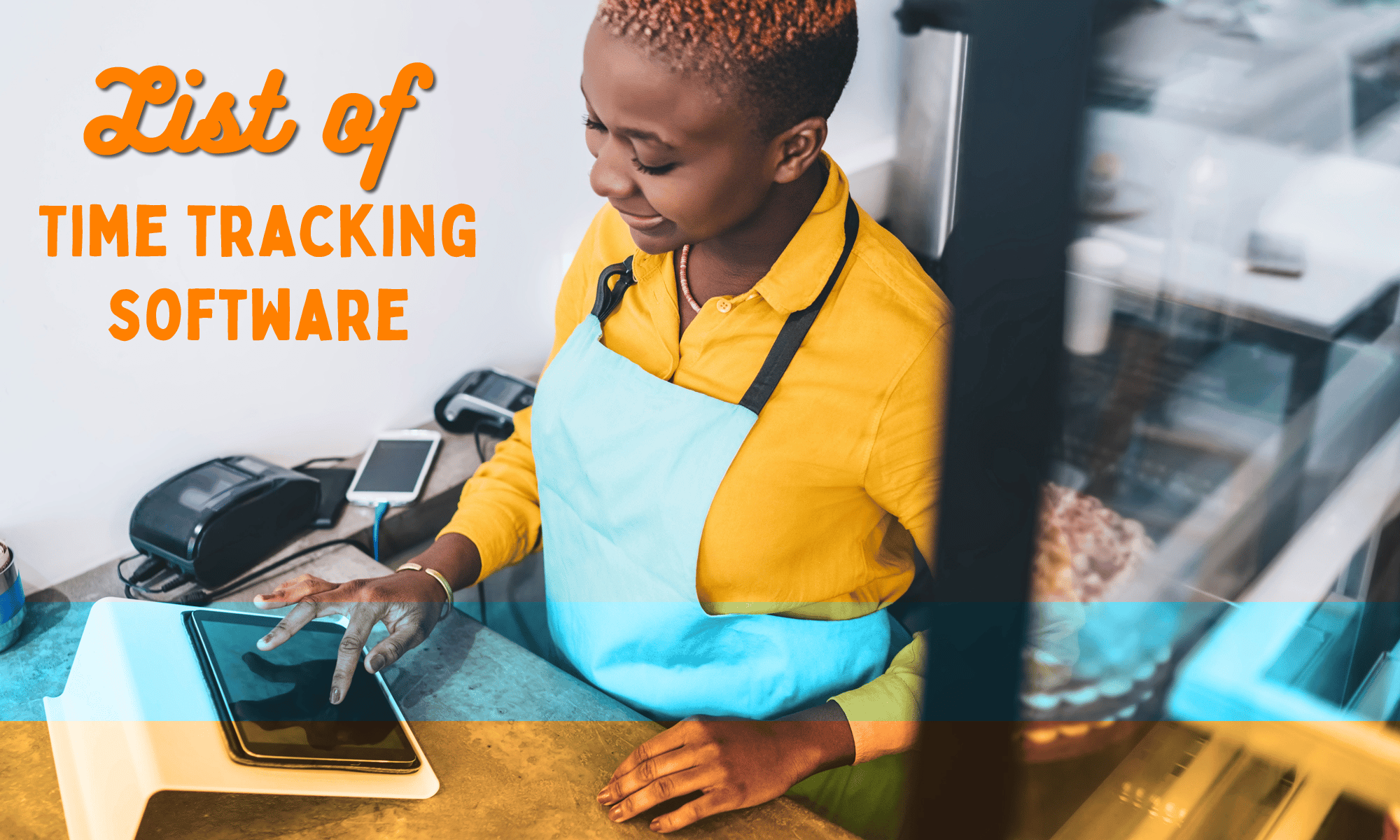 Time tracking tools can be double-edged swords when it comes to improving productivity and profitability. Some business owners focus on gaining more control over their employees throughout the workday, forgetting that a suboptimal time tracking solution can be a distraction, may fail to collect time data that can be used to optimize operations, and may not integrate with the other tools you're making use of.
At that point, you're not much better off than you are with subpar, manual time tracking options.
Because of the hundreds of options out there when it comes to employee time tracking software, all with a wide range of management features, pricing plans, and customer support measures, we wanted to create this list of the top 6 time tracking software options to choose from.
The time trackers that make this list all have some mix of intuitive design, comprehensive employee monitoring options, and a reputation for being user-friendly. Hopefully one of them will be the best time tracking software for your business to implement.
List of Time Tracking Software Options:
It's not bias that led us to place Buddy Punch at the top of our list of time tracking tools. When we were creating this software, we referred to our own experience as well as our clients' experience with managing their teams. It became clear that even for a simple time tracking tool, there were three aspects to focus on:
Employee Accountability
Design Simplicity
Operations Streamlining
We focused on employee accountability by empowering business owners to manage time entries and productivity through features such as GPS Tracking, Job Codes, Webcam Photos on Punch, PTO Management, and Customizable Reports.
We embraced design simplicity through an intuitive interface that anybody could use, compatibility on even mobile devices (such as iOS and Android smartphones or tablets), and automatic features such as Single Sign On, IP Address Locks, and Punch Rounding.
We ensured operations streamlining for businesses through features such as Notifications and Payroll Integrations.
Next we're going to dive into each of these mentioned features to further demonstrate how exactly they'd be useful for the average business owner looking for effective time tracking software.
Note: If you'd rather experience these functionalities yourself, Buddy Punch offers a 14-day free trial with every paid plan.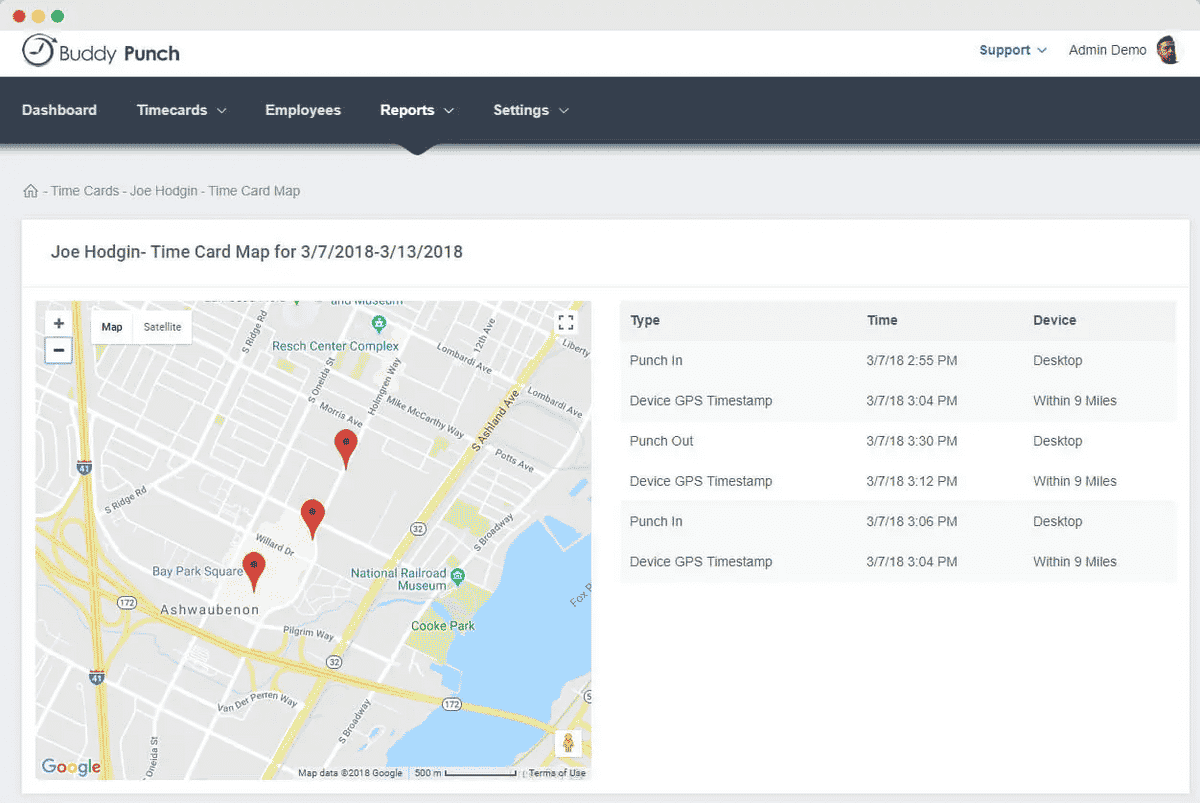 Buddy Punch's ability to monitor GPS locations has made it an excellent time tracker to use with the increase in Work from Home. With this, whenever your employees clock in, their locations are marked on an interactive map. You can view punches individually or get a complete overview of where your employees are clocking in from.

Buddy Punch lets business owners easily create and manage Job Codes (also known as Department Codes). With this, employees can select which job they're working on as they're clocking in. This gives administrators a greater understanding of which tasks are taking up the most of their employees' time – and can later inform analysis of how profitable those tasks really are.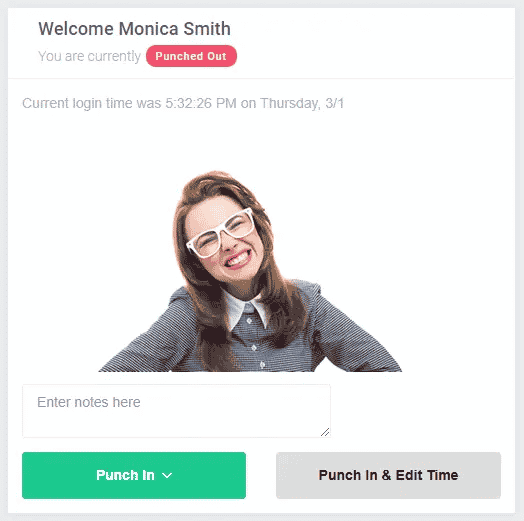 We wanted to make sure that Buddy Punch had multiple options for cutting down on time theft. If you're using Buddy Punch as a desktop app or in the web browser, you can access the webcam photos on punch feature. This will ensure that no one is clocking in for another employee, because you'll be able to see the face of whoever is attempting to log time.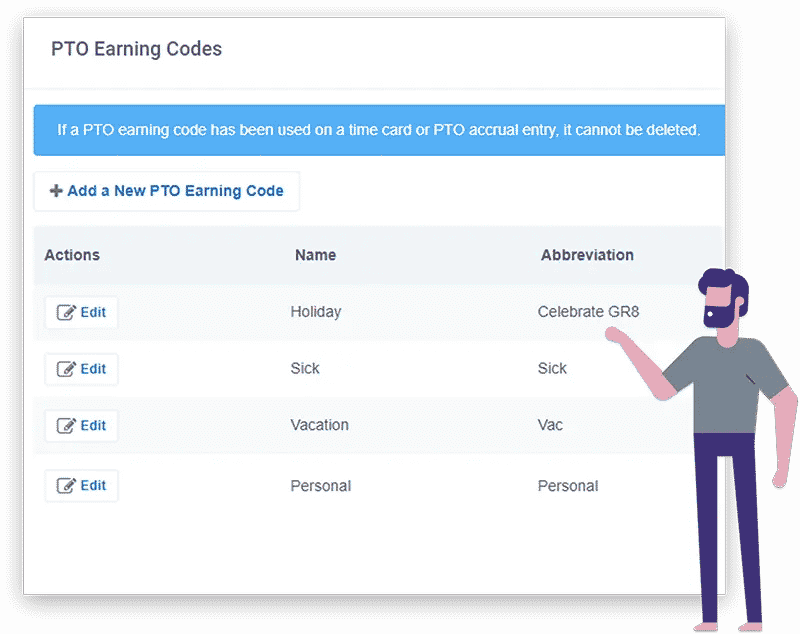 Sick days, leave requests, vacation time and more – they can be an incredible hassle to deal with, whether they're being handled by you or by your HR Department. With Buddy Punch's PTO Management, you can create custom PTO types and give employees permission to take a self-service approach to using it. Once a team member puts in a leave request, you can automate approvals if you trust them enough. Otherwise, you can manually approve or deny all PTO requests.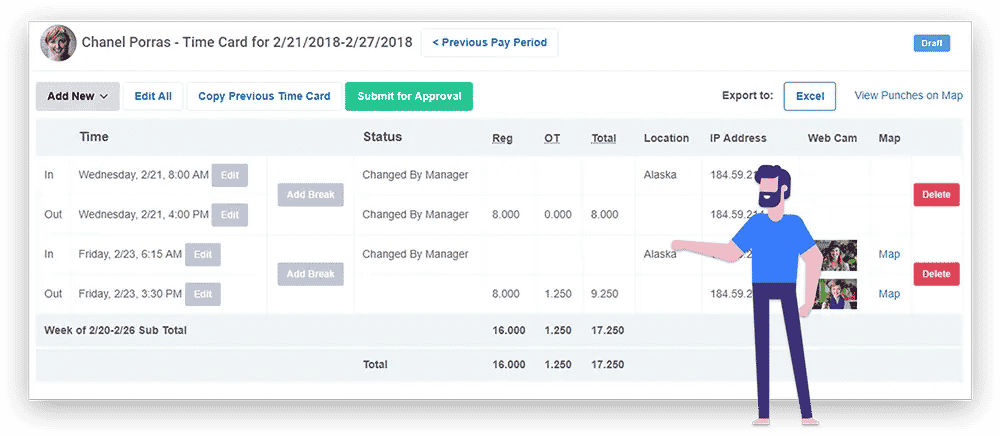 What use would all the data Buddy Punch collects be, without detailed reports for business owners to make informed decisions with it? These time reports contain important information such as employees, their hours, overtime, locations, and more, and can be exported in PDF or Excel CSV formats depending on your personal preferences.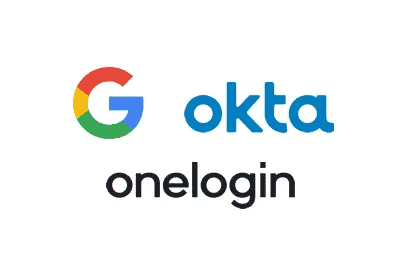 Want to make sure that using Buddy Punch is as simple as possible for your team members? With the Single Sign On feature, your employees can sign in to Buddy Punch using their existing accounts for other services such as Google, Okta, or OneLogin.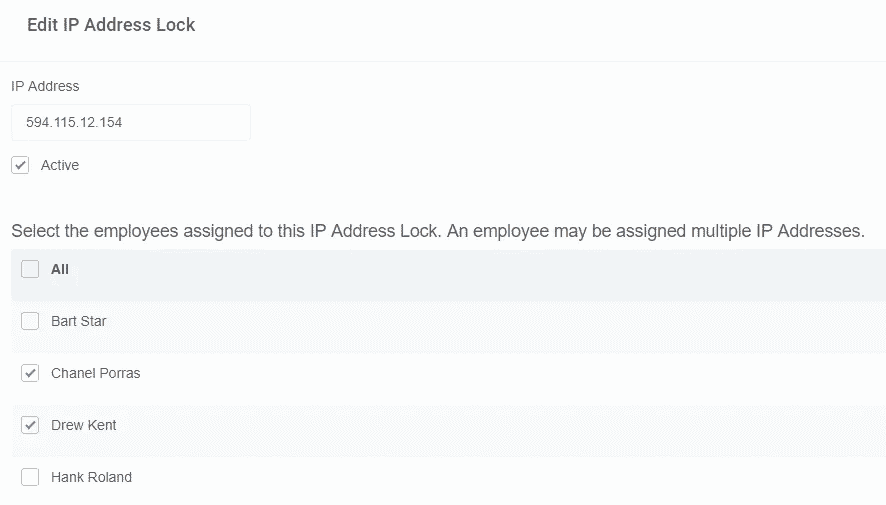 Some of Buddy Punch's features are easy enough to set and forget. The IP Address locks feature is a perfect way to automate security for remote teams. With this, simply assign an IP Address to your team members and they'll only be able to sign in to Buddy Punch when that IP Address matches.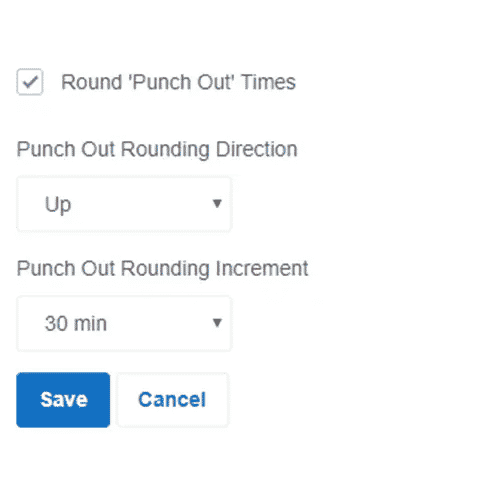 With the punch rounding feature, you can choose to have your punches automatically rounded up, down, or to the nearest predetermined interval. This feature is especially useful for business owners who have Buddy Punch set up as a kiosk.

Buddy Punch's notifications feature makes it easy for both team members and administration to focus on their work time, only receiving updates for information. For example, administrations can set it up to receive automatic alerts when team members clock in, or when someone puts in a leave request. Then, team members will receive a notification when their leave request is approved or denied.
Payroll Integrations

Buddy Punch streamlines how you handle payments at the end of each pay period. Buddy Punch lets you send employee data directly to popular payroll software such as Zapier, QuickBooks, Paychex, and more. Click here to view the full list of payroll integrations.

Buddy Punch Offers More to Business Owners
There are a few more notable functionalities that Buddy Punch provides:
Then there's the out-of-app features you get when you work with Buddy Punch:
If you think your business could benefit from these features, you can get a walkthrough of Buddy Punch by booking a one-on-one personalized demo here.
Buddy Punch's Online Reviews
As of this list's writing date, Buddy Punch has 4.8 out of 5 stars and 688 reviews on Capterra.

Below, we'll list just a few reviews that speak to Buddy Punch's ease of use and great customer support service. (Click here to explore the full list of reviews.)
"We use the PTO accrual system and PTO tracker. Buddy Punch is easy to use and easy to figure out. Customer service is responsive. The few times I've needed help (very rare) they were super responsive and made sure my problem was completely solved. Staff loves the mobile app. It makes punching in/out easy so staff can punch in as they enter the building because inevitably they will be waylaid with questions before they even get to their computer. "

Click here to read the full review.
"The interaction with the the different sections is seamless once a person learns all the processes that relate to time in and time off. Having the availability of the calendar option makes keeping up with personal time very simple. The features that allow changes to time and scheduling are made simple and are quick and easy to perform."

Click here to read the full review.
"Very easy for employees and administrators alike to track time and edit if necessary. Provides accountability for our employees with the location settings such as GPS/Geofence. Provides a variety of reports that are helpful. Provides our employees with mobility–we can send them to any job site, and they have the ability to punch in/out."

Click here to read the full review.
"I had used other more expensive systems at previous employers and Buddy Punch has be more than sufficient for our size of business. It is easy to run the reports- PTO, location of services, and the geofence. My favorite time in option was the facial recognition- the main problem with it was if someone had a beard and then shaved it or got a major change in hair styles we had to take their picture again."

Click here to read the full review.
As these reviewers all noted, they found Buddy Punch intuitive and easy to use for both employers and employees.
Try Buddy Punch for Free
If you feel that Buddy Punch might be the right fit for your business, sign up for a 14-day free trial. You can also book a one-on-one demo, or view a pre-recorded demo video.
Harvest provides timesheet, time tracking, and invoicing features to businesses and freelancers alike. At the time of this post's writing, Harvest has a total of 500 reviews on Capterra (see here), with an average of 4.6 out of 5 stars. Some of its key features include:
"Working in a creative field, I am a person who detests tracking time and invoicing. It takes me out of flow and into a space that doesn't really foster creative ideas or spark the imagination. Harvest makes the process about as painless as possible (let's be real, tracking time will never be entirely painless) and frees me up to focus on what I do and how I best deliver value to my clients and team."

Click here to read the full review.
Time Doctor is an online time management system that promises employee-friendly time tracking and productivity insights. This is achieved through key features such as:
At the time of this post's writing, Time Doctor has a total of 412 reviews on Capterra (see here), with an average of 4.5 out of 5 stars.
"Overall, Time Doctor is great for productivity, time tracking, and project management. It has the best Leave-Tracking features that send notifications if the person is still working on a task. In all reality, it has great usability with many different cool options such as time-tracking, browsing history, breaks, and idle time reminders, etc."

Click here to read the full review.
nTask is a lesser-known professional time tracking software that focuses on improving coordination for daily tasks. Its key features include:
At the time of writing, nTask has a total of 91 reviews on Capterra (see here), with an average of 4.2 out of 5 stars.
"Pros: Not time consuming. Easy didn't work with. Affordable. Essential for time management. Help you manage your time better. It's great for people that multitask and have a lot to do."

Click here to read the full review.
Clockify is an attendance tracking app with thousands of users. It's most commonly known as a free time tracking software, since its free plan, while partially restrictive, still allows you to create unlimited projects for unlimited users.
Here are just a few of its useful time tracking features:
Clockify, like Buddy Punch, works on all devices (Windows, Mac, Linux, etc.) and even has Firefox and Chrome extensions available. Clockify has 4183 reviews and 4.7/5 stars on Capterra (as of this post's writing date).
"Clockify plays a vital role in tracking our activities. Knowing what gets done, when, and for what project allows us to identify the tasks and resources we need to allocate. The product has a very generous free tier, and it is relatively easy to implement with some basic introduction."

(See the full review here.)
Some (but not all) of Hubstaff's features include:
As of the writing date, Hubstaff has 4.6 out of 5 stars and 1269 reviews on Capterra.
"This software is of great importance in the company, because it has made it easier for us to be able to program the daily tasks that our collaborators have to carry out and above all that I can monitor how they are progressing in their work and see how efficient they are, it really helped a lot to optimize our worked."

Click here to read the full review.
As of this post's writing, TimeCamp has garnered a total of 556 reviews and 4.7 out of 5 stars on Capterra.
Here are just a few of its key features and functionality:
"I personally like my apps for not getting in the way, which TimeCamp does perfectly. I created tasks organized in projects (areas) in order to assess my profitability on specific projects for my clients (but not invoiced based on time) to deduce an hourly rate, and to check time spent on other specific tasks such as accountancy, mails, etc."

Click here to read the full review.
Time Tracking Software Comparison – Choosing The Best Timekeeping Tool on The List
Scrolling through our time tracking list of software, there are some differences that stick out. Some of them offer a wider range of functions than others, while some offer unique tools that, for some business owners, might be exactly what you're looking for. That makes it much easier to pick up on which tools are right for you.
If you're a fan of Gantt charts or Kanban Boards, nTask should be the first software you try out. If integration with Asana or Trello is mandatory for your business operations, then Time Doctor is right for you.
If you're a business owner focused on results and flexibility, who wants a time tracking solution that comes with a wide range of features that you can enable or disable depending on how well your team adapts to them, a simple interface that anybody can understand, and streamlined operations across your business, then you can't go wrong with Buddy Punch.
Try Buddy Punch for Free
Sign up for a free trial to test if Buddy Punch is the right time tracking software for your business. Alternatively, book a one-on-one demo, or view a pre-recorded demo video to get a closer look.

You May Also Like…