Tracking Hours for Work: 3 Different Methods for Keeping Time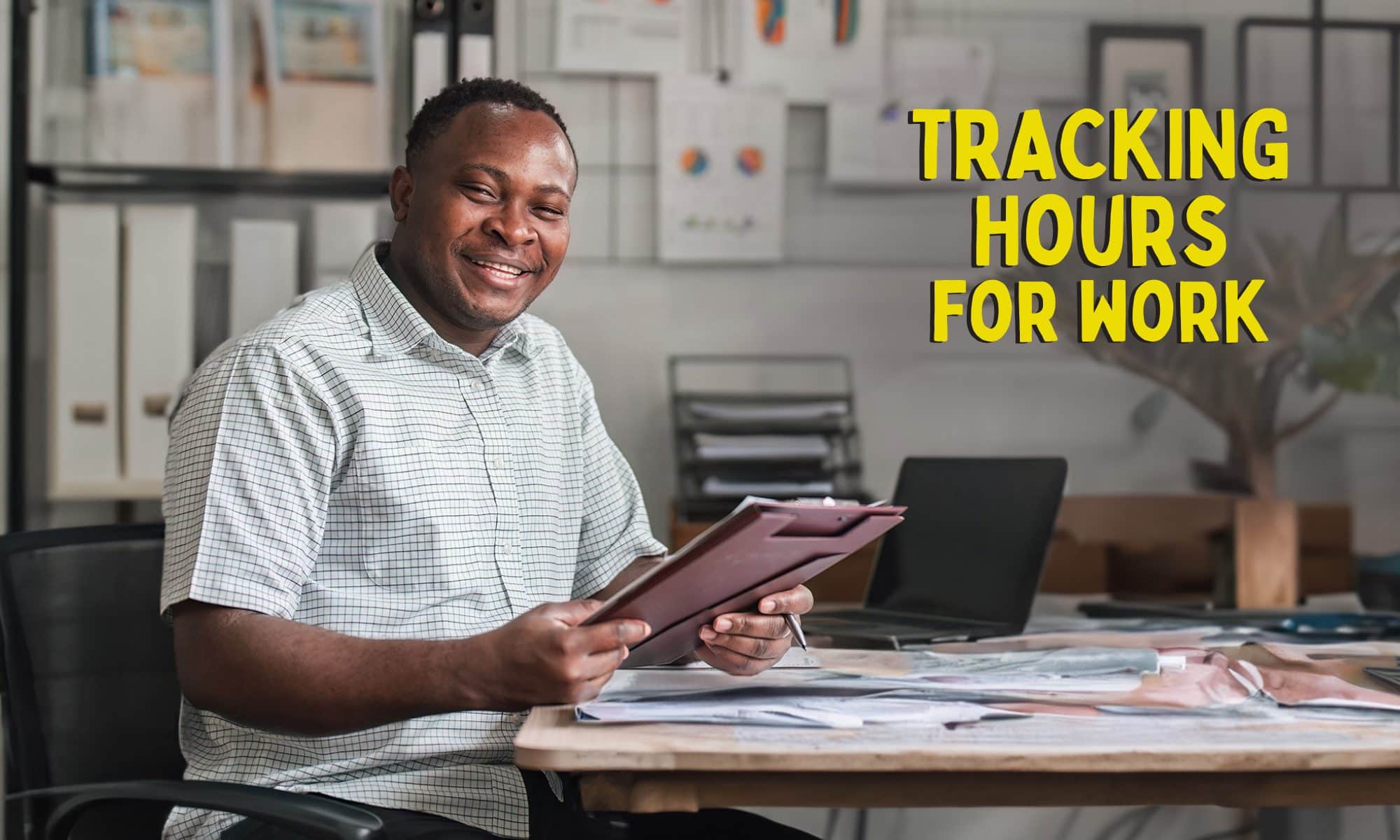 Tracking work hours accurately is crucial for several reasons. It ensures fair compensation for employees, compliance with labor laws such as minimum wage, break requirements, and overtime rates, and determines eligibility for benefits and leave.
Plus, having clear and accurate records of hours worked can give you insights as an employer. Such as whether your schedules are being followed or your staffing requirements need to change.
But what, exactly, is the best way to track hours for work? In this post, we cover 3 different methods:
3 Methods of Tracking Hours for Work
When keeping track of work hours, remember that the best method for you will vary depending on whether you're an individual tracking time, you're running a small business with employees, or a larger company with multiple locations, departments, and job classifications.
1. Manual Time Tracking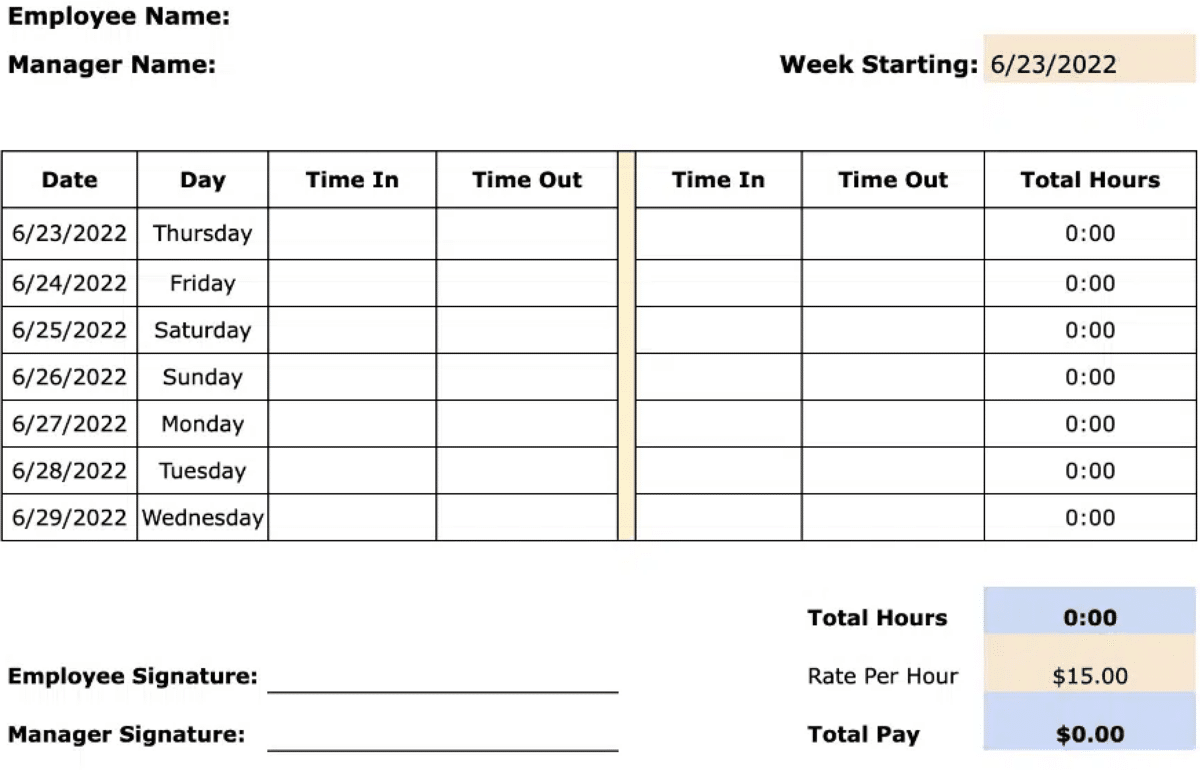 Note: This is an example of a free template. You can read more info about timesheet tracking templates here.
A free way to start tracking hours for work is to track hours manually. Here's a basic approach:
Create a timesheet: You can use paper or digital spreadsheets like Excel or Google Sheets and have employees record their start and end times for each workday.
Log breaks and PTO: Include sections where employees can log their break times or PTO.
Calculate the total hours worked: For example, if an employee worked from 9:00 AM to 5:00 PM with a 30-minute lunch break, they worked 7.5 hours (8 – 0.5 hours).
Overtime: If applicable, track overtime hours separately (usually any hours worked beyond a standard 40-hour workweek in many places). You want to track these hours separately as they're paid at a different rate than normal hours.
Review and sign-off: Have employees review and sign their time records to verify accuracy and help avoid disputes later on.
Retain records: Keep records securely and retain them for the necessary period per labor laws or company policy (usually a few years).
Payroll calculations: Use the recorded hours to calculate employee wages, factoring in overtime rates where applicable.
As we said, manual time tracking is technically free, but it's not without its headaches. And, if you factor in those headaches — and the time it takes to resolve them — it might be cheaper to go with software.
When you're manually tracking work hours, you have to deal with:
The time it takes to update, review, and verify timesheets.
Human error, such as putting down the wrong time or accidentally paying overtime hours at the regular rate (a major payroll compliance issue).
A lack of employee accountability. Are employees tracking their time accurately and honestly?
Plus, manual time tracking can be time-consuming and may lack real-time visibility into employee attendance, making it challenging for businesses to optimize workforce management and address issues promptly.
2. Free Online Time Tracking Tools
Individuals can sometimes efficiently track their work hours using free time tracking tools. These online tools offer several advantages over paper forms and spreadsheets.
Because they're online, these tools are accessible on various devices, making it easy for remote or on-the-go workers to log their hours accurately. Users can create digital timesheets where they enter their start and end times, including breaks, simplifying the calculation of total hours worked and overtime.
Free time tracking tools can be a helpful starting point for smaller businesses or individuals seeking basic time tracking capabilities. However, these free plans will likely lack advanced time management features, making them less suitable for businesses, small teams, or individuals needing scheduling and payroll features.
For example, a free tool may not help you efficiently:
Manage a team of employees (including remote workers, hybrid workers, traveling workers, and more).
Track overtime and issue overtime alerts.
Handle shift changes and shift swap requests.
Additionally, some free solutions may limit the number of users or projects they can handle, which can be restrictive for larger organizations. Plus, free software often comes with limited customer support, which can be problematic when technical issues arise.
If these issues sound like a hindrance to you, then looking at paid or pro plans of time tracking software is going to be the best option for you.
3. Time Tracking Software
Time tracking software is great for businesses because it lets you track time accurately across an entire team, write schedules, get detailed reports, and more. Unlike manual options and free online tools, time tracking software typically has an ongoing subscription fee. But, if it's the right fit for your business, then you will make up for the cost with all of its benefits.
These paid tools, like Buddy Punch, offer advanced features catering to diverse business needs.
With Buddy Punch, you can:
Quickly write, edit, and share work schedules across your teams.
Track hours worked across your team.
Make sure your team is clocking in and out accurately.
Prevent time theft.
Streamline the PTO request process.
Streamline payroll.
To learn more about using Buddy Punch to track hours worked:
Or keep reading for a more detailed breakdown of Buddy Punch's time tracking features.
The Best Solution for Businesses: Tracking Hours for Work with Buddy Punch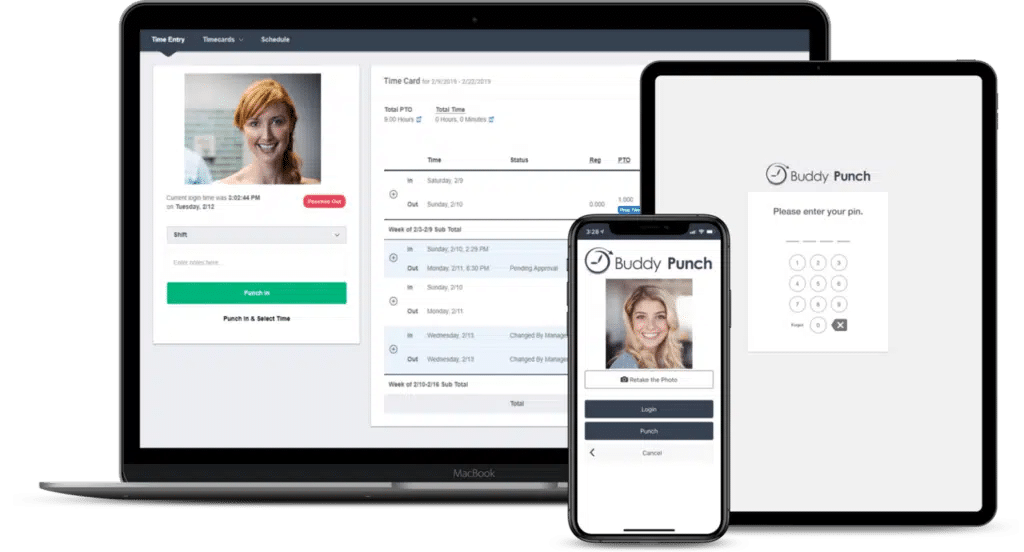 Your business can use Buddy Punch to:
Write schedules
Clock in and out for work
Track employee hours (including paid time off)
Track overtime
And more
Buddy Punch is a versatile, intuitive, and cloud-based time tracking app. Your team can access their schedule and track their hours using their smartphones, tablets, or computers.
You can download Buddy Punch's mobile app on both:
This versatility makes Buddy Punch perfect for all types of businesses, whether tracking employee hours out of one location, multiple job sites, or even managing traveling employees and remote workers.
Easily Track Work Hours: Scheduling
To track your team's work time accurately, you need a software solution that lets you easily update, edit, and distribute team schedules. This is the schedule your team will follow throughout the week.
First, let's look at how to create a schedule:
1. First, add a new shift to the schedule.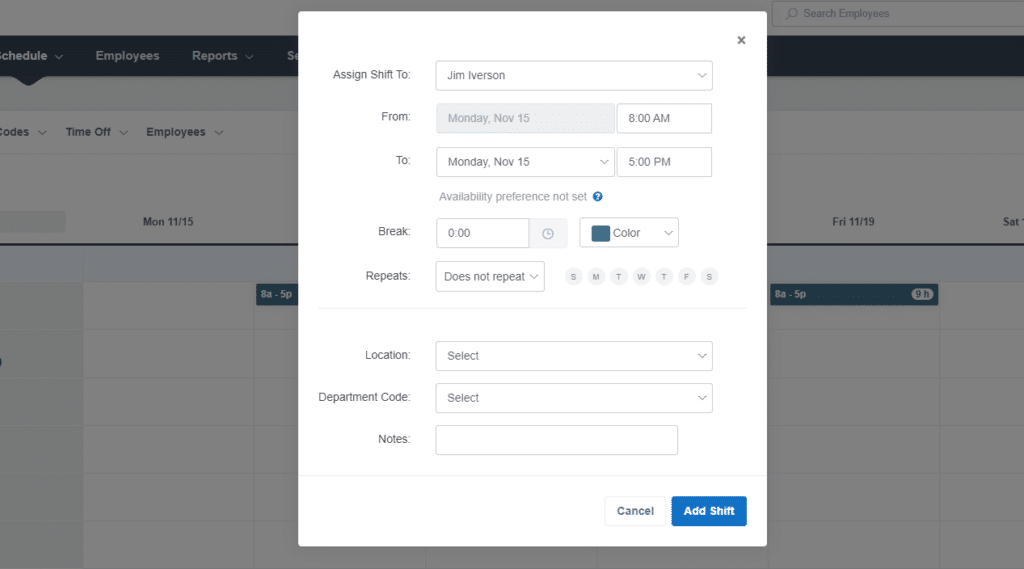 2. You can drag and drop the shift anywhere on the schedule.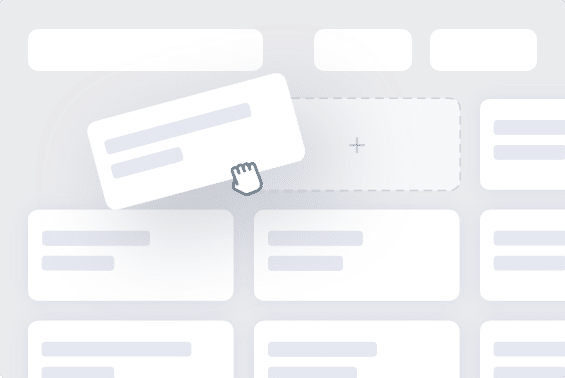 3. You can choose whether the shift repeats, adding common shifts for employees on your team.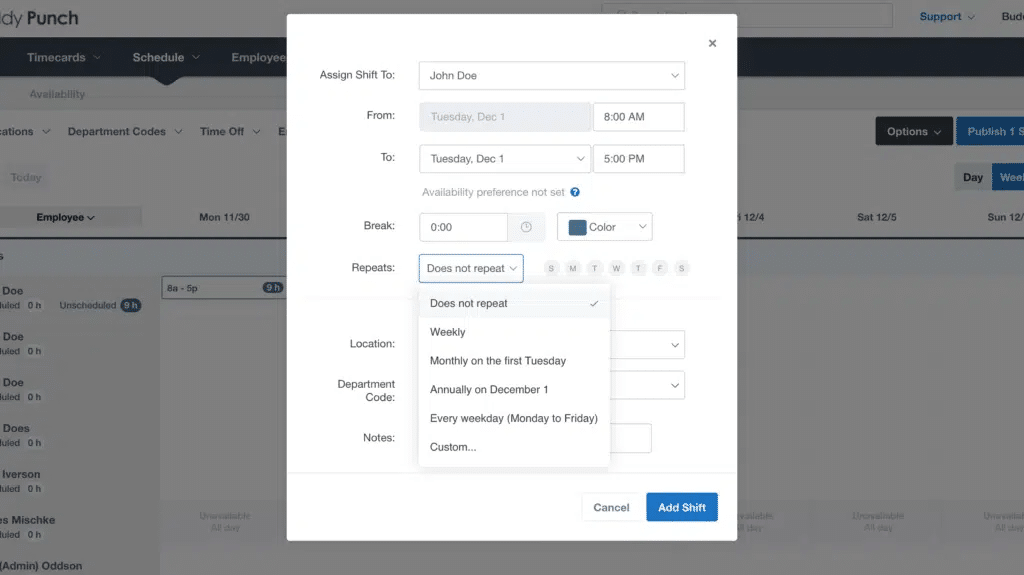 4. Employee shifts are added in draft mode, so you can make changes without alerting everyone on your team. Click the "Publish" button in the top right-hand corner to share shifts with your employees.

You'll then be able to send the schedule to:
All employees
Employees with changes only (i.e., edits or deletions)
Employees in the current view
Employees with shifts in the current view
And that's it! No more sharing screenshots, CSV files, or printed schedules. Once you've selected it, you can publish and send push notifications via email and text.
Shift Swaps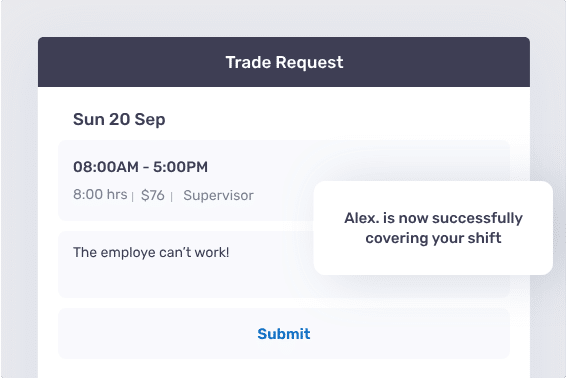 Even the best-written schedule is likely to change over the course of a work week. Someone may need to call out, stay late, or come in early. Our software is flexible to those changes. For example, our shift-swapping feature allows your team to swap shifts easily.
That way, your staffing requirements are still met even as issues arise.
Employee Time Tracking: Ensuring Accuracy & Preventing Time Theft
Ensuring employees accurately log their work hours, breaks, and overtime is crucial to effectively running your business. You want to prevent honest mistakes (such as forgetting to clock out) and intentional time theft (like clocking in before you're even at work).
Here's a look at some of the customizable features that Buddy Punch offers to ensure accurate time tracking.
Geofencing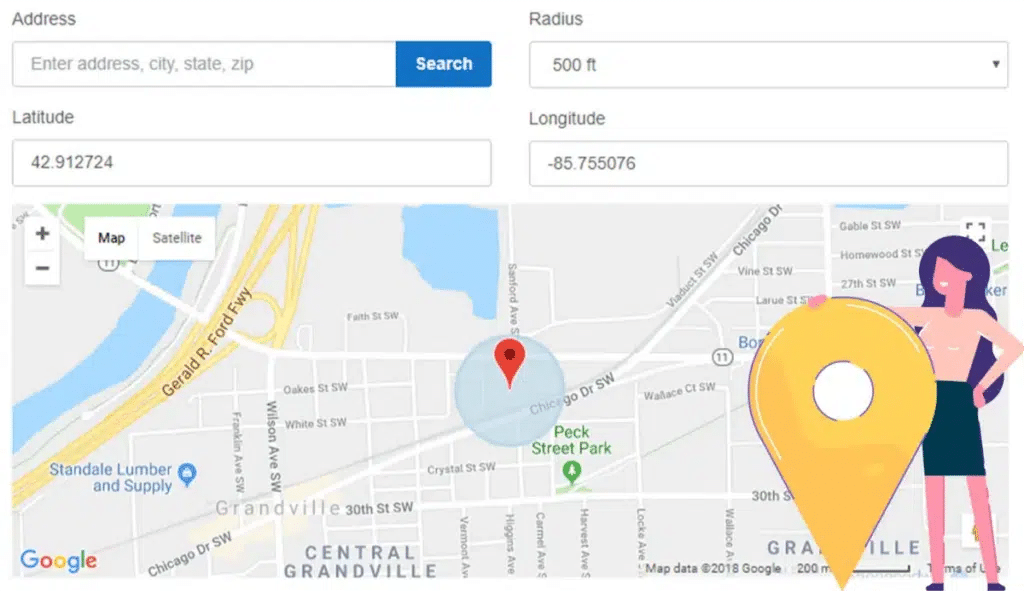 Geofencing is a feature that allows you to create a virtual boundary around any office or work location where employees must clock in.
For example, you can set a radius of 500ft around your office. If employees are outside this area, they won't be able to clock in. This prevents employees from clocking in for work if they're not at the job location.
However, geofencing doesn't require employees to be connected to a specific WiFi network. This makes it a great option if you don't have a designated IP address associated with your job site.
IP Address Locking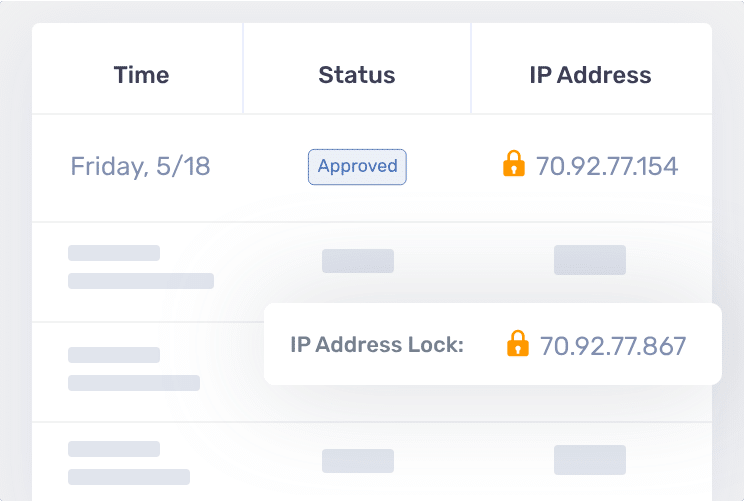 Our hours tracker also lets you restrict where your employees clock in based on one (or more) IP addresses. This feature is great when creating dedicated kiosks or ensuring that a team member has connected to the company Wi-Fi before clocking in for work. In addition, this can be an excellent feature for remote teams to ensure they're connected to their home Wi-Fi.
GPS Tracking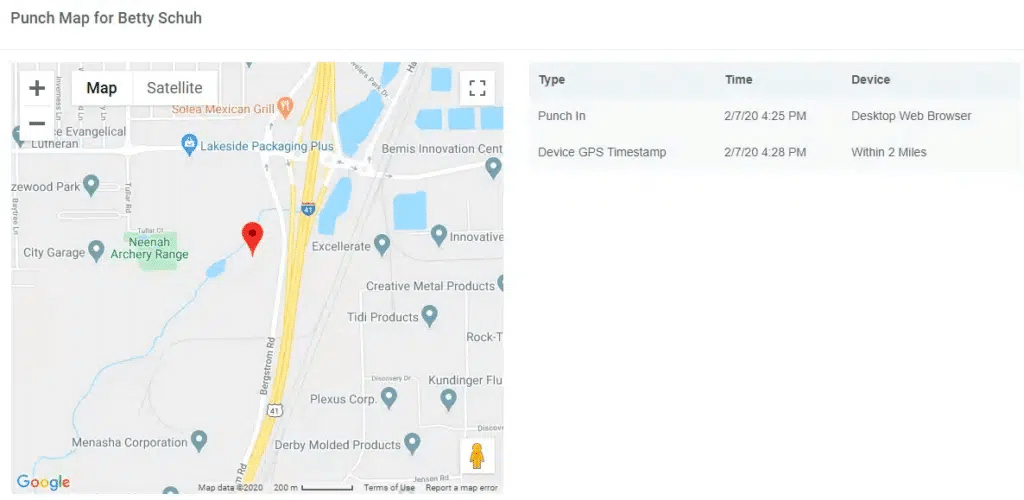 Another helpful employee monitoring feature is GPS tracking, which lets you monitor employees and record their locations when they clock in or out.
Punch Limiting
Punch limiting allows you to customize how someone can punch in for their shift. For example, if several employees consistently clock in ten minutes early, those minutes quickly add up over the payroll period.
Punch limiting helps you avoid this and lets you set limits for when employees can clock in or clock out based on their schedule.
Photos on Punch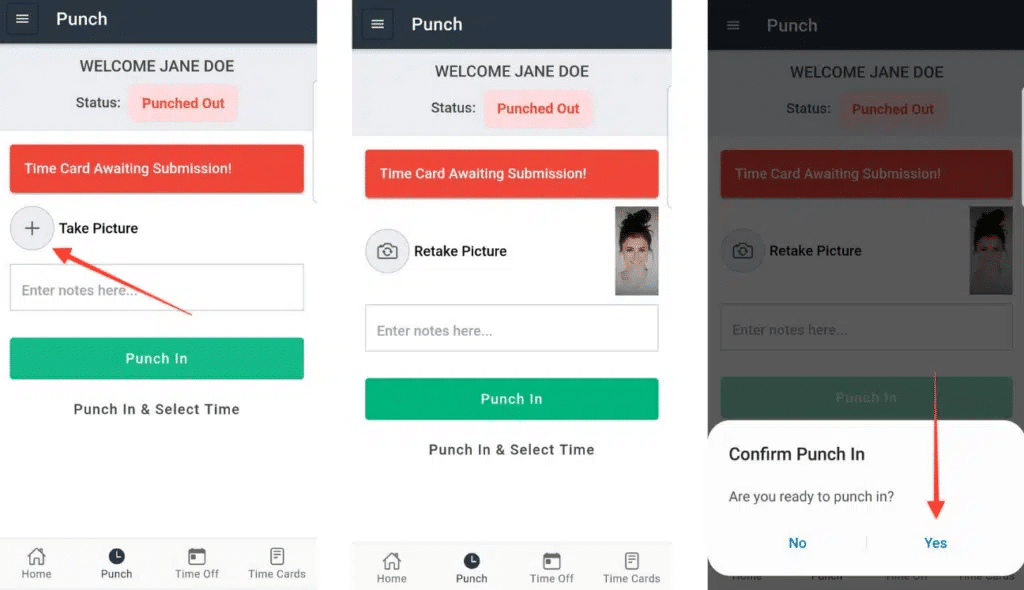 Photos on Punch uses facial recognition and requires employees to take a picture when they clock in or out. This can eliminate the threat of buddy punching (when someone punches in for another co-worker when they're not there). You can review the photos to ensure the right people are clocking in and out for their shifts.
Overtime Alerts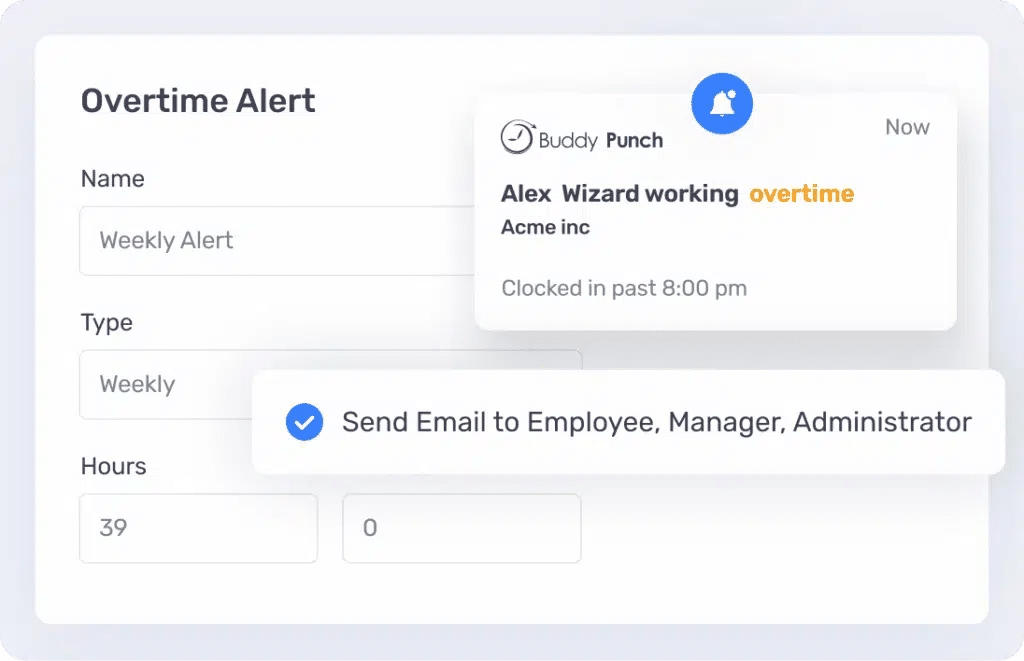 With Buddy Punch, you have real-time insights into how many hours your team works. You can set up overtime alerts and get notified when an employee is nearing their weekly quota of hours.
Track PTO
In addition to accurately tracking regular and overtime hours, you can quickly track, approve, or deny PTO. Here's how:
1. An employee opens the app, enters the requested days, and specifies the type of leave they're taking.
2. If it's paid time off, the hours are logged on their time card to be reconciled with payroll.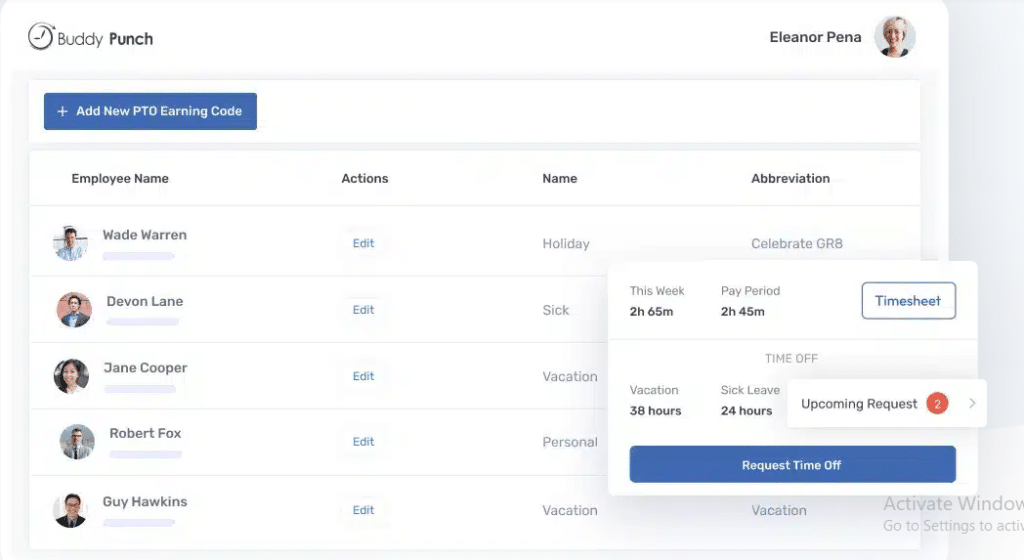 3. Once the request is submitted, you can view, approve, or deny the request. Or, you can customize your settings to approve the PTO automatically.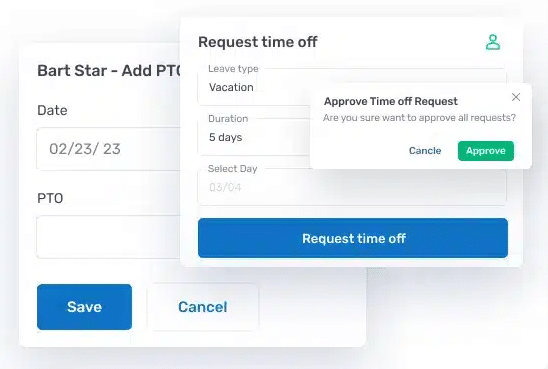 You can set up custom PTO accrual rules based on hours worked, payroll periods, or even work anniversaries. In addition, you can customize these rules for each employee. For example, you can have different PTO rules for hourly, salaried, or freelance employees.
Seamlessly Edit, Approve, or Reject Time Cards
Buddy Punch streamlines your workflow and manages employees' time cards. Here is a look:
1. Start by clicking the "Time Cards" tab on your dashboard under the Pending Approval section.
2. Then click "View" next to the pay period you have time card approvals for.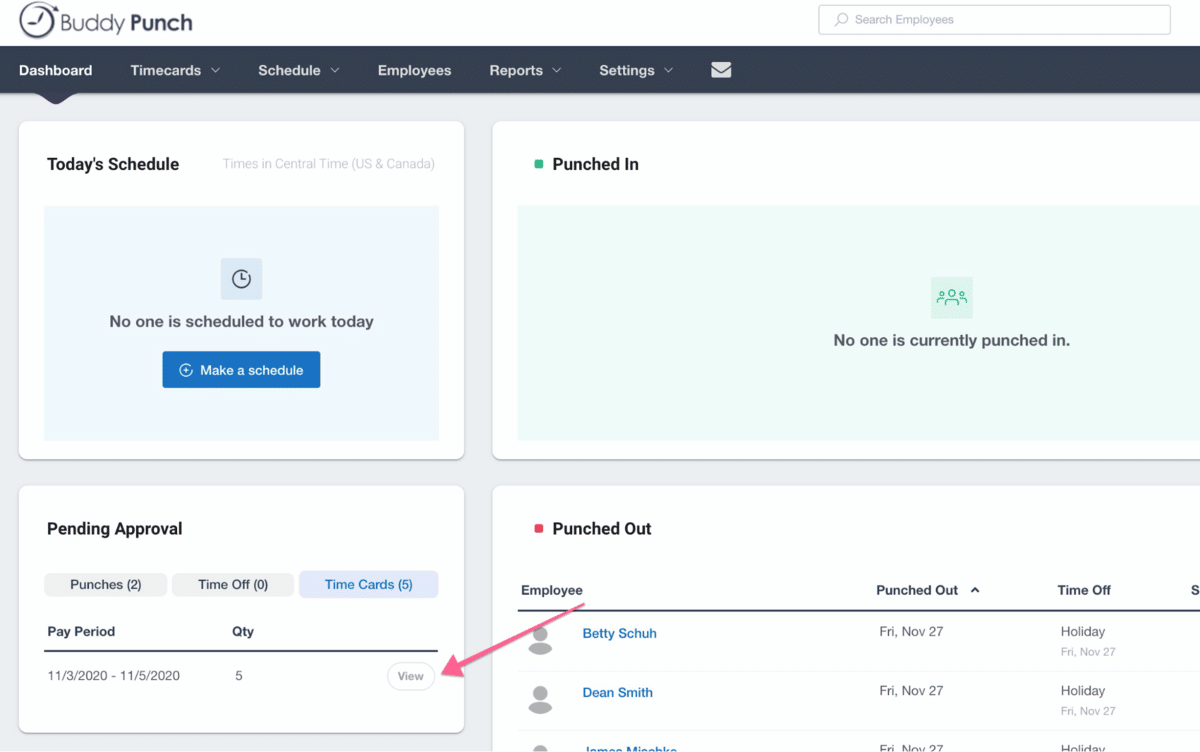 3. If you don't want to review all hours in detail, you can approve the time card immediately by clicking the "Approve" button.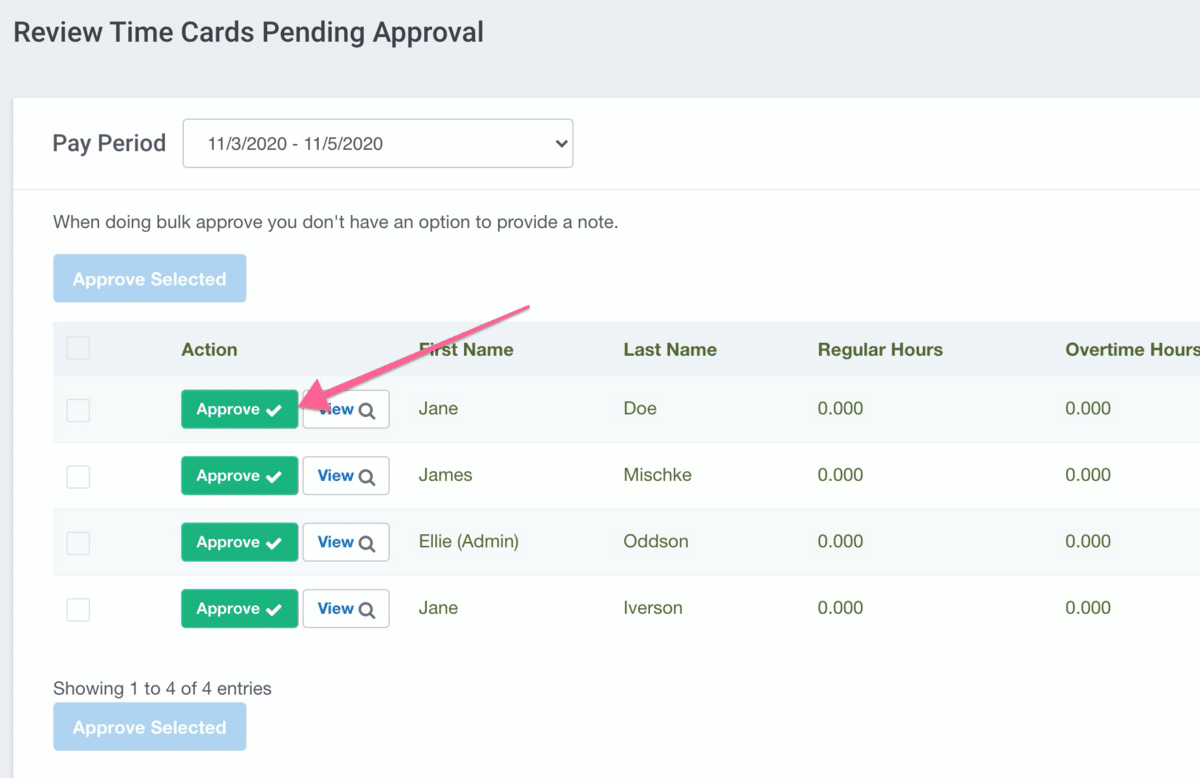 4. If you want to view a time card in more detail, you'll want to click "View" next to an employee's name.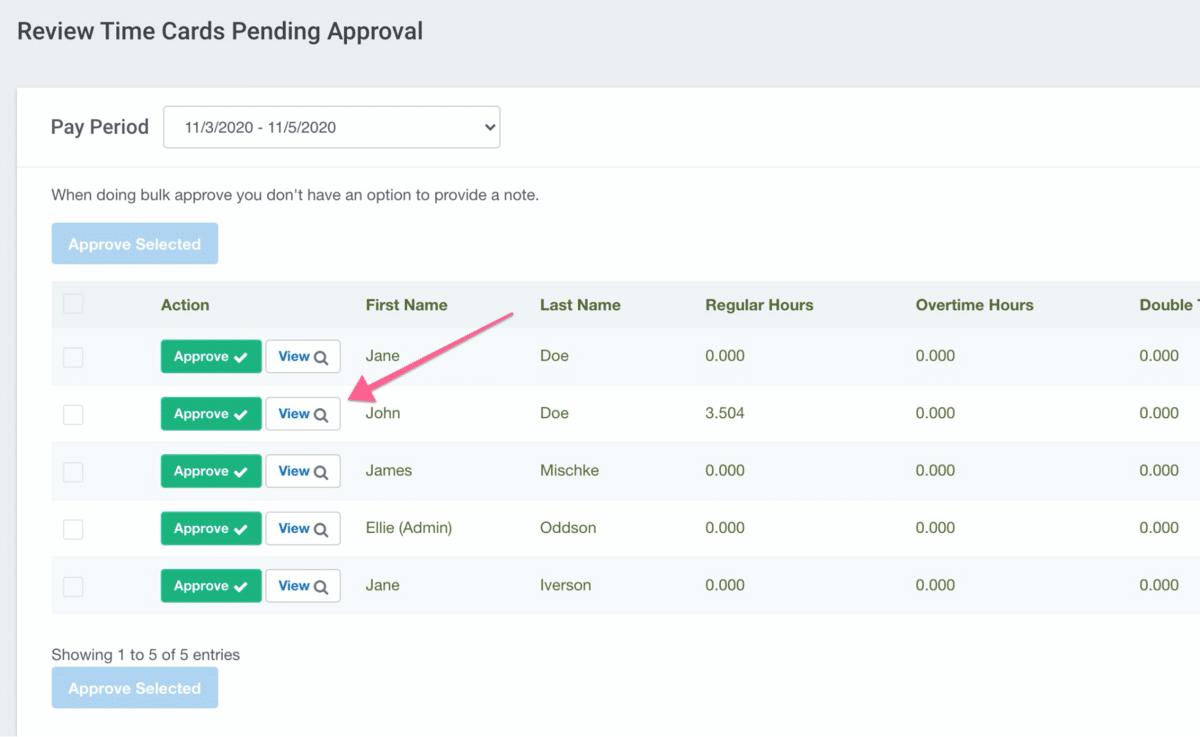 5. Next, click the "Approve/Reject" button at the top of the time card.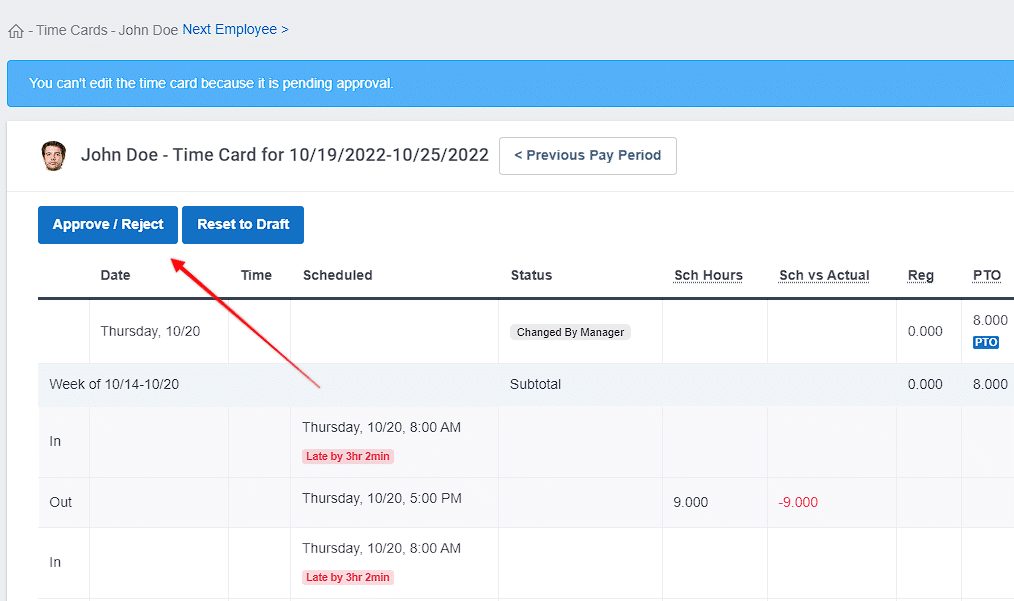 6. If you need to return the time card to the employee to make changes or make changes yourself as an Admin or Manager, simply click the "Reject" button. If you're ready to approve the time card, click "Approve".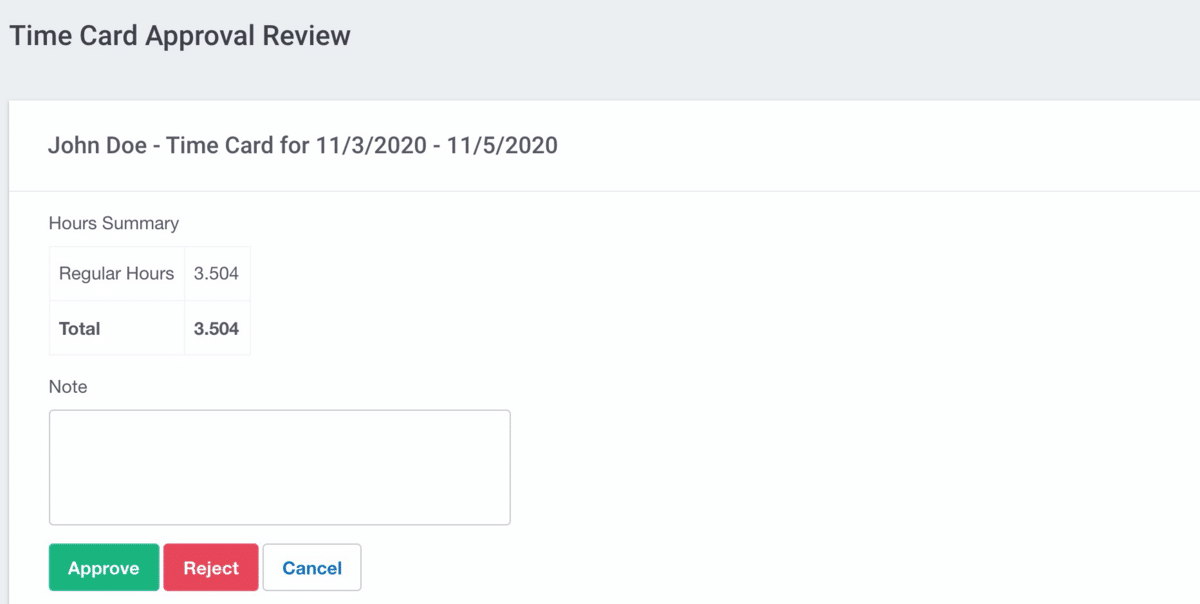 So far, we've covered a lot of information. To recap, Buddy Punch tracks hours for work and lets you:
Set up employee schedules
Accurately track time entries
Manage PTO
Set up overtime alerts
Approve time cards
More Helpful Features: Running Payroll
Time tracking is just one use case for Buddy Punch, it's also a payroll provider that lets you:
Use Buddy Punch to manage payroll: Whether you have employees with an hourly rate, salary, or both, Buddy Punch handles everything from taxes, invoicing/billable hours, pay stubs, and direct deposits. You can choose between 2-day and 4-day processing. You can also set up auto-payroll so you never miss a payroll deadline.
Zapier
QuickBooks
ADP
Gusto
Paychex
Real Customer Reviews of Buddy Punch

Buddy Punch is one of the best apps for business owners to track hours for work, and our many loyal clients agree. As of writing, we have 4.8 out of 5 stars on Capterra with over 880 reviews. (Capterra is a third-party review platform where real customers can leave honest reviews about the software.) Here's a selection of why our customers love Buddy Punch as a time tracker.
"The best time management system. Overall, it's a huge time saver and overall better organization for employee schedules. Buddy punch was super easy to set up, once the employees are added to the system, week-to-week operations are a breeze."

Read the full review here.
"The monthly scheduling feature and web/app time clock are both very easy to use, organized, and reliable."

Read the full review here.
"Buddy punch is excellent, with the online time clock, you can edit your time, put time off in, check your hours, and approve your hours at the end of each pay period."

Read the full review here.
You can read all of our Capterra reviews here.
Start Your Free Trial with Buddy Punch
If you want to see if Buddy Punch is the right time tracker for your small business, sign up for a free 14-day trial. You can also:
For more posts on tracking hours and time management, check out: