Employee Time Card (5 Options)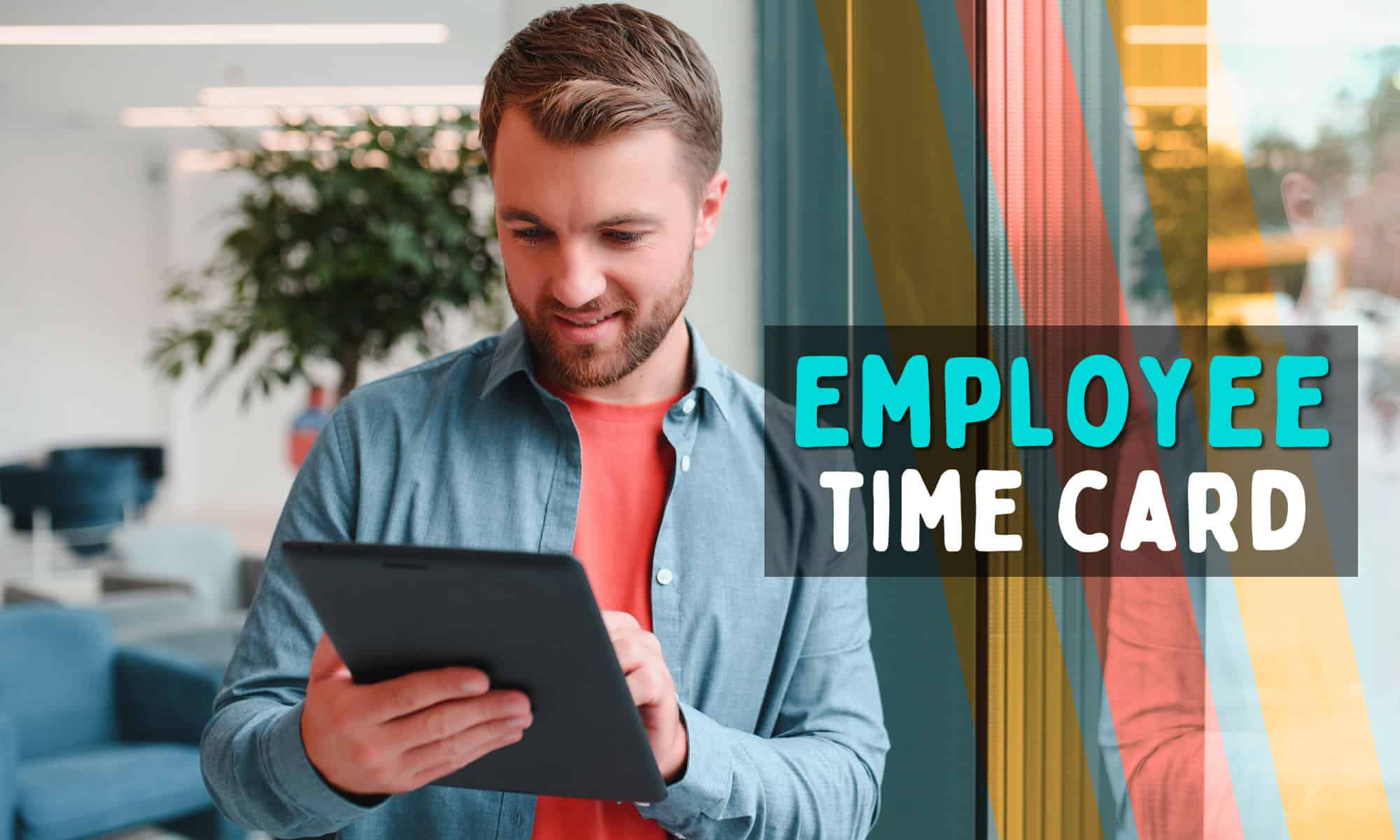 If you are searching for the best employee time card solutions on the market, this is the guide for you. In this article, we will break down the best employee attendance solutions for you to consider. Finding an effective employee time tracking app is a game-changer for teams that want to grapple with the challenges of employee engagement and team monitoring.
With the right solution in your corner, you can track the total hours worked across your entire organization. The best employee time tracking software will equip you with the necessary tools and functionality to track time and monitor employee attendance. Many solutions also come with a payroll integration that enables you to seamlessly manage payroll processing.
Employee Time Card
1. Buddy Punch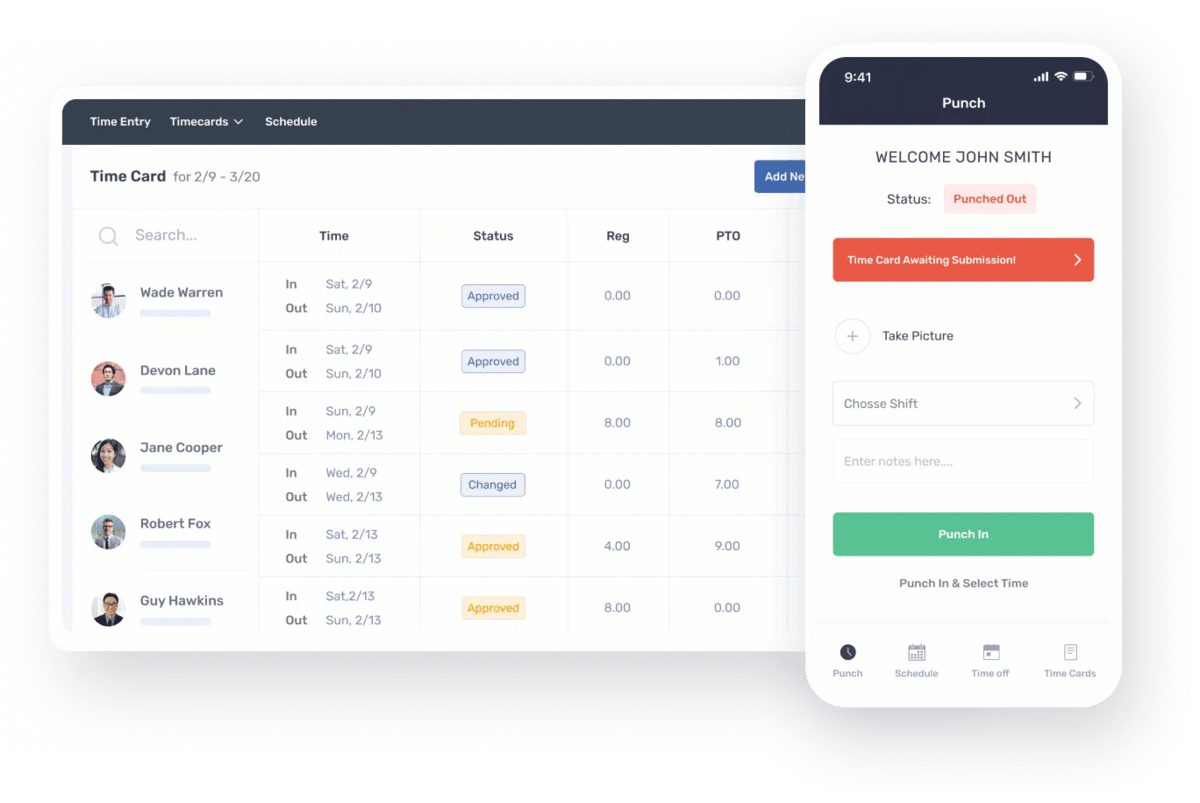 Buddy Punch is a must-have solution for those who want to get a handle on time management and increase employee monitoring. You can access this platform from either a desktop, tablet, or mobile device. The mobile app is fully functional and comes with all the features you need to hit the ground running with this time tracking system.
How Buddy Punch's Time Clock Platform Works
With the support of Buddy Punch, team members can submit timesheets with ease. The time clock system is designed to make the entire process painless. When time entries are simple to complete, this inevitably encourages employees to complete the process faster. Our time card calculator is carefully constructed to enable seamless timesheet entries.
Let's explore how you can take advantage of Buddy Punch's many features.
Monitor Team Overtime With Real-Time Insights
If you want to monitor employee overtime without any hassle, you can leverage Buddy Punch's real-time insights to give you a clear picture of employee hours. Team leaders and managers can set up email and mobile notifications for when team members are reaching their maximums for the day. These instant notifications enable leaders to adjust schedules quickly.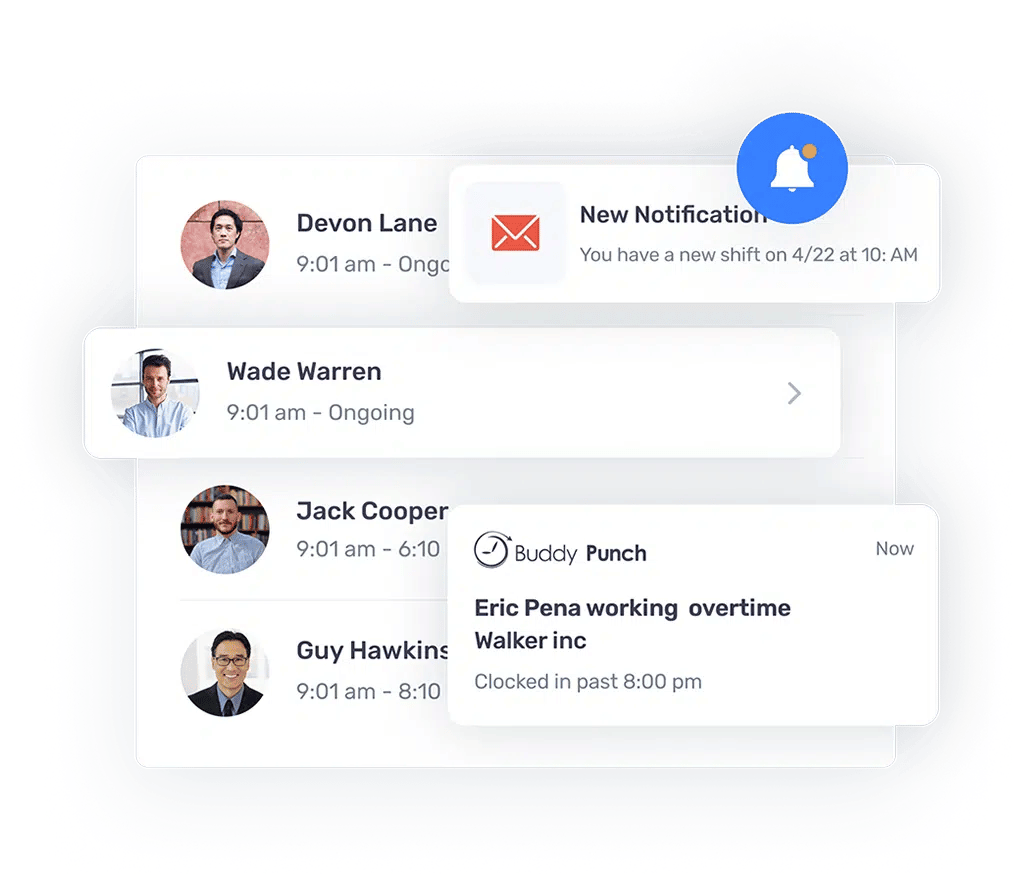 Use Geofencing To Secure The Time Tracking Process
To ensure that employees are clocking in from the right locations, you can use geofencing to secure the time tracking process. Team leaders and managers can specify which geographical areas teams are able to clock in and out from. You can also enable employees to complete time entries from multiple different locations depending on the needs of your business.
Buddy Punch Offers Flexible & Affordable Pricing
No matter how comprehensive a time tracking solution is, it should not break the bank. You can choose from a range of plans based on the features that are most important to your business. Whether you are a small business or a large organization, Buddy Punch can confidently meet your needs and provide you with a time management solution that fires on all cylinders.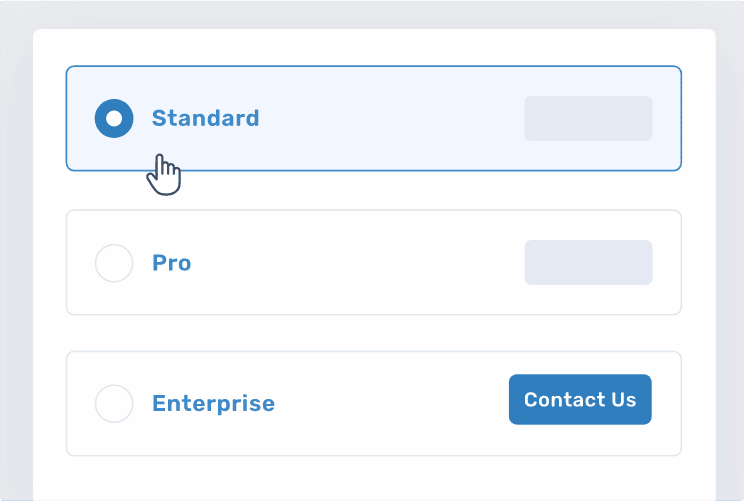 That's just scratching the surface! There's plenty more to uncover. Browse through our "Knowledge Base" and explore all Buddy Punch has to offer your workforce.
Alongside our documentation, we have a dedicated support team that's ready to answer any questions you may have about our platform.
You can book a one-on-one personalized demo here.
Buddy Punch Makes Time Card Tracking Easy
Here are just some of the features available to Buddy Punch users:
Buddy Punch's Online Reviews
Buddy Punch's user reviews highlight the immense benefits of this platform. As of the writing date, Buddy Punch has 4.8 out of 5 stars and 770 reviews on Capterra.

Below, we'll list just a few reviews that speak to Buddy Punch's ease of use and great customer support service. (Click here to explore the full list of reviews.)
As reviewers have noted, Buddy Punch provides team leaders and project managers with the necessary tools to streamline timekeeping and monitor labor costs:
"Cannot say enough about their support. Even if the product was not as amazing as it is, I would highly recommend Buddy Punch due to the unbelievable support!"

Click here to read the full review.
"It's easy to clock in or clock out. The timesheet to keep track of your hours."

Click here to read the full review.
"I like the ease of use and flexibility of Buddy Punch. You can add features you want and don't have to be bogged down with what you don't want to use. Some sites have way too much. I wanted simple!"

Click here to read the full review.
"I can punch on my phone (which I do mostly). Easy to make corrections wherever I am. Also simple to use on the computer as well."

Click here to read the full review.
Try Buddy Punch for Free
If you feel that Buddy Punch might be the right fit for your business, sign up for a free trial. You can also book a one-on-one demo, or view a pre-recorded demo video.
2. QuickBooks Time
QuickBooks Time comes with an eclectic mix of features that are designed to streamline the process of timesheet collection and payroll processing. While you may be familiar with their accounting solution, QuickBooks is quickly gaining a reputation for its time tracking offering – which integrates with a full range of third-party applications.
It's a great timesheet app for Android and iPhone, and at the time of writing, QuickBooks Time has 4.7 out of 5 stars and 6,047 reviews on Capterra.
QuickBooks Time (formerly TSheets) has features that include but are not limited to:
"Basically what I like the most about QuickBooks time is that they are precise there's nothing that I need to fix or try to intend to make it better or not it just comes out the way it's supposed to be it's awesome I don't have to deal with any problems I could call customer service at any time and be able to get my get anything fixed that it needs to be fixed so I give them a big thumbs up you should try it out."

Click here to read the full review.
3. TimeCamp
Much like the rest of the options available to businesses and organizations, TimeCamp brings a full range of tools under one roof. You can generate time tracking reports and monitor team progress without any hassle. TimeCamp delivers on multiple fronts and enables all parties to stay focused on the tasks that move the needle and drive the business forward.
At the time of writing, TimeCamp has a total of 577 reviews on Capterra, with an average of 4.7 out of 5 stars. TimeCamp offers a full range of practical features for teams:
"It's the automatic time tracking that I like the best. Finding the crucial phrases that will correctly monitor time took some time, but now that I've got it functioning it's fantastic. Compared to rivals, TimeCamp's high bandwidth is the second most popular aspect of the service."

Click here to read the full review.
4. Timely
If you want access to a time tracking solution that neatly fits into your existing tech stack, Timely can deliver. This time management platform can integrate with a variety of different applications. Rather than having to adapt your workflows around a time management solution, you can allow Timely to effortlessly connect with all the applications that you know and love.
At the time of writing, Timely has a total of 209 reviews on Capterra, with an average of 4.7 out of 5 stars. Timely is loaded with a broad range of high-impact features:
"I liked the way that Timely visually assembled information to be seen en mass. It made the ability to see quickly and easily where time opportunities were for our business."

Click here to read the full review.
5. Paymo
Paymo is an all-encompassing time tracking system that also doubles up as a project management solution. You can track employee work hours and monitor their progress all in one digital location. This enables you to centralize employee data and have a clear view across all projects. This makes Paymo ideal for those who want to make leadership decisions quickly.
At the time of writing, Paymo has a total of 443 reviews on Capterra, with an average of 4.7 out of 5 stars. Here are some of the best features Paymo has to offer:
"The time tracking functionality is what ultimately led us to select Paymo. With Paymo, we can easily keep track of our time spent on each client's and each project's work, as well as generate time reports. When necessary, we can send out invoices that can be paid with PayPal, regardless of whether the customer is a registered Paypal user or not."

Click here to read the full review.
Try Buddy Punch for Free
If you feel that Buddy Punch could be the right fit for your business, sign up for a free trial. You can also book a one-on-one demo, or view a pre-recorded demo video.
You May Also Like…