Using Employee Availability Forms Efficiently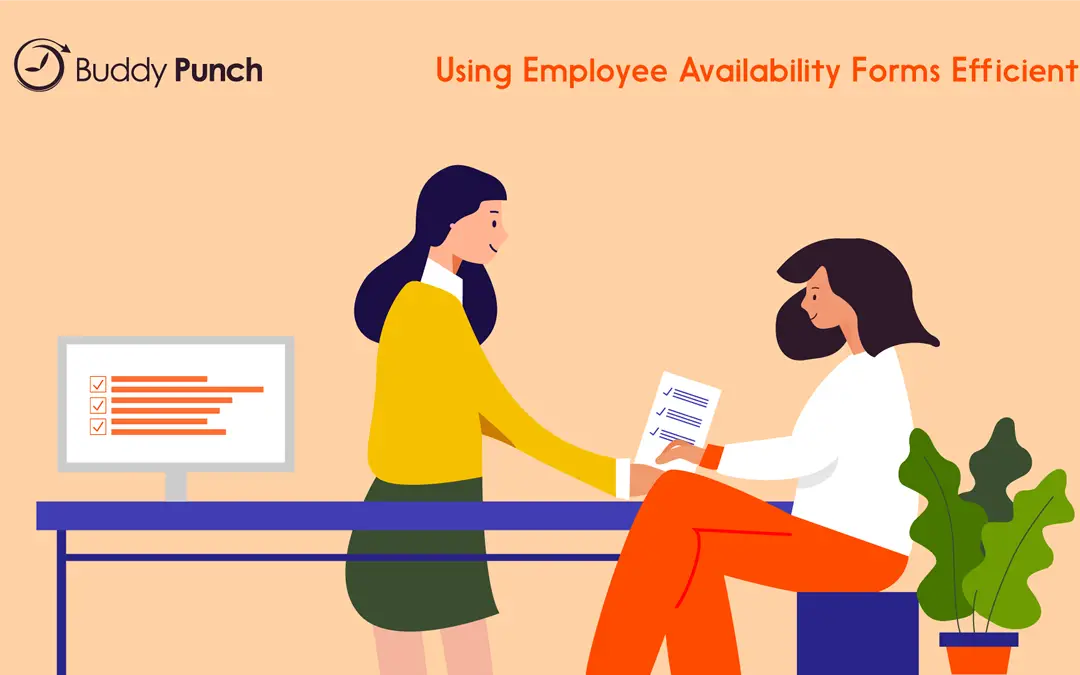 Planning employee work schedules can be a very time-intensive process that takes away from other more pressing matters in the business day.  The effective use of employee availability forms is a great asset that often gets overlooked. Lack of organization in employee scheduling holds a great impact on the profitability of a company as labor is one of the greatest assets a company has, as well as the most expensive. The loss associated with employee absenteeism is greater than the actual cost of employee wages and benefits.
Not only is it important for management to be aware and accurate when it comes to employee time, but it is also vital that they know which team members are scheduled to work, when they are scheduled, and when they are expected to take time off. The accumulation of this information on availability sheets is beneficial in knowing your business's labor needs and time off/vacation habits.
Managers tend to have fewer attendance problems when employees are permitted to have a part in the scheduling process. Utilizing employee availability form templates ensures that a company has the most productive workforce possible.
Benefits of Employee Availability Forms
Increase Employee Productivity and Efficiency
If you utilize work availability forms, this benefits your employees, not just the business itself. Employees should be able to view their schedules for the upcoming week or month. It is best to make your schedule at least a month in advance.
Flexibility in being able to swap or switch some availability with fellow employees is appreciated by employees as well. Free employees can see time frames they might want to come in and earn more wages, while scheduled team members can do the opposite, using a request form to let you know ahead of time they'd like to be replaced for a certain shift or day. This helps you avoid last minute changes in the timesheet that can be difficult to find new employees to cover for.
Managers obviously reserve the right to approve or deny the additional hours or changes requested via application forms or requests (depending on if you're using a shift scheduling app or not).
An organized, well-planned schedule also streamlines productivity for management as they are freed up to focus on more pressing matters.
It is important to allow the employee to submit their availability and work preferences to management. Employee productivity and efficiency increases when employees feel they are a part of the team by being allowed to have a hand in their scheduling process. If they feel their personal needs are important to the company, employees are more likely to be dedicated to the company's success. An employee who feels valued will be more likely to pick up an extra shift or accept a canceled shift when the time arrives. As a side benefit, satisfied and happy employees help build a favorable public image and attract additional competent staff.
The easiest way to achieve this is through use of forms – not just for availability, but consider feedback forms so employees can let you know how they feel about scheduling, and maybe evaluation forms to see what other aspects of your business your team feels could be improved on.
Improve Bottoms Line
Every company's goal is to be profitable. It is extremely important for them to be prepared and aware of seasonal or workflow fluctuations. Accurate employee availability records help management forecast labor costs and budgets and improve employee morale by balancing employee scheduling preferences with labor needs.
Employee availability forms include employees' skills and shift/scheduling preferences. This allows management to control and minimize overtime, as well as make future adjustments without leaving uncovered shifts or errors due to scheduling conflicts.
Information to Include With Employee Attendance Reports
Managers should collect employee work preferences (i.e., hours worked, shift preference, availability), skills, and certifications. This also helps to keep track of employee seniority among a larger number of employees. Correctly gathered, accurate details should allow management to view information for a given employee on any given day. To be the most effective, employee availability forms should include the following information:
– Employee's name
– Employee's availability
– Employee's availability preferences
– Absentee hours – including frequency, length, and cost to the company
– Overtime hours
– Length of employment
– Percentage of absences in comparison to time worked
– Regular hours worked – including the cost to the company
– Employee contact information
Another detail you can include is an employee's signature, as a sort of agreement between you and them that they'll be available for those days of the week, and maybe to hold them accountable in your records if absenteeism becomes a significant issue
These details can give the employer a more accurate, broader view of how current employee attendance and absences affect the business, as well as assist management in authorizing leave requests, scheduling shifts, and making plans for hiring.
How to Utilize the Information Collected
Employee tracking software is highly recommended for every business that means to excel.  It easily monitors and keeps track of the numbers to ensure that you are staying under-budget. In many cases, the software can serve as a time clock and even integrate with payroll software (eliminating HR hours, therefore increasing the company's bottom line even more.) Software can print a wide array of reports, allowing the company to keep on top of their most valuable asset – their labor force.