5 Employee Scheduling Template Options for Small Business Owners (And 1 Superior Solution)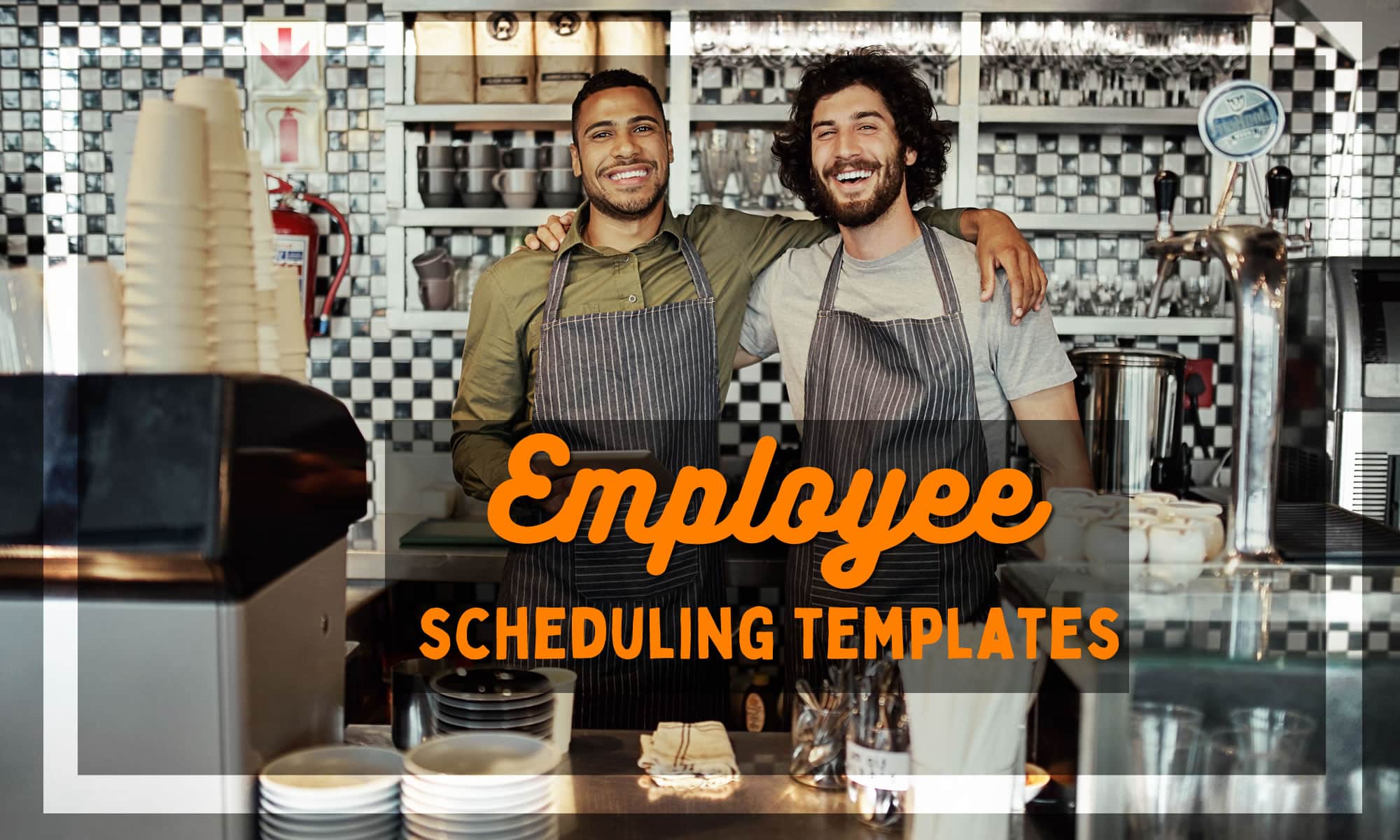 Without using some sort of tool to help manage employee work schedules, you may quickly find yourself struggling to manage the number of hours team members work, facing no-shows and open shifts with little advance notice, and struggling to figure out where you can optimize your business to improve profits and productivity.
Many business owners (once they realize the potential upside) immediately turn towards work schedule templates. While that's a decent first step, it isn't exactly optimal. There's been enough advances in technology that a business owner could see a drastic improvement by adopting a scheduling software than they could a scheduling template.
First we're going to suggest a far superior option to any employee shift schedule template out there – an option that's simple and intuitive enough for business owners and their team members to easily make the switch over to. Then, if you're still unconvinced, we'll list out some of our top 5 picks of employee work schedule templates.
Employee Scheduling Template Options
Scheduling Templates vs Scheduling Software
Small business owners tend to get comfortable downloading a free employee schedule template and distributing it to team members on a daily or weekly schedule. This might seem like it's working fine, but you're ultimately losing money due to human errors, an inability to guard against time theft, and from the time it takes to handle the manual parts of data input, collection, and transfer over to payroll software.
How do you plan to scale your business if you're relying on a method with so many gaps?
That's why we highly recommend that business owners swap to scheduling software. Besides the fact that most software rapidly speeds up the process of scheduling employees, they also work across a wide variety of devices (iOS, Android, Desktop, Tablets, etc.) and come with additional features that can assist in scheduling, attendance, and even automation.
But it's not all positives. Choosing the "wrong" employee scheduling software, one that's difficult for you or your team members to understand and make use of, comes with downsides of its own.
Some of these tools can be overwhelming with the amount of features they provide, or they can be difficult for less-tech savvy employees to make use of. Others might not integrate with software that you use in other aspects of your business (whether it be for communication or the processing of payroll)
Finding the right employee scheduling tool to replace templates and streamline your operations can be a lengthy process, but once you've achieved it, you'll have unlocked a level of operating most small business owners dream of.
Now let's move into talking about one of the strongest choices of employee scheduling tools out there.
Our high opinion of our software Buddy Punch is something that even our software's users have come to share (which we'll address later). Back in 2013, we were looking at expanding our small business to multiple locations and with a larger workforce. At the time we had come to rely heavily on templates for employee scheduling, but we realized that they weren't accurate enough for us to continue using, and transferring data from timesheets for payroll was far too tedious.
That's when we started looking at digital solutions for scheduling, and, after determining that many of the options offered weren't quite what we needed for our business, we set off to develop our software with features such as Drag & Drop Scheduling, Shift Trades & Covers, Overtime Calculations, Notifications, Job Codes, PTO Management, Payroll Integrations, and more.
Next, we'll dive into each of these features to show exactly how they function, and how they can outclass any excel schedule template you might find.
Note: If you'd rather get a feel for Buddy Punch's scheduling features yourself, you can sign up for a 14-day free trial by clicking here.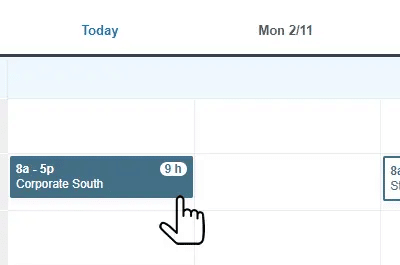 Buddy Punch's Drag and Drop scheduling feature makes it easy to get your whole team scheduled. Create a shift simply by clicking on an empty cell, then drag and drop shifts and employee names as needed. This feature provides a visual overview of your weekly or daily schedule, and once published, all relevant employees will be automatically notified.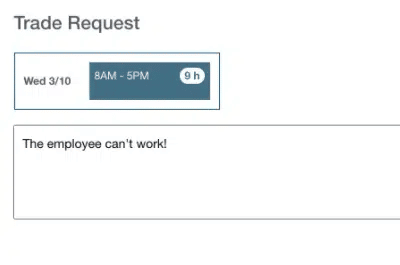 What about when there's an issue with a schedule you've set? With the shift trades & covers feature, administrators, managers, and employees (with permissions) can initiate a trading of shifts with other team members to help resolve scheduling conflicts. Additionally, the shift covers option allows proactive team members to take over open shifts or unclaimed time periods completely. This makes scheduling much easier for employers, without having to think about it full-time.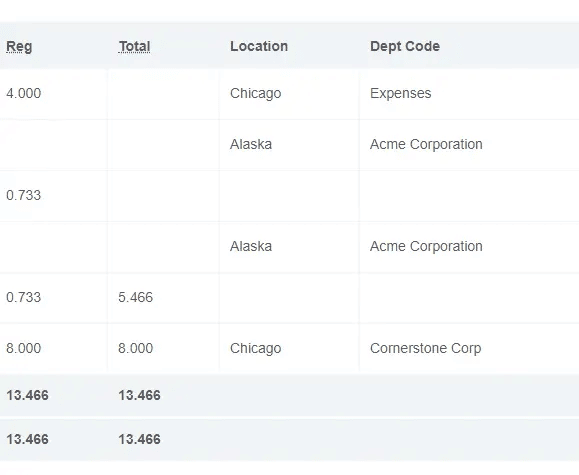 Overtime hours are far too costly to leave their calculation up to chance. Improve transparency in this aspect of business management by having regular, overtime, and double overtime calculated for you. There are more than a dozen different types of overtime to choose from with Buddy Punch, and if you ever need another one added, you can reach out to our team.

Buddy Punch's notifications feature keeps employees, administrators, and managers all in the know when it comes to what's happening while on the clock. Employees are notified of punch change emails, time card approval status changes, PTO changes, and when they're approaching overtime. Meanwhile, Managers and Administrators are notified of punch change emails, punch ins and out, time card approval status changes, PTO requests, and when employees are approaching overtime.
Some of the overlap ensures that transparency is a two-way street, and any of these notifications can be enabled or disabled at will. Staff can spend less time distracted during business hours, because they'll know that they'll be notified of anything important.

If you're looking to get a deeper look at labor costs and the profitability of individual tasks in your workplace, Buddy Punch's job codes feature is what you need. This feature allows employees to specify which job or company they're working while on the clock, and they can swap between codes easily during their shifts. Then, you can check their timecards to see how their time was allotted throughout their shift.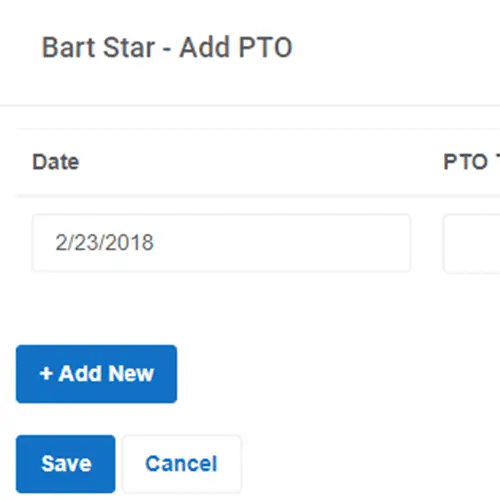 Buddy Punch also makes it easy for business owners to manage paid time off requests. Use our many standard built-in PTO types or create custom types at will. You'll be notified whenever a staff member puts in a time off request.
But it gets even better. You can also enable a self-service approach to PTO if you wish. With this enabled, employees will be automatically approved for any time off they request, rather than requiring your oversight.

Buddy Punch's Payroll Integrations makes it easy to transfer employee data over to Payroll Software for accurate billing, invoicing, and payments. Popular names our software works with include QuickBooks Time, ADP, Paychex, and more (click here to view the comprehensive list).
Buddy Punch Offers Many Other Features
So far, we've only chosen to highlight a select few features that demonstrate Buddy Punch's impact on scheduling. But there's plenty more that business owners enjoy with our software, such as:
There's also out-of-app benefits to consider, such as the Help Doc Center that will guide you on the optimal utilization of Buddy Punch, the Blog Section which is consistently updated with new practices for business owners, and our Customer Support Desk – where you can get in touch with our responsive team, always ready to answer questions via live chat.
Speaking of our customer support team, you can book a one-on-one personalized demo with them by clicking here.
Buddy Punch's Online Reviews
We've talked a lot about our software, now it's time to hear from our software's users. As of this post's writing, Buddy Punch has 4.8 out of 5 stars and 703 reviews on Capterra.

Below, we'll list just a few reviews that speak to Buddy Punch's impact on employee scheduling. (Click here to explore the full list of reviews.)
"I arrive at my location, open the app and sign in, my employers do require me to attach photos so I snap a photo of the store front before entering. While there, I setup my samples and take a few photos of my presentation to attach when I clock out. I like that I can see my schedule, even though I already know my Road Shows are 11 days back to back for each demo."

Click here to read the full review.
"I really like that it tracks and accrues PTO & holiday hours. I don't have to ask anyone what my PTO balance is! I think its smart to be able to add a schedule if you happen to work the same amount of hours each day – much easier to add. I also like that I can add a comment or note of some sort, if needed."

Click here to read the full review.
"The system is intuitive and those who do have difficulty only need a quick tutorial and they are good to go. Buddy Punch has given greater visual to each manager allowing them to see where their employees are spending their time and how much time their employees are working."

Click here to read the full review.
"The interaction with the the different sections is seamless once a person learns all the processes that relate to time in and time off. Having the availability of the calendar option makes keeping up with personal time very simple. The features that allow changes to time and scheduling are made simple and are quick and easy to perform."

Click here to read the full review.
As these reviewers all mentioned, making use of Buddy Punch was intuitive and easy for managers and employees alike.

Try Buddy Punch for Free
If you feel that Buddy Punch might replace calendar templates for your business, sign up for a 14-day free trial. You can also book a one-on-one demo, or view a pre-recorded demo video.
If, after everything we've shown, you're still not convinced to upgrade from scheduling templates – not to worry. Here are 5 of the best options we found that you can make use of.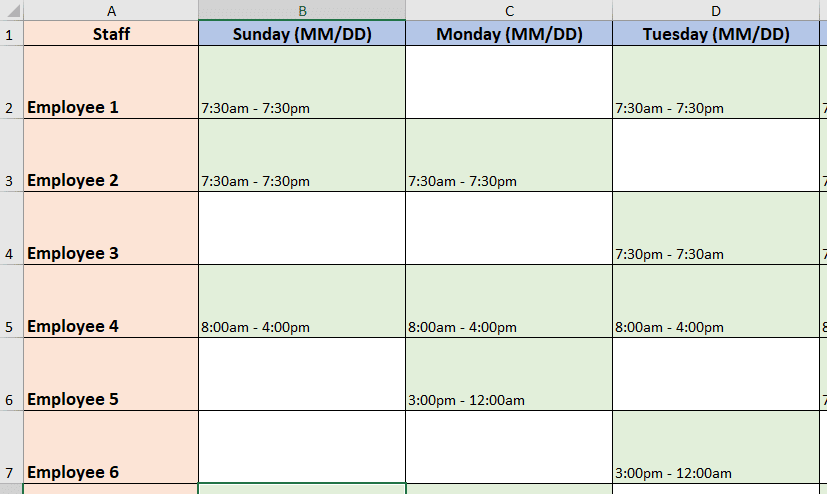 BetterTeam's employee scheduling template was created in Microsoft Excel, though you can import it into Google Sheets as well. This free employee scheduling calendar template is extremely simple – allowing you to input employee names, shifts, and the overall weekly work schedule.
Download it here.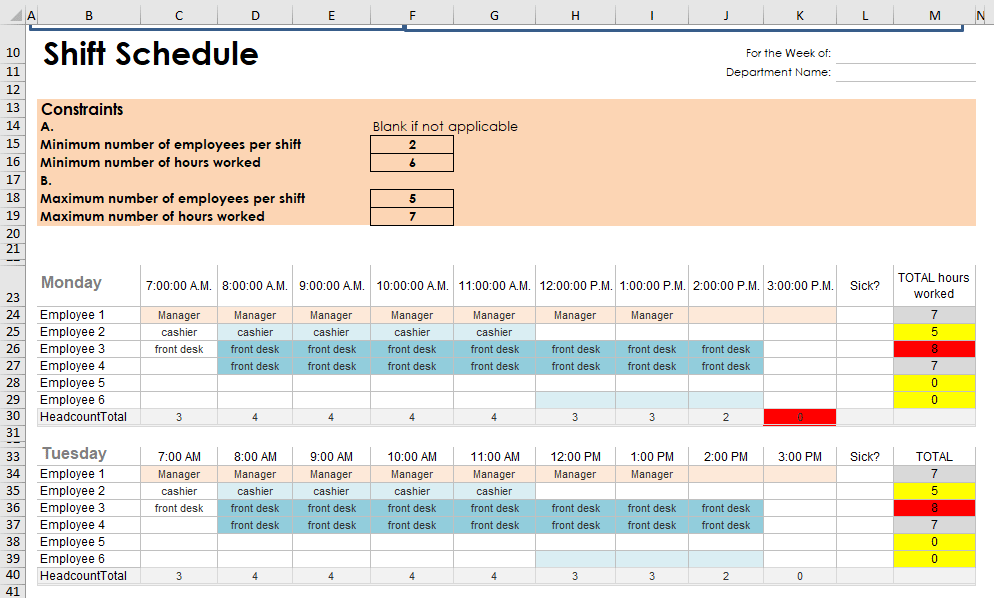 Even though TemplateLab has a wide selection of 40 team scheduling templates, we specifically want to highlight that these monthly and weekly employee schedule templates can be used in both Microsoft Word and Microsoft Excel (TemplateLab provides a download for both).
They've also created a guide on creating shift schedules yourself (creating column headings, entering names in the first columns, etc.)
Download here.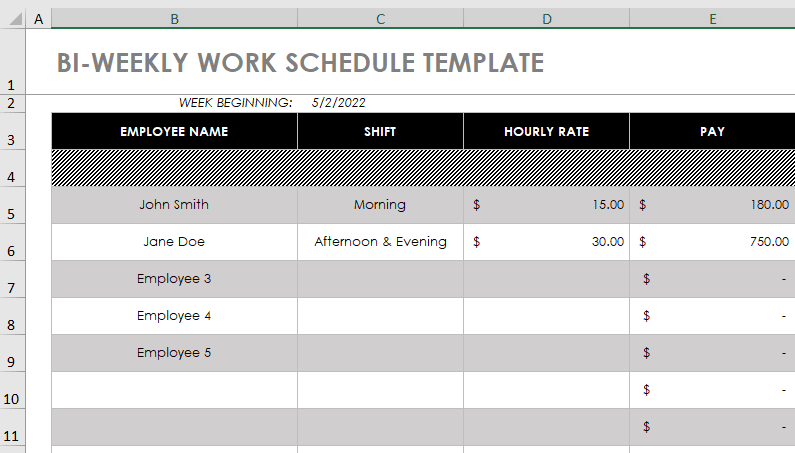 Smartsheet offers a wide variety of staff schedule templates, from bi-weekly to weekly and more. They really give you freedom to choose what manner of calendar you want to use for your business, so you're better off checking their list and eyeballing the free download options.
Download here.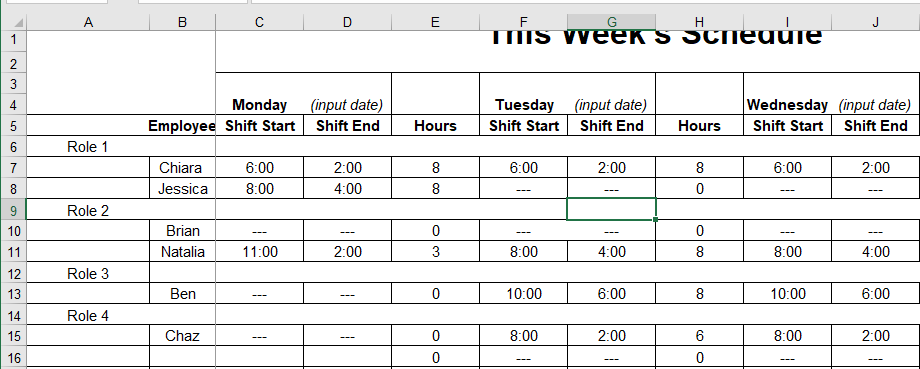 Created by a Human Resources specialist, Fit Small Business offers a wide variety of schedules, from daily, Weekly, and 24/7 to shift schedule templates and a checklist to make sure small business owners have everything they need. They come in both Google Sheets and Microsoft Excel format.
Download here.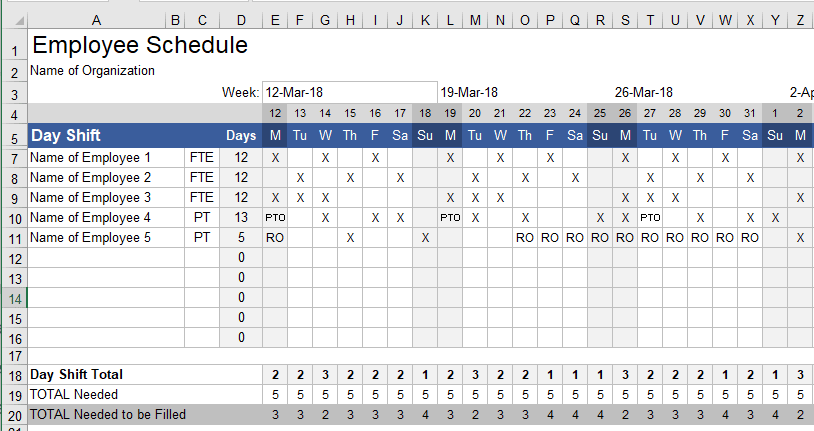 This new employee scheduling template was originally created for 12 hour day and night shifts, but can be adjusted to fit your needs. Instructions for customization are included on the download page.
Download here.
Though these options are decent as far as templates go, after everything we've said about scheduling software, it should be clear why templates just don't stack up enough.
Try Buddy Punch for Free
Making the switch from templates to software can be an adjustment period, but you don't have to commit right away. Test out Buddy Punch for your business by signing up for a free trial. You can also book a one-on-one demo, or view a pre-recorded demo video.

You May Also Like…