The 5 Best Time Tracker Options for Small Business Owners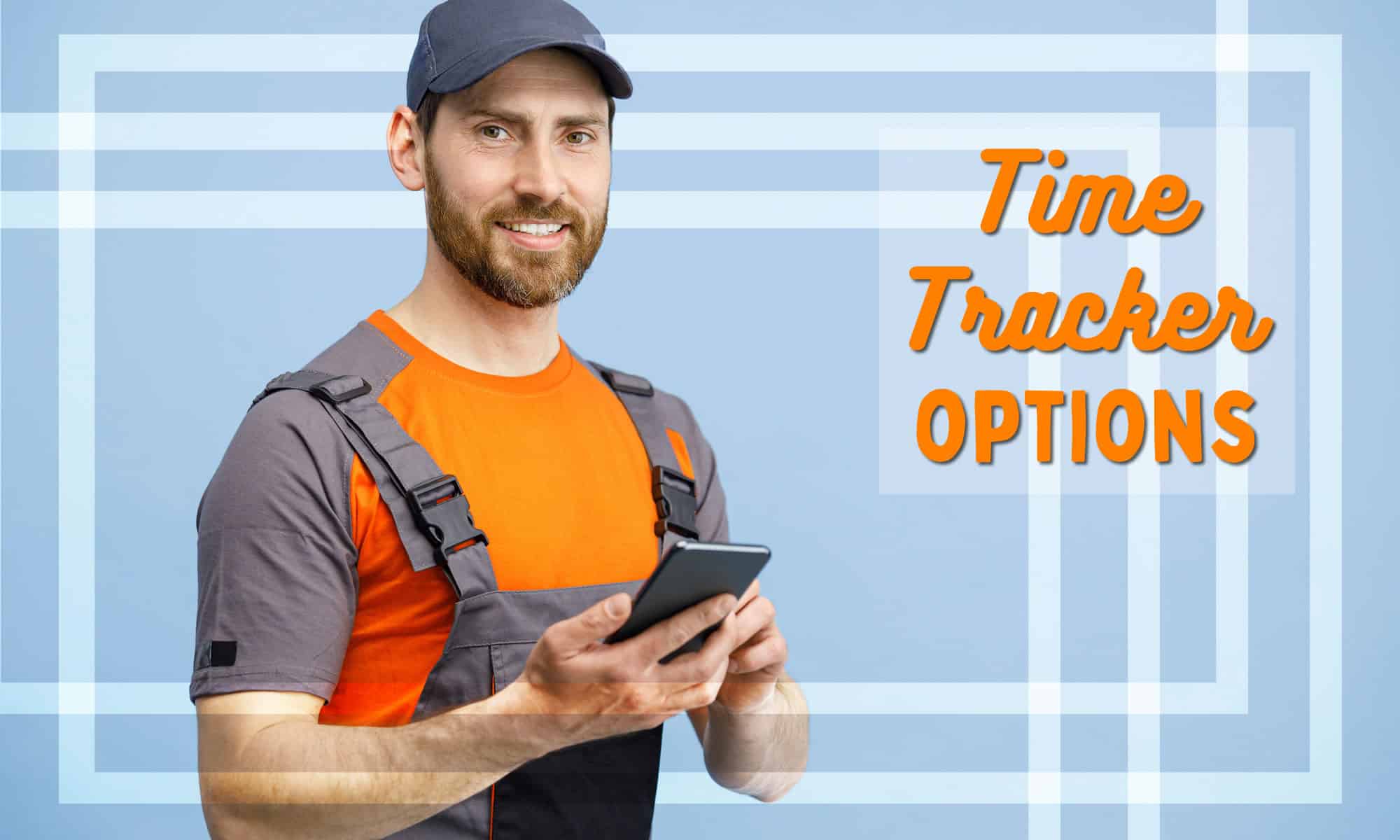 Digital time trackers are a natural evolution from manual methods of timekeeping, but they have as much potential to be hindering as they do to be freeing. The distinction comes from which time tracking tool you choose, and how well your workforce can adapt to its implementation. We looked at a large number of time management tools on the market and came up with three criteria of what we believe makes certain tools stand out as the "best."

An effective time tracker must place a special emphasis on improving employee accountability. This means that every feature added to the time tracking software should serve in the goal of getting workers to improve their task management.
An effective time tracker must have a simple and intuitive design. The importance here is ensuring that any team member can use this tool for accurate time tracking, regardless of personal sensibilities. Whether they're on Android or iOS, Desktop or Tablet, or if they're not tech-savvy at all – everyone should be able to use the time tracking features easily.
An effective time tracker must streamline your existing operations. Bringing new features to the table is great, but what's even better is improving the way business owners currently handle various tasks around the workplace.
With these 3 core tenets in mind, we're going to lay out our rankings of the 5 Best Time Trackers for small business owners in 2022.
Time Tracker Options for Small Business Owners
Kicking off our list of the best online time tracking software of 2022, we have our very own Buddy Punch. When we were designing our time tracker, we pulled from our own experiences as well as the testimony of businesses we'd worked with to inform the features we would include. The result was us deciding to focus on those 3 core tenets we mentioned above (Employee Accountability, Design Simplicity, and Operations Streamlining).
Next, we're going to give an overview of a few of the features that Buddy Punch comes with to show how each one fits firmly into that design philosophy. When you consider that most of these features are usable on all devices (since Buddy Punch is a desktop app, mobile app, and web app) it becomes clear why we've ranked Buddy Punch so highly.
Note: If you'd rather skip the rundown and try out Buddy Punch for yourself, you can activate a 14-day free trial by clicking here.
Employee Accountability Feature: GPS Tracking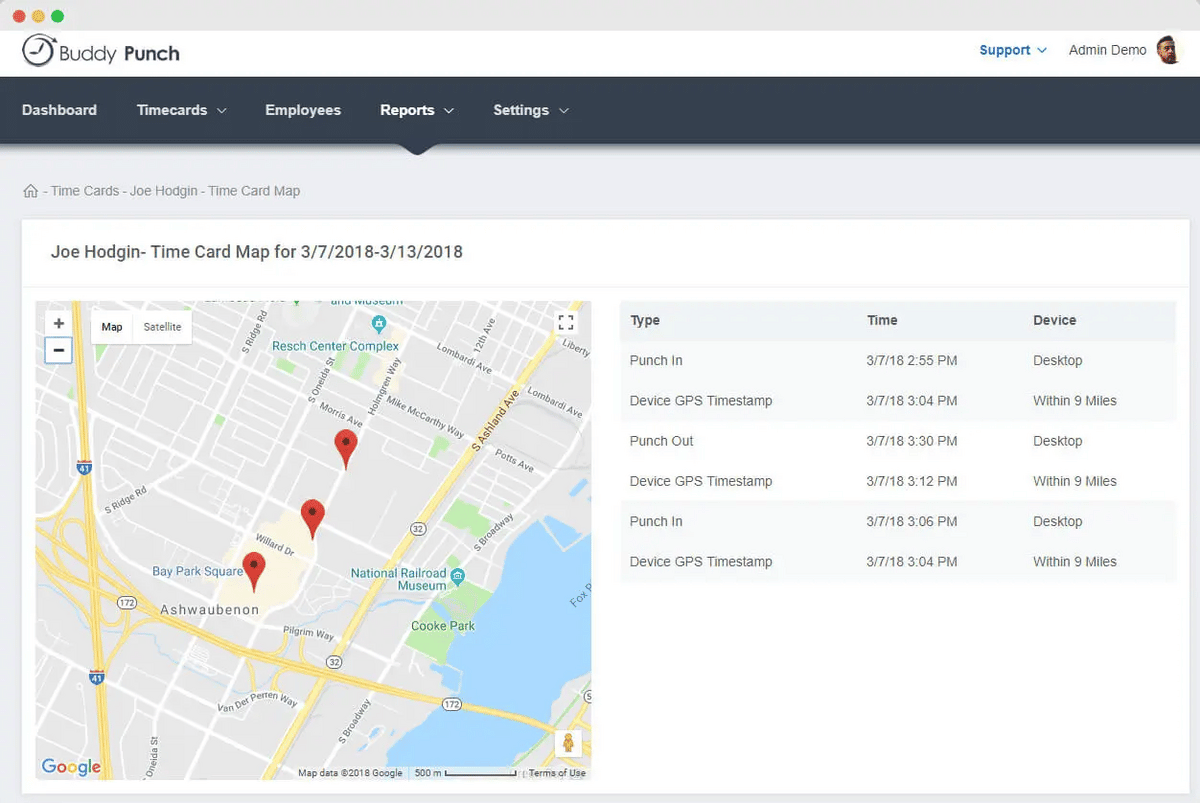 One of the biggest fears business owners have with Work from Home is their profitability suffering due to employees lying about the time they're spending on the clock. GPS Tracking helps alleviate some of this fear, marking where remote teams or employees are located on an interactive map when they begin time entry. This helps ensure they're where they are supposed to be at the start of work time.
Employee Accountability Feature: Job Codes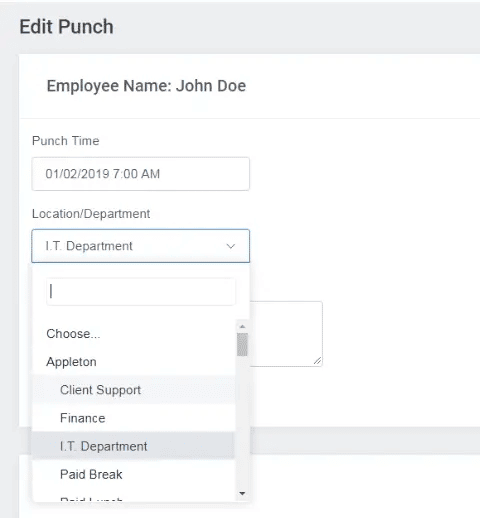 The Job Codes feature, also known as department codes, can help business owners optimize their team's work. This feature provides transparency to what your employees are doing throughout the workday, enabling you to go back through the time logs to determine job costs and profitability for later project budgeting. If an employee works on multiple jobs throughout the day, they can easily change which ones they're logging time for throughout the day.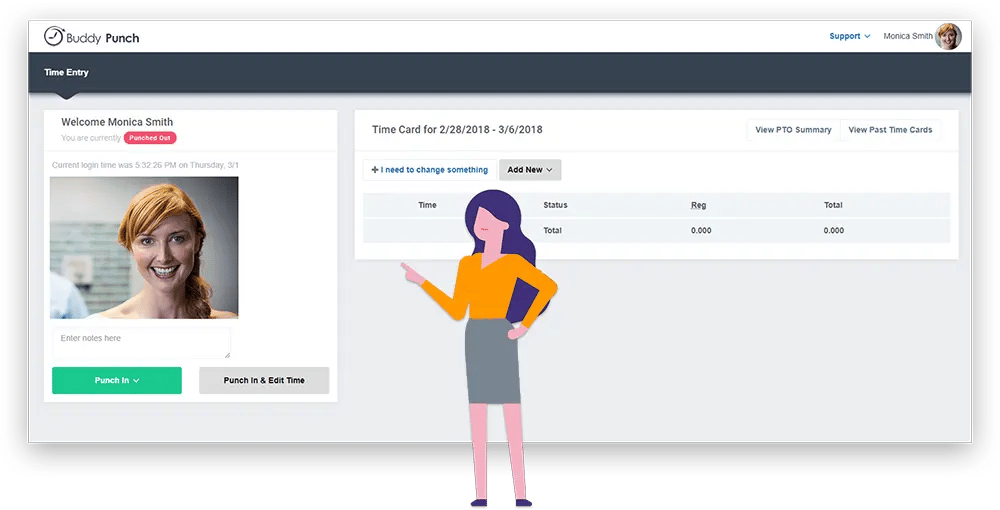 Especially worried about time theft? Buddy Punch's webcam photos on punch feature makes it nearly impossible by taking a photo of your employees as they're clocking in. Use this tool to ensure that the person logging time is who they claim to be.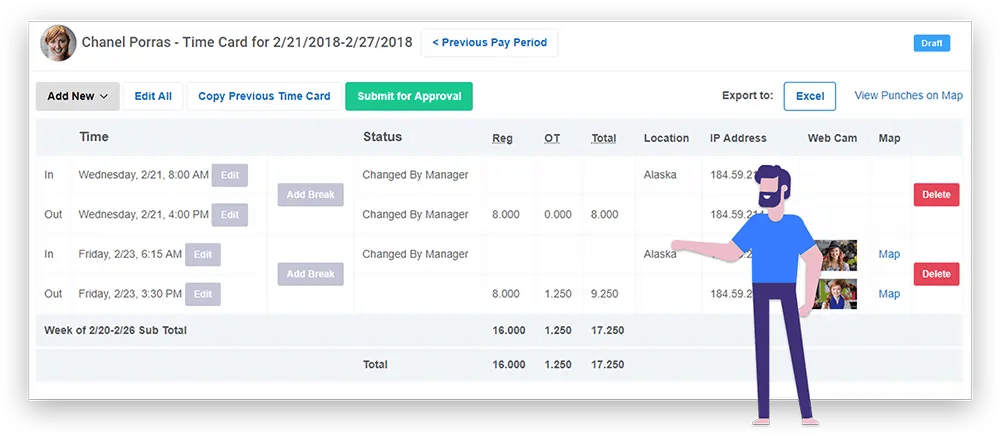 What good is collecting team time tracking data if it can't be accessed and used to improve how you manage your business? Gather data such as employees, their hours, overtime, locations, departments, and more – and export it in Excel CSV or PDF formats to inform the rest of your business decisions. Buddy Punch's detailed reports empower you to make smart choices.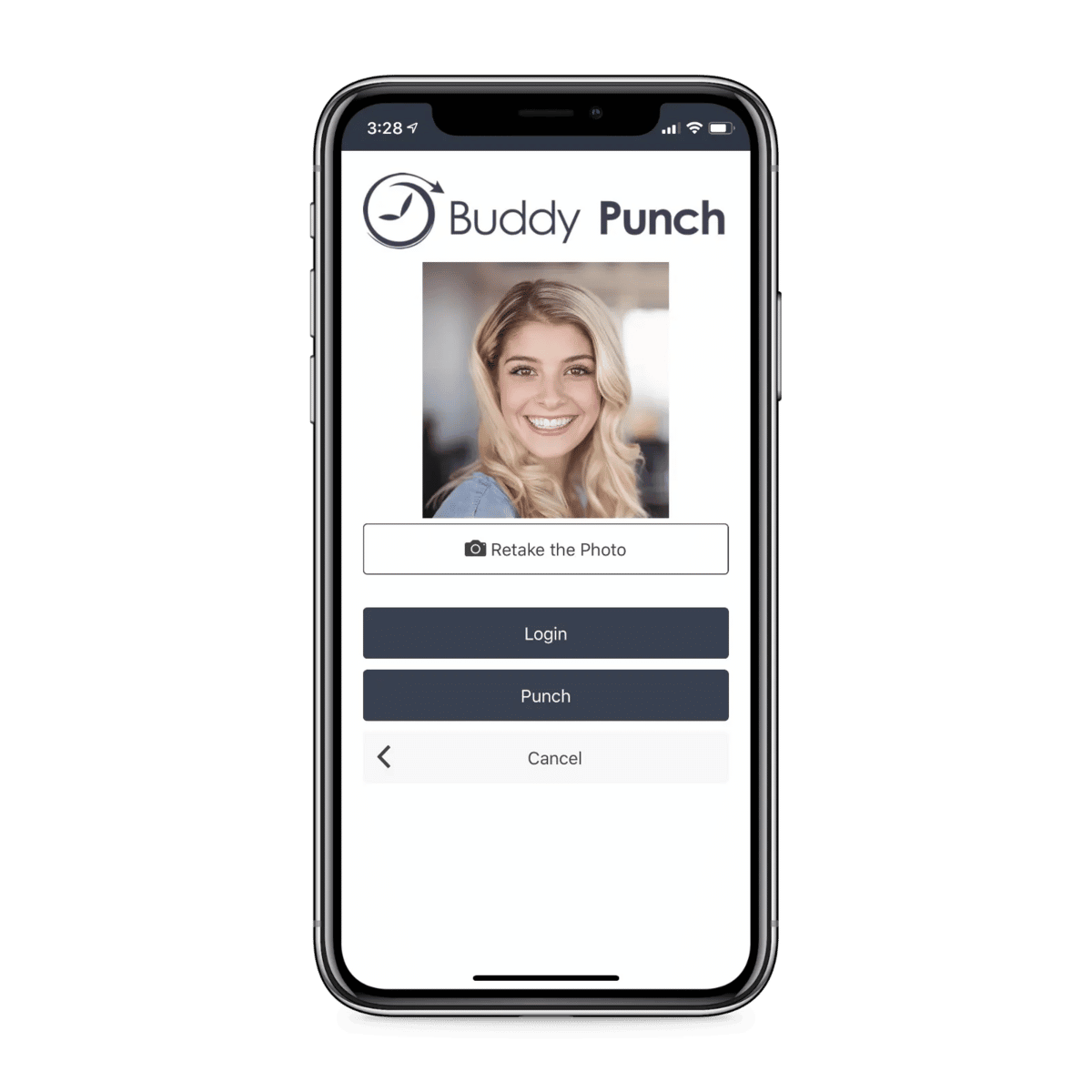 Even though Buddy Punch offers plenty of features, we wanted to make sure that employees could use the most basic feature (clocking in) on a daily basis with 0 hassle at all. That's why we made it so that it could be completed in one click, regardless of the device you're using Buddy Punch on.
Design Simplicity Feature: Notifications

The Notifications feature allows both employees and managers to focus on their work throughout the day because if something important happens, they'll receive an alert.
Employees are notified of punch change emails, time card approval status, PTO changes, and when they're approaching overtime.
Meanwhile, managers are notified of punch change emails, when employees clock in, time card approval status, PTO requests, and when their team members are approaching overtime.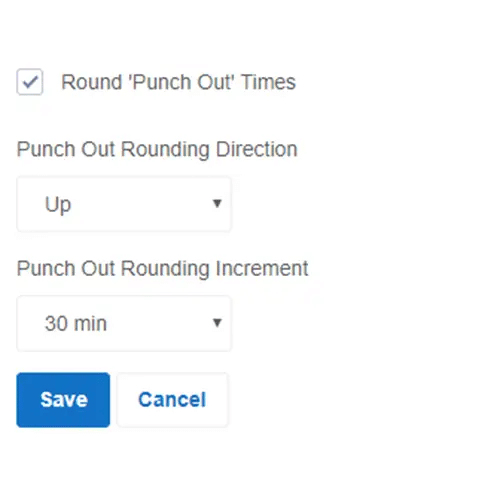 Punch rounding is an almost-invisible feature that can improve the accuracy of your employees' time cards without them ever noticing, though this function is most useful if you're using Buddy Punch as a kiosk or terminal. With this, you can set Buddy Punch to automatically round punches up, down, or to the nearest interval, anywhere from 2 minutes to 30.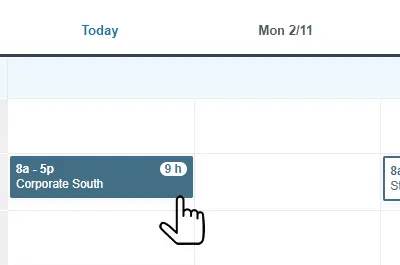 It's never been easier to schedule your employees than it is with Buddy Punch. Simply click in Buddy Punch's UI to create a cell which you can then drag and drop as needed to fill out your schedule. Once you press publish, all scheduled employees are automatically notified.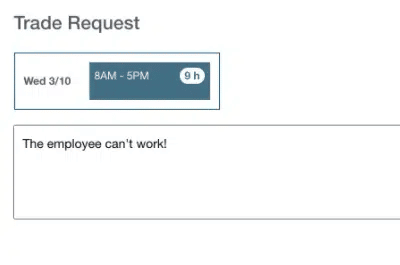 How would you like to automate the transfer of shifts between your team members? While Buddy Punch doesn't offer exactly this, it does come close – with a feature that enables employees to see which shifts are open and to request to fill in. Grant your team members some autonomy and grant yourself less responsibility over perfecting schedules.
Lastly we want to highlight how Buddy Punch helps you streamline your payroll processing by integrating directly with some of the most popular payroll software. Names like QuickBooks, ADP, Zapier, and more are easily used in conjunction with Buddy Punch to pay out your employees. (Click here to view the full list of Buddy Punch's integrations).

Buddy Punch Offers More to Business Owners
We've only scratched the surface of what Buddy Punch has to offer. Consider other functions such as:
There are other out-of-app benefits to note as well:
We have a blog section that we consistently update with information for small business owners looking to stay on top of all aspects of business management.
Our help doc center contains useful articles on how to best utilize Buddy Punch for time management in your workforce
Our customer support team is always available via live chat to answer questions.
But talking about all of these benefits is one thing, and experiencing them is another entirely. You can get started by booking a one-on-one personalized demo here.
Buddy Punch's Online Reviews
As of the writing date, Buddy Punch has 4.8 out of 5 stars and 693 reviews on Capterra.

Below, we'll list just a few reviews that speak to Buddy Punch's ease of use and great customer support service. (Click here to explore the full list of reviews.)
"Overall: I like the ease of having the app on my phone considering I don't always go directly into the office first before I start working.
Pros: The thing I like most about the software is the geographical location requirement. Every time you punch in/out it shows your employer your location. Making time clock fraud one less worry as a business owner and the employee more responsible about time maintenance because you cannot get paid if you are not physically at work."

Click here to read the full review.
"Overall: Buddy Punch has streamlined the clock-in/clock-out system for the firm I work for. Previous employers used different systems for timekeeping and they always seemed to cause more of an issue at the end of the month when billing and payroll would hit.
Pros: I like that there a very little functions, meaning that the software is simple to navigate and understand. I also prefer being able to see my time cards for my own personal use instead of having to ask the administrator for the information that I am looking for."

Click here to read the full review.
"Overall: Buddy Punch has been very easy to use and adds new features regularly. We recently added 3 members to our team and it took less than 5 minutes to have them up and using Buddy Punch.
Pros: Buddy Punch saves us time and it is easy for our remote Team to use"

Click here to read the full review.
"Overall: Buddy Punch is a great product that has allowed us to better track our technicians hours. They are on the road 3-4 days a week and Buddy Punch helps us know where they are when they punch in/out and whether they are staying on schedule.
Pros: The software is a good value, easy to use, and the support team is very receptive to suggested changes or add-ons. We've seen several suggestions become a reality which is uncommon when dealing with other software companies"

Click here to read the full review.
As these reviewers mentioned, Buddy Punch was easy to use, simple for team members to understand, and had a support team that helped business owners on a personal level.

Try Buddy Punch for Free
If you feel that Buddy Punch might be the right time tracking software for your business, sign up for a free trial. You can also book a one-on-one demo, or view a pre-recorded demo video.
Harvest is a simple time tracking software that offers various features such as:
As of this post's writing date, Harvest has 4.6 out of 5 stars and 501 reviews on Capterra.
"Everyone in the agency from me, the owner, to all of our team members love using Harvest. It's so easy to use, between the desktop version to the mobile app. It's been a lifesaver to make keeping track of time and budgets for our marketing agency."

Click here to read the full review.
Clockify is a popular free time clock (with an optional, more powerful paid plan) with features including but not limited to:
Clockify works for unlimited projects and users. At the time of this post's writing, Clockify has 4.7 out of 5 stars and 4185 reviews on Capterra.

"What cant be measured, can be controlled, Clockify helps in tracking time expended on various tasks and helps in time optimisation and resource optimisation, not only at the level of an individual but at a much institutional level . Having to work against a ticking clock makes me more punctual and productive at work and ensures that I don't deviate and default on my designated tasks."

Click here to read the full review.
Insightful (formerly known as Workpuls) isan online time tracker designed for analytics-focused teams. Some of its features include but are not limited to:
At the time of writing, Insightful has a total of 66 reviews on Capterra (see here), with an average of 4.7 out of 5 stars.
"It is simple to use, both for the admin and for the team. The tracking tool is easy to understand and it is very light. It is possible to see what the team is doing and measure how much time they are spending in each project."

Click here to read the full review.
Findmyshift is another time tracker and timesheet app that you can use for free if you don't mind having some limited features. Some of Findmyshift's features include:
As of this post's writing, Findmyshift has 714 reviews and 4.6 out of 5 stars on Capterra.
"Findmyshift has been great right from the start of a long free trial period. This gave us the opportunity to really test the product. Customer service even during free trial was prompt. All the training videos and faq made the learning process easy. Since then, everything has run very smoothly."

(Click here to read the full review).
Choosing the Best Time Tracker
If there's anything we've learned in our experience testing out and designing time trackers, it's that there's no solution that works for every business. Our advice is to begin by narrowing your search down by pinpointing which functions are most valuable for your business.
For example, if you make use of Asana or Trello, Clockify is likely going to be a good fit for your existing style of operating. If you want to be able to take screenshots of your employees' work computers, you might find yourself gravitating towards Insightful as a time tracker.
But, if rather than seeking out a specific function, what you want is a tool that provides a wide range of functions, has an intuitive design so that anyone can use it, and comes paired with a responsive customer support team that can guide you through its usage – then you really can't go wrong with Buddy Punch.
Try Buddy Punch for Free
If you feel that Buddy Punch could be the right time tracking software for your small business, sign up for a 14-day free trial. You can also book a one-on-one demo, or view a pre-recorded demo video.

You May Also Like…