5 Best Cloud Time Tracking Apps for Business Owners (2023 Guide)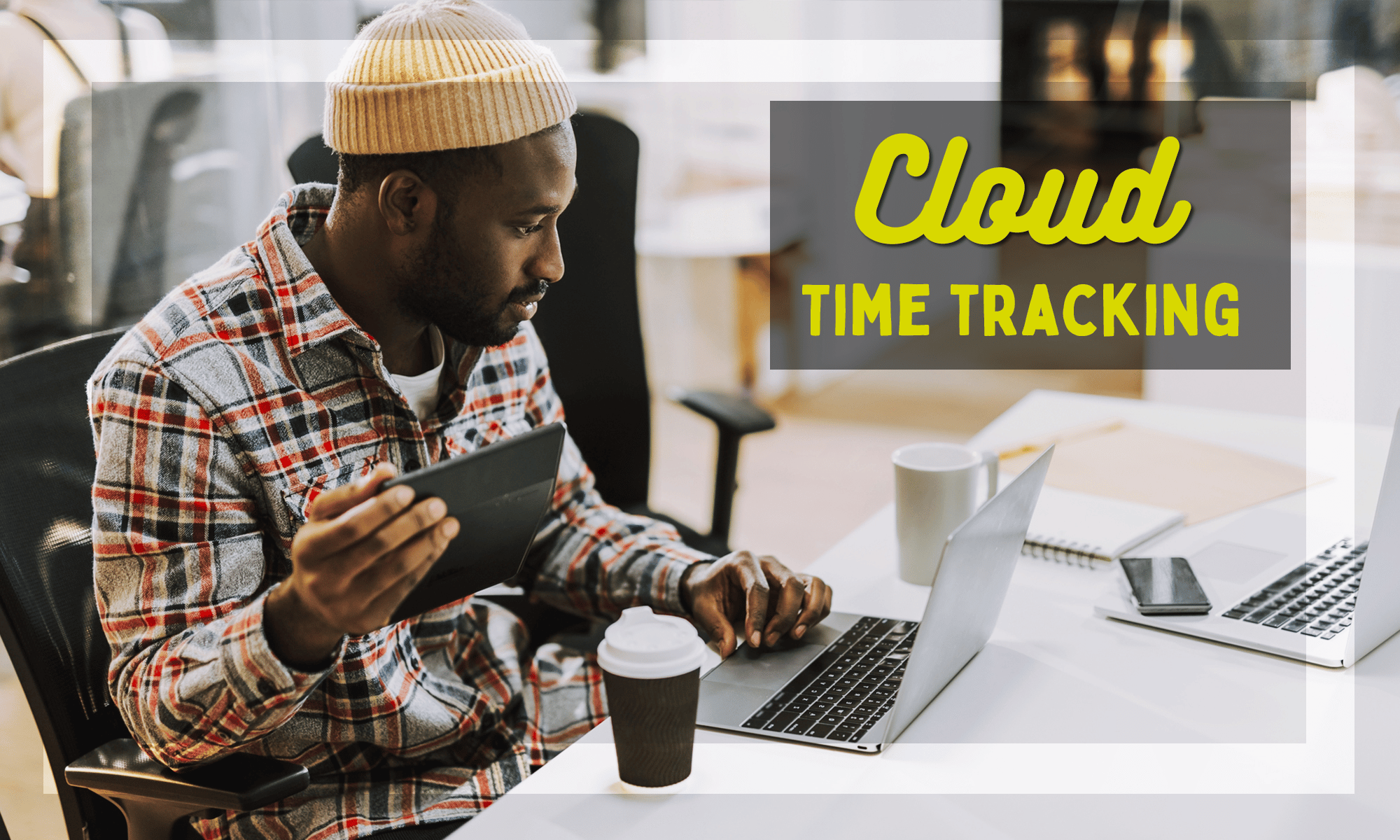 Many business owners are starting to turn to cloud-based timekeeping to elevate what they can achieve with digital time tracking. Cloud-based tracking stores data in a single cloud server which makes it easier to access, works great with employees clocking in across multiple locations and on multiple devices (even mobile ones), and tends to maintain a high level of accuracy over time.
That said, there's a chance that choosing the wrong time tracking solution will result in lost productivity. That's why we're going to rank our top 5 choices of Cloud Time Tracking software, based on their likelihood of having a positive impact on your workforce.
Cloud Time Tracking Options
Starting off our list of cloud-based time tracking tools is our very own Buddy Punch. One thing we discovered as we were developing our software was that business owners had major concerns about the ease-of-use of cloud-based software. Additionally, with company data being accessed from remote sites and on mobile devices, business owners wanted to ensure that security was kept a priority.
So, we made sure to include a focus on security, employee accountability, and operation streamlining when designing Buddy Punch's interface as well as its features. You can see this reflected in the management tools we provide:
Notifications
GPS Tracking
IP Address Locks
Webcam Photos on Punch
Automatic Breaks
Geofences
Payroll Integrations
Customizable Reports
These are just a few of the ways that Buddy Punch gives you to manage team members. Next, we'll go over the impact of each of these cloud-based employee time tracking features.
Note: If you'd rather get hands-on experience with Buddy Punch's features, you can sign up for a 14-day free trial by clicking here.

The Notifications feature is a clear demonstration of how Buddy Punch improves communication between administrators and team members. For example, managers receive notifications whenever team members want to request a change to their schedule or put in a leave request. Once you decide to deny or accept the request, team members will receive a notification with your decisions.
Buddy Punch's notifications feature works in sync with a few other features to keep all team members in the know.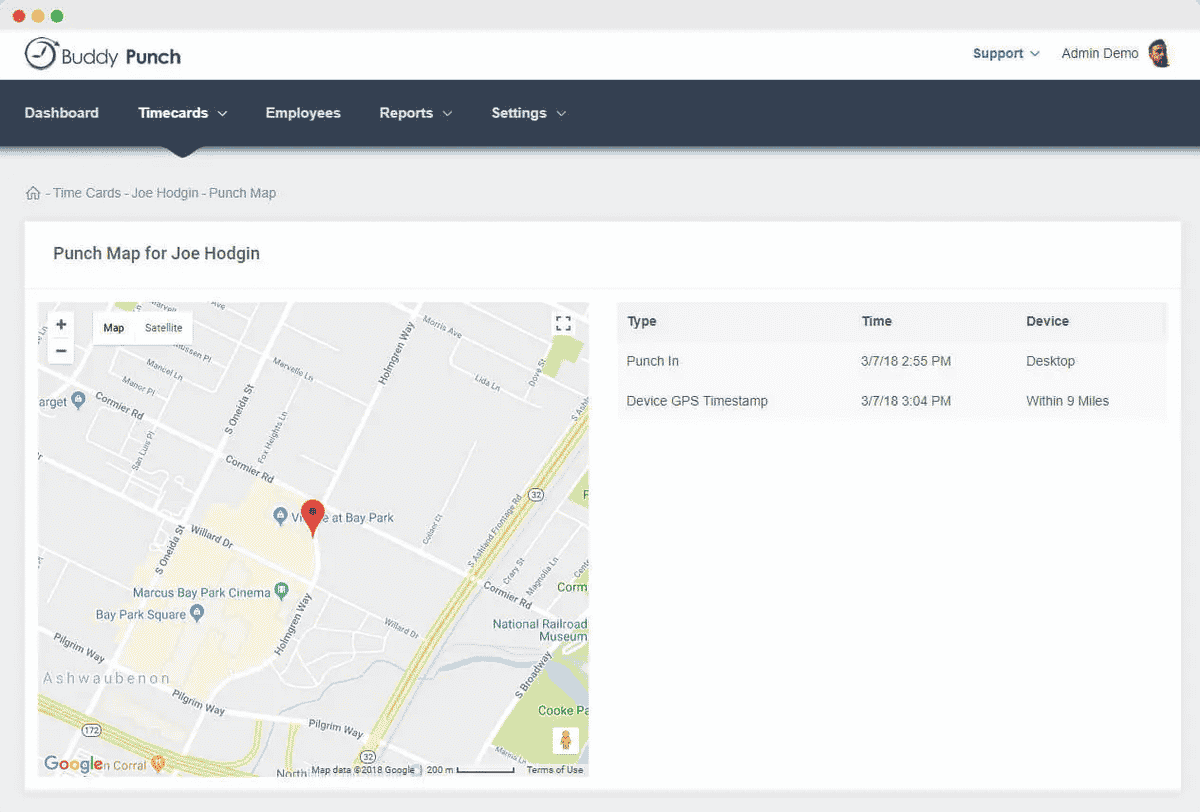 Interest in tracking remote work has only increased since the pandemic. If you want to keep track of time entries off site, GPS tracking will give you a quick overview of where your employees are whenever they start clocking their online time. You can view GPS reports individually or track all of your remote workers simultaneously on an interactive map.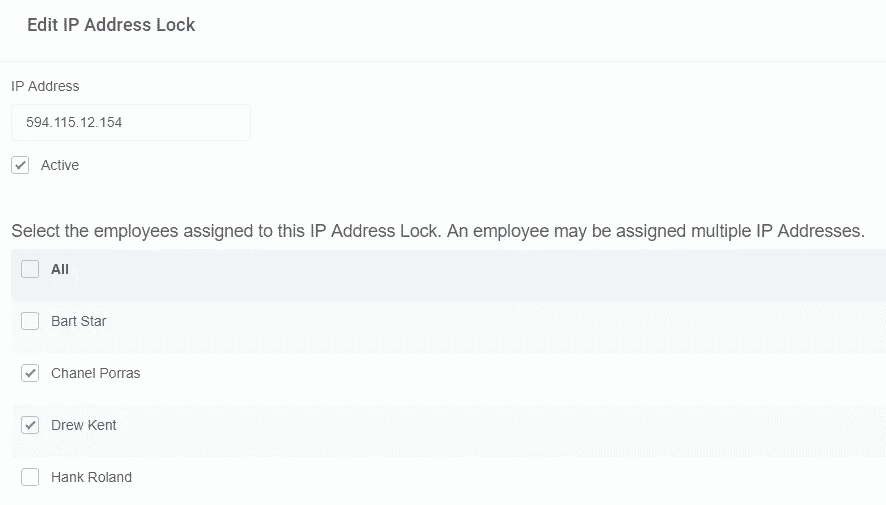 One security feature that our time tracking system has is the IP Address Locks option, which is a no-hassle way to ensure that your company data is only accessed by authorized people, at authorized locations. Designate which IP Address you want to assign to each of your employees, and if they ever try to log into Buddy Punch from somewhere else, they'll be denied.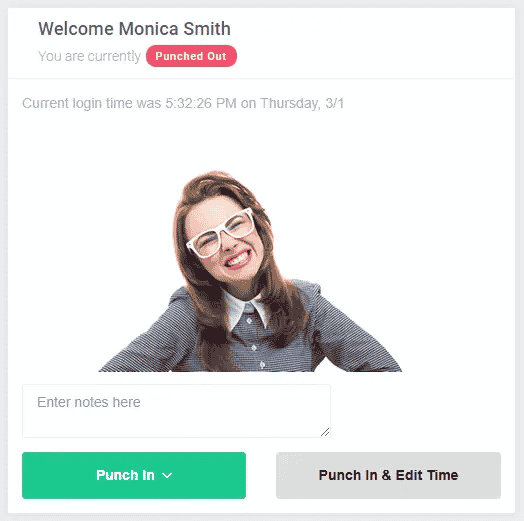 If you're worried about time theft, this feature is a great way to make sure time reports are accurate to each of your employees. The Webcam Photos on Punch feature takes a picture of your employees every time they go to clock in.

The Automatic Breaks feature will help you ensure that employee breaks are reported accurately. With this, time will be deducted from employees' time cards depending on the specifications you set. Add as many break rules as you need.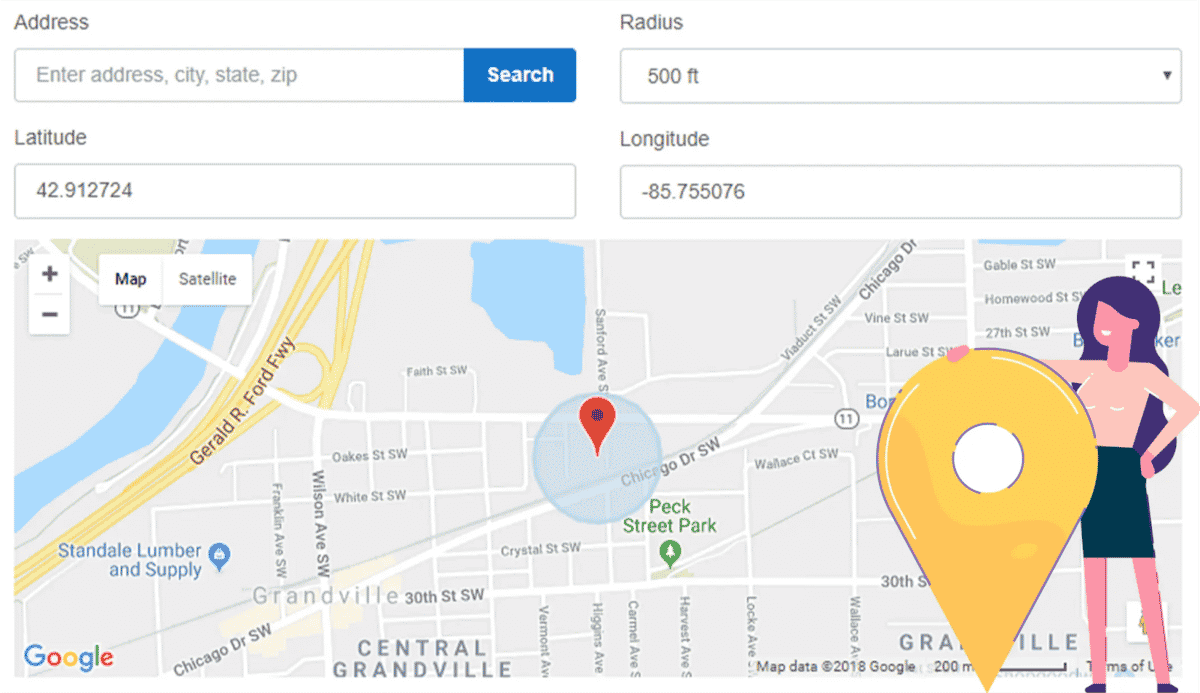 The Geofences feature is another powerful option that mixes both security with employee accountability. This allows business owners to create a radius called a Geofence around a designated area. When an employee tries to clock in from outside a Geofence, they'll receive an error notification.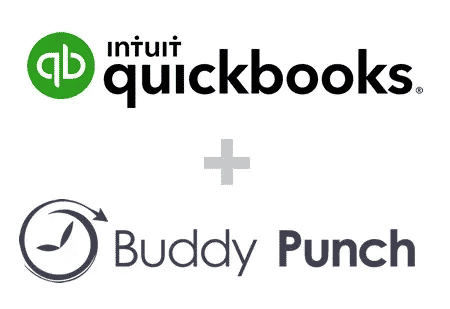 Buddy Punch's payroll integrations help streamline your data management at the end of each period. You or your Human Resources department can send your accurate employee hour information to your favorite payroll software. Big names that Buddy Punch works with include Zapier, QuickBooks, ADP, and more. Click here to view the full list of integrations.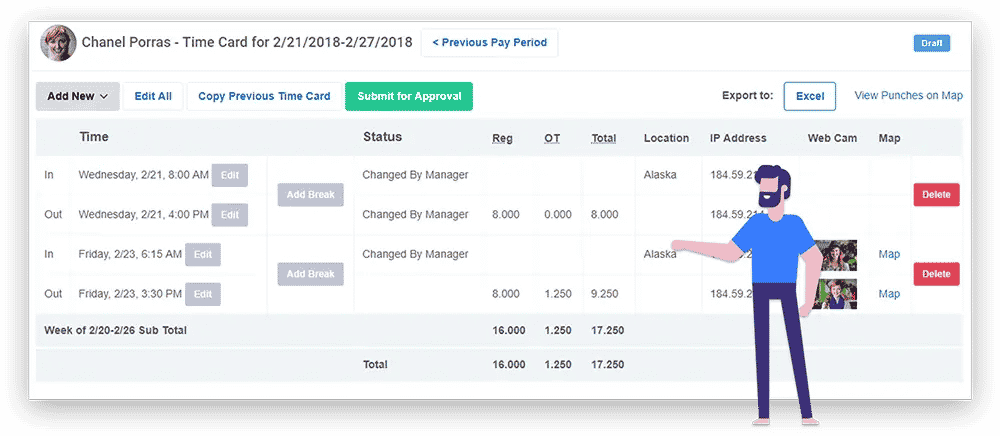 Lastly, Buddy Punch provides powerful reporting features so business owners can make use of all the data being gathered through workdays. Get a detailed overview of your employees, billable hours, overtime, locations, and more, and export it into PDF or Excel format. Using this data to inform changes to your project planning or timesheet management will help your profitability in the long run.

Buddy Punch Offers Many Other Features
Believe it or not, we've only touched on a few things that Buddy Punch brings to the table. Consider other features such as:
There are more benefits to Buddy Punch than what you get in the software.
Our blog section consistently updates with new information to help business owners improve their workforce management.
Our help doc center contains articles on how to best utilize Buddy Punch for your specific needs.
Our customer support is always available to answer questions via live chat.
Buddy Punch works to track mobile time on smartphones (iOS and Android) as well as Desktop (Windows, MacOS, Linux) devices in any web browser. If you want to know more about how it works as a cloud based employee time tracking solution, you can book a one-on-one personalized demo here.
Buddy Punch's Online Reviews
As of this post's writing date, Buddy Punch has 4.8 out of 5 stars and 688 reviews on Capterra.

Below, we'll list just a few reviews that speak to Buddy Punch's ease of use and great customer support service. (Click here to explore the full list of reviews.)

"I have worked with A LOT of HR products including many different time keeping systems. 2018 was the first year I was introduced to Buddy Punch and I have never experienced such amazing customer service as I have with Buddy Punch. "

Click here to read the full review.
"I am solving the fact that we are a mobile company and punching in helps out so much with the app, and also keeping track of your time, or requesting time off, or keeping track of employees time is so much easier and accessible"

Click here to read the full review.
"This software is quick and easy for our employees. Being able to clock in and out on an iPad makes it so much easier than having to take turns using a computer. The photo feature keeps the employees accountable so there is no clocking in/out for other employees. We can pull reports whenever we want and customer service is readily available for anything we may need."

Click here to read the full review.
"BuddyPunch has been easy to setup and use. The online clockin with the QR code can be ever so slightly twitchy sometimes but with each iteration the system gets better and better. I team loves being able to clockin with their phones and those of us not in the office love being able to see their login picture and GPS location. Win for all!"

Click here to read the full review.
As these reviewers noted, Buddy Punch was intuitive and easy to use for both employers and employees.

Try Buddy Punch for Free
If you feel that Buddy Punch might be the right cloud-based timekeeping tool for your business, sign up for a free trial. You can also book a one-on-one demo, or view a pre-recorded demo video.
ClickTime is time tracking employees cloud software with features including:
This is a versatile tool for business owners to use on any device with internet connection. As of this post's writing date, ClickTime has 4.6 out of 5 stars, based on 202 reviews on Capterra.
"Clicktime allows us to track hours, job functions, and expenses to individual projects. I also like the dashboard features which allow us see a quick snapshot of where our budgets are currently sitting and if we are close to exceeding project budgets."

Click here to read the full review.
MyHours comes with a variety of features including (but not limited to):
This is a user-friendly software that's great for bringing organization to your personal and business management. As of this post's writing date, MyHours has 4.8 out of 5 stars and 730 reviews on Capterra.
"The software is very easy to setup. We try the trial version and we decide to go with it to make time management. We will use it to make our annual time repports."

Click here to read the full review.
Paymo offers various features and functionality, some of which include:
Paymo was built to help management professionals and freelancers stay on top of their work, and even offers a 50% discount to nonprofit organizations. Paymo has 4.7 out of 5 stars and 422 reviews on Capterra (as of this post's writing date).
"It is important to note that Paymo isn't idle in enhancing its software. Not only that, but new features are thoughtful and integrated seamlessly with the tool. I appreciate this because I have used other software that seem to have their priorities mixed up when releasing enhancements; adding things that don't move the needle ahead of things that do."

Click here to read the full review.
Hubstaff is an all-in-one work time tracker that excels in managing field or remote teams. Some of its features include:
As of this post's writing, Hubstaff has 1267 reviews and an overall score of 4.6 out of 5 possible stars (see on Capterra).
"Pros: random [screenshot] capture every 10 minutes that allows managers to check if employees are focused on their intended tasks – lets you track running time to the second that can also be used to determine pay. – you can track overall running time with preset time periods or set your own"

Click here to read the full review.
Choosing The Best Time Tracking Software
One thing we want to make clear is that there is no universal "best" cloud time tracking tool. What it ultimately comes down to is finding which software fits the needs of your business and your workforce most effectively.
For some business owners, having a reliable API is going to be a priority, in which case they'll gravitate towards using ClickTime. Other business owners might be drawn towards Paymo – especially if they're operating a nonprofit organization and want to take advantage of their half off special.
So, who would turn to Buddy Punch? Between its variety of features, intuitive design, and responsive customer support – this would be the answer for those business owners who want to have a full team on their side when it comes to cloud-based time tracking.
Try Buddy Punch for Free
If you feel that Buddy Punch could be the cloud timekeeping tool for your business, sign up for a free trial. You can also book a one-on-one demo, or view a pre-recorded demo video.

You May Also Like…