The 6 Best Web based Time Tracking Tools (Comparison Post)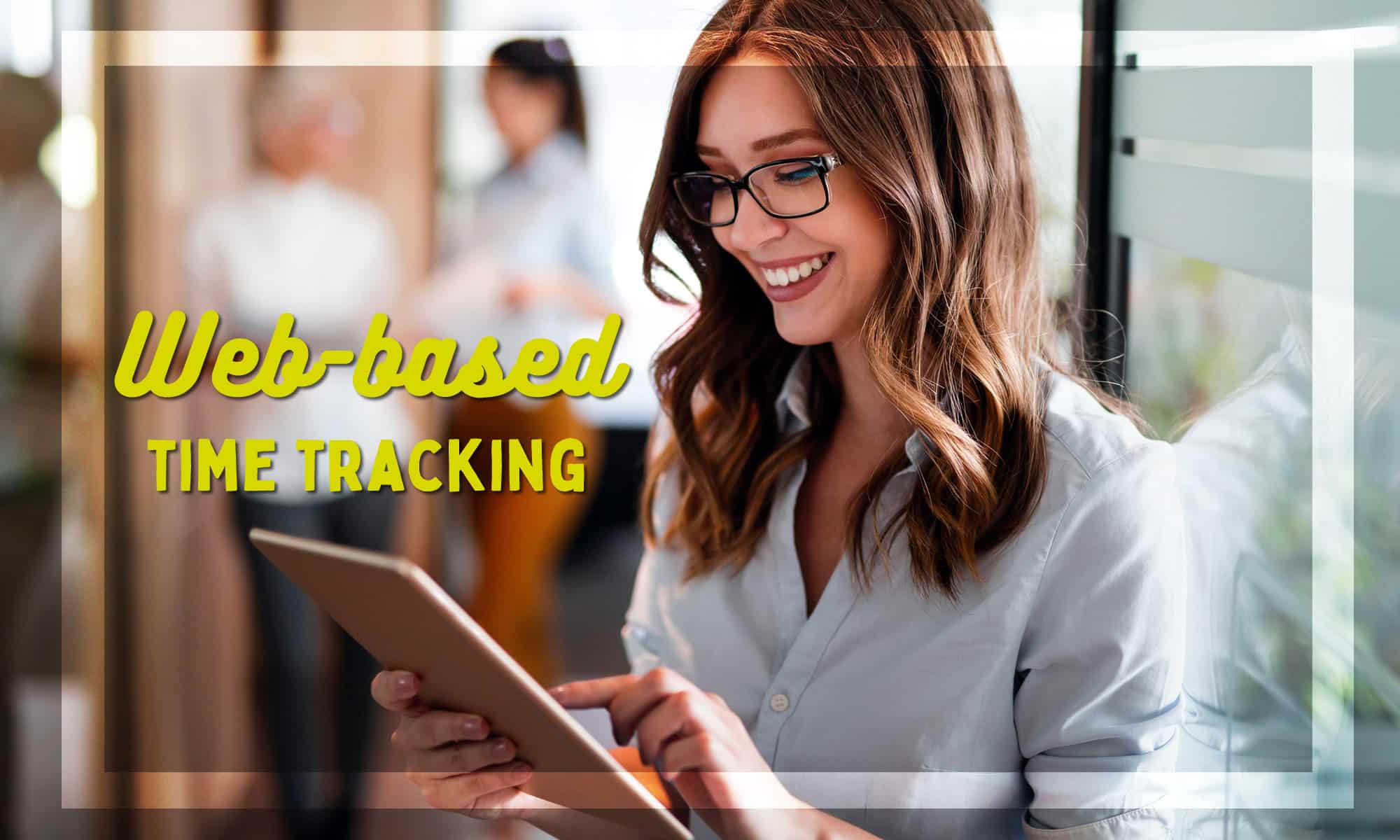 If your team members operate with a heavy reliance on web browsers (such as Chrome or Firefox) you may have noticed some issues with their workflow: Employees get distracted during work, they browse other time-wasting sites like Reddit or Amazon on the company's dime, or they visit potentially dangerous or insecure links.
Implementing web-based time tracking can quickly remedy this, encouraging your team members to be more thoughtful with how they spend their time on the clock. In addition to improving employee accountability, many of these time tracking tools also streamline other critical aspects of your operations, such as payroll and scheduling.
That said, not all time tracking systems were created equal. Finding a time tracking solution that fits your managerial style and workforce is a matter of trial and error, but we're here to help. We've narrowed down the hundreds of web-based time tracking software options to what we consider to be the 6 best choices, based on a mix of their features, user reviews, and overall effectiveness. Hopefully one of these will be the right fit for you.
Web based Time Tracking Tools
Starting off our list we have our very own Buddy Punch. When we first designed this software, we wanted to create a web-based employee time tracking application that would resolve some of the issues we were encountering with our own workforce: handling time tracking with manual methods was ineffective, time-consuming, and occasionally inaccurate.
During development, we also reached out to our clients to see what they needed from an attendance tracking system. Drawing on our own experience as well as theirs, we realized that an effective time management tool needed a mix of three critical aspects:
Employee Accountability (through features such as GPS Tracking, Job Codes, and Geofencing)
Staff Scheduling (through features such as Drag & Drop Scheduling, Shift Trades & Covers, and Notifications)
Payroll Streamlining (through features such as Payroll Integrations, Payroll Reports on Demand, and Overtime Calculations)
Which is why we built those features into Buddy Punch, all while keeping its usage as simple and intuitive as possible. Whether your team members are tech-savvy or not, on iOS or Android (Buddy Punch works on mobile device web browsers as well), anyone can make use of these online time tracking features.
Next, let's get a quick overview of each of these to make it more clear how they can help business owners who want to exert greater control over their employees' work time.
Note: If you'd rather get a hands-on feel for Buddy Punch, you can take advantage of our 14-day free trial by clicking here.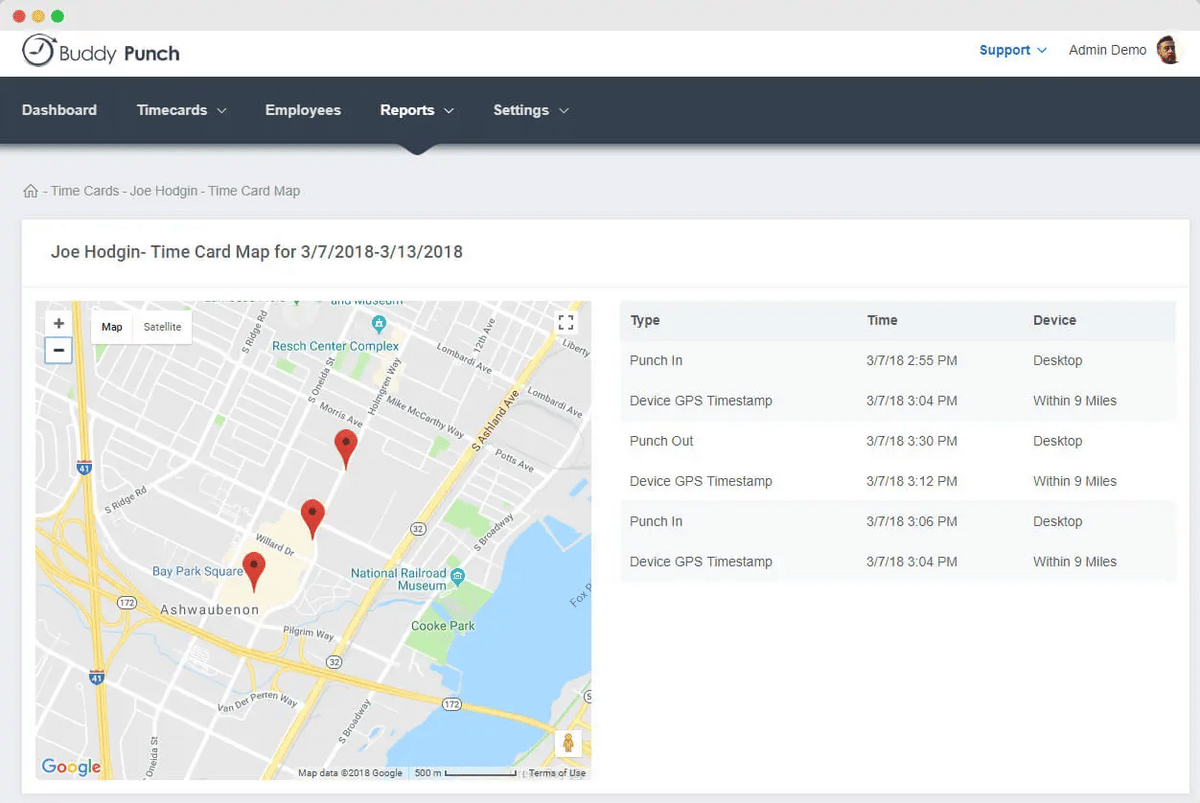 Buddy Punch's GPS Tracking feature enables you to monitor where your employees are even when they're working remotely. Once they clock in, their location is marked on an interactive map, along with the rest of your team members. Get a better understanding of where, when, and how your staff is completing tasks.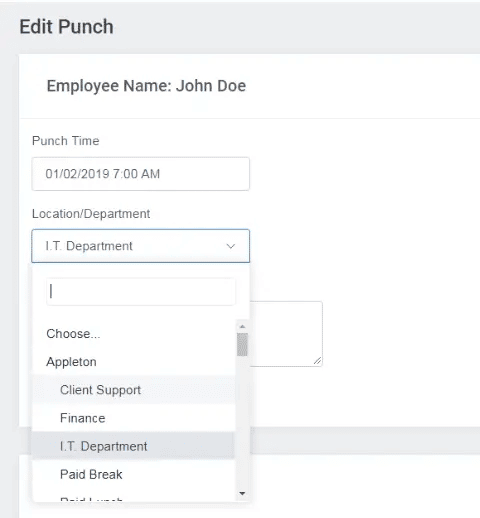 This is another simple time tracking feature that can help improve your business's profitability in the long run. Job Codes (also known as Project Codes or Department Codes) will show the amount of time employees spend on a specific task or working for a particular company throughout the workday. Employees can easily swap between codes during their shifts, and you can view their overall time spent on jobs on their time report.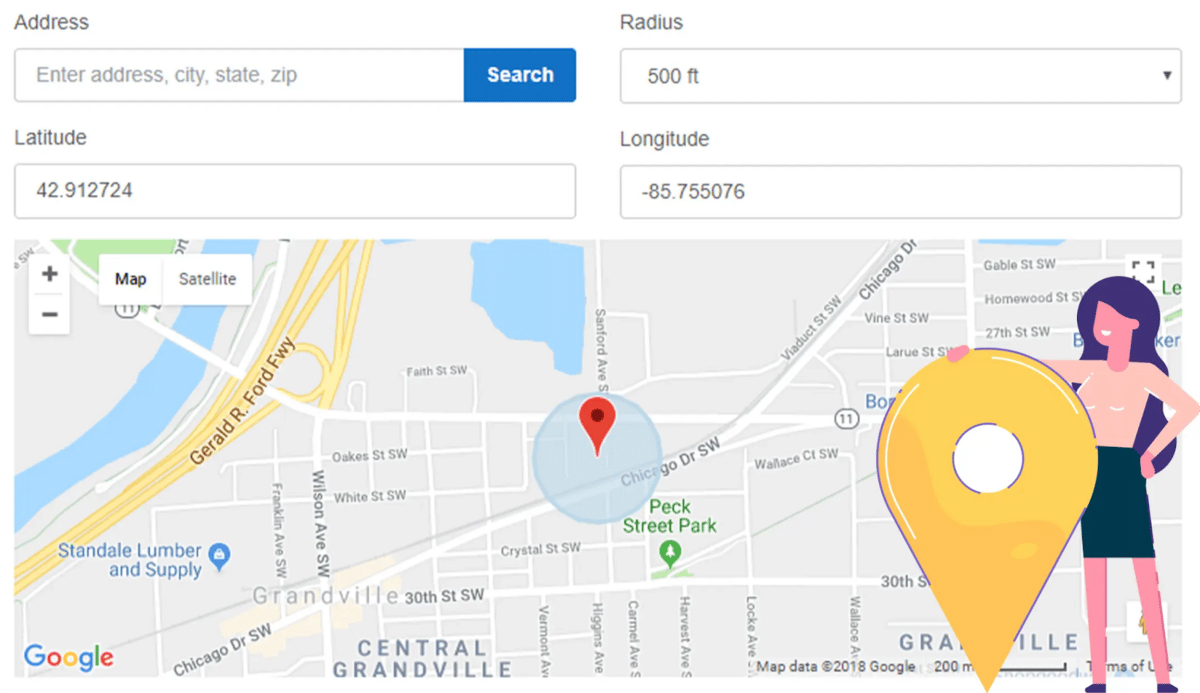 With Buddy Punch you can create a radius (known as a Geofence) on an interactive map. Once created, employees will only be able to begin time tracking when they're within a designated area. This feature allows you to bring automation to employee monitoring. With or without your input, if an employee tries to log time from outside a Geofence, they'll be denied.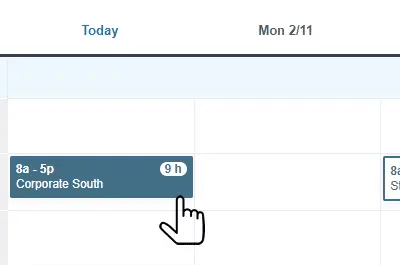 Buddy Punch helps you streamline shift management. You can create shifts by clicking on an empty cell, then drag and drop shifts wherever needed. This allows you to visualize your schedule to improve how you handle staffing. Additionally, when you're finished, publishing the schedule will send an automatic notification to every team member scheduled.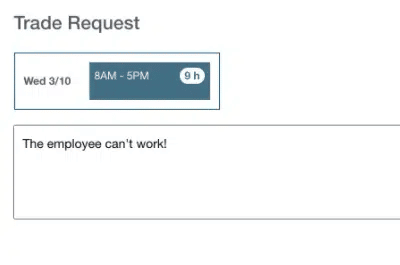 The Shift Trades features lets employees (with permissions you set), managers, or administrators initiate shift trades between employees. But it gets better – the Covers option allows employees to volunteer to fill in open shifts on behalf of their team members. With these two combined, you get hands-off, nearly automatic time management, and your team members get to exercise some extra accountability and responsibility.

Buddy Punch's notifications feature allows team members and administrators alike to focus on their tasks throughout the day, while remaining secure in the knowledge that if something needs their attention, they'll be alerted.
For Employees, they receive notifications on punch change emails, time card approval status changes, PTO alerts, or when they are approaching overtime. For managers or administrators, they'll receive alerts on punch change emails, every punch in/out, time card approval status changes, PTO requests, and alerts for employees approaching overtime.
All of these alerts can be enabled or disabled at will.

Sure, Buddy Punch helps you gather more accurate time entry data from employees, but what about after that? We make your billing, invoicing, and payroll a lot easier by integrating directly with some of the most popular options of Payroll Processing software. Zapier, QuickBooks, Paychex, and more – we're committed to helping business owners streamline their operations.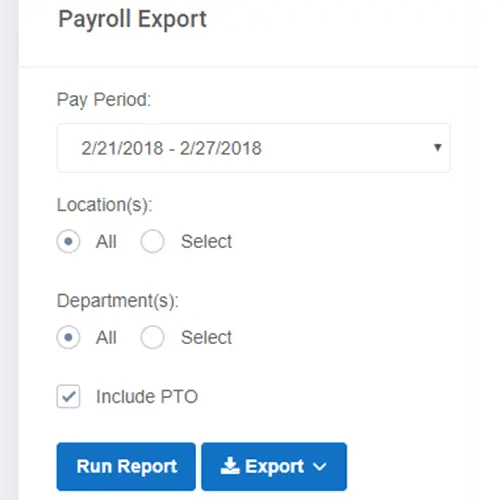 Another option you have with your employee data is to parse through the information yourself to make informed decisions that will improve your workforce management. With the Payroll Reports on Demand feature, you can get a detailed view of your employees, their hours, overtime, locations, and departments. Select prior pay periods as needed. You can export this information into Excel CSV or Adobe PDF format depending on your preferences.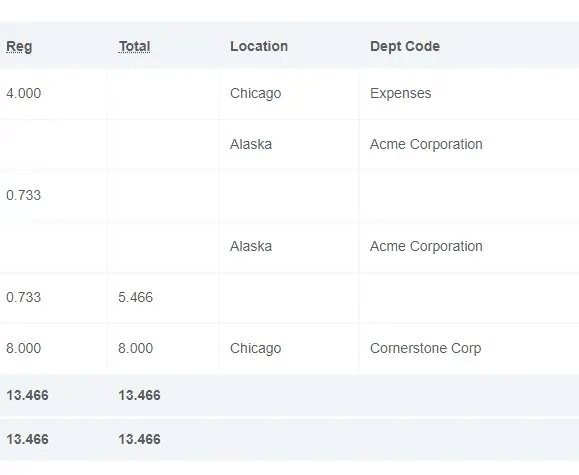 The Overtime Calculations feature allows you to choose from over a dozen different overtime types to determine how your pay is calculated. Many different types of common overtime are supported, but if you find that a type you want is missing, you can always reach out to let us know and we'll add it.
Buddy Punch Brings More to Business Owners
It's important to note that we've only touched on a select few of Buddy Punch's features. There are more functions you get access to, such as:
Furthermore, there are out-of-app benefits to Buddy Punch as well:
Our Help Doc Center contains useful information on how to best implement Buddy Punch into your workforce.
Our Blog Section is consistently updated with new information for business owners across industries. For example, we have tips to manage freelancers, timesheets, and new laws.
Our Customer Support Center has our responsive customer support representatives ready to guide you through any issues or answer any questions via live chat. Additionally, you can book a one-on-one personalized demo with the team by clicking here.
Buddy Punch's Online Reviews
As of the writing date, Buddy Punch has 4.8 out of 5 stars and 697 reviews on Capterra.

Let's see what some of these reviewers had to say about their time with Buddy Punch. (Click here to explore the full list of reviews.)
"The Customer Support team is super responsive, thorough, and effective. Their support software allows for much quicker response times than you could get on the phone. Their team is knowledgeable about my organization and the way that we use the platform […] We have had consistent experiences on the web version as well as iOS and Android apps for the life of our subscription."

Click here to read the full review.
"The UI is very well designed, the administrator makes employee accounts and employees just go to the website, log in, and push the big green button. They then log in again to punch out but the big green button will be a big red button this time. Very simple, very easy, does employee punch-ins, does it well. "

Click here to read the full review.
"Overall: On the previous system we used the Officer would have to fill out paperwork explaining why they did not clock in. Now they can clock in when they get to the call location or if they forget they can punch in later and adjust the time and write a short reason why they had to adjust the time. This helps decrease paperwork and helps the employee.
Pros: I like Buddy Punch because it is web based and the app is also a plus. Easy to access and a great way to keep up with time and PTO."

Click here to read the full review.
"Easy to log in and review hours worked per day/week. I can send an Excel spreadsheet at the end of every two week period to track time, and vacation. Buddy punch has an app for my phone, but I prefer to log into the website on my phone."

Click here to read the full review.
You may have noticed that these reviewers couldn't help but comment on how easy Buddy Punch was to use, and how helpful our customer support team was.

Try Buddy Punch for Free
If you feel that Buddy Punch might be the right web-based time tracking application for your business, sign up for a free trial.
You can also view a pre-recorded demo video, or dive into your own demo by booking a one-on-one walkthrough with our team.
Toggl Track offers various features and functionality, some of which include:
Toggl Track has 4.7 out of 5 stars and 1857 reviews on Capterra as of this post's writing (see here).
"Being a small company we needed something we could track easily without any complicated setup. And Toggl provided. We have used it for 7+ years and it is still going very well. The best things are time is displayed in decimals so it can be easily multiplied with rates. Clients love the summaries, colleagues love the simplicity.."

Click here to read the full review.
Clockify is a popular cloud-based time tracking software because it has a free time tracking plan. Use this tool to track productivity, attendance, and billable hours with paid features such as:
Clockify's free plan works for unlimited users and projects, and you can try the paid features via a 7-day trial, no credit card required. As of this post's writing date, Clockify has 4.7 out of 5 stars and 4196 reviews on Capterra.
"There are two features that really stand out when it comes to Clockify. The first being its compatibility across a number of devices. I can track my time via the web app or desktop app while working from my home office, then just as easily use the mobile app to record how long I've spent working on my train ride into the city, all without having to worry about issues with syncing between my devices. The second feature that I absolutely love about Clockify is how granular it allows you to be when tracking your activities."

Click here to read the full review.
Harvest is a simple time tracking and reporting with features including:
As of this post's writing date, Harvest has 4.6 out of 5 stars and 501 reviews on Capterra.
"From day one it was intuitive and easy to use. It's a time tracking tool, so it really doesn't need to be complicated. The creators have managed to perfectly combine functionality and a straightforward interface with enough features to also make it versatile for various types of businesses and projects."

Click here to read the full review.
DeskTime Is a user-friendly time and task management software with features including:
As of this post's writing date, DeskTime has 4.5 out of 5 stars and 241 reviews on Capterra.
"Overall Desktime has been great for employees trying to manage themselves while working at home. It gives them the freedom to do what they want while holding them accountable for how their time is spent."

Click here to read the full review.
Timecamp is a web and cloud-based time tracker with features including:
At the time of this list's writing, TimeCamp has a total of 557 reviews on Capterra with an average of 4.7 out of 5 stars.
"Using this software is the best decision my company ever had in monitoring all their employees including myself. The accuracy of our timestamp shows the efficiency of our work everyday. I definitely love this software for providing us with fair results & reports with how productive we are every week, this is very helpful to all employees in any company to be more motivated to work hard each day."

Click here to read the full review.
Choosing The Best Options for Web-Based Time Tracking
One thing that may have become more apparent is just how much variety there is when looking at web-based time tracking software. Even from this list we narrowed down, you still have some vetting to do. Our advice: look at the features each software chose to offer, and what their team's mission statement is.
For example, if you want to track not only web browsers but other applications on Desktop, you might find Toggl Track's background tracking option invaluable. If you currently make use of Trello or Asana, Clockify's integration with either app will make it appealing.
But, if what you really want is a web-based solution that's easy for you and your team members to use, offers a variety of features that can be enabled or disabled easily, and comes with a responsive customer support team ready to assist you, then you really can't go wrong with Buddy Punch.
Try Buddy Punch for Free
If you feel that Buddy Punch could be the right web-based time tracker for your business, sign up for a free trial. You can also book a one-on-one demo, or view a pre-recorded demo video.
You May Also Like…