The 6 Best Time Tracker Apps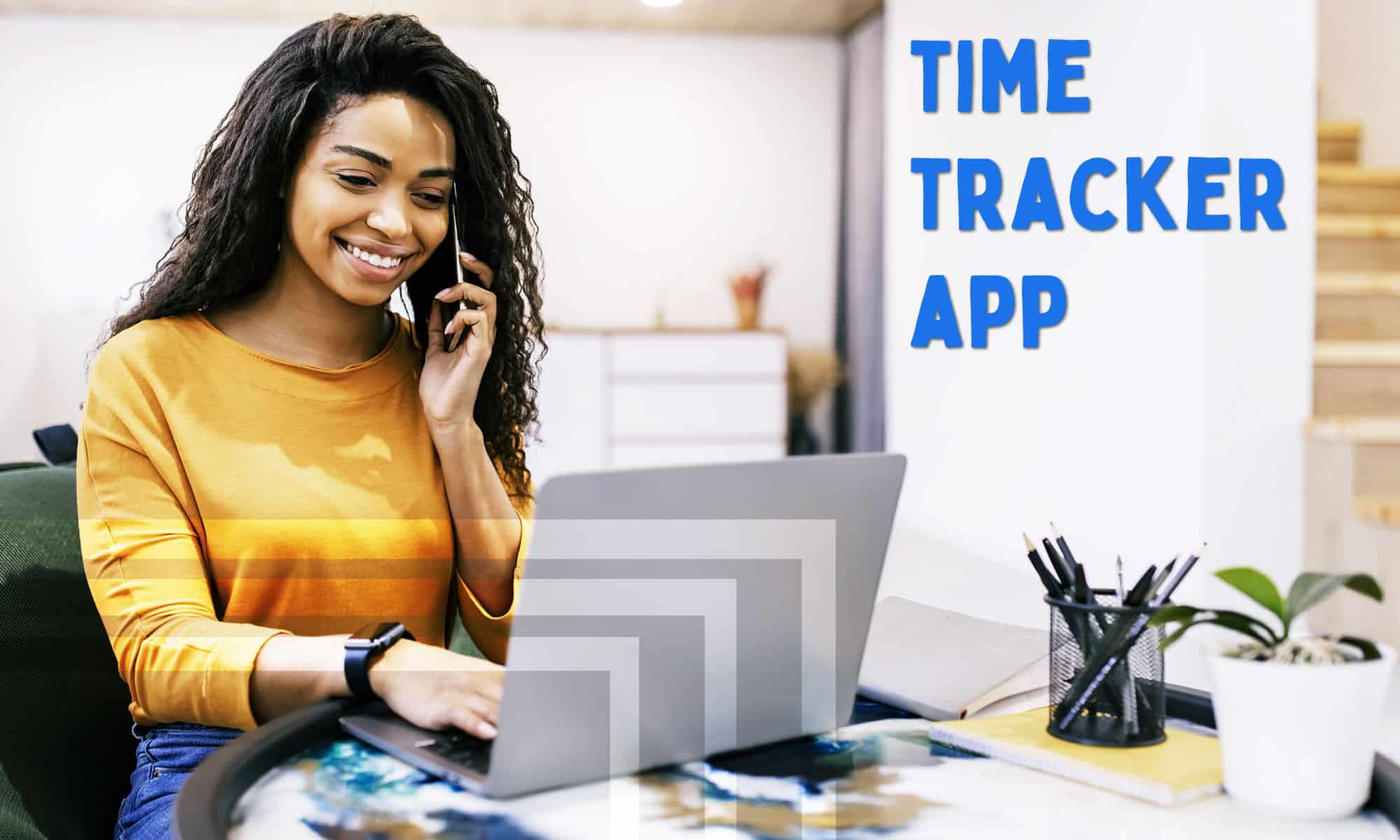 Time tracking software is the solution to many common business management issues – in theory. While most savvy business owners have turned to digital methods to improve employee accountability while on the clock, increase transparency when it comes to job costs, and overall boost profitability, there is a risk involved with choosing a time tracking tool: some time tracking solutions might hold your business back.
Whether that's through a chosen time tracker app being difficult for employees or managers to use, or through an app simply not being the best time tracking software you could be using, we've realized that creating a comparison post can make business owners less likely to fall for these pitfalls.
In this post, we're going to look at the features, user reviews, and overall accessibility and simplicity of 6 different apps to help you determine which one is the best time tracker for your business.
Time Tracker App Options:
When we set out to create our own software for tracking time, we turned to two sources to help inform development:
Our own experience working with clients across a variety of industries. What helped us manage different businesses, what hindered us, and what did we wish we had access to in order to stay on top of productivity?
What our clients had to say themselves. We wanted to make sure we consulted a variety of different perspectives so that we could create a time tracking app that worked across multiple industries.
What we ended up concluding was that we needed to develop a tool that provided a variety of features, including:
Accountability (GPS Tracking, Job Codes, IP Address Locking, and Geofencing)
Scheduling (Drag & Drop Scheduling, Punch Rounding, Shift Trades & Shift Covers)
Payroll Streamlining (Integrations, Payroll Reports on Demand, and PTO Management)
Which is what we ended up doing – as we'll explain below.
Note: If you'd rather try out these features yourself instead of reading about them, you can sign up for a free 14-day trial of Buddy Punch by clicking here.
Improve Employee Accountability through Buddy Punch
It can be difficult to foster an environment where employees make the most of their time while on the clock – but it's still worth the effort as long as you don't push too far. Team members cost the business time and money when they're unfocused, but if they're too dedicated to work, their productivity will suffer in the long term.
Managing accountability is an important balancing act for most business owners, but Buddy Punch gives you the tools to do so in a way that's empowering for both team members and team managers.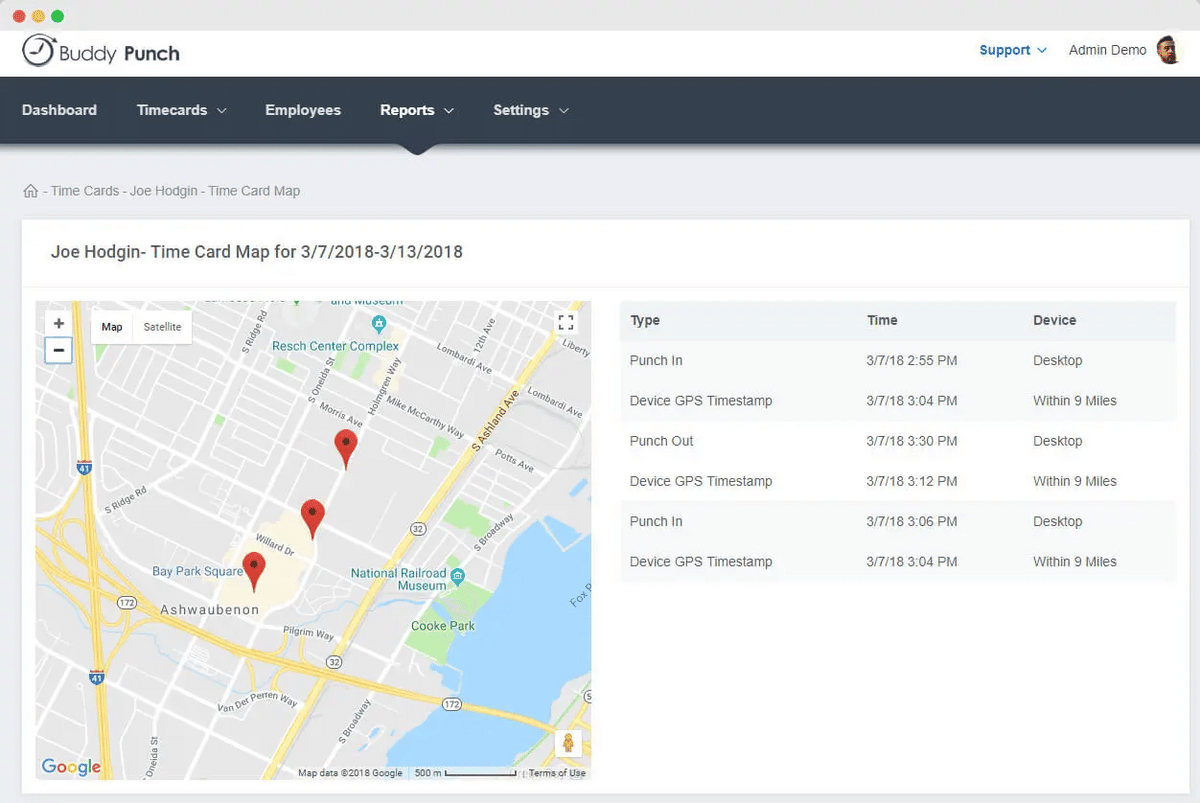 With the GPS Tracking feature, you can keep track of where your employees are even while they're working remotely. When your employees clock in, their location will be marked on an interactive map where you can view your entire staff if necessary.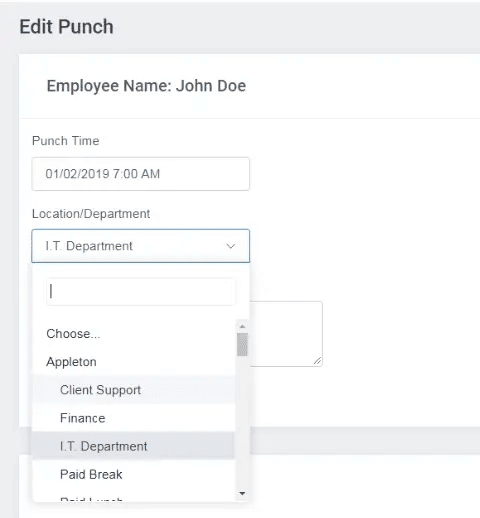 The Job Codes Feature (also known as Department Codes) helps keep your employees accountable for the individual tasks they complete while on the clock. With this, team members can designate how they're spending their time by selecting a job or company while on the clock. If they complete a task, they can easily switch to a different code.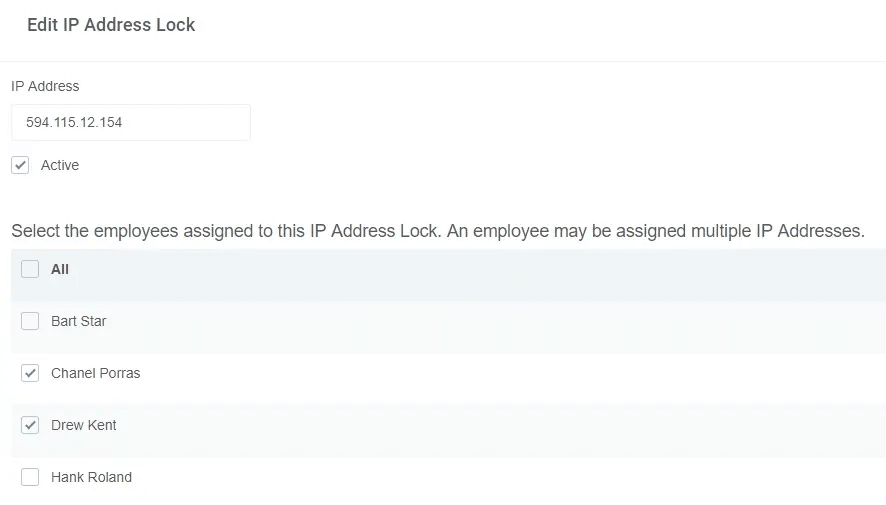 Buddy Punch's IP Address Locking lets you exercise control over where your employees punch in. Use this feature to specify which IP address(es) your team members can use to log in, limiting them to a specific device or location for security and accountability. This configuration will automatically stop an employee that attempts to log in from a different IP address.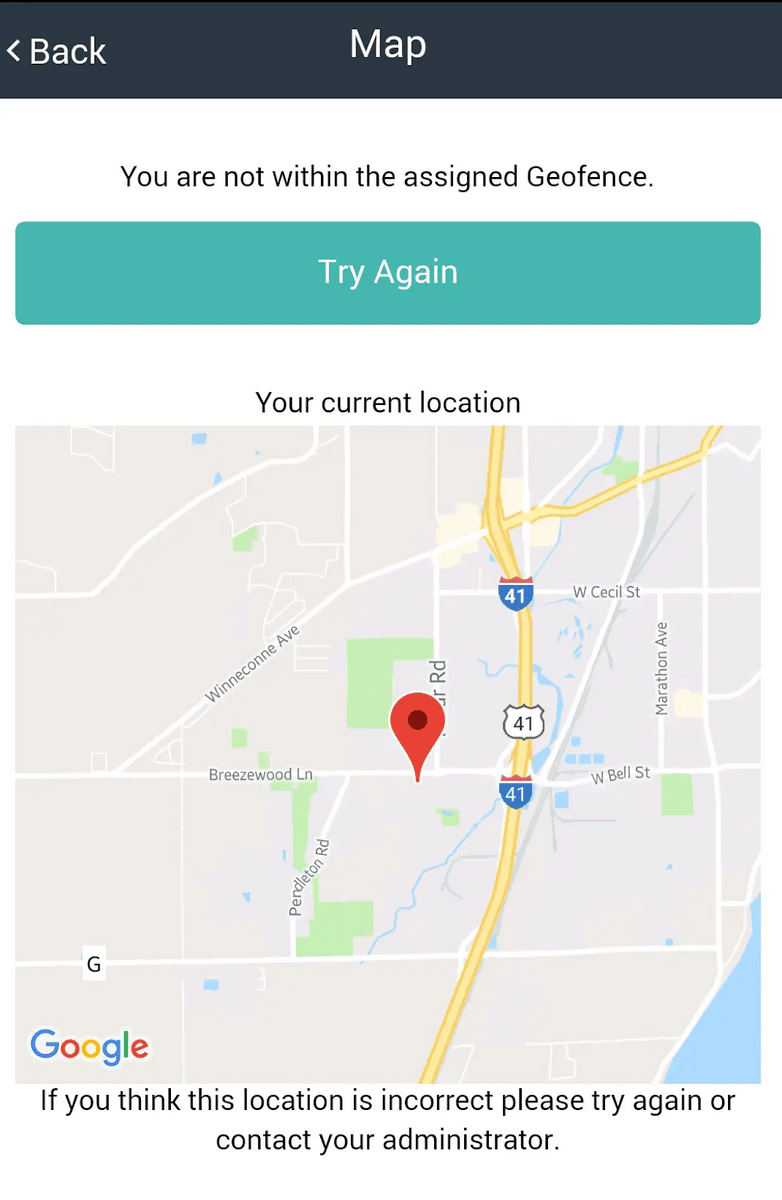 The Geofences feature is a set-and-forget option that helps business owners exercise control without having to micromanage their team. This simple time tracking tool allows you to create a radius (called a Geofence) where employees are able to clock in. If an employee ever attempts to log time while outside one of these Geofences, they'll be denied.
Buddy Punch Helps You Simplify Scheduling
The bigger your team, the more difficult it is to make sure everyone is properly scheduled. A lack of a solid scheduling strategy can lead to open shifts, worsened productivity, and poor job satisfaction.
Buddy Punch helps remedy this by providing managers and owners with tools they can use to schedule easier. Making an airtight schedule or quickly fixing issues that arise naturally can be done within just a few clicks with these features.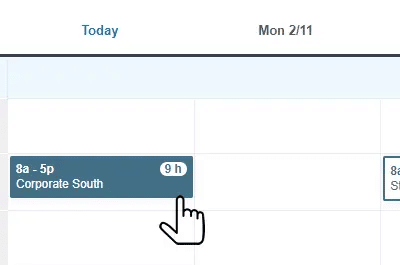 Drag and Drop Scheduling makes it easy for you to organize your employees. Create a shift by simply clicking on an empty cell in Buddy Punch's user interface. Then, move it around as needed. This shift management option makes it easy to visualize how complete your schedule is, and once you're done, you can publish the shift to send a notification to all scheduled employees.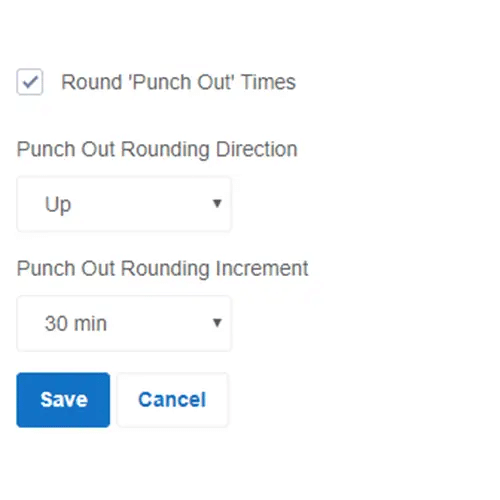 Planning on using Buddy Punch as a terminal or kiosk? When you have a line of employees showing up to begin time entry, there's a delay between the first person clocking in and the last person, making the recorded time less accurate. A feature like Buddy Punch's Punch Rounding resolves this, allowing business owners to round punches up, down, or to the nearest interval from 2-30 minutes.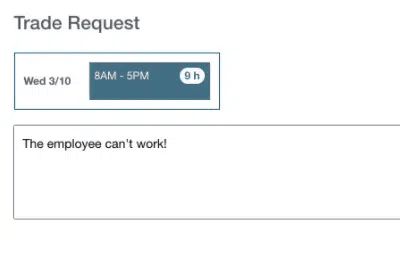 The Shift Trades & Covers feature allows employees, managers, or administrators to initiate shift trades with other employees. Additionally, employees can see which shifts need to be filled in and ask for them via the covers feature. This means that business owners with proactive employees can let them automate their own scheduling.
Streamline the Payroll Process with Buddy Punch
Running payroll can be a hassle for any business owner. Managing every employees' time and paid time off quickly adds up the larger your team is.
Buddy Punch has very useful features to help alleviate some of this struggle. You'll be able to calculate time accurately, subtract any paid time off used, and drastically cut down on human error or discrepancies. Both you and your team members will benefit from the transparency and accuracy these functions provide.

Buddy Punch's Payroll Integration makes it easy to streamline transferring your data for billing, invoicing, and payroll. We work directly with some of the most popular Payroll Software such as Zapier, QuickBooks, ADP, and more. Click here to view the full list.
Payroll Reports on Demand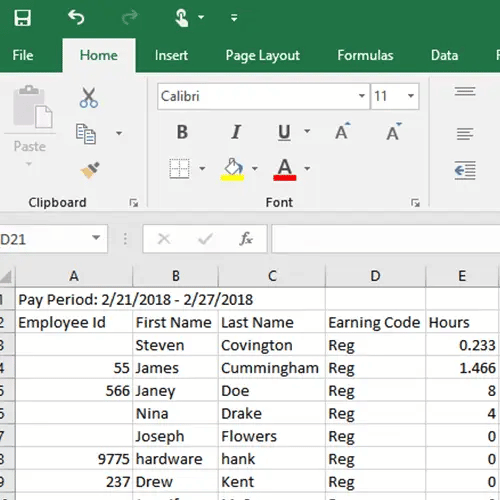 Part of Buddy Punch's Customizable Reports feature is the option to export your Payroll information. Your employees, their hours, overtime, location, departments, and more are available in this detailed report. You can export this as an Excel CSV or PDF, depending on your preference of format.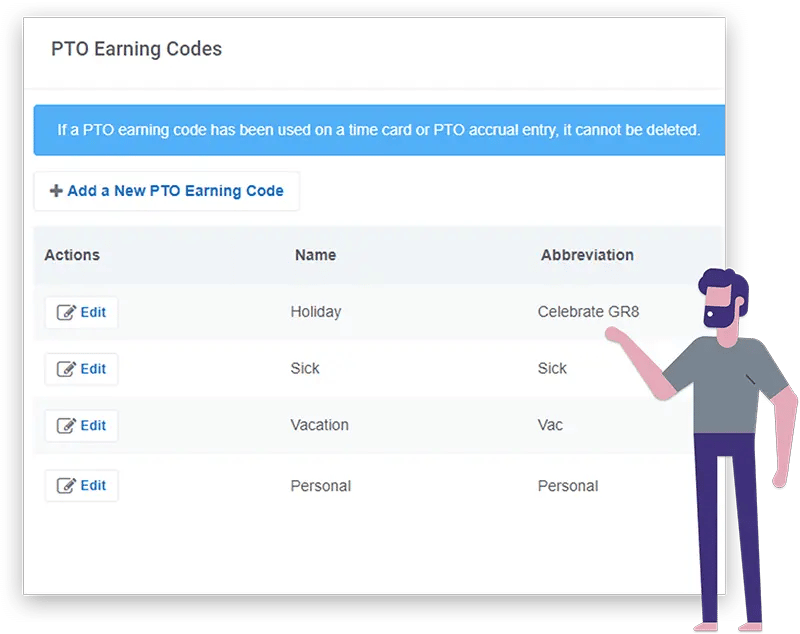 Buddy Punch's PTO Management transforms how you handle paid time off. You can even create custom PTO types as you need.
Furthermore, you can allow your employees to take a completely self-service approach to PTO. Normally, when an employee requests time off, business owners are sent a notification about the leave request, and send an automatic notification in return with their decision to approve or deny.
With Buddy Punch, you can enable employees to automatically be approved when they request time off, whether it's vacation time, sick time, or personal leave. This level of hands-off team management can be a big boost for employee morale.

There's More That Makes Buddy Punch One of the Best Time Tracking Apps Available
Believe it or not, we've only just touched on a few of the ways Buddy Punch empowers business owners.
Buddy Punch is available as a Desktop app (for Windows or MacOS) but functions just as well on smartphones (Android or iOS) or tablets. Additionally, there are numerous out-of-app benefits to using Buddy Punch as well:
Our Help Doc Center contains useful articles on how to best utilize our software to improve your business management.
Our Blog Section is consistently updated with new guides comparing software, breaking down practices and laws, and providing greater insight into the small details that help take businesses to the next level.
Our Customer Support is always available to answer questions you may have via live chat.
And speaking of customer support, if you want a personalized walkthrough of the software, you can book a one-on-one demo here.
Buddy Punch's Online Reviews
As of the writing date, Buddy Punch has 4.8 out of 5 stars and 693 reviews on Capterra.

Below, we'll take a look at both the pros and cons that users noted about Buddy Punch, to get a full understanding of how our software is impacting the average business owner.
(Click here to explore the complete list of reviews.)
"Pros: Very easy for employees and administrators alike to track time and edit if necessary. Provides accountability for our employees with the location settings such as GPS/Geofence. Provides a variety of reports that are helpful. Provides our employees with mobility–we can send them to any job site, and they have the ability to punch in/out.
Cons: Would like a report that provides a daily snapshot, chronologically, of who punched in/out and at what time. If this exact report exists, I have not been able to find it."

Click here to read the full review.
"Pros: Buddy Punch is easy to set up and use. Once staff is set up in Buddy Punch they are able to manage their time cards with min assistance. We have used the facial recognition and the scan code- The facial recognition works the most consistently. It is pretty self explanatory for staff to be able to put in PTO for approval and add notes if they need a time adjustment because they forgot to time in or out.
Cons: When an employee needs to be removed from the active payroll it takes a few weeks for the persons name to be moved to the inactive list. We tried using the QR codes for timing in and out but the staff would forget their card, the computer would not recognize the card or if their was a poor light, it would be difficult to get it read."

Click here to read the full review.
"Pros: I love how easy it is to access help on any aspect of using the software. You can do their chat and they respond almost immediately. They will even help fix anything from their end if you need the help. I love the facial recognition feature and other features that are offered to ensure that your staff is on the job site in order to sign in.
Cons: I would like to see more options for PTO reporting. I feel that the report for overall PTO has too much info. I would like to see it have an option where you can check off which items you need in the report and then produce the report from what you actually need. It is hard to manage what they offer. "

Click here to read the full review.
"Pros: The software has all the features that I currently was using in my spreadsheet – but better as it took human error out of the equation! I gained the reports that tallied PTO (vacations, sick time, personal time) which I had to pull manually from a spreadsheet. Employees are able to enter their own PTO requests (again a time saver). The chat staff has been super helpful to me every single time I have messaged them.
Cons: Although they are able to answer every one of my many questions; it would have been helpful to download a readable document for reference."

Click here to read the full review.
As these reviewers noted, Buddy Punch is easy to use and has an incredibly attentive customer support team.
Try Buddy Punch for Free
If you feel that Buddy Punch might be the right employee time tracker software for your business, sign up for a free trial. You can also book a one-on-one demo, or view a pre-recorded demo video.
Harvest as an intuitive and simple time track software with features including (but not limited to):
This is an easy time tracking app to use on Windows, Mac, and Linux, and it also works with mobile and tablet devices (as does Buddy Punch). As of this post's writing date, Harvest has 4.6 out of 5 stars and 501 reviews on Capterra.
"Everyone in the agency from me, the owner, to all of our team members love using Harvest. It's so easy to use, between the desktop version to the mobile app. It's been a lifesaver to make keeping track of time and budgets for our marketing agency."

Click here to read the full review.
Toggl Track is a software that small business owners can use for free time tracking if they have less than 5 employees. Otherwise, any of its users get to enjoy automatic time tracking features such as:
At the time of this post's writing, Toggl Track has a total of 1854 reviews on Capterra (see here), with an average rating of 4.7 out of 5 stars.
"Tracking and using the time most efficiently is an essential task for any business. And Toggl helps us achieve that. It easily integrates into our daily workflow. Using Pomodoro brakes not only helps at being more effective at what we do but also keeps the team more fit by taking those necessary brakes."

Click here to read the full review.
Clockify is an extremely popular time monitoring app, largely because it has a free plan that can be used for unlimited projects and unlimited users (though it restricts features behind the paid plan). Some of Clockify's total management features include:
Like Buddy Punch, this time management tool can be used on Android, iPhone, or Desktop devices as a web app. At the time of this post's writing, Clockify has a rating of 4.7/5 stars on Capterra, based on 4185 reviews.
"Clockify has helped my team get our projects organized for quite some time. We enjoyed the free version for a little over a year before we started opting for the paid version since we want to take advantage of some of the paid features such as automation, API integration, templates, and other productivity features to further improve our operations."

Click here to read the full review.
If you want to be completely done with manual time tracking methods, RescueTime is an automatic time tracker that is considered one of the best. This tool has a different approach than most other time trackers, with a more personal feel, though it also has a Teams version for workplaces.
As of this post's writing, RescueTime has garnered a total of 128 reviews and 4.6 out of 5 stars on Capterra. Here are just a few of its key features and functionality:
"No brainer- install it with no configuration, and you instantly get personalized and valuable weekly reports. Works on windows/mac/linux/android/iphone so can be used by anyone in company or any external team. Excellent user-interface, very easy to customize to each user's specific goals if they choose to do so."

Click here to read the full review.
ZoomShift is a work scheduler that helps with time and task management. Here are just a few of its key features and functionality:
ZoomShift has a 14-day free trial that you can begin without a credit card required. As of this post's writing, it has a total of 94 reviews and 4.5 out of 5 stars on Capterra.
"Pros: First, it's very easy to add staff, to make schedules, and do copy schedules to following pages. The fact it has an app is a huge advantage. Also, the summary of the hours each work is really important for us because we have caps of how much we can schedule each employee. Also, the notes are great!"

Click here to read the full review.
Finding The Best Time Tracking App
Though we did our best to narrow down the total selection, it should be clear that there are a lot of time tracker apps on the market, and they offer a wide variety of features. Finding out which will be the best time tracking tool for your business specifically is mostly a matter of trial and error.
Looking at specific features can help. For example, if you want to be able to run time audits, you might find yourself gravitating towards Toggl Track. If Browser extensions are critical to how your employees work on their Desktops, you might want to try Clockify.
And if what you're looking for is a tool with many versatile features that can be enabled or disabled at will, an intuitive design that anyone on your team can quickly get the hang of, and a responsive customer support team that will see to your every need – then what you're looking for is Buddy Punch.

Try Buddy Punch for Free
If you feel that Buddy Punch could be the best work time tracking app for your business, sign up for a 14-day free trial. You can also book a one-on-one demo, or view a pre-recorded demo video.

You May Also Like…