6 Best: Time Clock Software One Time Fee (And One Monthly Option)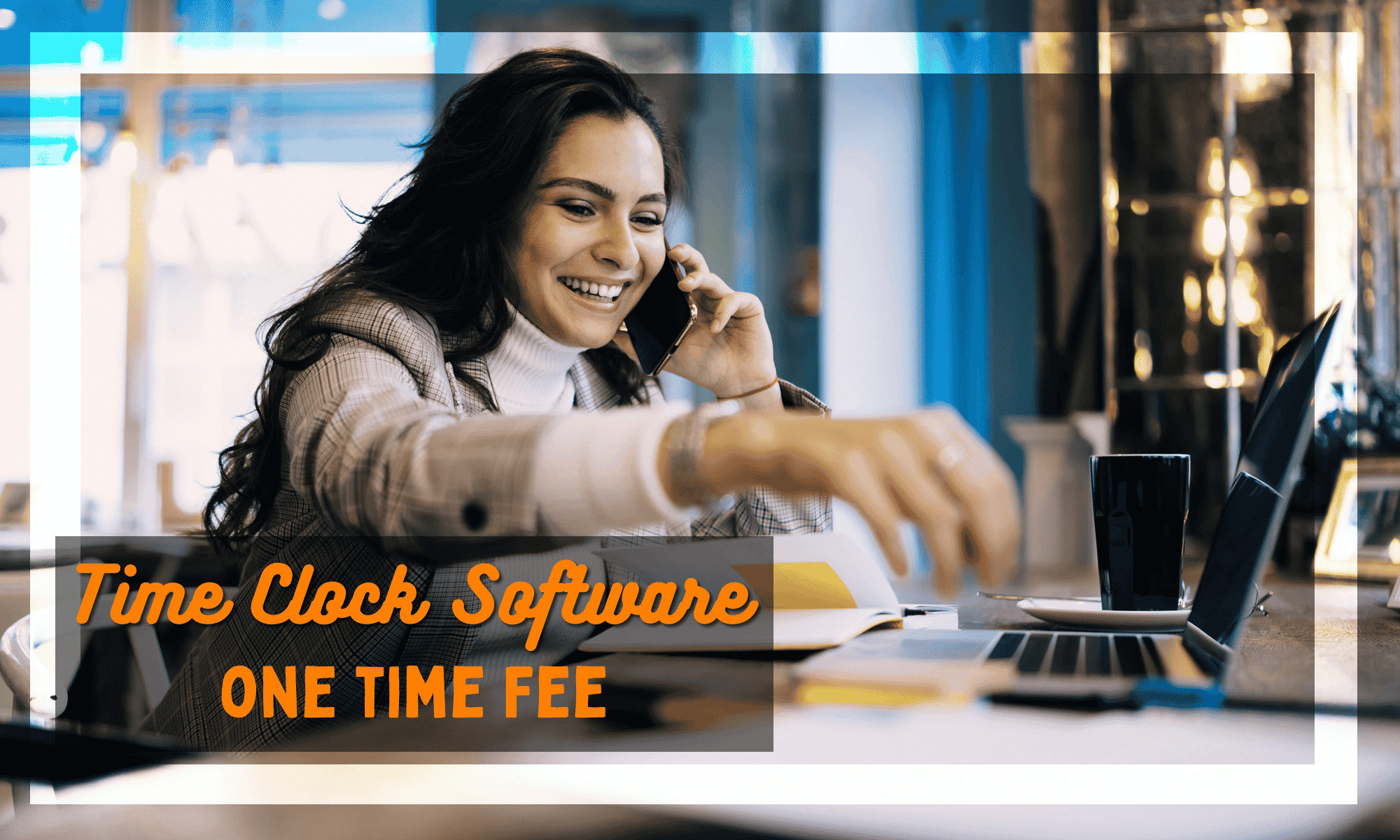 When business owners realize that time clock software could be the key to them reaching higher degrees of success, they often try to find free or one-time fee software to use. The idea behind this inclination is that a one-time fee software can be bought outright and never thought of again.
But there are a couple of immediate drawbacks.
The Downsides to One Time Fee Time Clock Software
One Time Fee Software is expensive. Instead of paying a few dollars each month (with many time management systems offering flexible plans based on team size), you pay an upfront blanket amount, usually to the tune of several hundred dollars.
Ongoing Customer Support can be shoddy. The thing about monthly payments is that they encourage a time entry software developer to maintain constant communication with their customers. One-time fee software has no such concerns, which can result in responses from support taking several days before your issues get resolved.
Updates are inconsistent. Like we mentioned above, without the push to keep your business around (like you see with services surviving on monthly payments), there's less incentive for developers to make sure their attendance software remains top-of-the-line.
Buyer's regret is more substantial. If you fully invest into one of these programs and it turns out to not work as well as you thought, you're completely out of your money. You also never know how different a time clock system might be in practice than in theory, or how your team members will take to it.
Options are limited. The vast majority of one-time fee time clocks are actually manual time clocks. These come with their own host of issues: sanitation concerns, employees can find them invasive, you have to invest more heavily in their maintenance and upkeep, etc.
Choosing The Best Time Clock Software
Finding the "best" time clock software for your business is more a matter of looking at its functionalities, ease of use, and customer support than it is looking at how you pay for it. We're going to dive into some of the most well-liked one-time fee software and stack them up against a monthly paid option to demonstrate the difference between the two types of payment options.

Paid Time Clock Options
Buddy Punch
One-Time Fee Time Clock Options
Virtual Time Clock
Time Clock MTS
TimeDox
TimeClick
Computer Exposure
TimeDrop
Why Buddy Punch Beats out One Time Fee Time Clocks
Before we go into the possible time clocks you can use if you're paying one-time fees, let's touch on why Buddy Punch beats them out.
Responsive Customer Support. Monthly payments mean that Buddy Punch has a steady stream of revenue that can be used to pay agents that are attentive to existing (or potential) clients' needs and concerns. This is most easily seen reflected in the 24/7 live chat support available to all visitors to our website.
Constant updates and flexibility. You can use Buddy Punch on almost any device with internet access, including mobile devices (Android, iOS, tablets) or desktops (Mac, Windows) via your web browser.
Integrations. Buddy Punch works with customers to provide a service that works seamlessly with your existing processes, meaning integrations with some of the most popular payroll systems on the market.
Freedom. Ultimately, Buddy Punch has to put more effort into pleasing customers, because a monthly subscription means that anyone who uses our software can walk away if they're dissatisfied. The relationship with monthly fee software is an empowering one for business owners.
Next, let's dive into the features Buddy Punch offers that specifically help address workforce management (functions that increase employee accountability and streamline payroll).
Note: If, instead of reading about Buddy Punch's features, you'd rather see them for yourself, it's worth noting that Buddy Punch offers a 14-day free trial.
Employee Accountability Features
GPS Location Tracking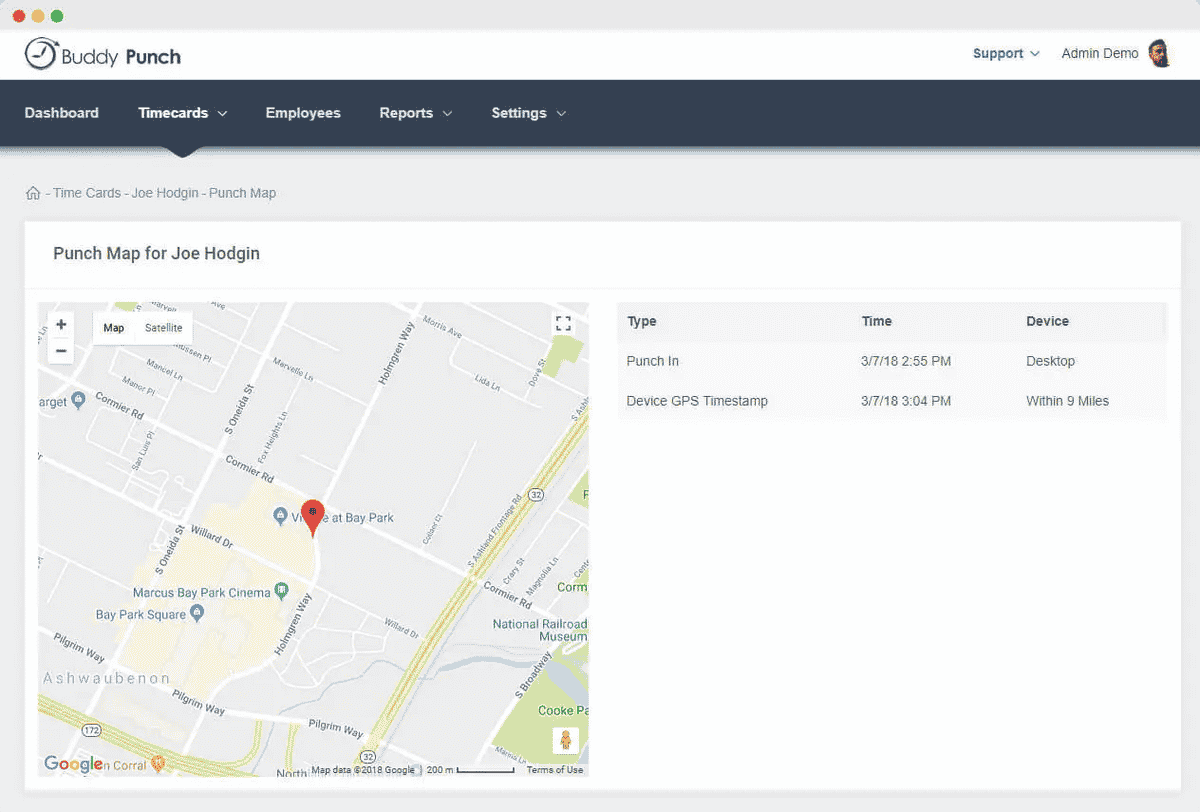 GPS Tracking is a feature that's been growing in demand as Work From Home grows more popular. With this, Buddy Punch enables employers to view the location of employees on every clock in. You can view these punches on an interactive map, or group them together to get an overview of where and when your team is. This feature can also be enabled or disabled on an individual basis.
Job Codes

The Job Codes Feature allows you to track how much time your employees spend on a custom job or working for a particular company throughout their workday. This is achieved through the creation of codes that are assigned to employees, which can then be viewed in the employee's time card.
Managers

The Managers feature allows you to upgrade an employee to "Manager" in Buddy Punch, allowing them to view or edit the time cards of employees assigned to them. This delegation feature allows you to take a more hands-off approach to watching over your employees.
IP Address Locks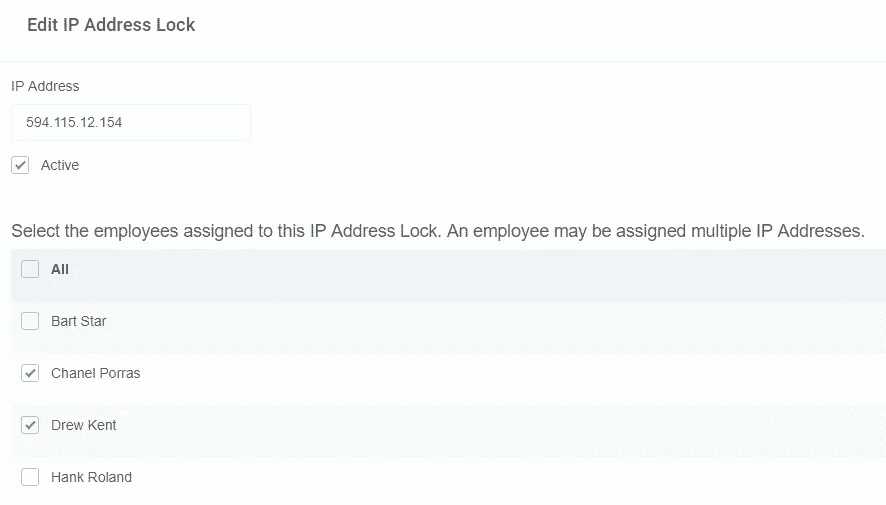 If you want to ensure your employees are only punching in and out from a specific device, the IP Address Locks feature will give you that control. You can specify which IP Addresses each employee is allowed to clock in from, or else they'll receive an error notification. This feature is great for improving security.
Facial Recognition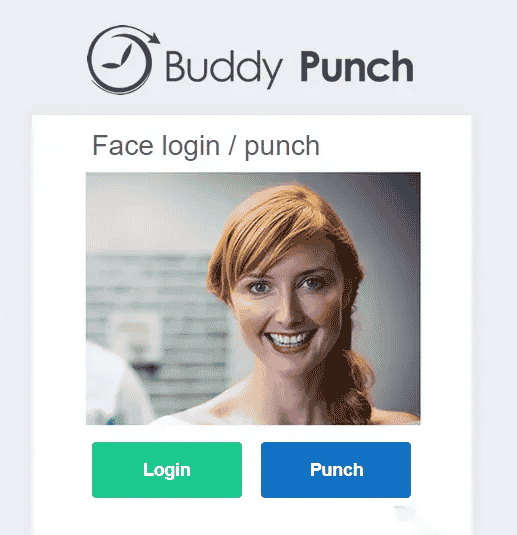 Through our Facial Recognition feature, employees will have to use a webcam to clock in every day. This feature is perfect for cutting down on time theft or buddy punching since there's no way to fool this feature. This tool can be used on any device that has connection to the internet.
Features to Save Time on Payroll
Punch Rounding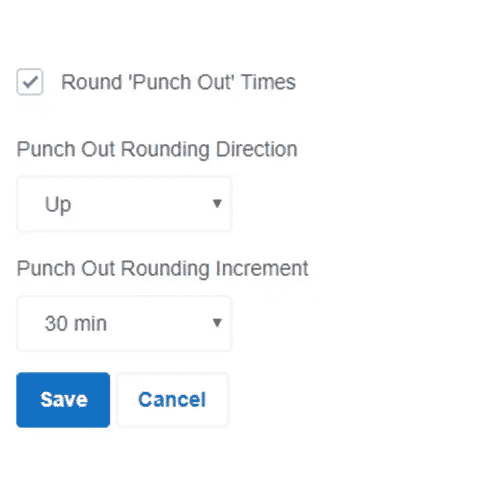 The Punch Rounding feature gives business owners the ability to choose punches to be rounded up or down automatically to the nearest interval, based on your selection. This number can be anywhere from 2 minutes to 30 minutes and helps particularly if you have a large number of people clocking in at the same device (for example, if you've set up Buddy Punch as a terminal or kiosk.)
Automatic Breaks Feature

The automatic breaks feature helps you exert control over your employees' work hours by automatically deducting time based on the breaks you give them. Create a name for the break, specify how many hours after clocking in it should trigger, determine how long the break is, and then assign it to your employees. From then on, the deductions will be completely automatic.
OT Calculations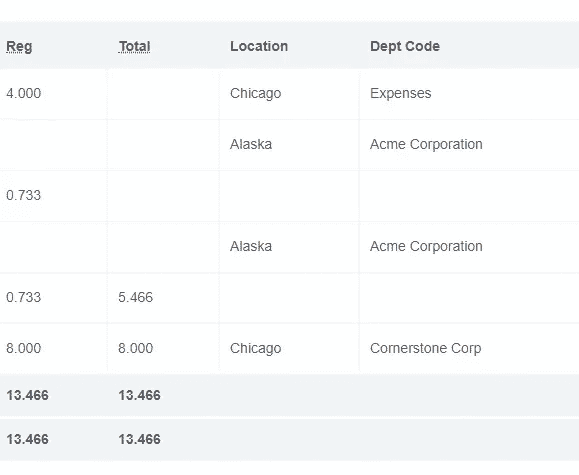 Buddy Punch empowers you to choose from more than a dozen overtime types to determine how overtime pay is calculated. Never lose track of how much you're spending paying time and a half again with this feature. Plus, if you ever need an Overtime type we've not included, you can let us know and we'll add it. Just another benefit of the responsive customer support you can get from a time clock with monthly fees.
Payroll Integrations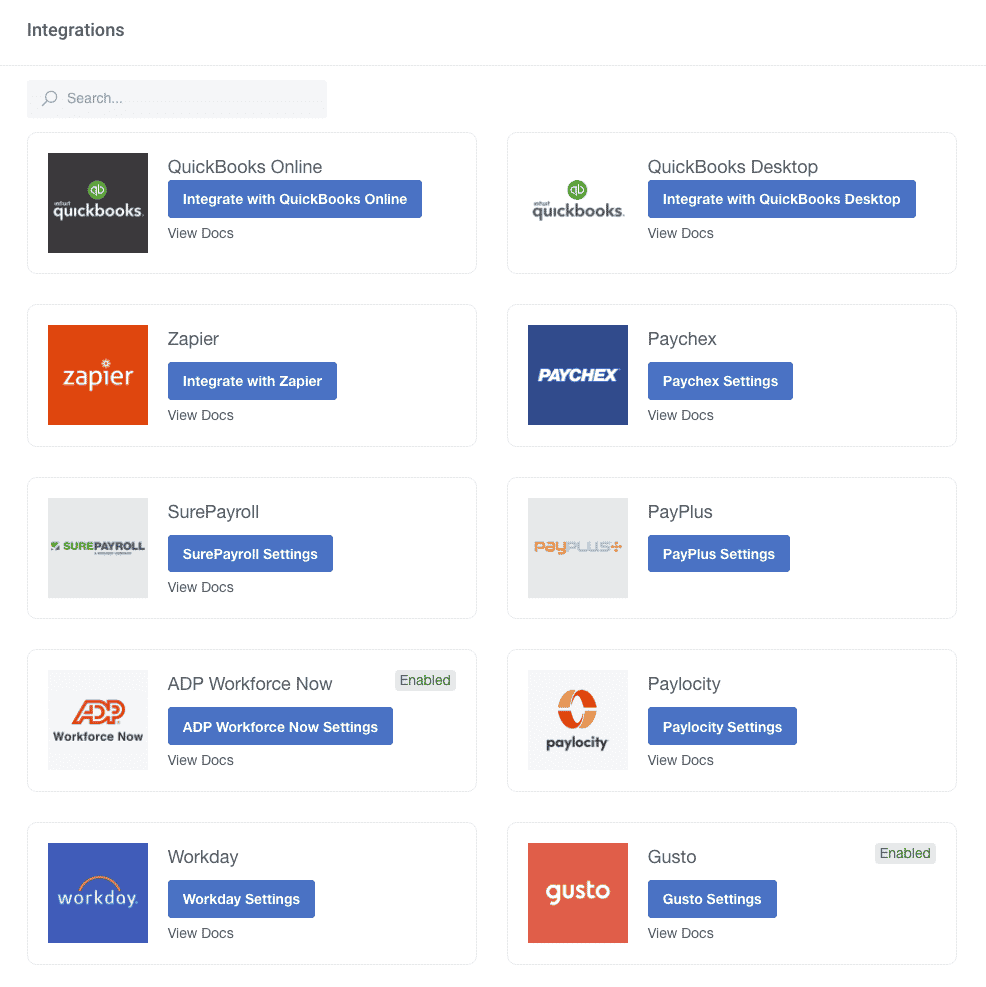 Our goal is to make things as easy as possible for business owners by the end of each pay period. To that end, we've made it so that Buddy Punch integrates seamlessly with some of the most popular payroll processing software out there. Payroll software like Quickbooks, ADP, Paychex, and more work perfectly with Buddy Punch (Click here to view the full list).
Buddy Punch Offers Many Other Features
Buddy Punch was designed to be an all-in-one solution to managing employee hours. That's why it comes equipped with even more functionalities we haven't touched on, such as:
Some of these features are better explored than explained. Book a one-on-one personalized demo of Buddy Punch here.
Buddy Punch's Online Reviews
So, what do clients who paid the fee for Buddy Punch think about it? As of this post's writing date, Buddy Punch has 4.8 out of 5 stars and 673 reviews on Capterra.

"I was really impressed with Buddy Punch- I had been looking at a bunch of software for time keeping and this was the ONLY site that immediately asked if I needed help, didn't hide their pricing or phone number. When I asked questions on the chat I got immediate answers and also links to help me find more complete answers. While I was searching through the site it popped up with helpful hints and links as well but also let me minimize that so I could learn myself and then go back to it when I needed help. I just appreciated the transparency of the site, pricing, and help. I would recommend this software to everyone for their customer service alone, but the software is amazing as well."

Click here to read the full review.
"Easiest to navigate, great price and the lady working with us was very helpful and fast to respond with questions. I also LOVED how they weren't pushy and have given us time to think it over without bugging us everyday like the other options have =)"

Click here to read the full review.
" I handle HR for a small start-up tech company, and we were looking for a simple, easy-to-use time tracking software solution that was also cost-effective for our size. We found Buddy Punch, and it seemed to offer everything we needed, and it was reasonably priced. We signed up for the trial period, and our employees were impressed immediately. They were able to start recording their time immediately with zero training or assistance, which was a priority for us. "

Click here to read the full review.
"The product is easy to use and to deploy to employees. The cost is reasonable and it can do more than what we use it for. The employees can edit their time if there is an error, and the Approver can edit and/or approve an employee's time entry.

Click here to read the full review.
It seems fair to say that users of Buddy Punch all agreed that Buddy Punch was worth the price, easy and intuitive for employers and employees to use, and accompanied by an effective support team that let users feel heard and served.

Try Buddy Punch for Free
If you're still not sure if all of Buddy Punch's functionalities would make up for the one-time fee, you can always use the free trial to help make your decision. You can also book a one-on-one demo, or view a pre-recorded demo video to gain more insight into the program.
Next, let's dive into some of the one-time fee software to see how they compare to Buddy Punch.
1. Virtual TimeClock
RedCort's Virtual TimeClock is a one-time fee software that comes with a basic, pro, and network edition. Once you pay, you get access to features like:
As of this post's writing, Virtual TimeClock has a rating of 4.8 out 5 stars on Capterra, based on an average of 233 reviews.
"It just works. That is not an easy thing to say about any software. Windows and Microsoft Office fail constantly and have zero support. The very few times that I have had trouble over the last several years, they were very responsive and helpful. Problems were resolved on the first try. They also actively keep working to make the product better. "

Click here to read the full review.
2. Time Clock MTS
If you're looking for a Time Clock with a free download, Time Clock MTS might be right for you. It's completely free to track time for up to 4 users, but if you buy the program (a one-time purchase) it comes with:
At the time of this post's writing, Time Clock MTS has a rating of 4.7 out of 5 stars, and 92 reviews on Capterra (see here).
"Highly recommend MTS Timeclock, especially for small to medium size companies. We have been using this software for over 10 years and have seldom had an issue. Great software."

Click here to read the full review.
3. TimeDox
TimeDox is a company that develops a variety of different time clocks to suit the needs of businesses. One of these is their TimeDox CloudLite Service, which is a one time payment of $199 to own completely. This software comes with 180 days free setup support, 2 years hardware warranty, and a 500-employee capacity. Features include:
Automatic Cloud Data Storage
Free Software Updates
Automatic Time Deduction
Audit Reports
Overtime Calculation
Intuitive User Interface
And More
As of this post's writing date, Timedox has 16 reviews on Capterra, and a rating of 3.8 out of 5 stars.
"So, after two months I can say that Timedox really saved me tones of money, I personally really like the Tandem pro device. Easy to install, great support with real human behind the phone. the main reason that I decided to purchase this device is because it have a fingerprint feature which is super great! "

Click here to read the full review.
4. TimeClick
TimeClick is a time clock software for small businesses and enterprises alike, offering a one-time purchase with prices depending on how many devices and features you want. Some of its functionalities include:
As of this post's writing date, TimeClick has a rating of 4.7 out of 5 on Capterra, based on 438 reviews (see here).
"Overall, TimeClick was a better alternative for us to switch to. It made switching easy, and managing and logging hours even easier for not just me, but our whole business!"

Click here to read the full review.
5. Computer Exposure
Computer Exposure has an Employee Time and Attendance Software for PC with no monthly fees. Features include:
It's worth noting that this software is only designed for Windows devices. As of this post's writing date, Computer Exposure has a rating of 3.7 out of 5 stars and 43 reviews on Amazon.
"This product is perfect for a small business. It is a bit confusing to set up at first, but once you get it figured out its easy. The reports are perfect and easy to read. The time adjustments can be a bit confusing at first. When the shift goes past midnight it does a weird thing with punch out, it asks if it is a new day punch or something like that. It has made my life with payroll much simpler."

Click here to read the full review.
6. TimeDrop
TimeDrop Time Clock is one of the most affordable employee time clocks on the market. This fairly simple time clock software has features including:
At the time of this post's writing, TimeDrop has 24 reviews, and a rating of 4.4 out of 5 stars (see here).
"We switched company software last year and our new system didn't have an integrated time clock. TimeDrop more than fit the need we had and at a very competitive price. I had a tech support issue yesterday when deleting an errant time entry on an employees time card. The tech support was actually very quick and efficient considering I don't pay for support. I would highly recommend TimeDrop to anyone seeking a no nonsense time clock that is easy to network for multiple locations."

Click here to read the full review.
Time Clock Software: Avoid the One Time Trap
Options for one-time fee software are limited. This isn't the most popular method of payment, which means that the few software offering it have less competition. Less competition means less motivation to compete for user's attention, which results in fewer features and less responsive customer support. Consider the difference in the many options Buddy Punch offers versus those of one-time fee software.
That said, sometimes the downsides might outweigh the benefits depending on how your business is structured. If you don't mind a very simple interface and are a fan of fingerprint scanning, you might find that TimeDrop is the time clock you've been looking for. If you have a larger business, you might determine that TimeDox is more up your alley with its 500-employee capacity.
But, if what you're really after is a software that can help you cut labor costs, track your employees when they're on the clock, and integrate with your existing payroll processing software, you can't go wrong with Buddy Punch. Think of the monthly fee as empowering rather than detracting – giving you the opportunity to cancel your subscription any time you feel like a responsive customer support team and constantly updated features isn't what your growing business needs.

Try Buddy Punch for Free
If you feel that Buddy Punch could be worth the fee after all, give it a try with the 14-day free trial. You can also book a one-on-one demo, or view a pre-recorded demo video.

You May Also Like…