The 11 Best Time Clock for Payroll Apps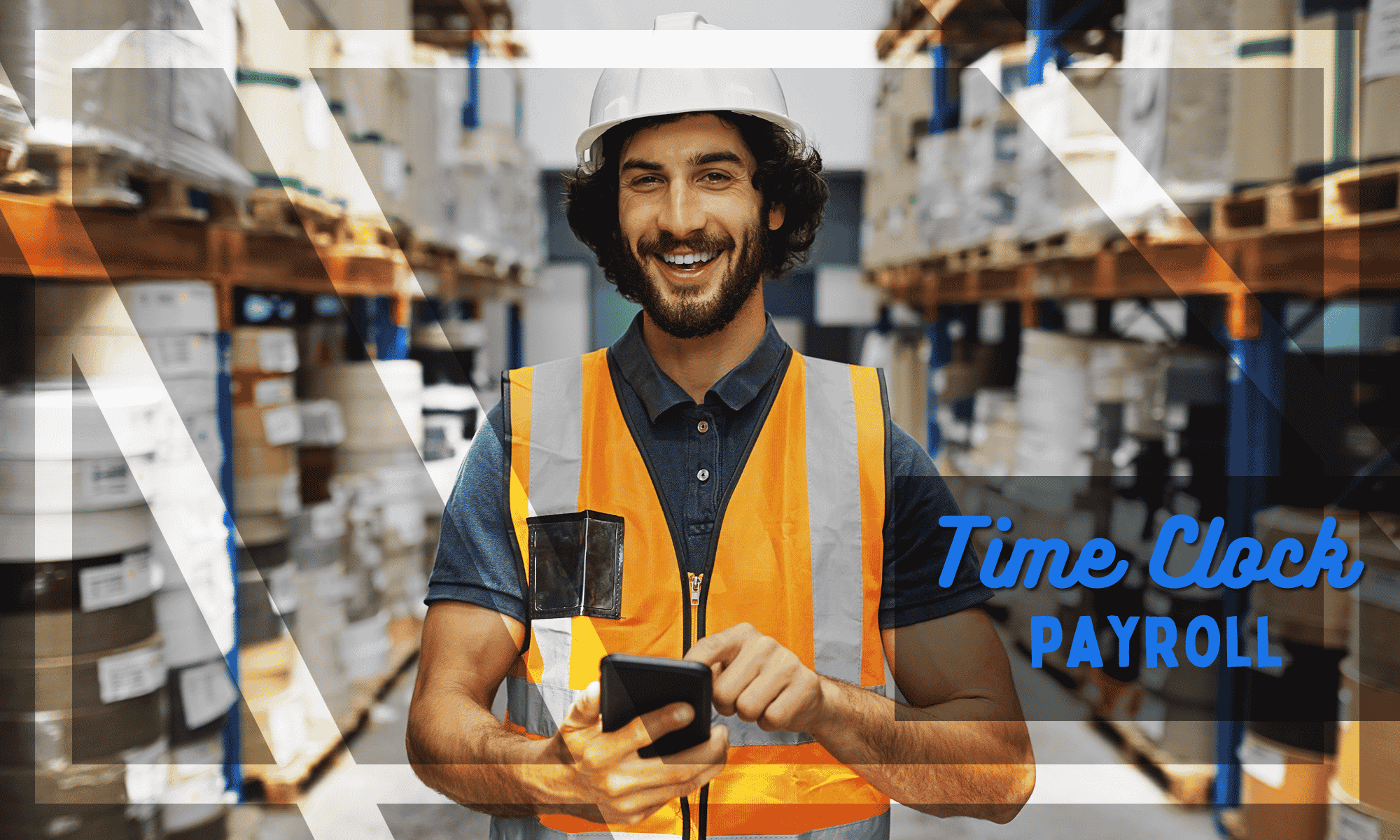 Time Clock Payroll Apps combine the accountability and flexibility of tracking your employees with the convenience of running that data through your chosen payroll software, ensuring that team members are paid accurately and promptly for their time.
In this article, we're going to cover our top 11 favorite picks of Time Clocks with built-in payroll processing features. Additionally, we'll show off some of the features that these time clock systems include for free to help business owners handle workforce management.
Time Clock for Payroll
Starting off our list of the best time clocks solutions designed to help with payroll, we have our very own Buddy Punch. It's not favoritism that causes us to rank our software so highly – it's our focus on three specific tenants of design:
Accountability. We wanted to give business owners the power to handpick which features they wanted to use to keep employees accountable, whether that be through GPS tracking, Geofencing, IP Address Locking, Facial Recognition, or more.
Simplicity. While providing these features, it was important for us to ensure our software never became too complicated to make use of, for you or your team members. That's why we created Buddy Punch with an intuitive design, one-button clock in, and even Punch Rounding and Automatic Breaks, which managers can trigger without employee output.
Streamlining. Last but not least, Buddy Punch is designed to make your operations as smooth as possible. This is achieved through functions such as Payroll Integrations, Paid Time Off Management, PTO Accruals, and more.
Let's dive into some of these features to highlight how they function to help serve these three design tenants.
Note: If you'd like to skip the walkthrough and get a more personal feel for Buddy Punch, you can sign up for a free 14-day trial by clicking here.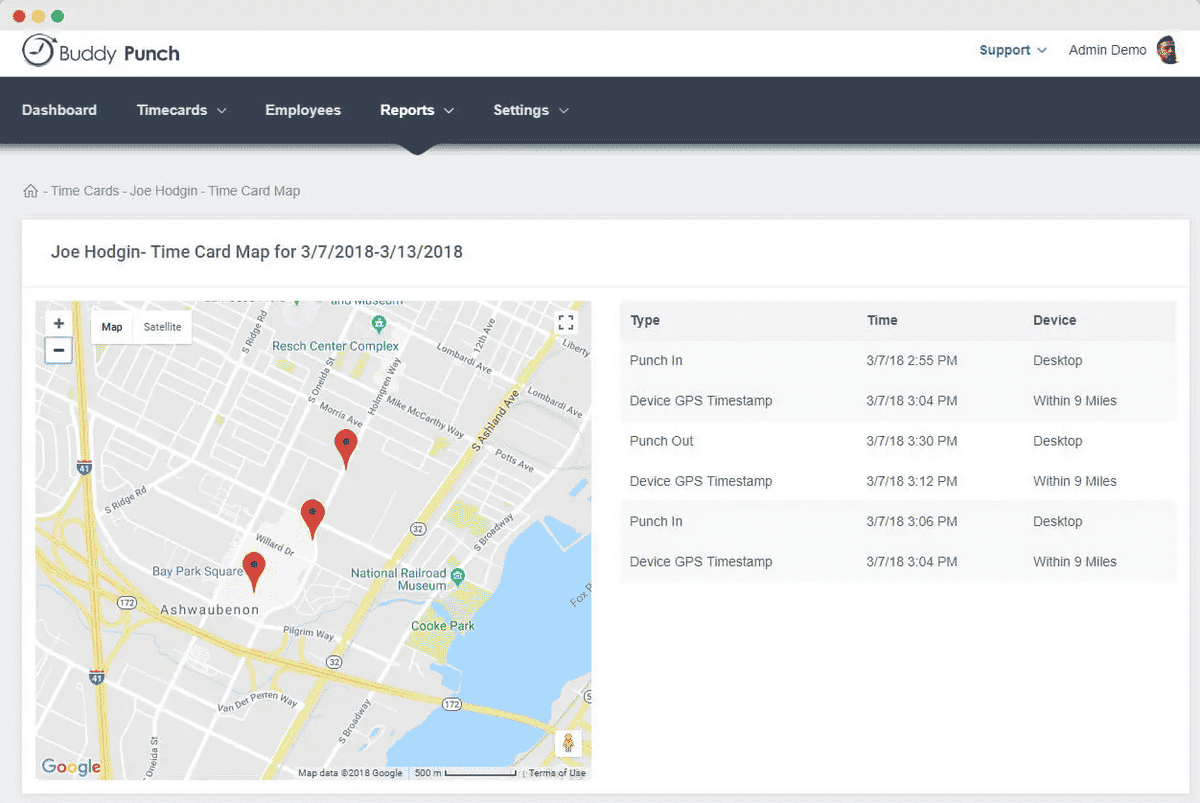 Buddy Punch's GPS Tracking feature allows you to hold employees accountable even if they're not present in the office. You can keep up with their locations through real-time tracking to see where they punch in, group them by location, and select which of your team members this feature is enabled for.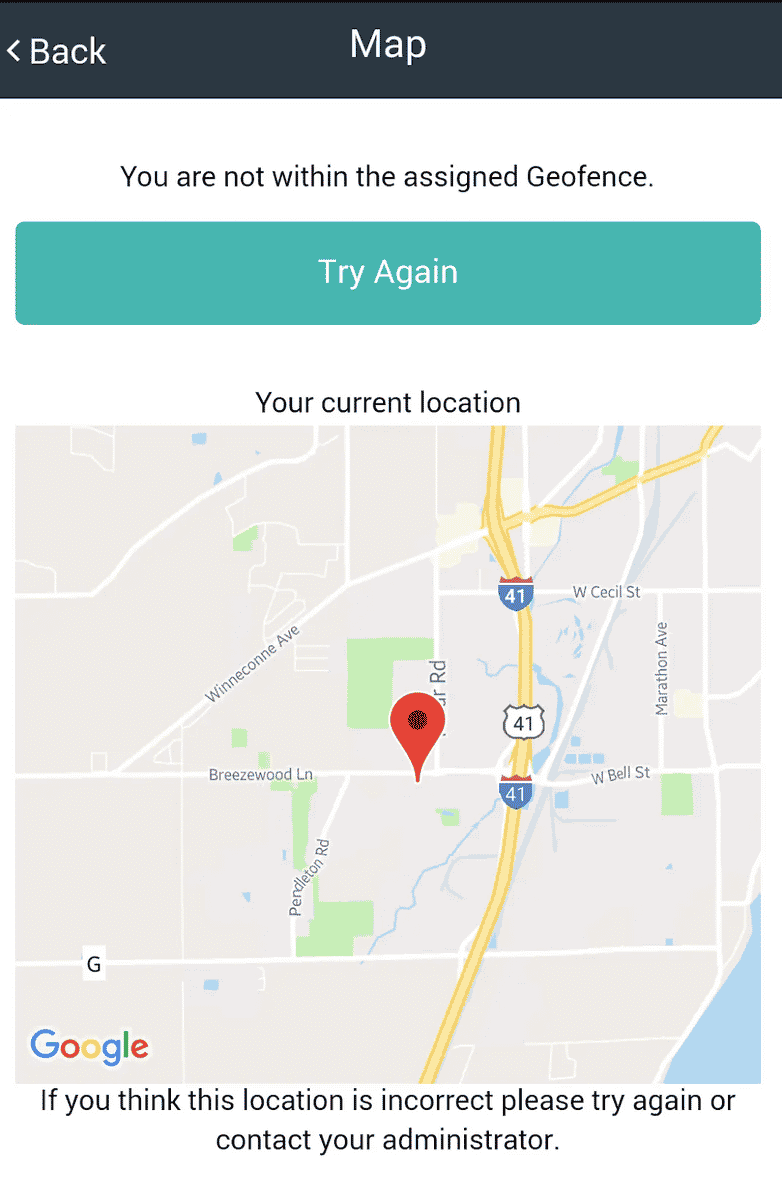 The Geofencing feature allows you to create zones where employees are allowed to punch in (called Geofences). If a team member attempts to clock in while outside one of these designated areas, they'll receive an error notification. This is perfect for business owners managing multiple worksites.

IP Address locks are an effective way to make sure you keep employees accountable for whoever accesses business files and data. With this, you can at least exert control over where your employees clock in. Additionally, you can see which IP Addresses connected to an employee account, which can cut down on time theft.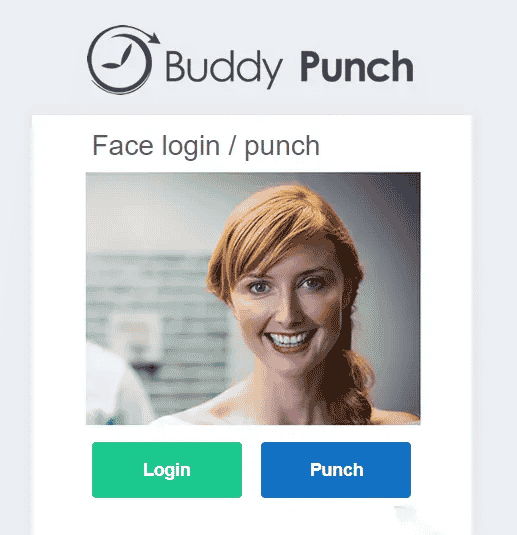 If you want to ensure that time theft isn't happening when team members log employee hours, it doesn't get better than using biometric time clock features. Buddy Punch's facial recognition ensures that the employee clocking in is who they say they are.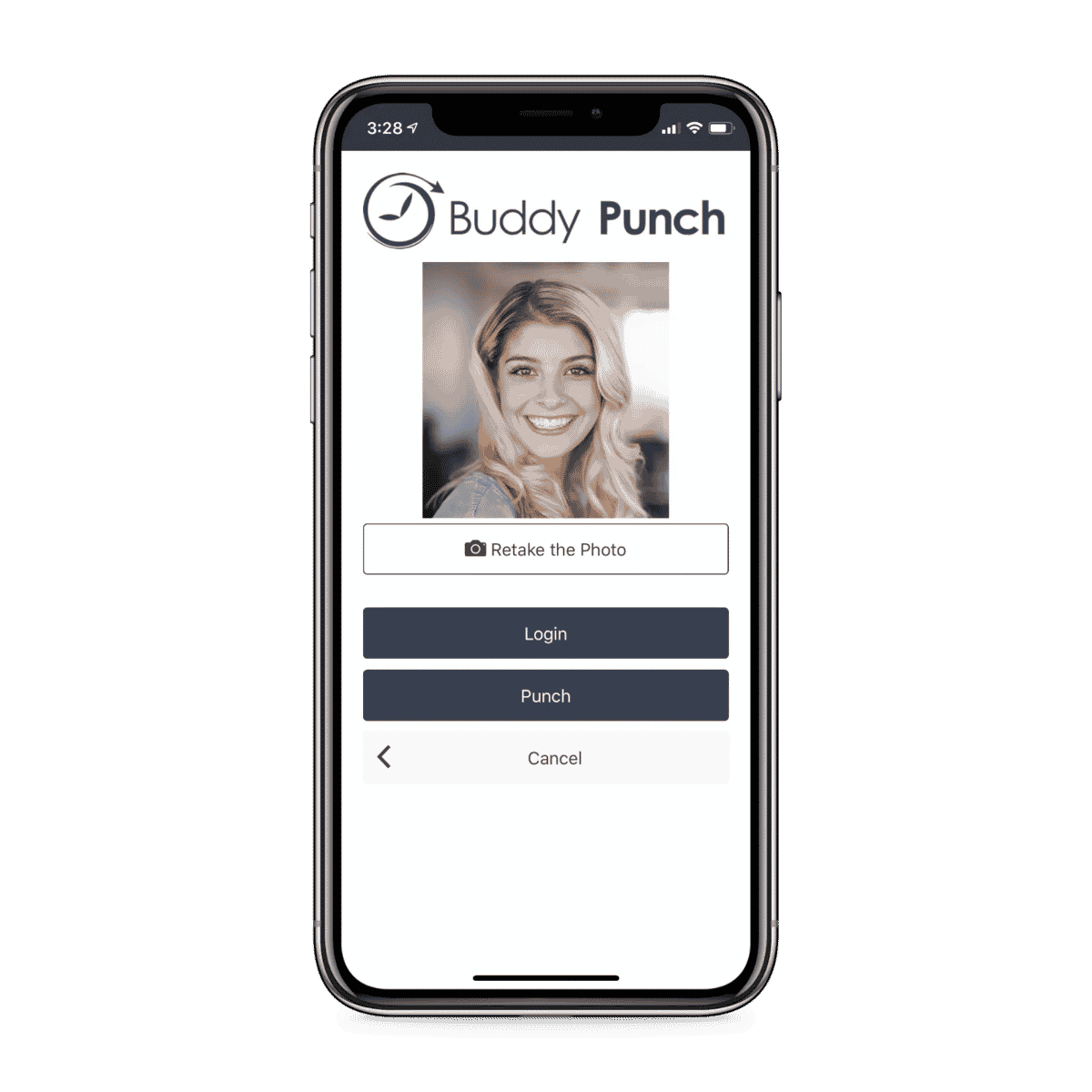 As part of Buddy Punch's intuitive design, employees have an extremely easy time signing into our attendance software. This ease-of-use is reflected across all devices: Smartphones (iOS or Android), Desktop devices, or Tablets. You can use Buddy Punch in a web browser or as a downloadable app. All you need is an internet connection.
If you have a large number of employees clocking in at the same time (as you might if you've set up Buddy Punch to be used as a kiosk), the punch rounding feature will help everyone be counted as clocking in at the same time. This feature is an easy way to tighten up accuracy for each pay period.

Do you have forgetful employees? Want to reign in unmanaged hours? The Automatic breaks feature allows business managers to trigger an automatic break in time tracking. This ensures that every employee has their off time properly accounted for.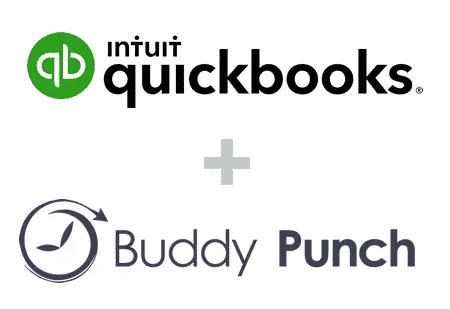 Buddy Punch's integrations with a variety of popular payroll software is one of the main draws to our program. Streamline how you deal with accuracy of each employees' total hours at the end of each pay period. Buddy Punch connects directly with payroll systems such as Zapier, ADP, Paychex, and more. Click here to view the comprehensive list of Buddy Punch's integrations.
Any high-quality online time clock will come equipped to help business owners manage PTO. Buddy Punch is no exception. You can choose from a variety of pre-made PTO types or create your own custom types. Then, you can let employees take a self-service approach to the system overall by letting them fill in their requested time off. It's up to you if this time off gets to be auto-approved, or approved/rejected on a manual basis.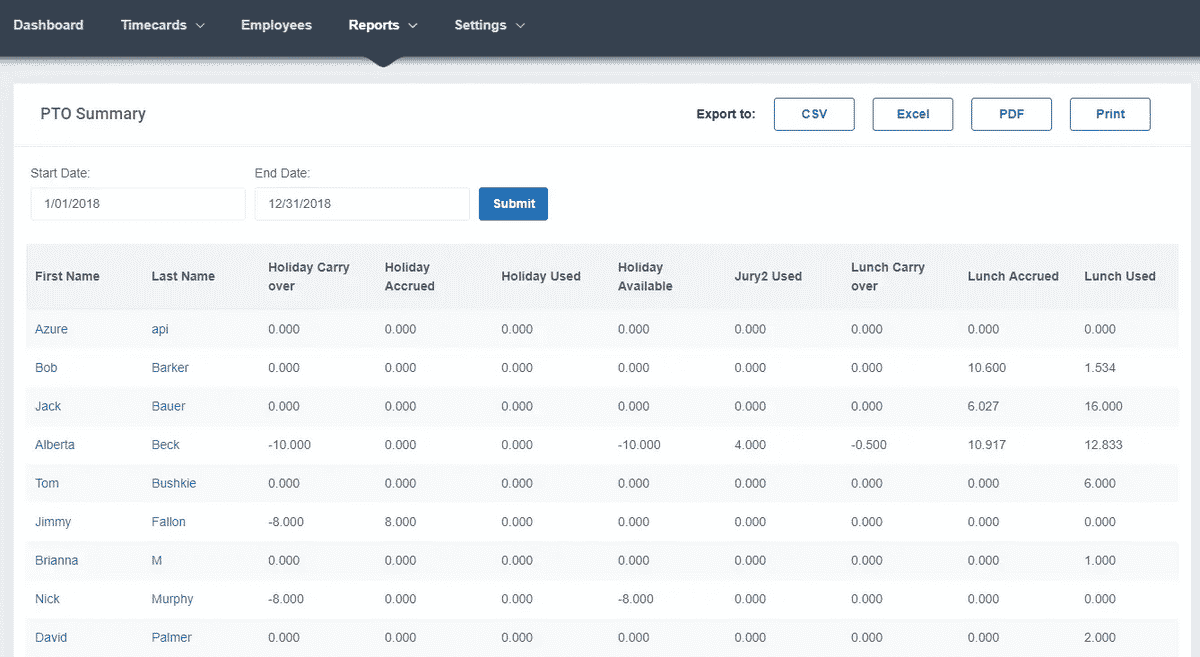 For businesses (and HR departments) that operate using an accrual method to PTO, keeping track of mounting time off at regular intervals can be challenging. It's a problem that gets exponentially harder with each new hire you take on – but Buddy Punch is a powerful solution to that issue. The PTO Accruals feature lets you create custom rules to track how time accrues for each individual employee on your roster.
Additionally, the PTO Summary Report will give you an in-depth breakdown of what PTO was carried over, accrued, used, or banked for the present and future.
We Really Meant "And More"- Buddy Punch's Offerings Don't End There
So far, we've only covered around half of the features Buddy Punch has in total. Here are a few more functions we empower business owners with:
In addition to these functions, we also have a regularly updated help doc center containing articles on how to best utilize Buddy Punch. If that wasn't enough, our responsive customer support is around to answer any questions you have via live chat, or to guide you through a one-on-one personalized demo of our software.
Buddy Punch's Online Reviews
As of the writing date, Buddy Punch has 4.8 out of 5 stars and 682 reviews on Capterra.

Below, we'll list just a few reviews that speak to Buddy Punch's attributes. (Click here to explore the full list of reviews.)
"After a few hours of contemplation, I tried it and boy was I blown off by its features real-time pics, extensive data of employee activity, payroll data, etc. Even the staff of Buddy Punch are so supportive, inserting few features from a new user like me. I am so impressed! Now for the first time in my 10 years of business, computing payroll has become such a breeze. Thank you very much, Buddy Punch!"

Click here to read the full review.
"What I love most about Buddy Punch is how simple it is for employees to clock in and out, add their lunch breaks, and write notes about their shifts. I also love how easy it is for me to import it into QuickBooks and pay payroll with it! Before I used Buddy Punch I was keeping time manually with 3 employees and it drove me crazy. Now I have over a dozen employees and I do not know what I would do without this software."

Click here to read the full review.
"Employees can punch in where ever they are assigned. We can use a geofence if employee not punching in at the yard. Can see where they are when they punch in. Has prevented "stealing time". Perfect for our weekly payroll information. Employees clock in early am and late pm and can leave notes when no one in the office."

Click here to read the full review.
"Buddy Punch produces concise reports which can assist with transferring employee hours to any payroll system that you may be using. If you do experience any issues or have questions, it's very easy to place a support ticket and a response is usually given within 1-2 hours at the most. Customer Service definitely seems to be a priority which we appreciate. Once our trial period had concluded, it was a no-brainer to continue with this easy, intuitive solution."

Click here to read the full review.
What's the consensus? It seems most reviewers noted that Buddy Punch has excellent customer support, flexible features, and an effective method of handling payroll information.
Try Buddy Punch for Free
If you're ready to test Buddy Punch as a time clock solution, we recommend you try the 14-day free trial first. Additionally, you can view our pre-recorded demo video or book a one-on-one demo for a more interactive experience.
DeskTime positions itself as the ultimate "all-in-one" automatic time tracker. With a variety of features and ways to monitor employee data, you can make informed decisions to manage your workplace. Its features include:
At the time of this post's writing, DeskTime has a total of 240 reviews on Capterra (see here), with an average of 4.5 out of 5 stars.
"So, it's been almost two years having "Desktime" monitoring/tracking us, and we found it is very impressive and easy solution. The kind of reports and support they provides; we don't think any contenders would be offering in this arena currently. We are just planning to offer this product with our all international clients as well. "

Click here to read the full review.
Paymo is a digital time clock that places an emphasis on fostering teamwork and communication between employees. Some of its key features include:
At the time of this article's writing, Paymo has a total of 419 reviews on Capterra (see here), with an average of 4.7 out of 5 stars.
"Time tracking is seamlessly integrated into our current designer workflow. This allows us to calculate the actual time spent on the job so clients understand where their money is being spent. It also allows us to identify where we need to increase project costs (9/10 times it's with 'customer correspondence')."

Click here to read the full review.
Connecteam is another end-to-end solution for managing employees and their work schedules. Some of its features include:
As of this post's writing date, Connecteam has 4.7 out of 5 stars and 153 reviews on Capterra.
"Overall the Connecteam team was very helpful. We took a lot of time before deciding to invest our time into this software to take it company wide. We had several zoom calls and emails back and forth asking questions about the features we required. Most of these features were included, in the process, or on the list to be added which we really liked."

Click here to read the full review.
CrewTracks is a time clock software that was made to help construction businesses manage their crews, even while they're out on remote jobs. Some of its features include:
CrewTracks has 12 reviews and a rating of 4.8 stars on Capterra as of this post's writing.
"As a small industrial painting contractor, we FINALLY have a way to track our field employees from our corporate office. Crewtracks allows us to monitor employee hours and performance from afar. We love the ease of use and "simplicity" of the app/desktop versions."

Click here to read the full review.
eBillity is another specialized time clock software – one that can be used for any business, but was designed to work especially well for law firms (through LawBillity). Some of its features include:
At the time of this post's writing, eBillity has a total of 2,439 reviews on Capterra (see here), with an average of 4.3 out of 5 stars.
"It is a cloud based time tracking and billing solution that increases profitability, reduces administration. It's easy to manage projects, employees and clients from one central location. Useful for all in one timekeeping, billing, payroll and accounting solution for firms of any size. It tracks employee time with GPS accuracy. It can be used as a standalone solution to track time, invoice clients and run payroll or it can be integrated with QuickBooks. "

Click here to read the full review.
Insightful (formerly known as Workpuls) is a data-focused time tracking solution with features such as:
At the time of this post's writing, Insightful has a total of 60 reviews on Capterra (see here), with an average of 4.8 out of 5 stars.
"The easy set up and web based application gives instant start up and it allows a gradual use of the sophisticated functionality which is built into the software. Software insight give a real view of how users are using the software assets and has enabled us to re-evaluate software product usage and license management of expensive softwares. The software insights also helps us identify training needs after evaluating how different staff use various softwares with less effectivity."

Click here to read the full review.
OnTheClock offers various features and functionality, some of which include:
OnTheClock is a web-based time tracking software that can be used across any device with an internet connection (Windows, Mac, Smartphone, etc.) As of this post's writing date, OnTheClock has 4.7 out of 5 stars and 511 reviews on Capterra.
"I love the ease of clocking in using my mobile device. As someone who has always had to punch in on a computer, I know first hand that computers sometimes take their time opening and connecting to the internet for you to do anything. That's never fun, especially when you need to clock in. This has been a great product to use instead."

Click here to read the full review.
QuickBooks Time (formerly known as TSheets) has a wide range of features including:
As of this post's writing, QuickBooks Time has a rating of 4.7 out of 5 stars and 5,586 reviews on Capterra.

"QuickBooks Time makes my payrolls, job costing, and reports so much more accurate, efficient, and expedient. The time I save pays for the software over and over again. Not to mention, the customer service is stellar!!! Each and every time I have had to contact a representative for any reason, they have been some of the most friendly, helpful, and knowledgeable customer service reps I have ever encountered with any company or product, ever. "

Click here to read the full review.
When I Work offers various features and functionality such as:
As of this post's writing date, When I Work has 4.5 out of 5 stars and 928 reviews on Capterra.
"When I Work does exactly what we need for scheduling the varying shifts for the different level of nursing staff and the different departments that they work in. Couldn't recommend enough."

Click here to read the full review.
Some of its key features include:
It's worth noting that TimeCamp offers a free plan for unlimited employees and unlimited projects, though this restricts access to some of its more powerful features.
At the time of this post's writing, TimeCamp has a total of 554 reviews on Capterra (see here), with an average of 4.7 out of 5 stars.
"Being able to simply track time worked on different projects by different business analysts was always tricky, often analysts would be guessinmating at the end of the week. TimeCamp have solved this issue and we can now accurately track and invoice hours spent on each project."

Click here to read the full review.
Choosing The Best Time Clock Payroll App For Your Business
With so many different options available, choosing the best time clock app comes down to your specific goals.
If you have software you want a time clock to integrate with, you can always look up if a time clock works with your current operations. Otherwise, you might be able to make a choice depending on your industry – such as construction workers choosing CrewTracks, or law firms choosing eBillity.
But if what you want overall is to be able to make decisions based on what your workplace adapts to – you'll want a flexible software with plenty of options that can be easily enabled or disabled at will. In other words, you want Buddy Punch.
Try Buddy Punch for Free
If you think Buddy Punch could be the right software for your business, sign up for a 14-day free trial. You can also book a one-on-one demo, or view a pre-recorded demo video here.

You May Also Like…