10 Strong Team Scheduling Software Options (In-Depth Post)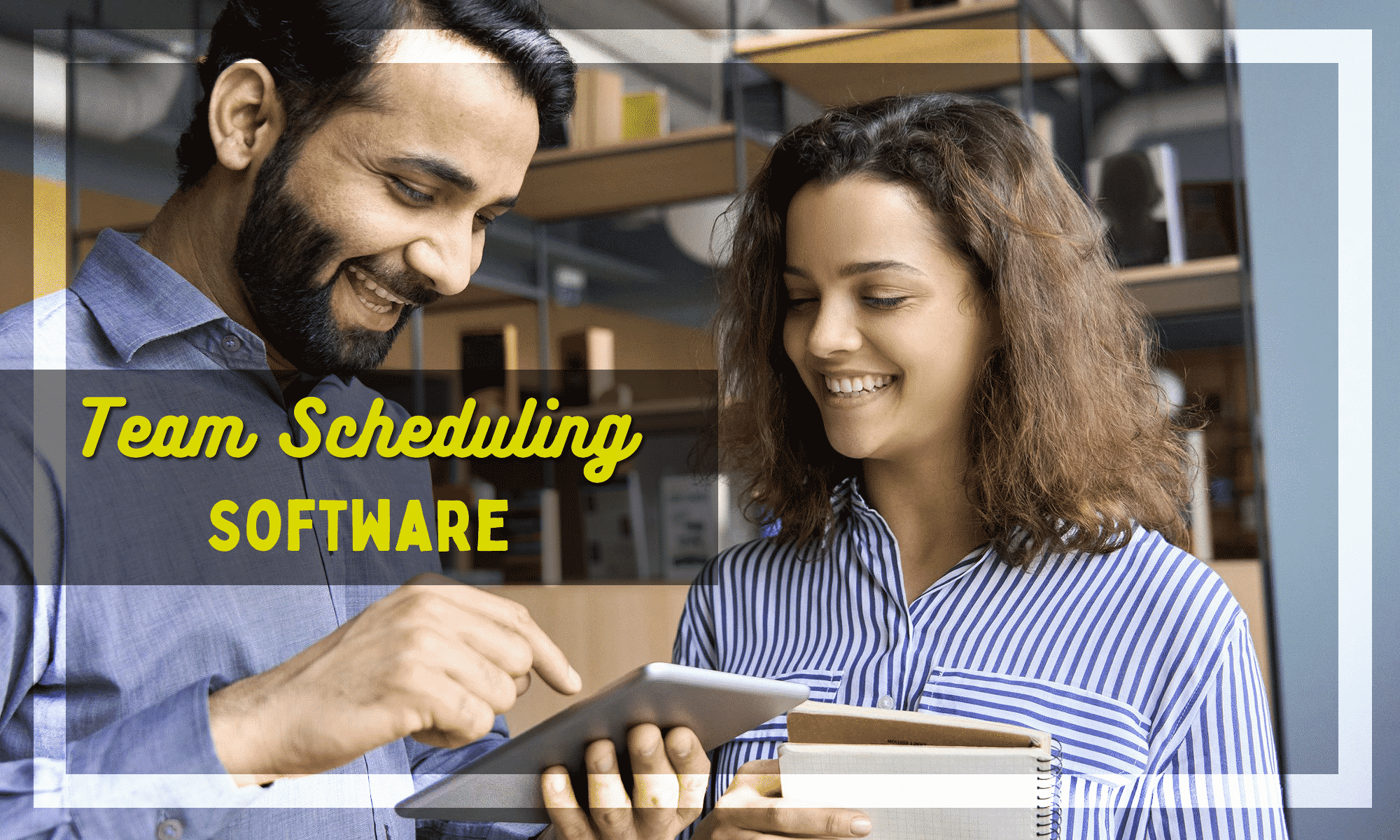 Employee scheduling software has become just about mandatory in the wake of the pandemic, and it's important to note why. The public consciousness has shifted towards jobs that can meet flexible scheduling needs, with pay that compensates employees enough to justify their time and health, and doesn't ask them to sacrifice too much to meet business needs.
Employers that are unable to meet these needs are experiencing no-shows, even with new hires, or employees outright quitting.
Thankfully, these effects can be remedied simply enough with an effective scheduling tool. Here's how:
Effective team scheduling solutions work to empower both managers and team members to cooperate in order to improve employee relations, job enjoyment, and overall productivity.
We're going to list off the 10 shift management solutions that we feel are the most powerful for business owners, based on how much control they give you. Specifically, we're going to point to tools that help you improve employee availability and accountability, are flexible depending on the functions you need for your business, and will help you streamline operations and payroll.
Team Scheduling Software
Topping the list of shift software solutions, we have Buddy Punch: designed to empower both managers and employees with a host of options for flexibility.
What makes Buddy Punch such an effective team scheduling software is its focus on simplicity. We make sure to keep ease-of-use as a top priority through our wide range of scheduling features, such as Job Locations, Drag & Drop Shifts, Notifications, Punch Limiting, Overtime Calculation, Automatic Scheduling Shift trades & Covers, Automatic Breaks, and IP Address locks.
Next, we're going to dive into the benefits of each of these functions, and show how they work to improve accountability, flexibility, and streamlining in your workplace.
Note: You can get an even quicker understanding of Buddy Punch's potential for your workforce management through our 14-day free trial.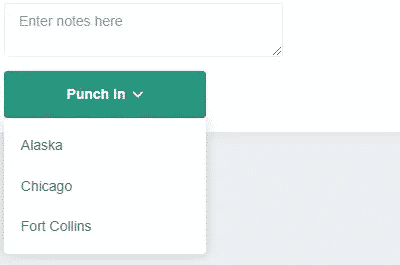 This feature has seen an increasing amount of use ever since Work From Home and remote job sites grew more popular. With this, you can manage your team scheduling even when they're set to work at remote locations.
Simply create a location, assign them to employees, and when they sign in, they'll confirm where they are. Best of all, this is all visually represented in time cards and employee hour reports.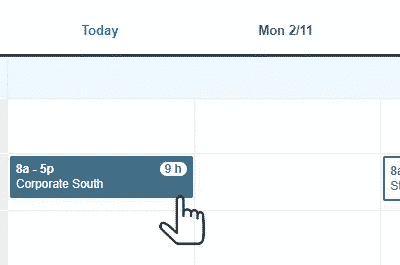 While Buddy Punch doesn't have auto-scheduling, it comes close, with a Drag and Drop system that enables you to create shifts by clicking on empty cells in our software. Then, you can move around shifts as needed. Managers have noted that this visual way of organizing their team members has made scheduling much easier. No more forgetting about open shifts!
Additionally, once you publish these shifts, employees are automatically notified. Communication lines are kept updated and clear.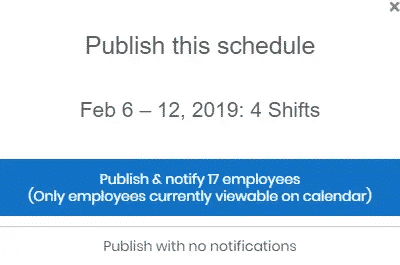 Speaking of notifications, Buddy Punch offers a two-way notification system that keeps both team members and managers in the know.
Managers can decide what and when to notify their team members of, and employees can apply for shift changes or paid time off and send a notification to request approval. Additionally, you can delegate more control to trusted employees and let such requests auto-approve once they've earned more of your trust.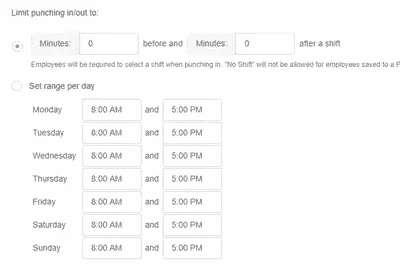 Buddy Punch comes with a variety of time tracking tools, but how about time controlling ones? With our punch limiting feature, you can stop problems before they happen.
By ensuring employees prone to punching in early (or late) are limited, you can cut down on accidental overtime and exercise better control over your team's time. This can even help them improve their work-life balance, which will overall improve their mental health and job satisfaction.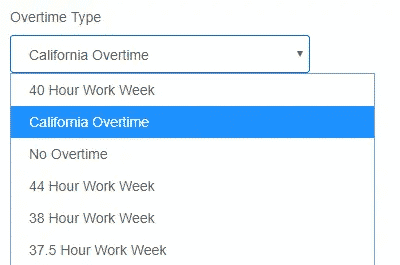 We touched on overtime briefly, but it's important to highlight that our OT Calculations feature will let you choose from dozens of overtime types to ensure your overtime hours are counted properly by the end of each pay period. This includes a variety of work schedules, such as 40-hour work weeks, 38-hour work weeks, 44-hour work weeks, California Overtime, and on and on.
Furthermore, custom rules can be created as needed.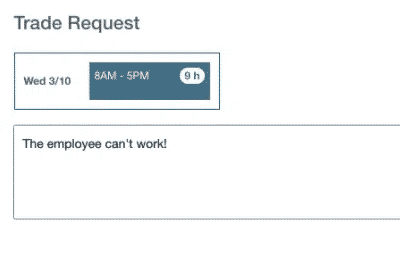 The Shift Trades feature allows you to grant employees permission to initiate a shift swap with another employee. This allows you to sit back and let your team resolve their own workforce issues. You can also grant managers or administrators the power to start a shift trade.
Meanwhile, the covers feature works similarly, allowing employees to see opportunities to take over a shift that a team member cannot work.

If you want to keep track of your team members' breaks, you can use the automatic breaks feature to deduct time from an employee's time card automatically, depending on the specifications you set up. For example, if you give your team members a 60-minute lunch break after 4 hours of work, you can set this rule up automatically to ensure that's accounted for in any timekeeping.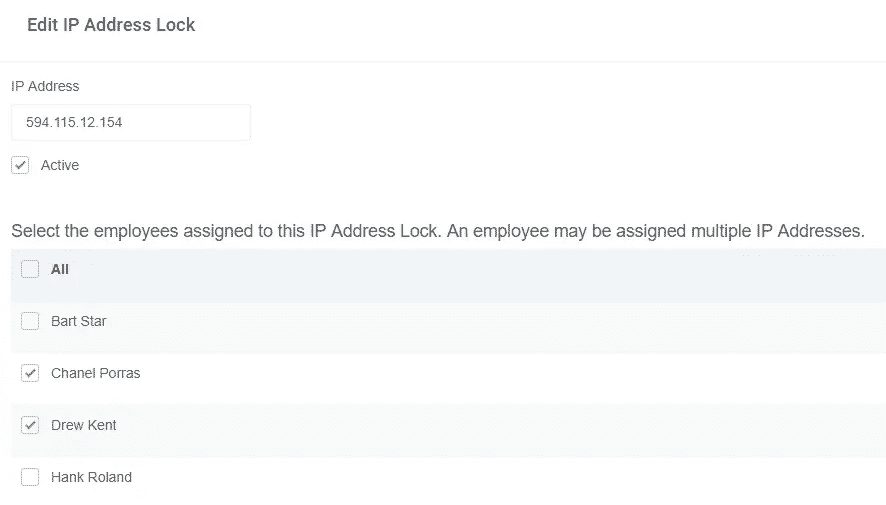 Another feature that feeds into recent changes in the workplace (thanks to Work From Home), IP Address locks gives you control over monitoring where your team logs in. This gives you a level of security over where your employees access important work documents.

Buddy Punch Includes Many Other Features
When it comes to team-oriented software, there is no solution that will work for every business owner. Where Buddy Punch excels is offering a variety of easy-to-use solutions for both employees and managers alike. Consider these other functions we haven't even touched on, such as:
In addition to these features – some of which we can update at your request to better accommodate your business – we also have a help doc center that contains useful articles on how to best utilize Buddy Punch. If that wasn't enough, we're also always available via live chat to answer questions.
You can also book a one-on-one personalized demo here.
Buddy Punch's Online Reviews
As of the writing date, Buddy Punch has 4.8 out of 5 stars and 670 reviews on Capterra.

Let's look into some of those reviews to see what existing customers have to say about Buddy Punch. Based on our history and design, we fully expect to see users noting how intuitive and easy-to-use Buddy Punch's functions are for team members and team managers alike. (Click here to explore the full list of reviews.)
"Buddy Punch is easy to use for managing our remote team members. It's easy to set them up in they system, establish their locations, and manage how they can punch in and punch out."

Click here to read the full review.
"This was so user friendly and easy to navigate. It is very affordable and breaks the individuals hours down to a report that I could merge with our payroll provider. Also you can put in the job address so the employee has to be on-site to clock-in or out."

Click here to read the full review.
"I love how easy it is to access help on any aspect of using the software. You can do their chat and they respond almost immediately. They will even help fix anything from their end if you need the help. I love the facial recognition feature and other features that are offered to ensure that your staff is on the job site in order to sign in. I like how easy the PTO requesting is for the staff and for admin to approve. It's a little bit of work trying to get all of the PTO hours in for all employees, especially if they work different hours and have different PTO hours, but the team at Buddy Punch are always available to help with questions. "

Click here to read the full review.
"Buddy Punch has been a super efficient business solution for our office. It is very user friendly. The integration with Quickbooks has streamlined our payroll which has been a huge plus. Most importantly to me as the administrator who's been responsible for the complete set up and training of all staff- the Buddy Punch customer service team has been absolutely outstanding!"

Click here to read the full review.

Try Buddy Punch for Free
If you're ready to put all these powerful features to the test, sign up for Buddy Punch's free trial by clicking here. You can also feel free to book a one-on-one demo, or view a pre-recorded demo video.
Shiftboard is a workforce scheduling software designed for critical industries – such as manufacturing, energy, or healthcare. That said, other businesses could benefit from the same level of reliability being provided to these essential industries. They offer two products – SchedulePro, and ScheduleFlex. We're focusing on ScheduleFlex, which has features including:
As of this post's writing, Shiftboard's ScheduleFlex has a rating of 4.4 out of 5 stars on Capterra (based on 236 reviews).
"This helps us organize all of our contractors and employees. It gets them all onboard pretty easy and has a lot of powerful tools that have made running our organization much easier. We tried a LOT of different products and this one was the only one that really met all our needs to get everyone scheduled and organized, it is an amazing value for the price they charge us."

Click here to read the full review.
Known as one of the best employee scheduling software for small business, Monday provides you with a visual way of scheduling your employees. Features include:
While it's hard to determine "what is the best program for scheduling," Monday certainly has to be up there in the list. As of this post's writing, Monday has a rating of 4.6 out of 5 stars on Capterra, based on 2411 reviews.
"Monday.com was the absolute choice for our office. We are able to manage project tasks including scheduling, employee retention, on-boardings and so on. Overall, Monday.com has enhanced our office productivity by engaging the team members at work, tracking down the entire progress."

Click here to read the full review.
Similar to Buddy Punch, OnTheClock is an employee time clock that comes with workforce scheduling software features. As of this post's writing, OnTheClock has 4.7 out of 5 stars and 505 reviews on Capterra.

OnTheClock comes with various features and functionality, some of which include:
"I love this software because of it's ease of use. The mobile app is very simple. Our staff have no problems using it. I love the reporting. Very simple, yet has everything I need."

Click here to read the full review.
For business owners looking for a free employee scheduling software to download, OpenSimSim's SocialSchedules is definitely worth giving a look. SocialSchedules is included in OpenSimSim, or can be used as a standalone program. If you use it through OpenSimSim, it's included in the free plan for 1 location, 1 department, and up to 10 scheduled workers.
Other features include:
As of this post's writing, the SocialSchedules app developed by OpenSim has 4.5 out of 5 stars and 552 reviews on Capterra.
"I love the ability to message my entire staff or individual staff members. I love the ease of the app. I love adding shift opportunities and staff being able to request time off, drop shifts and pick up shifts as they wish.

Click here to read the full review.
As of this post's writing date, Hubstaff has 4.6 out of 5 stars and 1240 reviews on Capterra. Hubstaff offers a wide range of features, such as:
"It allows us to easily calculate the hours worked by our remote team whilst ensuring the team are focused and easily shows us how much is owed at the end of the month. Vital tool for outsourcing."

Click here to read the full review.
If you've been wondering "Does Google have a staff scheduling tool?" The answer is yes, to a degree. The Google Workspace Marketplace lists several team scheduling software that are free to download. One of the top results at the moment is called Shift Scheduler, developed by Connor Burke.
As of this post's writing, this app (compatible with Google Calendar, Drive, Gmail, and more) has a rating of 3.5 stars out of 5 based on 88 reviews, and has been downloaded 69,193 times.
"This is incredible. Thank you so much for sharing this. We are using it at our school to replace a home-grown spreadsheet that had become difficult to update as changes were needed. This takes care of all of our needs. I would love to see the shifts be offered as a drop-down choice in the "User" view so that typo's could be at a minimum. Thank you again!!"

Click here to read the full review.
Some business owners like the security that comes with using software coming from a big tech brand. If you were hoping there was an employee scheduling software developed by Microsoft, you're in luck. Microsoft Teams comes with a variety of features including:
As of this post's writing, Microsoft Teams has a total of 7895 reviews on Capterra, with a rating of 4.4 out of 5 stars.
"Overall, I love using Teams every day for quick communication with my colleagues. The Shift management feature is also a huge bonus, as the fewer apps I can use to accomplish tasks, the better!"

Click here to read the full review.
DeskTime is a versatile time clock and employee shift schedule app that you can use for Desktop or mobile devices (iOS and Android). Some of its key features include:
At the time of writing, DeskTime has a total of 238 reviews on Capterra, with an average of 4.4 out of 5 stars.
"Great! Overall useful, and provides our employees a better understanding of what their overall productivity looks like throughout the day. Provides further support to our teams in terms of productivity in certain projects, and a better understanding of what they are actually doing/working on during business hours."

Click here to read the full review.
QuickBooks Time (formerly known as TSheets) is an employee scheduling app that has features including:
At the time of this post's writing, QuickBooks Time has 4.7 out of 5 stars and 5,545 reviews on Capterra.

"My overall experience has been great with [Quickbooks Time]. I especially love the customer service. Whenever I have a question, the team is readily available by chat or phone to assist me with my needs in a short amount of time."

Click here to read the full review.
Which App Should Companies Use for Scheduling?
As we've detailed in this post, there are plenty of options out there for employee scheduling apps that are comprehensive and effective. And as you may have noticed, plenty of them give potential clients the chance to trial before purchase.
If you're looking for a powerful piece of software with a lot of integrations, Monday works with programs like Outlook, Microsoft teams, Zoom, and more, making it a great option for most businesses in the WFH age. If you're a small business and your hope was to find team scheduling software free, OpenSimSim's SocialSchedules will likely fit you best.
But if you're looking for a versatile, easy-to-use team scheduler, one that's intuitive from the moment of onboarding and has an impact on productivity, accountability, and team communication – you can't go wrong with Buddy Punch.
The difference, we think, is that Buddy Punch makes sure that team members and team managers alike have an easy time using the software. No matter how many functions we give you to manage your team how you see fit, we keep simplicity as our primary focus.

Try Buddy Punch for Free
If you feel that Buddy Punch is the scheduling software solution you've been looking for, you can always sign up for a free trial before you purchase. We're confident you'll like what you see.
Otherwise, you can also book a one-on-one demo, or view a pre-recorded demo video here.
You May Also Like…