How to Attract Top Candidates with Benefits They Want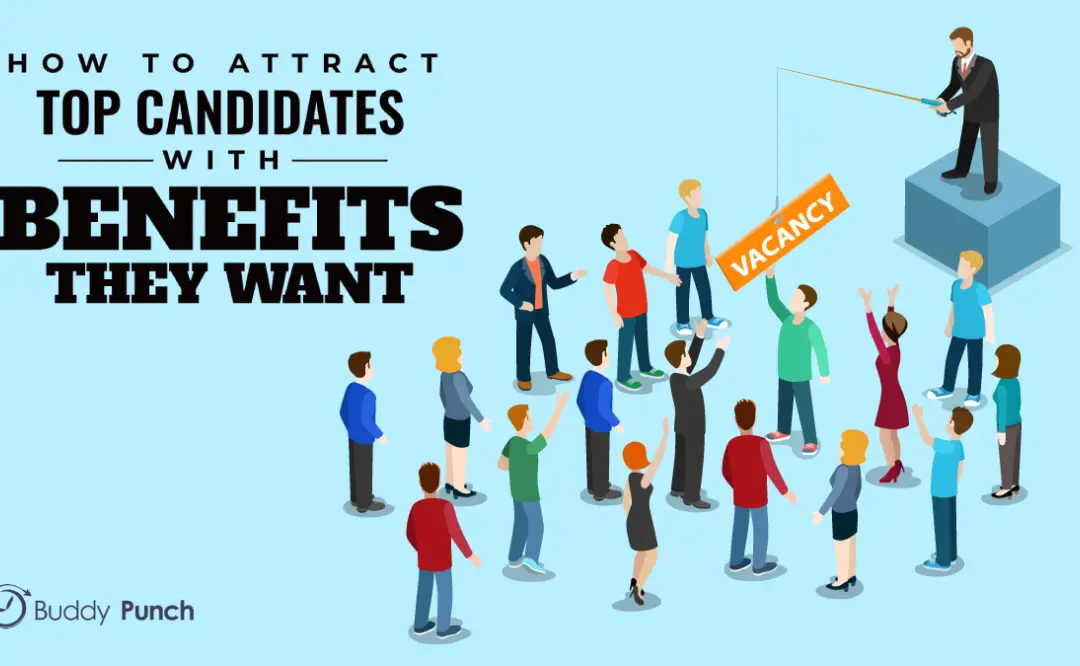 Due to the record-low U.S. unemployment rates, human resources managers are having a difficult time attracting and hiring top candidates. In a recent study, 45% of employers reported that they were unable to find qualified candidates to fill their open positions. Of that percentage, 58% of them stated that they have had job vacancies for at least three months. To further complicate matters, employers are also facing a 40% turnover rate in their current workforce. These issues affect nearly every job field.
If a company is not offering a competitive wage and benefit package, some of the best candidates for their open positions could be overlooking them. Top candidates and upper-level professionals know that the job market has made their skills much more in demand, and they are expecting pay and benefits to show that. Companies need to find competitive, innovative ways to attract the high-quality candidates they seek. A survey conducted recently reported that 60% of candidates heavily weigh potential perks and benefits before accepting a job, and 80% of employees would instead receive additional benefits in place of a wage increase. It has been proven that a competitive benefits package significantly reduces a business's turnover rate. So, what are most top-tier candidates looking for in their pay and benefits package, and how can a small business stay competitive with larger companies in this aspect?
Insurance Benefits
Health and life insurance benefits are the most highly sought-after and valued benefits for the majority of top-tier candidates. However, this can be the most expensive benefit for employers to offer. Small business, thankfully, are not required to pay the full cost of the employee's premium. Even offering to pay a portion of the monthly premiums make it a valuable benefit in attracting potential candidates.
Flexible Work Hours
While a high wage rate or salary is very desirable to a top-tier candidate, a recent study showed that 88% of job candidates would choose to reject a job offer that had a higher salary with a fixed schedule for a job that offered lower pay but with a flexible schedule. In fact, after health insurance, flexible work hours is one of the most frequently requested job benefits.
A flexible work schedule is a top priority for primarily two categories of job seekers today: millennials and parents. Parents especially value this flexibility because it allows them to better balance their home life and work life. Some companies allow their employees to set their own schedules to a certain extent, as long as they are productive and complete their job duties. Others let their employees work from home a day or two each week. The type of business you have determines a lot of this flexibility.
Paid Holidays and Sick Leave
A recent study showed that 69% of the potential job candidates surveyed would reject a job that did not offer paid time off (PTO). The average allowance for PTO is 11 days a year. Keep in mind that PTO can include several different types of time off – holidays, vacation time, bereavement leave, sick time, etc. Paid holidays were the most valued of PTO days.
Netflix has one of the most sought-after PTO arrangement – they offer unlimited vacation time. They allow their employees to use their own judgment on the amount of time taken off as long as they are productive and complete their tasks. Unlimited vacation time does not work for the majority of businesses, but the concept shows that this is one of the most valuable benefits an employer can offer.
Retirement Benefits
Offering some sort of retirement plan can give an employer a sharp edge in this competitive job market. Today, 90% of companies offer a traditional 401(k) plan or similar plan in addition to health benefits. Matching employer contributions is highly sought after for high-quality candidates. It is quite common for a company to match dollar-for-dollar up to the first 3% of contributions made. The good news is that retirement plans allow for many additional tax breaks for both the employer and the employee.
Additional Education
Since most top-tier candidates know the value of education, it should not be a surprise that the opportunity for further education is considered an excellent benefit. This does not have to necessarily mean that a business should offer assistance with additional traditional training (even though some do offer educational credits). This could also include some highly-sought-after certifications, seminars, and courses that would allow a potential candidate to advance even further in your company.
Now is the time to put your best foot forward. The workforce is changing, and those that are highly qualified and skilled know they can be picky. While you may end up losing some money in the short term to hire a new highly qualified candidate, their skills and quality of work will pay off substantially in the long term. Keep your employees happy – you wouldn't exist without them!