How Can I Track My Employees' Work? The Ultimate Guide to Time & Attendance Tracking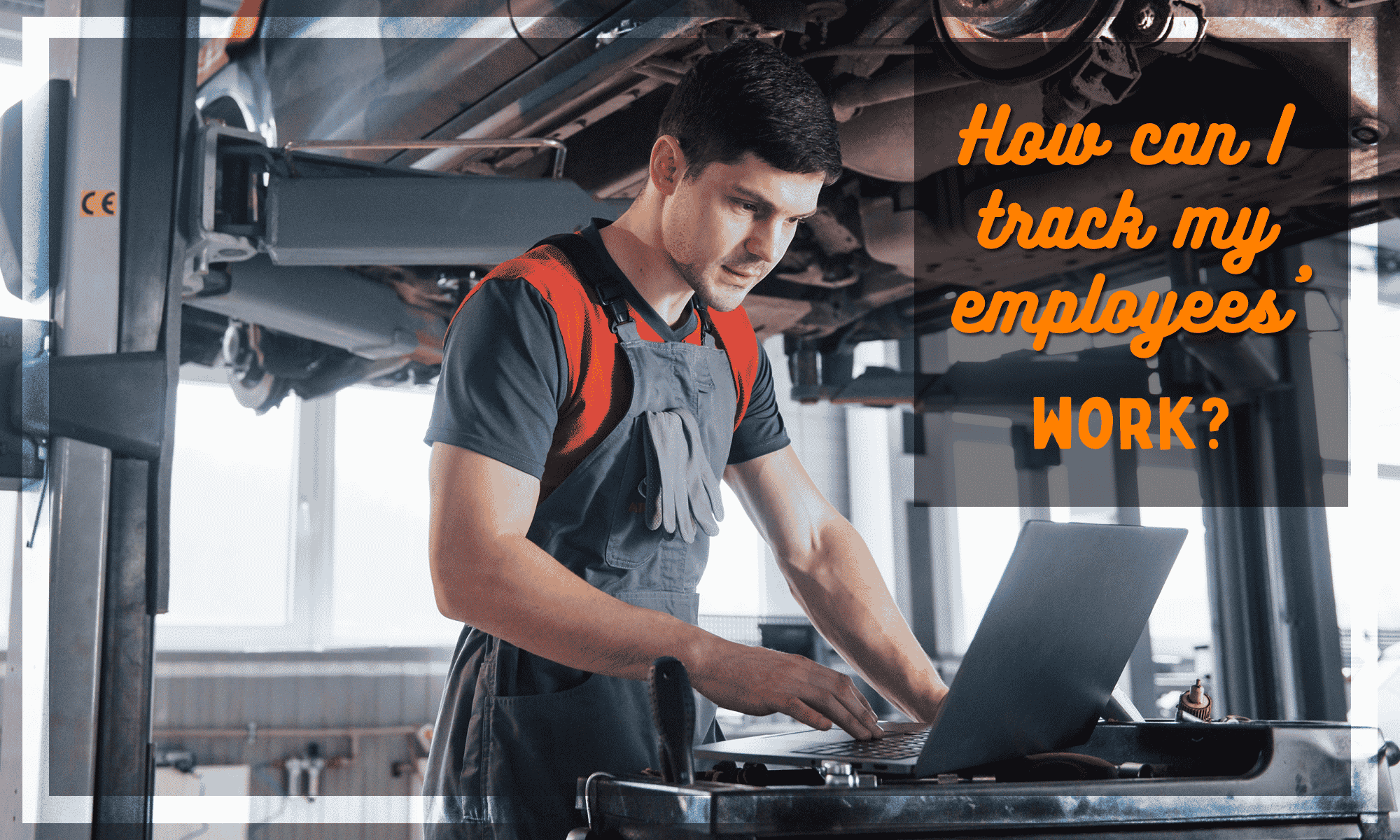 Tracking employee productivity levels is a more complicated procedure than it appears. Employee morale, productivity, and engagement will all suffer if you choose the wrong way to go about time tracking. On the opposite end, finding an employee monitoring tool that fits your team members will result in a boost that can elevate your business to the next level.
In this article, we're going to tackle some of the most common considerations for finding an effective method to track employee work. By the end of it, you should have a concrete idea of what features you want for your workforce and what options you have for software.
Manual Timekeeping vs Digital Timekeeping
There's still some ongoing debate about whether business owners should stick to using spreadsheets and other physical time tracking tools rather than switching to digital apps or websites. In our opinion, you can't beat the degree of functionality afforded through online time trackers. Even if you have a crew that tends to work at remote sites, many time trackers can be used on mobile devices.
Once you take this into account, the pros vastly outnumber any cons.
Pros of Digital Timekeeping:
Flexibility. Many productivity tracking apps work as apps (for Android or iOS smartphones) as well as web-based tools that can be opened in a mobile device's browser. This means that even your remote employees can be tracked accurately.
Functionalities. As business owners learned during the pandemic, ideally time tracking software will come with a variety of functions that can be enabled or disabled at will. For example, instant messaging and GPS tracking became nearly mandatory as businesses were forced to accommodate working from home.
Notifications. If you need to make a change to a team member's schedule, or if they need to request paid time off, both team members and managers can send quick notifications to each other, and otherwise focus on their work.
Employee Monitoring. This can be a slippery slope, so be careful with what features you utilize and how you introduce your team members to them, but many tracking tools have monitoring options such as taking screenshots of employees' screens, or recording keystrokes.
Integrations. If you're already making use of certain software, it's worth seeing if a time clock app integrates directly. For example, many time clocks work seamlessly with payroll software such as QuickBooks, ADP, or Paychex.
Cons of Digital Timekeeping:
Learning Curve. This can be offset by choosing an app that focuses on simplicity, so that less tech-savvy team members can adjust quickly.
Employee Reluctance. The implementation of time tracking tools may be contentious. Some employees may feel that you're micromanaging their workday, while others may have security concerns relating to data collection. You can allay some of these concerns with proper communication. Let your team know that the goal is to optimize, not criticize.
Pricing. While the pricing plans for software will vary, many of them operate on a monthly pricing plan. Depending on your budget, especially if you're managing a small business, this may be a deal-breaker. That said, we would caution you to keep in mind the less-tangible ways these tools save you money.
It's worth noting that all of these cons can be worked around by finding the best employee tracker for your business and using the right approach when introducing it to your team members. With that in mind, digital timekeeping clearly beats out physical.
How Can I Track My Employees' Work?
If you're looking for a way to track your employees work, and you don't mind paying for a high-quality tool, then you really can't go wrong with Buddy Punch. It's the focus on Accountability, Simplicity, and Streamlining that makes Buddy Punch worth the price as a time tracking software that anybody can use.
Below we're going to dive into a few features to show how they fit into these three categories.
Note: If you'd rather try out Buddy Punch yourself, you can access the 14-day free trial by clicking here.
Accountability Features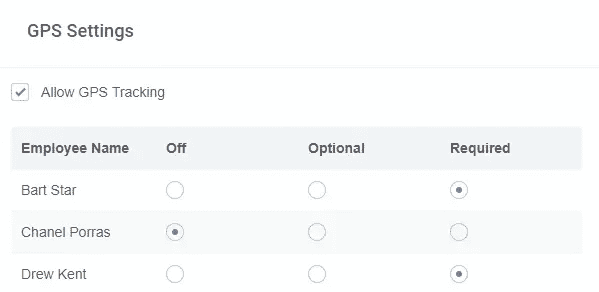 Buddy Punch's GPS tracking feature has quickly become one of our most valued offerings with the advent of work from home. This tool allows you to see where your team members are at any point, so you can ensure they're making proper use of their work hours while on the clock.

The Job Codes feature allows you to assign a label to the work your employees complete throughout the day. Doing this will give you greater insight into what parts of your business demand the most resources or generate the most profit. You can view all time spent on a job on each employee's timecard.

If you want to ensure that employee privacy isn't coming at the expense of your business's security, you can use the IP Address Locks feature to control where employees can sign in from. This keeps employees accountable for access to your business documents and data.
Simplicity Features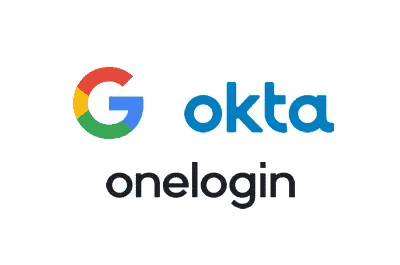 The Single Sign On feature makes it fast and easy for your employees to log into Buddy Punch. If they have a Google, Okta, or OneLogin account, they can use those platforms to also sign into Buddy Punch. No hassle and no double-login required.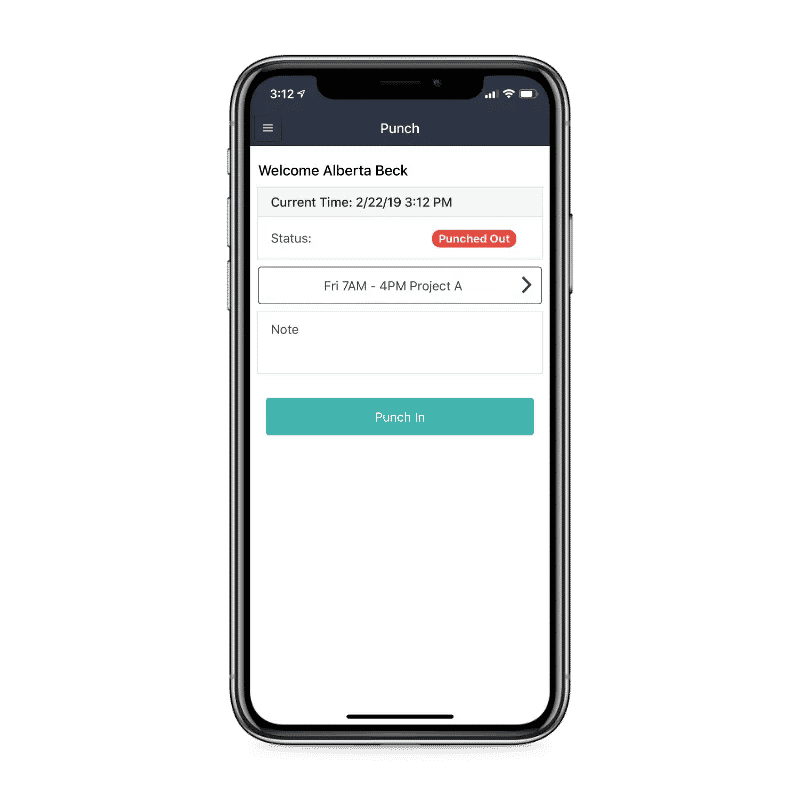 Buddy Punch works across any device in order to ensure business owners can keep tabs on all of their team members. That said, we also take into account varying degrees of tech literacy. By making it simple to sign in (through a single button click) there's no employee that can't make use of Buddy Punch.

Buddy Punch's Notification feature makes it easy for both managers and team members to exercise autonomy in their work schedule. Employees send notifications when they sign in or request time off and will receive a notification after you approve or deny their request. While both of these configurations can be enabled or disabled, they allow you and your team members to focus on their work.
Streamlining Features

If you have team members that are prone to forgetfulness, you can use the automatic breaks feature to take over deducting time from their timecard. Simply establish the rules required to trigger an automatic break, and rest easy knowing it'll keep employee time properly accounted for in the future.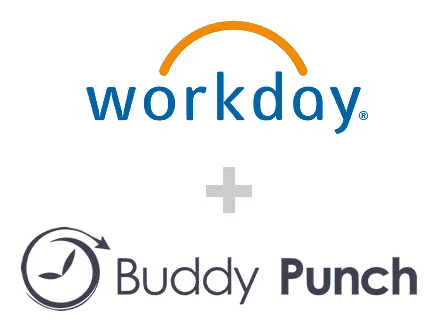 Buddy Punch integrates with some of the more popular payroll options seamlessly, allowing you to streamline payments without changing your preferred methods. Some of these integrations include Quickbooks, ADP, Paychex, and more. Click here to view the comprehensive list of Buddy Punch's integrations.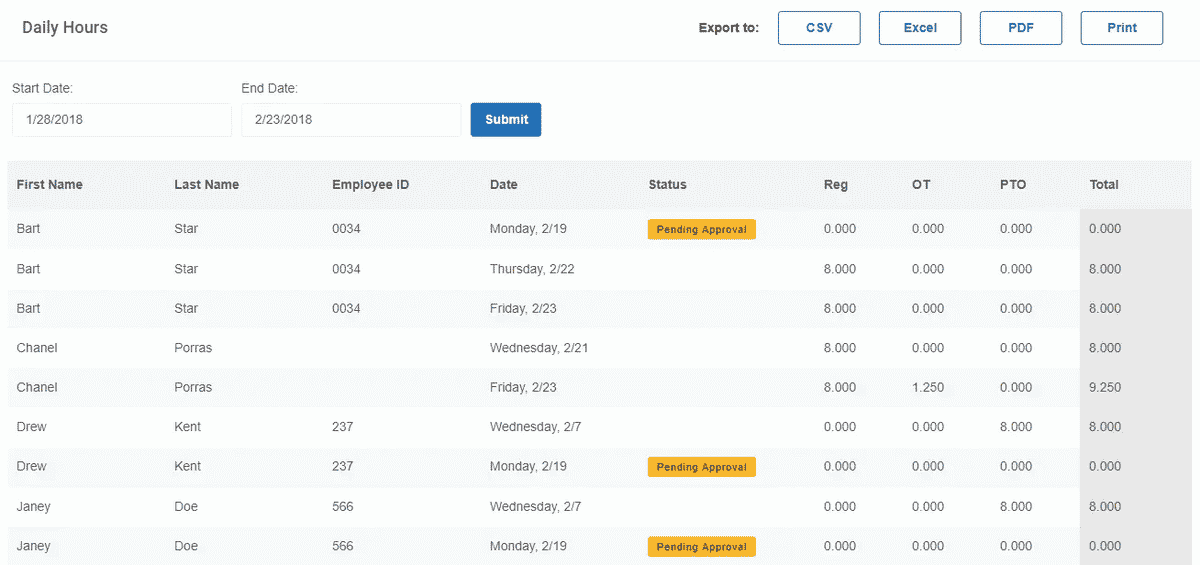 Buddy Punch's Reports feature gives you the power to analyze customer data to improve your workplace. Streamline your data management with an overview of your employees, their hours, overtime, departments, and more. This feature comes with a real-time tracker to show your employee activity, a PTO summary, and an Employee Detail report.
What Users Have To Say About Buddy Punch
As of this post's writing, Buddy Punch has 677 reviews and a score of 4.8 out of 5 stars on Capterra (click here to view).

Let's see what a few of those customers have to say about this software.
"Making remote work easy, efficient and more likely to happen.
Overall: I use it everyday and keep finding new features that make my life and my employers easier."

Click here to read Stephen's full review
Pros: Great to be able to log in from multiple platforms (including mobile apps) with ability to track/see locations of punch ins/outs. PTO calendar available with ease of adding custom PTO requests. Easy export, specific for our payroll service. Tech support has been fantastic. Easy to get started with Buddy Punch and each employee profile is easy to set up."

Click here to read Barb's full review
Pros: The BuddyPunch software made tracking everyone's hours so much easier. Definitely a huge step up from manually filling time sheets! Schedules are easy to pull up too."

Click here to read Mary's full review
Most customers noted that Buddy Punch was easy to use and provided features that allowed them to improve their workforce and project management.
Try Buddy Punch for Free
If you feel that Buddy Punch has the features you need to track your employees, you can test it out by signing up for the 14-day free trial. You can also book a one-on-one demo with our support team, or view a pre-recorded demo video here.
How Can I Track My Employees from Home for Free?
If you don't want to pay for Buddy Punch, you can track your employees from home for free by making use of some of the (limited) options out there for free time tracking. We're going to list a few below, but it's worth keeping in mind that many free time trackers lock their more effective functions behind a paid plan.
Here are our top 3 favorite free remote worker tracking tools:
Clockify is one of the most popular free employee monitoring software. With it, you can track unlimited users across unlimited projects, generate reports, and have access to integrations.
However, this is all you can do with its free plan. If you go for one of the paid plans, you also get access to functions like:
4107 users have reviewed Clockify on Capterra, giving it an average rating of 4.7 out of 5 possible stars (as of this post's writing). Here's what one of those users had to say:
"The basics of any time tracking app is, of course, tracking time. Reports are also very helpful, along with tasks for a project. Clockify is the one app I've found that is free for all those features. It's well designed and thought out. Every feature you need is within quick access and simple to find."

Click here to read the rest of this review.
OpenTimeClock is another free time clock that's a great option for someone working with no budget. Like Clockify, you can use OpenTimeClock with an unlimited number of users, but it does not come with customizable reports. Features it does come with include:
As of this post's writing, OpenTimeClock has 18 reviews and a rating of 4.4 out of 5 stars on Capterra. Here's what one reviewer had to say about using it to track their remote workforce:
"My company primarily works with contractors. Though paid an hourly wage, our contractors are able to work their own schedules and work remotely from any device. We need a better sysyem in place to offer in keeping daily track of when our contractors were working as we contract hours out weekly for tasks and assignments. This system was perfect for this so we could assess productivity compared to quality of work."

Click here to read the full review.
Wrike is our third favorite option for managing remote teams for free. This tool is focused on providing complete transparency to workforce management, with monitoring features such as:
It's worth noting that Wrike also has a dedicated help center for interactive training, videos, how-to-guides, and even community engagement for any business owner trying to use this tool for task management.
As of this post's writing, Wrike has a Capterra score of 4.2 out of 5 stars, based on 1752 reviews (see here).
"Wrike is my favourite Saas decision for my work and personal life. I have two accounts – one is for personal GTD and the second is for my teams, where I do my tasks, even if in reality there are no people in these projects – just for self-registration of completed tasks.[…] Who would take advantage of using Wrike? Pms, marketers, freelancers, small agile taskforces."

Click here to read the full review.
How Do I Monitor My Employee Breaks?
f you're wondering how you can monitor your employee breaks, we have some quick tips to help you out. The simple answer is to use software, but there are some other things to keep in mind.
Consider why you're doing this. Ensuring that employees aren't going over time is reasonable, but efforts to monitor them on break might be seen as overbearing or invasive. Breaks are an important part of your employees' workdays, allowing them to recharge and continue working at a productive rate. Anything that impedes that will only cause your business to suffer.
Inform your employees prior to implementing any break monitoring measures. You want to make sure everyone is on the same page, and being upfront with break tracking will allow you to explain it in a way that's less likely to irritate your team. Ideally this step is handled by your company policy during onboarding, but you can do this at any time when enacting new measures.
Find a time tracking system that has break monitoring. Some tracking systems lack a specific feature for this, but can effectively achieve the same function when your team members clock out to go on break, then clock back in. That said, there are some high-quality tools that take it a step further. For example, Buddy Punch allows you to automate this process entirely through the Automatic Breaks function.
How Do I Track My Employees' Daily Work?
How you track your employees' daily work is going to vary a lot depending on what sort of industry your business is in, as well as the size of your company. In any case, finding a proper task tracking tool is the first step.
There's an important distinction between a time tracking tool and a task tracking tool. Some software, like Buddy Punch, have functions that enable both. If you're unsure, task tracking features such as Job Codes, Locations, or Projects are what you're looking for.
Ideally, these features will give you an overview of what exactly your employees do during daily work. How much time they spend on certain tasks, the work that actually goes into jobs, and how much those tasks pay off for your business.
Additionally, it's possible that you can get a better look at your employees' daily tasks by seeking out specialized software. While Buddy Punch is a great tool for most business owners, if you own a restaurant, you might find that 7Shifts more effectively meets your needs with its Tip Pooling and Manager Log Book.
How Do I Track My Employees' Work from Home?
There are two ways to track your employees' work from home. One is to find a simple, intuitive software that lets you monitor team productivity across devices even while team members are working remotely. Another way is to use more manual methods, but then you'll be dealing with growing pains teaching workers to use them. Additionally, manual steps are more likely to be forgotten by even the most diligent workers.
With modern digital time tracking software, you are nearly guaranteed to have some method of monitoring your team regardless of employee location. Look for features such as GPS tracking, Webcam Photos on Punch (to cut down on time theft and buddy punching), or Geofencing.
Most of these tools will be able to tell you things such as how much idle time team members had during tasks, whether or not they were on social media, and how much work they completed.
Fair warning: Some business owners fall into the trap of chasing metrics and pushing for their employees to be productive regardless of their own needs. This is a sure-fire way to end up dealing with burnout across your teams. Use the data you gather to help make informed decisions that improve the workplace for your team without pushing them towards unsustainable goals.
How Do I Track My Remote Employee Time?
If you're wondering how to track your remote employee time, tracking remote employee time is as simple as establishing a routine and making sure your entire team is onboard.
If you're using a remote time tracking app like Buddy Punch, for example, you can have team members either visit the website or download the app onto their devices (Desktop, iOS, or Android) to punch in. You can also activate features such as GPS Tracking or Geofencing depending on what you feel you need to monitor your team specifically.
The hardest part about introducing this type of software to your team is getting them to use it – but tools like Buddy Punch make it easy by allowing them to clock in with a single button.
How Do You Monitor Your Team?
If you're wondering how you can go more in depth to monitor your team, there are some heavy duty time tracking tools that can accommodate you. Tools that record keystrokes, film, and more.
Teramind is one such example.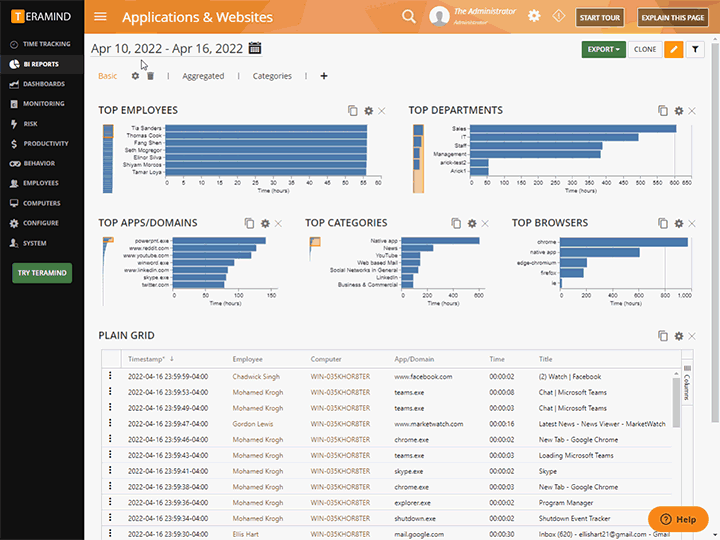 This is a complete solution when it comes to monitoring employees, with the capability to track every individual action a user makes within an application. It can capture keystrokes, record files accessed, detail content viewed, and more. It has an entire monitoring tool kit, with features such as:
Email Monitoring
Instant Messaging Monitoring
Document Tracking
Work Time Analysis
You might also want to have direct access to your team member's computers from a distance. In that case, a tool like TeamViewer will enable you to connect to your employees and see what's on their screen.
TeamViewer is a remote access and remote control computer software that allows you to access team member devices from anywhere. While not intended to be a time tracker, Teamviewer goes to the next level when it comes to knowing what your team is up to during work hours. Some business owners might benefit from pairing this tool with a more traditional time tracker.
That said, we would highly recommend you avoid this step unless necessary for your business. Most employees tend to find these sorts of measures invasive, and it can lead to a worse relationship with your team.
Ask yourself: do you trust the people you hired? What's more important, them getting the job done, or them getting the job done the way you want? Most common time tracking software allows you to exercise a far more acceptable amount of control over your team.
Truly decide if the potential upside is worth alienating your team members before you go for more intrusive tools.
How Do You Track Employee Activities?
If you're wondering how you can track employee activities, there are a few different categories of activity tracking to consider when trying to decide between employee tracking tools.
If you're using a time tracker that allows you to create custom job codes or categorization, you can use that feature to see exactly how much time your team members spend on tasks throughout the day.
This is a great way to get an improved understanding of your operational costs, and can be the start of teaching your employees how to delegate more effectively.
Time spent in applications
Similar to the above, you can use a time tracker or monitoring tool that enables you to monitor what your employees do in various applications (how long they're on Firefox or Microsoft Excel, whether or not they jump between programs, etc.). Some of these tools take it further, such as Teramind, which can also log keystrokes and record screens.
One major downside to this method of tracking is that it might make a task look less productive than it really is if your workers bounce between multiple applications. That's why we prefer job tracking to application tracking.
A third option for tracking employee activities is to track employee inactivity. While this is a more creative approach, it can help you reverse engineer some methods for improving productivity. If too much time is being spent idle, maybe you've assigned the wrong type of assignment to a certain team member, and they have issues working it out.
One drawback of this method is that it can't account for what might be happening on your employee's end of the screen. They could simply be thinking out a difficult challenge, using a physical device (calculator or phone), or could be momentarily distracted by something as simple as a package being delivered.
Overall, job tracking is probably the most acceptable method of tracking employee activities while giving them the freedom to accomplish jobs "their way."
How Do You Track Employees' Daily Activities?
If you want to track your employees' daily activities overall, you're going to want to look into the reports and monitoring features that your chosen time tracking software offers. Most tools that can track employee activity across multiple applications can also summarize daily activities into a neat report to be viewed.
How Do You Track Employee Work?
If you're wondering what sort of metrics can help you when you track employee work, we have a few suggestions outlined below. They include allowing a period for time collection, setting goals, and rewarding progress.
Allow for a "time collection" period.
The first time you introduce your team to a new time tracking tool, you'll likely see a boost in productivity. This will be because of employees feeling the pressure simply because their time is now being tracked (or now being tracked more efficiently).
To make sure the data you're getting is representative of your employees' actual work efficiency, give them some time to get used to you tracking their time. This adjustment period could take a few days, weeks, or even a month – but if you wait for it, you'll be able to make a better decision with the data.
Being able to track your employees is just the first step of workplace optimization. You need to have some sort of goal in mind of what to achieve through this tracking, or else you'll be left with useless data.
Think both short-term and long-term with establishing goals. Can you improve employee output (without creating burnout)? What will your business look like in the next quarter if you succeed?
This is far from a mandatory part of tracking employee work, but it's an excellent way to make sure motivation stays high among your team members.
By singling out and rewarding efforts to improve productivity, you can help foster environment that encourages continued effort without putting too much pressure or stress onto your team members. Employee incentives can range from gift cards, to special mentions, to other perks that apply around the office.
Choosing The Best Method to Track Employees' Work
As we've detailed, there are plenty of options out there when it comes to tracking your employees throughout the workday. While having a few specific functions you'd like in mind can definitely help, you won't really know how well they fit your team until you've tried them out.
If you're working in a restaurant, you might find a tool like 7Shifts up your alley. If you want to have a comprehensive view of what your employees are doing on their computers, you might find that teramind gives you the power you desire.
But if what you're looking for is a flexible tool for employee tracking that gives you plenty of features without overstepping any boundaries, Buddy Punch might be the software for you.
Try Buddy Punch for Free
If you want a more in-depth look at how Buddy Punch functions, you can watch our pre-recorded demo video or book a one-on-one demo with our customer support team. Otherwise, there's no better way to get a feel for workforce tracking than using the 14-day free trial.

You May Also Like…