6 Best Google Time Tracker Extensions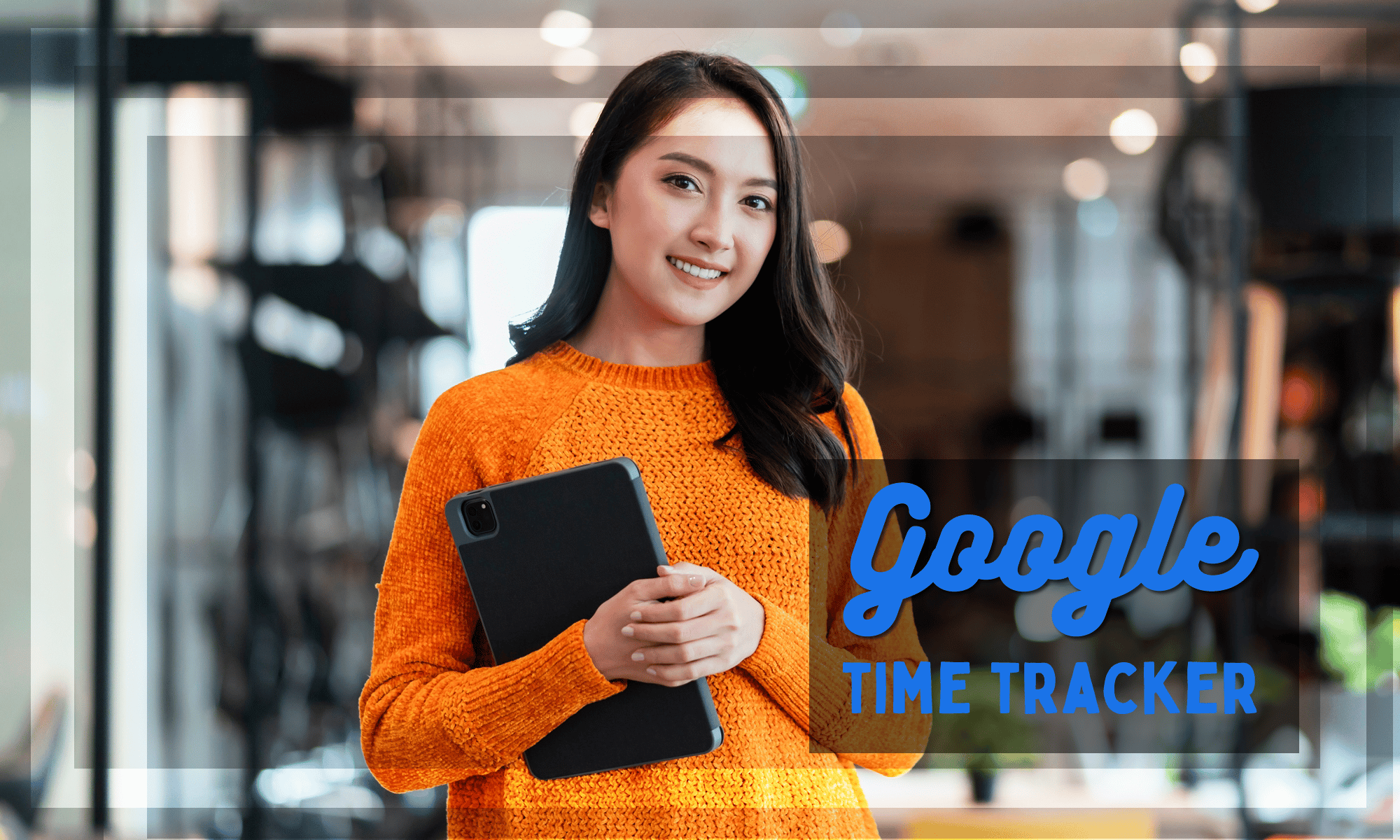 While most business owners prefer to turn to digital timekeeping apps, using an in-browser Google Chrome Time Tracking extension can give an employer more insight into employees' browser activity. You can see what websites they visit, how much time they spend on each page, and more – all varying depending on the chrome extension you choose.
To that end, we want to highlight some of the best chrome time tracker browser extensions, based on their features offered and overall impact on workforce management.
Google Time Tracker Extensions
Time Tracking Apps Vs Google Chrome Time Trackers
For some business owners, it may not be apparent why they should consider using web apps in the first place. Wouldn't using standalone tracking apps be better overall? Well, here are a few reasons to choose a time tracking plugin for browsers over a full-on time tracking app:
However, there are some downsides. A new update to Google Chrome may cause a time tracker addon to stop functioning, so you'll want to ensure that whatever plugin you go for is consistently updated. And, while we mentioned time tracker plugins giving some employees freedom to know they aren't being monitored while not in the browser, this fact may get taken advantage of by less trustworthy employees.
Now let's dive into what we think are the best time tracking Chrome extensions.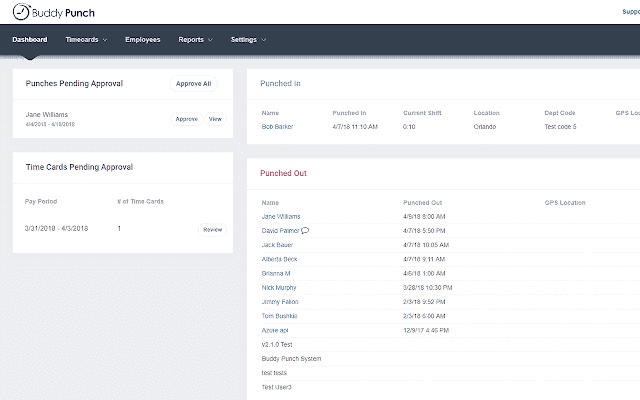 Kicking off the list is our very own software, Buddy Punch.
This time tracker for Google Chrome comes with a few of the Buddy Punch app's main features: Time clock to track working time, IP Address Locks to control employee permissions and locations, webcam functionality to cut down on time theft by verifying team member identities, and payroll integration to make it easier to pay accurately for your team members' time entries.
You can download Buddy Punch for Google Chrome directly from the Chrome Web Store by clicking here.
Even if you choose to use this free time tracking chrome extension, you can still benefit from a few of Buddy Punch's other positives. For example, our blog section on our website contains useful information that can improve your workforce management and employee satisfaction.
The Full Buddy Punch App Offers Many Other Features
We've talked about what the Buddy Punch Chrome extension can do, but it's worth mentioning how much further the full web-app goes. Buddy Punch's full range of features maximizes accurate timesheet management:
If this sounds good to you, you might want to take advantage of the full time tracking software's 14-day free trial by clicking here. You can also book a one-on-one personalized demo with our team here. Our full software works on iOS, Android, Desktop, and tablet devices.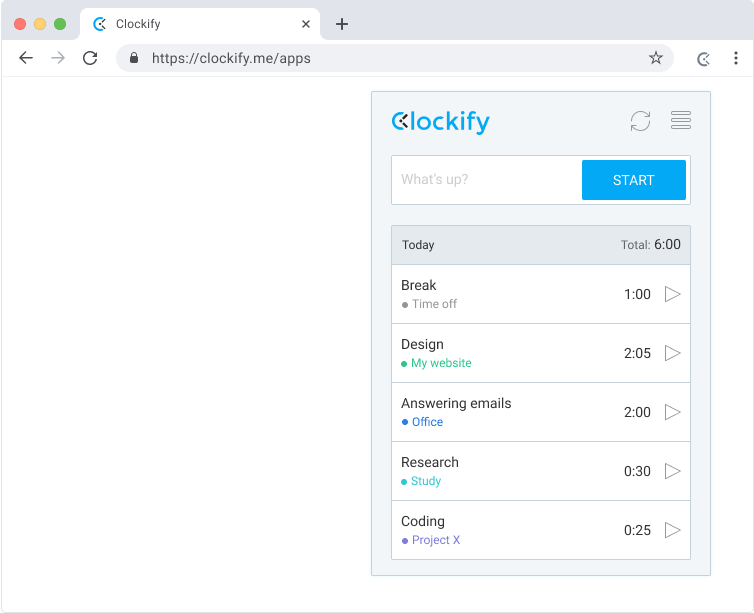 Clockify has a free Google Chrome time tracking extension that lets you see how much time employees spend working on projects with one click. This tool comes with built-in integration with other web apps, such as Asana, Trello, Google Calendar, and Google Docs.
Clockify's time tracker extension includes features such as:
You can add the Clockify extension to your browser by clicking here.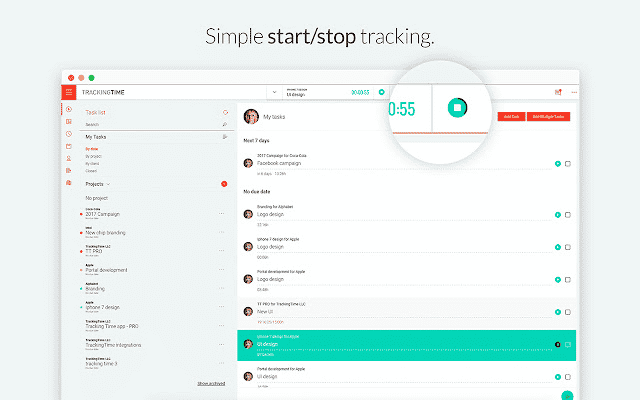 TrackingTime is a Chrome extension that helps manage projects, working times, and productivity measuring. This is a simple yet effective task manager that enables business owners to stay organized while keeping track of working hours.
Its features include:
You can add the TrackingTime extension to your browser by clicking here.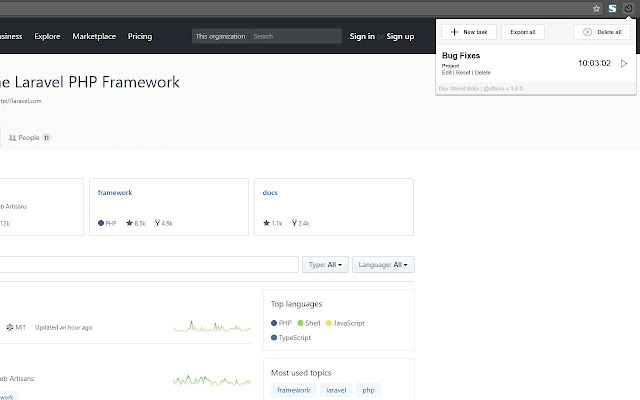 Simple Time Tracker is exactly what the name suggests. This Google extension tracks the time spent on certain tasks, and that's it, no other features. For some business owners, that straight-to-the-point style might be exactly what they or their team members desire.
You can add the Simple Time Tracker extension to your browser by clicking here.
For business owners making heavy use of Google Docs, Time Tracker (available directly on the Google Workspace Marketplace) might be up your alley. Here's a screenshot that gives a quick overview of how it works.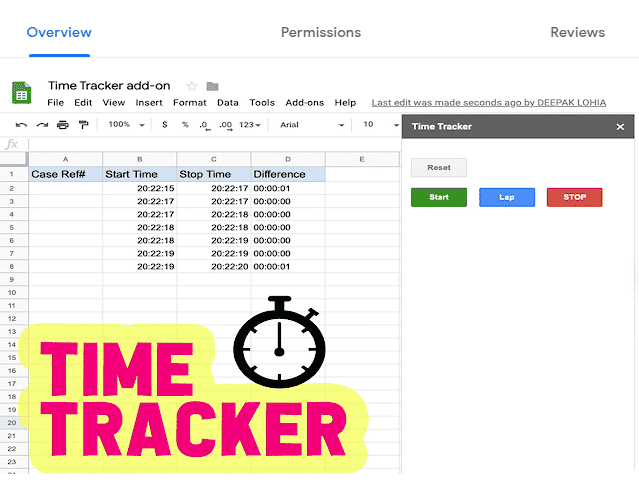 This is an incredibly simple tool, but since it works with Google accounts and Google Docs, some business owners might find it useful.
You can add this Time Tracker extension to your browser by clicking here.
Everhour's Google Chrome Extension is another great option.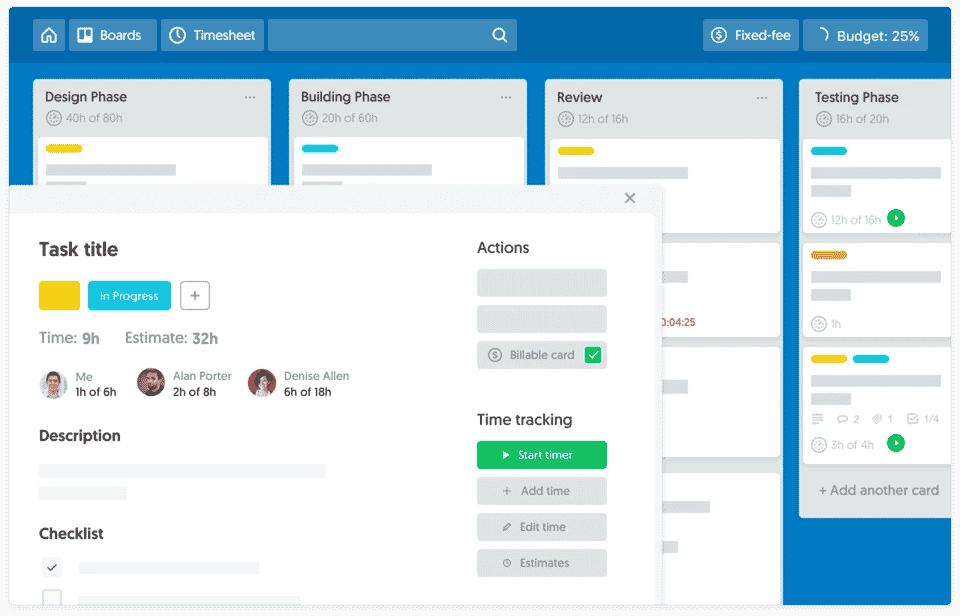 Some of its features include:
Everhour also works inside other apps, such as Asana, Jira, and Trello.
You can add the Everhour Time Tracker extension to your browser by clicking here.
Choosing Your Ideal Google Chrome Time Tracker
While the number of features offered varies greatly between each of these chrome time tracker extensions, they're all free and easy enough to get started with, so you can freely experiment until you find one that fits your needs.
Our suggestion, however, is that you pick an extension developed by a team you feel you might want to work more closely with in the future.
There are two reasons for this:
It's very possible that you may grow attached enough to one product's time tracking features that you'll want to make the switch to using their full app for improved team management.
The more experience you have using a certain team's extension, the easier it'll be for you to swap to using their full-service time tracking solution.
With that in mind, we'd advise you to take a look at the full websites of these tools (if they have one) and prioritize testing out the ones that feel like they could be long-term partners for your business. Look at their features, their resources, and how effective their customer support is. Those three things are key to any time tracking software – which is why we built Buddy Punch around optimizing them.
Try Buddy Punch for Free
If you want to see if the Buddy Punch Google Chrome extension is right for you, download it here.
If you're more interested in Buddy Punch's full software, sign up for a 14-day free trial. You can also view a pre-recorded demo video to get a feel for it, a book a personalized one-on-one demo with our team to get a guided walkthrough of the program.

You May Also Like…