5 Effective Employee Scheduling App Options for Modern Business Owners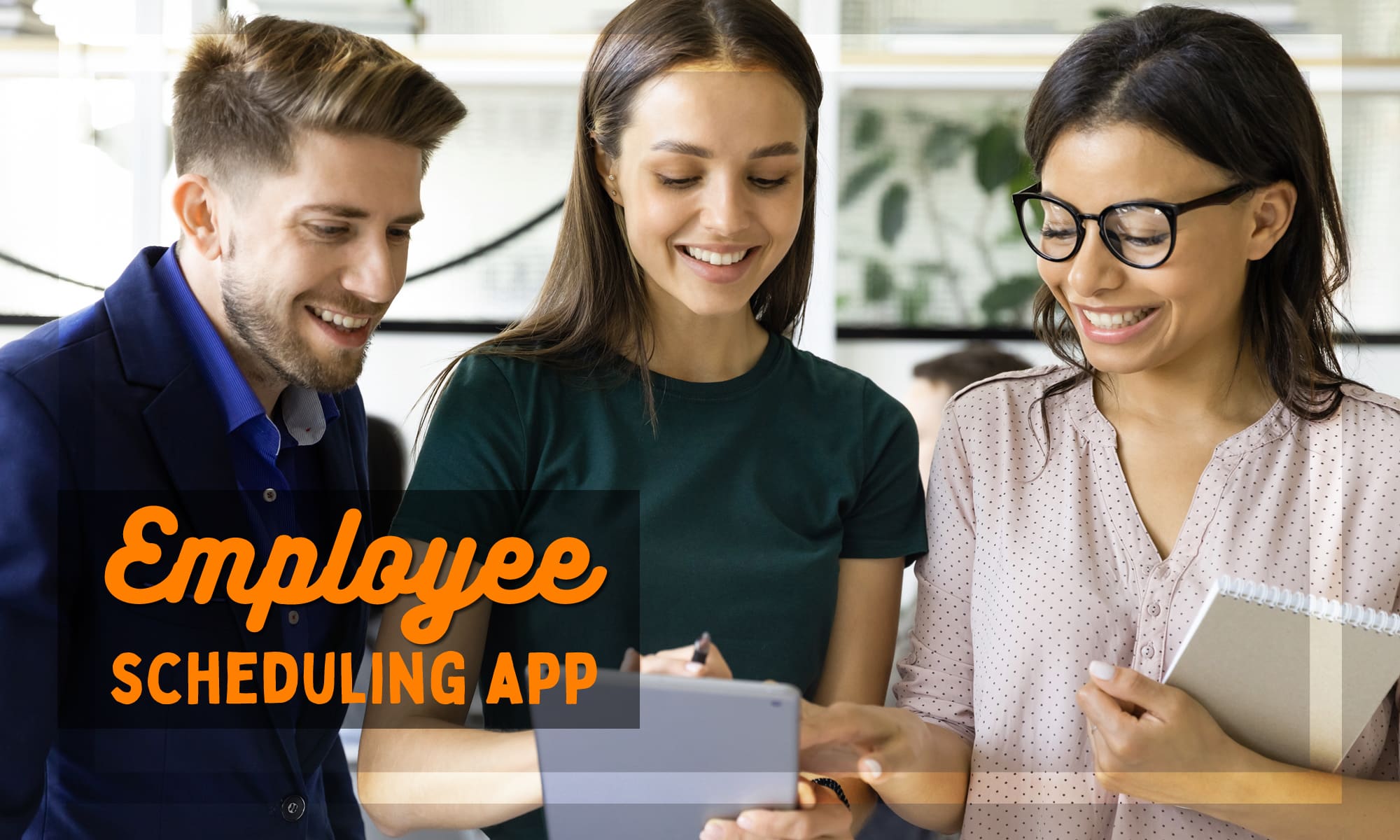 Businesses still relying on manual time tracking methods are falling behind in every way that matters. It costs them more time and money to schedule employees, they're more prone to human error and can potentially miss open shifts, and compounding mess ups will hurt overall job satisfaction among their team members. Simply put, upgrading to employee scheduling software is the shrewdest decision a modern business owner can make.
But even this step has to be made with care, as not all shift scheduling apps are made equal. If the tool you choose isn't an improvement when it comes to Employee Accountability, Process Simplicity, and Operations Streamlining – it might be hurting you in the long run.
Keeping this in mind, we curated a list of the top 5 Employee Scheduling Tools on the market. We've ranked this in order based on their features offered, price points, and overall reviews from existing users. Hopefully with this list you can find the best online employee scheduling app for your business.
Best Employee Scheduling App Options on The Market
Starting off our list of scheduling employee apps, we have Buddy Punch. When we first set off to design a tool to improve the scheduling process, we decided to draw on our experience working with our employees – and to consult our clients for their perspectives as well. This was how we came to the conclusion that Accountability, Simplicity, and ability to Streamline were critical to designing scheduling features.
Let's dive into some of the functions Buddy Punch has to see how well we managed to adhere to each of these 3 tenets while we were designing (what we hope is) one of the most effective time tracking tools on the market.
Note: If you'd rather learn about each of these workforce management functions yourself (hands-on), it's worth noting that Buddy Punch comes with a free 14-day trial on all pricing plans.
Employee Accountability Feature: GPS Tracking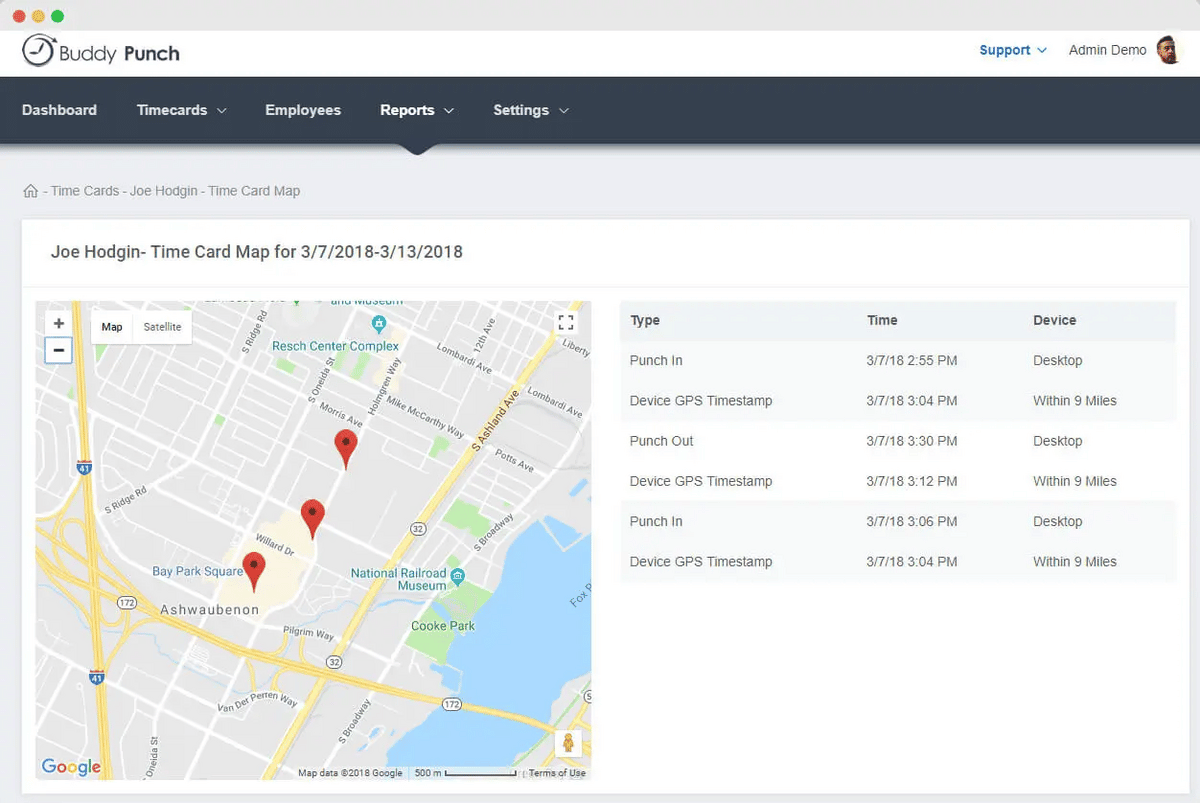 Businesses embracing Work from Home may have noticed some difficulty keeping employees accountable while they were working at remote sites, or at remote locations. The GPS tracking feature creates an icon on an interactive map that notes where your employees are when they clock in. You can view all punches together or monitor employees individually.
Employee Accountability Feature: Job Codes

Knowing that your employees are scheduled is just one aspect of staffing – knowing what tasks they're actually completing gives you a much more effective understanding of what happens during the workday. The Job Codes feature allows employees to label the tasks they're completing throughout the day – which can be critical for figuring out your labor costs.
Employee Accountability Feature: PTO Management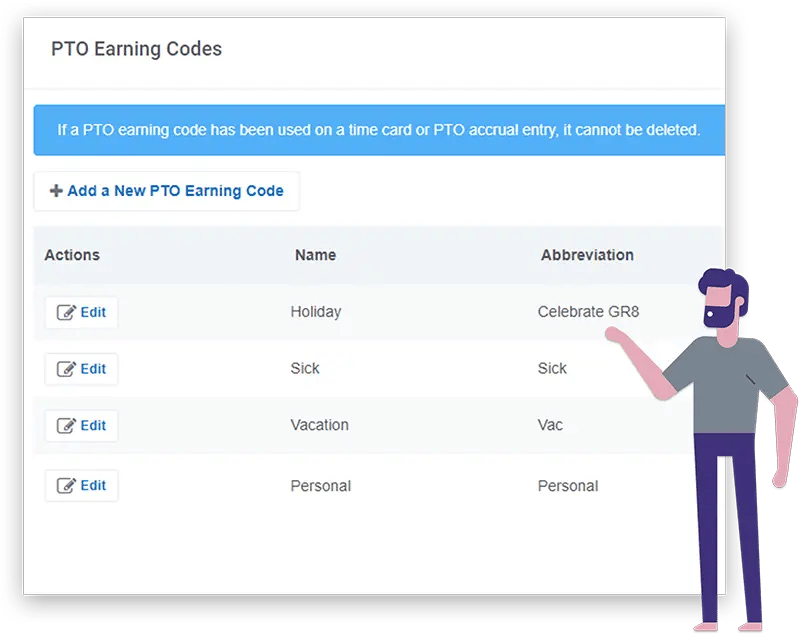 Highly skilled hourly employees place a huge emphasis on their PTO. They value their wellbeing and want to be able to take breaks that allow them to recharge their mental health. A proper Paid Time Off Management system will allow your team members to feel secure in their paid leaves.
Buddy Punch's PTO systems send you a notification when team members request time off, and sends them a notification of your approval or denial as well. You can also create custom PTO times at will.
Design Simplicity Feature: Notifications

Buddy Punch's notifications work in tangent with a few other features to ensure that employees know important information (such as shift changes, overtime potential, or time card approvals). Indirectly, this helps you optimize operations as employees can focus more on their work because they understand that they'll be notified if something needs their attention.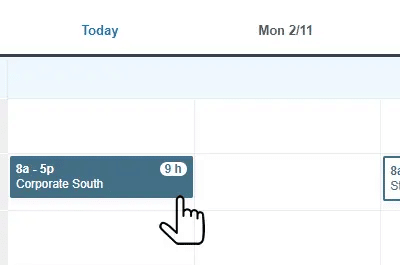 Figuring out schedule shifts can be a pain. Buddy Punch makes it as easy as possible by allowing business owners to create a shift simply by clicking on an empty cell in Buddy Punch's interface. Then, you can add on to and drag around the work schedule as you see fit until your team schedule is complete. This visual overview makes it easy to see when you're done, and even sends an automatic notification to your employees when you publish the schedule.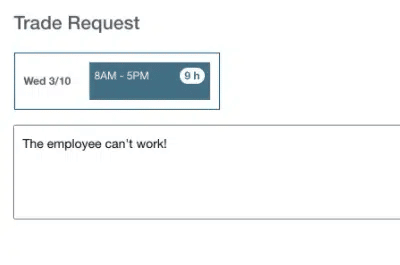 Buddy Punch doesn't have auto-scheduling, but for the administrative side, we come close. With this feature, employees, managers, and administrators can initiate a shift trade/swap with another employee.
But it gets better – any of your team members can see the overall employee availability and request to cover an open or absent shift. This feature encourages team communication, individual autonomy, and takes off pressure from managers.
Operations Streamlining Feature: Automatic Breaks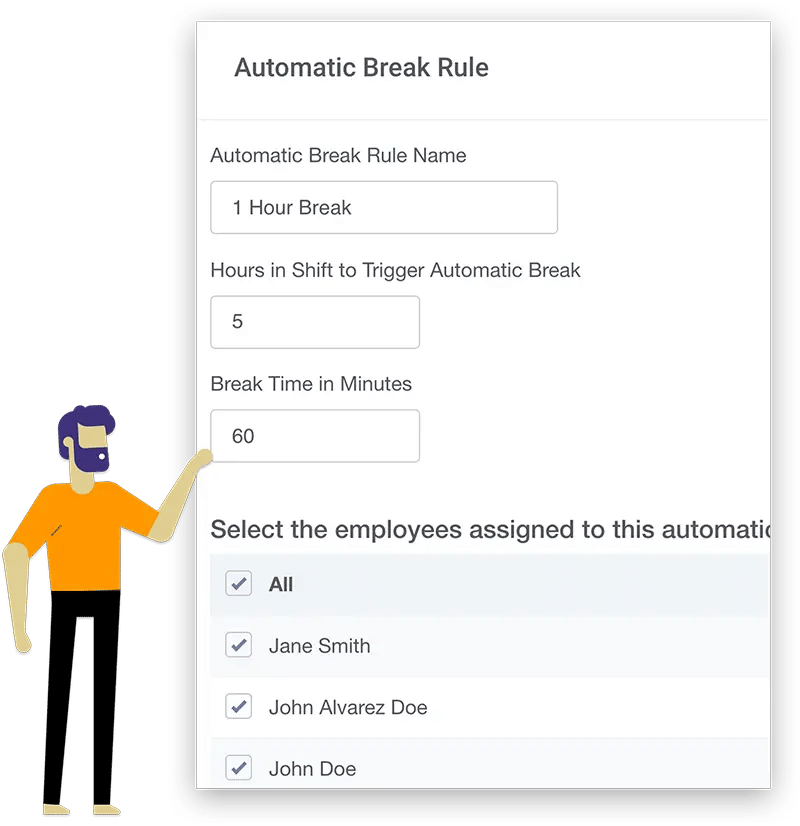 The Automatic Breaks feature is a simple tool that can have a big impact on employees' time cards. Using this will automatically deduct time based on specifications you set (for example, deducting an hour after an employee has been clocked in for 4 hours). This essentially means that gaps in time such as lunch breaks are always accounted for properly, making employee management that much easier. It's like an employee scheduling assistant that you set and forget.
Operations Streamlining Feature: Punch Rounding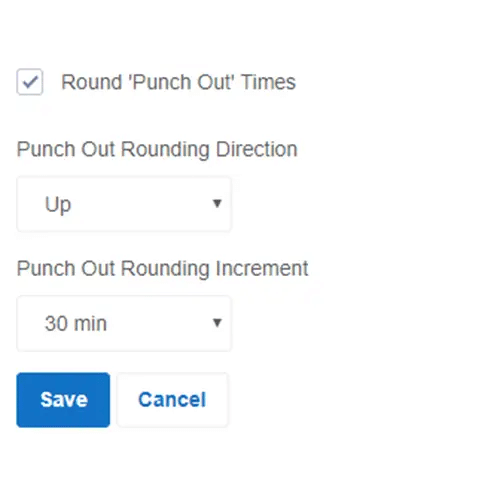 Punch Rounding is another set-and-forget feature. With this, you can determine an interval for Punch rounding (which can round up, down, or to the nearest predetermined interval – from 2 minutes to 30 minutes). This particular feature has unique use scenarios, such as when you want to use Buddy Punch as a Terminal or Kiosk but are worried employee shifts won't be fully accurate.

Once you've got an online employee scheduling software improving the accuracy of your time data, you want to be able to export it for accurate payments. Buddy Punch integrates directly with popular payroll software such as QuickBooks, ADP, Zapier, and more. Click here to view the full list of Payroll Integrations.

Buddy Punch is More Than an Employee Scheduling Tool
We've only dived into a few select options that Buddy Punch has. There are still other useful features such as:
Using Buddy Punch means more than just getting an employee shift scheduling app. Consider these out-of-app benefits that are included for free:
Our Help Doc center contains useful articles that show you how to best utilize Buddy Punch for your operations.
Our Blog Section contains useful information for business owners looking to improve their management styles
Our Customer Support is always around to answer questions via live chat.
Hearing about all these features is one thing. You can book a one-on-one personalized demo to try them out here.
Buddy Punch's Online Reviews
As of the writing date, Buddy Punch has 4.8 out of 5 stars and 690 reviews on Capterra.

Below, we'll list just a few reviews that outline how effective Buddy Punch was a scheduling solution. (Click here to explore the full list of reviews.)
"It has a great deal of flexibility and gives administrators/managers the ability to see who is here at any given time of the day. Managers also have the ability to approve PTO prior to it being added to the time sheet. This provides accountability for both the employee and manager. They can also schedule shift work if necessary."

Click here to read the full review.
"Buddy Punch is a great product that has allowed us to better track our technicians hours. They are on the road 3-4 days a week and Buddy Punch helps us know where they are when they punch in/out and whether they are staying on schedule. It's a great product at a great value!"

Click here to read the full review.
"I will say I truly do like working with Buddy Punch. Any time I have an issue, its immediately fixed and it seems like Buddy Punch is constantly taking customers issues and using those to fix the system overall. Every business is going to have issues, it's a matter of fixing them and improving . I have never dealt with a company before, not just an online time clock/scheduler, that has responded so efficiently to customers issues and wants to fix it to where it doesn't happen again in the future or fix it to where its easier to use in the future."

Click here to read the full review.
"I LOVE that I can clock in from a remote location via the app on my phone. Soooo convenient!!! Such a game changer for sure, especially with my sporadic work schedule and location."

Click here to read the full review.
As these reviewers noted, Buddy Punch was flexible and easy to use for employees and managers alike.

Try Buddy Punch for Free
If you feel that Buddy Punch might solve your business's scheduling needs, sign up for a free trial. You can also book a one-on-one demo, or view a pre-recorded demo video.
Sling is a tool that's known for functioning as one of the best free employee scheduling apps. While some features are locked behind pricing plans, you still get quite a powerful tool if you're using it on a budget. Sling's full features include:
Sling was made to work across many industries such as Healthcare, Retail, Transportation, and more. Furthermore, like Buddy Punch, Sling works on all Desktop and mobile devices (iOS, Android, Tablets, etc.). As of this post's writing date, Sling has 4.6 out of 5 stars and 110 reviews on Capterra.
"I looked through several scheduling tools before settling on Sling. This included simple Excel sheets, Homebase, and When I Work. I settled on Sling because of the wide array of features for no cost and mobile app access. The mobile app experience, per my team, was easy and extremely convenient. I personally was impressed with the ease of the drag-and-drop scheduler."

Click here to read the full review.
Timecamp is a user-friendly employee scheduling application with an emphasis on increasing project profitability overall. Some of its features include (but are not limited to):
At the time of writing, TimeCamp has 556 reviews on Capterra with an average rating of 4.7 out of 5 stars.
"I've tried about a dozen different online and offline products for tracking/monitoring my time as a freelancer. Many of them have very good features, but I found that Timecamp had the best features that really matter for freelancers and other areas of use. "

Click here to read the full review.
Findmyshift is another potentially free employee scheduling app, though it also has stronger features locked behind paid pricing plans. Some of its functions include:
Findmyshift has a rating of 4.6/5 stars with 714 reviews on Capterra (as of this post's writing).
"Findmyshift has been great right from the start of a long free trial period. This gave us the opportunity to really test the product. Customer service even during free trial was prompt. All the training videos and faq made the learning process easy. "

Click here to read the full review.
Timely is an app that focuses specifically on automatic time tracking. Some of its key features include:
Timely has a total of 206 reviews on Capterra with an average of 4.7 out of 5 stars (as of this post's writing). Here's one review that speaks to how well it functions as an employee shift scheduling software:
"A much clearer and more accurate view of staff work times, leave. Easier to track absenteeism and manage via the reports available. Simple to use and a time saver when planning rosters and staff leave."

Click here to read the full review.
Choosing The Best Employee Scheduling App
One thing that we always try to emphasize is that there is no "one-size-fits-all" solution to digital time tracking tools. The one that functions "best" for your business isn't unique to your industry or business size. It's unique to you, your managerial style, and your workforce.
That said, looking closely at the benefits of features of each team scheduling tool can make you more likely to find the right fit for you. If scheduling conflicts are a big deal for your team, you might want to use Sling. If invoicing is a major part of your business model, you might like TimeCamp.
But, if what you want overall is full control over employee shift scheduling, a simple design that means that anyone can pick up and use the app without a learning curve, and a customer support team that's dedicated to producing the best outcomes for your business, then you really can't go wrong with Buddy Punch.
Try Buddy Punch for Free
If you feel that Buddy Punch could be the best app for employee scheduling for your needs, sign up for a free trial. You can also book a one-on-one demo, or view a pre-recorded demo video.

You May Also Like…