Eddy Alternatives (5 Options)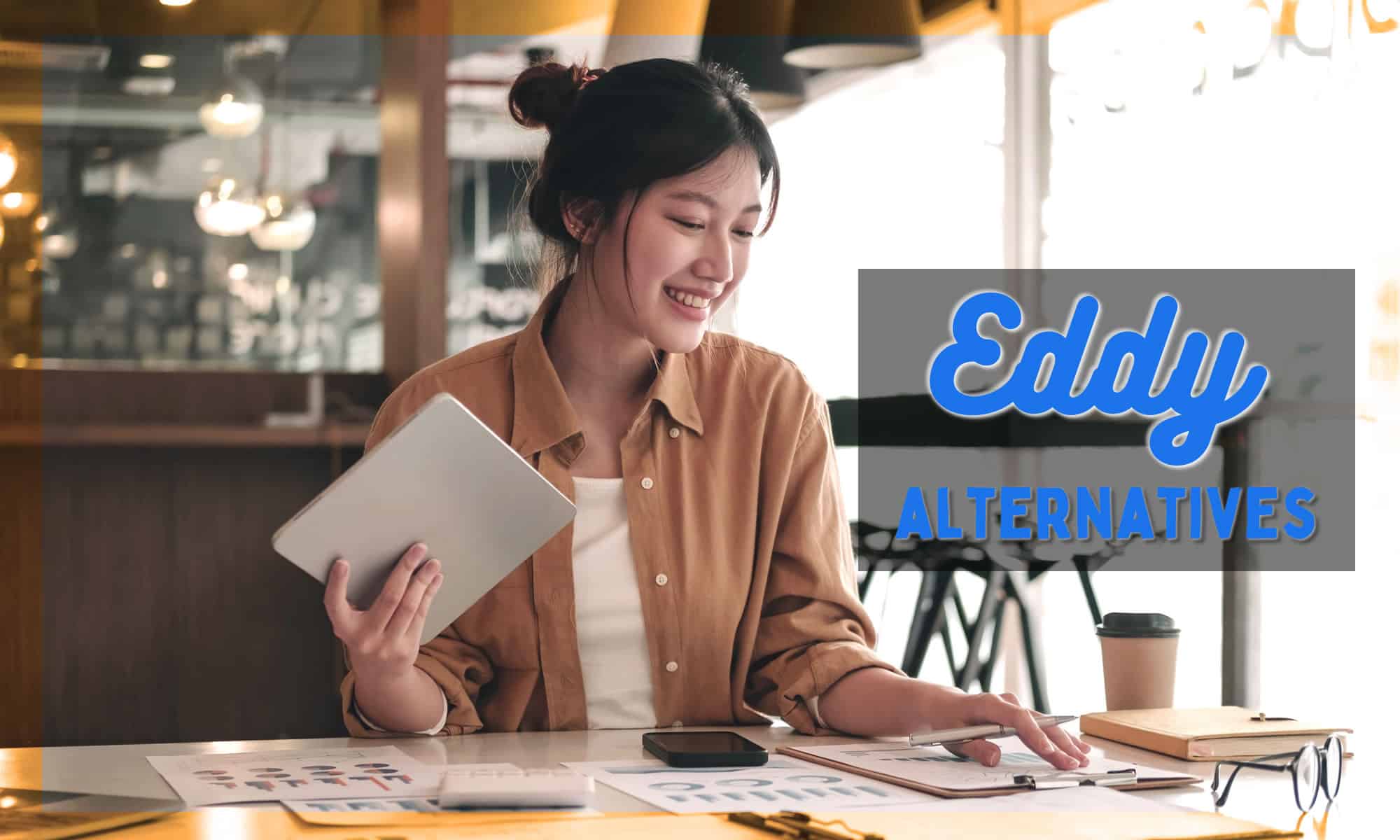 Are you searching for the best Eddy alternatives? Don't worry, we've got you covered. While Eddy is a useful time and performance management system, it does fall short in some key areas. When it comes to talent management, you need access to the best HR management solutions on the market. We have identified five potential options for your consideration.
When it comes to looking for the best cloud-based payroll management solution on the market, you should gravitate toward platforms capable of delivering an exceptional user experience for all stakeholders, including managers and administrators, The right time management platform will provide you with the necessary toolkit to support employee self-service.
Without wasting any time, let's explore the best Eddy alternatives on the market.
Best Eddy Alternatives
1. Buddy Punch
Of course, we had to start with Buddy Punch. This is an all-encompassing time tracking tool that covers everything from employee onboarding to leave management. Buddy Punch is more than just HR software. Whether you are a software-as-a-service company or a small business, our platform can help all businesses and organizations automate their time management workflows.
How Buddy Punch's Time Tracking Solution Works
Buddy Punch is jam-packed with all the functionality you need to hit the ground running with time management. When team members submit their timesheets inside the platform, leaders and administrators will receive real-time notifications. From on-site employees to freelancers, you can configure Buddy Punch to align with your organization's unique requirements.
Produce Employee Performance Reports Instantly
With a range of useful data at your fingertips, you can generate team performance reports to inform leadership and managerial decisions. When it comes to streamlining HR processes, Buddy Punch will open up a range of possibilities. Buddy Punch gives you the necessary tools to automate the collection and processing of employee timesheet data.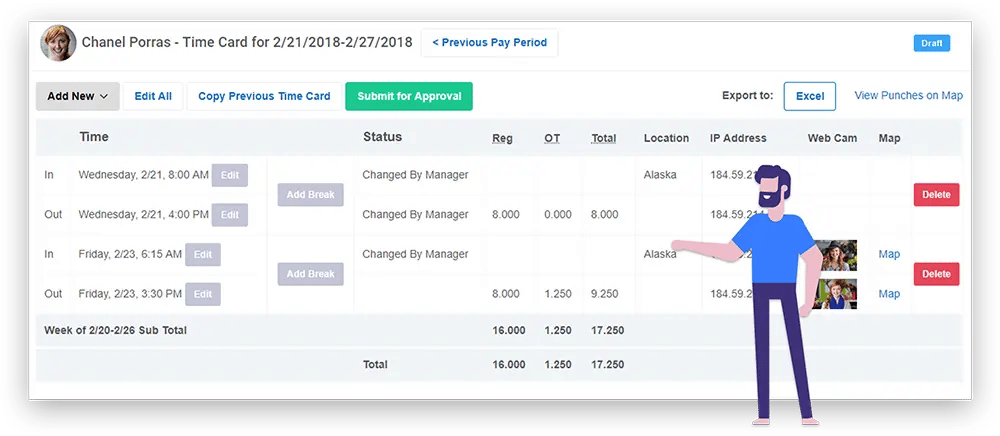 Remote Teams Can Clock In And Out Anywhere
No matter where your team are located, Buddy Punch can bring clarity to your workflows and facilitate a smooth data collection process. Remote team members can use their mobiles and tablets to seamlessly clock in and out. The whole process is remarkably straightforward. The platform is available on desktop, iOS, and Android – leaving no excuses for late time entries.
Monitor Employee Attendance With New Technology
From 4-digit pin codes to facial recognition and QR codes, Buddy Punch is packed with useful features that are designed to elevate the experience of punching in and out. If you are trying to promote team accountability and transparency across your workforce, you should experiment with these features – which are designed to increase employee oversight.
Leverage GPS Location Tracking
If you are trying to promote employee accountability and transparency, you can take advantage of our GPS location tracking feature. When you have a remote-working team, this feature is invaluable. You can quickly see where employees are clocking in and out from at the click of a button. If you want to boost employee oversight, this is an essential feature to utilize.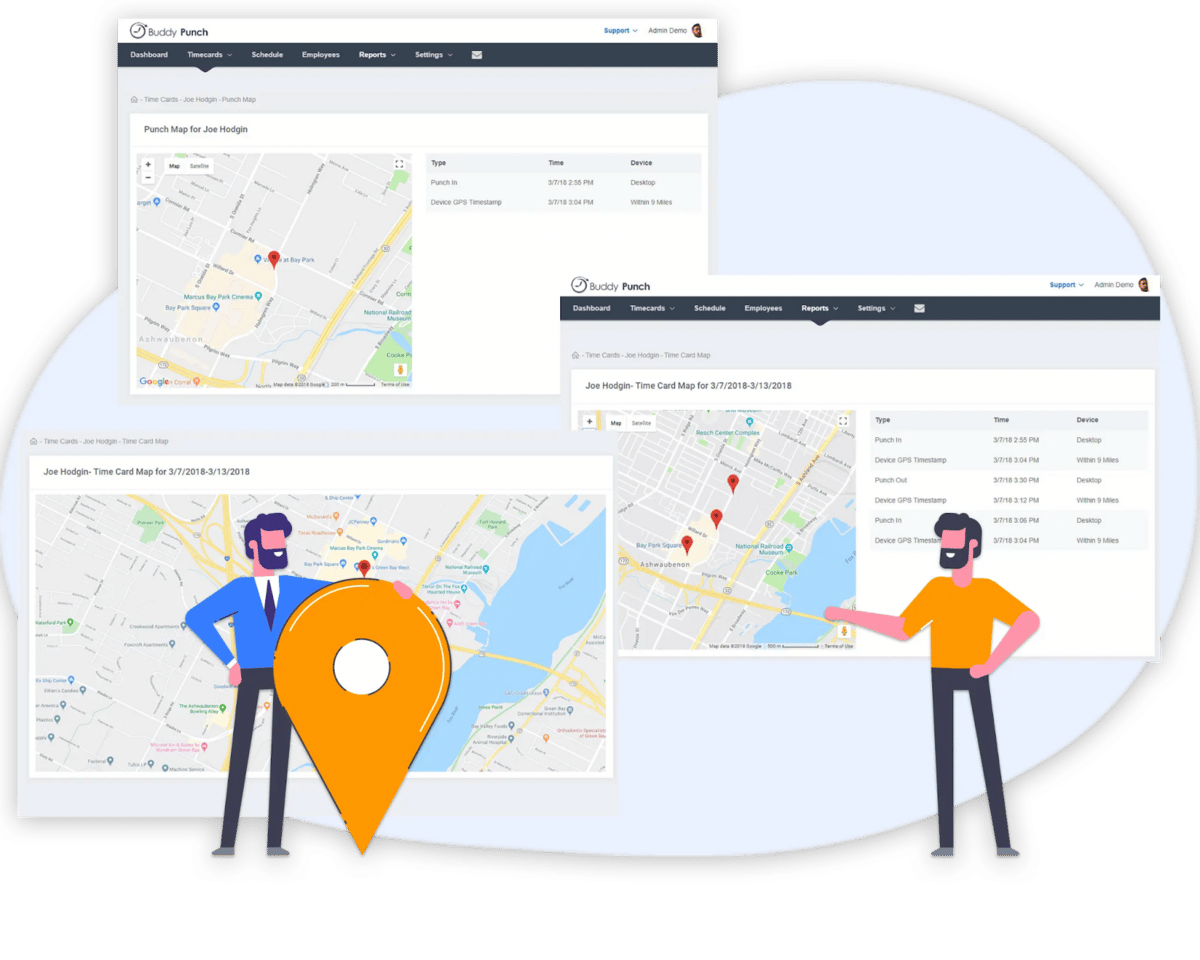 While it's very easy to get started with our user-friendly platform and begin to streamline your timesheet data collection processes, we recognize the importance of providing a "Knowledge Hub" – which includes a full range of resources for new users. Alongside this, our customer support team is always ready to answer any questions you may have.
You can book a one-on-one personalized demo here.
Buddy Punch Is An End-To-End Time Tracking Solution
Our employee time tracking software contains many useful features:
Buddy Punch's Online Reviews
As of the writing date, Buddy Punch has 4.8 out of 5 stars and 698 reviews on Capterra.

Below, we'll list just a few reviews that speak to Buddy Punch's ease of use and great customer support service. (Click here to explore the full list of reviews.)
"It has a very simple interface, easy to punch in and out as well as check timecards. I think both the desktop version and the smartphone version were well-designed. It doesn't try to do too much and make things complicated, since the main purpose is just to clock in and out, and it efficiently allows the user to do exactly that."

Click here to read the full review.
"The thing I like most about the software is the geographical location requirement. Every time you punch in/out it shows your employer your location. Making time clock fraud one less worry as a business owner and the employee more responsible about time maintenance because you cannot get paid if you are not physically at work."

Click here to read the full review.
"Best solution to time tracking for our hourly employees, and it keeps me updated when someone forgets to clock out. Also, it allows my employees to make changes if needed, which I can review and approve."

Click here to read the full review.
"I handle HR for a small start-up tech company, and we were looking for a simple, easy-to-use time tracking software solution that was also cost-effective for our size. We found Buddy Punch, and it seemed to offer everything we needed, and it was reasonably priced. We signed up for the trial period, and our employees were impressed immediately."

Click here to read the full review.
Try Buddy Punch for Free
If you feel that Buddy Punch might be the right fit for your business, sign up for a free trial. You can also book a one-on-one demo, or view a pre-recorded demo video.
2. DeskTime
DeskTime is an automatic time tracker app that's suitable for businesses and organizations of all sizes. The platform enables team leaders and administrators to collect a broad range of employee performance and attendance data – which can get easily exported to your go-to payroll integration. You can also track progress on projects as well as individual employees.
At the time of writing, DeskTime has a total of 299 reviews on Capterra, with an average of 4.5 out of 5 stars. If you are intrigued about DeskTime, explore the platform's other features:
"Employee and time tracking are extremely useful. It's fully customizable to the point of allowing a group of employees the use of social media (for example the marketing department) and not applying the same rule to the rest of the teams. We trust our billing to DeskTime reported times."

Click here to read the full review.
3. Paymo
Paymo is a scalable time tracking desktop and mobile application. No matter the size of your team, you can onboard all team members onto this platform. Using Paymo, employees can punch in and out without delay. This can encourage employees to complete time entries and bake this process into their daily routines.
Here are some of Paymo's best features:
At the time of writing, Paymo has a total of 422 reviews on Capterra, with an average of 4.7 out of 5 stars.
"It is important to note that Paymo isn't idle in enhancing its software. Not only that, but new features are thoughtful and integrated seamlessly with the tool. I appreciate this because I have used other software that seems to have their priorities mixed up when releasing enhancements; adding things that don't move the needle ahead of things that do."

Click here to read the full review.
4. QuickBooks Time
Are you familiar with QuickBooks Time? While most businesses are aware of the accounting platform, many often do not realize that QuickBooks also offers a time tracking solution for payroll processing which can seamlessly integrate with the accounting platform. The best bit? Employees do not need access to WiFi or cell coverage to punch in or out.
QuickBooks Time (formerly TSheets) has a range of exciting features for small businesses:
It's a great timesheet app for Android and iPhone, and at the time of writing, QuickBooks Time has 4.7 out of 5 stars and 5,680 reviews on Capterra.
"QuickBooks Time doesn't disappoint. It is a reliable and steady resource for employers and businesses worldwide. You're really missing out if you don't give this software a chance today!"

Click here to read the full review.
5. TimeCamp
With a range of data points at your disposal, TimeCamp's one-click time tracker solution gives leaders and administrators everything they need to closely monitor employee performance and attendance. For instance, you can receive data on the amount of time employees spend working inside different applications during the working day.
At the time of writing, TimeCamp has a total of 561 reviews on Capterra, with an average of 4.7 out of 5 stars. TimeCamp comes with the following features:
"TimeCamp is the cheapest time tracking software that I have worked with so far. It covered most of my needs with the free version itself. With the desktop application, we can track the computer activities, websites and applications usage. This enables to bring trust among the customers."

Click here to read the full review.
Try Buddy Punch for Free
If you feel that Buddy Punch could be the right fit for your business, sign up for a free trial. You can also book a one-on-one demo, or view a pre-recorded demo video.
You May Also Like…