6 Best Timesheet Software & Apps for Small Businesses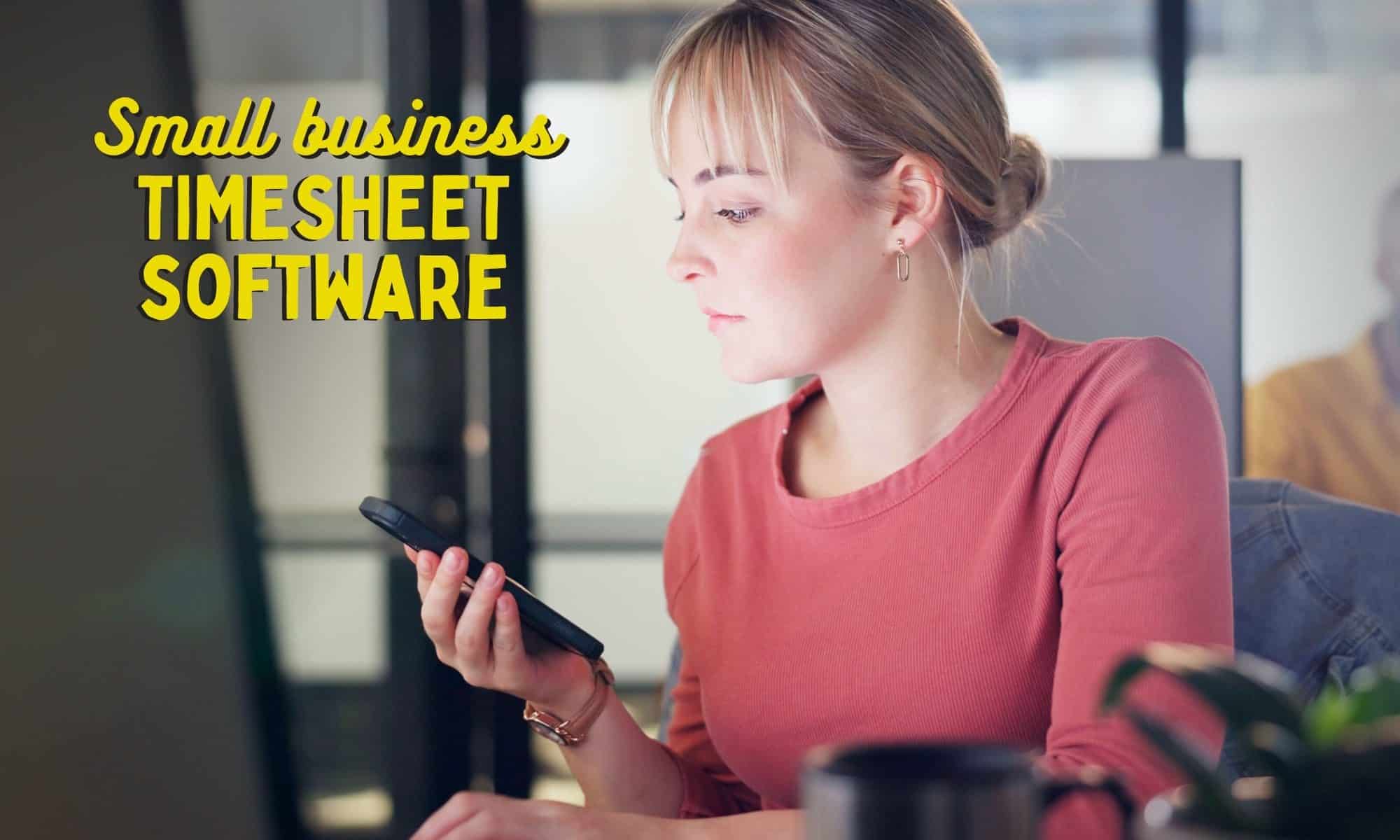 Small businesses can be in a bit of a tight spot when trying to manage their timesheets and time tracking.
Traditional timesheets like pen and paper or spreadsheet templates are time-consuming, inefficient, and error-prone.They're a pain to fill out, correct, and get to payroll. But larger, enterprise-level HR and accounting software can be overkill or lack the specific timesheet features your business is looking for (such as clock in and out accountability features like geofencing).
In this article, we focus specifically on timesheet software and apps for small businesses (both mobile apps and desktop apps) — whether it's mechanic shops, construction companies, retail stores, small corporate offices, etc.
First up is Buddy Punch, our time tracking solution for small businesses. Buddy Punch makes timesheet management easy for small businesses by:
Enhancing employee accountability and ensuring accurate time tracking: For instance, as employees log their work hours, you can activate features like geofencing (constraining punches to specific locations), IP Address Locking (restricting punches to designated devices or WiFi networks), punch rounding (to avoid employees padding their timecards) and more.
Streamlining payroll management: You can use Buddy Punch as your payroll provider (we offer key payroll features such as paperless paydays, employee self-setup, and payroll tax filing). Or, you can integrate Buddy Punch with your current payroll provider. Either way, using Buddy Punch helps simplify your payroll process and pay your team accurately and on time.
After Buddy Punch, we'll discuss some alternative options for your business.
6 Best Timesheet Software & Apps for Small Businesses
1. Buddy Punch
The Best Timesheet Software & App for Small Businesses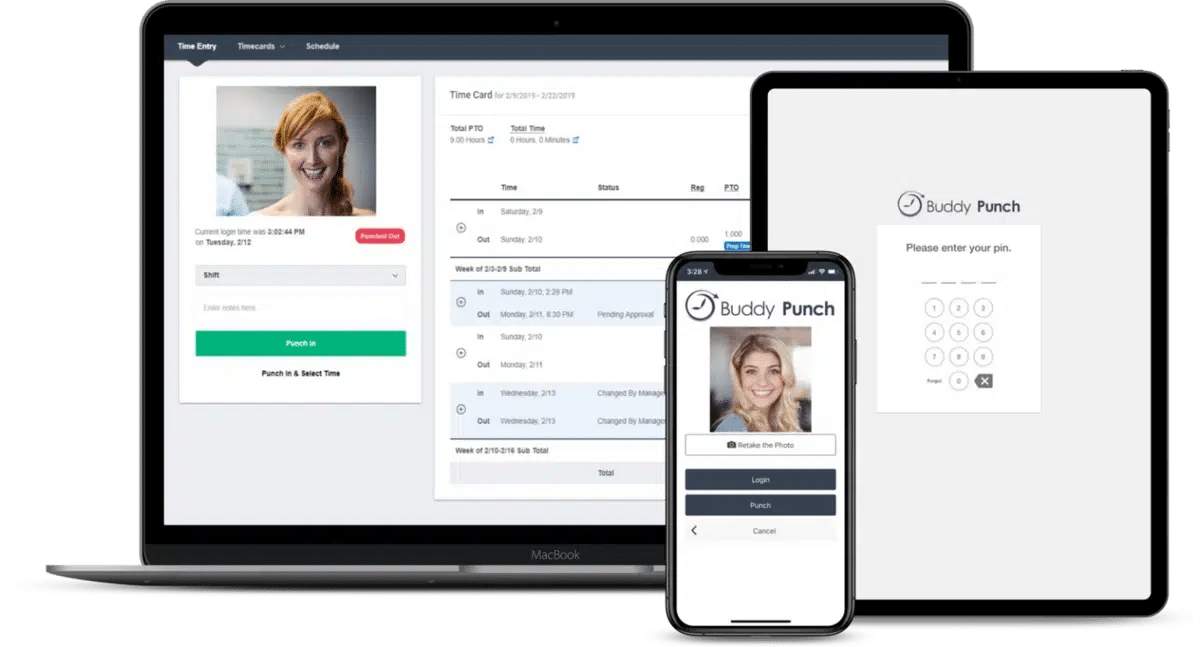 Buddy Punch is a timesheet software suitable for all types of small businesses, from construction crews to caterers to marketing agencies. Buddy Punch is also great for all types of workforces, whether you're working out of one location, multiple locations, or have a remote team, and whether you employ full-time, part-time, or freelancers/independent contractors. This is because Buddy Punch has versatile time clock functionalities including:
Easy time punching options: Employees can easily punch in and out via any device, whether from a phone, tablet, or computer. Plus, you can customize Buddy Punch with more advanced features such as Geofencing, Photos on Punch, and IP address locking (more on these in a moment). These features help ensure employee accountability and accurate timesheets — no matter where your employees are, Buddy Punch helps make sure they're only tracking appropriate hours.
Easy timesheets editing functions: Managers and employees (if you allow it) can easily update their timesheets and submit them for approval from a desktop or mobile device (available on both Android and IOS). We'll dive deeper into this in a moment, but at a high level, simply choose the "Edit" option under an employee's timecard to edit an existing punch. Then, you can adjust the time or add a break and hit "Save."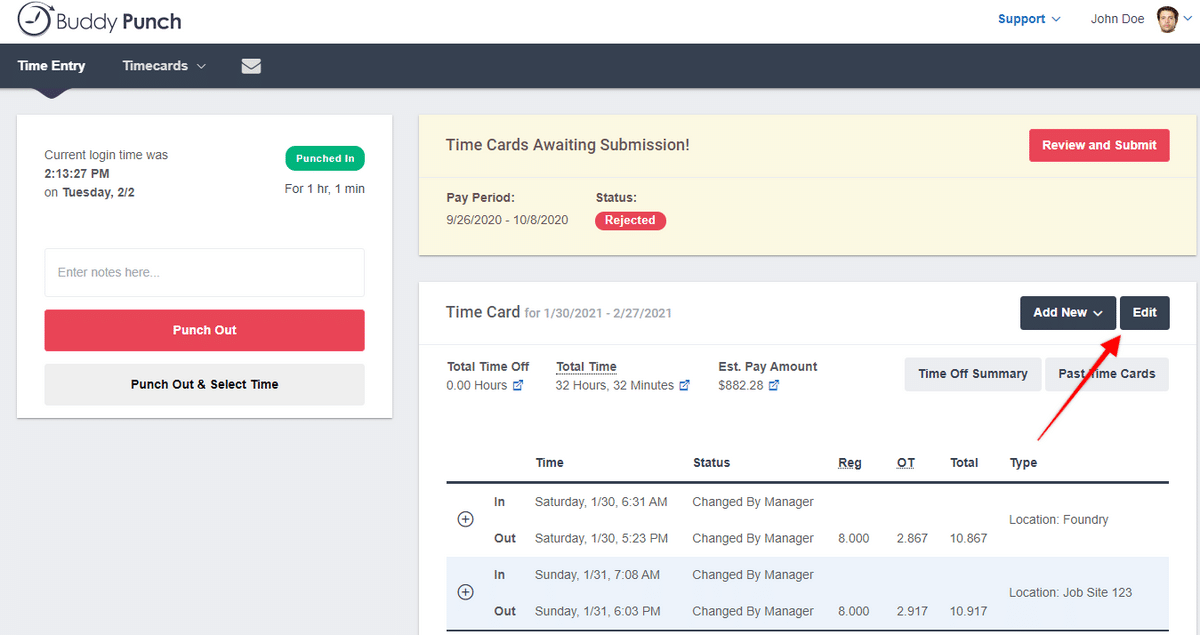 As a reminder, your small business can also utilize Buddy Punch from a desktop computer or our mobile app. This means your team can clock in and out, check their schedule, paid time off (PTO) balances, and more from their phone.
If Buddy Punch sounds like the best option for your business, you can:
Or keep reading for a more in-depth review of Buddy Punch.
Keep Timesheets Accurate (and Employees Honest)
Finding the right time tracker is challenging for two main reasons: One, everyone is prone to making mistakes, such as forgetting to clock back in after lunch or forgetting to punch out for the day. You want software that helps mitigate those mistakes from happening and then, if they do, make it easy to fix said mistakes.
And two, unfortunately, some employees won't always be honest about their hours. Time theft is a real issue that costs businesses a lot in profit. This could be in the form of punch rounding, when someone rounds their time up or down to accumulate more hours, or Buddy Punching when a friend clocks in for an employee who isn't present.
Buddy Punch's timesheet software helps solve these issues in two ways.
First, it's easy to log in and fix anyone's timesheet. This means you can quickly access someone's timecard and add/remove a punch or modify a break. We take a more detailed look at this in the section below.
Second, we over several different accountability features, including:
Geofencing: Creating an area that employees are required to punch in and out from


IP Address Locking: Stopping employees from punching in and out unless they're on an authorized IP Address


Photos on Punch: Requiring employees to submit a picture to verify their identity when punching in or out


Punch Rounding: Set up rules to automatically round up or down based on the minute increment you select, such as rounding up to the nearest half-hour


Overtime Tracking: Set up alerts when your employees hit certain thresholds, like reminding them not to work more than 40 hours per week
These features help make sure that only the right person is clocking in and that they're clocking in according to their shift/scheduled hours.
Let's cover these advanced clock in and out features in more detail.
Geofencing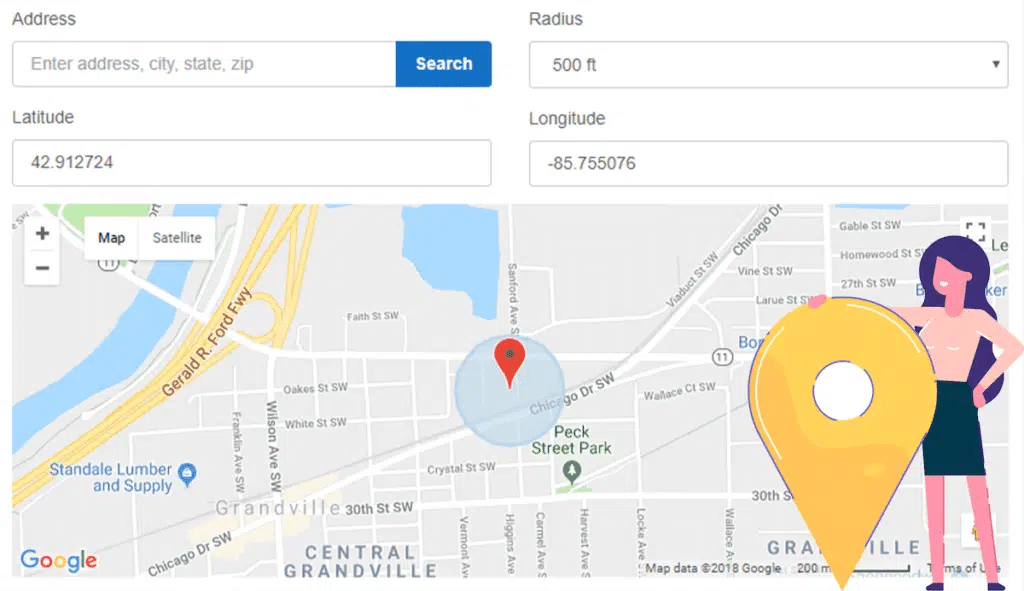 Geofencing lets you restrict employee punches to a specific location. It's a helpful feature to prevent time theft, also known as buddy punching.
For example, if you have a physical office location, you could restrict employee punches to within 400 feet of the address.
If an employee tried to punch in outside your designated Geofence area (e.g., while still at home), they'd receive an error message and be asked to try again within the workplace.
Multiple business locations? No problem; you can set up numerous geofences for employees.
IP Address Locking
IP Address Locking lets you restrict employee punches to a specific device or WiFi network.
For example, if you run a warehouse, you could set up a kiosk that limits punches to that device; or, if your employees work from home, IP address locking ensures employees need to be connected to their home WiFi network.
Photos on Punch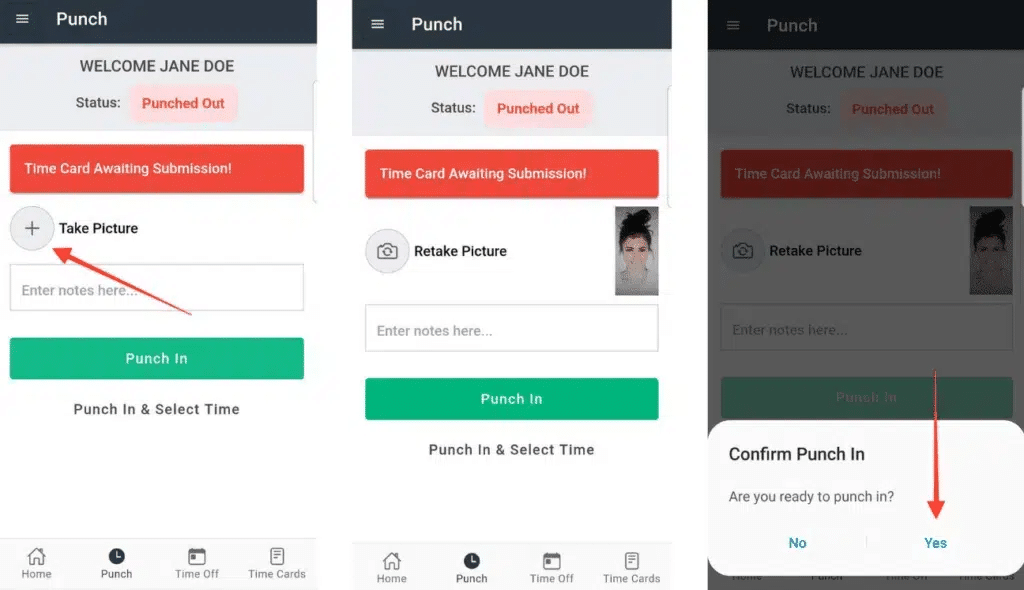 With Photos on Punch, employees must take a photo of their face in real-time, either from a kiosk you set up or from our mobile app, each time they punch in or out.
You can quickly glance through the photos via a central dashboard (example below) and ensure that the right employee punched in from the right place.
Punch Rounding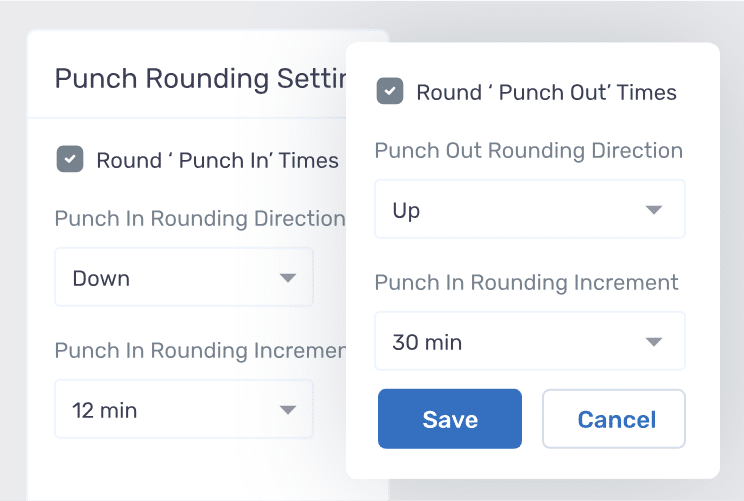 Punch Rounding is a functionality that allows you to decide whether punches will be automatically rounded up or down to a predetermined interval you select. This can be anywhere from 2 minutes to 30 minutes. For example, if an employee punches in at 8:05 a.m., you can have that punch automatically round down to 8:00 a.m.
Additionally, if you have a lot of employees punching in or out simultaneously from one location, it may take more than a minute for all of them to punch in or out. With the punch rounding feature, you can give your employees a grace period to ensure they aren't penalized for waiting in line.
Minutes add up fast, so utilizing this feature can save you time from manually editing timesheets and ultimately save you money in the long run.
Overtime Tracking/Alerts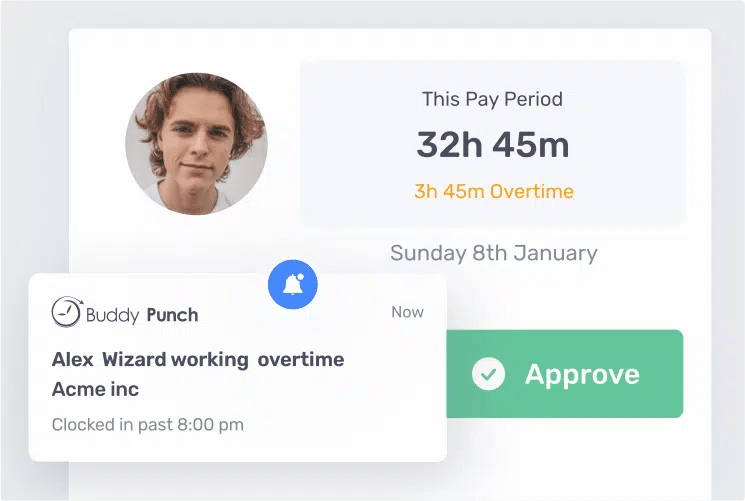 To help minimize costly overtime, Buddy Punch lets you set up real-time overtime alerts.
Overtime alerts can be set daily or weekly to go simultaneously to the team member, manager, and account administrator.
Our alerts will tell you if the employee is punched in or out and their total hours worked. You'll receive the alert via email with the name of the employee in the subject line and can remind an employee of a lunch break or to punch out at the end of the day. These automated alerts can help give you more free time to focus on other business matters.
This is just a sample of Buddy Punch's timesheet accountability features that can streamline your workflow. Other helpful features include:
Easily Review, Edit, and Approve Timesheets
Even with software, timesheet and time tracking errors are going to occur. People will forget to clock in for their shift, or forget to clock out, or might clock under the wrong job code.
Buddy Punch makes fixing time entry errors and approving timesheets easy. Here's a closer look, including helpful screenshots.
1. Click the "Timecards" tab under the Pending Approval section on your dashboard. You'll see a list of timecards that are waiting for your approval. You can click "View" to view a specific timecard.
2. If you don't want to review all hours in detail, you can approve the timecard immediately by clicking the "Approve" button.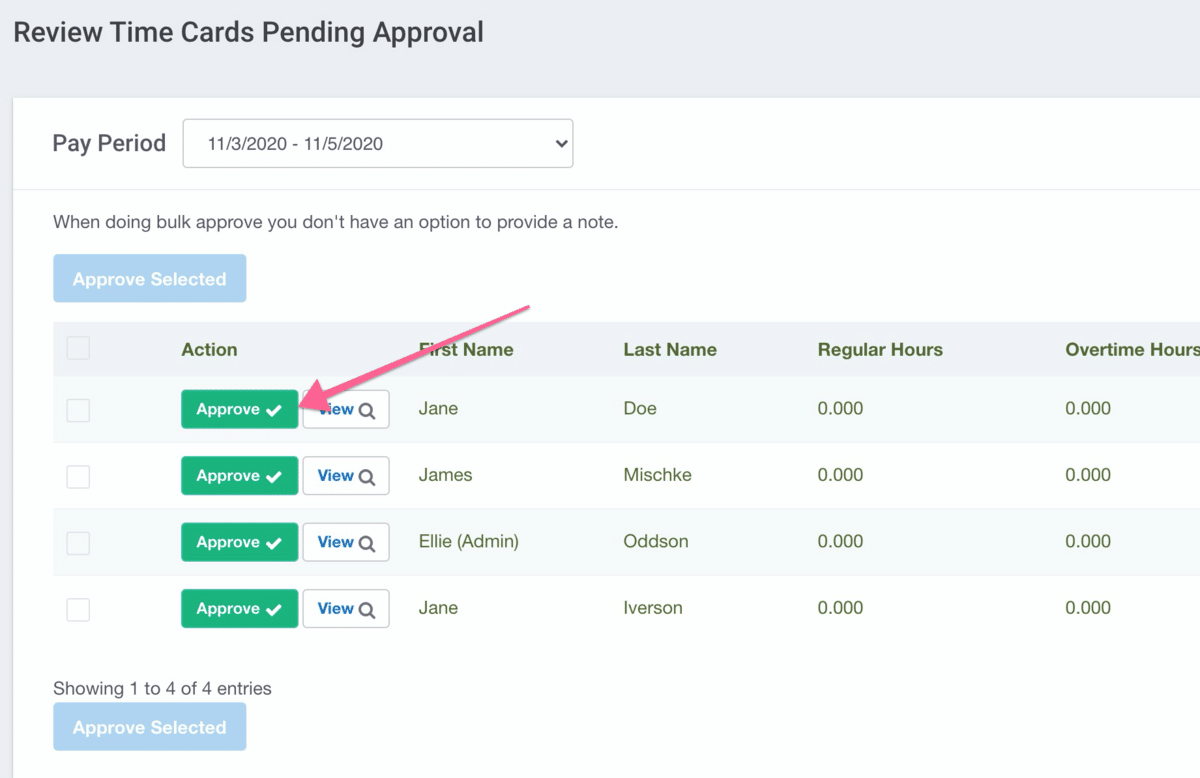 3. If you want to view a timecard in more detail, you'll want to click "View" next to an employee's name.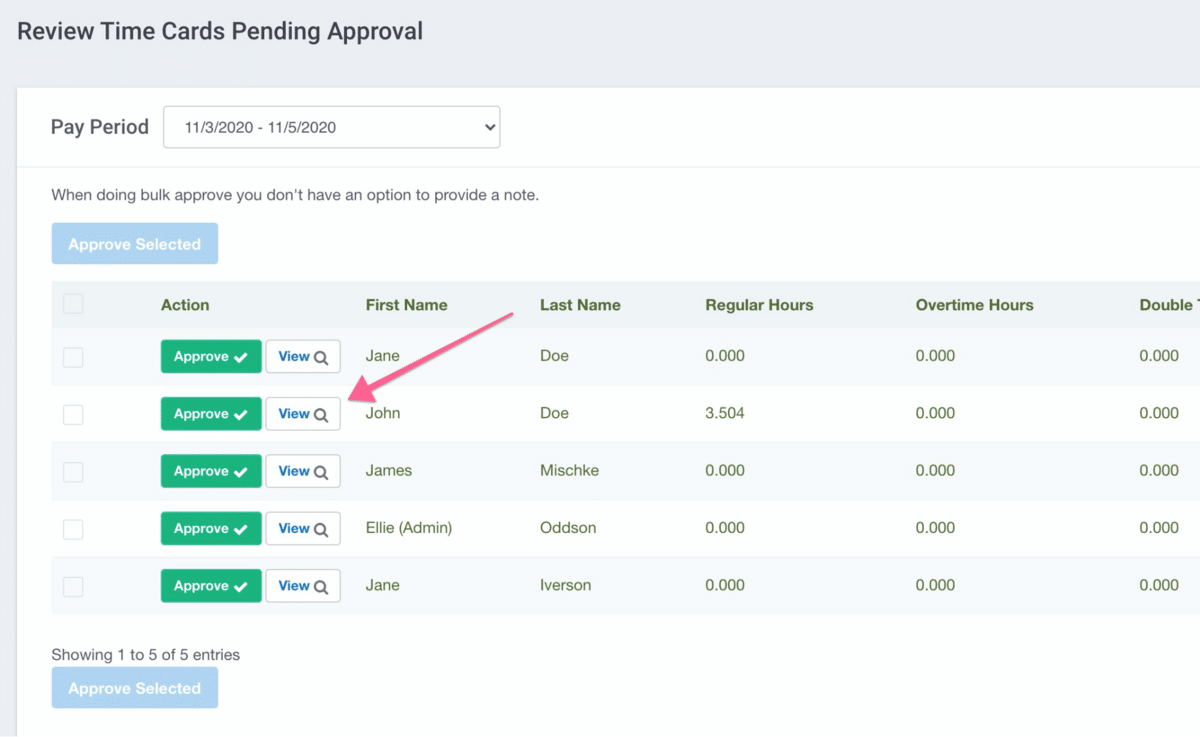 4. Once you're ready to approve or reject, you'll want to click the "Approve / Reject" button at the top of the timecard.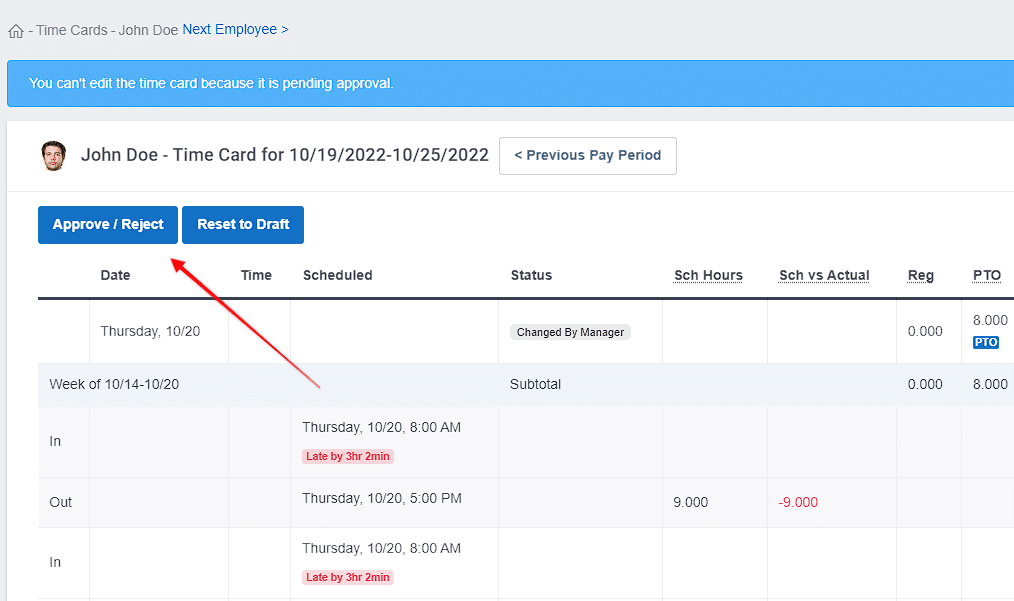 5. If you need to return the timecard to the employee to make changes or make changes yourself as an Admin or Manager, simply click the "Reject" button.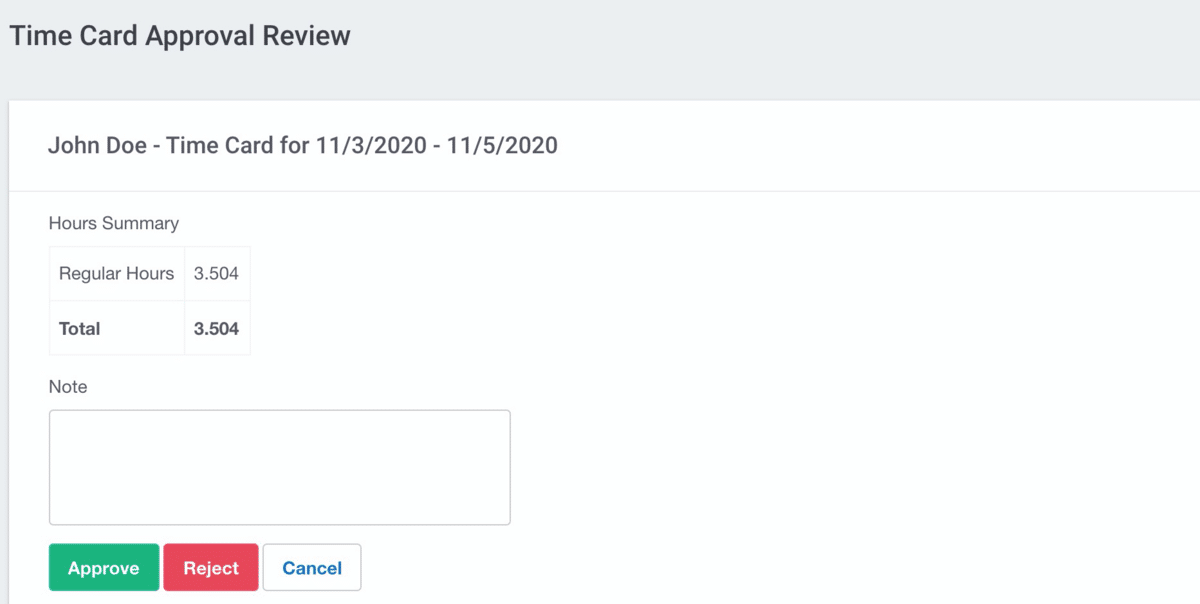 6. Whether you reject or approve the timecard, the action taken will be visible in the Approval History, which can be found at the bottom of an employee's timecard.

In addition, you can also quickly edit timecards by:
1. Clicking the drop-down menu on "Timecards" and then clicking "View All".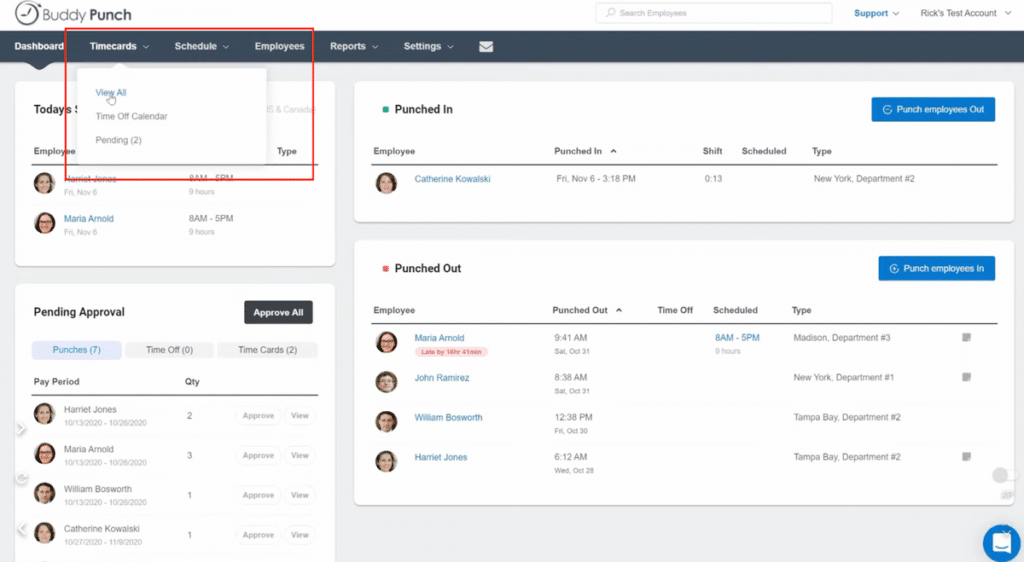 2. Selecting whose timecard you want to review.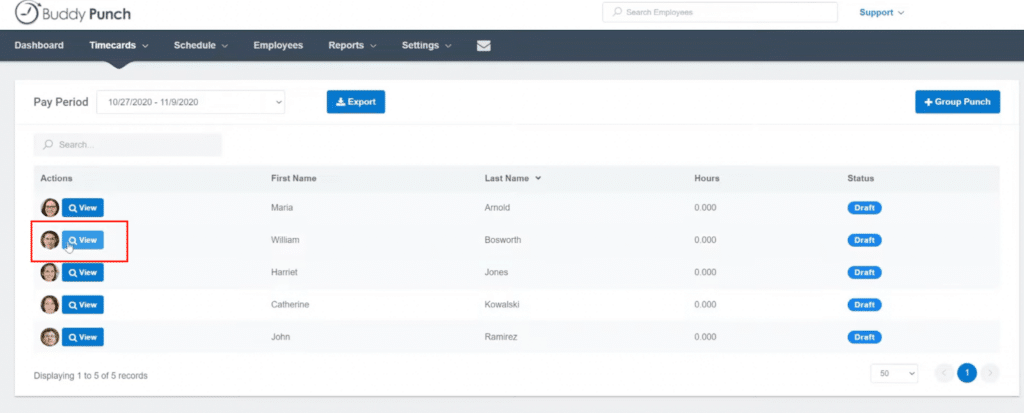 3. Clicking "View" on the employee's timecard you want to access.

4. You can edit as necessary, such as changing when someone clocked in, clocked out, or took their break.
Easily Keep Track of PTO
PTO tracking is an essential part of keeping accurate timesheets and payroll records. Buddy Punch makes it easy. Here's how:
1. An employee opens the app, enters the requested days, and specifies the type of leave they're taking.
2. If it's paid time off, the hours are logged on their timecard to be reconciled with payroll.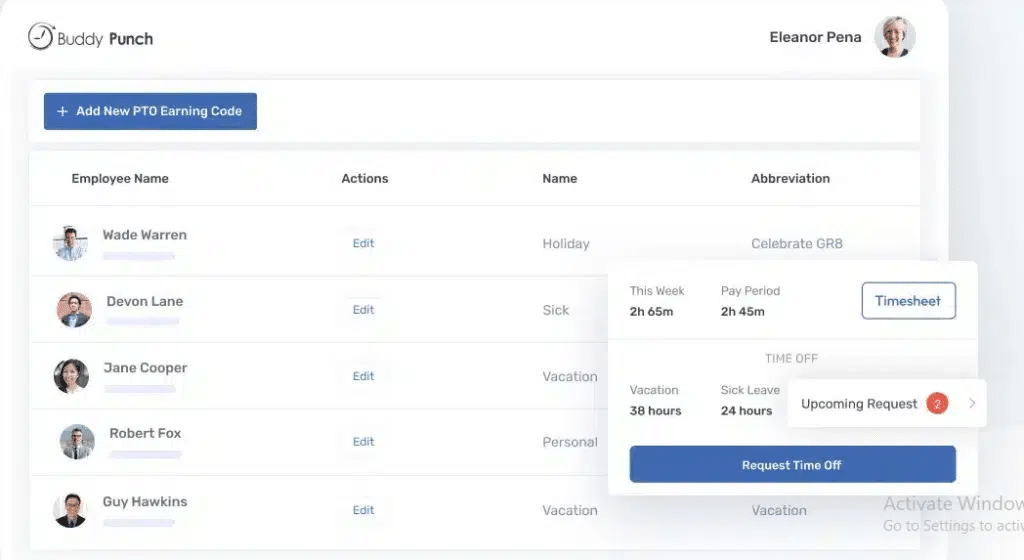 3. Once the request is submitted, you can view, approve, or deny the request. Or, you can customize your settings to approve the PTO automatically.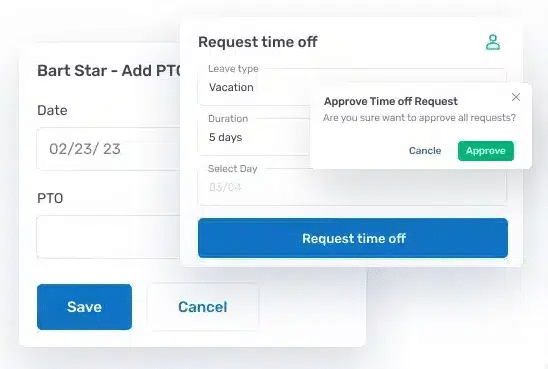 You can set up custom PTO accrual rules based on hours worked, payroll periods, or even work anniversaries. In addition, you can customize these rules for each employee. For example, you can have different PTO rules for hourly, salaried, or freelance employees.
Run Payroll
Timesheets are just one aspect of Buddy Punch that helps you run your business. It's also a payroll provider, or you can integrate our software into your current payroll system.
Here's a look at how to quickly run payroll.
1. Once a pay period is complete, start by clicking "Payroll" in the top navigation, followed by "Run Payroll".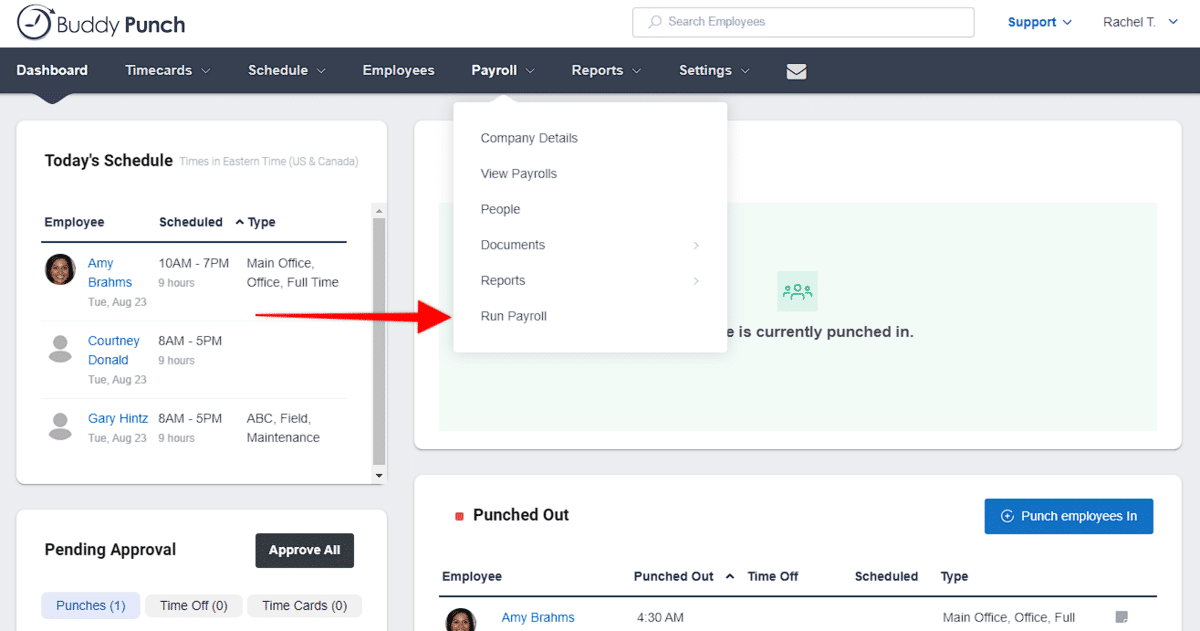 2. Select the pay period you want to run from the dropdown. Next, click "Run Report" to populate hours. If everything looks good, click "Import time into Payroll".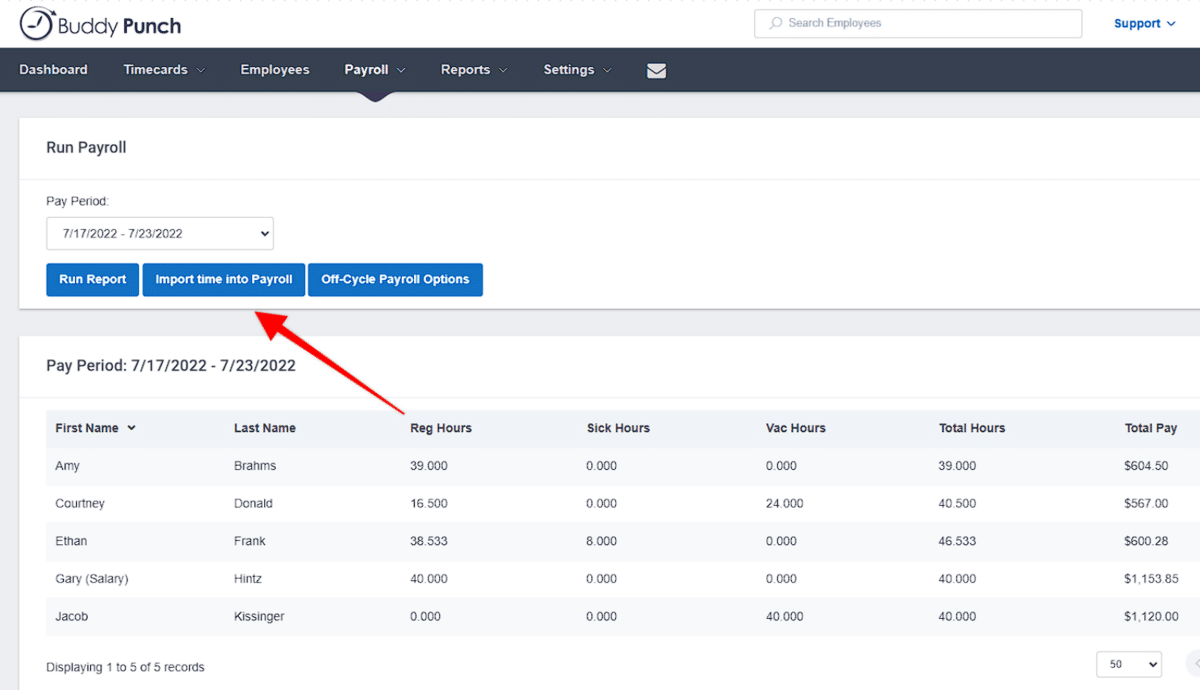 3. After your employee's hours have been synced, you will be able to:
Configure a custom pay rate.
Enter tax-free reimbursements.
If changes have been made to employee time and you need to re-sync, choose the "Reimport time into Payroll" button in the top left-hand corner.

4. If you're ready to continue with payroll, click "Continue".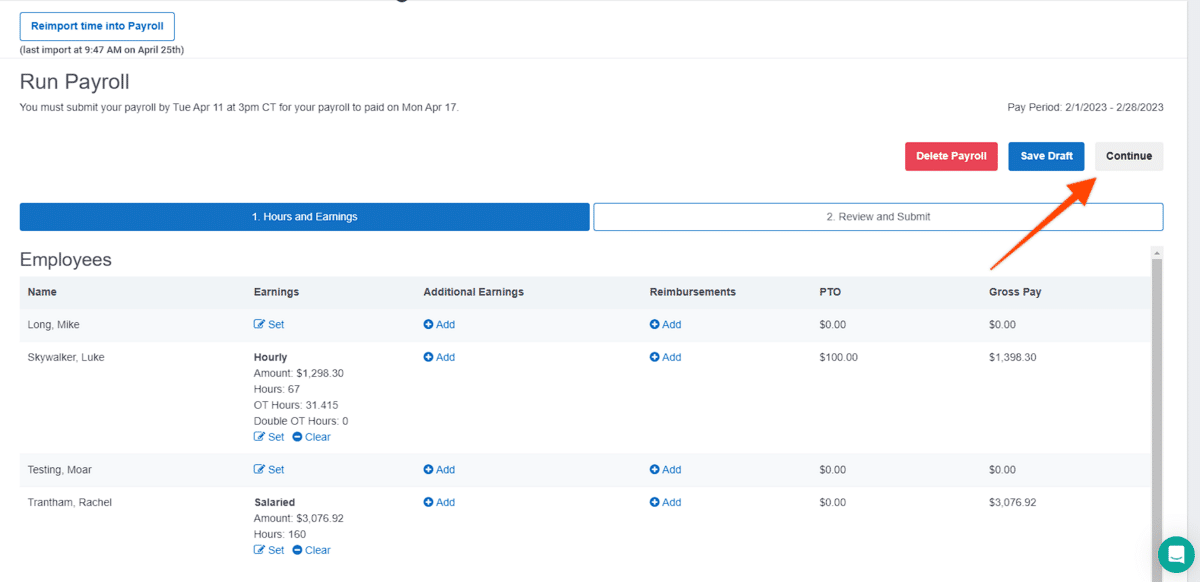 5. Next, you'll see a breakdown of pay and taxes for each employee, along with the total costs for payroll under the Cash requirement section. If everything looks good, click the "Submit Payroll" button.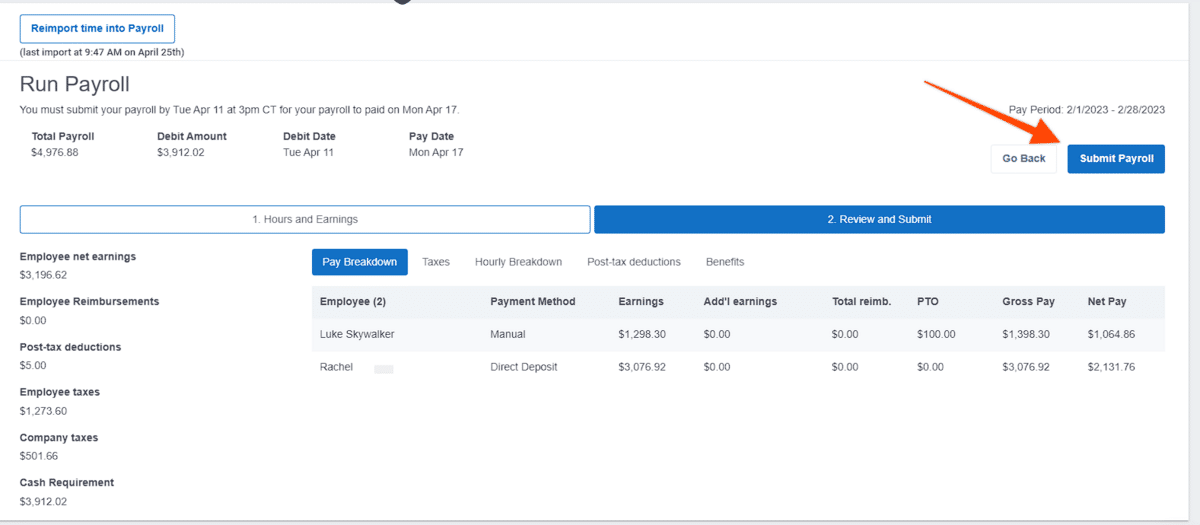 6. You've officially processed payroll! You will receive an email letting you know your payroll is pending and will also receive an email if there are any issues or once it's been processed.
You can also run payroll separately for freelancers or part-time workers. Once a freelancer sends you their billable hours, simply run payroll using the same method outlined above.
If you're happy with your current payroll process, you can use Buddy Punch as your timesheet software and then easily integrate or export your team's records into your payroll software.
We have ready-to-go payroll integrations with leading accounting software:
Zapier
QuickBooks
ADP
Gusto
Paychex
You can also export your payroll reports from Buddy Punch and use them as needed.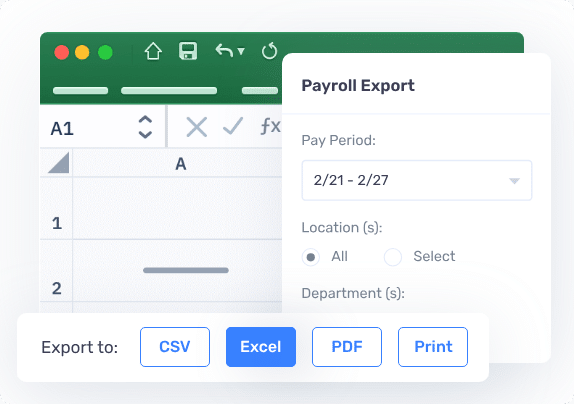 Pricing
Buddy Punch offers 3 different pricing plans, so you can pick the one that fits your business needs the most.
You can read more about our pricing plans here.
You can also begin using Buddy Punch for free today, and if you need a customizable enterprise solution, you can schedule a demo.
To recap, Buddy Punch is timesheet software and time tracking app for small businesses that lets you:
Review, edit, and approve timesheets.
Customize clock in and clock out features to ensure employee accountability.
Manage PTO requests.
Run accurate payroll.
Real Customer Reviews of Buddy Punch

We think Buddy Punch is the best time tracking software for small business owners. We have over 800 reviews and 4.8 out of 5 stars on Capterra, a popular software review site.
Here's a selection of reviews highlighting our dedicated customer support and why our customers love Buddy Punch for time management. You can read all the reviews here.
"The company has a unique way to punch for onsite and [remote teams], with easy reporting. I like the easy usage of Buddy Punch; you just log in, and everything is at hand, even when you just use it for the first time. Very intuitive to use, and it has been a seamless integration in our company for time clocking; integration with third parties for authentication is a plus."

Read the full review here.
"Pros: Timekeeping capability in a very timely manner without any interruptions causing conflict to any degree."

Read the full review here.
"Overall: Great! The product is awesome, and so is the customer service. Unheard of right now. 🙂 Pros: The GPS Time Stamp, Timecards by Location, and notifications of employee editing timecards."

Read the full review here.
If Buddy Punch sounds like the best option for your business, you can:
Other Timesheet & Invoicing Software for Small Business
There are a lot of employee time tracking apps out there. To simplify things, here's a selection we think could be a good fit for your small business.
2. Time Doctor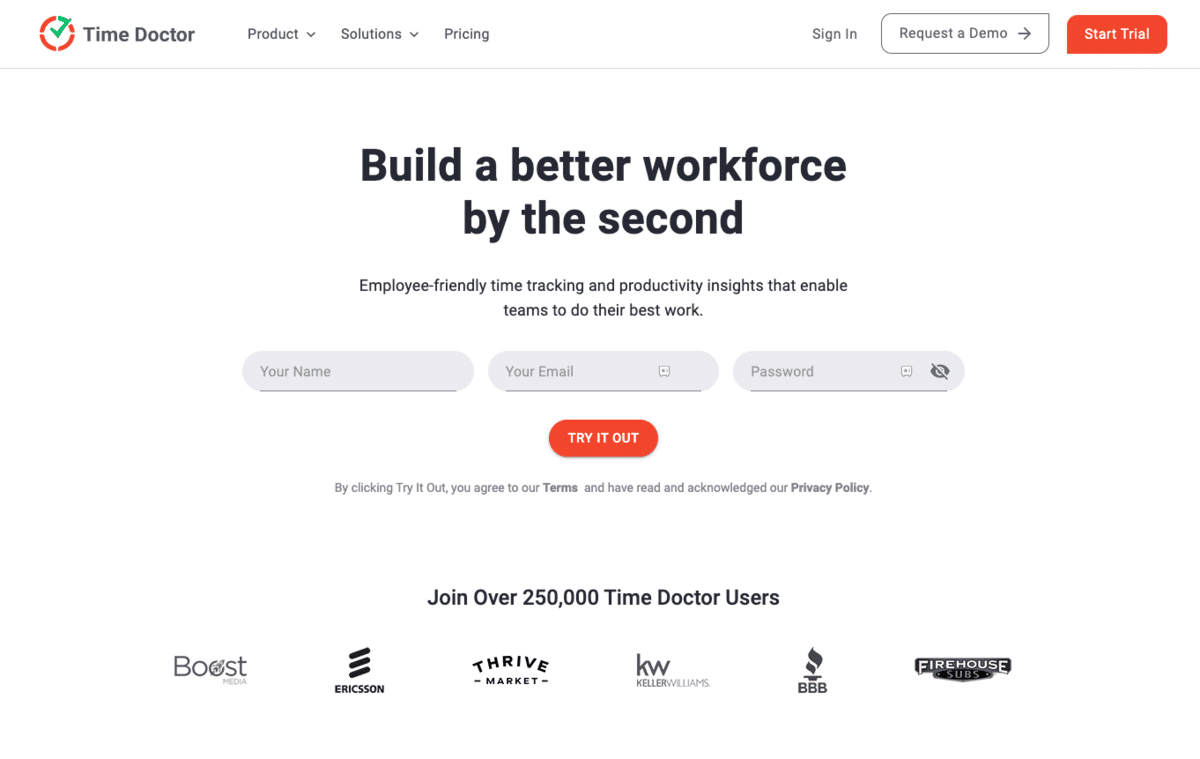 Time Doctor is another timesheet software for small businesses whose features include:
Time tracking
Employee productivity analysis
Employee monitoring
Payroll integrations
Pricing for Time Doctor starts at $5.90 per user per month.
Time Doctor currently has 4.6 out of 5 stars on Capterra with 500+ reviews.
3. TimeCamp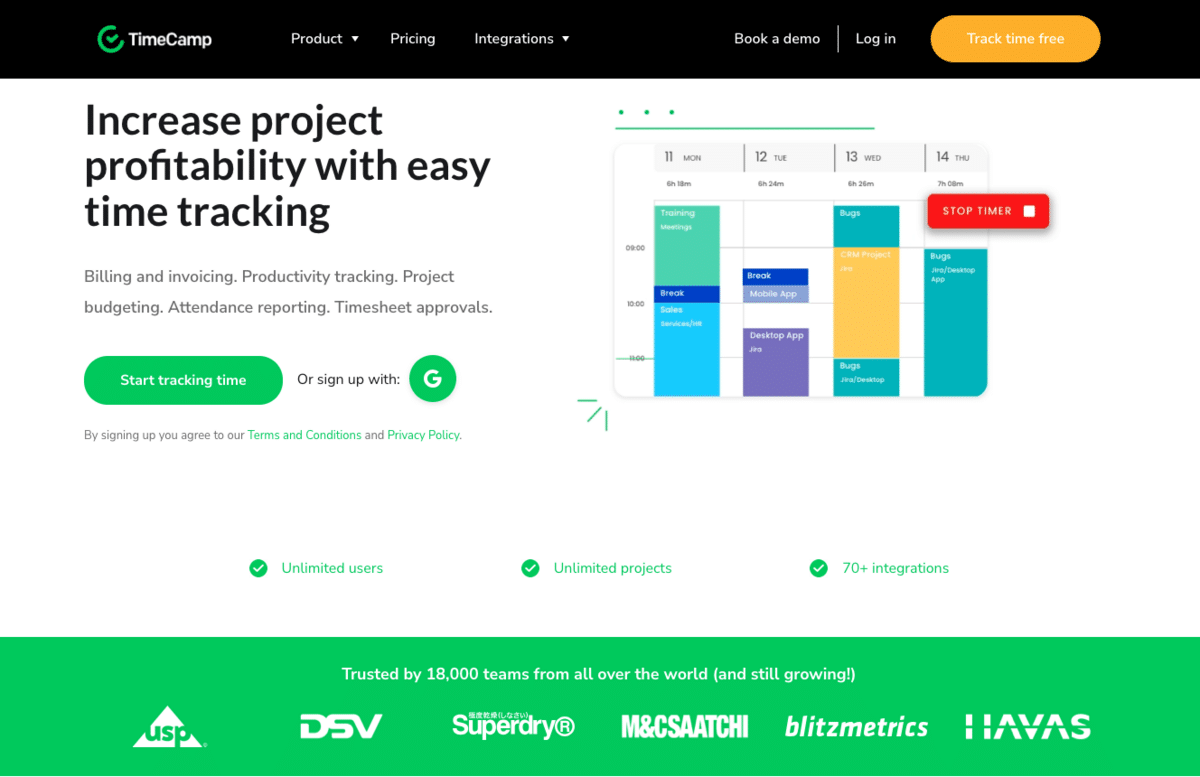 TimeCamp is time tracking software that small businesses might find helpful, with features such as:
Attendance tracking
Geofencing
Automatic time tracking
Project invoicing and profitability analysis
Time camp offers a free plan. However, you'll need to upgrade to a paid plan to access more features like the ones mentioned above. Pricing for their starter plan begins at $2.99 per user per month.
Currently, TimeCamp has 4.7 out of 5 stars on Capterra, with 500+ reviews.
4. Everhour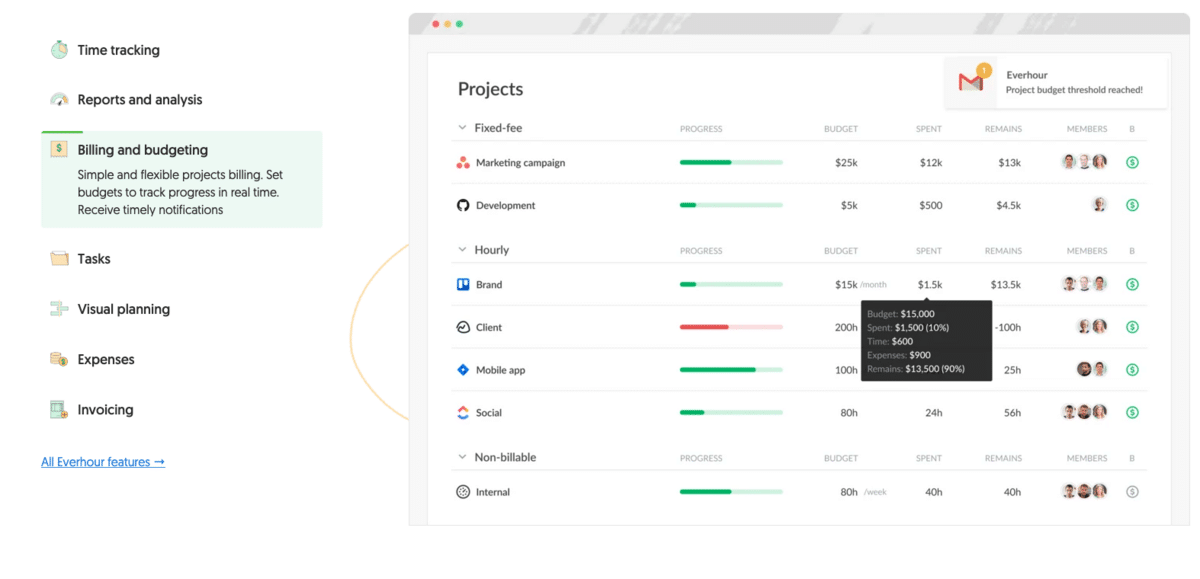 Everhour is another time tracking app that includes features like:
Tracking employee hours
Billing and budgeting
Task management
Expense and project management tools
Everhour offers a free basic plan, but you need to upgrade to access some of the features we mentioned. Pricing for their Lite model begins at $5 per user per month.
Everhour currently has 4.7 out of 5 stars on Capterra with 500+ reviews.
5. Toggl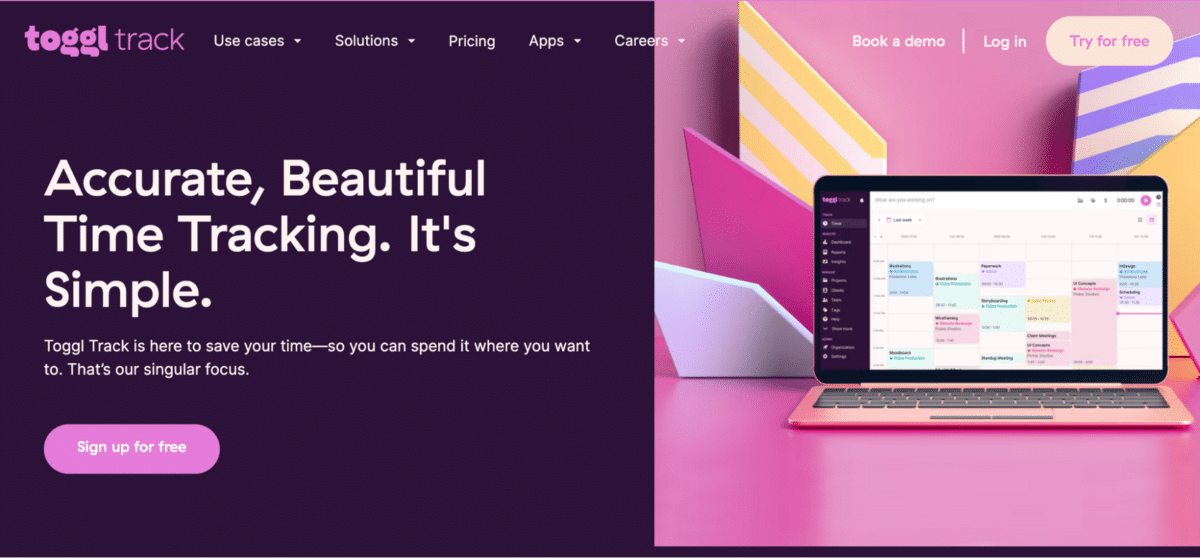 Toggl can be a good option if you're a freelancer/indepent contractor that is looking for timesheet software for your own business.
It has features such as:
Time tracking
Billing & invoicing
Project budgeting
Reporting
Toggl currently has 4.7 out of 5 stars on Capterra with 2,200+ reviews.
6. QuickBooks Time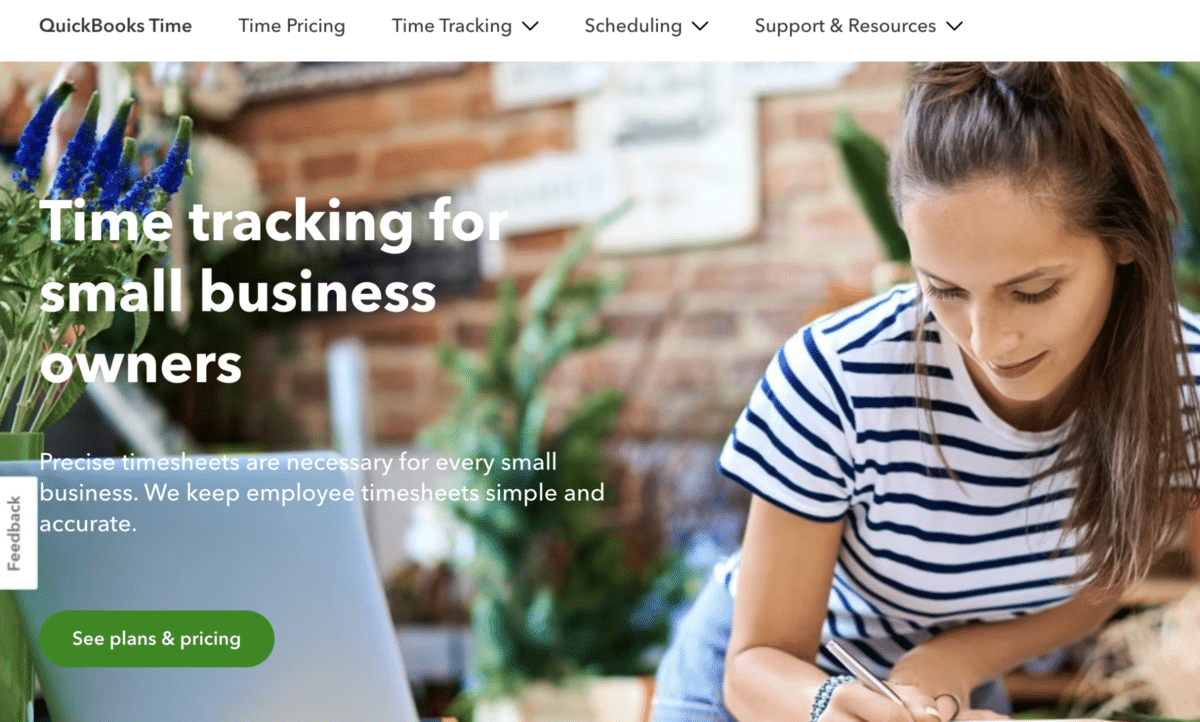 Formally known as TSheets, QuickBooks Time is a popular timesheet manager and payroll system.
It comes with features such as:
A mobile app
Alerts & approvals
PTO tracking
Employee scheduling
And more.
At the time of writing, QuickBooks Time has 4.7 out of 5 stars on Capterra with 6,500+ reviews.
Learn More about Buddy Punch and Start a Free Trial
If you'd like to explore Buddy Punch as a time tracking tool in greater depth, check out these links below:
For more info on timesheet management and time tracking, check out our posts on: