Hubstaff Alternatives (5 Options)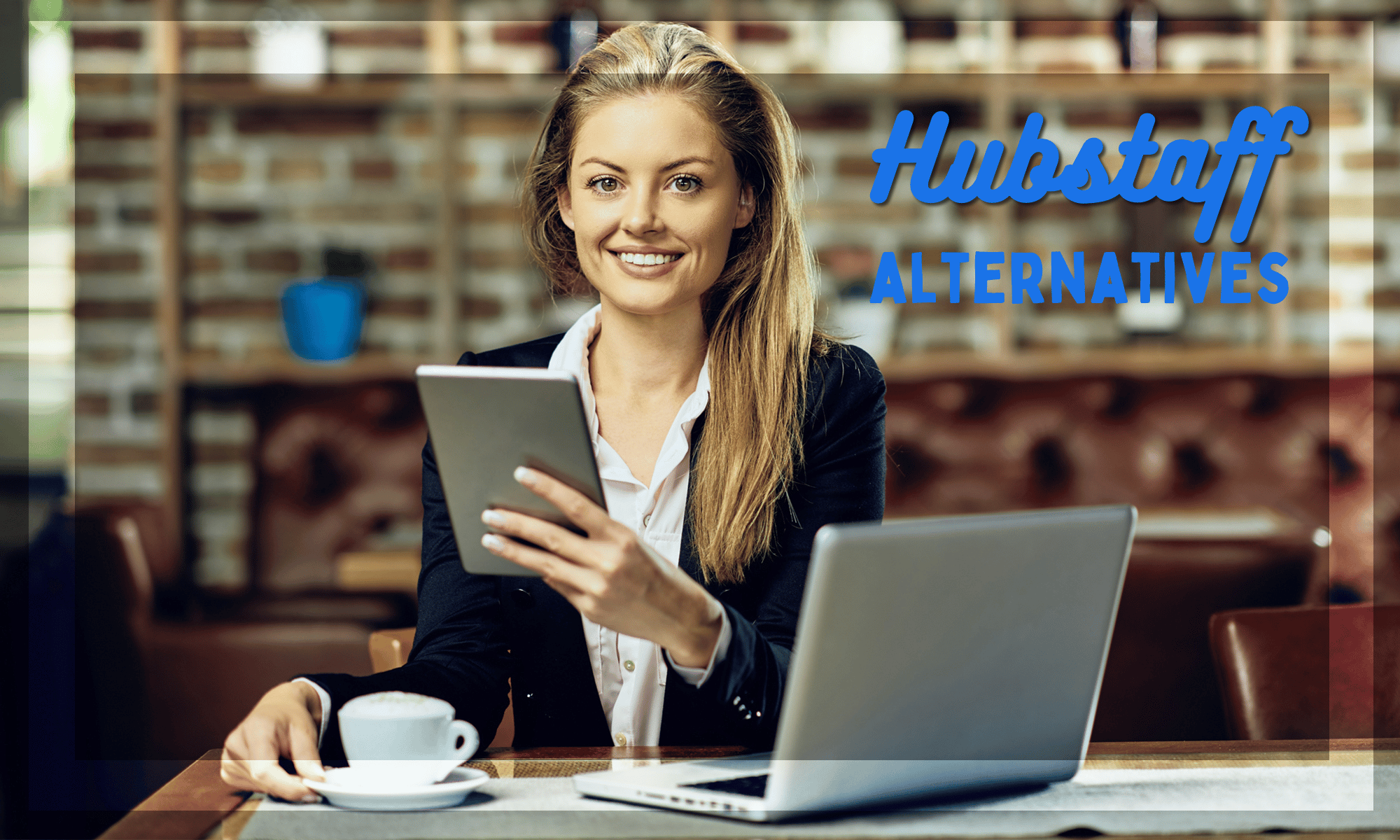 While Hubstaff has established a strong reputation as a useful time tracking and productivity monitoring tool, it's not right for everyone. There is no such thing as a one-size-fits-all solution for employee time tracking and performance monitoring. Some workforces will require custom solutions for employee monitoring to confidently address their unique requirements.
To streamline employee time tracking and rapidly produce timesheets for payroll processing, you need the right solution in your corner. Fortunately, there is no shortage of effective time tracking applications on the market for you to take for a test drive. If you are an active Hubstaff user and want to explore the market for alternatives, this guide is the perfect place to start.
Let's take a look at some of the best Hubstaff alternatives on the market.
Best Hubstaff Alternatives
1. Buddy Punch
Buddy Punch is always at the top of our list. While we're a little biased, we're also incredibly proud of our platform and strongly believe it's the perfect Hubstaff alternative. If you want to boost productivity and streamline administrative processes, you should leverage our time tracking features. Buddy Punch is well-equipped to elevate team productivity and performance.
How Buddy Punch's Time Tracking Solution Works
Buddy Punch makes clocking in and out remarkably easy. No matter where employees are, they can load up Buddy Punch on any device (including mobiles and tablets) and punch in. This data is then seamlessly made available to team leaders and managers in real-time. The entire process is completely seamless. Employees can even request time off inside the app.
Clock In And Out From Any Location
While many enjoy using our Chrome Web App, Buddy Punch is also available on both mobile and tablet devices. No matter where you are located, you can still keep track of employee performance data and use all the best features on the platform. Employees can easily clock in and out on iOS and Android – while team leaders and managers view real-time employee data.
Receive Reports On Where Employees Clock In
You can go a step further and gain insights into the geographical locations of employees. This is perfect for those leading remote working teams. If you are trying to increase employee oversight and want to know where they are clocking in from. You can use Buddy Punch's GPS location tracking feature to monitor employee locations in real-time by viewing their timecards.
Generate Custom Reports At The Click Of A Button
Whether you are a remote team or an office-based workforce, Buddy Punch can help to centralize all aspects of employee data collection. When all employee performance data is under one roof, this makes everything easier. Buddy Punch can enable you to generate customized reports at the click of a button to unlock the potential of this data.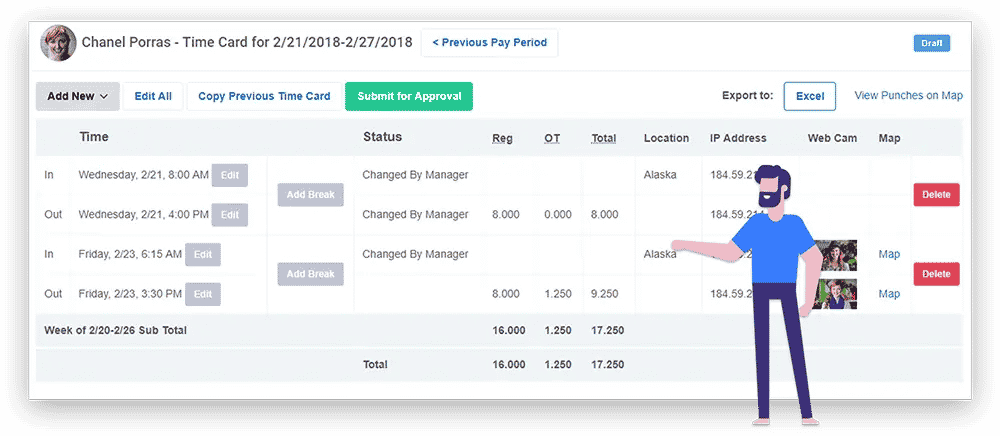 Even though Buddy Punch is remarkably intuitive and easy to navigate for beginners, we have a dedicated "Knowledge Hub" that is jam-packed with useful resources and documentation on our time tracking software. Alongside this, our customer support team is always poised and ready to answer any questions you may have about our platform.
You can book a one-on-one personalized demo here.
Buddy Punch Is The Perfect Alternative To Hubstaff
The hunt for an alternative to Hubstaff is finally over. With Buddy Punch in your corner, you can hit the ground running and collect employee performance data more easily than ever before. Here are just a handful of the best features Buddy Punch has to offer:
Buddy Punch's Online Reviews
As of the writing date, Buddy Punch has 4.8 out of 5 stars and 686 reviews on Capterra.

Below, we'll list just a few reviews that speak to Buddy Punch's ease of use and great customer support service. (Click here to explore the full list of reviews.)
"I have loved my overall experience with Buddy Punch. As I mentioned before their help is invaluable. Some companies have no chat, or phone number and you wait days to hear back from an email. Their immediate response is something they should never get rid of, no matter how big they become."

Click here to read the full review.
"I like that it reminds the employees to clock in and clock out so they don't forget at the beginning/end of their shift."

Click here to read the full review.
"I really like that it tracks and accrues PTO & holiday hours. I don't have to ask anyone what my PTO balance is! I think it's smart to be able to add a schedule if you happen to work the same amount of hours each day – much easier to add. I also like that I can add a comment or note of some sort, if needed."

Click here to read the full review.
"BP has been extremely accessible for customer service and have been open to suggestions for improvements/additional services. They have steadily grown over the last several years, offering more and more helpful services and integration with other programs. BP was also extremely accommodating during Covid shutdowns, allowing us to freeze our account in good faith that we would pick up where we left off as soon as we were able."

Click here to read the full review.
Try Buddy Punch for Free
If you feel that Buddy Punch might be the right fit for your business, sign up for a free trial. You can also book a one-on-one demo, or view a pre-recorded demo video.
2. DeskTime
DeskTime is a useful alternative to Hubstaff. As an automatic time tracker, DeskTime is fully equipped with a range of features to accelerate and streamline workforce management. Much like Hubstaff, DeskTime allows you to see when employees are clocking in through access to real-time data. As soon as the employee opens their device, the time tracker is triggered.
At the time of writing, DeskTime has a total of 240 reviews on Capterra, with an average of 4.5 out of 5 stars. If you want to learn more about DeskTime, take a browse through these features:
"The automatic tracking and sorting is the best feature, you don't have to name everything – DeskTime does it for you. It can track apps, websites and more. It has a lot of features and the overall experience is great."

Click here to read the full review.
3. QuickBooks Time
QuickBooks Time gives employees the freedom to complete time entries without access to WiFi or cell coverage. No matter where employees work, they can still complete their latest time entries. This level of flexibility is ideal for remote working teams. Alongside the desktop app, employees can also access QuickBooks Time on mobile and tablet devices.
QuickBooks Time (formerly TSheets) comes with many useful features:
It's a great timesheet app for Android and iPhone, and at the time of writing, QuickBooks Time has 4.7 out of 5 stars and 5,631 reviews on Capterra.
"It stands out for its ease of use and simplicity of configuration. I like the versatility of the flexible clocking option, which allows employees to clock in and out from anywhere. It features drag-and-drop options that make it easy to create custom schedules. [The] team supports the client and responds quickly and efficiently resolves our concerns."

Click here to read the full review.
4. TimeCamp
TimeCamp is a one-click time tracker. That's right, it takes just a single click to get the ball rolling. The platform can provide team leaders and managers with employee performance data in real-time, such as the length of time employees are spending inside different applications. Leaders and managers can then use these insights to make informed decisions.
At the time of writing, TimeCamp has a total of 555 reviews on Capterra, with an average of 4.7 out of 5 stars. TimeCamp comes with the following features:
"Integrating TimeCamp with my business took a few minutes in the beginning. I had to update keywords over a few days to make it a perfect custom fit. Every time I have a new client, I add new keywords – the whole process takes less than a minute."

Click here to read the full review.
5. Paymo
Paymo can take your payroll processes to another level. This platform will prevent you from having to manually track employee time. With a full range of features at your disposal, you can quickly collect timesheet data and track any changes to this data in real-time. This can all happen without any input from leaders or managers. No interactions are required.
Here are some more featured offered by Paymo:
At the time of writing, Paymo has a total of 422 reviews on Capterra, with an average of 4.7 out of 5 stars.
"We have been working with Paymo for more than five years now and over the years we've seen constant improvement with new features. It's a rich feature tool for a low price and it suits our company as no other does, not only in what they offer but in an intuitive and easy-to-use tool. The timer, invoices using the timesheet, team scheduling, sending estimates, all those make the difference in our business and has helped us to save and make money."

Click here to read the full review.
Try Buddy Punch for Free
If you feel that Buddy Punch could be the right fit for your business, sign up for a free trial. You can also book a one-on-one demo, or view a pre-recorded demo video.
You May Also Like…