Biometric Time Clock Systems (Key Features + Best Options)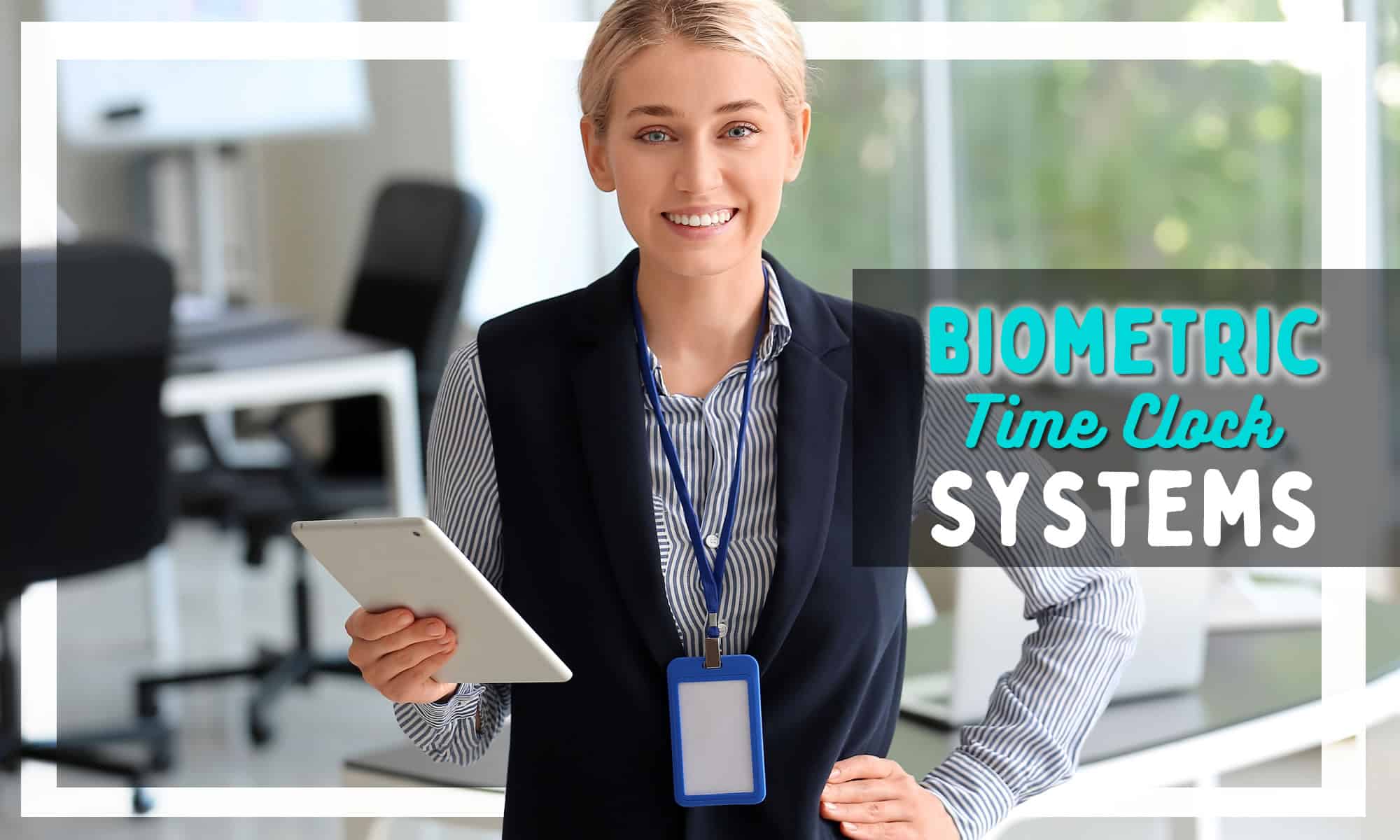 Straight off the bat, here are a few key benefits of using a biometric time clock:
Use facial recognition to combat time theft.
Leverage a fingerprint time clock for extra security.
Utilize biometric data to prevent timesheet fraud.
Use Biometrics Tools Through Cloud-Based Solutions
A fingerprint reader is no longer necessary. You can use digital applications and mobile devices to leverage biometric fingerprint tracking in your attendance system. Fingerprint recognition and fingerprint scanning are powerful ways for business owners to prevent timesheet fraud. You can rest assured that employee hours are getting clocked correctly.
A User-Friendly Approach To Collecting Biometric Data
The right time clock software and timekeeping platforms take a user-friendly approach to collecting biometric data. These platforms can streamline the data collection process and make it easy for you to feed all data to your payroll system. Gone are the days of needing physical punch clocks. The algorithms powering digital attendance software can do the heavy lifting.
Biometrics Tools For Businesses Big & Small
Whether you are a small business or a large organization, the best cloud-based time clock options can provide you with access to useful biometric tools, such as face recognition. With an effective time card platform in your corner, you can say "goodbye" to spreadsheet templates and embrace digital solutions that support a new level of connectivity, with real-time data.
Best Time Tracking Platforms (3 Options)

1. Buddy Punch
Buddy Punch enables team members to clock in and out from any location. Whether they are working onsite or from home, team leaders can collect biometrics data with the support of Buddy Punch's in-built tools. As long as the employee is connected to WiFi or has some form of internet connection, they can seamlessly complete time entries at the click of a button.
Buddy Punch's Online Reviews
Buddy Punch's user reviews highlight the potential benefits of this platform. As of the writing date, Buddy Punch has 4.8 out of 5 stars and 789 reviews on Capterra.

Below, we'll list just a few reviews that speak to Buddy Punch's ease of use and great customer support service. (Click here to explore the full list of reviews.)
As reviewers have noted, Buddy Punch provides team leaders and project managers with the necessary tools for accurate time tracking and employee location tracking:
"This program becomes your friend because of the reliability it has when dealing with things that concert office management."

Click here to read the full review.
"We mainly use Buddy Punch for the time clock feature and use the GPS feature to track where our employees clock in and out since they do so at a remote site. The feature is accurate and is easy to use on our employees' phones. If there are any issues it is easy for the administrator to log in and correct them."

Click here to read the full review.
"I love how quickly you can log in to the Buddy Punch site and just simply hit the "Clock In" button. The program is incredibly easy to use and required no training at all, which I really appreciated especially since I'm just a very part-time employee who only uses it once a week."

Click here to read the full review.
Try Buddy Punch for Free
If you feel that Buddy Punch might be the right fit for your business, sign up for a free trial. You can also book a one-on-one demo, or view a pre-recorded demo video.
2. QuickBooks Time
While QuickBooks Time does not offer a fingerprint time clock solution, you can connect a third-party application (offering fingerprint time tracking) to QuickBooks' accounting software. Despite the lack of biometric tools for tracking work hours, QuickBooks Time still offers the functionality to collect timesheet data and streamline payroll processing.
It's a great timesheet app for Android and iPhone, and at the time of writing, QuickBooks Time has 4.7 out of 5 stars and 6,235 reviews on Capterra.
QuickBooks Time (formerly TSheets) has features that include but are not limited to:
"QuickBooks Time is its user-friendly interface, which makes it easy for even those with little accounting experience to navigate and use effectively. The software also offers robust reporting capabilities, which allow small business owners to quickly and easily view their time tracking data in a variety of ways."

Click here to read the full review.
3. TimeCamp
Much like QuickBooks Time, TimeCamp does not offer fingerprint time tracking. However, the platform does provide a range of tools designed to automate and accelerate the time tracking process. If you want to increase employee oversight and enhance your team monitoring capabilities, a solution like TimeCamp can work well in an organization of any size.
At the time of writing, TimeCamp has a total of 579 reviews on Capterra, with an average of 4.7 out of 5 stars. TimeCamp offers a full range of practical features for teams:
"Integrating TimeCamp with my business took a few minutes in the beginning. I had to update keywords over a few days to make it a perfect custom fit. Every time I have a new client, I add new keywords – the whole process takes less than a minute."

Click here to read the full review.
Try Buddy Punch for Free
If you feel that Buddy Punch could be the right fit for your business, sign up for a free trial. You can also book a one-on-one demo, or view a pre-recorded demo video.
You May Also Like…